Purchases made through links may earn us a small commission, at no extra cost to you.
For our honeymoon, Mike and I decided to spend five weeks in Europe. We travelled to six different countries experiencing everything from small lakeside villages in the mountains, to one of the world's most popular festivals.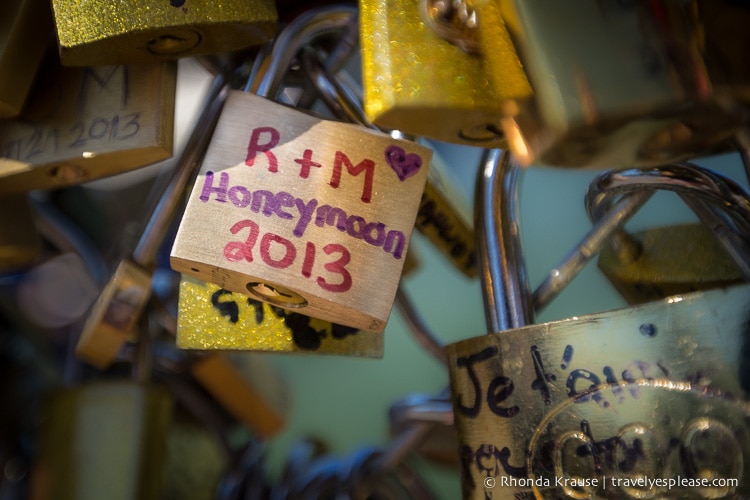 I'll admit it, I planned a very ambitious (and detailed) itinerary for our five weeks in Europe. I left home with a spreadsheet telling where we would be on each day, a list of things we could see and do, the trains we would take and contact information for all the hotels we reserved in advance.
Sure, people made fun of me and how I "over-plan". Plus, it was a heck of a lot of work to get everything in order. But it was so worth it!  We didn't spend any vacation time trying to find a hotel to stay at or wondering what sights to see. We didn't have to stress about train schedules or try to figure out public transportation on the fly. I had done my research and we were prepared and ready for anything! Lucky for us, everything went as planned during our five weeks in Europe.
Of course, we didn't see and do everything on my list (that was close to impossible!) There were some places I wish we would have planned to stay longer and others maybe left a day earlier. But all in all, it was a fantastic five week Europe itinerary that we were really happy with.
Before we get into writing detailed posts about the places we visited, I thought it would be fun to list some hits and misses- things that we loved and things that were not what we expected- for each stop on our Europe itinerary. So here you go….hits and misses from our five weeks in Europe!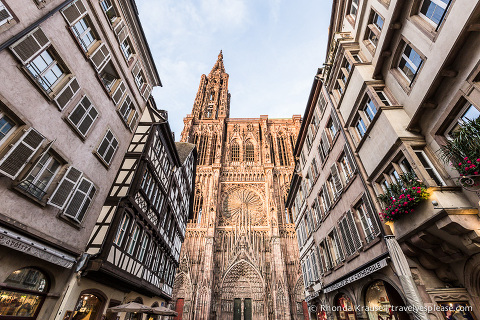 Five Weeks in Europe- Our Itinerary
Our Europe trip itinerary started in Paris, France and ended in Frankfurt, Germany.
We travelled around Europe by train, apart from renting a car the last few days to have more flexibility to explore Bavaria.
Note: For your convenience, all links will open in a new window.
Paris, France
4 days, 4 nights

Hits
Paris is such a photogenic city and there's so much to see and do, it's almost overwhelming! Since it was Mike's first trip to Paris, we had fun being tourists and visiting the iconic attractions. Seeing the Eiffel Tower twinkle at night was spectacular and will always be a great memory. We loved the night scene and how people would hang out by the river in the evening. I am not a night person at all, but in Paris, I felt that by going to sleep I was missing out.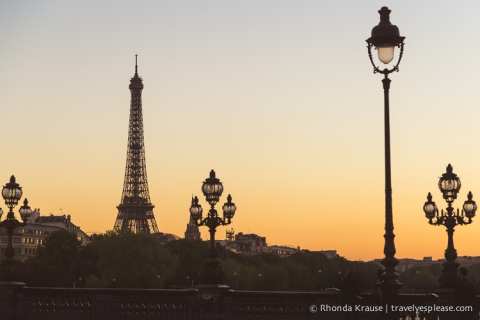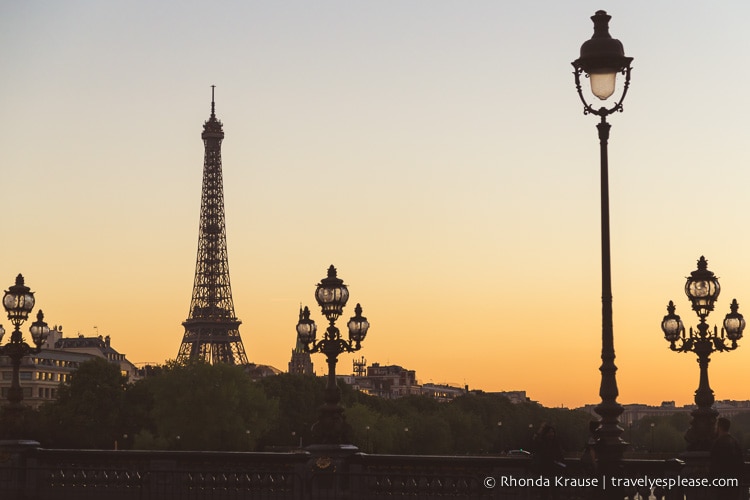 Misses
We were surprised to see that Paris is a bit filthy. And in some places, it really smells. I'm not going to tell you what it smells like, but if you ever go you will know exactly what I am talking about. Plus there are rats, a lot of them. Especially around Notre Dame at night. The bike share/rental program also needs to do a better job of repairing their bikes. In the evenings, we had a hard time finding bikes that had air in the tires and a chain on.
Read more: How to Spend 4 days in Paris- Our Itinerary, Ile de la Cite- An Island in the Heart of Paris, Romantic Paris- Our Favourite Activities for Romance in Paris, Where to Stay in Paris- A Guide to the Best Paris Neighbourhoods
Book: Tours and attractions in Paris
Strasbourg, France
1.5 days, 1 night

Strasbourg was a 2 hr 20 min train ride from Paris. We arrived just before 11:00 am and didn't depart until 3:00 pm the next day.
Hits
Strasbourg is beautiful, especially Petite France, and we loved the half-timbered buildings. Strasbourg's cathedral was amazingly tall and the astronomical clock inside was like nothing I have seen before. Also, the ice cream was the best we had on our entire trip!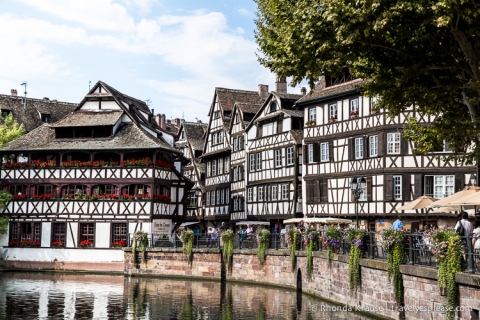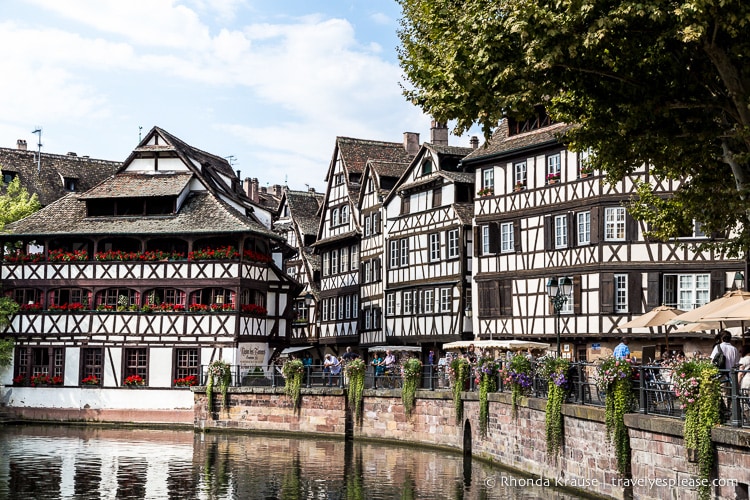 Misses
My guidebook and all the tourist pamphlets raved about how we should go to the cathedral to see the astronomical clock strike the hour of noon (which it actually does at 12:30 pm). However, both days we were there the church was closed from 11:15- 12:45 with no explanation why. It wasn't until we got home that we read online you have to buy tickets for the clock show in advance at the postcard stand or from the cashier at the south door (from 11:30- 12:20). The cathedral is closed to non-ticket holders during the show. One would think that is information the guidebook should have told us!
Read more: Strasbourg- Charm, Romance and One Incredibly Tall Cathedral
Book: Tours in Strasbourg
Brussels, Belgium
1 day, 2 nights

Brussels was a 5 hour train ride from Strasbourg. We arrived at 8:00 pm so had the entire next day to explore Brussels.
Hits
The waffles! They were so delicious and you could choose from a large variety of toppings. It seemed like every street we went down had more than one place serving up tasty Belgian waffles!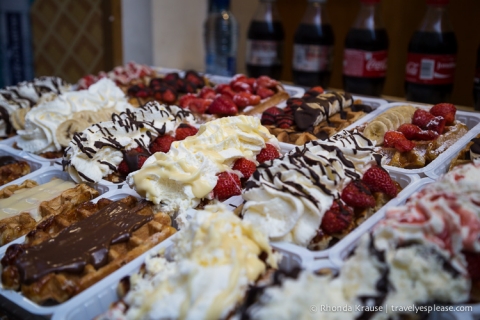 Misses
Brussels is known for its french fries, or frites, and it's very popular to eat them with mayonnaise. I like fries and I like mayonnaise, but just not together.  I tried to enjoy it, but eventually had to scrape the huge dollop of extra thick, extra rich mayo off  my fries. My heart was probably thanking me for that move.
Read more: Brussels- Belgium's Quirky Capital
Book: Tours and attractions in Brussels
Bruges, Belgium
1 day, 1 night

Bruges/Brugge was a short 1 hour train ride from Brussels, allowing us a full day to explore.
Hits
The chocolate in Bruges was oh-so satisfying and the Markt was charming with its colourful, gabled buildings. I loved the views of the Markt square from up inside the Belfry and had an enjoyable time admiring the scenery on a short boat cruise.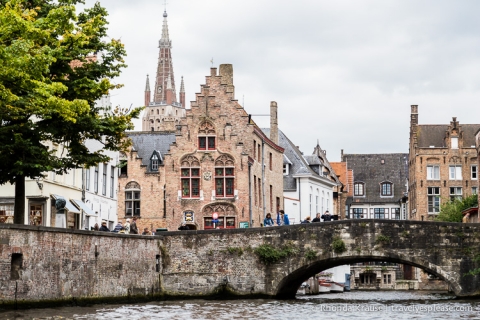 Misses
We were still craving waffles after being in Brussels and searched high and low for them one very rainy evening. We didn't find any street vendors but did end up having a waffle at one of the restaurants in the Markt. Unfortunately, it was a let down.
Read more: Bruges- A Love Affair That Started With a Movie
Book: Tours and attractions in Bruges
Cologne, Germany
4.5 hours
Cologne was a 3 hour and 15 minute train ride from Bruges.
Hits
We stopped in Cologne only for a few hours to see the cathedral. Cologne Cathedral wasn't as striking to me as the one in Strasbourg, but what was impressive was the decorated portals and the church's treasury. So many golden, jewelled relics to admire!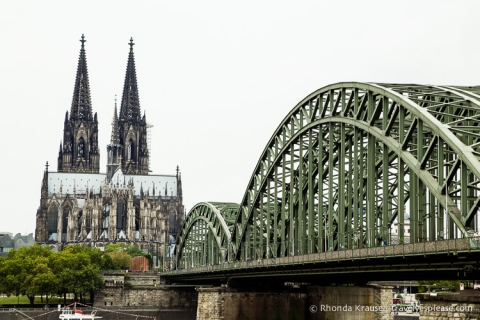 Misses
It was very handy to be able to store our suitcases in the luggage lockers at the train station. However, they were very expensive. It costs three euros to rent a locker for two hours. After that, it costs six euros for 24 hours. Since we didn't pack lightly, we had to rent three lockers, which left us with a hefty bill!
Book: Tours in Cologne
Nuremberg, Germany
1 day, 2 nights

Nuremberg was a 3.5 hour train ride from Cologne. We arrived at 8:00 pm and had the entire next day to explore.
Hits
My favourite memory was wandering the old town at night. It was quiet, nicely lit and felt like we had the whole town to ourselves. I think I actually was skipping in the streets! The Kaiserburg (Imperial Castle) was also a highlight.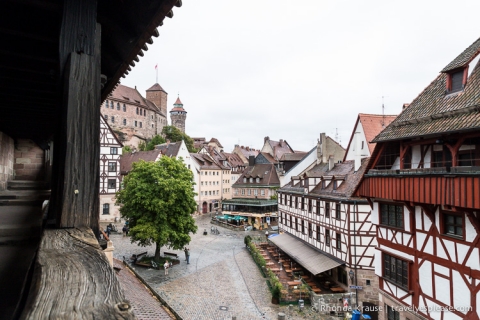 Misses
Nuremberg turned out to be much more interesting and enjoyable than we anticipated, so the only miss was that we didn't have enough time here!
Read more: Nuremberg Castle- Symbol of Imperial Power
Book: Tours in Nuremberg
Bamberg, Germany
Day trip (we spent half a day in Bamberg)
Bamberg was a 40 minute train ride from Nuremberg.
Hits
I loved photographing the Old Town Hall. It's built like an island in the middle of the river with a bridge on each side. One part of the building is painted with an amazing fresco and the other part is a half-timbered building. It's just beautiful!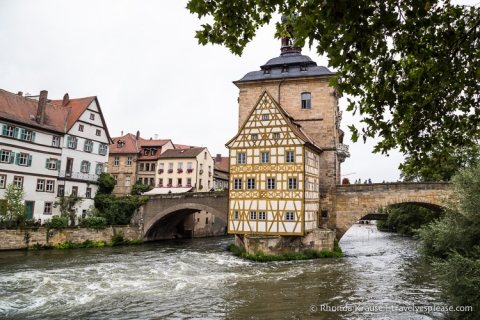 Misses
We didn't go into the New Residenz because a visit is only possible with a guided tour and the tours are only in German. Another miss was how the town is besieged with tour groups during the day. We got to Bamberg before 9:00 am and were able to enjoy its quiet beauty, for a few hours at least.
Read more: Bamberg, Germany- A Bavarian Treasure
Book: Tours in Bamberg
Regensburg, Germany
1 day, 1 night

Regensburg was a 50 minute train ride from Nuremberg. We arrived at 9:30 am so had a full day to enjoy Regensburg.
Hits
Regensburg has so many thoughtful, artistic details scattered throughout town, making it a joy to wander around. We especially loved our tour of the Old Town Hall. Our guide was excellent and the torture chamber (yes, there was a torture chamber in the town hall) was interesting to learn about, even though I was feeling some bad vibes coming from the dungeon.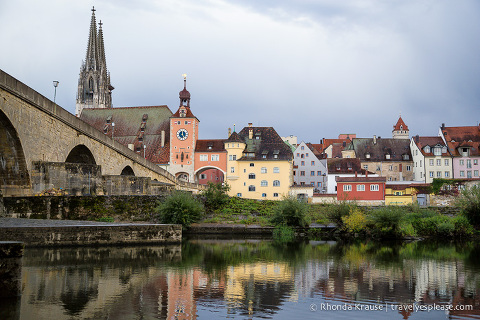 Misses
There wasn't anything we didn't like about Regensburg. We saw almost everything we wanted but still could have easily enjoyed another day here.
Read more: Discovering Regensburg- A Walk Through the Old Town
Prague, Czech Republic
3.5 days, 4 nights

Prague was a 4.5 hour train ride from Regensburg. We arrived just before 3:00 pm.
Hits
I've never met anyone that didn't like Prague. It was the one city on our trip that I really felt a connection with. I could go on and on about everything I loved about Prague, but probably the main reason I felt so strongly about it was because of its atmosphere. Prague is a very welcoming, friendly and musical city. We found ourselves simply walking the streets without a plan, taking it all in. Prague truly is one of the best cities in Europe.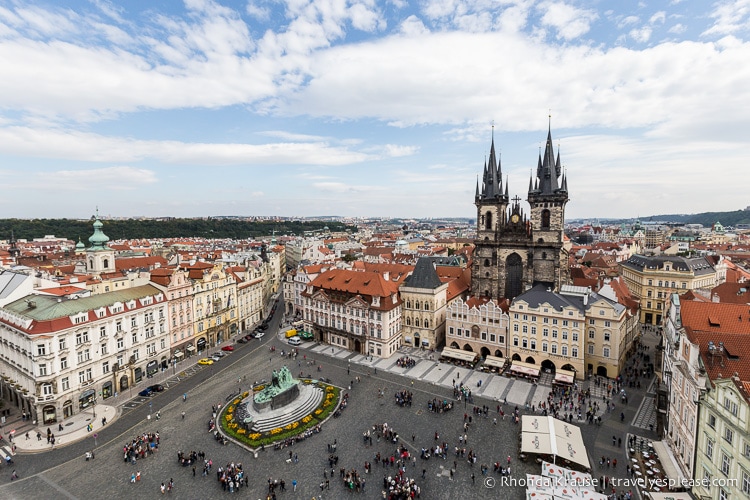 Misses
Oh my…just thinking about this walking tour we went on is getting me all worked up. The guide told us it was going to be a two hour tour of the old town. It started at the astronomical clock. An hour later, we were still at the astronomical clock! Five hours later the tour was no where near finished. Mike and I had other things we wanted to do that day and this tour killed all of our plans. We debated ditching the tour earlier, but being polite Canadians, felt bad because there were only four other people on the tour. Finally, we gave up and left. So, if you see a scruffy looking blond guy holding up a "Free Tour" sign under the astronomical clock, don't do it (unless you want an eight hour tour that is so in-depth and detailed it will go right over your head).
Read more: Pleasant Surprises in Prague, A Walk Through Prague: The Old Town, A Walk Through Prague: Lesser Town and Castle Quarter
Book: Tours and attractions in Prague
Kutna Hora, Czech Republic
Day trip (half a day)
Hits
We went on an excursion to Kutna Hora, which is just a short bus ride from Prague. For a small town, there is quite a bit to see here. At the Italian Court, where the Royal Mint used to be, we learned how silver coins were made. At Sedlec Ossuary, we saw a huge chandelier made entirely from human bones. It was remarkable and incredibly strange all at the same time.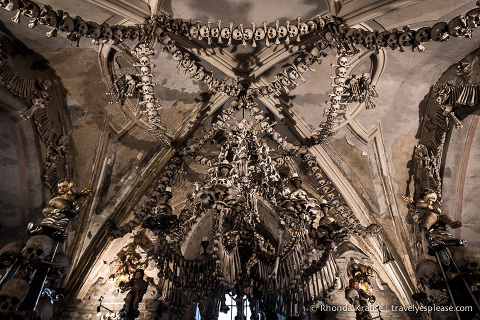 Misses
We were only in Kutna Hora for an afternoon and enjoyed everything we saw!
Read more: Kutna Hora- Getting to Know the City of Silver, The Bone Church- Sedlec Ossuary, Kutna Hora
Book: Tours in Kutna Hora
Budapest, Hungary
3.5 days, 4 nights

Budapest was a 7 hour train ride from Prague, the longest one on our trip.  We arrived at 2:30 pm.
Hits
Budapest at night is gorgeous! All the bridges, important buildings and monuments are illuminated in a golden glow. We also really enjoyed the Castle Hill district, especially Fishermen's Bastion and the amazing views of the Hungarian Parliament Building.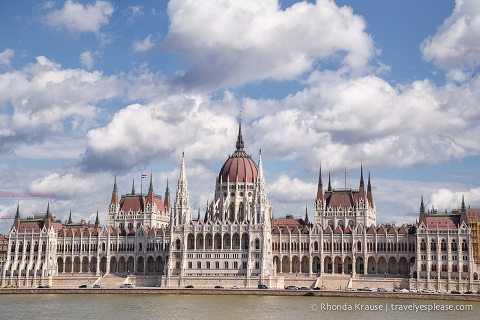 Misses
Budapest is famous for its thermal baths, however, I was pretty disappointed. We went to two of them and at both the staff were very rude (especially at Szechenyi baths), impatient and unhelpful. They are confusing places for people who have never been there before. The signage (or lack thereof) just added to the confusion. I also was expecting something luxurious and elegant, like it probably was in the past, but now they are in desperate need of renovations. The peeling paint, tarnished railings and general feeling of uncleanliness left me underwhelmed.
Read More: How to Spend 3 Days in Budapest- Our Itinerary, Budapest- City of Spas
Book: Tours and attractions in Budapest
Vienna, Austria
3.5 days, 4 nights

Vienna was a 2.5 hour train ride from Budapest. We arrived at noon.
Hits
Vienna is a very beautiful city full of exquisite Baroque architecture. When in Vienna, you have to go to a classical music concert. We had a great evening listening to the Schönbrunn Palace Orchestra play at the Orangery, where Mozart himself performed in 1786.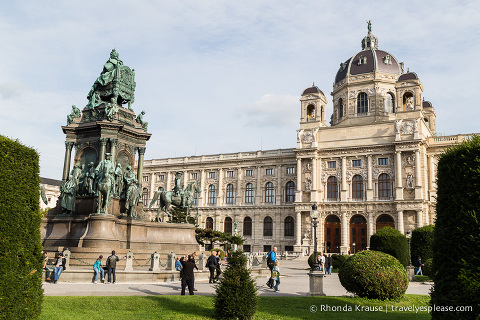 Misses
Vienna is expensive. Very expensive. Food, drinks and especially entrance fees into many of the attractions were way higher than we were willing to pay. Also, we found the city to be a little on the boring side. In hindsight, we would have spent one less day here.
Read more: Vienna for Non-Museum Lovers- Finding the Fun, The Vienna Card- Worth it or a Waste of Money?
Book: Tours and attractions in Vienna
Wachau Valley, Austria
Day trip (full day)
From Vienna, we took the train to Melk which was about a 1.5 hour ride. From Melk, we took a boat cruise on the Danube to Krems, then returned to Vienna by train.
Hits
The landscape of the Wachau Valley is breathtaking! Vineyards line the river banks and the valley is dotted with castles and picturesque villages. A definite highlight was the Benedictine Abbey of Melk. We also very much enjoyed Durnstein. The somewhat difficult hike up to the ruined castle where Richard the Lionheart was imprisoned is worth it for the views alone.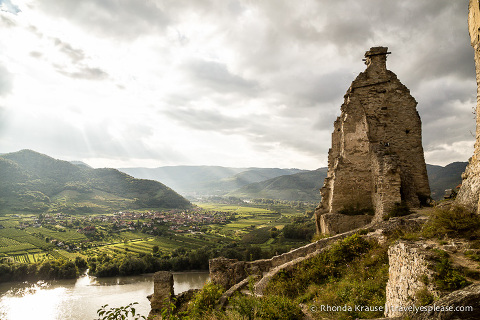 Misses
We were hoping to rent bikes and ride from Melk to Krems. We couldn't do it though because you had to use a cell phone to call or text the rental company to get the bikes unlocked. It would be better for international travellers if the bike rental system was like that in Paris- just put your credit card in the machine, enter the bike number and done!
Read more: Cruising Austria's Scenic Wachau Valley
Book: Tours of the Wachau Valley
Hallstatt, Austria
1.5 days, 2 nights

Hallstatt was a 3.5 hour train ride from Vienna. We arrived at 1:30 pm.
Hits
Hallstatt is a beautiful little lakeside village. I took so many photos…I couldn't help myself! The best way to enjoy the town's beauty is from the lake. We rented a small electric boat for an hour and just floated around the lake, enjoying 360 degrees of gorgeous scenery. We also loved the nearby Dachstein Ice Cave and highly recommend a visit.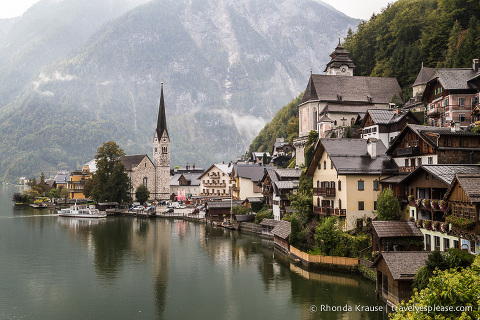 Misses
I really wish I didn't have to say this, but I try to be honest about all the places I visit. Unfortunately, we found a lot of the people (not everyone) to be extremely rude and short tempered. These were people who were in the service industry- shop-keepers, waiters and hotel staff. People whose livelihood depends a great deal on tourism so I couldn't understand why some of these people treated us like they didn't want us in their store or at their restaurant. At Cafe Derbl (popular place, right on the main square), we sat for quite a while without being acknowledged. The menus were on a counter right beside our table so Mike took one. When the waiter finally came by he rudely grabbed the menu right out of Mike's hand! He then asked us what we wanted to drink and never once came back to take our food order, which is what we were there for. So we walked out after our drinks were done and went to the Heritage Hotel for dinner instead (where the people were friendly and the food was delicious!)
Read more: Hallstatt, Austria- A Picturesque Lakeside Alpine Village
Book: Tours of Hallstatt
Salzburg, Austria
1.5 days, 2 nights

Salzburg was about a 3 hour train journey from Hallstatt. We arrived by noon.
Hits
We enjoyed walking around Salzburg because the sights are in close proximity to each other. The path along the river is very pretty and offers great views of the fortress. My favourite place though was the Mirabell Gardens. I loved it so much we made two visits in one day!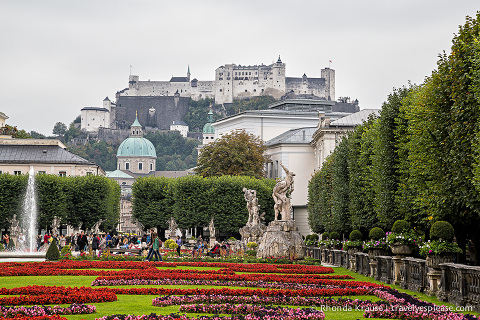 Misses
There isn't anything we disliked, but we were disappointed by the weather. The fog covered up the views of the Alps which was something we were really looking forward to seeing.
Read more: Discover Hohensalzburg Fortress- Salzburg's Medieval Castle, Exploring Salzburg's Old Town- A Self-Guided Walking Tour
Book: Tours and attractions in Salzburg
Munich, Germany
3 days, 3 nights

Munich was a 1 hour 40 minute train ride from Salzburg. We rented a car in Munich for the final leg of our trip.
Hits
We went on some wonderful walking tours in Munich.  All our guides were excellent and we learned a great deal about Munich's interesting and notorious history. We also had the opportunity to attend Oktoberfest and pay our respects at the Dachau Concentration Camp.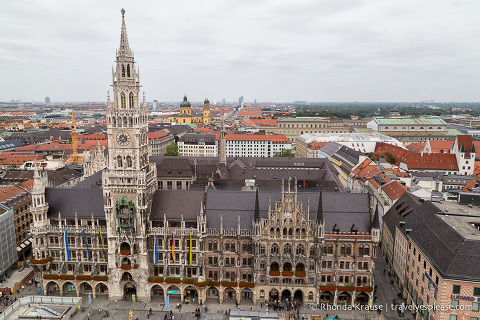 Misses
The only time I felt unsafe on our trip was when we went up the tower at St. Peter's Church. It was a disorganized free-for-all! First of all, the stairway is so narrow that people can only move in one direction. This is pretty typical for old bell towers and wouldn't have been a problem if there was some crowd control. But the church kept on selling tickets and sending more and more people up without having any idea how many were already inside the tower. It was so narrow and packed that at the top you couldn't even move- the crowd just went nowhere. When people did start to move, some went clockwise, some went counter-clockwise. All I kept thinking was that if there was an emergency, like a fire, it would be compete chaos and we all would die. That tower was probably not even built to support that many people stomping up and down all day long. Other towers we visited had crowd control/occupancy limits and I think that needs to put into place here, especially during Oktoberfest.
Read more: A Walk Around Munich- Photo Series
Book: Tours and attractions in Munich
Fussen and Hohenschwangau, Germany
1 day, 1 night

Drive time from Munich to Fussen, without stops, is approximately 1 hour 50 minutes.
Hits
Neuschwanstein Castle in Hohenschwangau was one of the places I was most looking forward to and it did not disappoint! It is beautiful both inside and out, a real-life fairytale. Fussen is also a cute little town and we enjoyed wandering through the pedestrian area.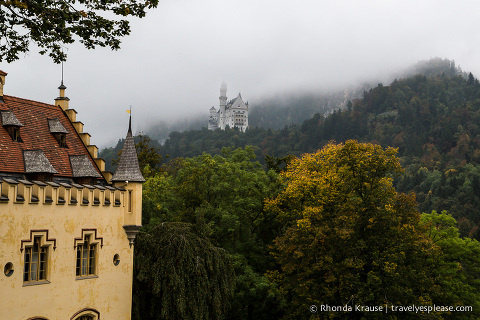 Misses
We toured both Neuschwanstein and Hohenschwangau castles, and at each the tour groups were huge! It really made it difficult to hear the guide and fully take in everything we were seeing.
Book: Day trip to Neuschwanstein Castle
Rothenburg ob der Tauber, Germany
1 day, 1 night

Drive time from Fussen to Rothenburg, without stops, is about 2.5 hours. We stopped to visit the Wieskirche, in the small hamlet of Wies. We didn't depart Rothenburg until noon or so the next day.
Hits
Of all the walking tours we went on, The Night Watchman's Tour was by far the most fun. The guide is in character as the Night Watchman, wearing a cape and and carrying around a lantern. He was a captivating storyteller and funny too. I was completely engaged the entire time.
Misses
I was surprised to see that cars were allowed inside the medieval walls. In most other places I've been like this, the old town is pedestrian only. It was handy for us, because we had a car at this point in our journey, but it really took away from feeling like we were in a time long since past, which is what we were hoping for.
Read more: Rothenburg, Germany- An Enchanting Medieval Town
Wurzburg, Germany
1 day, 1 night

Wurzburg was about a 1 hour drive from Rothenburg, without stops.
Hits
I had a great time photographing the gardens at the Wurzburg Residenz. Sometimes I think I actually prefer palace gardens over the palaces themselves!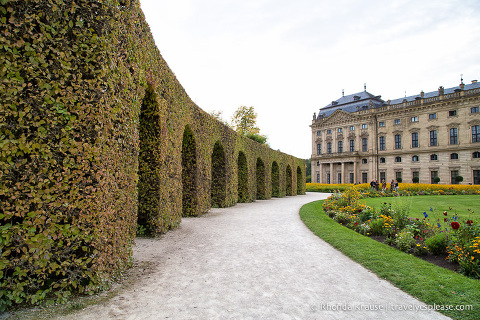 Misses
Considering how huge the Residenz is, relatively few of the rooms were able to be visited (at least when we were there). It seemed like we were in and out in no time at all.
Heidelberg, Germany
Half a day
Heidelberg was approximately a 1.5 hour drive from Wurzburg. After visiting Heidelberg, we drove about 1 hour to Frankfurt and caught a flight home the next morning.
Hits
We went to Heidelberg specifically to see the castle. It was unique because it was part palace, part ruins. It was worth the extra money to take a tour of the inside because our guide was fabulous! You could tell he really loved his job- he talked about the royals that once lived there like they were close, personal friends!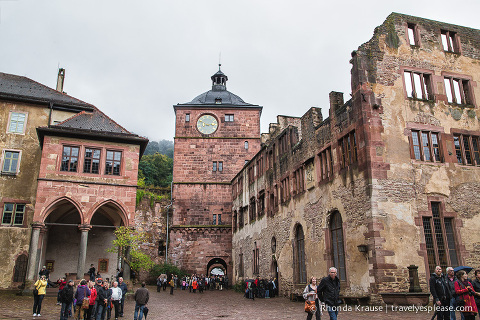 Misses
Again, the only miss was that we wished we had more time to explore the city.
Read more: The Romantic Ruins of Heidelberg Castle
Book: Tours in Heidelberg
Final Thoughts About Our Five Weeks in Europe
We had a wonderful honeymoon in Europe and even though our trip was a mix of hits and misses, we were very pleased with our itinerary. Our trip to Europe was a satisfying mix of big cities, small towns, historic sites, and some outdoor adventures. We covered a lot of ground, but still left plenty to discover on a future trip to Europe.
We hope you enjoyed this rundown of our favourite and not so favourite moments from our five weeks in Europe. Thanks to everyone who followed along with our travels on Instagram, Facebook and Twitter. We hope we inspired you to visit some of these wonderful places on your own five week trip to Europe!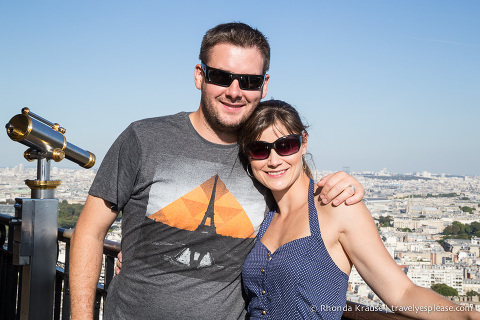 Resources to Help Plan Your Trip to Europe
Here are some resources to help you plan your five weeks in Europe.
Click here if shopping from Canada.
If you are planning your first trip to Europe, you may find our First Time Visitor's Guide to Europe helpful.
To discover more great places to visit in Europe, browse our Europe Travel Guide.
European Rail Passes
Non-European citizens or residents can purchase a Eurail Pass for train travel in Europe. You can choose between a Global Pass (unlimited travel in 31 countries), Multi-Country Pass (visit select neighbouring countries), or a One Country Pass. When purchasing your rail pass, you will also have to select between a continuous pass (allows you to travel by train every day during the period your pass is valid) or a flexi pass (allows a specific number of travel days which can be used any time during a fixed period).
If you've decided that a rail pass is right for your trip to Europe, here is an official vendor where you can purchase your rail pass online and have it shipped to you.
Accommodations in Europe
Our trusted accommodation site is Booking.com, as we have been using it for years to arrange hotels for all our trips. Please consider booking your European accommodations through the included link. It costs you nothing extra and helps support this website. Thank you!