Purchases made through links may earn us a small commission, at no extra cost to you.
Albertans love to complain about our long winters, but rather than dreading Canada's coldest season, we think it's the perfect time to have a romantic weekend away.
Covered in a blanket of white, Alberta's landscapes couldn't be more romantic. There's a peacefulness to the surroundings. It feels as though each place, each moment exists just for the two of you.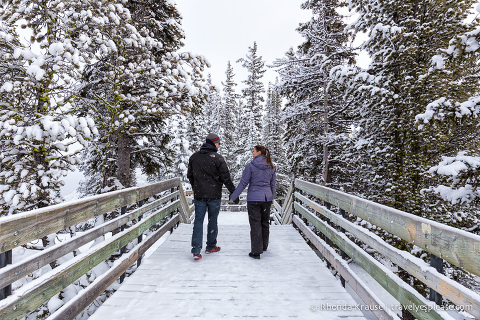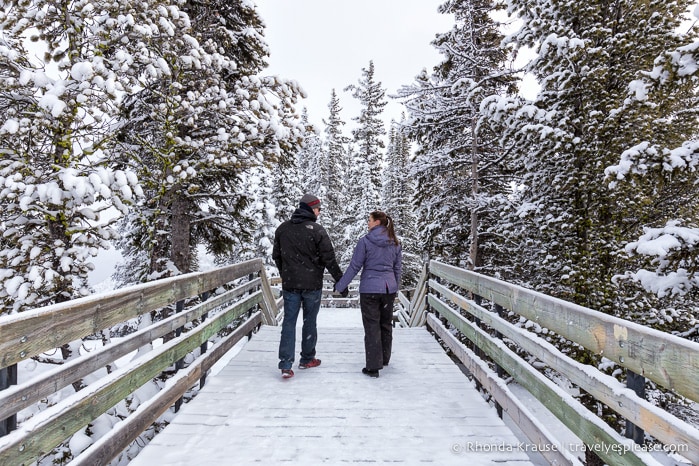 Whether you are walking hand in hand among frost-dusted trees, gazing up at a frozen waterfall, skating on a quiet pond or snowshoeing under the stars, you will surely rekindle the spark during a romantic winter getaway in Alberta.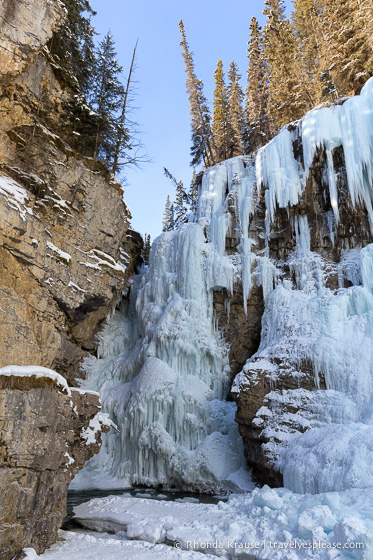 Romantic Winter Getaways in Alberta
Winter is a great time to enjoy a romantic weekend away so we wanted to share with you some of our favourite winter getaways in Alberta.
Here are four romantic weekends in Alberta, all in different regions (Kananaskis, Banff, Red Deer and Jasper), that will have you and your significant other feeling connected, relaxed, and loving winter all weekend long!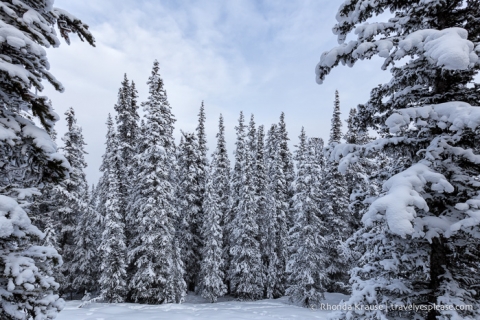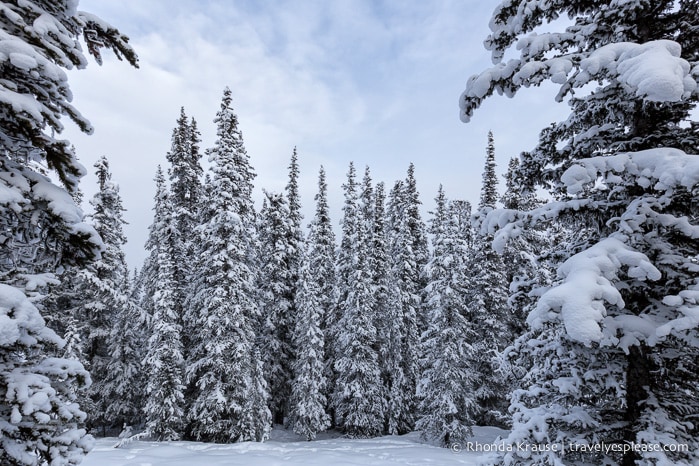 Weekend #1:
Cuddle up in Kananaskis
Kananaskis Country is often overshadowed by its neighbor, Banff National Park. However, spend a weekend in Kananaskis and you will see it has mountains that are just as nice and outdoor activities that are just as fun, but without all the crowds.
We appreciated the laid back vibe of Kananaskis, making it perfect for a romantic winter getaway in Alberta.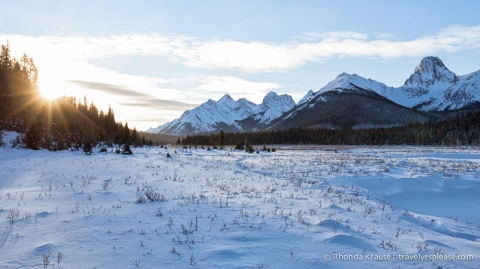 Day 1: Retreat to Mount Engadine Lodge
After a busy Christmas season, we were looking for a scenic place to retreat and enjoy some low-key, quality time. Mount Engadine Lodge turned out to be the ideal place to do this.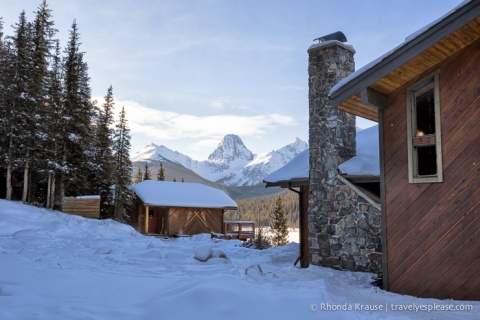 Tucked away in the Spray Lakes area of Kananaskis, Mount Engadine Lodge is far enough from any town to have that backcountry feel, yet is still accessible by car.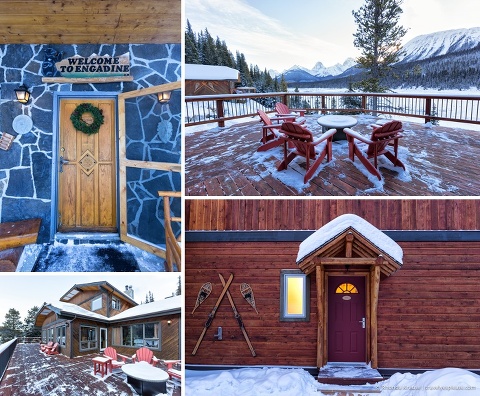 Immediately, we were enamored with the location. The lodge looks out onto a sprawling alpine meadow surrounded by rugged, snow-covered mountains. From our room, we could either enjoy the view from our deck, or inside at the cozy window seat.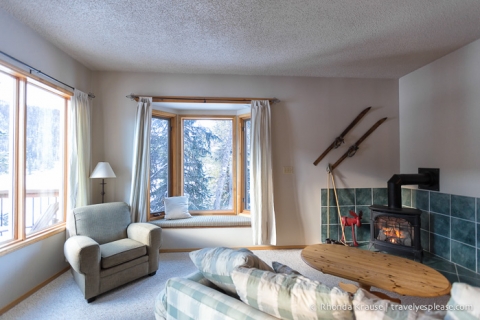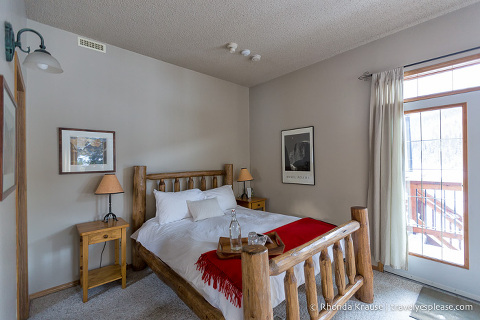 Oh, and I can't even begin to explain how gorgeous this place is at night. Once it cleared up, there was an endless sky of twinkling stars!
The day we stayed at Mount Engadine Lodge it was uncharacteristically cold outside (-30 C), so instead of taking advantage of the many snowshoe and cross-country ski trails nearby, we opted to cozy-up inside the main lodge.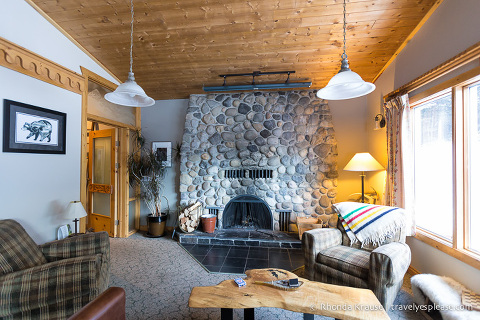 Sitting in front a crackling fireplace, we played board games, read books and were spoiled with an afternoon tea of meats, cheeses, crackers, brownies and hot apple crumble. I'm glad we didn't get too full because the meal that followed a few hours later was delicious as well!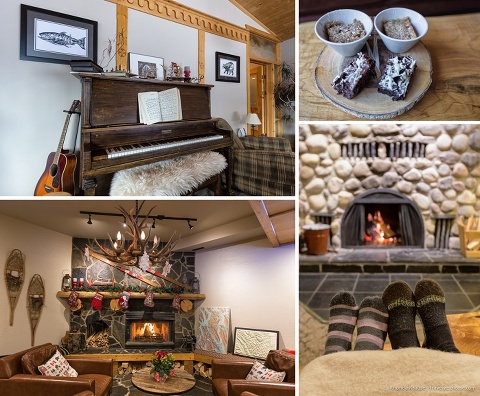 There was a simplicity at Mount Engadine Lodge that we fell in love with. It was refreshing not be distracted by televisions and computers, the way we are at home. It also was a relief not to have to worry about cooking or choosing a place to eat, since all meals were included in our stay. We even got a bagged lunch on the day of our departure.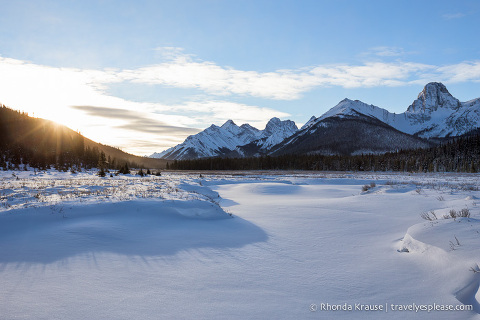 Mount Engadine Lodge was a beautiful, stress-free location to relax, recharge and reconnect with each other, while enjoying the pristine nature and Rocky Mountains Alberta is famous for. We definitely will be back one day- hopefully it will be warmer next time!
Book your stay at Mount Engadine Lodge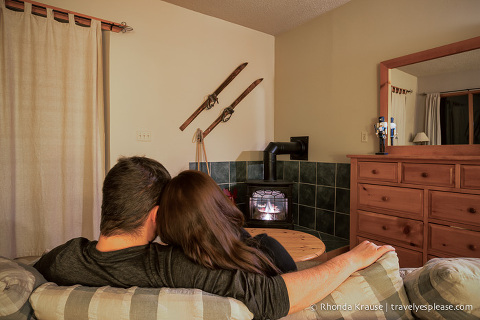 Day 2: Stargazing Fondue Tour with Kananaskis Outfitters
For a starry-eyed end to our romantic weekend in Kananaskis, we signed up for a Stargazing Fondue tour with Kananaskis Outfitters. Normally a snowshoe tour, we instead decided to turn it into a winter hike, walking through a frosty forest and a peaceful moonlit meadow.
It was so idyllic to follow a moonlit path through the forest, stopping every so often to gaze up at the mountaintops and star-filled sky. Our guide was very knowledgeable about the night sky, pointing out different stars and constellations while sharing some interesting facts and stories about them.
Halfway through our stargazing tour we took a little detour to a frozen waterfall. It was a wonderful place to take a break and warm up with a cup of tea. Even though we were on a small tour, we felt like it was just the two of us sharing this dreamy setting together.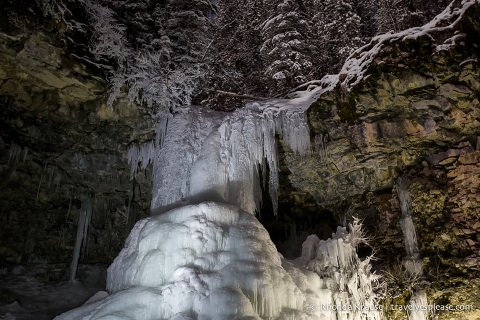 If the night wasn't perfect already, it ended with some chocolatey goodness- a fireside fondue. Stars, mountains AND chocolate- doesn't get much more romantic than that!
Overnight at Kananaskis Mountain Lodge
The Kananaskis Mountain Lodge was a great place to relax after our stargazing tour. We enjoyed a delicious meal before returning to our room to unwind. We had no trouble getting a good night's sleep in our big, soft bed!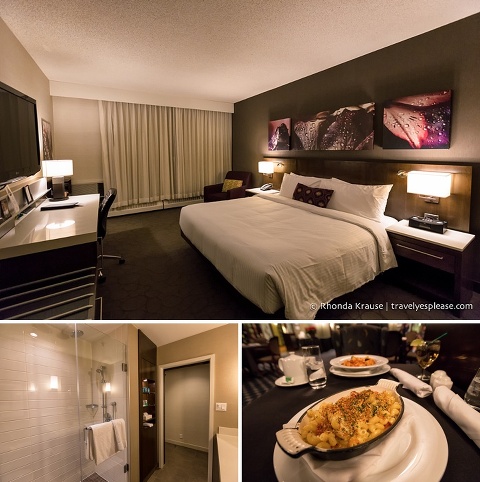 If you're anything like us, you'll be in no hurry to leave the mountains the next day. Luckily, the Kananaskis Mountain Lodge has easy access to hiking trails, viewpoints and Nakiska Ski Resort, so you can enjoy a few more outdoor activities before heading home with pleasant memories of your romantic winter getaway in Kananaskis.
Book your stay at Kananaskis Mountain Lodge
Weekend #2:
Embrace Cold Weather Adventures in Banff National Park
As nice as it is to cuddle up with your significant other on a cold winter weekend in Alberta, it's just as satisfying to experience some outdoor adventures together.
When we're in the mood to play in the snow, we like to take an extended weekend and head to Banff National Park, making stops in both the town of Banff and Lake Louise. We never have any trouble filling our days with snow-and-ice filled fun in Banff National Park!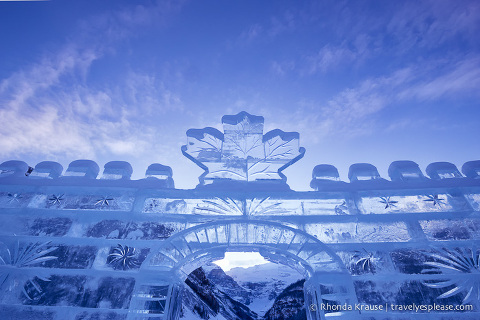 Day 1: Ski at Sunshine Village
Active couples like ourselves will have a great time spending the day skiing or snowboarding at Sunshine Village, one of the top ski resorts in Alberta. While you might not think that skiing is romantic, we would argue that spending time together laughing, taking risks and enjoying some friendly competition on the slopes is a great way to bond.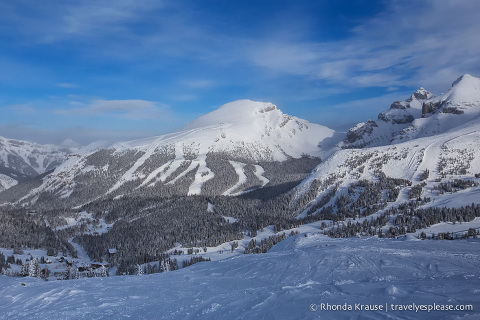 Sunshine Village has a lot of skiable terrain- 3,300 acres across 3 different mountains. We spent most of our time on Blue runs, but did enjoy the challenge of trying some Black Diamonds (they weren't as scary as I thought they might be!)
Whenever we got cold, we'd head to the Teepee Town Quad, a luxury express chair with heated seats and a pull down "bubble" to block the wind. We really liked not having to go all the way into the chalet to warm up!
Once we got tired and hungry, we made our way to the Lookout Lodge for a small meal before deciding to ski out to the parking lot at the gondola base. This actually was my favourite run of the day because I loved the sunny mountain view in front of us!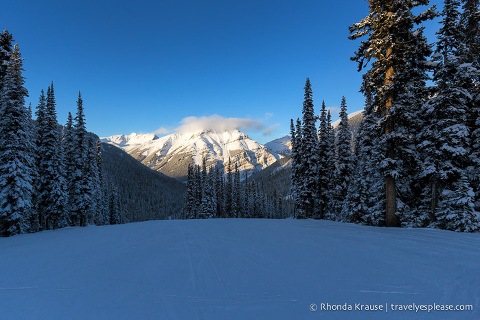 Overnight at the Moose Hotel in Banff
After our day on the slopes, we drove about 15 minutes into the town of Banff and checked in at the Moose Hotel and Suites. It's been a while since we stayed at a hotel that was charming enough for us to say, "Wow, we really like this place!"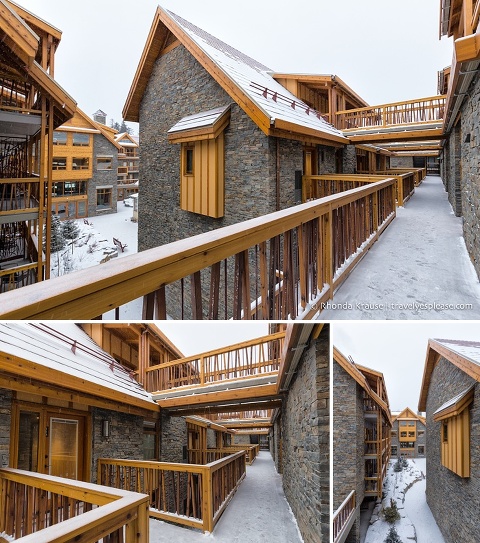 We loved the natural materials used in the architecture and décor, especially the hand-painted artworks by local Canadian artist Jason Carter. His large moose creations felt oh-so Canadian!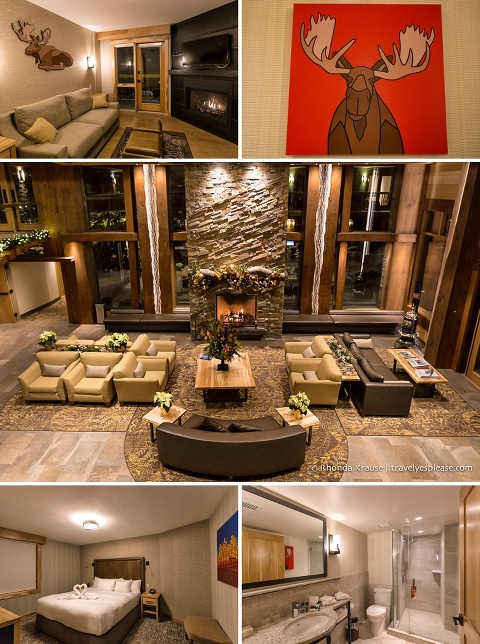 The first thing we did after settling in was head up to the rooftop hot tubs. Forget being squished into a tiny tub with a bunch of strangers- the Moose had 2 big hot pools! They were large enough so that couples on a romantic weekend in Banff could have their own space, without feeling the need to make small talk with others in the pool.
Another great thing about the hot pools was that they overlooked Banff Avenue and the water was nicely illuminated with blue and green lights. Very romantic!
The next best thing after the hot tubs was the rooftop fire pit. It was a wonderful place to end our night, relaxing in the fresh mountain air.
Book your stay at the Moose Hotel & Suites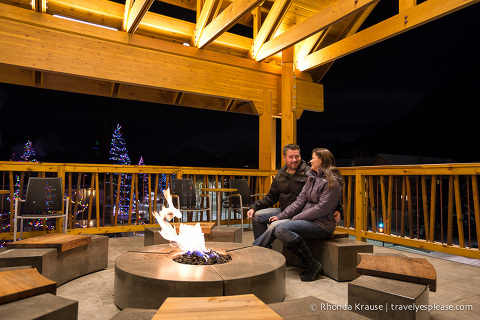 Day 2: Explore Sulphur Mountain- Banff Gondola, Cave & Basin
As spectacular as Banff's mountains look from the road, nothing beats a bird's eye view! For this reason, we took a trip on the Banff Gondola to the summit of Sulphur Mountain.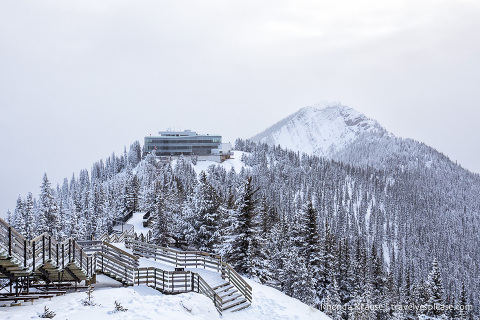 Unfortunately, it was cloudy when we got up there but the trip was by no means wasted. We bundled up and took a romantic walk along the ridge-top, tree-lined boardwalk, following it all the way to the Sulphur Mountain Cosmic Ray Station (a National Historic Site of Canada). Because it was so chilly out, we had the entire boardwalk all to ourselves. A nice benefit to braving the cold!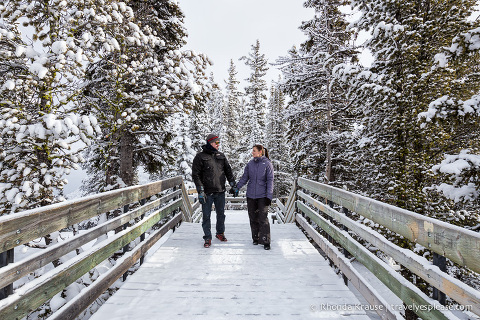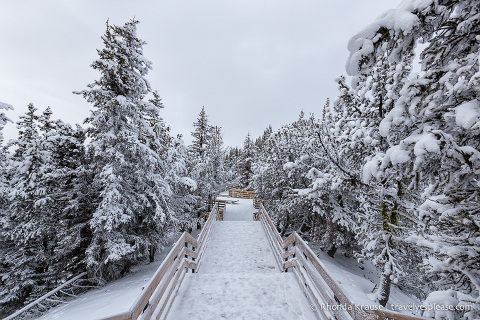 After our walk, we spent some time inside the new facility at the top of Sulphur Mountain. We perused the Above Banff interpretive centre, learning about the area's wildlife, nature and history (because knowledge is sexy!) We even watched a short film that had some spectacular aerial footage of the Canadian Rockies. Now I really want to get a drone!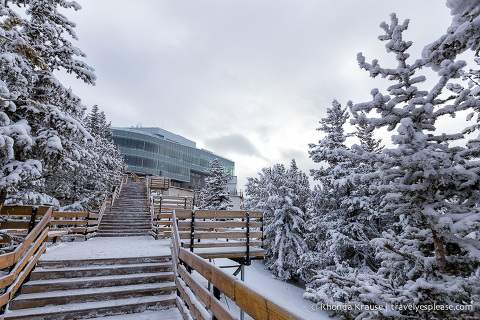 Before leaving the mountain, we planned on having lunch at the Sky Bistro but it was closed due to the extreme cold (the water had to be shut off). I was disappointed because the restaurant looked charming, with floor-to-ceiling windows perfect for gazing out at the surrounding mountain ranges.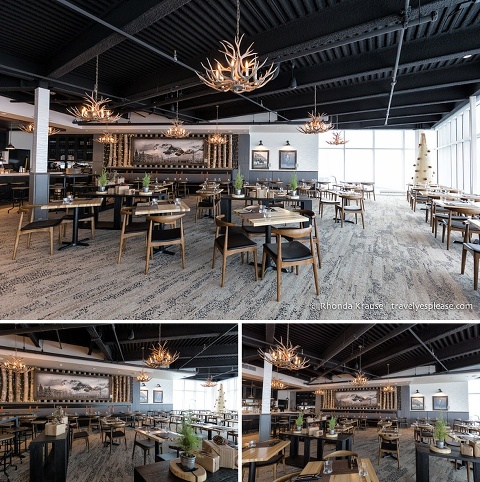 After our visit to the top of Sulphur Mountain, we took a short drive to the Cave and Basin National Historic Site.
This small cave is absolutely gorgeous with its sparkling waters and eye-catching rock formations. If you can ignore the smell of sulphur, this is a nice place to sit with your sweetheart for a few minutes.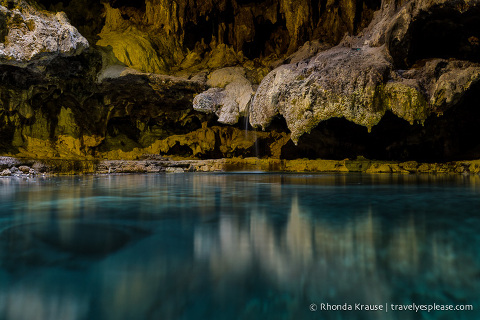 Day 3: Get Active at Johnston Canyon and Lake Louise
To end our romantic getaway in Banff, we drove to Lake Louise stopping along the way for a winter hike at Johnston Canyon. This was one experience we were glad we didn't let the cold temperatures scare us away from!
In the winter, Johnston Canyon turns into an icy wonderland. Waterfalls that are seen thundering over rock ledges in other seasons are beautifully transformed into thick, jagged, larger-than-life icicles.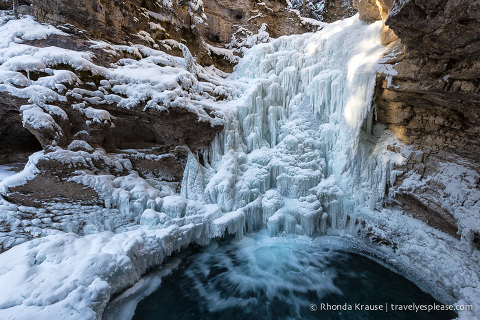 The Lower Falls were picturesque, but the Upper Falls were incredible! We felt so tiny staring up at a huge wall of ice, icicles delicately "dripping" down the canyon walls.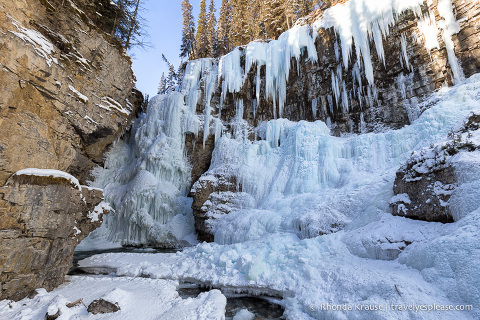 I only wish we had brought some hot chocolate and a blanket to snuggle up in because this ice-kissed canyon was a romantic landscape that we were in no hurry to leave behind.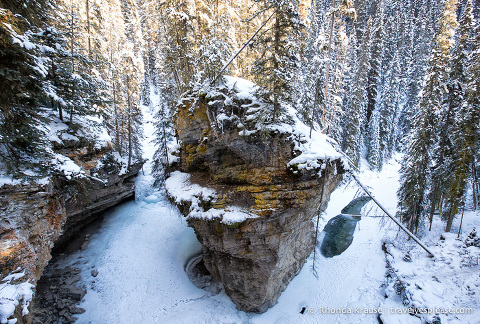 But alas, we did leave it behind to continue our short journey to Lake Louise via the scenic Bow Valley Parkway.
A convenient alternative to the busy Trans-Canada Highway, the Bow Valley Parkway runs parallels to it but feels far more immersed in nature. From the snow-dusted trees to the crisp mountain views, this stretch of road was made for slow, romantic drives.
Our favourite point of interest along the Bow Valley Parkway was Morant's Curve, a famous location for train photography thanks to a curved rail line backed by Rocky Mountain peaks.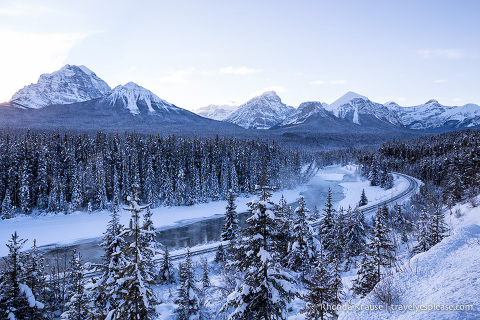 While we were at the right place, it wasn't the right time to capture my own version of the iconic train photograph. Still, Morant's Curve is a fabulous location to sit and take in the views.
Once we got to Lake Louise, we headed directly to the lake to see the annual ice carvings and lace up our skates for some laps around the rink.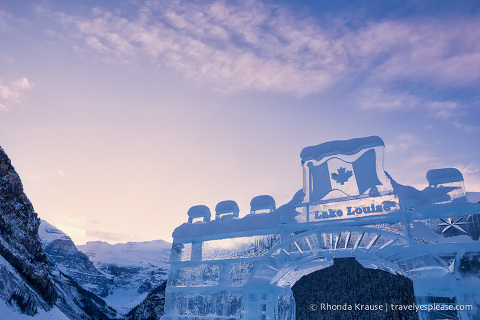 I can't think of a more gorgeous (or romantic) place to skate than around an ice castle backed by a glacier! Perfection!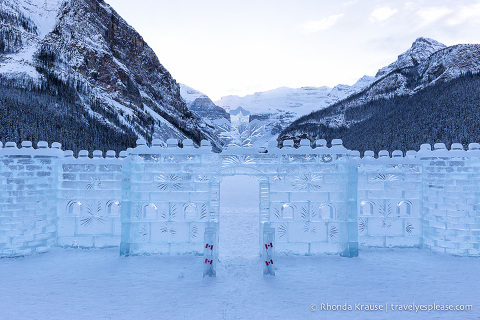 Weekend #3:
Classic Romance and Modern-Day Laughs in Red Deer
Red Deer, centrally located between Edmonton and Calgary, is a great option for a romantic winter getaway in Alberta if you don't want to road trip in the Canadian Rockies. The city has plenty of parkland encompassing rivers, lakes, forests, meadows and wetlands. With over 100 km of trails winding through the city's protected areas, you can connect with nature without leaving the city.
Besides getting out in nature, on a romantic weekend in Red Deer you can experience some classic, old-fashioned romance and find plenty of ways to release your inner child and share some laughs.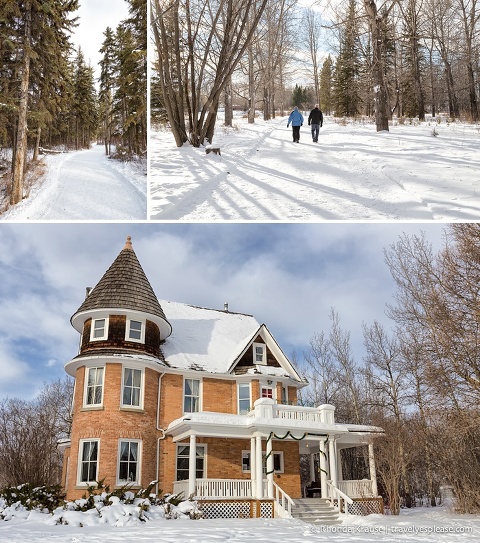 Day 1: Tube and Dine at Canyon Ski Resort
We had such a fun Friday date night of snow tubing to start our romantic weekend in Red Deer.
Canyon Ski Resort resort has a Snow Tube park of two runs and a special lift so you can sit in your tube while it gets pulled up the hill.
We had a blast racing down the tracks, getting a bit of air on the small jump and zooming up the embankment as we took the corner. Oh, the laughs that we had!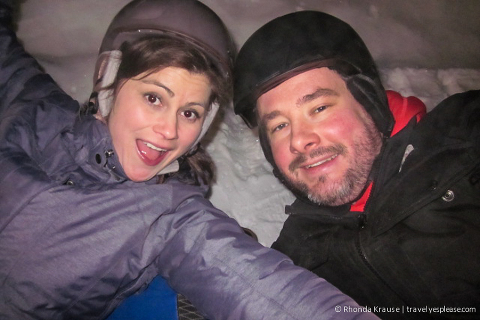 Sometimes we raced each other on separate tracks, but most the time we rode down together holding onto each other's tubes. For a real thrilling ride, ask the staff at the top to push you into a spin!
We snow tubed for about an hour and a half before heading into the lodge for dinner, which was included in our ticket. Dinner was a set menu so we dined on pork schnitzel and mashed potatoes- a nice German meal! Dinner options change every week so call ahead to find out what is being served. Also, make sure you bring cash to buy drinks as they are not included in the meal and cards are not accepted.
We thought snow tubing was a great option for a date night because unlike skiing, there's no different skill levels. Both people can go down the same run, at the same pace, which means more quality time together.
Day 2: Skating, Snowshoeing with Pursuit Adventures, Date Night at Heritage Ranch
Mid-morning we headed to Bower Ponds since we heard it was a great place to go skating. We didn't have our skates with us but were able to rent some on site at the pavilion.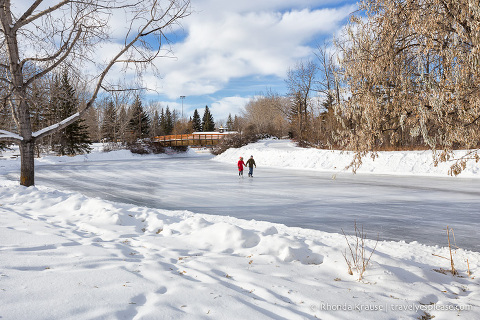 Most of the main pond was cleared for skating and the ice was so smooth- perfect for gliding across hand in hand! We liked that you could skate near the pavilion or, for a change of scenery, head under the bridge for a lap around another part of the pond.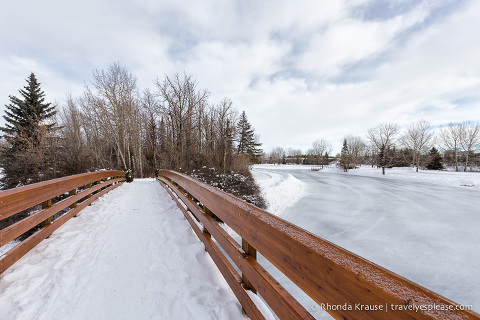 If you work up an appetite skating, inside the pavilion you can order snacks and small meals, including one of my personal favourites, grilled cheese sandwiches.
There's even a games room in the pavilion where you can choose from over 200 games or join in on an organized event.
In the afternoon we met up with Pursuit Adventures for a snowshoeing excursion around Heritage Ranch. We like snowshoeing but don't own the equipment, plus were unfamiliar with the trails in Red Deer so it was nice to have a guide who could show us around.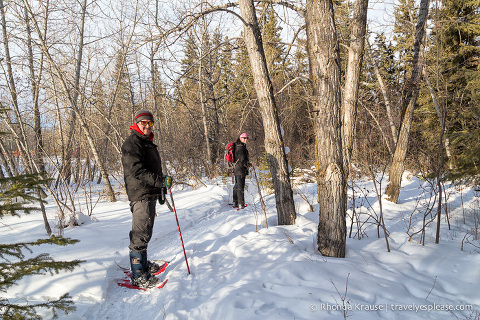 Danielle from Pursuit Adventures took us off the main paths at Heritage Ranch and into the forest, guiding us down a few hills to a pond-side meadow. On the way we saw a group of deer, a squirrel cache and many more signs of wildlife. Without Danielle we probably wouldn't have noticed a lot of this.
Once we got to the pond, Danielle took out a small torch and made us each a s'more. It was more tasty than usual because the graham wafers and the marshmallows were homemade. Yum! If that wasn't delicious enough, we washed it down with some homemade hot chocolate.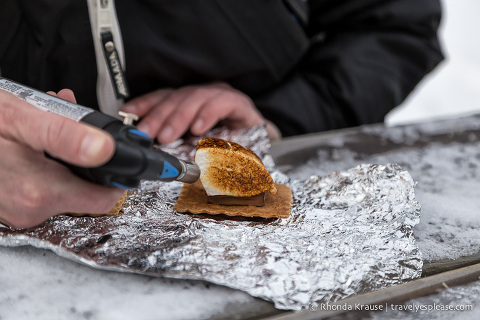 After our snowshoeing adventure, we stayed at Heritage Ranch to experience some old-fashioned romance with a horse-drawn sleigh-ride for two.
Snuggling up under some soft blankets, we were pulled by two beautiful black horses down a trail lined with over 20,000 Christmas lights, as bells lightly jingled on the reigns. The setting was lovely and the mood fit the classic, storybook idea of romance. Not only was the scene ideal, it was refreshing to experience a little country in the city.

Immediately after our sleigh ride, we enjoyed a 5-course gourmet meal at the West Lake Grill. Once again, the setting was classically romantic- candlelight, a bottle of wine, long stem rose and a box of Ferrero chocolates.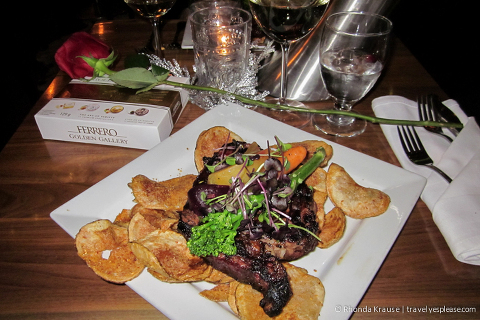 The room we dined in was perfect for a romantic dinner. Intimate, with only 11 tables for two, it was dimly lit and nicely decorated with a garland of artificial pine needles covering the ceiling beams. Down-to-earth elegance!
The relaxing scenery, delicious food and good conversation made our date night at Heritage Ranch a wonderful experience!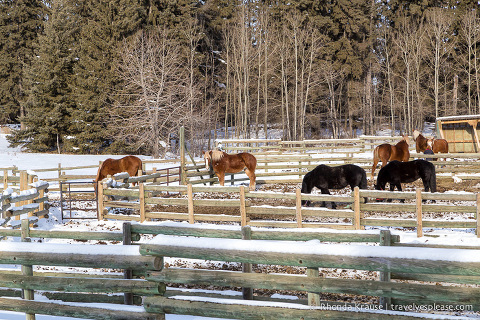 Overnight at the Cambridge Red Deer Hotel
As part of Heritage Ranch's Date Night Package, you can include an overnight stay in one of the suites at the Cambridge Hotel (formerly the Sheraton).
We were in a Vice Presidential Suite and with two floors, it was bigger than our condo!
Downstairs there was a living room with fireplace, dining area, bar area and a bathroom. Upstairs there were two bedrooms with king beds, and a bathroom with both a two-person Jacuzzi tub and slate tiled shower.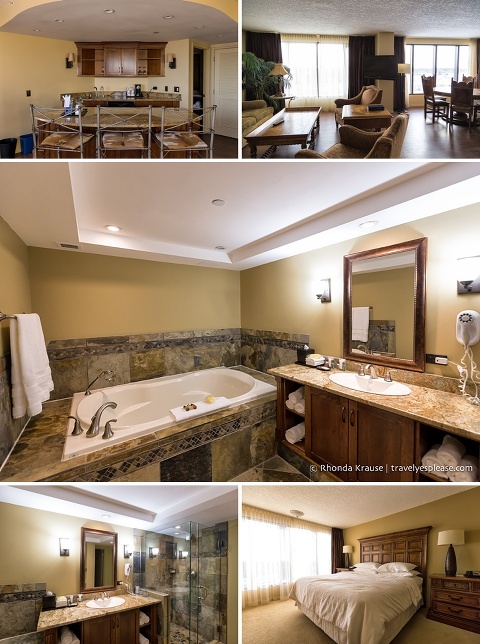 Since our room was on the Club Floor, we had access to the Club Lounge. We enjoyed a lot of perks including breakfast, hors d'oeuvres in the evening and snacks and non-alcoholic drinks throughout the day.
If you plan on staying at the Cambridge Hotel in Red Deer we have one tip- ask for a room that faces away from the parking lot. When the bar next door lets out for the night it can get a little noisy.
Book your stay at the Cambridge Red Deer Hotel
Day 3: Walk the McKenzie Trails
Before leaving Red Deer we decided to go for a walk in the McKenzie Trail Recreation area. After a lap around the main pond, we both commented that we felt so relaxed in Red Deer. That's what we want from a romantic weekend away- to return home feeling de-stressed!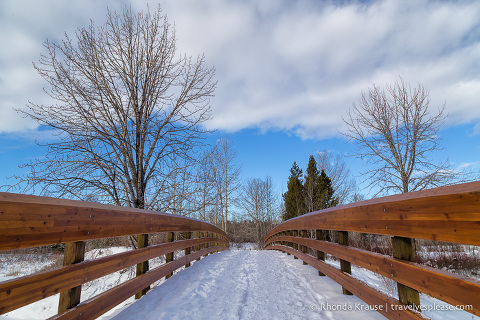 Weekend #4:
Explore Together in Jasper National Park
Jasper National Park has been our go-to place for romantic winter getaways over the past few years. Peaceful and easy-going, with plenty of fun ways to spend time together in the great outdoors, Jasper is always a fantastic destination for a romantic winter getaway in Alberta.
We've selected a few of our favourite winter activities in Jasper to custom create for you this romantic weekend in Jasper National Park.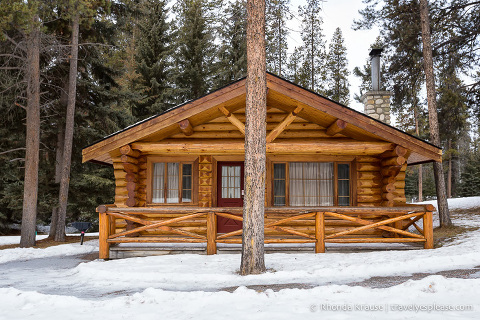 Day 1: Ice Walk at Maligne Canyon and Cross Country Skiing
Start your winter weekend in Jasper by walking among nature's ice sculptures at Maligne Canyon. Strolling along the frozen canyon floor, you'll pass by towering curtains of ice, fine ice crystals, and if you have a keen eye, you may even notice fossils embedded in the canyon walls.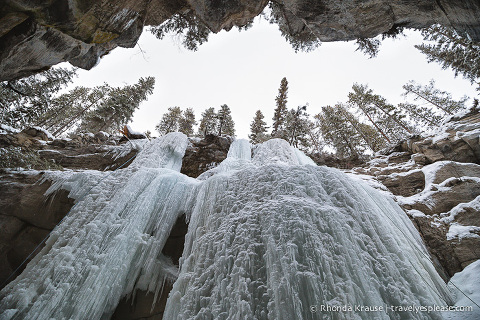 Not only is the frosty scenery alluring, you'll likely have to get close and hold on to one another so you don't slip. Yes boys, there's plenty of opportunities here to be chivalrous!
In the afternoon, head out to explore some of Jasper's cross country ski trails. There's a nice selection ranging from short loops, to longer routes through valleys and forests.
We skied to Beaver Lake one visit and learned that cross country skiing can be harder than it looks. Besides sharing in the beautiful scenery, we shared plenty of laughs too!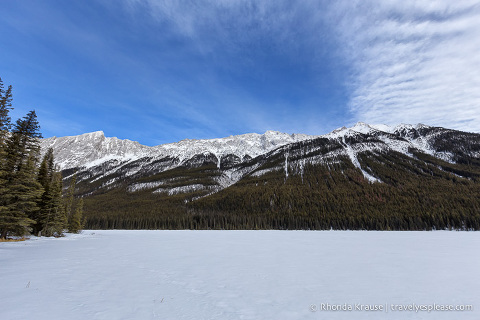 Overnight at the Fairmont Jasper Park Lodge
We've stayed in many different accommodations in Jasper, but our pick for the most romantic is the Fairmont Jasper Park Lodge.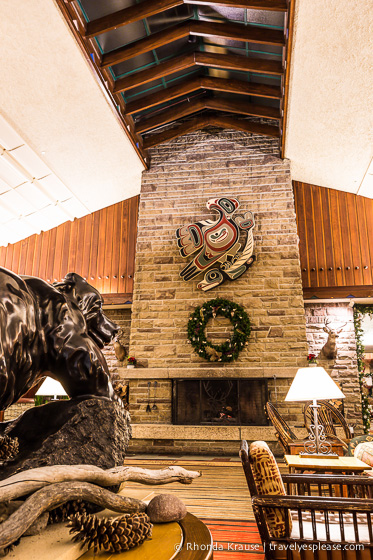 We loved the rustic, yet luxurious log cabins located along the forested shore of Lac Beauvert. Our suite was big, but still cozy, and sitting in front of our wood-burning fireplace was the perfect way to relax after a fun-filled day of outdoor adventures.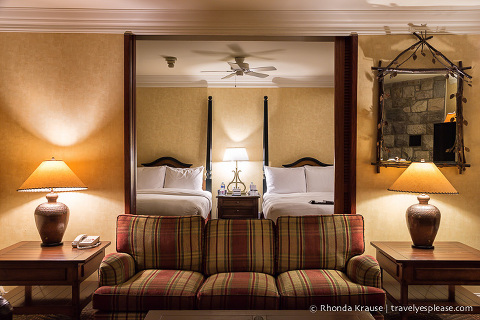 The Jasper Park Lodge has plenty of winter activities available, including skating on Lake Mildred. What we like most about it though is that it's a classy, yet unpretentious place to be surrounded by the beauty of nature.
Book your stay at the Fairmont Jasper Park Lodge
Day 2: Get Moving on a Winter Walk and Snowshoeing Adventure
Start your morning with a gentle winter walk at Pyramid Island, a short drive from the town of Jasper. We return to this spot again and again because it's easily accessible, very photogenic and the loop around Pyramid Island doesn't take long to walk. It's a good warm up for the rest of the day's adventures!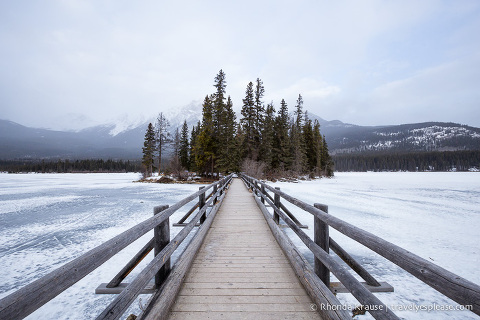 If you want to venture a little further from town, we recommend taking a morning walk at Athabasca Falls. Again, this is one of our favourite places to visit in Jasper National Park, a spot we come to almost every time we're in Jasper. There's something really enchanting and romantic about a frozen waterfall.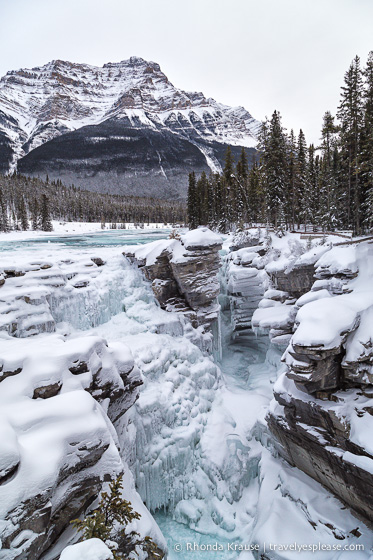 There are some short trails offering up different vantage points of the falls and unlike in the summer, there's a good chance you'll have them all to yourselves.
After your morning walk, strap on some snowshoes and head out to explore Jasper's backcountry. Our first time snowshoeing in Jasper was on a guided trip across Medicine Lake and up to Watchtower Canyon, where we had a little winter picnic in front of a frozen waterfall.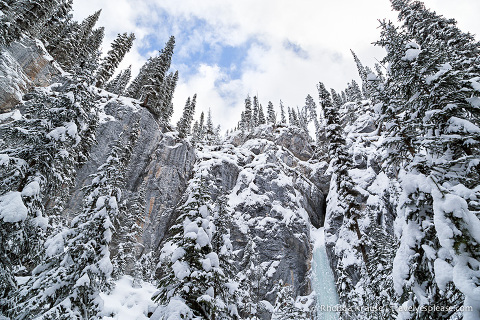 If we were to go snowshoeing again, I'd like to explore the trails around Maligne Lake. This area is known for having excellent snow and wildlife viewing opportunities. Not to mention, it's incredibly beautiful just before sunset when no one is around.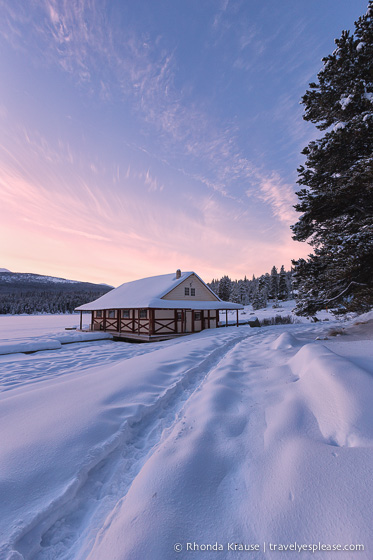 To end your romantic weekend in Jasper, take some time to do a little stargazing. Jasper is a dark sky preserve, so almost anywhere you go is perfect for admiring the night sky with your sweetheart!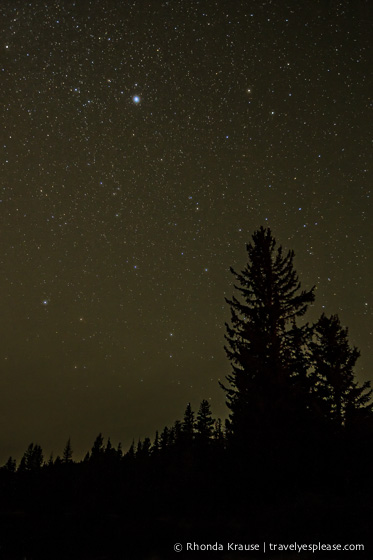 Final Thoughts About Our Romantic Winter Getaway in Alberta
So there you go- four ideas for a romantic winter getaway in Alberta! We made a lot of lasting memories as we were putting together this article. We hope it encourages you to set aside some time with your significant other to have your own romantic winter getaway in Alberta!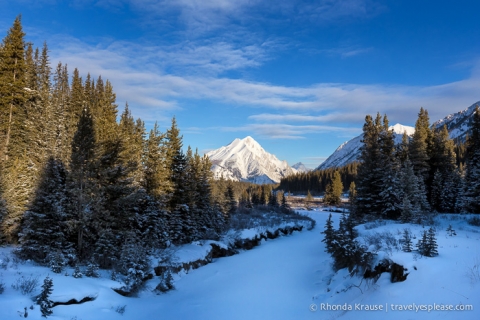 Romantic Accommodations in Alberta
For your convenience, here is a list of hotels for each destination we visited during our couples' getaway in Alberta. Please consider booking your accommodations through the included links. It costs nothing extra and helps support this website. Thank you!
Products We Use and Recommend for a Winter Trip to Alberta
Click here if shopping from Canada.
We'd like to thank Travel Alberta and Tourism Red Deer for hosting us in order to bring you this story. As always, we speak only the truth and hosts have no editorial influence on articles.
More Alberta Winter Destinations and Travel Guides