Purchases made through links earn us a small commission, at no extra cost to you.
The Brooklyn Bridge has long been an icon of New York, so walking across it was one of the first things we did on our trip to New York City.
Crossing the East River, the Brooklyn Bridge has connected the boroughs of Manhattan and Brooklyn since it opened in 1883. Not only was it the first to span the East River, the Brooklyn Bridge was the world's largest suspension bridge at the time it was built.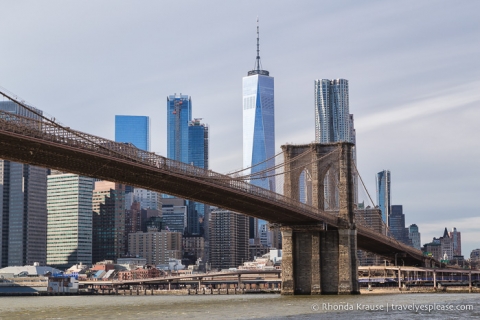 The Brooklyn Bridge was constructed using a hybrid suspension/cable-stayed design consisting of steel cables strung from two stone towers. The longest span is 486.3 m (1,595.5 ft) and the bridge's total length is 1,825.4 m (5,989 ft).
Even though there are 6 lanes for traffic, the bridge is enjoyable to walk across since the pedestrian path is above the roadway. From the bridge you get great views of both Manhattan and Brooklyn, as well as an up-close look at the distinctive weblike pattern formed by the cables.
A milestone in engineering, the Brooklyn Bridge is a National Historic Civil Engineering Landmark and is on the U.S. National Register of Historic Places.
More New York City Attractions and Travel Guides