Let us bring your destination to life! We are excited to offer partnership opportunities to help promote your destination, tour, or travel brand.
About Travel? Yes Please!
Travel? Yes Please! was founded in 2013 by Canadian travel photographer and writer Rhonda Krause. It has since become a trusted source of information and inspiration for independent, active travellers looking to make the most of their limited vacation time.
At Travel? Yes Please!, our mission is to provide readers with the destination insight, practical information, and first-hand advice they need to travel the world independently with confidence. Our posts aim to guide readers through the stages of travel from inspiration, planning, and booking.
Travel? Yes Please! focuses on Rhonda's "laid back luxe" travel experiences with her husband Mike, as well as her solo adventures. The site features a wide variety of topics including multi-destination itineraries, outdoor adventures and nature escapes, archaeological and historic sites, city breaks, romantic getaways for active couples, and solo female travel.
Learn more about Rhonda and Mike
Why Choose Us?
We have a unique ability to capture atmosphere and moments with captivating writing, and to inspire travel through professional photography.
By presenting our travel experiences in an open and honest way, our readers view us as someone they can trust, respect, and turn to for travel advice. We are more than just stats and numbers of followers- we are real people that readers can connect with and relate to.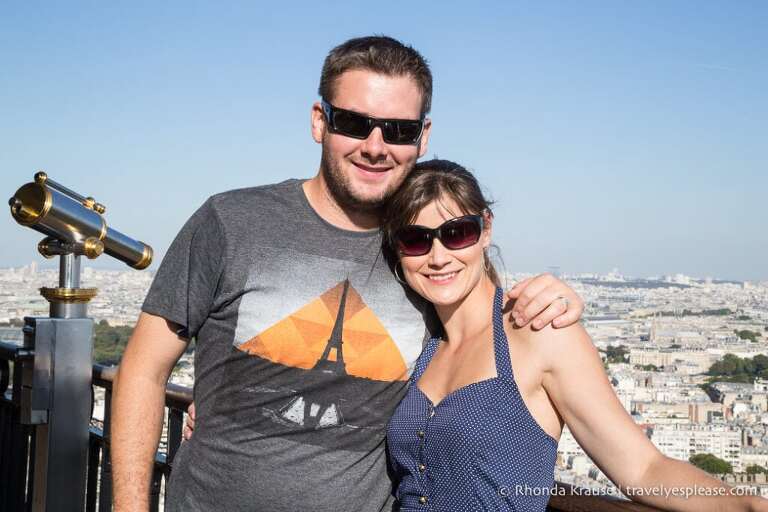 Not only do we build relationships, we have the ability to create excitement around a travel experience and present each destination from a personal perspective.
We create high quality, evergreen content that will appear in search engines for years to come. Our blog posts are in-depth, well organized, and illustrated with a large selection of compelling photographs. They get a considerable amount of social shares and engagement, with many of our itinerary posts being shared over 20,000 times. Our posts not only excite, inform, and inspire readers, but have been recognized throughout the industry for having the ability to showcase the beauty and individuality of each travel destination. Of course, we always weave our personal story into every post!
Our Audience
People come to Travel? Yes Please! looking for three things: information, inspiration, and honest storytelling.
Our website is read by an international audience of 60,000 unique visitors a month. Our readers are primarily from the United States (46%), Canada (15%), the UK (6%), and Australia (3.5%).  The age range of our readers is 25-34 (35%), 35-54 (28%), 55+ (21%), 18-24 (16%). Readers are highly engaged, with an average time on page over 5 minutes.
We are active on social media and have almost 100,000 combined followers. 
Our audience is interested in destination specific information, personal recommendations, and tried and true tips for visiting. Many of our readers are currently travelling, in the planning stages, or looking for inspiration for their next adventure.
Stats At a Glance
Unique Monthly Visitors= 55,000- 60,000
Monthly Page Views= 73,000- 80,000
Average Time on Page= 5:17
Instagram Followers= 37.6 K
Facebook Followers= 10.3 K
Twitter Followers= 38.7 K
Pinterest Followers= 11.1 K (591.7 K monthly viewers)
Our Influence
Consistent sales from affiliate links on our site indicate that our content directly influences our readers' travel plans and purchases. In 2019, we sold $165,012 US worth of products and services for our affiliates, up from $121,460 in 2018.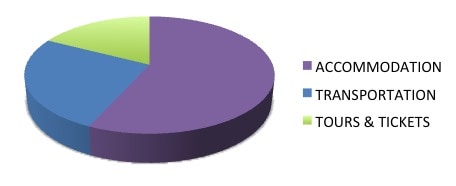 Partnership Opportunities
We can present your destination or travel company as an exciting and attractive option for our readers' next vacation. We are open to working with a variety of companies, of all sizes, including:
Tourism boards
Tour providers
Small ship cruises
Hotels and resorts
Local attractions and activities
Transportation companies such as airlines, rail, and car/RV rentals
Partnership possibilities include:
Press/familiarization trips to showcase your destination on our blog and social media
Brand ambassador/sponsorship programs
Instagram takeovers and social media campaigns
Travel photography assignments (view my portfolio)
During a partnership we offer:
Value, quality, and professionalism
Access to a targeted, engaged audience of travellers
Social media coverage during and after the travel experience (ongoing basis)
Expertly crafted, well-rounded blog posts that go above and beyond in showcasing your destination and informing prospective tourists
The opportunity to license my professional photos for use in your marketing materials
Disclosure:
We will always maintain an unbiased, honest approach to blogging. Sponsored travel experiences will be marked as such, will be written about truthfully, and hosts have no editorial control of the content we publish. We do not accept sponsored or pre-written posts, and will never promote/write about travel companies, products, and destinations we have not experienced ourselves.
Our Tourism Collaborations
We've collaborated with and been invited by some world-class tourism boards and travel companies to experience, showcase, and promote their destination.

Testimonials
Jennifer Glyka- Marketing Specialist, Media and Influencer Relations, Tourism Yukon:
Tourism Yukon has had the pleasure of working with Rhonda on two separate press trips. She produced high quality blog posts and captivating photography which truly captured the unique culture, grandiose nature, epic scenery and thrilling adventure of the Yukon. Rhonda impressed us by publishing multiple articles soon after the trip, posting engaging Instagram stories during the trip, and continuing to provide social media coverage and sharing of blog posts to date. Rhonda shows up on time, works hard and is a joy to collaborate with!
April Henry- Marketing and Communications Specialist, Tourism Jasper:
It's always a pleasure to include Rhonda in our media initiatives. Her enthusiasm for the destination consistently shines through in her writing and photography. Rhonda has an excellent ability to showcase her experiences in-destination through well thought-out, practical, and compelling articles that align with our brand messaging. She is a very reliable communicator and we know we can expect high quality coverage as a result of any partnership.
June Kawahara- Media Coordinator, Journalist of Japan TV and Newspaper:
I am director of a project that invites excellent foreign journalists to experience and write articles about Japan, in addition to working as a journalist myself. Rhonda was introduced to me by a journalist from New York and since I read her articles, I became one of her fans and have invited her on two media trips. Her writing is informative, helpful, and easy for Japanese people to understand. The quality of her photographs is even more wonderful and I feel like I am in that place when I see them. I sincerely hope that Rhonda will continue to travel and that more people will read her articles.
Professional Organizations
We are proud members of the following professional organizations:


Awards
First Prize, Best People Photo (A Walk Down Shimbashi Street, Kyoto)- 2016 Travel Media Association of Canada Awards
First Prize, Best Action Photo (The Gold Rush Gals)- 2017 Travel Media Association of Canada Awards
Second Prize, Best Photo Series (Ireland)- 2017 Travel Media Association of Canada Awards
Third Prize, Best People Photo (Celtic Steps)- 2018 Travel Media Association of Canada Awards
Second Prize, Best Landscape or Evocation of Place (Antarctica Ice)- 2020 Travel Media Association of Canada Awards
Second Prize, Best Nature Photo (Awaiting a New Arrival)- 2020 Travel Media Association of Canada Awards
Third Prize, Best Nature Photo (King Chicks)- 2020 Travel Media Association of Canada Awards
Featured In
LP Pathfinders: Top Posts from January 2017- Lonely Planet
LP Pathfinders: Top Posts from August 2016- Lonely Planet
LP Pathfinders: Top Posts from February 2017 (runner up)- Lonely Planet
Tips from Photography Experts– Backpacker Travel
The Top 100 Canadian Travel Blogs- Flight Network
Comments From Our Readers
Brett (on Instagram): "I love your blog! I'm using your Germany trip to help customize my own in May. I also enjoyed reading about your trips to Japan. I visit quite frequently and it's by far my favourite place to visit in the world. I still haven't seen Tottori and have been inspired by your blog to visit this location. Thanks for all the great tips!"

Mara: "Thank you so much for sharing your experience with me and all your encouragement. I really appreciate you in ways you simply can't imagine."

Beth: "Hi Rhonda! I just returned from my trip to Savannah (used your itinerary and suggestions as a base for my planning) and wanted to say THANK YOU for your recommendation to attend a tour by Shannon Scott. WOW, that was the highlight of the trip!! He is an amazing storyteller and knows so much! We also visited Wormsloe and overall enjoyed our weekend."

Eric (on Instagram): "We went here [Strasbourg] a few years ago because of your pictures. Thanks for the recommendation."

Alison: "Nice overview. You certainly put a lot of time into this post and it shows! I hope to be traveling there next year and this was a great visual tour to get me excited!"

Michael: "Thank you for painting a nice picture. I think you definitely sold this destination spot. Glad you shared such nice imagery along with your words."

Jen (on Instagram): "Hi! I just wanted to let you know that I devoured your blog posts about Switzerland (bookmarked every single one on my phone) and I modeled my itinerary after yours. I spent 2 weeks going to only small towns and mountain destinations and it was just perfect. Thanks for doing what you do – your posts were the most helpful resource for my whole trip and I'll definitely be reading your other posts for inspiration and guidance as well."

Natasha: "Great photos and very interesting comments. Now I am hooked and can't wait every time I open the site to see more."

Mikey: "I was there last week and loved it. I got some of my Japan itinerary ideas from your website- thanks! I'm loving it here."

Tracey: "Wow! Ireland looks amazing. It is on my trip to-do list. Thank you for these gorgeous pictures and helpful post. Love that pic of Hore Abbey- I have to go there now!"

Bonnie (on Instagram): "Beautiful! I'm using your blog post about Ireland right now to plan for our trip in May! It's definitely helped me make decisions on where to visit!"

Aman: "Hey guys. First of all, thank you for creating this blog. It has helped me tremendously in planning and organizing our first trip to Canada. I had saved this blog in my bookmarks last year and just last month, I and my wife did a ditto road trip to the Canadian Rockies. The only difference was, we did a 7-day trip but we loved it. We did Calgary – Canmore – Banff – Lake Louise – Icefield Parkways – Jasper and flew back to San Francisco from Calgary. Thank you again for the great work on this blog and for inspiring me to visit Canada."

Mick: "Thanks! This helped inspire me for where to go on my week off!"

Robin & Dave (on Twitter): "Your post makes us want to visit more than ever- can't wait to spend some time up there [the Yukon]."

Stephanie: "I am planning an upcoming trip to Ireland and found your blog and was amazed. I have been searching through countless blogs and yours was so thorough and detailed. THANK YOU!!"

Seda: "I live in Ireland and was looking for a weekend itinerary in the west coast. I'm extremely impressed by this website and I can say that the information you provide is accurate. Also, it includes so much important details that I had to note down. Thank you very much for your great effort! This is one of the best travel blogs around for sure."

Becci: "Oh my gosh how pretty! I have never really wanted to go to Germany before, but these photos are so pretty, it literally looks like a fairytale. Adding Bavaria to the bucket list now."

Tracey: "This itinerary is amazing and the pictures just stunning! The architecture and nature of Switzerland is just magnificent and you really made me want to plan a trip there!! I just love the beautiful old buildings."

Julie: "Your 2 Weeks in Ireland will be my greatest inspiration for my upcoming travels to the shamrock country!  Thank you so much for your amazing photos and authentic thoughts."

Paddy (on Twitter): "I think your website is really good and honest, an excellent balance of photography and writing ability. I wish you well! I think you represented Ireland very well."

John (on Twitter): "Your articles are wonderful. They are all-inclusive yet not verbose."

Christine: Thanks for the wonderful photos and the intelligent (and thoughtful) comments.  We have been planning a trip to the Sacred Valley (and MP) for months, leave in a few weeks, and I found your comments helpful, as they underscored (or made me pause about) some of our decisions about priorities for our short time in the area.  Thank you again!

Christine: What a beautifully photographed and thoughtfully (and candidly!) narrated account of the Inca Trail! Your photos of the ruins along the way are spectacular, and, for someone too old to contemplate such an arduous trip, certainly some compensation for being unable to see them in person.  Am just sorry I had not found your website earlier in our Peru trip planning but am grateful for what you have shared and thankful for your terrific photographer's eye!

Eve: Very comprehensive, I plan on following your itinerary exactly when I visit next May, 2020.  Best blog I was able to find on the internet describing a day at this island. Thank you so much for posting it.
Contact Us
If you are interested in working with Travel? Yes Please!, contact rhonda [at] travelyesplease.com. We would love to hear from you!