One trip to Japan is never enough. The country's unique and fascinating culture- no other place combines tradition and modernity with such perfect balance- always leaves me longing for more.
I've made three trips to Japan and each time I've enjoyed enriching experiences. Whether it be hiking a forested pilgrimage route, gazing at an iconic volcano, staying overnight in a Buddhist temple, strolling through immaculate gardens, relaxing in hot springs, watching wildlife, or marvelling at elaborate light displays, I've always returned with cherished memories.
There is no shortage of things to see and do in Japan, but what keeps me coming back is the warm, welcoming hospitality that greets me everywhere I go. Japanese hospitality is unmatched by anywhere else I've been in the world.
And that is why you should visit Japan!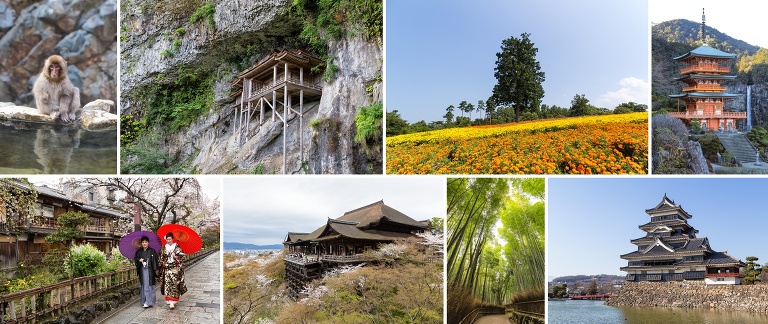 Japan Travel Guide
I've pulled together all my Japan travel tips and information into one handy resource, making it easier to plan a trip to Japan.
This Japan travel guide includes my itineraries, detailed articles about places to see in Japan, transportation and planning tips, plus links to my favourite sites for booking accommodations, tours, and rail passes.
Planning a Trip to Japan- Travel Tips and Information

To begin with, here is some information about travelling in Japan, including the 2-week itinerary from my first visit.
Regions of Japan
When planning a trip to Japan, it helps to have a basic understanding of the physical and political geography, as you'll frequently hear references to island, region, and prefecture.
Japan's five main islands are Honshu (the largest and most populous), Hokkaido (most northern), Shikoku, Kyushu, and Okinawa. These islands are divided into 47 prefectures spanning 8 regions. The regions of Japan are Hokkaido, Tohoku, Kanto, Chubu, Kansai/Kinki, Chugoku, Shikoku, and Kyushu (including Okinawa).
Places to Visit in Japan- What to See and Do
I've organized my blog posts about Japan by region, making it easier to browse for inspiration for a trip to Japan.
Here are some ideas for where to visit in Japan!
Kanto Region Travel Guide
Kanto is a densely populated region in east-central Honshu. It is Japan's largest plain and the most developed, industrialized part of the country. Kanto is home to the large metropolises of Tokyo and Yokohama.
Prefectures in Kanto: Tochigi, Ibaraki, Saitama, Tokyo, Chiba, Kanagawa, Gunma
Destinations in Kanto
Here are some places to visit in the Kanto Region of Japan.
Tokyo Metropolis
Tochigi Prefecture
Chubu Region Travel Guide
Chubu is located in the centre of Honshu, with the northern coast bordering the Sea of Japan and the southern coast looking out to the Pacific Ocean. Chubu is a mountainous region where you'll find many hot springs and small, rural towns. Nagoya is the region's major transportation hub, making it easy to access Kanazawa and Nagano, popular tourist destinations in Chubu.
Prefectures in Chubu: Niigata, Toyama, Ishikawa, Fukui, Nagano, Yamanashi, Shizuoka, Aichi, Gifu
Destinations in Chubu
Here are some places to visit in the Chubu Region of Japan.
Yamanashi Prefecture
Nagano Prefecture
Toyama Prefecture
Kansai/Kinki Region Travel Guide
Kansai is in south-central Honshu, bordered by the Seto Inland Sea to the west, the Sea of Japan to the north, Ise Bay to the east, and the Pacific Ocean to the south. The Kansai region includes Kii Peninsula, the largest peninsula on Honshu, and the cities of Osaka and Kyoto. Kansai is considered to be the historical heart of Japan.
Prefectures in Kansai: Hyogo, Kyoto, Shiga, Osaka, Nara, Mie, Wakayama
Destinations in Kansai/Kinki
Here are some places to visit in the Kansai/Kinki Region of Japan.
Kyoto Prefecture
Nara Prefecture
Hyogo Prefecture
Wakayama Prefecture
Mie Prefecture
Chugoku Region Travel Guide
Chugoku is the westernmost region of Honshu, lying between the Sea of Japan and Seto Inland Sea. The southern part of Chugoku is heavily urbanized, while the northern part is more rural and sees fewer tourists.
Prefectures in Chugoku: Tottori, Okayama, Shimane, Hiroshima, Yamaguchi
Destinations in Chugoku
Here are some places to visit in the Chugoku Region of Japan.
Hiroshima Prefecture
Tottori Prefecture
More Places to Visit in Japan- Special Interests
If that wasn't enough inspiration for a trip to Japan, here are some more ideas of places to visit in Japan, categorized by special interests rather than prefecture.
Accommodations in Japan
We highly recommend Booking.com to reserve accommodations in Japan, as it's the only site we use to book our hotels. They have a huge selection of properties and guarantee you'll get the best price on the internet. Most properties offer free cancellation and don't require prepayment.
Tours in Japan
Get Your Guide is my trusted site for booking local tours, activities, and attractions tickets. They have an impressive inventory to choose from and offer a best price guarantee. Here's a small sample of what they offer, or click the link above to browse the full selection.
Buy Your Japan Rail Pass
Jrailpass.com is an authorized vendor of the Japan Rail Pass. You can order your pass online and have it shipped to you within 1-3 business days (tracking number provided).

Purchases made through the included links earn us a small commission, at no extra cost to you, and help support this website. Thank you!