UNESCO World Heritage Sites are some of my favourite places to visit when I travel. I enjoy learning about history, discovering how the ways of life and innovations of our ancestors have shaped our present-day society. I love visiting places that are rich in culture and deeply appreciate the beautiful things in our world, both natural and manmade.
UNESCO World Heritage Sites encompass many of the things I love so much about travelling. They represent the very best of the world in terms of our global heritage.
UNESCO has made it their mission to preserve and protect our cultural and natural heritage for future generations. They have carefully selected a unique and diverse collection of properties for conservation that are of outstanding value to humanity.
What I love most about UNESCO World Heritage Sites, is that they are considered to "belong to all the peoples of the world, irrespective of the territory on which they are located" (UNESCO- About World Heritage). I believe World Heritage Sites contribute to the idea that we are a global community and strengthen our appreciation of different cultures and environments around the world.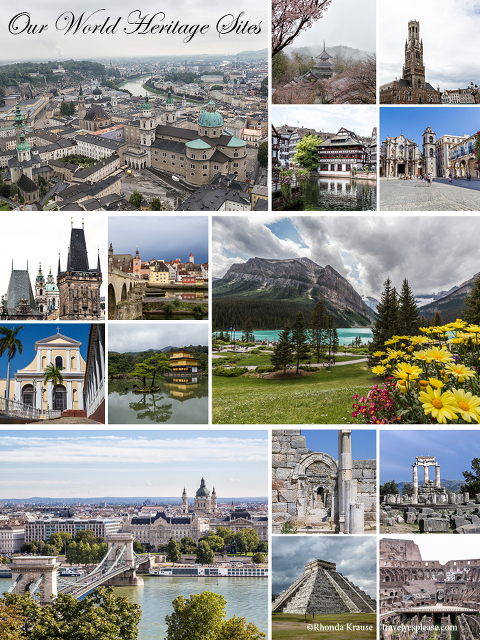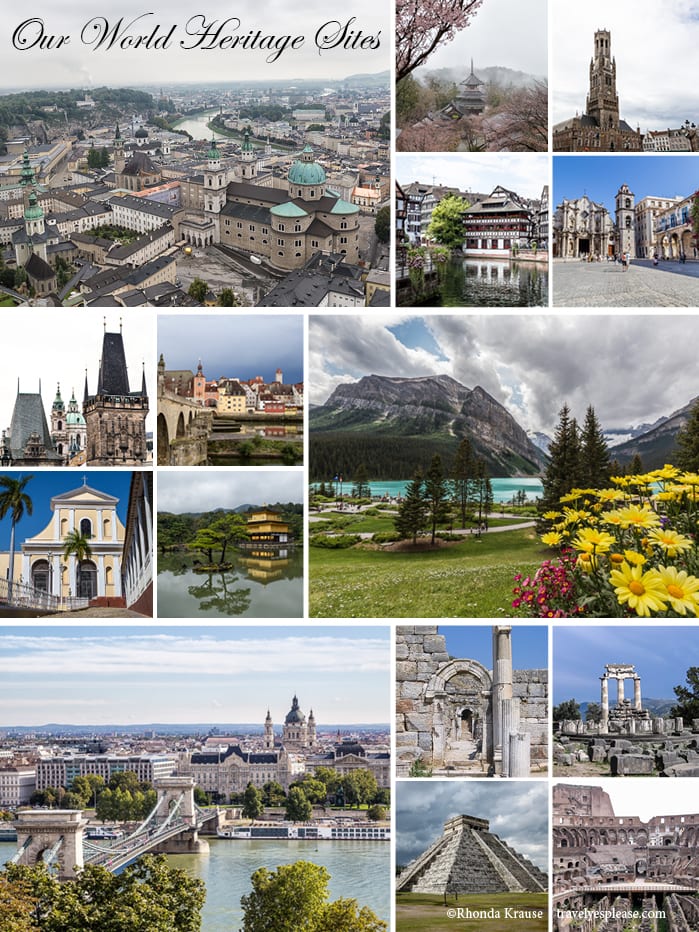 Our World Heritage Sites
Here is a list of all the UNESCO World Heritage Sites that either Mike or I have visited during our travels. I've been to all the places on this list, but Mike has missed out on some since I did a lot of travelling before we met.
We haven't written about all these destinations, but those we have featured on the blog include a link to the article(s). This page will be updated as we visit more World Heritage Sites and write about our experiences, so feel free to check back every so often!
Note: All links will open in a new window.
Argentina
Austria
Historic Centre of Vienna
Belgium
Bolivia
Canada
Head-Smashed-In Buffalo Jump
Canadian Rocky Mountain Parks (Banff, Jasper, Kootenay and Yoho, as well as the Mount Robson, Mount Assiniboine and Hamber provincial parks)
Waterton-Glacier International Peace Park (Waterton Lakes National Park in Canada and Glacier National Park in the USA)
Writing on Stone/Áísínai'pi
Chile
Cuba
Czechia
Egypt
Ancient Thebes with its Necropolis
Historic Cairo
Memphis and its Necropolis- the Pyramid Fields from Giza to Dahshur
Nubian Monuments from Abu Simbel to Philae
Wadi Al-Hitan (Whale Valley)
France
Chartres Cathedral
Mont-Saint-Michel and its Bay
The Loire Valley between Sully-sur-Loire and Chalonnes
Germany
Greece
Medieval City of Rhodes
Meteora
Sanctuary of Asklepios at Epidaurus
Archaeological Site of Mycenae and Tiryns
The Historic Centre (Chorá) with the Monastery of Saint-John the Theologian and the Cave of the Apocalypse on the Island of Patmos
Holy See
Historic Centre of Rome, the Properties of the Holy See in that City Enjoying Extraterritorial Rights and San Paolo Fuori le Mura
Hungary
Ireland
Italy
Historic Centre of Rome… (also listed under Holy See)
Historic Centre of Florence
Archaeological areas of Pompeii, Herculaneum and Torre Annuziata
City of Verona
Japan
Jordan
Petra
Wadi Rum Protected Area
Mexico
Netherlands
Seventeenth-Century Canal Ring Area of Amsterdam inside the Singelgracht
Norway
West Norwegian Fjords – Geirangerfjord and Nærøyfjord
Peru
San Marino
San Marino Historic Centre and Mount Titano
Switzerland
Rhaetian Railway in the Albula/Bernina Landscapes
Turkey
United Kingdom of Great Britain and Northern Ireland
Stonehenge, Avebury and Associated Sites
Giant's Causeway and Causeway Coast
United States
Kluane/Wrangell- St. Elias/Glacier Bay/Tatshenshini-Alsek
Redwood National and State Parks
Grand Canyon National Park
Uruguay