Purchases made through links earn us a small commission, at no extra cost to you.
The ceiling of the Sistine Chapel is probably the most incredible painting I have ever seen. Michelangelo's masterpiece, painted from 1508-1512, illustrates nine episodes from the book of Genesis, the highlight of which is the Creation of Adam. I was intrigued by the illusionary architectural elements of the painting, the fictive moldings appearing as if they were indeed made out of stone.
All I wanted to do was stand there and stare. What should have been a solemn, reflective experience was instead tainted by a huge crowd of people, so big I could barely move. People were bumping and pushing past one another. The security guards were forever yelling, albeit without conviction, "No photos! No photos!" only to be ignored by the masses, me included.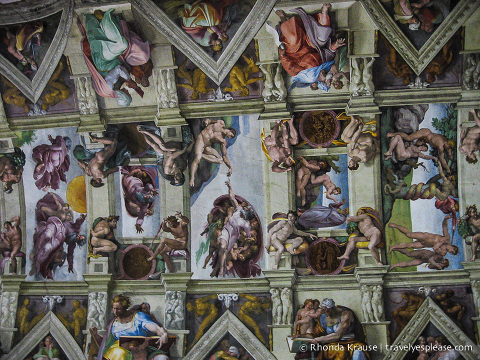 It really was a shame that visiting the Sistine Chapel was so loud and chaotic. The Vatican lets in as many people as it can to the chapel- about 25,000 a day. Calls have been made for the Vatican to restrict the amount of visitors and tighten security to alleviate the increased pickpocket problem.
Even though visiting the Sistine Chapel is rather unpleasant, the experience doesn't take away from the beauty of one world's most famous works of art.
More Rome Attractions and Travel Guides