Purchases made through links earn us a small commission, at no extra cost to you.
Norway had long been a dream destination of mine and for years I yearned to experience the wild, dramatic landscape of the fjords and discover the lifestyle of small Nordic cities and villages.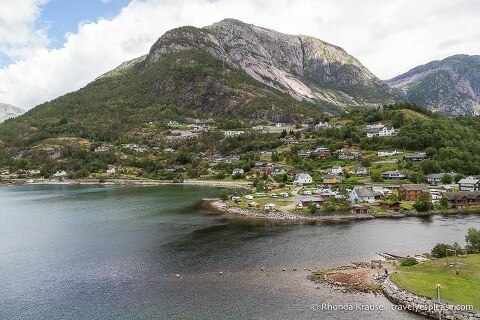 As a coastal nation with over 1,100 fjords, Norway is well-suited to exploration by boat. I easily pictured myself sailing down Norway's long, deep fjords, gazing up at the towering walls of rock while daydreaming about living in a tiny waterfront village.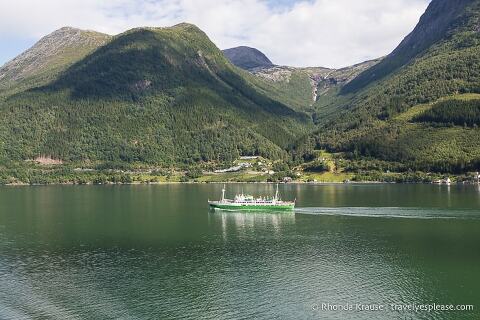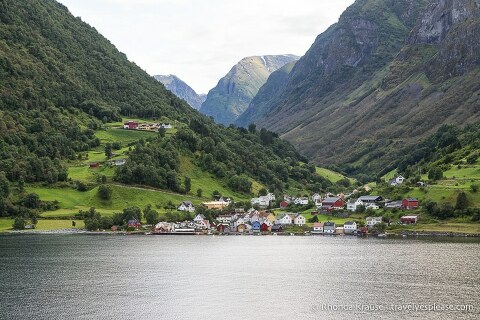 As an independent traveller, cruises usually aren't my first choice when it comes to seeing a country, but there was no denying that a Norway cruise would have plenty to offer, especially when it came to scenery and ease of travel.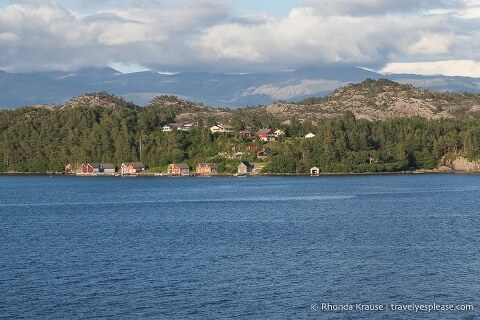 With that in mind, I didn't hesitate to say yes when Holland America Line invited me and my mom on a 7 day Norway fjords cruise on board Rotterdam.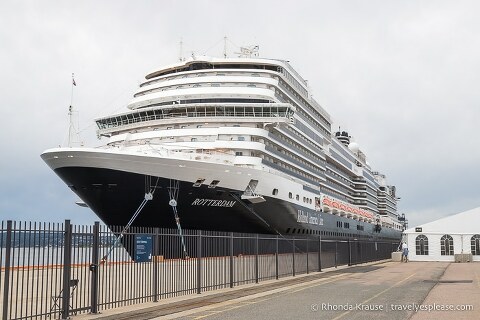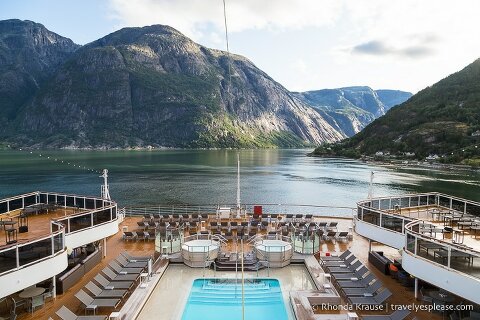 Before I share our Norway cruise itinerary with a description of the cruise ports in Norway we visited, here's a quick overview of what you can expect during a cruise of Norway's fjords.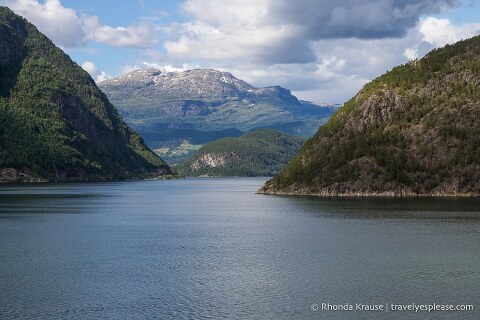 Cruising Norway- What to Expect on a Norway Fjords Cruise
There's plenty to enjoy on a Norway cruise from the spectacular fjords, delightful ports of call, and a variety of shore excursions for all types of travellers.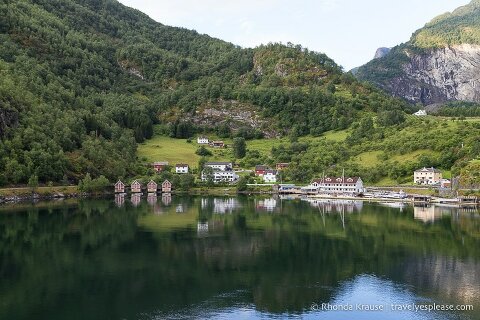 The best part of cruising in Norway is definitely the scenery whether it be the mountain-framed fjords, sparkling bays, verdant forests, lofty waterfalls, or colourful coastal towns. Cruise ships sail along the coastline, so there are interesting views to look at almost the entire journey, instead of a horizon of endless water.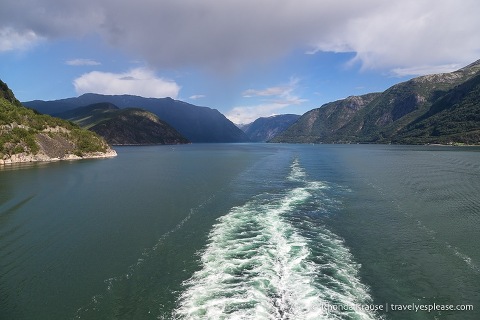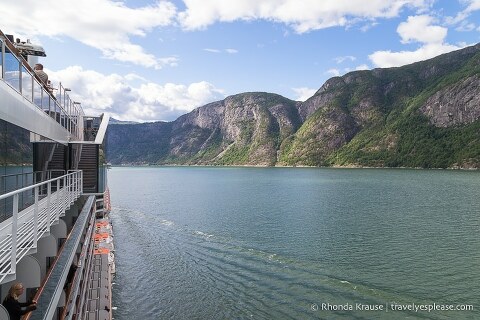 Since Norway has a rather small population for a country its size, and the fjords are quite isolated, the ports of call on a Norwegian fjord cruise are small cities, towns, and villages. Days in port can be spent walking around town or venturing into the surrounding area on a guided excursion.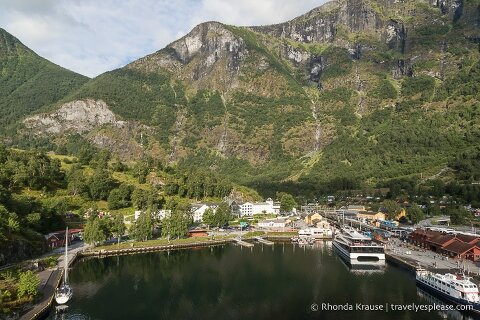 As is typical for cruises, only one day is spent in each port of call. In our experience cruising Norway with Holland America Line, the time in port ranged from 7-12 hours, with two days of 8.5 hours.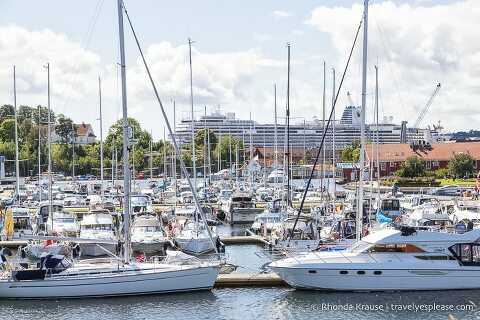 The time in port is enough for most people, especially in the fjord villages if you don't go on an excursion. My mom and I did a guided excursion in every port of call and still had time to walk around the towns on our own for a few hours. While the time in port and excursions didn't feel rushed (for the most part), I still would have liked to spend another day in some places.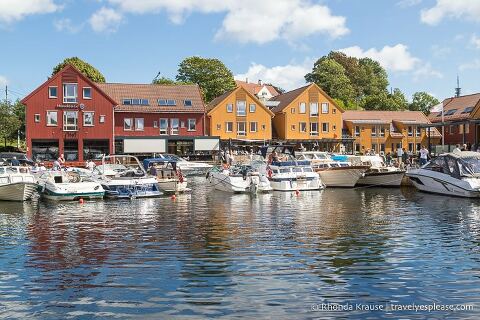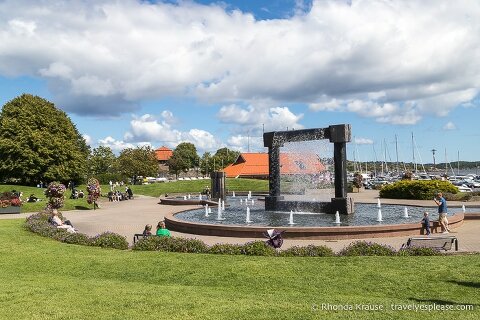 As for shore excursions on a Norway cruise, you can expect options that appeal to a range of interests and activity levels. Our Holland America Norway cruise offered leisurely sightseeing tours by bus, boat, train, and seaplane, but for more active travellers there were walking tours, bike tours, easy hikes, kayaking, river rafting, and ziplining. In each port there were multiple excursions that interested me, hence why I wanted two days in some places!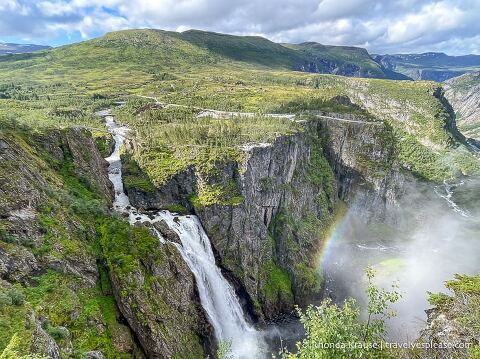 The final thing you can expect on a Norway cruise is that there are people of all ages, from senior citizens to kids and everything in between. While sailing with Holland America Line, my mom and I discovered that cruising was a great choice for multigenerational travel because there were plenty of things we could enjoy together, but we could also do different activities onboard and ashore relating to our interests, easily meeting up afterwards.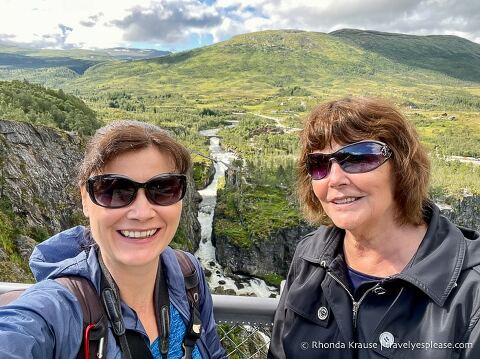 Norway Cruise Itinerary- Ports of Call on our Norway Cruise
The ship departed from Amsterdam for our 7 day Norway cruise with Holland America Line. We had one day at sea, then visited four ports of call in Norway, and had another sea day to return to Amsterdam.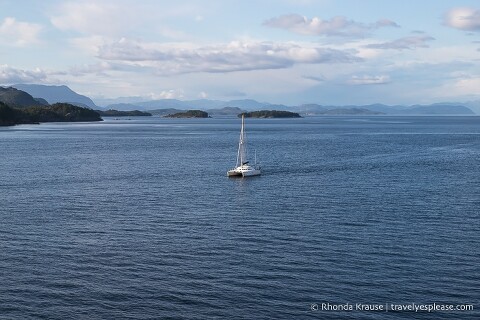 To give you an idea of some places you can visit on a Norwegian fjord cruise, here's a look at our Norway cruise itinerary. Since the highlight of cruising Norway was the scenic destinations we visited, I'm mainly going to share some information about the cruise ports in Norway and the shore excursions we did there. I've also included some comments about life on board the ship during days at sea.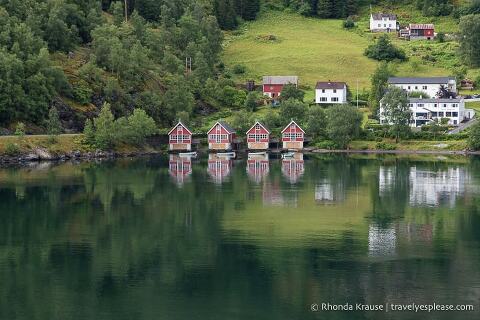 Day 1: Amsterdam
We boarded the ship around 11:30 am on the departure day of our cruise to Norway. The ship didn't set sail until 5:00 pm, so there was some time to disembark and briefly explore the beautiful city of Amsterdam (the port was close to Central Station).
I decided to visit the Royal Palace of Amsterdam, but you could also do one of the canal cruises that start in front of Central Station or just walk around and admire the architecture. I wouldn't venture too far though in case the trams are delayed and you have to walk back (happened to me). Remember, you must be on the ship 30 minutes before the departure time.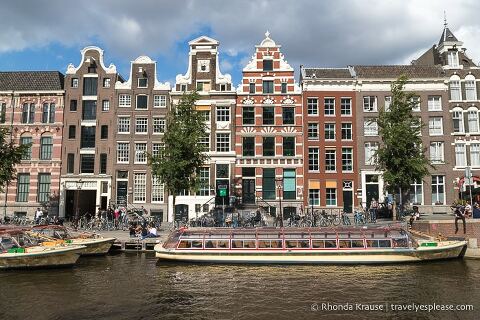 Once back on board, we headed out to an observation deck to watch the scenery as we sailed out of Amsterdam. The mood was celebratory out on deck and at the poolside sail away party as everyone was excited to cruise to Norway!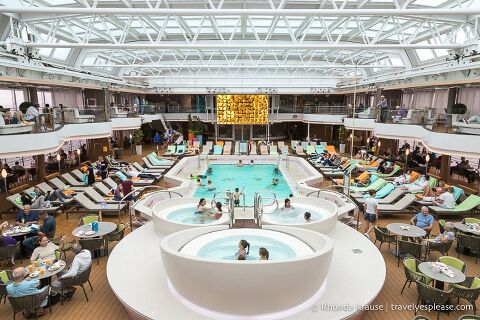 Day 2:  At Sea- Cruising to Norway
Day two of our Norway cruise itinerary was a full day at sea. Since we were cruising out in the North Sea, there wasn't any scenery to look at so there was plenty of time to explore the ship, participate in activities, indulge at the restaurants, and watch some shows.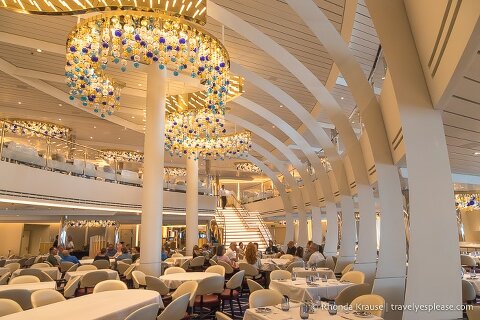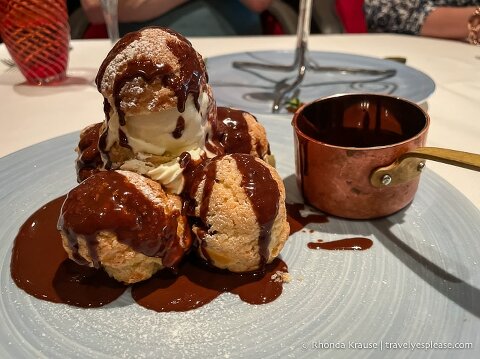 Onboard Activities, Entertainment, and Restaurants
The Rotterdam had plenty of things to do while at sea so we were never bored. There was a fitness centre, outdoor sports courts, a spa, two pools (an indoor one with a retractable roof and an outdoor one for adults only), a casino, a library, trivia events, multimedia shows and presentations at the World Stage, poolside evening movies complete with popcorn, three venues along the Music Walk for live music and dancing, and much more.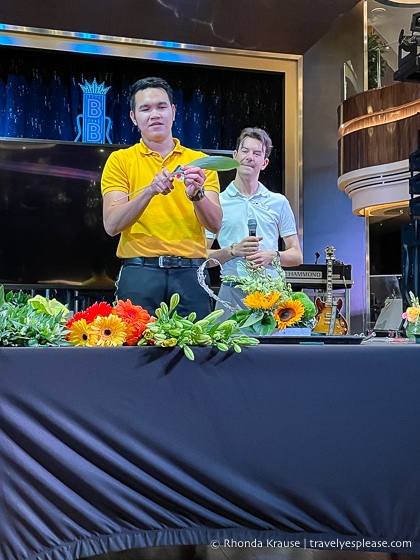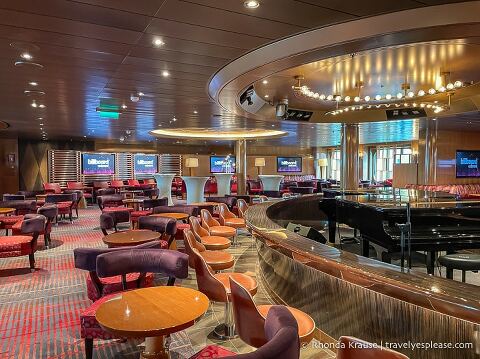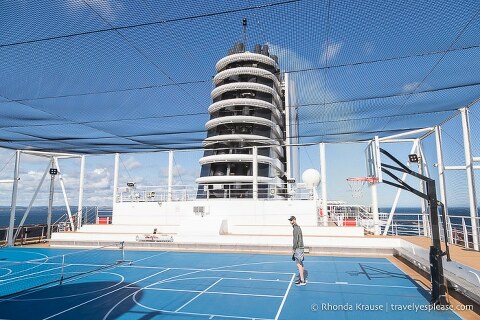 We attended several shows at the World Stage while on board Rotterdam. There were informative talks and videos about Scandinavian culture, the history of Holland America Line, and a behind the scenes look at what it takes to operate a cruise ship (my mom highly recommends this "City on the Sea" presentation). In the evenings the theatre hosted music and dance shows. We really enjoyed the dance productions and how the choreography was enhanced by imagery on the panoramic, two-story screen.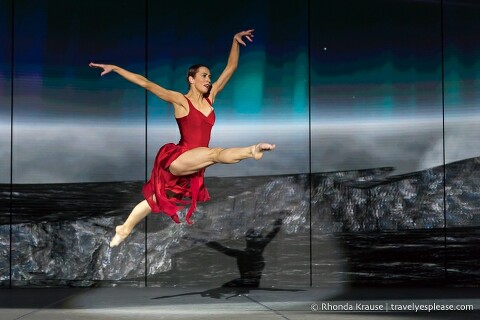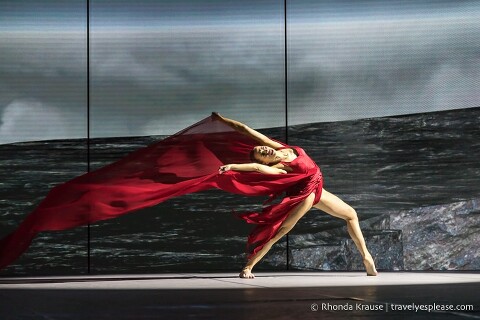 There also was a lot of delicious food on Rotterdam, especially at the specialty restaurants (extra charge) and main dining room (included). We ate at all the restaurants and never had a bad meal. Our favourites were the Italian cuisine at Canaletto and the French dishes at Rudi's Sel De Mer. My mom and I both also enjoyed Afternoon Tea in the main dining room on sea days and eating gelato by the Lido Pool.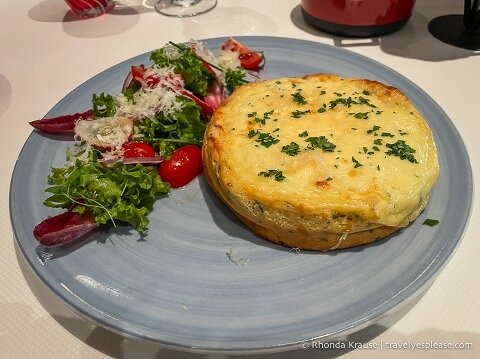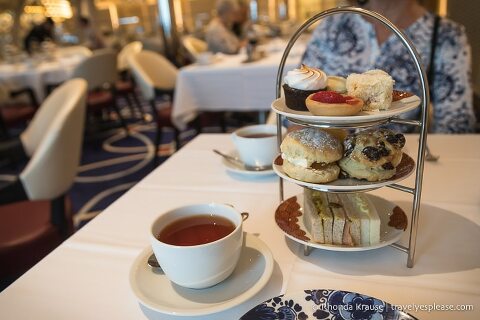 Day 3: Oslo and Oslofjord
The first port of call on our Norway fjord cruise was Oslo, the dynamic, easy-going capital city of Norway. 
I'll start by saying that one day is not enough to experience all that Oslo has to offer, even though it's a relatively small city. There are so many museums, public artworks, interesting pieces of modern and historic architecture, and nearby forests to enjoy.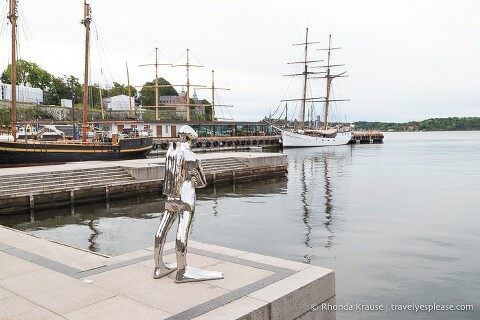 In the morning we walked from the port through the lovely Aker Brygge neighbourhood to Akershus Fortress, enjoying views of Oslofjord along the way. After our self-guided tour of the fortress and its grounds, we went on a bike tour of the city.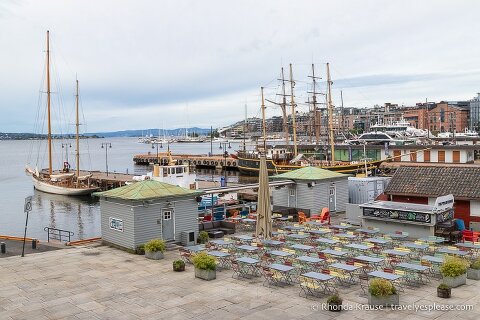 Akershus Fortress
Akershus Fortress is a medieval fortified castle that strategically overlooks Oslo's harbour. Its primary function was to defend Oslo from attacks, which it did several times, but it also served as a prison and royal residence. The complex is still used for military and government functions while being open as a museum.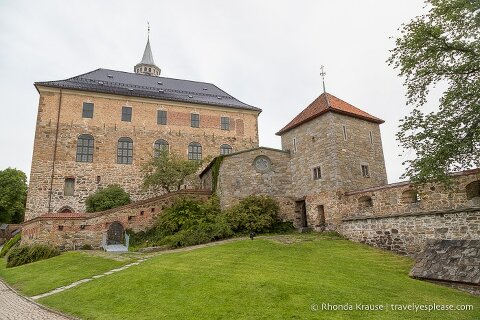 During our walk around the fortress grounds, we saw defensive walls and gates, cannons, courtyards, and views of the sea.
I really enjoyed touring the inside of the castle and seeing the dungeon, royal mausoleum, church, chambers, and halls. The tapestries and wooden furniture decorating the rooms were gorgeous!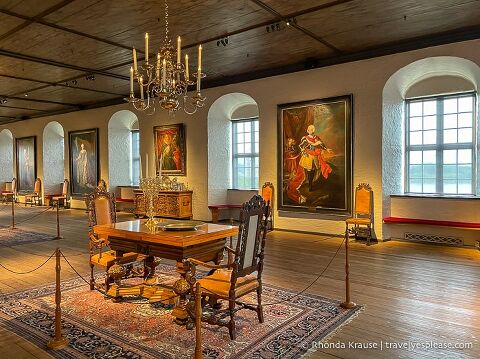 Oslo Bike Tour
A bike tour of Oslo was a great introduction to the city and allowed us to see many of its highlights in about three hours.
Cycling from the bike shop, our guide led our small group to some of Oslo's most notable monuments, buildings, parks, and neighbourhoods. At each stop, our guide shared some interesting history, stories, and facts then gave us time to walk around and take pictures.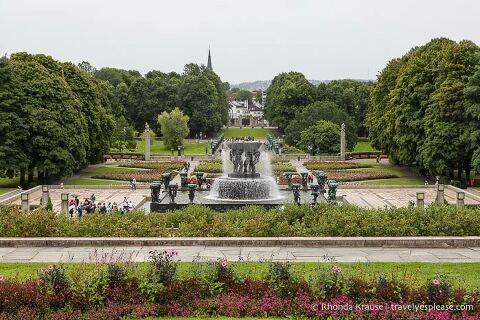 Our favourite stop on the bike tour was Frogner Park where there is an impressive installation of sculptures by Gustav Vigeland. With over 200 sculptures, we of course couldn't see them all, but we did have time to admire two of the most famous ones- the Monolith and The Angry Boy. This park is definitely worth a second visit one day.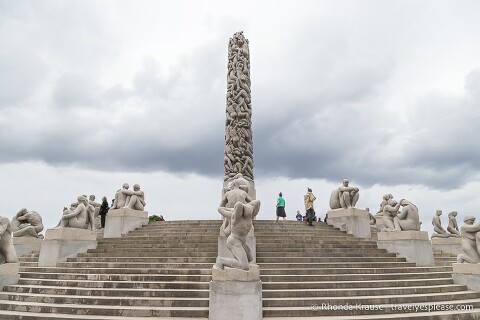 Book this same tour: Oslo Highlights Bike Tour
Oslofjord Scenic Cruising
In the evening our ship sailed down Oslofjord towards the next day's destination. Oslofjord didn't have steep sides like the other Norwegian fjords we cruised down, but it was still nice to sit on our balcony, sheltered from the rain, and watch the scenery go by. Keep watch for Oscarsborg Fortress on one of the islands.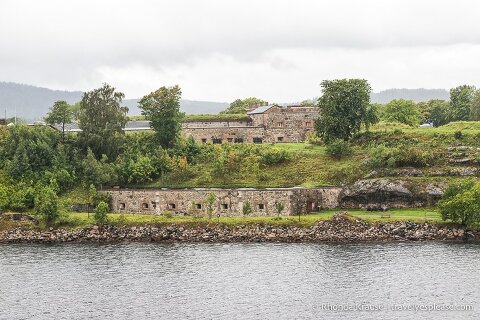 Day 4: Kristiansand
The second destination on our Norway cruise was Kristiansand, an attractive seaside city on Norway's southern coast.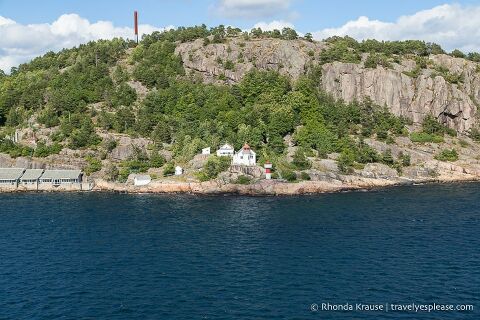 The fifth-largest city in Norway, Kristiansand has a walkable Old Town (Posebyn), seafront promenade, urban beaches, colourful fish market (Fiskebrygga), and nature parks just minutes from the city centre. I felt an interesting vibe here- laid-back, yet lively with people enjoying life's simple pleasures.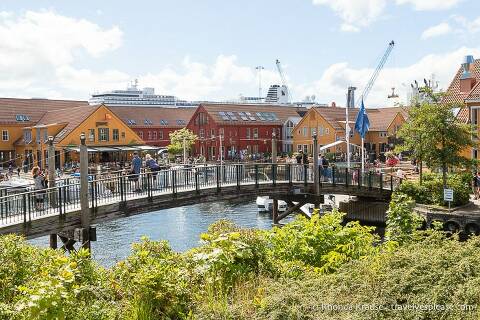 Kristiansand's Old Town and harbour area were nice to stroll around after our morning excursion to ride the Setesdal Vintage Railway.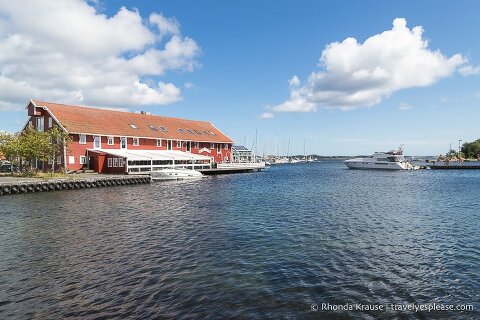 Setesdal Vintage Railway
The Setesdal Vintage Railway (Setesdalsbanen) is a historic narrow-gauge railway that opened in the late 19th century for travel through the Setesdal Valley. It closed down in 1962, but 8 km of tracks were preserved for use as a railway museum.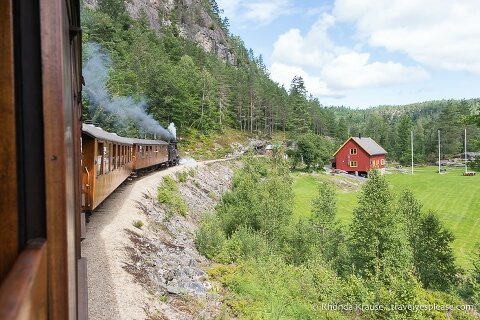 During our short ride from Grovane to Røyknes, the restored steam engine chugged along the Otra River, pulling the vintage train cars over bridges, through a tunnel, and beside a mountain. The countryside we passed through was beautiful with lakes, forests, and a waterfall. I especially liked seeing the old log chute-turned-hiking trail along the river.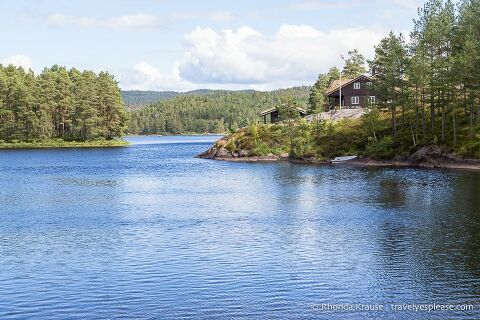 Exploring Kristiansand
Kristiansand's Old Town and many of its tourist attractions are very close to the cruise terminal so the area is easy to explore on foot.
The Old Town is known for its large collection of white wooden houses, some of which have been turned into small shops. The bustling central square is a popular place for people to gather at restaurants, by the fountain, and in the park. The square has some statues, art installations, and pretty architecture including City Hall and the neo-Gothic Kristiansand Cathedral. The cathedral is worth a quick visit to see the wooden ceiling and organ loft.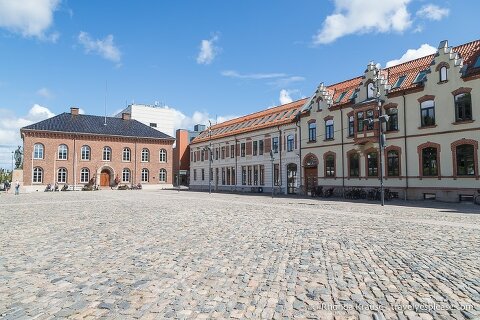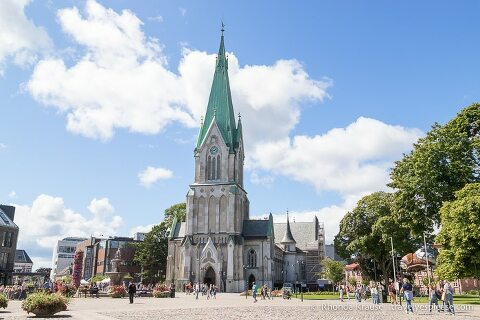 Next up we went to the harbour and walked along the seafront to Christiansholm Fortress. It was small and not really what I picture when I think of a fortress, but it was a nice place to sit and enjoy views of the harbour.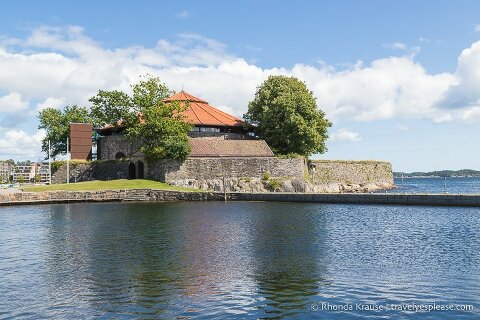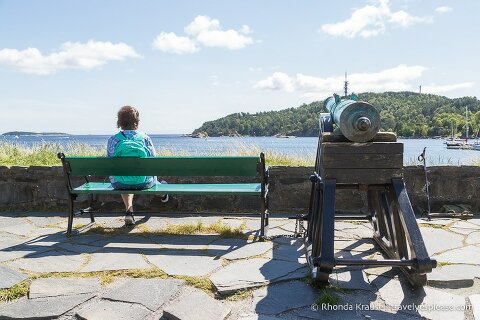 On our way back to the ship we walked along the quay by the fish market. It was such an attractive and vibrant area with restaurants, ice cream shops, and a canal. A beautiful spot to enjoy a sunny day!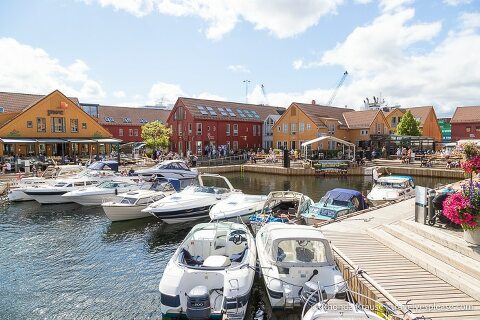 Day 5: Eidfjord and Hardangerfjord
Note: Eidfjord wasn't originally on our Norway cruise itinerary and was added more than two months before departure to replace Stavanger, for an unknown reason. While I was initially very disappointed I wouldn't get to visit Stavanger and do the Pulpit Rock hike, Eidfjord turned out to be a wonderful replacement. 
Eidfjord was our favourite of the cruise ports in Norway we visited. This tiny village at the end of Eid Fjord, an inner arm of the Hardangerfjord, is backed by mountains and a short drive away from three of Norway's impressive natural wonders- Vøringsfossen (Vøring Falls), the Måbødalen Valley, and Hardangervidda (Hardanger Plateau).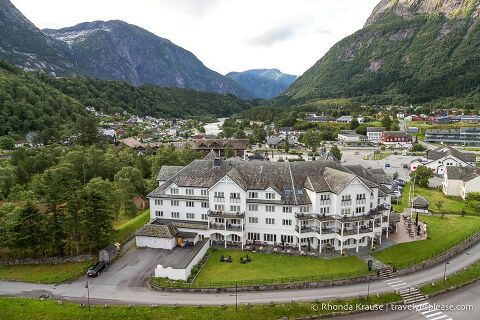 The natural scenery around Eidfjord and along Hardangerfjord is gorgeous and just what I expected Norway to look like. We saw a lot of the landscape during our morning bus tour that took us to Vøringsfossen in the Måbødalen Valley, the Sysen Dam, and Hardangervidda.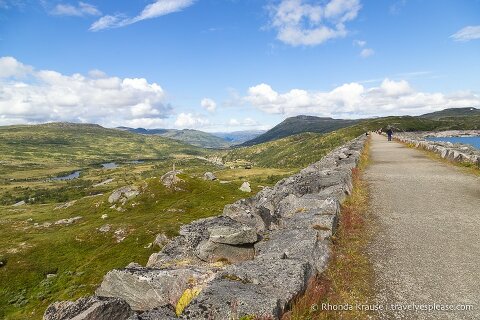 After our tour, we walked around the village and visited the Old Eidfjord Church and its graveyard, some shops, and the bakery for some delicious treats. On a future visit, I'd love to hike the Haereid mountain plateau to see the Iron and Viking Age burial mounds.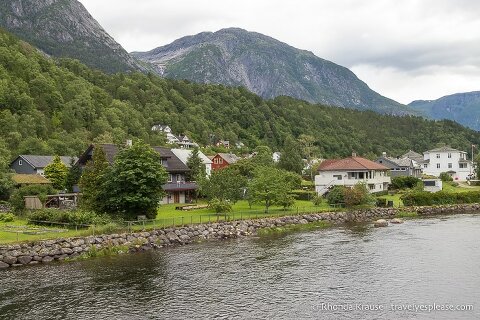 Eidfjord Bus Tour- Vøringsfossen, Sysen Dam, Hardangervidda
A bus tour is a hassle-free way to see and learn about the landscape and attractions in the greater Eidfjord area. During the scenic drive from Eidfjord to Hardangervidda our guide shared plenty of interesting information about the local culture, geology, flora, and fauna.
The first stop on our tour was Vøringsfossen, a tiered waterfall that cascades 182 m/597 ft into the Måbødalen Valley, 145 m/475 ft of which is a direct plunge. The waterfall itself is stunning, but the valley below really makes it a spectacular setting that should not be missed.
There are several viewpoints along a rocky, uneven trail, plus a step bridge from which you can admire the falls from different angles. The tour only gave us 35 minutes at the waterfall, which was nowhere near enough time to walk the trails and visit all the viewpoints.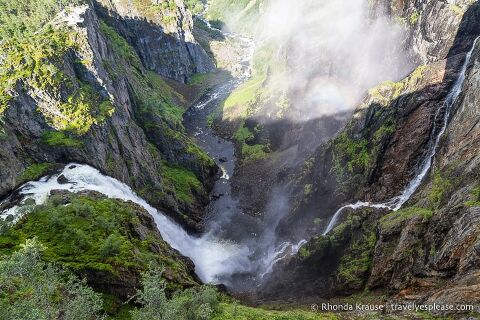 Next up we visited the Sysen Dam. It was more interesting and scenic than I expected because it was an embankment dam made with only gravel and stones (no concrete) and offered views of the surrounding hills and Hardangerjøkulen, mainland Norway's sixth largest glacier. We spent 30 minutes here, which was plenty of time to walk along the top of the dam.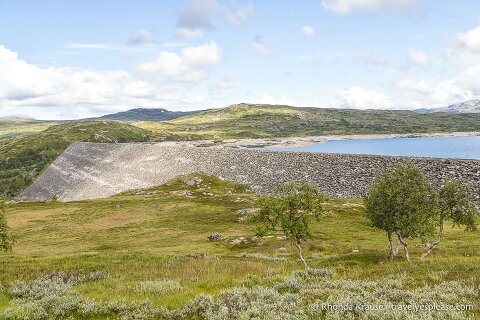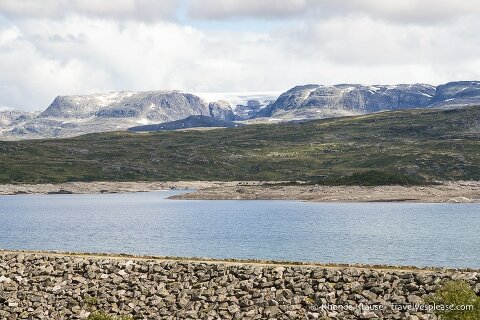 From the dam, we drove along National Road 7 across the Hardanger Plateau, the largest eroded plain in Europe. Reaching an elevation of about 1140 m/3740 ft, we got to see Hardangervidda's characteristic rocky, treeless landscape.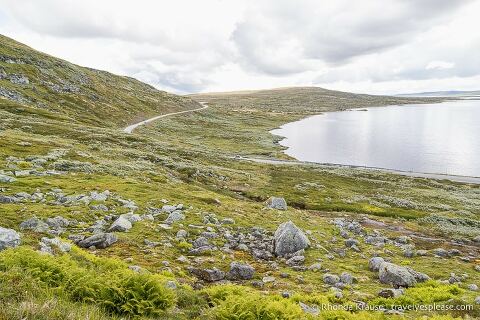 Hardangervidda experiences an alpine climate year-round so there are several species of arctic plants and animals here that are usually found further north. I was hoping to see some wild reindeer, since the plateau is home to a herd of about 8,000, but had no such luck.
I also would have liked to make some photo stops on the plateau, but the only place the bus stopped was at Halne Mountain Lodge where we were served heart-shaped Norwegian waffles.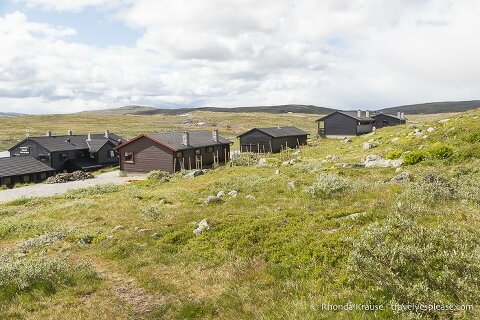 Eidfjord Old Church
The Eidfjord Old Church was built out of stone around 1309 with seating for only 100 people. It is now only used for special occasions, but visitors can peek inside to see how it looked in the 18th century.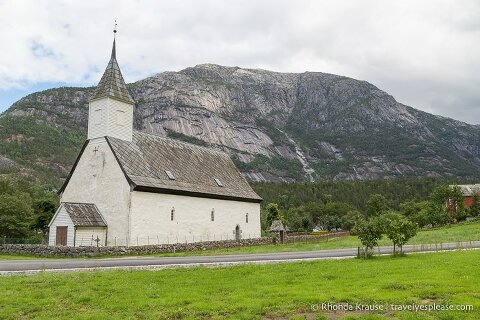 The small, pretty graveyard outside has some simple headstones from the 1800s.
Hardangerfjord Scenic Cruising
The so-called "Queen of Fjords", Hardangerfjord is the second longest fjord in Norway, measuring 179 km from the Atlantic Ocean.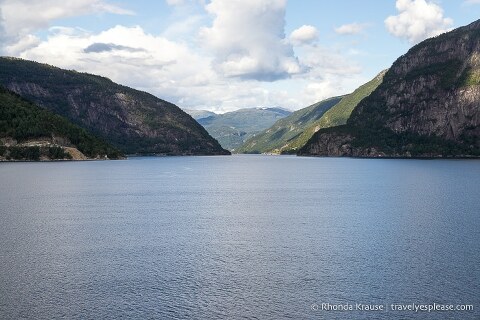 As our ship glided down Hardangerfjord, we were in awe of the gorgeous scenery framing us. We saw countless waterfalls tumbling down the mountains, orchards nestled along the fertile shoreline, colourful small villages, and scenic arms branching off from the main fjord. We even passed by some fish farms.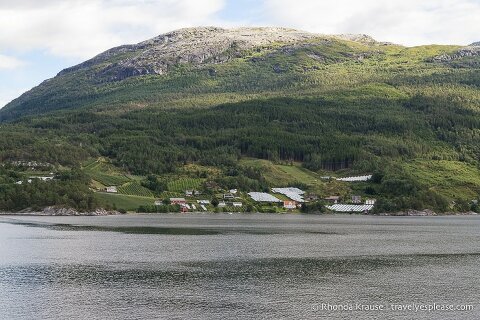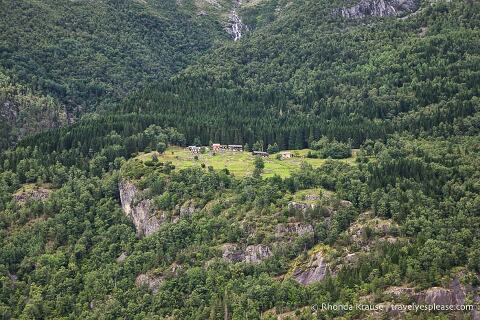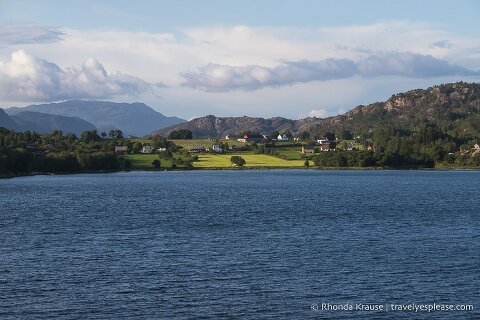 Perhaps the most interesting moment was when our ship sailed under the Hardanger Bridge, the longest suspension bridge in Norway. The bridge has a maximum deck height of 55 m/180 ft, so there wasn't much clearance when our ship went under it!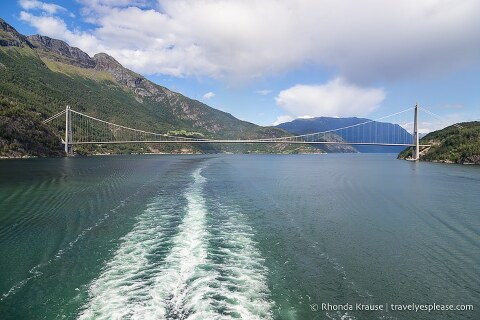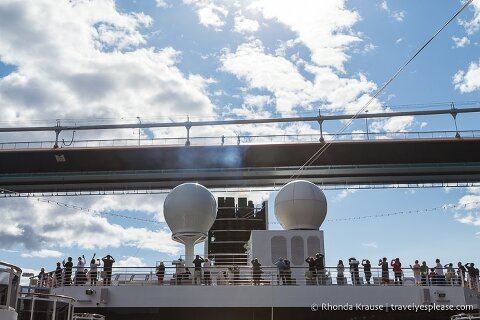 Day 6: Flåm and Sognefjord
The last port of call on our Norway fjords cruise was Flåm, located at the inner end of the Aurlandsfjord branch of Sognefjord. Flåm is a tiny village of only a couple hundred residents, but because it welcomes around 450,000 visitors per year, it felt a little "touristy" compared to the other cruise ports in Norway we visited.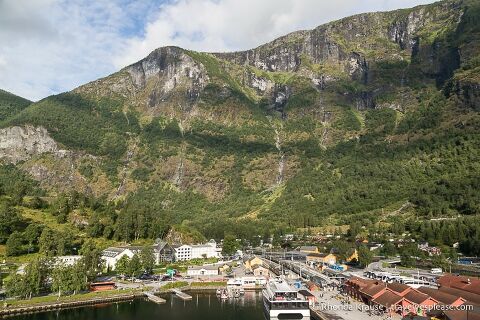 Flåm and the surrounding area are known for its steep fjords and valleys, abundance of waterfalls, and green meadows dotting the countryside. There are plenty of opportunities for outdoor activities, sightseeing fjord cruises, and visits to scenic viewpoints, but the most popular excursion in Flåm is a ride on the Flåm Railway.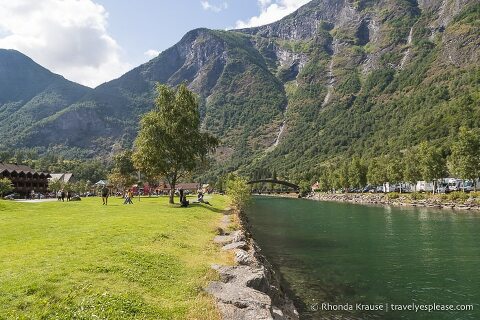 The Flåm Railway excursion sells out quickly, so my mom and I chose two other enjoyable activities- I went kayaking in Nærøyfjord while she went on a bus and boat tour of Nærøydalen (Naeroy Valley) and Nærøyfjord. After my kayaking trip I wandered around the Fretheim Cultural Park.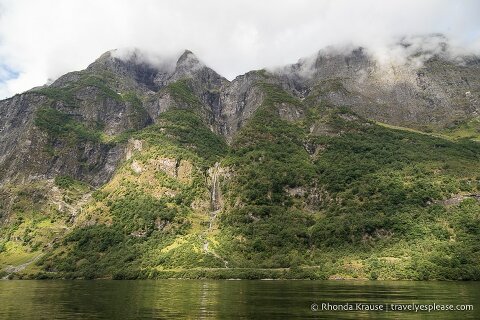 Kayaking Nærøyfjord
Flåm was the place on our Norway cruise itinerary I was most looking forward to visiting because I wanted to kayak in Nærøyfjord, a UNESCO World Heritage Site.
As the narrowest arm of the Sognefjord, Nærøyfjord is only 250 m/820 ft wide in places. Its towering rock walls, tall waterfalls, and hanging valleys are exceptionally beautiful, making Nærøyfjord an outstanding landscape for kayaking.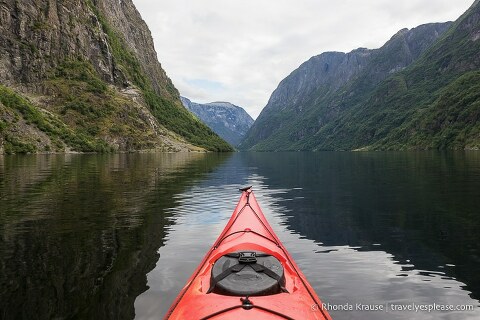 Our tour group paddled about 12 km round trip, going from the village of Gudvangen to a little beach across the fjord from Tuftefossen waterfall. After a provided lunch on shore, we paddled back to Gudvangen.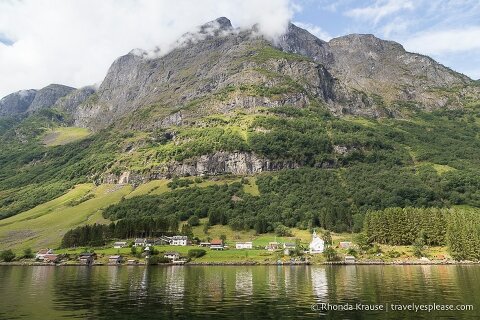 I loved kayaking Nærøyfjord so much, even though the rudder on my kayak wasn't set up properly and the local guides were a bit disorganized and didn't add much to the experience. Regardless of some downsides, this was a thoroughly enjoyable excursion and I'm thankful for the perfect weather!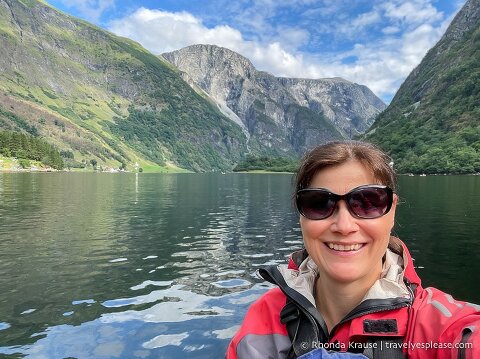 Bus and Boat Tour of Nærøyfjord and the Naeroy Valley
While I was kayaking down Nærøyfjord my mom went on a sightseeing cruise of Nærøyfjord then a bus tour of the Naeroy Valley.  
Departing from Flåm on the Vision of the Fjords, she sailed through Aurlandsfjord then down the entire 17 kilometres (10.5 miles) of Nærøyfjord. Over the course of two hours, the boat passed by fjord villages and steep mountains, even getting up close to a waterfall.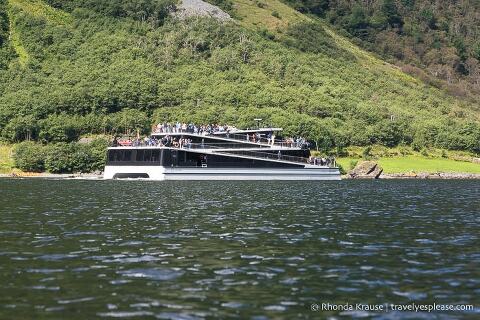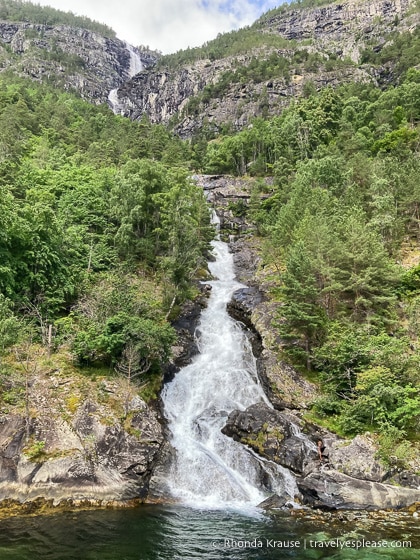 After arriving at Gudvangen, the group transferred to a bus and then drove up Norway's steepest road, the winding Stalheimskleiva, to the historic Stalheim hotel for tea and pastries. The hotel had a stunning view of the Naeroy Valley and after seeing her pictures, I was sad I missed it!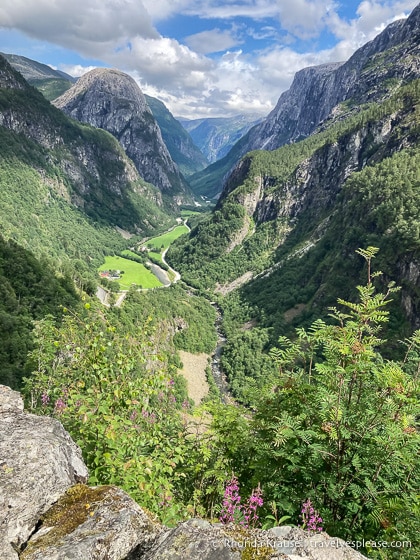 Fretheim Cultural Park
On the hill behind the Fretheim Hotel, directly in front of where the cruise ships dock, is the Fretheim Cultural Park. The park has 1.6 kilometres/1 mile of trails that lead to viewpoints and artworks. 
Unfortunately, I didn't get to walk the entire trail because of heavy rain, but I did enjoy the misty views of the harbour.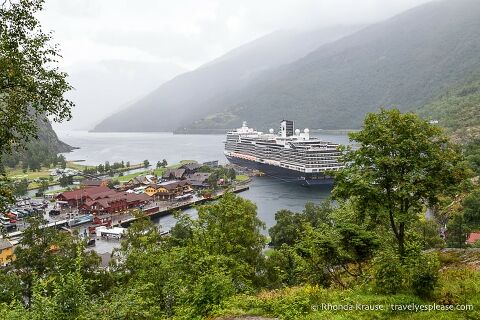 Sognefjord Scenic Cruising
Our 12 hour day in Flåm ended with an evening cruise along Sognefjord. Nicknamed the "King of the Fjords", Sognefjord is the longest and deepest fjord in Norway, stretching 205 km/127 mi from the ocean and reaching a depth of 1308 m/4291 ft below sea level.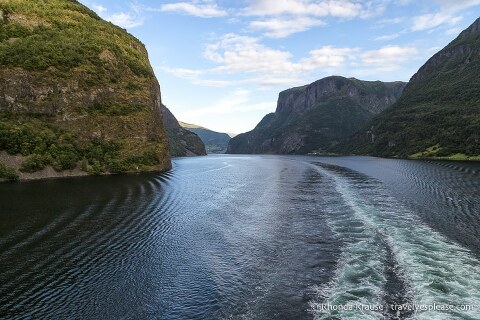 As we'd now come to expect from previous days cruising the Norwegian fjords, we saw tall cliffs and mountains, waterfalls, small towns, and several smaller fjords branching off from Sognefjord. The scenery, even under a gloomy sky, was a wonderful send-off from Norway.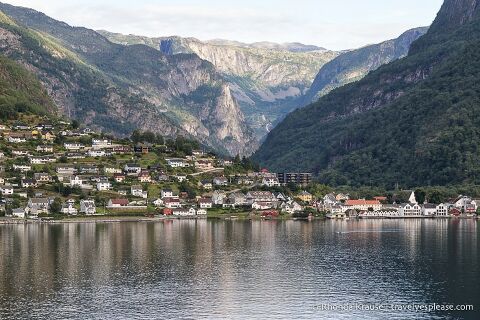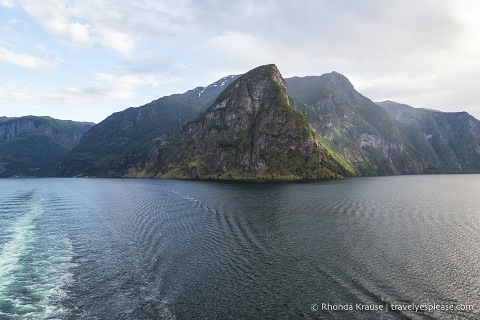 Day 7: At Sea- Cruising to Amsterdam
Our Holland America Norway cruise itinerary ended with a day at sea sailing back to Amsterdam. This last sea day gave us one final opportunity to enjoy the ship's amenities, take part in some more activities, and try another specialty restaurant.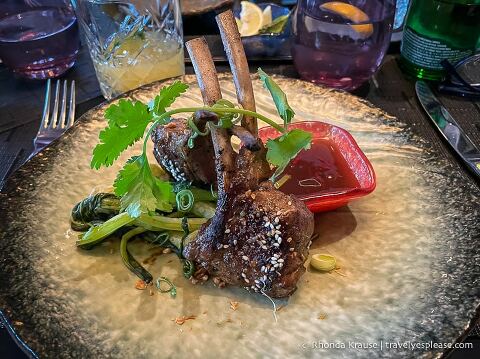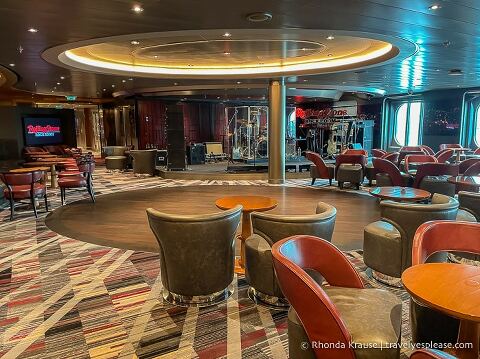 Norway Cruise Review- Final Thoughts About Our Norway Fjords Cruise
We really enjoyed our cruise to Norway and thought it was not only a great introduction to the country, but a relaxing and budget-friendly way to visit Norway for the first time.
While cruising Norway we got to float down some of the most beautiful Norwegian fjords and their smaller arms. I loved the steep walls of rock framing the fjords and the towering waterfalls tumbling down. I've always been amazed at how glaciers can dramatically shape a landscape and the Norwegian fjords were a great reminder of the power of nature.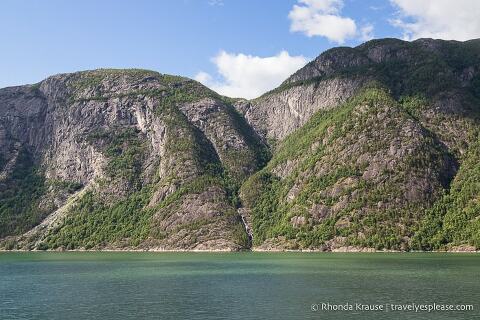 Just as delightful as the natural scenery were the ports of call on our Norway fjord cruise. I especially liked visiting the small fjord villages, but was also pleasantly surprised by Oslo.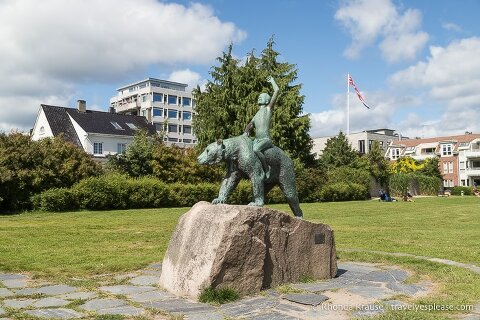 One thing I noticed about the cruise ports in Norway we visited was that the port areas were not at all (or significantly less) touristy than the Caribbean cruise I went on. We just stepped off the ship and into a community that wasn't putting on a show for tourists or trying hard to get their money. So refreshing!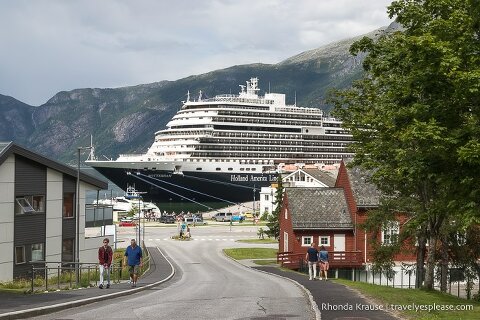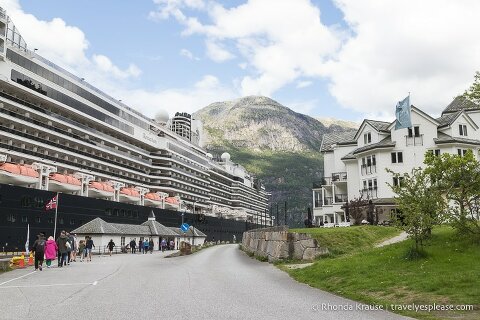 The time we had in port was pretty good, as far as cruises go, and I think most people would be satisfied with it. However, as someone who wants to do all the things in all the places, I wish we had 10-12 hours at each stop.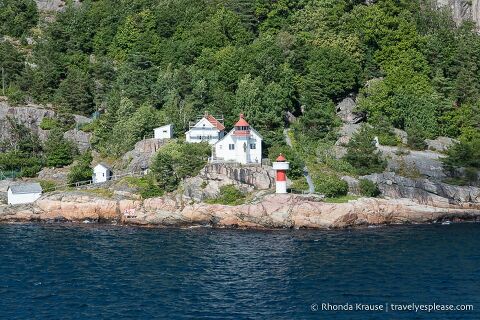 As for our Norway cruise itinerary, it included a mix of well-known/popular destinations and some places I was unfamiliar with and wouldn't have thought to go if I was travelling independently. We liked everywhere we visited and would even go back to a few places. I would have loved to go further north and visit more destinations in Norway, so maybe next time we'll choose a longer cruise.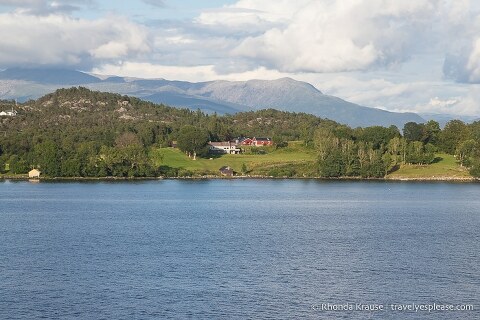 On this Norway cruise with Holland America Line, there was a nice balance between the destination and ship amenities. On some cruises, the ship takes centre stage and the destinations feel like an afterthought. Not in this case- the focus was definitely on Norway, but the ship experience wasn't overlooked. Rotterdam was an attractive, comfortable mid-sized ship that kept us entertained, but Holland America also made sure to include some presentations, live narration, movies, and menu items that highlight Norway and Scandinavian culture.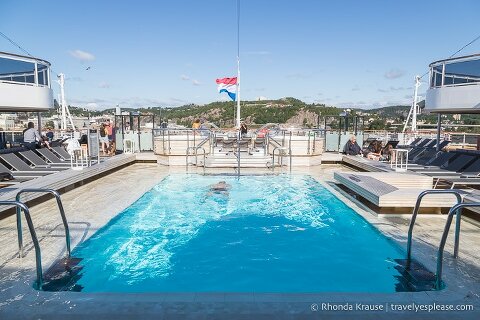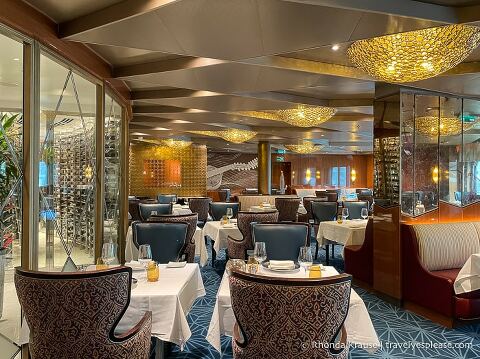 For me, the only thing that this specific cruise lacked was a proper hiking excursion. I would have loved to venture out on a day hike with a local guide to be more immersed in nature. At least there were several other active, outdoor adventure-type excursions to do in each port of call.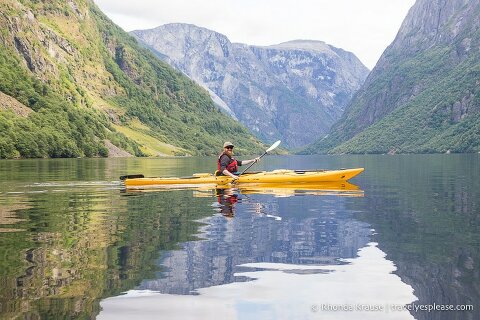 Overall, I'm very happy that I was able to enjoy a Norway cruise as someone who prefers independent travel. It was nice for once not to have to worry about how to get around, where to eat, where to stay etc. My mom has always loved cruising and this experience was no different. We definitely recommend a cruise if you want an easy, stress-free, and affordable way to see the Norwegian fjords.
Tips for Going on a Norway Cruise
Here are a few tips for making the most of a Norway fjords cruise:
Staterooms: We recommend getting a balcony room if your budget allows. I loved stepping out onto our balcony first thing in the morning to check out the scenery and have my room service breakfast. If I saw a nice view while we were getting ready in the morning or for dinner, I could quickly get outside to take pictures. A balcony room also gives you a place to relax outdoors away from the crowds. 
Port Services: Most destinations had visitor centres at or near the port area where you could pick up a map and get some information about things to see and do.
Some of the port areas also had places where you could rent a car.
Shore Excursions: If you're interested in doing some of the cruise company's shore excursions, we recommend booking them as soon as possible because they do sell out. In our experience, some excursions were sold out two months before sailing (the Flåm Railway being one). 
You don't have to book a shore excursion from the ship (they can be pricey). As an alternative, you can reserve tours and activities with local guides and companies online here. 
If you prefer, you can also walk around the ports of call on your own or rent a car to explore further afield.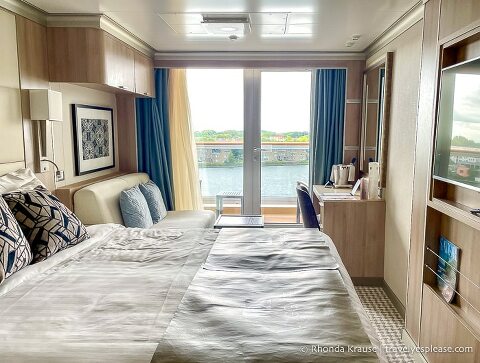 I was hosted by Holland America Line in order to bring you this story. As always, I speak only the truth and hosts have no editorial influence on articles.