Purchases made through links earn us a small commission, at no extra cost to you.
The astronomical clock in Strasbourg Cathedral is a fine example of what can be achieved when art and science come together. Statuettes and paintings embellish a case housing clock dials and mechanisms working together to measure time and astronomical indications.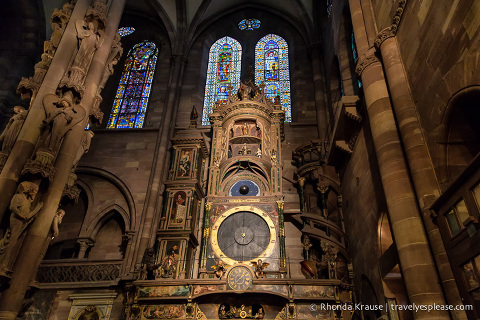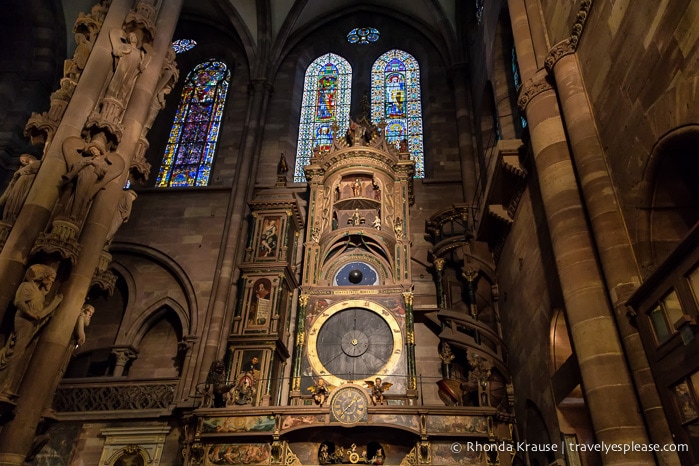 When Strasbourg's astronomical clock was completed in 1574, it was considered to be one of the seven wonders of Germany. The clock calculates the date, displays sidereal time on the celestial globe and has a dial indicating apparent solar time (movement of the sun and moon). There is a planetary dial showing the gravitation of the six planets visible to the naked eye and a lunar globe indicating the phases of the moon.
The clock dials measure both official and local mean time (a type of solar time). Automated figurines mark the passing of local mean time. Death rings in the hour while quarter hours are marked by the four stages of life, in order from child, youth, adult and old man. At noon (12:30 official time), a procession of apostles move before Christ who blesses the crowd after the last figure has passed. During the procession, a rooster crows three times.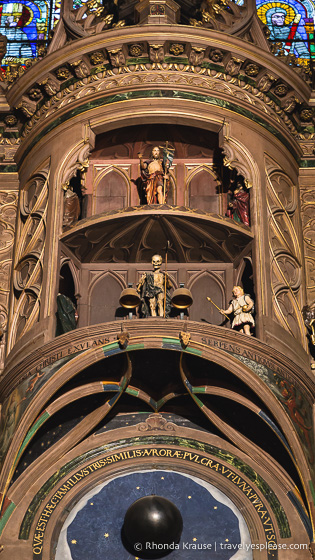 Besides the moving figures, other artistic touches on the Strasbourg astronomical clock include several paintings and sculptures that present the theme of time and pay homage to the scholars, artists, and craftsmen who contributed to the clock's creation.
Paintings of the four empires (Assyria, Persia, Greece and Rome) surround the dial of apparent time, allegorical figures representing the seasons frame the planetary dial, and the three fates (mythological deities Lachesis, Clotho, and Atropos) decorate one side of the weights turret.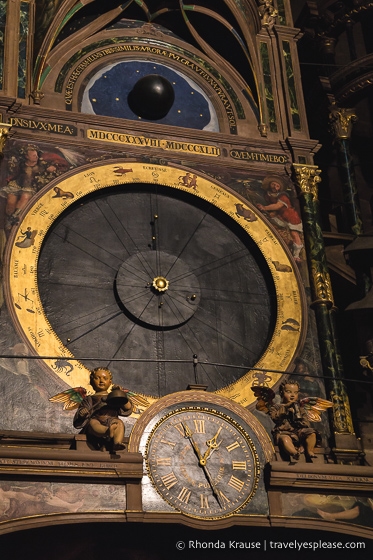 Some notable sculptures on the clock include lions holding the coat of arms of Strasbourg, the four evangelists, Prophet Isaiah, and four musicians decorating the clock's crown, and a statuette of architect Hans Thomann Uhlberger at the very top of the clock's case.
The scientific complexities and artistic details of the Strasbourg astronomical clock make it one of the best things to see in Strasbourg's Old Town. The clock can be admired for free when the cathedral is open, but if you want to see the figures in action, you have to buy a ticket for the 12:30 pm performance of the Apostle's Parade. The presentation also includes a film about the astronomical clock at 12:00 pm (except on Sundays).
If you love Strasbourg's astronomical clock, you may also want to check out the astronomical clock in Prague.
More France Destinations and Travel Guides