Purchases made through links earn us a small commission, at no extra cost to you.
Paris is one of my favourite cities, the one that made me fall in love with travelling. Paris is romantic, cultured and sophisticated, with so much to see and do.
It's hard to experience everything that's great about Paris in four days. I've visited twice now and there are still entire sections of the city I've yet to explore.
If you're anything like me, you'll be tempted to rush around, trying to see and do it all. On the other hand, you'll want to do as the locals do- slow down and relax in a beautiful park or café.
To truly appreciate Paris' charms, I think a balanced approach is best- seeing some of Paris' top sites while leaving some free time to absorb all that is Paris.
4 Day Paris Itinerary- How to Spend 4 Days in Paris
We thought our four day Paris itinerary was ideal for someone on their first trip to Paris (Mike), as well as those who haven't visited in many years (me). It included a lot of Paris' main attractions and a lovely day trip, but wasn't so packed that we felt rushed or overwhelmed.
Here's a look at what we managed to see and do with four days in Paris. You might notice that a lot of Paris' museums (except for one) are missing from our itinerary, but that's just because we're not art people! This itinerary for how to spend four days in Paris is just a suggestion and should be altered based on your personal interests.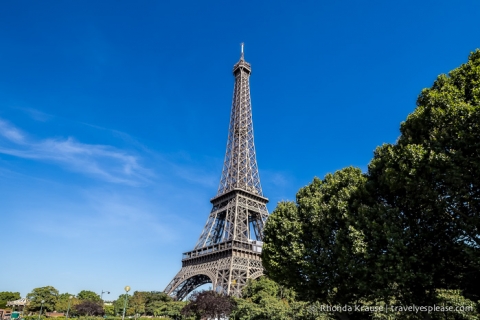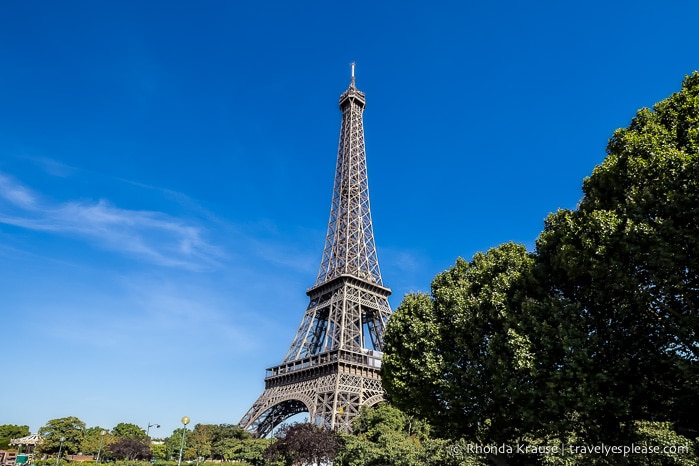 Here are some of the best things to see and do in Paris in four days. We hope our Paris itinerary helps you plan your own memorable four day trip to Paris!
Note: All links will open in a new window for your convenience.
Map: Places to Visit in Paris in 4 Days
To help you plan your 4 day Paris itinerary, here's a map of the places we visited in Paris. I colour coded the map to show how we spent each of our 4 days in Paris- the purple stars are day 1, pink is day 2, orange is day 3, and blue is day 4.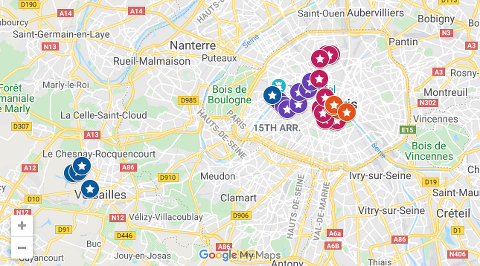 Day 1: Visit the Eiffel Tower & Les Invalides
After settling into your hotel, head to Paris' most iconic landmark- the Eiffel Tower. Take the stairs up the tower, instead of the elevator, so that you can spend more time enjoying the marvelous views of the city and less time waiting in line!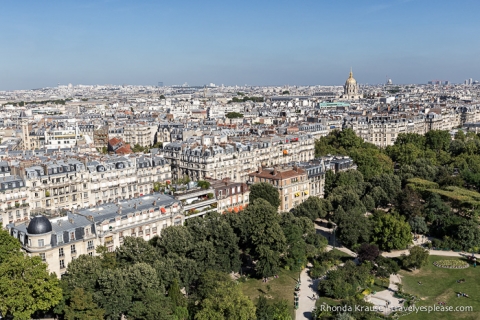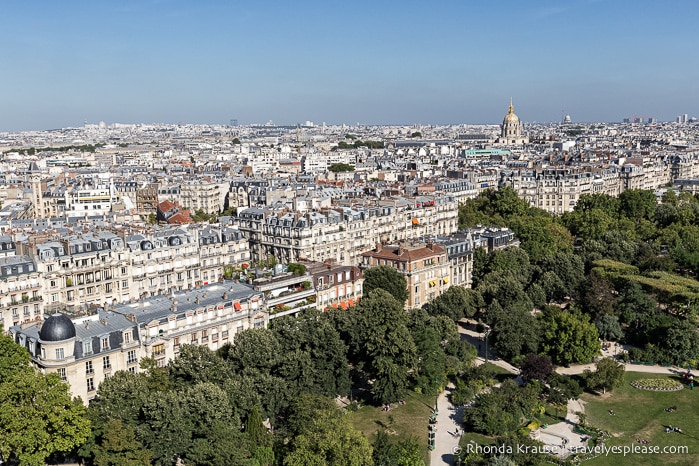 After coming down from the tower, walk through Parc du Champ de Mars, the long green space that stretches from the Eiffel Tower to École Militaire. This is a popular place for people to lounge on the grass, drink wine and have a picnic in the shade of the Eiffel Tower.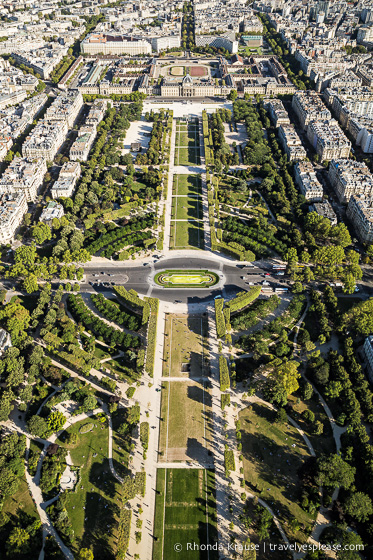 Before leaving the park make a visit to the Wall for Peace, a unique monument opposite the École Militaire. (Update: The Wall for Peace was dismantled and moved to Avenue de Breteuil, but we haven't visited it in the new location.)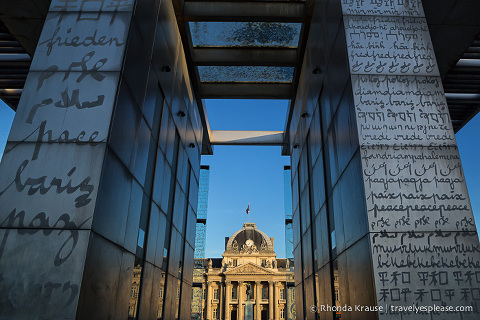 Next, walk over to the nearby Les Invalides. If time permits, go inside to see Napoleon's tomb and the Army Museum (we didn't get to do this because it was almost closing time when we got there). Instead we wandered around the esplanade and admired the golden dome of the Hôtel des Invalides.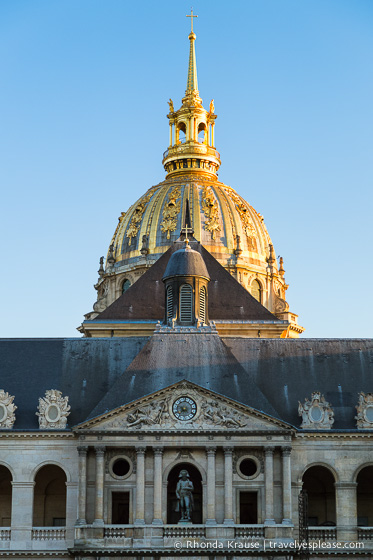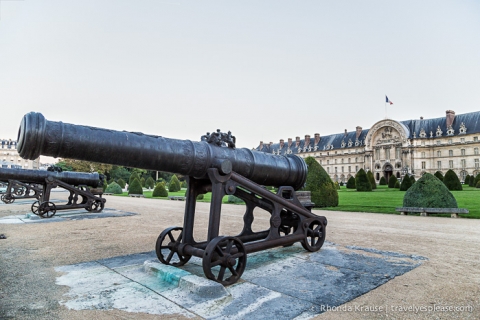 Next, head to Pont Alexandre III to watch the sunset over the Seine, with the Eiffel Tower in the background. Once darkness settles in, cross the river to Place de la Concorde to see the 3,300 year old Egyptian obelisk and two fountains illuminated at night.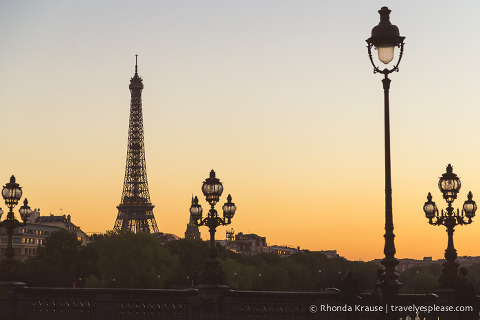 If you're not tired yet, walk a few blocks north of Place de la Concorde to L'église de la Madeleine, a unique looking church in the form of a Roman temple that is also nicely illuminated after dark.
Lastly, treat yourself to a nice French dinner on your first night in Paris!
Day 2: Explore Paris' Historic Neighbourhoods & Visit the Louvre
Morning
Start your day off by exploring Paris' Latin Quarter. This neighbourhood is intellectual, arty and has been the heart of Parisian café culture since the 1920's. It's nice to simply wander around this area and casually visit some open-air markets and cafes.
Some notable sites in the Latin Quarter are La Sorbonne (France's most famous university) and the Panthéon. Since the French Revolution, the crypt of the Panthéon has been used a necropolis to house the remains of important French figures including Marie Curie, Victor Hugo and Alexandre Dumas.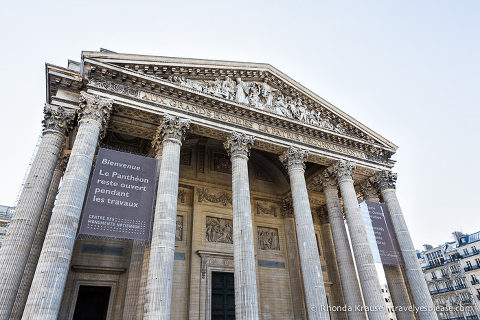 Near the Pantheon is an interesting little church called Saint-Étienne-du-Mont, which has the golden tomb of Sainte-Geneviève, the patroness of Paris. If you've seen the movie Midnight in Paris, you'll recognize the church steps Owen Wilson's character sat on before going back in time.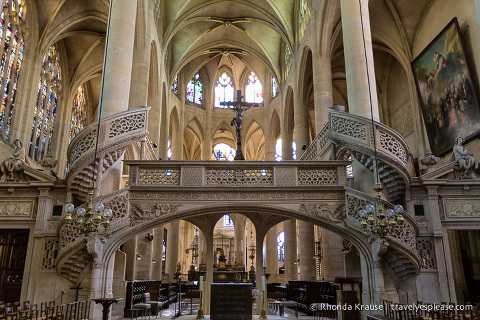 Continue walking west to Saint-Germain de Prés. This neighbourhood was the place to be in the 1920s, a popular hangout for both Hemingway and Fitzgerald. The bookshops that once lined the streets have been since been replaced with designer boutiques.
Next up, spend some time at the beautiful and historic Luxembourg Gardens. Created in 1612 upon the wishes of Queen Marie de Medici, the 25 hectare park consists of French and English gardens, a fountain, a large pond where people sail remote controlled boats, a forest and over 100 statues.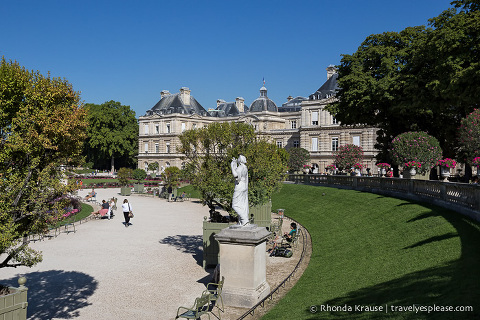 Before leaving Saint-Germain de Prés, make your way over to Eglise St-Sulpice. This church is home to one of the world's largest organs and was featured in the novel The Da Vinci Code. Most interesting is the gnomon (the part of a sundial which casts a shadow) and the inlaid brass wire representing the meridian line.
After visiting Eglise St-Sulpice, end your morning by indulging in a tasty treat at a patisserie, a must do when in Paris!
Afternoon
Catch the metro and head across the river to Montmartre. This neighbourhood used to be a rural village but by the 1880's, Renoir and Toulouse-Lautrec had shaped Montmartre into a hub for artists, a tradition that continues today.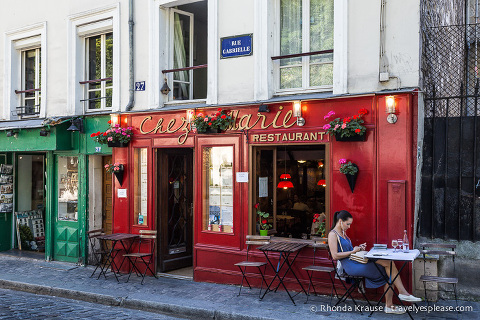 Montmartre's most famous sites are Sacré-Coeur Basilica, Place du Tertre (where the artists set up to sell their masterpieces) and Moulin Rouge. Half the fun of Montmartre though, is getting lost in the maze of steep streets and tilting houses. Simply take a walk and see what you can find!
We highly recommend you save enough time after Montmartre to visit Palais Garnier, home to the Paris Opera. In my opinion, it's one of Paris' most stunning buildings thanks to a gilded interior that rivals the most luxurious of palaces!
In the evening visit the Louvre, which many consider to be the world's greatest art museum. Inside you can see an impressive amount of masterpieces such as the Mona Lisa, Venus de Milo, Winged Victory of Samothrace, and Liberty Leading the People. Try to visit on a Wednesday or a Friday night when the museum is open late- until 9:45 pm. Trust us, your visit will be far more pleasant without the crowds!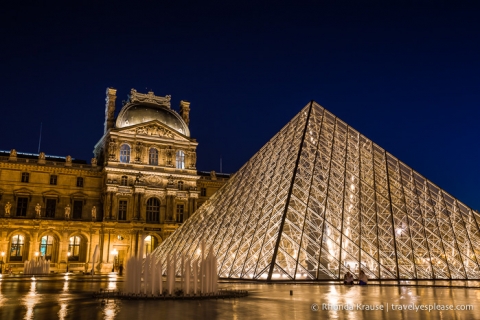 Day 3: Visit Île de la Cité (Notre-Dame, Sainte-Chapelle and the Conciergerie)
Île de la Cité is the island where Paris was founded and to this day remains the heart of the city. It's an interesting, historical part of town and worth spending a good portion of your day here.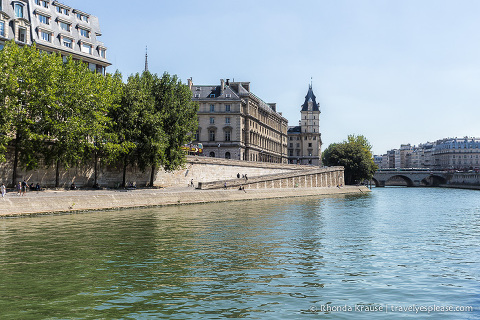 Bright and early, head to Notre-Dame Cathedral. Try and get there just after it opens around 8:00 am to avoid the line-ups and crowds. After visiting the inside of the cathedral, head around to the side to queue for a visit to the bell towers, which open at 10:00 am. It's worth going up to see the famous gargoyles up close, plus you get a nice view of the city.
UPDATE: Notre-Dame Cathedral is currently closed after a devastating fire in April 2019.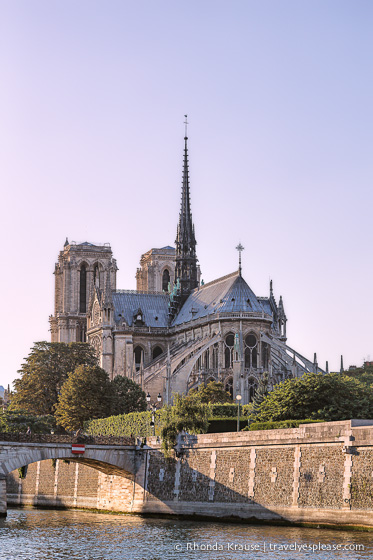 Next, walk over to Sainte-Chapelle. This tiny chapel is made almost entirely out of stained glass windows! It's tucked away among the law courts and Conciergerie and would be easily missed if it weren't for the long lineup of people waiting to get in.
After visiting Sainte-Chapelle, pop over next door to the Conciergerie. This intimidating looking building used to be a royal palace, but was later converted to a prison. It held some famous prisoners during the revolution and makes for an interesting visit if you love learning about history.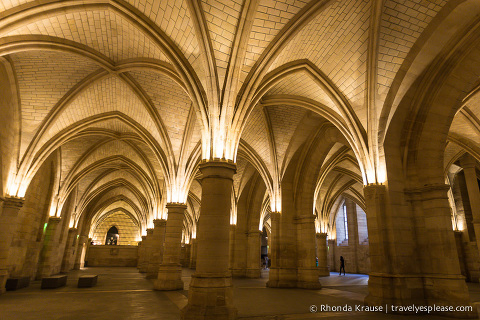 End your afternoon with a short walk to Paris' other island- the tiny, quieter Île St-Louis. There aren't any real tourist attractions here, it's just a nice place to wander and enjoy an ice cream cone!
Day 4: Day Trip to the Palace of Versailles
The Palace of Versailles is well worth a trip out of Paris for the day. This decadent palace was home to French royalty who lived so lavishly it started a revolution!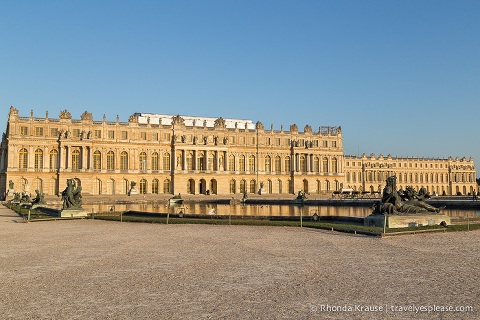 There is more to see here though than just the main chateau. The gardens are expansive and you could spend an entire day exploring them (we sure did!) There are also two smaller palaces, the Grand and Petit Trianons, plus the adorable Queen's Hamlet (our favourite spot at Versailles).
After you return to Paris, make your way back to the Eiffel Tower to see its lights twinkle at night. For a classic view, head across the Seine to Esplanade Trocadero. Seeing the Eiffel Tower illuminated at night is the perfect way to end a wonderful four days in Paris!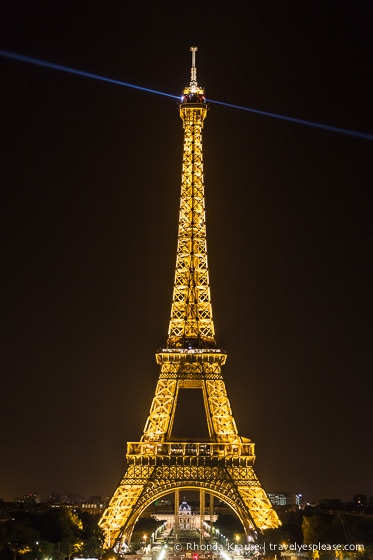 Final Thoughts About Our 4 Days in Paris
Four days in Paris was the perfect amount of time to see many of Paris' top sights, while still leaving plenty of things to do on a future visit. A few things we missed that I would have liked to see during our four days in Paris were the Arc de Triomphe, Jardin de Tuileries, Père-Lachaise Cemetery, and the catacombs.
I hope another trip to Paris is in my future because I'd love to get to know the city on a deeper level. It really is one of the best cities in Europe!
Tips for Visiting Paris
Best Time to Visit Paris- April to June and October to early November are nice times to visit Paris because the weather is pleasant and there are fewer tourists. High season is in the summer, so attractions are at their busiest. Low season is November to February, because of the colder winter temperatures, but this also means it's the most affordable time to visit. We loved visiting Paris in early September, after school was back in, because the weather was still warm but the crowds had thinned out.
Where to Stay- With so many great districts to choose from, our neighbourhood guide for travellers can help you decide where to stay in Paris.
Paris Sightseeing Cards– To save money and time waiting in lines, consider purchasing a city sightseeing card. Here are the two main options available:
Paris Museum Pass– Provides free admission and fast track entry to museum and monuments in and around Paris. This is the pass we used during our 4 days in Paris. Here is our

review of the Paris Museum Pass

, plus tips for buying and using it.
The Paris Pass– All encompassing pass that includes the Museum Pass, an Attractions Pass providing free and fast track entry, a hop-on-hop-off bus tour, and guidebook. 
Getting Around- Paris has a vast and reliable public transportation network consisting of a subway system (Metro), regional trains (RER), and buses. You can buy individual tickets, an unlimited use day ticket (Mobilis), or an unlimited multi-day pass (Paris Visite/Paris Tour Travel Pass). More information about tickets types can be found here.
Within Paris, you can transfer between the Metro and RER for free.

The metro operates from 5:30 am- 1:15 am (or 2:15 am on Friday and Saturday). The RER runs from 4:30 am- 1:15 am. Confirm current hours here.
Bike Share Program- Paris' bike share program offers a fun way to get around the city. Vélib' Metropole is a self-service bike system that is available 24 hours a day. For a small fee, you can take a bike from a stand (there are 1,400 stations and 20,000 bikes), use it, and return it to any stand. You pay for how long you use the bike, in 30 minute increments. If you buy a 24 hour pass the first 30 minutes are free, so if you return your bike every half hour, you never pay more than the initial rental fee. If you forget to return your bike every 30 minutes (like we did), you will be charged a usage rate.
For more tips on what to expect during your four days in Paris, read our First Time Visitor's Guide to Paris.
Information was updated January 2022, but can change without notice. Please confirm directly with service providers.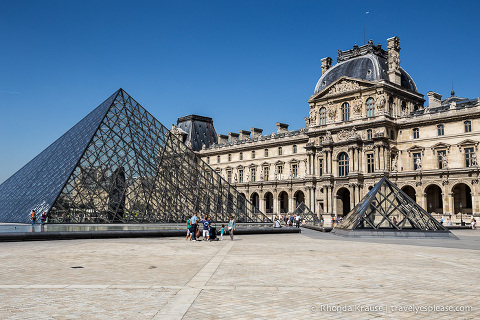 Buy Digital Tickets to Paris Attractions & Skip the Line
For quick and convenient access to Paris' attractions, here are some trusted links where you can buy advance, mobile tickets to the sites mentioned in this post (or click here to shop all Paris attractions tickets). Digital ticket delivery is instant and you can show your phone (in most cases) at the ticket holders entrance- no need to print your tickets.
Tours in Paris
Here is a trusted site that has a large inventory of tours and tickets for activities in Paris. You can book everything from walking tours, bike tours, guided visits, wine tastings, food tours, show tickets, river cruises, Disneyland tickets, and day trips out of the city. There's a lot of great activities to choose from, but here are a few related to what I've mentioned in this post.
Accommodations in Paris
For your convenience, here is a list of hotels in Paris. Please consider booking your Paris accommodations through the included link. It costs you nothing extra and helps support this website. Thank you!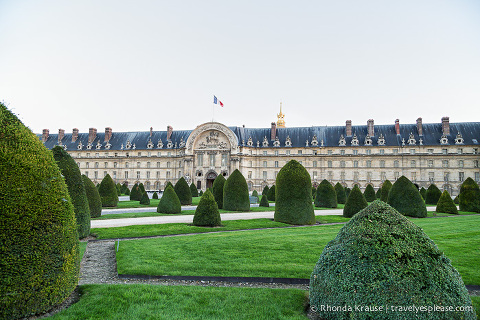 More Europe Destinations and Travel Guides