Purchases made through links earn us a small commission, at no extra cost to you.
In the centre of Athens, just southeast of the Acropolis, stands the ruined Temple of Olympian Zeus. In 1515 BC, Athenian tyrant Peisistratos laid the foundation for what he envisioned being the greatest temple in the world. Unfortunately, construction was abandoned five years later when Peisistratos' son, Hippias, was overthrown in 510 BC.
Over the years, various leaders attempted to finish the temple, but it wasn't until Emperor Hadrian came into power, that the project was completed around 131 AD. It took 600 years, but the Olympieion had finally become the largest temple in Greece, at 96 meters long and 40 meters wide.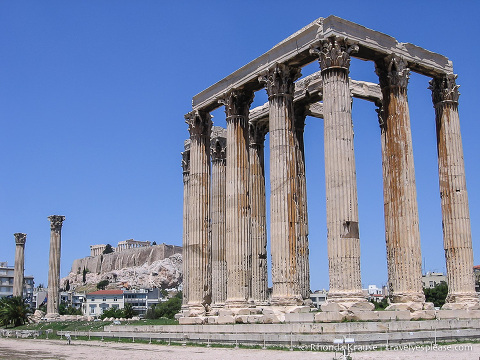 Dedicated to Zeus, the temple housed a giant ivory and gold statue of the king of Olympian gods. Hadrian also erected an equally large statue of himself right next to the one of Zeus.
Nothing remains of the temple's interior and only 15 of the 104 original Corinthian columns still stand. You can see a 16th column lying on the ground where it fell after being blown over 1852.
More Greece Destinations and Travel Guides