Purchases made through links earn us a small commission, at no extra cost to you.
If you have an interest in Greek mythology and archaeology, then the ruins of Knossos Palace make for an interesting stop during a visit to the island of Crete.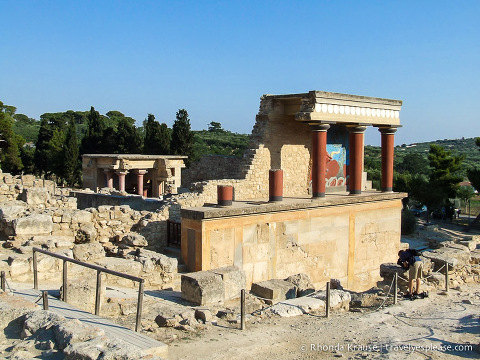 As the capital of the Minoan civilization on Crete, Knossos is associated with many great stories in Greek Mythology. According to legend, it was here that King Minos had a labyrinth built to keep his mythical creature, the Minotaur. The story goes that every nine years, King Minos made King Aegeus pick seven young boys and seven young girls to be sent to the labyrinth to be eaten by the Minotaur.
Besides hearing mythical tales, during a tour of Knossos you'll also see the reconstructed remains of a palace complex, vibrant frescoes, and other details indicating that the Minoans were a highly sophisticated society.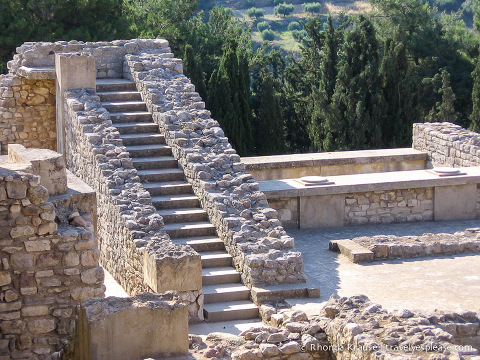 Knossos Archaeological Site
The ruins of Knossos were excavated in 1900 by archaeologist Sir Arthur Evans. The partially reconstructed palace you see today is believed to have originally been built in 1700BC, after the first palace on site was destroyed by an earthquake.
The complex consisted of royal quarters, workshops, treasuries and store rooms, all connected by corridors of varying sizes and directions. According to Greek mythology, well known architect Daedalus designed Knossos Palace with such complexity that anyone placed in it could never find the exit.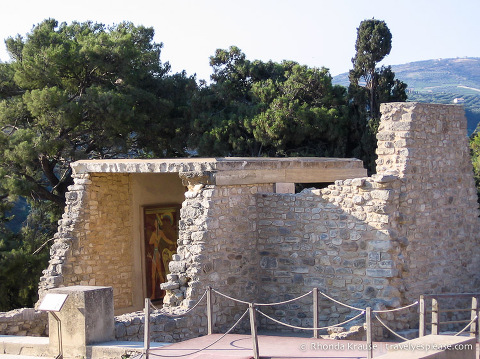 During a tour of Knossos Palace you can discover a lot about the Minoan civilization. You'll see that they built their columns to taper at the bottom, instead of at the top like other Greek columns. This is because the columns were made from Cyprus trees turned upside down. The Minoans also had an efficient plumbing and drainage system and designed the layout of their buildings so that rooms would be cool in the summer and warm in the winter.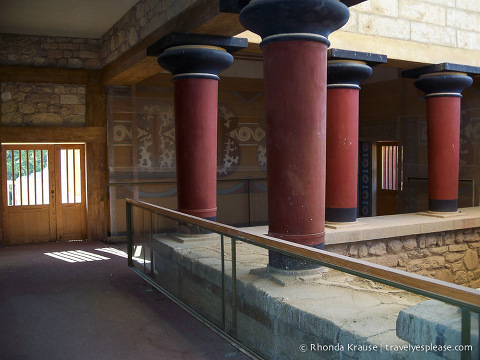 Walking around the site, you'll notice many artistic touches reflective of Minoan culture. There are frescoes depicting state processions, along with real and mythical animals such as the Griffin. The bull is a prominent figure in the palace, a sacred figure in Minoan culture. The palace also has many large pottery pieces and a simple throne believed to be the seat of the high priestess.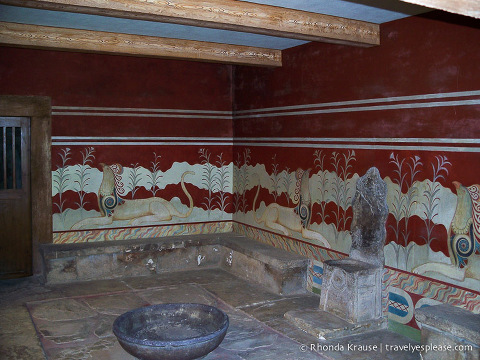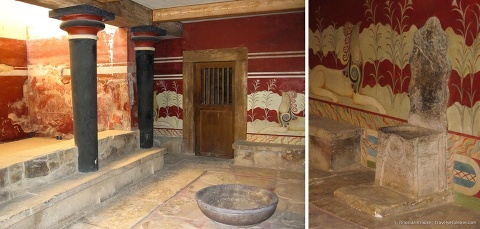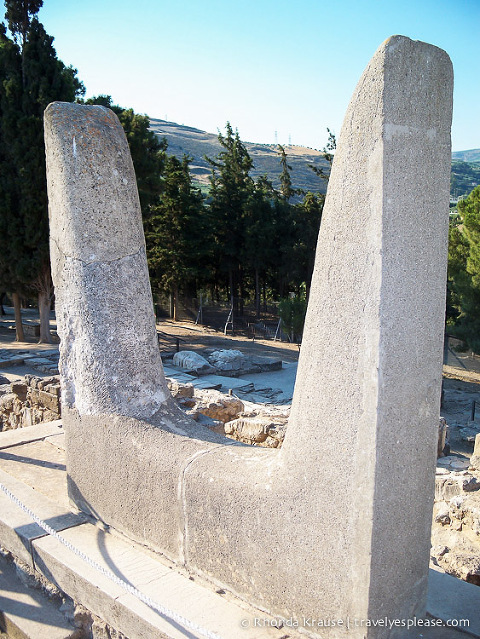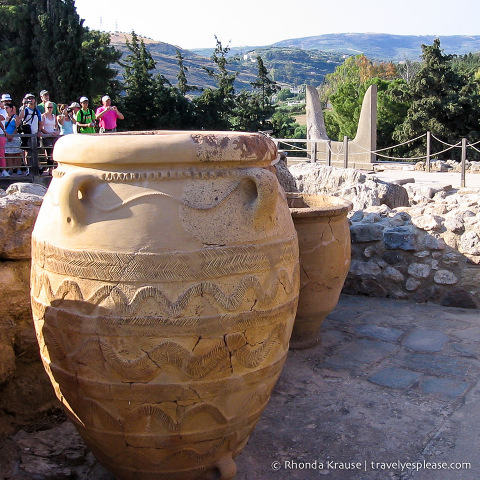 Final Thoughts About My Visit to Knossos Palace
Knossos is noticeably different from other archaeological sites in Greece because of its obvious restorations (it's far more colourful than Ancient Delphi, Ancient Olympia, and the Acropolis). Evans is often criticized for his restorations, many believing they are inaccurate and, at best, educated guesses. However, the restorations do give visitors a better idea of the grandeur that may once have been.
Normally a stickler for authenticity, I actually enjoyed seeing the painted columns and buildings versus just plain stones. It made the palace seem more majestic and helped bring the Minoan culture to life.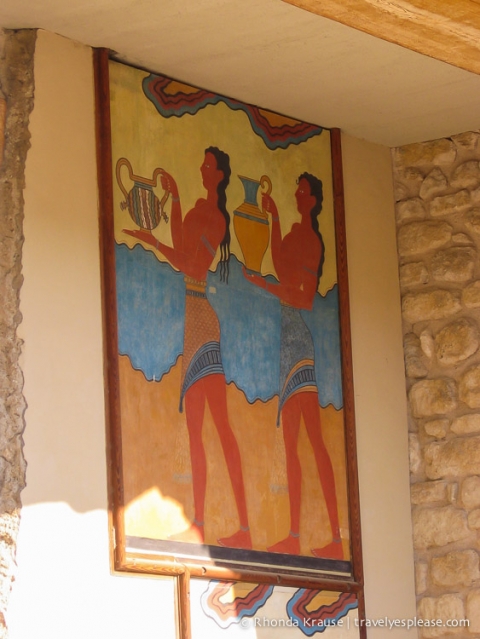 More Interesting Facts About Knossos
Europe's first road, the Royal Road, was built in Knossos.

Frescoes at Knossos were made by moulding wet plaster, then painting it while still wet.
Over 100 pithoi (large ceramic jars) were found at Knossos. Some were two meters high!
Evans spent £250,000 of his own money and 35 years excavating and reconstructing parts of Knossos Palace.
Tips for Visiting Knossos Archaeological Site
Location: Knossos is located about 5 km from Iraklio on the island of Crete.
Opening Hours: The Knossos Archaeological Site is open daily starting at 8:00 am (8:30 am November 1 to March 31). Closing time varies depending on the season. Current hours can be found here.
Information was updated March 2022, but can change without notice. Please confirm directly with the venue.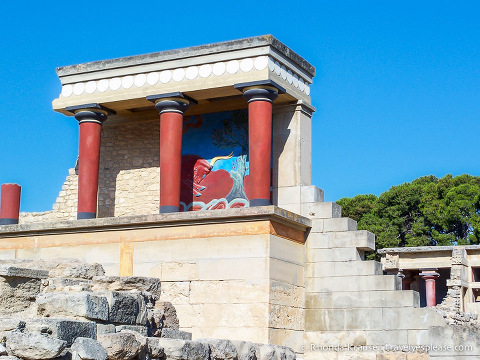 More Greece Destinations and Travel Guides