Purchases made through links earn us a small commission, at no extra cost to you.
Epidaurus was once celebrated as a place of miraculous healing, but these days visitors don't come seeking a cure for what ails them, they flock to see the remarkable ancient Greek theatre.
It's hard not to let your mouth fall open when the theatre at Epidaurus first comes into view. I remember being shocked at how enormous it was- a capacity of 14,000! Climbing up to the top row, I got a real sense at just how monumental the theatre is. My muscles may have been burning, but scaling the steep stairs was worth it- the mountainous views were stunning!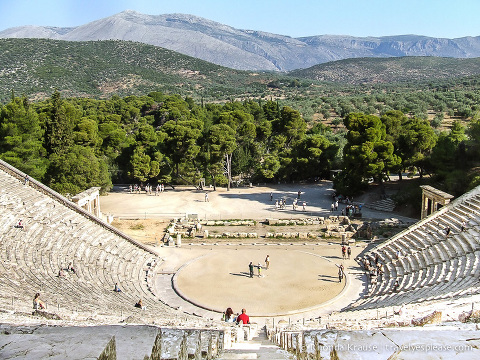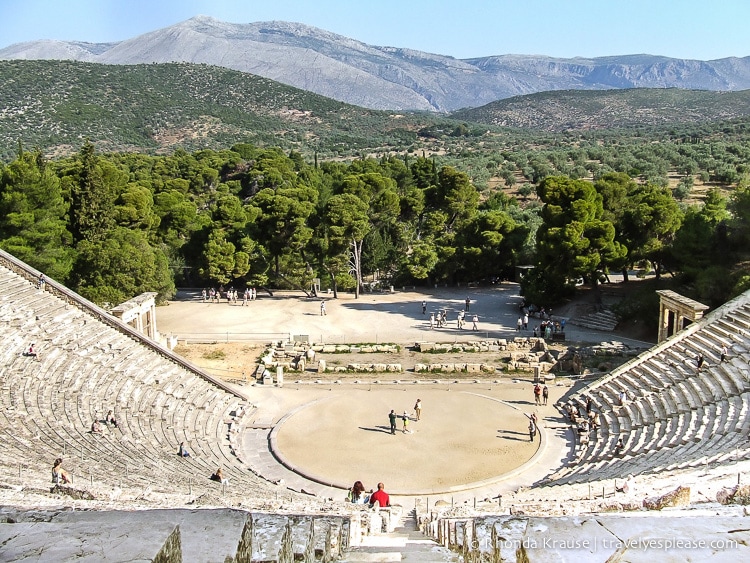 Apart from being one of the best preserved classical Greek buildings, the Ancient Theatre of Epidaurus has some exceptional acoustics. A coin dropped centre stage can be heard, clear as day, all the way from the top row. No need for modern microphones! It's believed that the limestone seats help to filter out low-frequency sounds, like talking in the crowd, and amplify the high-frequency sounds coming from the stage. The theatre is still used for drama performances during the annual Hellenic Festival.
If you ever have the opportunity to visit this theatre, I highly recommend it because it's one of the top ancient sites in Greece. Honestly, this photo doesn't do it justice. I took this picture back in 2007, way before I owned a proper camera and an ultra-wide lens. I'd like to go back just to get some more pictures!
More Greece Destinations and Travel Guides