Purchases made through links earn us a small commission, at no extra cost to you.
Jordan is a country known for its natural wonders, archaeological sites, and tradition of Bedouin hospitality. From the red desert of Wadi Rum to the rock-cut tombs in the mountains of Petra, there was plenty of beauty and history to immerse ourselves in during our 8 day Jordan road trip.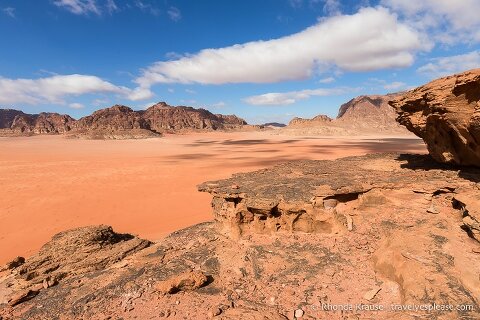 With a little over one week in Jordan, we had time to explore ancient Nabatean and Roman cities, visit Crusader castles, camp in the desert, hike to scenic viewpoints, and float in the Dead Sea.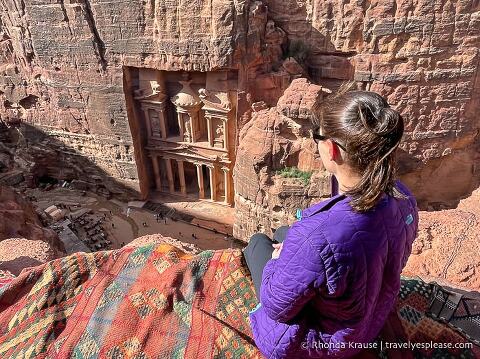 Our Jordan itinerary included some of the very best places to visit in Jordan, plus some spots that we knew little about but were excited to discover along the way.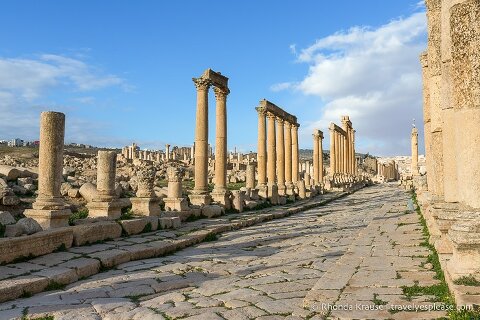 One Week in Jordan- Our Jordan Itinerary
For our first trip to Jordan we wanted to experience the country's most iconic attractions, but also visit some less popular locations. 
When planning our Jordan itinerary we primarily focused on ancient ruins and other significant historic sites, as well as opportunities to enjoy the natural landscape. We even included a few museums to learn more about the country.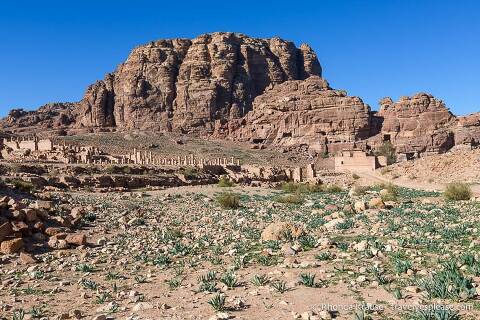 Our Jordan itinerary started and ended in Amman. We kept to the west side of the country, exploring from the very north to the far south. To fit everything in we needed to spend a full 8 days in Jordan, returning to Amman on the 9th day for departure. If you can only spend exactly one week in Jordan, this itinerary could easily be altered (we would remove Madaba and Mount Nebo).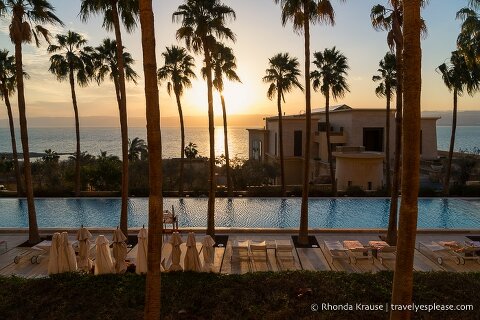 We decided the most convenient way to see all the places we wanted was to do a road trip. Having just finished a trip to Egypt where we saw chaotic driving conditions, we were unsure if it would be stressful to rent a car in Jordan so instead hired a private driver to take us on our Jordan road trip. It turned out that we could have easily managed driving in Jordan, but it was nice to be able to sit back and relax between destinations.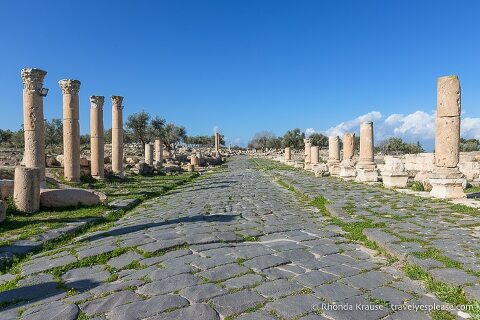 Here's a look at our Jordan road trip itinerary complete with some information about each place we visited. We hope this gives you some ideas of places to see in Jordan and helps you plan your own Jordan trip itinerary.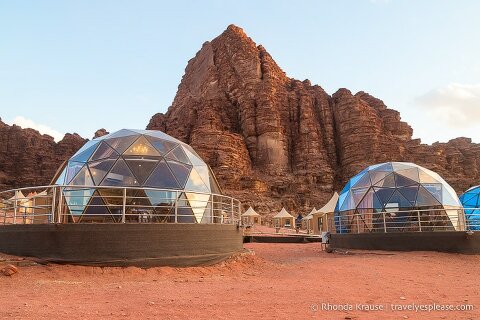 Jordan Trip Map 
The map below shows the places we visited during our 8 days in Jordan so you can visualize where we travelled to on our Jordan road trip.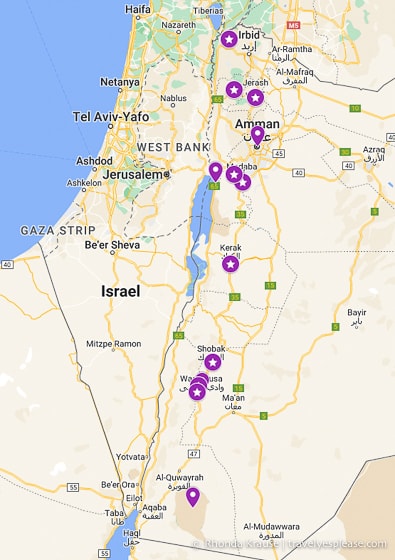 Day 1: Amman
After a mid-morning arrival at Queen Alia International Airport, we headed into Amman to visit a couple of the city's top museums- The Royal Automobile Museum and the Jordan Museum. 
Royal Automobile Museum
We started our trip to Jordan with a visit to the Royal Automobile Museum. This fantastic museum displays about 80 cars and motorcycles from the late King Hussein's personal collection, all of which are in mint condition.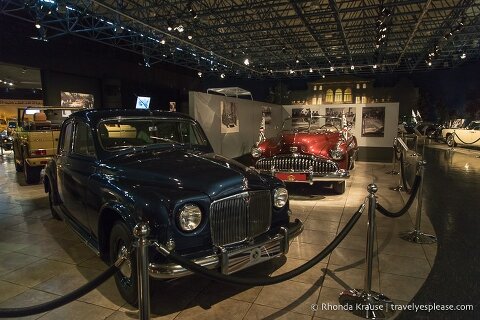 The museum is wonderfully curated to tell the story of King Hussein's life and reign through his love of automobiles. The way the vehicles are displayed also showcases a part of Jordan's history, from the 1920s to the present day.
Even though we are not car enthusiasts, we still really enjoyed the museum and appreciated the beauty, uniqueness, and rarity of the vehicles in King Hussein's collection.
Jordan Museum
As the country's national museum, the Jordan Museum presents 1.5 million years of Jordan's history and culture through thematic displays, archaeological finds, and Jordanian art. 
The museum's most important treasures are the Dead Sea Scrolls and the Ain Ghazal Statues, which at 9,700 years old are believed to be the world's earliest statues of humans.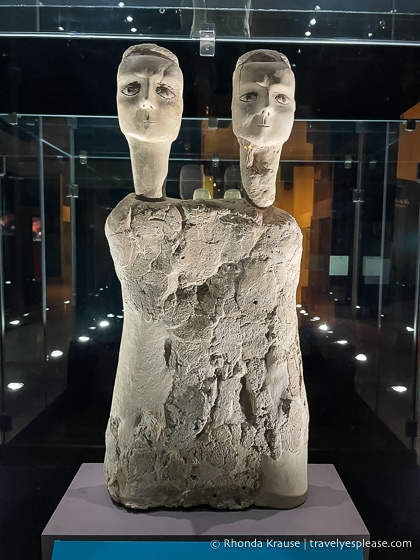 The museum contains a lot of information about Jordan (far more than we could absorb), so was a good place to get acquainted with the country before heading out on our Jordan road trip. 
Day 1 Hits & Misses
Hits:
Seeing all the beautiful vehicles at the Royal Automobile Museum and learning about their history and how they were used by the King in his personal life and for official duties.
Misses:
Not feeling particularly engaged by the Jordan Museum, but this is how I tend to feel at most museums. I guess I was hoping there would be more displays that made a lasting impression.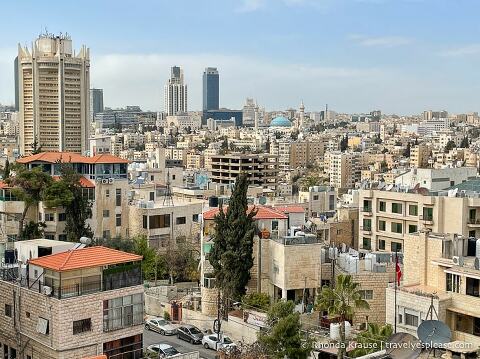 Day 2: Day Trip to Umm Qais, Ajloun Castle, and Jerash
Today we did a day trip from Amman to northern Jordan to visit Ajloun Castle and see the Roman ruins at Umm Qais and Jerash.
Approximate drive times: Amman to Umm Qais- 2 hrs, Umm Qais to Ajloun Castle- 1 hr 10 mins, Ajloun Castle to Jerash- 35 mins, Jerash to Amman- 50 mins
Umm Qais
Umm Qais, in the very northwest corner of Jordan, is home to the remains of the ancient Roman city of Gadara. As a member of the Roman Decapolis, Gadara was an important centre of commerce in the region.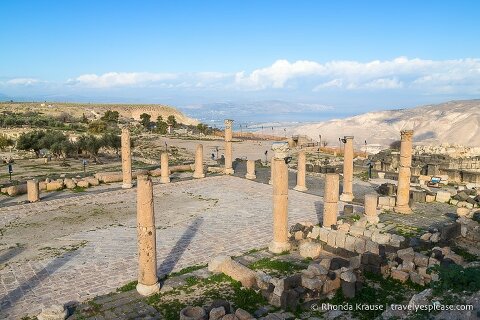 The archaeological site has a stone-paved main road, two theatres, a colonnaded church terrace, a row of old shops, and ruins of public baths, mausoleums, and a public fountain. Alongside the Roman ruins is an abandoned Ottoman village.
We liked Umm Qais and the surrounding hills and valleys, but had we visited the archaeological site of Jerash first then we might have been less impressed with these ruins.
Ajloun Castle
The hilltop Ajloun Castle is a must-see in northern Jordan. This Islamic castle, built by one of Saladin's generals, served to protect the area against the Crusaders.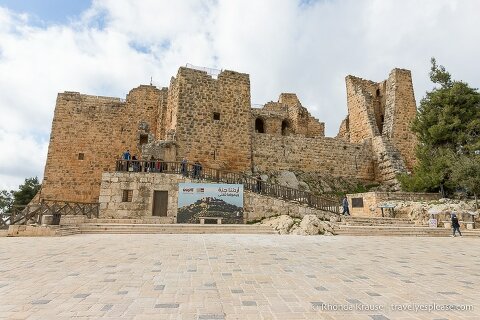 The castle's cavernous stone rooms were quite atmospheric and made us feel as though we had been transported back to medieval times. One of the rooms hosts a small museum and another has some piles of catapult stones. The castle also offers a commanding view looking out towards the Jordan Valley.
Jerash
One of the best places to visit in Jordan is the Jerash Archaeological Site. 
The remarkably preserved ruins of this Greco-Roman city are a joy to discover and include a colonnaded avenue, forum, theatres, temples, a hippodrome, fountains, baths, monumental gates, and more. The site is quite large and we spent 4 hours here, including a tour of the highlights with one of the on-site guides.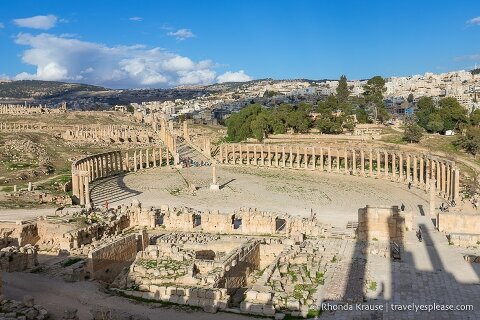 Jerash was one of my favourite places we visited on our Jordan trip and I had so much fun admiring the ruins. Even if you're not as enthusiastic about archaeology, Jerash is still very much worth including on your Jordan itinerary.
Day 2 Hits & Misses
Hits:
The scenic drive from Amman to Umm Qais. It was nice to see some hills, valleys, and greenery. 
The view of Israel, Syria, and the Golan Heights from the lookout point at Umm Qais.
Seeing inside a medieval castle.
The column-lined streets and ancient theatres at Jerash.
Misses:
Nothing- everything we saw today was great!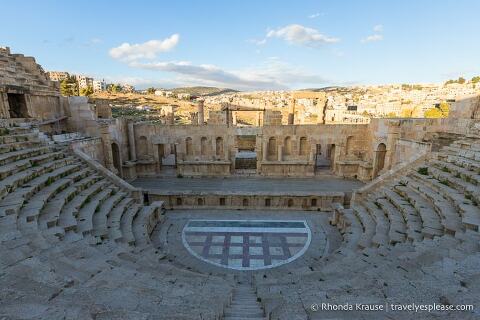 Day 3: Amman Sightseeing, Day Trip to Madaba and Mount Nebo
Our morning sightseeing in downtown Amman was cut short because of a heavy rainstorm, but we did manage to visit the Citadel and the Roman Theatre. Afterwards, we drove to Madaba and Mount Nebo to see some of Jordan's most famous mosaics.
Approximate drive times: Amman to Madaba- 45 mins, Madaba to Mount Nebo- 15 mins, Mount Nebo to Amman- 50 mins
Amman Citadel
The Amman Citadel, which sits on the city's highest hill, was fortified in the Bronze Age and has been occupied by several civilizations throughout its long history. After a period of decline, the Citadel was abandoned and fell into ruin. Today it's a partially excavated archaeological site.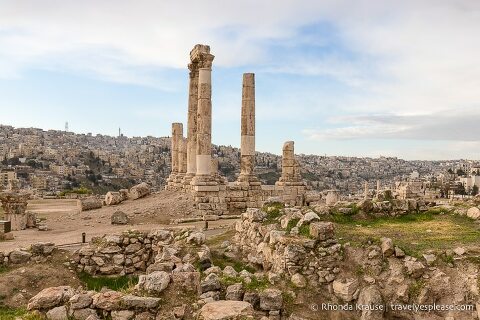 Much of the existing structures at the Citadel are from the Roman, Byzantine and Umayyad periods. The most intact building is the Monumental Gateway to Umayyad Palace, but other notable ruins include the Roman Temple of Hercules and the Byzantine church. 
The Citadel's hilltop location overlooks Amman's Roman Theatre and offers panoramic views of the city.
Roman Theatre
The Roman Theatre in Amman was built in the 2nd century but has been fully restored by the Department of Antiquities (although using non-original materials). Constructed into a hillside, the theatre has seating for 6000 people on three tiers.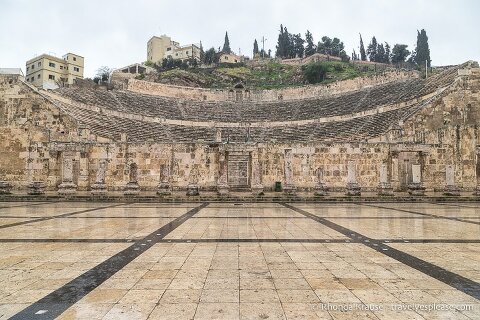 Since it was pouring rain, we didn't climb up the theatre's steep, slippery stairs for a closer look. Instead, we spent some time visiting the two small museums on site- the Folklore Museum and the Museum of Popular Traditions.
Madaba 
The town of Madaba is best known for its splendid Byzantine-era mosaics decorating its churches and villas. We visited two different locations where we could admire this art form- St. George's Greek Orthodox Church and the Madaba Archaeological Park. 
Madaba's most notable mosaic is the map on the floor of St. George's Church. The Madaba Map (or Madaba Mosaic Map) as it's known, was crafted in the 6th century and depicts all the major biblical sites of the Middle East. Originally part of a Byzantine church, the map was rediscovered in 1884 during construction of the current church.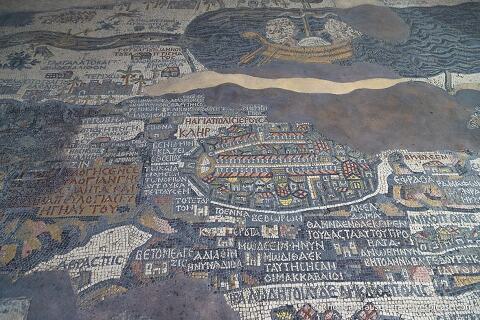 The Madaba Archaeological Park offers another opportunity to see some ancient mosaics found in the Madaba area. There are two parts to this open-air museum, but we only visited part one which includes the ruins of the Church of the Virgin Mary and Hippolytus Hall, a 6th century Byzantine villa. The floor of the church has a large geometric mosaic whereas the hall's mosaic shows characters from Greek mythology.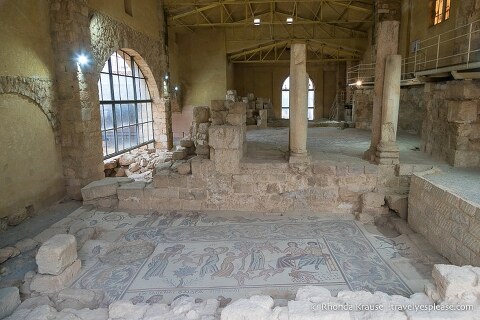 Mount Nebo
Mount Nebo is a site of religious significance because the Bible claims it's where Moses died within view of the Promised Land. Today the hilltop complex consists of several points of interest for pilgrims and tourists including the Moses Memorial Church, a serpentine cross sculpture at the Memorial Viewpoint, and a small museum.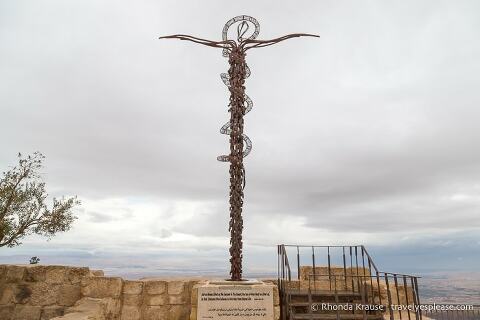 Not being religious, I wasn't really interested in visiting Mount Nebo but was still able to appreciate the beautiful mosaics in the church, as well as the views of the Jordan Valley, West Bank, and Dead Sea. 
Day 3 Hits & Misses
Hits:
The photogenic Temple of Hercules at the Amman Citadel.
Seeing the Mosaic Map and learning about how so many of Madaba's mosaics were unknowingly built over.
The exquisite floor mosaic in the Moses Memorial Church depicting African animals in a hunting and herding scene.
Misses:
The Amman Citadel not being as well preserved or intact as I was expecting. I guess I was harder to impress after the magnificent ruins at Jerash.
Having to rush around the Citadel before the downpour started. I wish we could have had a longer, more in-depth tour and taken more pictures.
The Roman Theatre in Amman was not as attractive as other Roman theatres I've visited, including the ones at Jerash. The museums were also very simple and not very engaging.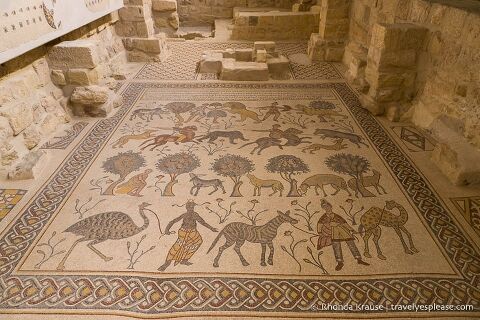 Day 4: Drive from Amman to Wadi Rum Protected Area
Stops at Kerak Castle and Shobak Castle 
Today we drove from Amman to Wadi Rum, stopping along the way to visit two crusader castles on the King's Highway. Instead of driving the King's Highway, which is a rural road for much of its length, we took the Desert Highway because it has a faster speed limit and no speed bumps (but is less scenic). In order to fit everything in and get to our camp in Wadi Rum before dinner time, we had to get an early start and take the fastest route. 
Approximate drive times: Amman to Kerak Castle- 1 hr 50 mins, Kerak Castle to Shobak Castle- 1 hr 55 mins, Shobak Castle to Wadi Rum Village- 2 hr 15 mins
Kerak Castle
Kerak Castle is one of the most famous Crusader castles in Jordan and a top attraction on the King's Highway. This large, medieval castle is built on a plateau overlooking the town of Al-Karak and is fortified with steep slopes, thick walls, and ditches.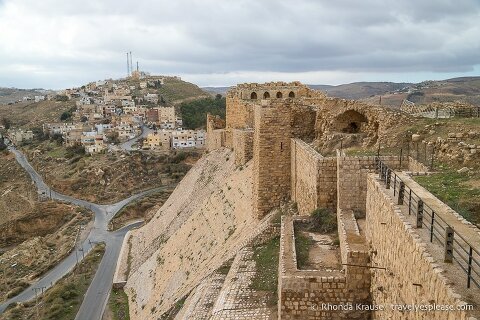 During our visit, we wandered through dark, empty stone rooms that were once used as barracks, stables, a jail, and a dining room. There's practically no information inside the castle (which contradicts what I read on other websites), so it's helpful to hire a guide at the entrance and visit the small archaeological museum.
Shobak Castle
The last Crusader castle we visited on our Jordan trip was Shobak Castle (also known as Montreal Castle). Perched high on a rocky hill, Shobak Castle is less intact than Kerak, but its ruins are very evocative due in part to the scenic countryside they overlook.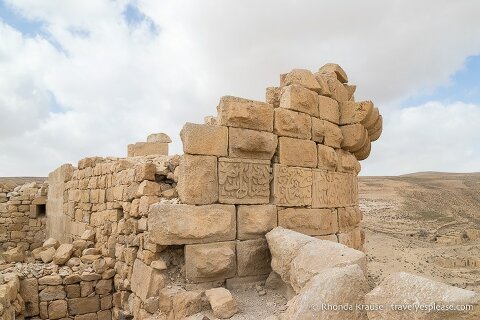 Since the castle is only partially excavated, and the lack of signage meant we had to guess what we were looking at, we felt like we were archaeologists on an exploration mission. Some things that stood out were the stone archways and inscriptions on some of the towers and walls.
Glamping in Wadi Rum
A trip to Jordan wouldn't be complete without spending some time camping and exploring the desert at Wadi Rum, Jordan's largest wadi (valley).
Instead of a traditional Bedouin camp, we decided to splurge on a luxury camping/glamping experience, staying overnight in a gorgeous dome with panoramic views of Wadi Rum's iconic red rock formations. Before dinner, we had time to hike up to a viewpoint that overlooked our camp and its scenic location, giving us a preview of the scenery we could expect on our desert tour the following morning.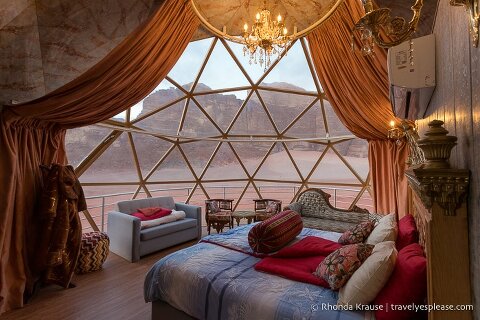 Camping in Wadi Rum was a wonderful experience that should be included on every Jordan itinerary! 
Day 4 Hits & Misses
Hits:
Having Shobak Castle all to ourselves.
The wonderful, hilltop views from both castles.
Our cozy and beautiful dome tent in Wadi Rum.
Getting to enjoy a short hike from our camp.
Misses:
While the size of Kerak Castle was impressive, it's not in the best condition or set up well for visitors. We expected more considering it's one of the main tourist attractions in Jordan.
Getting ripped off by a tour guide at Kerak Castle. He just started showing us around without asking if we wanted a tour or telling us the price, so we (wrongfully) assumed it would be tip-based. When we offered the amount our guidebook said tours cost (10 JD), he got really mad and demanded double.
Not being able to stargaze in Wadi Rum because of a cloudy sky.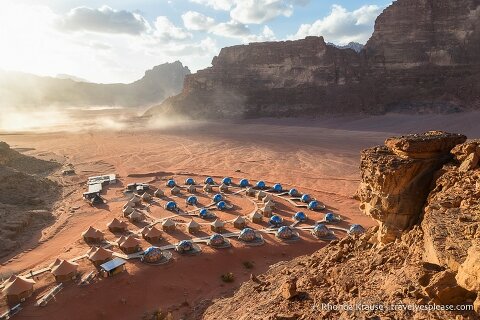 Day 5: Wadi Rum Tour, Drive to Wadi Musa/Petra
In the morning we went on a 3 hour tour of Wadi Rum to see the area's distinctive rock formations. Afterwards, we drove to Wadi Musa, the town at the entrance to Petra, and visited Little Petra and attended Petra By Night.
Approximate drive time: Wadi Rum Village to Wadi Musa- 1 hr 50 mins
Wadi Rum Tour
One of the main highlights of our 8 days in Jordan was our tour of Wadi Rum. 
While sitting on cushioned benches in the back of a 4×4 truck, we were driven around to several of Wadi Rum's notable landmarks. At each place, we got out of the truck and spent some time walking around and taking pictures. We saw petroglyphs in a narrow siq, climbed a steep sand dune, and visited a photogenic rock bridge.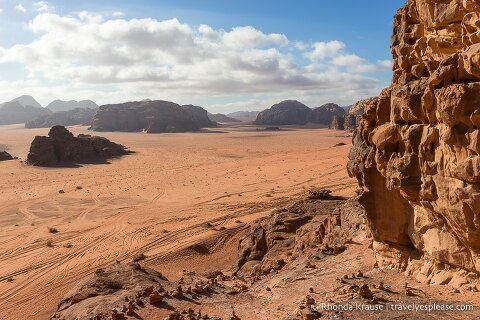 We would have loved to spend an entire day touring Wadi Rum so would come back here if we ever did another trip to Jordan.
Little Petra
Little Petra in Siq al-Barid is a Nabatean site that has buildings carved into the canyon walls. It's similar to Petra, but on a smaller scale with fewer crowds.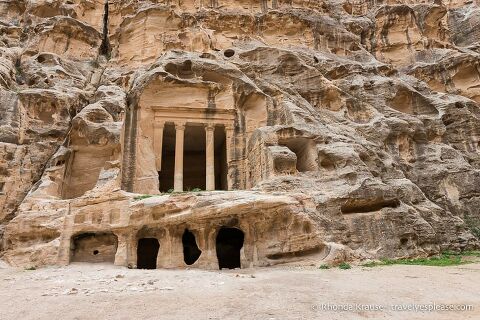 As we walked through the siq we saw several rock-cut rooms, staircases, and decorative facades. My favourite was the triclinium (dining room) with its columns and entablature. We also enjoyed the viewpoint at the end of the siq where we could gaze out onto the eroded rocky landscape. 
Petra By Night
Petra by Night is a simple light show and musical performance in front of the famous Treasury.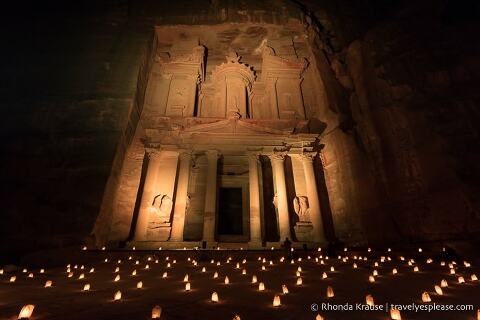 The setting is quite pretty with paper bag lanterns spread out in front of the illuminated Treasury, so it was a wonderful first impression of Petra. However, the "show" was rather disappointing- nothing more than changing coloured lights and one guy playing the flute. 
Day 5 Hits & Misses
Hits:
The beautiful red rocks and sand fields at Wadi Rum.
Exploring the siq and "cave" rooms at Little Petra.
Being the first people to arrive at Petra by Night and getting front row seats.
Misses:
Only having a driver, not a proper guide, for our Wadi Rum tour meant we just got basic information about the sights we were seeing.
Lack of informative signs at Little Petra.
Dogs barking and running around during Petra by Night. Plus the show was too expensive for what it was.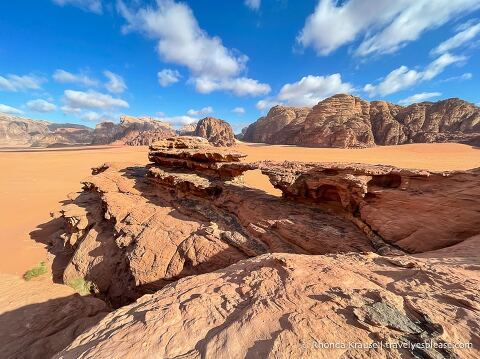 Day 6 & 7: Petra Archaeological Park
The next 2 days of our Jordan itinerary were dedicated to exploring Petra, Jordan's most famous archaeological site. 
Petra
Petra is the sprawling, rock-cut capital city of the Nabateans, an ancient civilization who were accustomed to living in barren, mountainous terrain. As skilled stone carvers, they cut large tombs with intricate facades into the sides of Petra's sandstone mountains.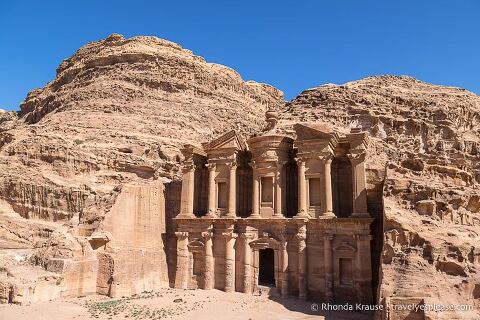 The top attractions in Petra are the beautiful Treasury and Monastery (my personal favourite), but there are also several other impressive structures including the remains of a temple complex, a row of royal tombs, and a theatre carved into the rock.
We thought two days in Petra was the perfect amount of time to see all the highlights and do a few hikes (the official Treasury Viewpoint Trail/Al-Khubtha and the High Place of Sacrifice Trail).
Day 6 & 7 Hits & Misses
Hits:
The architectural details on the facades of the rock-cut tombs.
The rocky hills and mountains surrounding Petra.
Seeing the Treasury from above.
Misses:
The hiking trails in Petra aren't well-marked.
The exploitation of animals for tourist rides.
There was an elaborate emergency response training event going on so there were a lot of vehicles, sirens, and other distractions that normally wouldn't be on site. Although, it was really neat to watch them simulate a flash flood evacuation in front of the Treasury.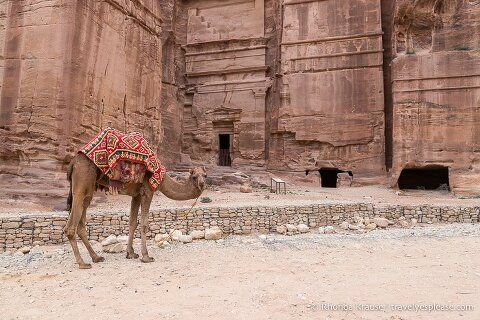 Day 8: Drive from Wadi Musa/Petra to the Dead Sea
The last destination on our Jordan road trip was the Dead Sea. After driving along the shore for almost the entire length of the Dead Sea, we checked in at one of the luxurious seaside resorts so we'd have access to a private beach and spa. An afternoon departure the next day gave us more time to enjoy the facilities before driving back to Amman for our flight home.
Approximate drive time: Wadi Musa to the Dead Sea resort area- 3 hr 10 mins
Dead Sea
Visiting the Dead Sea was both a fun and relaxing way to end our trip to Jordan. The scenic drive along the Dead Sea Highway showcased the sea's blue water and tan cliffs, but the best part of the day was our afternoon at the resort.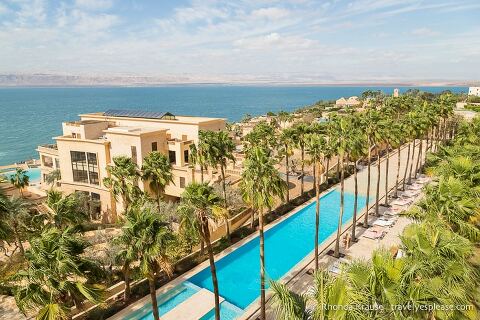 We had so much fun at the beach effortlessly floating in the extremely salty water, then covering our bodies in mineral-rich Dead Sea mud. Some delicious poolside drinks and soothing spa treatments were the perfect finishing touches to our week in Jordan. 
Day 8 Hits & Misses
Hits:
Floating in the salty sea and covering ourselves with mud.
The salt scrub, mud wrap, and facial treatment at the spa. My skin was so smooth and soft for weeks after!
Limonana, the slushy lemon mint drink we had at the pool.
The palm trees and swimming pools at our resort.
Misses: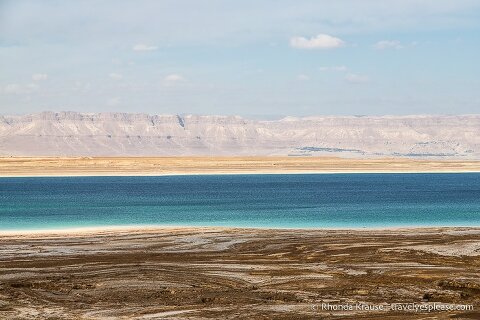 Final Thoughts About Our Week in Jordan
We enjoyed our 8 days in Jordan and liked that the country was welcoming, clean, comfortable, relaxed, and easy to drive around. We were especially relieved that all the places we were most excited to see (Petra, Jerash, and Wadi Rum) lived up to our expectations.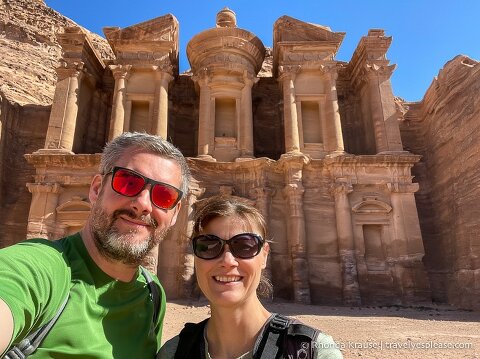 Even though we only had about one week in Jordan, it was enough time to see the country's main attractions plus discover some less familiar places, all without feeling rushed.
One interesting thing is that we didn't experience any culture shock. When there were cultural differences from Canada, they weren't jarring and didn't make travelling in Jordan uncomfortable.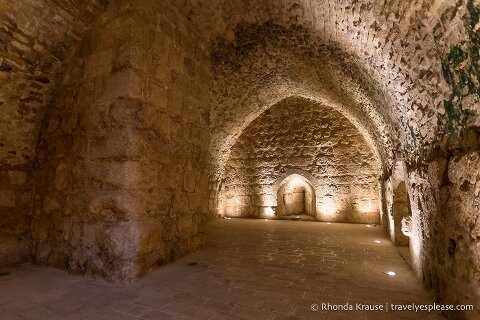 While we had a good experience in Jordan, the country as a whole didn't make a lasting impression the way that other destinations have. And that's fine- it in no way takes away from the incredible places we saw.
When we talked about Jordan it was, "That was nice, we're glad we came" instead of "Wow, we loved it so much and can't wait to come back." We think these feelings were because we had just visited Egypt, where pretty much everything blew our minds, so we'd become harder to impress. Had we only visited Jordan on that trip, or visited Jordan first, it's likely we would feel differently.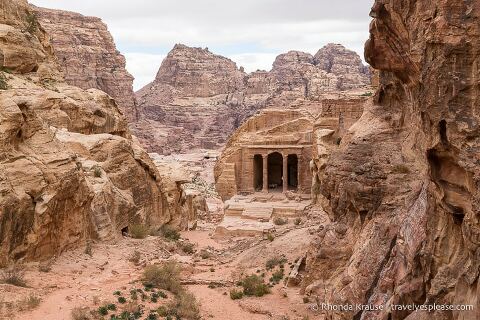 Would We Change Anything About Our Jordan Itinerary?
We were fairly happy with our Jordan itinerary, even though there were some places we didn't love but still thought were worth seeing (Madaba, Mount Nebo, Kerak Castle).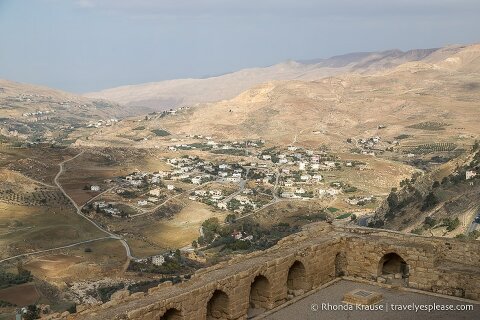 The one thing I'm sad we missed out on was the Siq Trail in Wadi Mujib Biosphere Reserve. This canyon hike has a water element to it so is typically open from April through October and we were in the area in early February.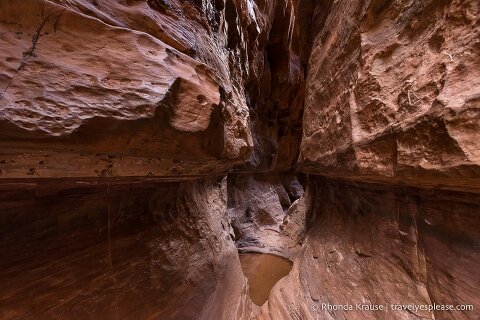 In general, we would have liked to spend more time in nature, perhaps hiking at the Dana Biospere Reserve or Ajloun Forest Reserve, but this would have required adding extra days to our trip.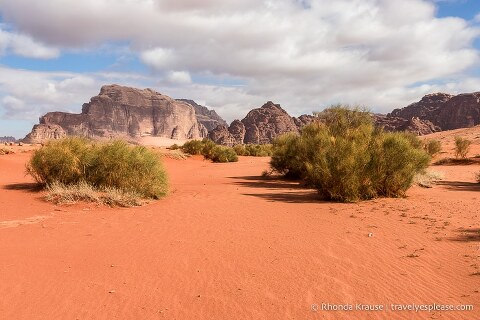 Tips for Planning a Jordan Itinerary
Here are a few tips to consider when planning your Jordan trip itinerary:
Renting a car, or hiring a driver, is the easiest way to get around Jordan. There's only one domestic air route (between Amman and Aqaba) and intercity buses require patience. There are tourist buses (JETT) but they only go to a few places so limit a traveller's freedom and flexibility.
Be prepared for a lot of driving. Most of the top places to visit in Jordan are along the western side of the country, spread out from north to south. The good thing is that even though you may have to travel long distances, there are usually interesting sites to stop at along the way to break up the drive.
Amman is a good base for day trips to destinations in the northern part of the country.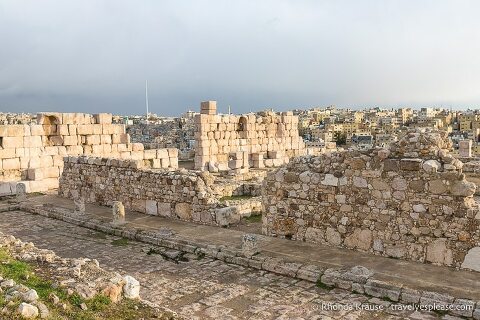 Accommodations in Jordan
For your convenience, here is a list of hotels in Jordan. Please consider booking your Jordan accommodations through the included link. It costs nothing extra and helps support this website. Thank you!
Search, Compare and Book Trips to Jordan
Here is a helpful and reputable site you can use to search for and compare tours of Jordan. There's a variety of tour operators, travel styles (private, group), and itineraries all in one place for easy comparison. You can even read reviews from other travellers. Once you find a trip you love you can book it!
Tours and Activities in Jordan
Here is another trusted site that has a large selection of tours and tickets for activities in Jordan. You can book everything from day trips, multi-day tours, adventure activities, airport transfers, and more.