Purchases made through links earn us a small commission, at no extra cost to you.
Egypt is one of the world's most iconic and enchanting destinations, thanks to its centuries-long history, legendary deities, architectural achievements, and symbolic art.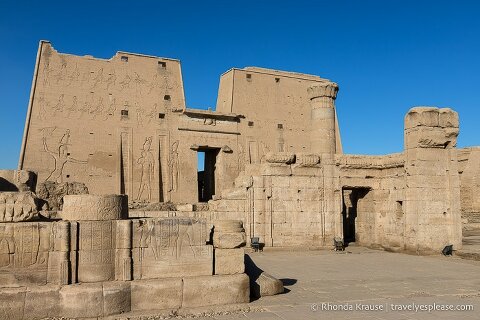 Ever since we were kids we were exposed to books, magazines, and movies about Egypt's ancient civilizations, archaeological treasures, and natural wonders, so it's no surprise we wanted to visit one day.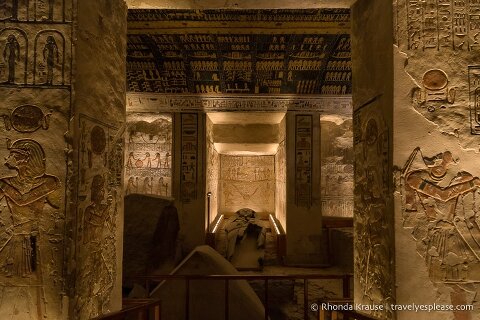 Well, it may have taken us until we were in our 40s, but Egypt's allure finally became too much to resist and we excitedly headed off on a 2 week trip to Egypt!
Before we share our day-by-day Egypt itinerary, here's a quick look at how we went about planning a trip to Egypt.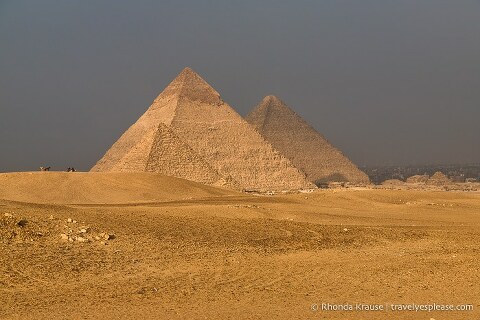 Planning a Trip to Egypt
As I started to plan our trip to Egypt, I quickly realized that Egypt was going to be a challenging, possibly even uncomfortable, destination to visit as independent travellers.
In my research I learned that traffic is chaotic, public transport can be slow and crowded, certain places require special permissions to get there, and women can receive unwanted attention from men. Plus there would be a language barrier.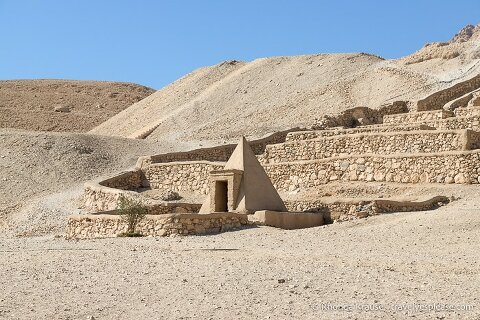 The consensus of my research was that going on a group tour or hiring a private guide was the way to go. I'm not a fan of group tours and their cookie-cutter itineraries, so that was not an option. Instead, I decided to enlist a local agency called Egyptoria to help me plan a custom Egypt itinerary, book our accommodations and activities, and also provide us with a private driver and guide for the duration of our trip.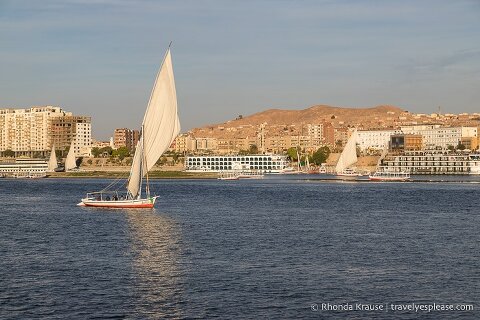 Doing a private, custom tour of Egypt turned out to be fairly similar to independent travel, but without the stress. Plus we got to have a guide, which is definitely needed in Egypt since only basic information is posted at the archaeological sites (if there's any at all).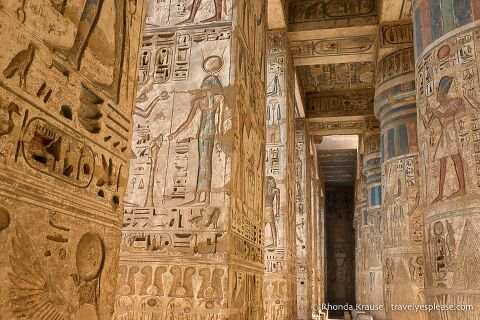 After spending 2 weeks in Egypt, we too came to the conclusion that independent travel would have been very difficult. For that reason, we recommend a private tour. We were very happy with the team at Egyptoria and how they went above and beyond so we would use them again.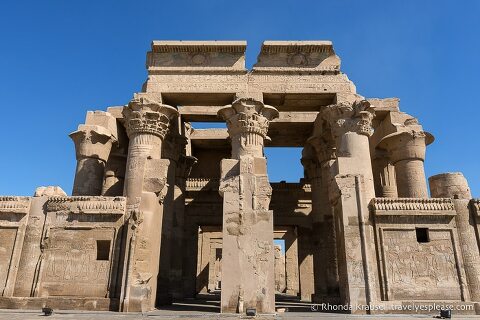 Two Weeks in Egypt- Our Egypt Itinerary
For our first trip to Egypt we wanted to explore several different regions, visiting the top attractions along with some lesser-known sites. 
We were most interested in places associated with Ancient Egypt, so a lot of our itinerary involved visiting temples, tombs, and other historic sites. We were also keen to see the natural landscape and have some outdoor adventures, so we travelled to the Red Sea and a remote oasis in the desert.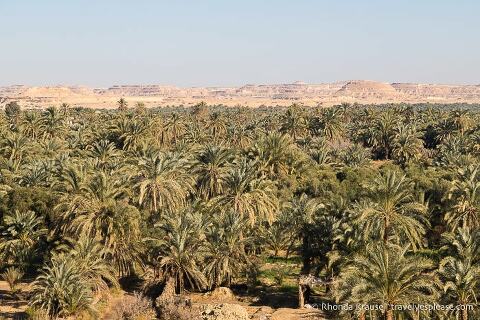 There are so many interesting places to visit in Egypt that we couldn't quite fit them all into a 2 week itinerary, so we ended up spending 16 days in Egypt. If you can only spend exactly 2 weeks in Egypt this itinerary can easily be modified (we would remove Hurghada to make this a true 2 week Egypt itinerary).
To help you plan your own trip to Egypt, here's our itinerary packed full of some of the best places to visit in Egypt!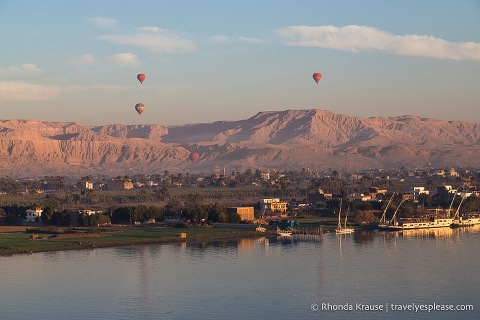 Egypt Trip Map
The map below shows the places we visited during our 2 weeks in Egypt so you can visualize our Egypt itinerary.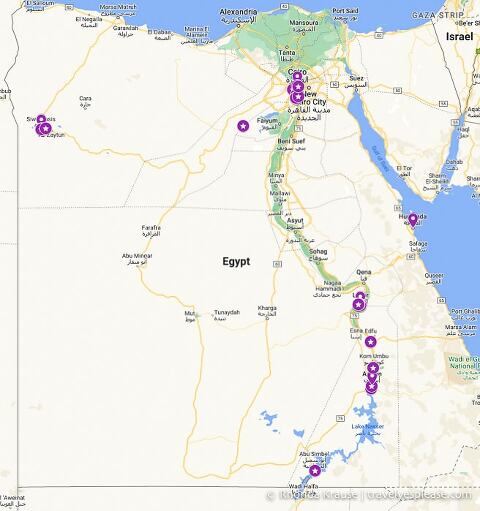 Day 1: Day Trip From Cairo to the Pyramids of Giza 
After an evening arrival in Cairo the day before, we spent our first full day in Egypt exploring the Giza Plateau and its famous pyramids.
Approximate drive time: Cairo to Giza Plateau- 55 mins
Giza Pyramid Complex
There was no better way to start our trip to Egypt than by visiting the country's most iconic sites- the Pyramids of Giza and the Great Sphinx.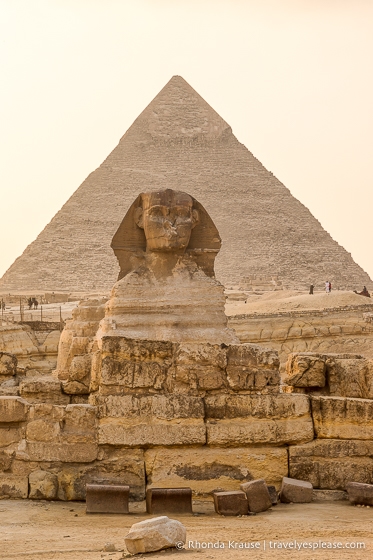 Located on the Giza Plateau, this pyramid complex was the burial site of kings, queens, and other royals from the Fourth Dynasty of the Old Kingdom of Egypt.
In addition to its 9 pyramids- 3 large ones for the kings and 6 small ones for the queens- the complex also has remains of a worker's village, several cemeteries with mastabas (rectangular tombs), some temples, and the Great Sphinx.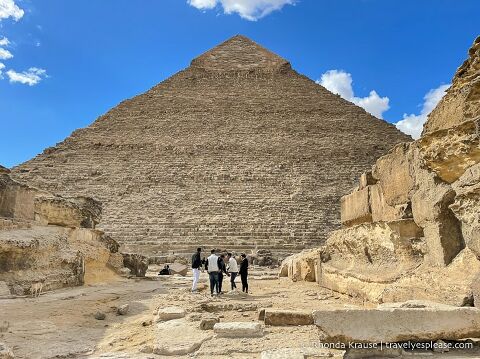 We were in awe of the Pyramid of Khufu (the Great Pyramid) and the Pyramid of Khafre, the two largest pyramids in Egypt. We went inside both, climbing the tunnels to the kings' burial chambers, which were surprisingly plain.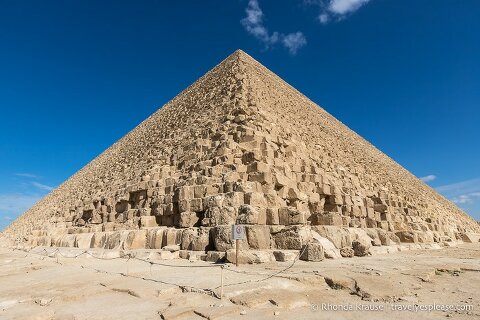 After some time wandering around the base of these two pyramids and the ruins of Khafre's mortuary temple, we drove to a viewpoint where we enjoyed a panoramic view of the three main pyramids. 
The last places we visited at the Giza Plateau were the Valley Temple of Khafre and the Great Sphinx. I was blown away by how massive the Sphinx was, especially its long front legs. I thought it was a beautiful monumental sculpture despite being eroded and having some obvious restorations.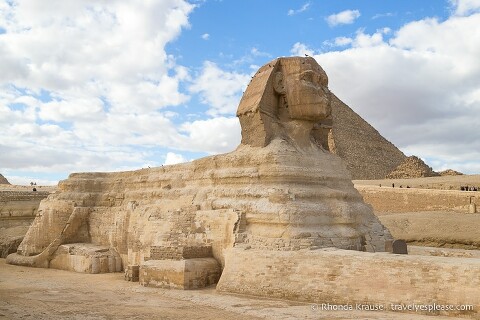 Day 1 Hits & Misses
Hits: 
Discovering that the inside of the pyramids had tunnels.
The impressive size of the pyramids and the Sphinx.
Misses:
Seeing so much litter around the pyramids. Litter and the lack of proper garbage collection and disposal are huge problems in Egypt. 
We were bothered by the exploitation of camels and horses for tourist rides and photos.
The touts were annoyingly persistent (as was the case almost everywhere we went in Egypt).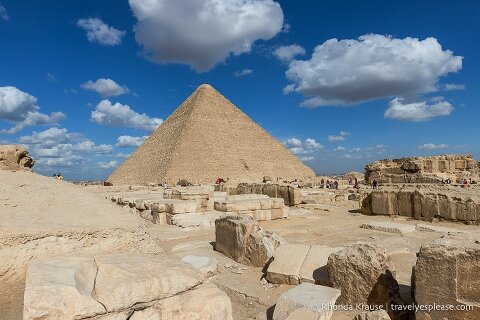 Day 2: Day Trip From Cairo to Saqqara, Dahshur and Memphis
For the second day of our Egypt itinerary, we planned to visit Saqqara and Dahshur to see pyramids older than the ones in Giza. Before returning to Cairo, we stopped at the small open-air archaeological museum in Memphis.
Approximate drive times: Cairo to Saqqara Necropolis – 50 mins, Saqqara to Dahshur pyramids- 30 mins, Dahshur to Memphis- 25 mins, Memphis to Cairo- 50 mins
Saqqara Necropolis
Much of our day was spent at Saqqara exploring the tombs of Egyptian kings and nobles. The site is only partially excavated, with work ongoing and new discoveries continually being made, but there are still plenty of interesting sites to visit.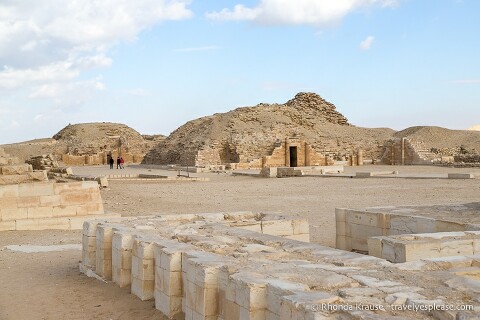 The main point of interest is the mortuary complex of King Djoser and its central feature, the Step Pyramid. The 6-tier stepped Pyramid of Djoser was built during the Third Dynasty (27th century BCE) and was the world's first pyramid.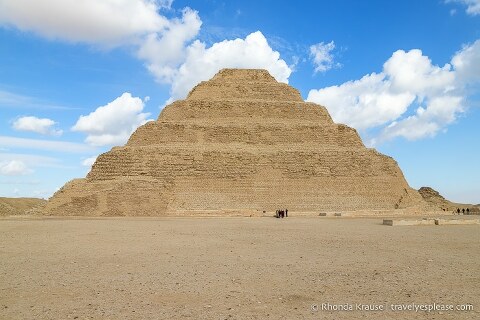 The most exciting part of our visit to Saqqara was going inside the Pyramid of Unas and seeing Egyptian hieroglyphs for the first time. The chambers were covered floor to ceiling with hieroglyphic symbols, which we did not expect after seeing how plain the Pyramids of Giza were inside. Even more fascinating was how the walls surrounding the sarcophagus in the burial chamber were inscribed with protective spells. They were remarkable, even though worn from age.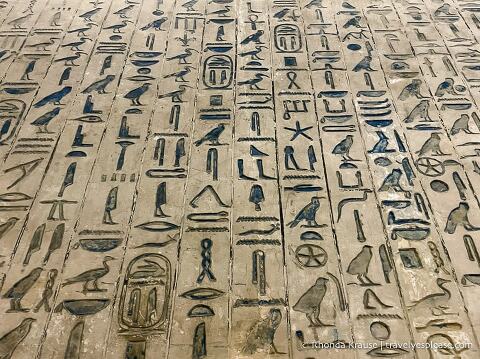 Before leaving Saqqara we went inside the Pyramid of Teti and the Tomb of Kagemni. Kagemni's tomb ended up being our favourite because of the colourful carved scenes of daily life on the walls.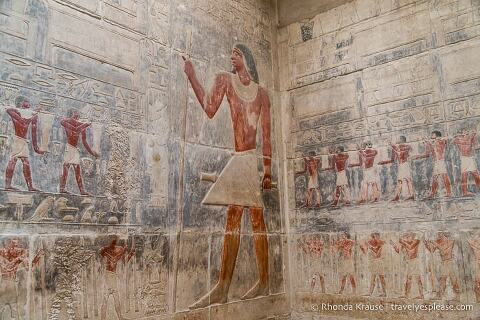 Dahshur Pyramids
After Saqqara, we headed to Dahshur to visit two more pyramids- the Bent Pyramid and Red Pyramid. These two pyramids are also older than the Giza pyramids, having been built during the reign of Sneferu, founding pharaoh of the Fourth Dynasty.
As you might have guessed from the name, the Bent Pyramid isn't a perfectly shaped pyramid because of some miscalculations during construction. The Red Pyramid was a more successful attempt, becoming the first smooth-sided pyramid.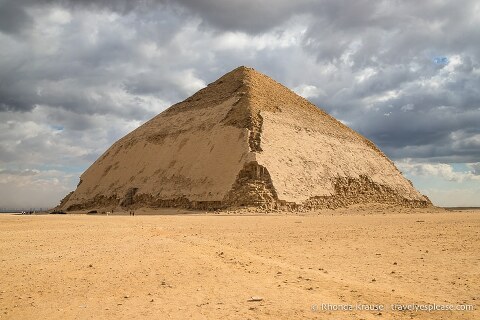 You can go inside both pyramids but we only went into the Bent Pyramid. It was quite the adventure because the tunnels were so long and low. I thought we'd never find the chamber at the end! When we got out of the pyramid our legs were burning from all the stairs so we skipped going inside the Red Pyramid.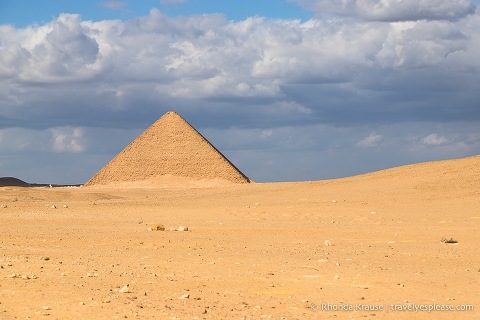 Memphis
Our last stop of the day was in Memphis, the capital of Ancient Egypt during the Old Kingdom. Here we visited an open-air museum that had statues, ruined architectural elements, and other stone objects.
The two highlights of the museum were seeing the alabaster Sphinx of Memphis and the colossus of Ramesses II. The statue of Ramesses II is laying down because its base and feet broke off, but you still get a sense of how huge it is. At roughly 10 m/32.8 ft long, I couldn't even fit the whole thing in a picture when viewed from the side.
Day 2 Hits & Misses
Hits:
Learning about the evolution of pyramid construction from step-sided to smooth-sided.
Seeing hieroglyphic writing and Pyramid Texts for the first time.
The wall art in the Tomb of Kagemni.
Misses:
Not seeing the tombs of Ti and Mereruka at Saqqara. I don't know why we weren't shown them (maybe due to time or maybe they were closed), but after we got home and I saw pictures of Mereruka's tomb I regretted missing out. We probably could have spent the entire day at Saqqara because I think there's more to discover.
Day 3: Aswan
Today we headed south to Aswan on an early morning flight, excited to start exploring the archaeological sites in Upper Egypt. Straight from the airport we drove to Philae Temple, then we visited the Unfinished Obelisk. The rest of our day was spent relaxing poolside at our hotel which was beautifully located on an island in the Nile River.
Approximate flight time: Cairo to Aswan- 1 hr 15 min
Philae Temple
Philae Temple is a gorgeous collection of buildings constructed on an island in the Nile. The short boat ride to get there is quite scenic too, passing by shoreside houses and rocky hills.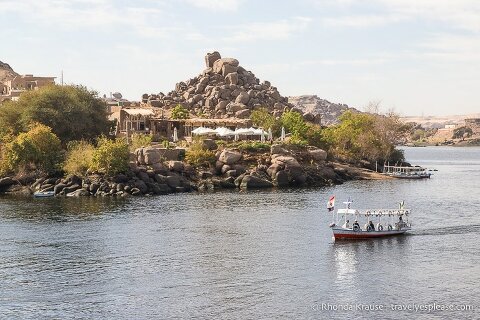 Philae is one of the earliest temples dedicated to the goddess Isis, a principal deity of Ancient Egypt revered for her magical powers of healing and protection. Our guide told us all about how she brought her husband Osiris (who was also her brother) back to life after being killed by his jealous brother.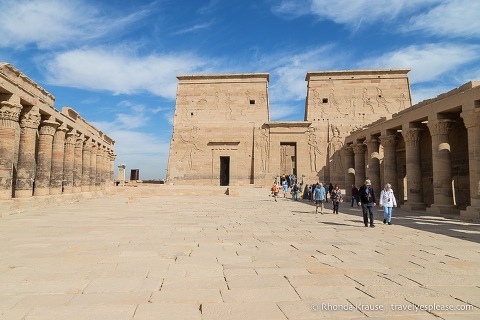 I quickly fell in love with Philae Temple because of its beautiful colonnade in the outer courtyard and the engraved pylons of the Great Temple of Isis. Some other buildings I was quite enamoured with were the Kiosk of Trajan with its flower-topped columns and the Kiosk of Nectanebo I.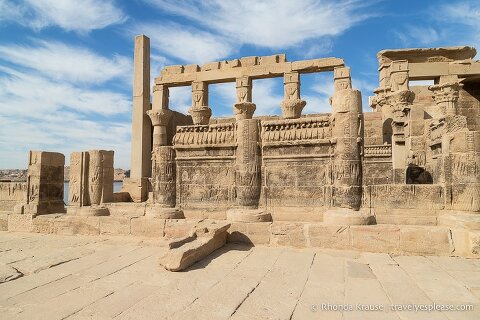 Philae Temple and its location were so pretty that by the end of our 2 weeks in Egypt, it remained one of my favourite temples we visited.
Unfinished Obelisk
The Unfinished Obelisk in Aswan doesn't need much explanation- it's an obelisk that wasn't completed and still lies in the quarry where it was being carved.
While it may not sound that impressive, it actually is due to its large size. Had it been finished, the obelisk would have weighed about 1,090 tonnes and stood around 42 m/137 ft tall, making it the largest ancient Egyptian obelisk.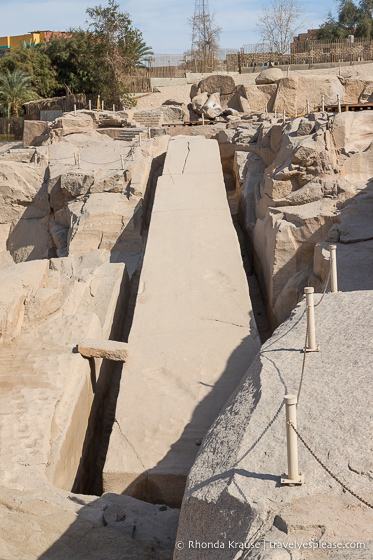 The obelisk was commissioned by Hatshepsut and was likely destined for Karnak Temple in Luxor. The project was abandoned after several cracks in the obelisk were found.
Relax by the Nile River
One of the most popular things to do in Aswan is go sailing on the Nile. We decided not to do this since our hotel was on Elephantine Island, one of the islands the boats sail past, so the scenery would have been the same as what we could see from the hotel.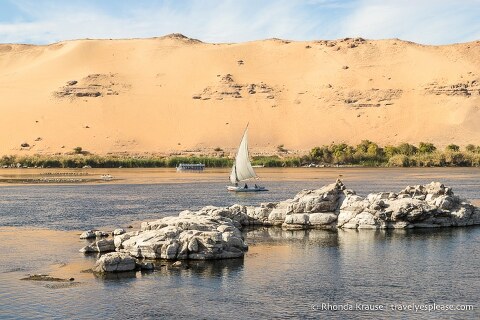 Instead, we relaxed by the hotel pool, enjoying views of the Nile and the golden sand dunes that line its shores. Afterwards, we went for a walk around Elephantine Island to see more views of the river and the city of Aswan.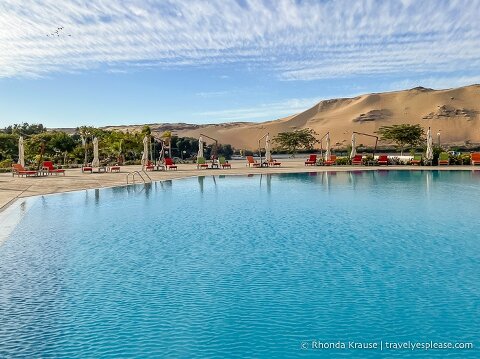 Day 3 Hits & Misses
Hits: 
The natural and manmade beauty of Philae Temple.
Getting to see Egypt's largest obelisk still attached to the bedrock.
Staying at a hotel in the middle of the Nile- so picturesque!
Misses:
The Cairo International Airport not providing easy access to wifi. To log in you have to enter a code that gets texted to you, which was useless because we had our phones in airplane mode to avoid roaming charges and didn't have a local sim card. When we put in a friend's phone number the code didn't get sent to him either.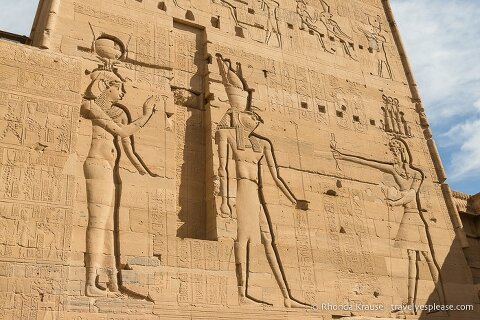 Day 4: Day Trip from Aswan to Abu Simbel
Today we had a 4:00 am departure for our road trip to Abu Simbel to see its iconic rock-cut temples. In the evening we returned to Philae Temple for the sound and light show.
Approximate drive time: Aswan to Abu Simbel- 3.5 to 4 hours
Abu Simbel 
Of all the places on our Egypt itinerary, Abu Simbel was the one we were most looking forward to visiting and it did not disappoint. 
Abu Simbel is the site of two temples carved into a mountainside- one for King Ramesses II (the Great Temple) and the other for his wife Queen Nefertari (Temple of Hathor and Nefertari).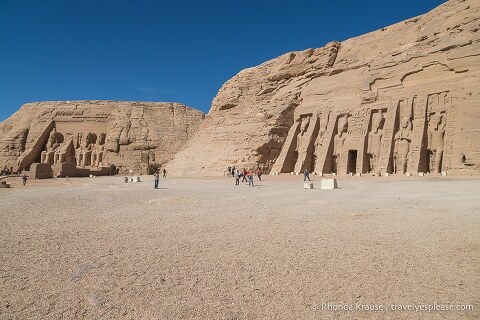 The Great Temple is considered to be one of the most beautiful temples in Egypt. It is famous for its four colossal statues of Ramesses II carved into the rock face, two on each side of the temple's entrance. We were quite captivated by the facade, but the inside of the temple was as impressively grand as the outside. I especially loved the giant pillar statues in the hypostyle hall and the reliefs decorating the chambers.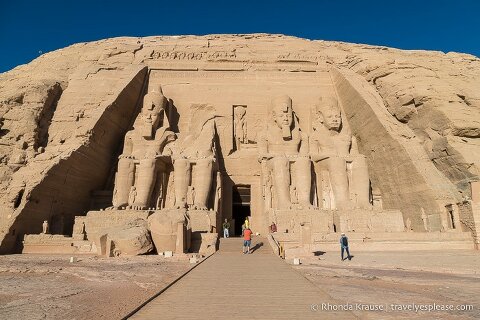 The Temple of Hathor and Nefertari was similar in appearance and layout, but smaller in scale. Its interior also had some stunning pillars and bas-relief scenes.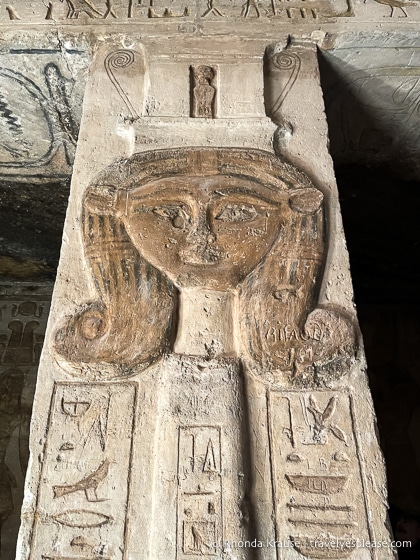 The temples at Abu Simbel are incredible structures and even though we took our time exploring them, we could have stayed even longer.
Philae Sound and Light Show
Since we loved Philae Temple so much, we returned for a second visit in the evening to see the sound and light show. 
It was such a wonderful experience to walk through the grounds and see the buildings bathed in light. The narration brought the temple's history to life with stories told from the perspective of gods and goddesses.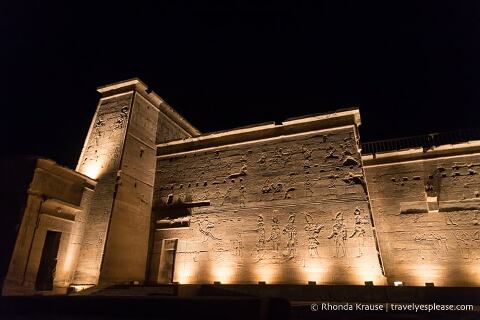 Day 4 Hits & Misses
Hits:
Displays and historic photographs in the Abu Simbel visitor centre explaining how the temples were relocated to higher ground after the Aswan High Dam was built, protecting them from being submerged.
Admiring Philae Temple under the stars.
Misses:
The chambers in the Great Temple can get packed with people so I missed going into a few of the rooms. Unfortunately, I missed the sanctuary with the four statues that get illuminated by the sun on February 22 and October 22. At least Mike managed to see it and get a picture.
We would have loved to spend the night at Abu Simbel so we could explore the temples after the day trip crowds leave. We also would have liked to attend the Abu Simbel sound and light show.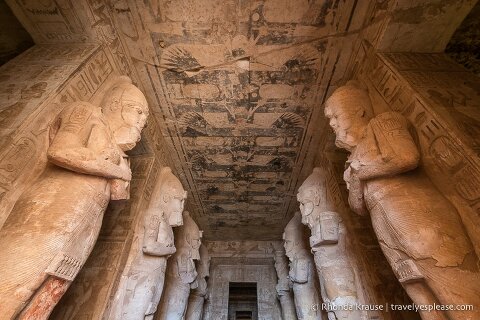 Day 5: Drive from Aswan to Luxor
Stops at Kom Ombo Temple and Edfu Temple
On day 5 of our Egypt itinerary we drove from Aswan to Luxor, stopping at Kom Ombo Temple and Edfu Temple along the way. We had a later start, leaving Aswan at 9:30 am so that we would miss the cruise ship crowds at the temples.
Approximate drive times: Aswan to Kom Ombo Temple- 1 hr 10 min, Kom Ombo to Edfu Temple- 1 hr 50 min, Edfu to Luxor- 2.5 hr
Kom Ombo Temple
Our first stop was at The Temple of Kom Ombo, a unique double temple honouring two gods. One half of the temple is dedicated to Sobek, the crocodile god of fertility, and the other half is dedicated to Horus, the falcon god of kingship and the sky.
The temple is small and not as well preserved as others we saw, but we still really liked the experience of visiting it (probably because there was hardly anyone else there). I especially liked the floral capitals and location beside the Nile.
The site is also home to The Crocodile Museum which displays some mummified crocodiles discovered in the area.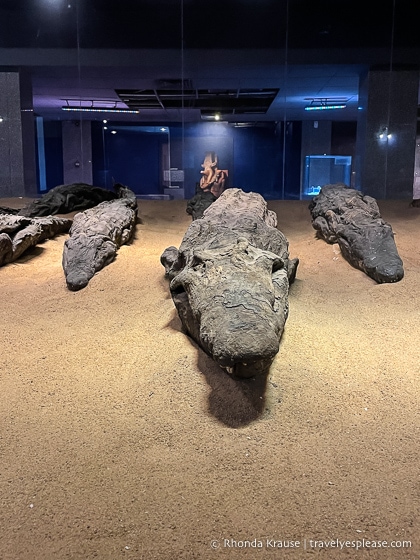 Edfu Temple
A must-see on the journey between Aswan and Luxor is the Temple of Edfu. This imposing structure is one of the best-preserved temples in Egypt and the largest dedicated to Horus.
We were amazed by the size of the pylon framing the entrance to the temple and how tiny people looked when gazing up at the figures carved onto its walls.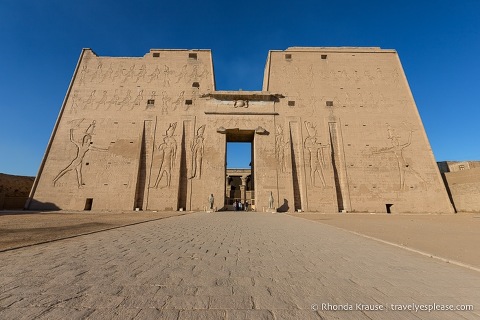 Inside the temple there were so many interesting reliefs decorating the chambers and passageways. There also was a replica of the wooden barque that carried the golden statue of Hathor during processions and festivals.
Day 5 Hits & Misses
Hits:
Seeing more fascinating ancient Egyptian art and architecture.
The crocodile mummies were a neat surprise.
Getting to enjoy both temples after the big tour groups left.
Misses:
Nothing- everything was great!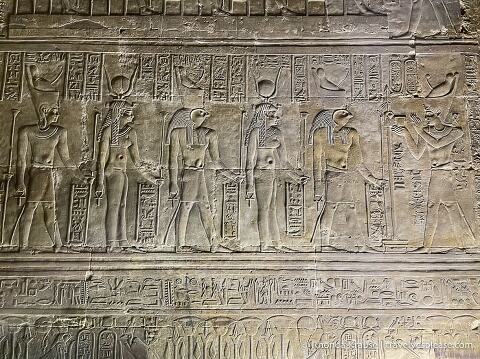 Day 6: Luxor
We woke up early on our first morning in Luxor excited to visit some of the city's top attractions including Karnak Temple, Luxor Temple, and the Luxor Museum. One day in Luxor was sufficient to see the most famous sites within the main part of the city, but we stayed a few more nights to explore the West Bank of Luxor.
Karnak Temple
Karnak Temple is one of the most visited ancient sites in Egypt, so we were thrilled to be one of the first people to arrive in the morning.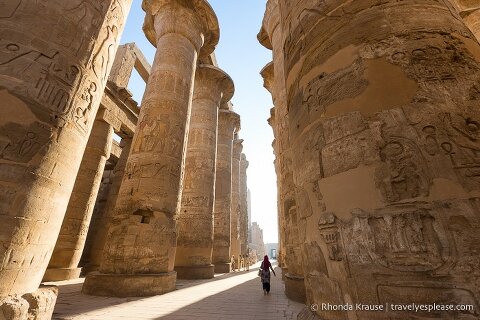 It was a wonderful experience to walk in quiet solitude between the towering columns of the Great Hypostyle Hall, imagining what it looked like before the roof collapsed. There were so many rows of columns inscribed with symbols and scenes that I didn't know where to focus my attention!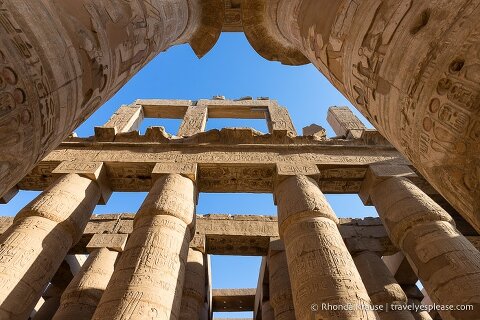 As we wandered through this huge temple complex, much of which is in partial ruin, we saw obelisks, colossal statues, ram-headed sphinxes, and a sacred lake. While I didn't think Karnak was the most beautiful temple we saw during our 2 weeks in Egypt, the size and amount of different features in the complex were extremely impressive.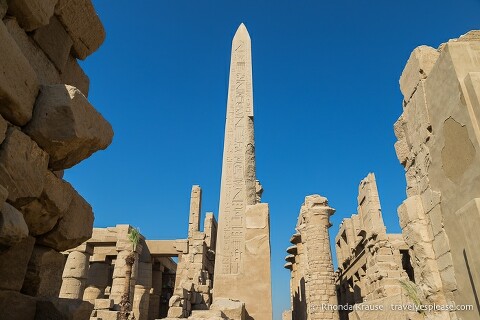 In the evening we returned to see the Karnak Sound and Light Show. Like at Philae, we walked to a few locations in the illuminated temple to listen to a narration of the temple's history. We thought it was just okay and liked the one at Philae better.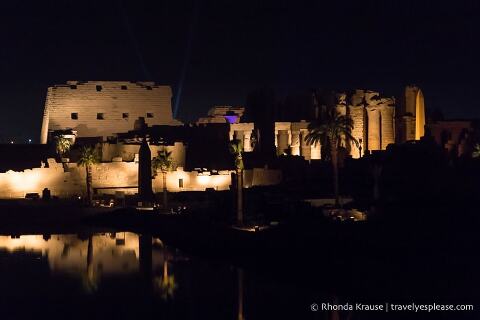 Luxor Temple
After Karnak we headed to Luxor Temple, the other primary temple on the East Bank of Luxor.
Admittedly, after seeing Karnak and several other Egyptian temples, Luxor didn't impress us as much, even though it had some interesting features like the cartouche of Alexander the Great and an active mosque built on the columns. Some other highlights were the obelisk standing at the entrance and the Avenue of Sphinxes leading up to it.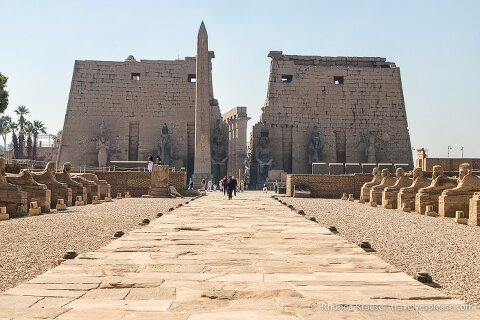 Luxor Museum
The Luxor Museum is a wonderful little archaeological museum housing intriguing treasures discovered in the temples and necropolis of Thebes (present-day Luxor).
The museum's collection of antiquities is small, but of high quality, and beautifully displayed. Some of the masterpieces include the two colossal heads of Amenhotep III and the Wall of Akhenaten. My personal highlights were seeing the two royal mummies and the double statue of Sobek and Amenhotep III.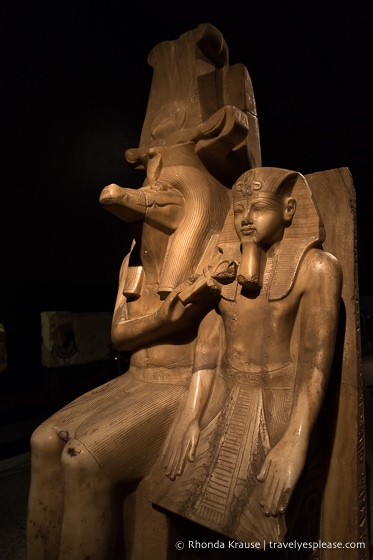 Day 6 Hits & Misses
Hits:
The massive columns at Karnak Temple and getting to enjoy the complex without a huge crowd.
The Luxor Museum.
Misses:
Experiencing "temple fatigue".
The underwhelming sound and light show at Karnak Temple.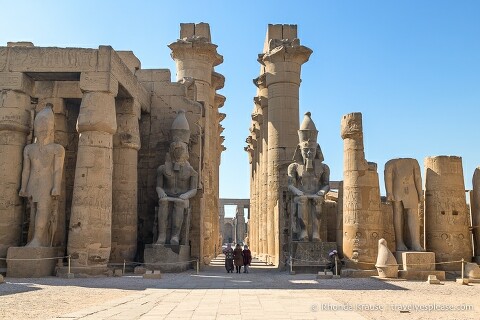 Day 7: Luxor West Bank
Next on our Egypt itinerary was two full days exploring the mortuary temples and tombs along the West Bank of Luxor in the Theban Necropolis. Today we focused on Hatshepsut Temple and the remarkable Valley of the Kings. 
Hatshepsut Temple
Built into the cliffs of Deir al-Bahari is the Temple of Hatshepsut, a mortuary temple devoted to Pharaoh Hatshepsut.
This sprawling, three-level temple has beautiful colonnades, a row of large statues, some shrines, and painted reliefs. The most notable reliefs illustrate Hatshepsut's divine birth and her expedition to the Land of Punt.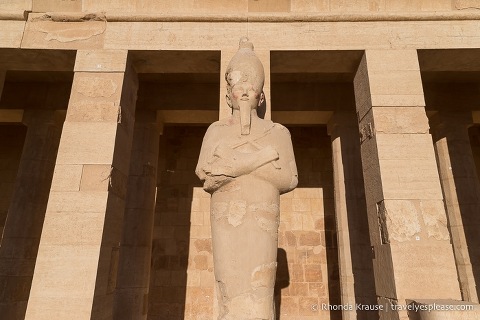 This temple had a very different look and layout than others we visited, which was refreshing, but it also appeared to be very restored, looking almost new in places. For me, the best part of visiting Hatshepsut Temple was taking in the complete scene from a distance, as the temple is quite stunning against a backdrop of sun-kissed rock.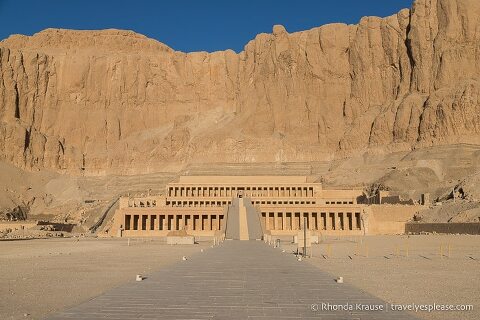 Valley of the Kings
The Valley of the Kings is undoubtedly one of the most fascinating places to visit in Egypt. 
As part of the Theban Necropolis, this valley was where pharaohs and high-ranking nobles were laid to rest in hidden tombs with their valuables. The tombs are elaborately decorated with colourful scenes inscribed and painted on the walls, ceilings, and pillars.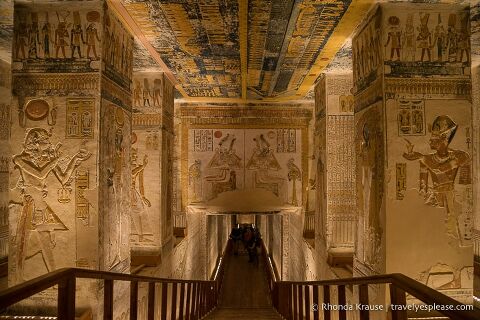 There are over 60 known tombs, but only 12 are open to visitors. We went inside five royal tombs, including the famous tomb of King Tutankhamun which still has his mummy inside. King Tut's tomb gets most of the attention, but we thought the tombs of Seti the First and Ramesses V & VI were the most interesting.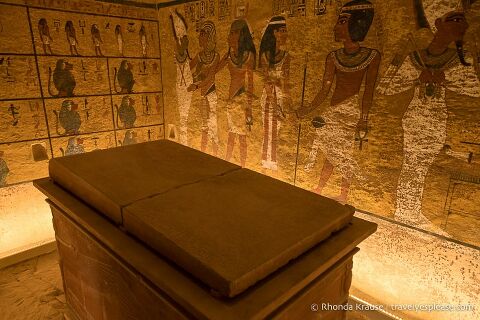 Colossi of Memnon
The Colossi of Memnon are two giant, but damaged, stone statues of Pharaoh Amenhotep III. They stand in front of the minimal remains of the Mortuary Temple of Amenhotep III at the gateway to the Theban Necropolis.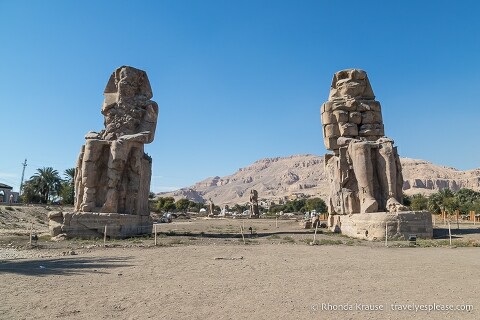 Time has taken its toll on these statues, erasing most of their features, so a quick photo stop was sufficient for us.
Day 7 Hits & Misses
Hits:
Being the second people to arrive at Hatshepsut Temple in the morning.
Tomb hopping in the Valley of the Kings and seeing the mummy of King Tut.
Learning about the burial rituals of Egyptian pharaohs.
Misses:
The weather was too hot for me- 27 degrees!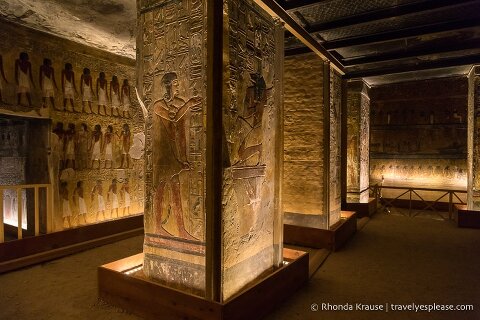 Day 8: Luxor West Bank
For our second day exploring the Theban Necropolis on the West Bank of Luxor, we visited a temple, the Valley of the Queens, and some tombs of nobles and workers. We ended the day with a sunset sail on the Nile.
Medinet Habu
Medinet Habu is an archaeological site best known for the Mortuary Temple of Ramesses III.
Like other temples, this one had many reliefs on the walls and columns, but the inscriptions went much deeper into the rock than at other temples we visited. I loved how pronounced they were! Interestingly, several of the reliefs depict violent battles, including against the Sea Peoples.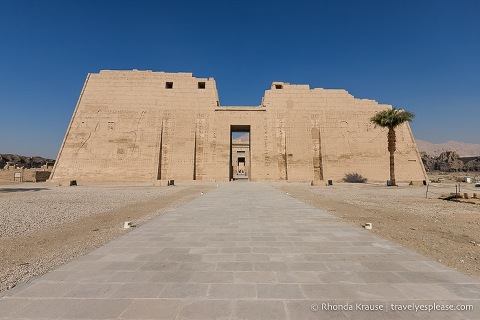 Tombs of the Nobles
The Tombs of the Nobles are often overlooked by tourists visiting the West Bank of Luxor (we were the only ones there), but they are definitely worth checking out. 
We went inside two tombs of Egyptian officials at the Sheikh Abd el-Qurna necropolis and immediately noticed how different the artwork was compared to royal tombs. Rekhmire's tomb had painted scenes of daily life and Sennefer's tomb had colourful vines and geometric patterns painted on the ceiling. Both were quite unique and interesting, but if you only have to see one we recommend Sennefer's tomb (TT96).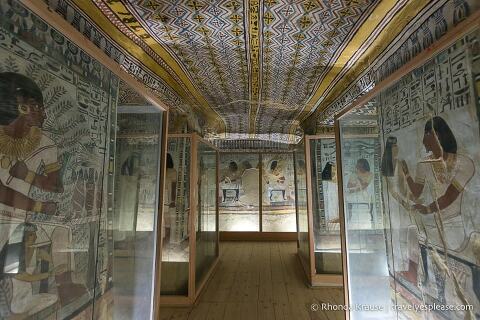 Valley of the Queens
While Egyptian pharaohs had an entire valley for their tombs, so too did their wives- the Valley of the Queens. 
The Valley of the Queens has several tombs of pharaohs' wives, plus a few princesses and princes too. Only four tombs can be visited, the most notable of which is the tomb of Nefertari.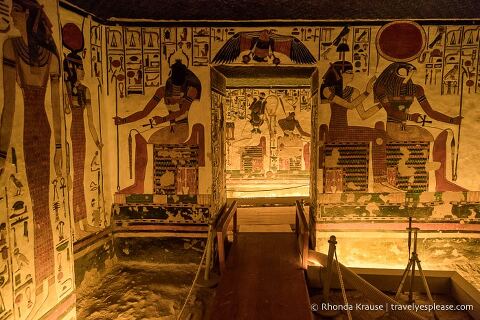 Queen Nefertari's tomb is spectacular and in our opinion, one of the best places to visit in Egypt. The polychrome reliefs and paintings decorating the chambers of her tomb were so vibrant that we couldn't help but feel an overwhelming sense of awe. Equally striking were the distinguished facial details on the depictions of Nefertari.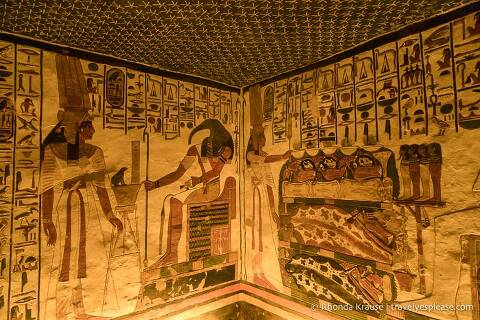 Without a doubt, Nefertari's tomb was the most gorgeous of all the Egyptian tombs we visited during our 2 week Egypt trip. We didn't even bother going inside any other tombs at the Valley of the Queens because our guide told us they are nowhere near as impressive.
Workmen's Tombs at Deir el-Medina
Deir el-Medina was a workmen's village, home to artisans who crafted the royal tombs in the Valley of the Kings. Known as "Servants in the Place of Truth", these workmen excavated and decorated their own tombs on their days off.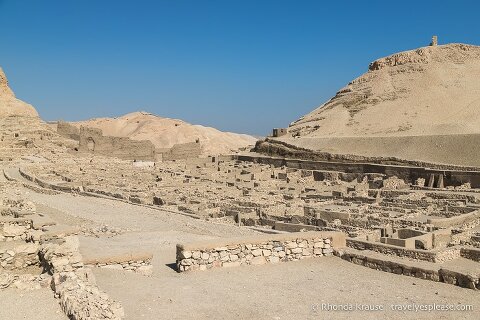 Visiting the workmen's tombs was another opportunity to see a different style of Egyptian tomb. While smaller and simpler than the royal tombs, they're still decked out with painted scenes and symbols, but no carvings. The three workmen's tombs we visited belonged to Inherkha, Sennutem, and the family of Amennakht.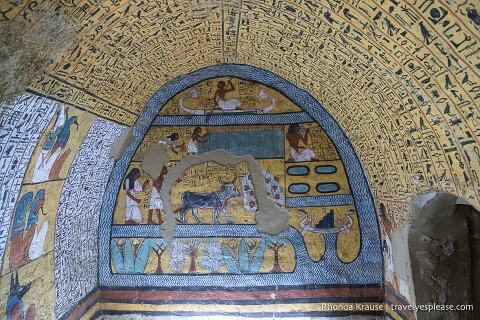 Felucca Boat Ride on the Nile
We ended our time in Luxor by doing a boat trip on the Nile in a felucca, a traditional wooden sailboat. 
Due to the current and wind direction, we actually weren't able to sail very far on the Nile but still got to enjoy some nice scenery. I liked seeing Luxor Temple from the river and the sunset was beautiful. It was a pleasant way to relax after a busy day of sightseeing.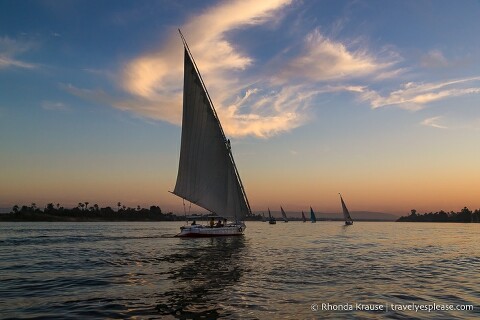 Day 8 Hits & Misses
Hits:
Witnessing the difference in artwork between the royals' tombs, nobles' tombs, and workers' tombs. 
Visiting Nefertari's tomb and having some moments alone inside it.
The carvings and interesting relief scenes at the Mortuary Temple of Ramesses III.
Misses:
Even though our guide told us that Nefertari's tomb is the only one worth visiting at the Valley of the Queens, I wish we had gone into a few more to compare the difference.
Another 27 degree day drained some energy out of this Canadian!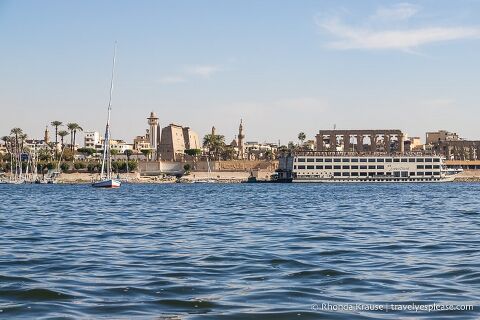 Day 9: Drive from Luxor to Hurghada
Today we changed focus from temples and tombs to sun and sand, heading to a beach resort in Hurghada for two nights. 
Approximate drive time: Luxor to Hurghada- 4 hr 20 min
Hurghada
Hurghada is a city beside the Red Sea that is popular for its sandy beaches, water sports (especially snorkelling and scuba diving), and seaside resorts.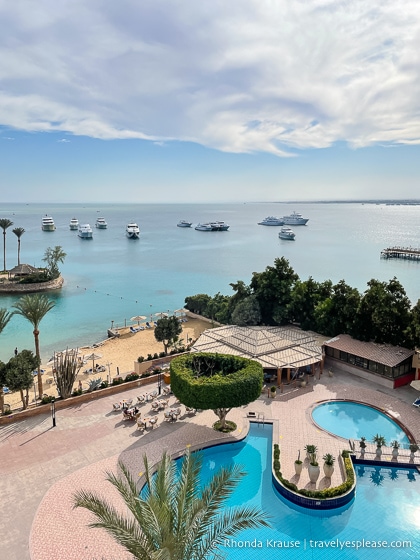 The drive to Hurghada was mostly in the desert on a two-lane divided highway that was in good condition. There were views of low rocky hills, then bigger mountains as we got closer to Hurghada. There is a rest stop with food and clean washrooms on route.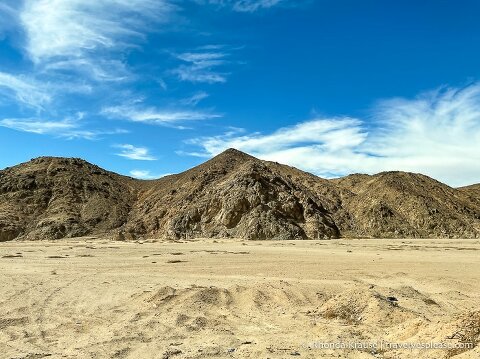 We arrived at our resort mid-afternoon, which was later than we hoped, so only had a little bit of time to enjoy the beach and pool before the sun started setting.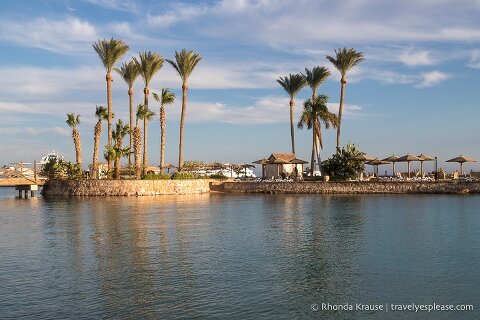 Day 9 Hits & Misses
Hits: 
Some nice scenery to look at during the drive.
Checking into a beautiful resort with a private beach.
Misses:
Not getting a full afternoon to enjoy the beach and pool area at our hotel.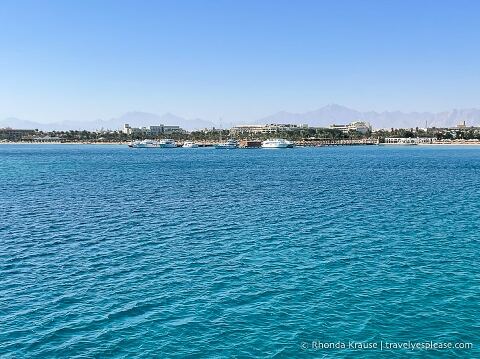 Day 10: Hurghada
Today we went on a full day boat excursion on the Red Sea.
Snorkelling Excursion
Our main reason for coming to Hurghada was to go snorkelling, which Mike loves.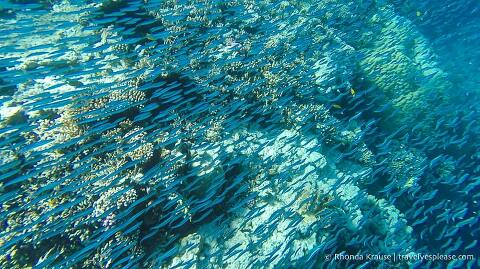 We did an excursion on a yacht that went to two different snorkelling locations then cruised to a touristy beach. There also was an opportunity to get pulled behind a boat on an inflatable, which was so much fun!
Since the water was very clear, we got a great view of the coral reefs and fish swimming around them. We didn't spot any big fish, mostly just schools of small ones. The coral was pretty, but not as colourful as I was hoping.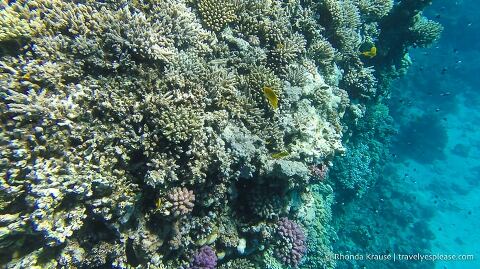 After snorkelling the boat dropped people off at two different tourist beaches. It took a lot of time to get to these beaches, and although the scenery was nice, it wasn't an atmosphere we enjoyed because of all the people. We realized we would have preferred a half day excursion that only had snorkelling and water sports, then we could have enjoyed our resort's quieter beach in the afternoon.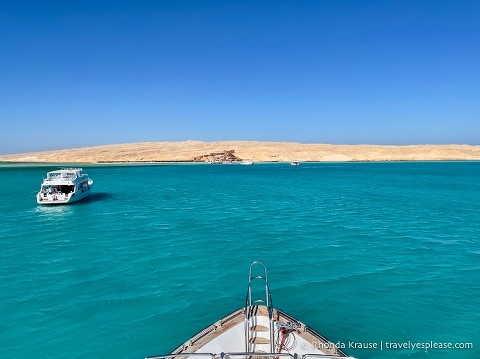 Day 10 Hits & Misses
Hits:
The clear, blue water of the Red Sea.
Getting close to a coral reef.
Misses:
The water was a bit cold and choppy for snorkelling (it was a windy day in January).
It was almost dark out by the time we got back to our resort.
Feeling like Hurghada didn't really have anything unique to offer. It was a typical beach resort town and we could have skipped it and not felt like we missed out on anything.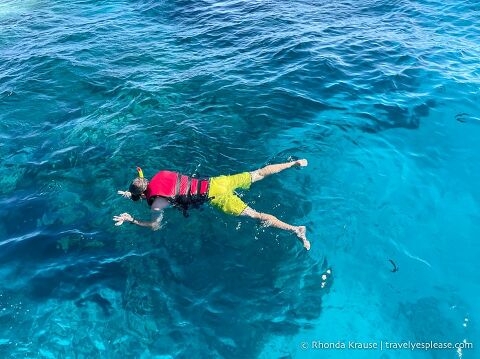 Day 11: Cairo
In the morning we flew from Hurghada back to Cairo. We spent our day in the city visiting the Egyptian Museum and the Cairo Citadel.
Approximate flight time: 1 hr
The Egyptian Museum
Since the new Grand Egyptian Museum didn't open in time for our trip (even though it was supposed to be ready by then), we instead had to visit the older museum, which was inaugurated in 1902.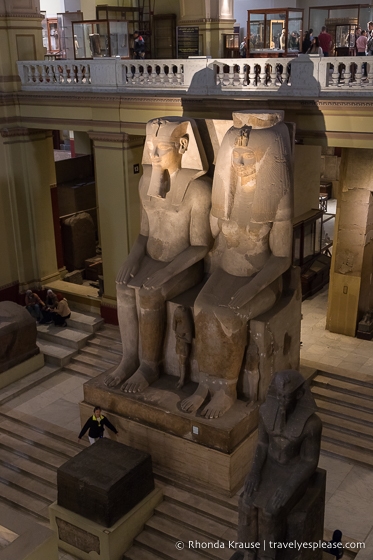 Thankfully, some of the most important treasures from King Tutankhamun's tomb hadn't been moved to the new location yet, so we got to see his gold burial mask, two of his nested coffins, and his golden throne.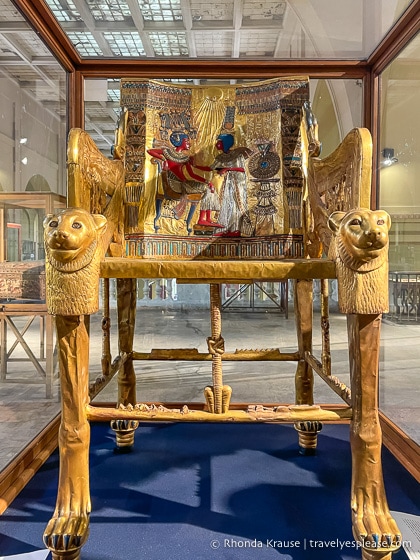 There were plenty of other incredible artifacts to see including statues, mummies, sarcophagi, papyri, jewelry, and funerary masks. The museum's collection is extensive and you could easily spend an entire day here if you wanted.
Cairo Citadel/Citadel of Saladin
The Citadel of Saladin is one of Cairo's most prominent landmarks. This medieval fortress, built by Sultan Saladin and expanded by later rulers, was once the official residence of Egyptian rulers but is now a preserved historic site with museums and mosques. A panoramic view of the city can be enjoyed from its hilltop location.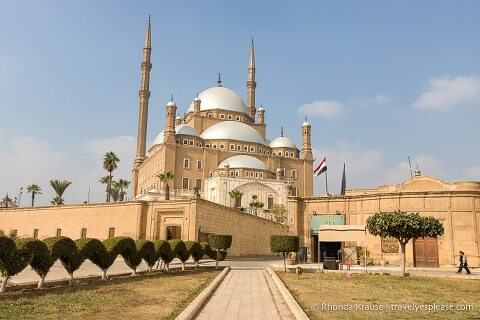 Our main reason for visiting the Citadel was to see the Mosque of Muhammad Ali (also known as the Alabaster Mosque because its walls were tiled with alabaster). It's a beautiful Ottoman-style building with multiple domes and twin minarets. I thought the interior was exceptionally gorgeous with its golden domes, hanging lights, and huge chandelier.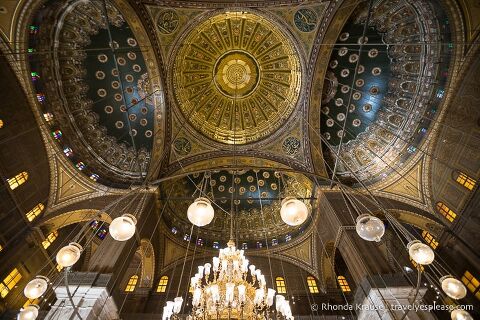 Day 11 Hits & Misses
Hits:
It was great having our guide accompany us in the Egyptian Museum museum because he knew where all the best artifacts were displayed, saving us time. He also gave us more information than what was on the signs.
King Tut's funerary mask and coffins were stunning!
Getting a glimpse into Islamic Cairo.
Misses:
The display cases in the Egyptian Museum are very old and the glass was always covered in fingerprints. Mike liked the antique feel and appearance of the museum, but I kept thinking that these national treasures deserved better. The more modern Grand Egyptian Museum is definitely needed.
The smog and general bad air quality in Cairo. We coughed every time we were in the city, so dubbed it "The Cairo Cough" (we were fine everywhere else in Egypt).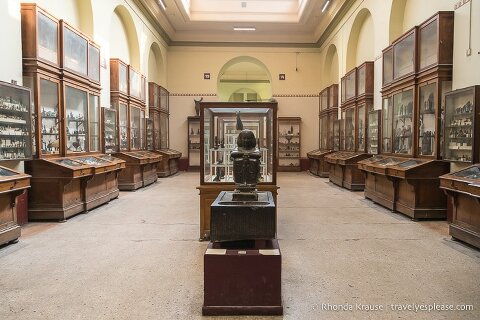 Day 12: Drive from Cairo to the Siwa Oasis
Today we embarked on a long drive through the barren Western Desert to the Siwa Oasis, about 50 km from the Libyan border. We had to dedicate 4 days of our Egypt itinerary to Siwa since it takes 2 full days to drive there and back and at least 2 days to experience the main attractions. It was a worthy investment because Siwa ended up being a highlight of our 2 weeks in Egypt. 
Approximate drive time: Cairo to Siwa Oasis- 9 to 9.5 hr
Siwa Oasis
The drive to the Siwa Oasis was pretty boring because there wasn't much to look at. The first part of the drive took us north from Cairo along the Mediterranean Sea, but not close enough to get any good views of the water. The highway was divided and newly paved, which was nice.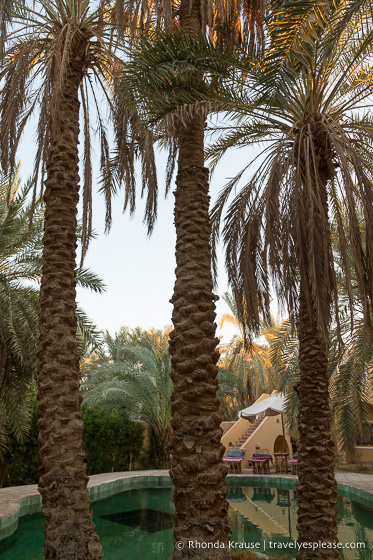 Once we headed south towards Siwa there was nothing but flat, empty desert. The road was single-lane and had potholes. There also were military checkpoints where we had to show our passports and tell them where we were staying. The authorities looked inside the van but didn't open our luggage to inspect it. 
During the drive, and throughout our stay in Siwa, the police phoned our guide regularly to check where we were and if everything was okay. I couldn't believe how often they called- every 15 minutes at some points!
After settling into our hotel, we had a traditional dinner at an outdoor restaurant surrounded by palm trees. It was a lovely experience and the perfect introduction to Siwa.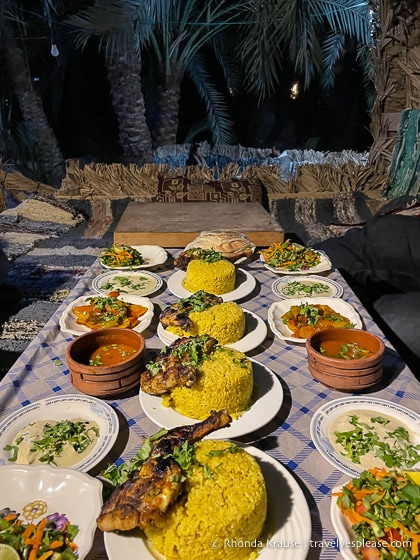 Day 12 Hits & Misses
Hits:
Having a guide to communicate with authorities at the checkpoints.
Knowing that the Egyptian police and military were working to keep tourists safe.
Having a driver so we could nap and watch shows on our iPads during the drive.
Eating a delicious dinner under the palm trees.
Misses: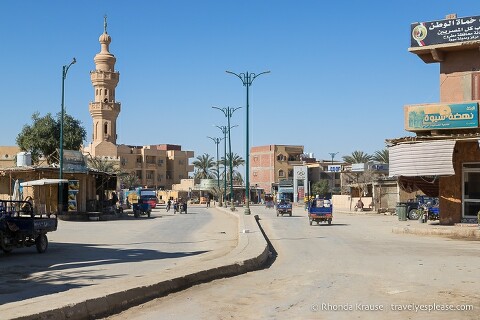 Day 13: Siwa Oasis
We spent a full day visiting the historic sites in Siwa then relaxed while watching the sunset at Fatnas Island.
The Mountain of the Dead
The first place we visited during our two days in Siwa was the Mountain of the Dead. At this ancient necropolis there are hundreds of tombs cut into the rocky hillside and its cone-shaped top.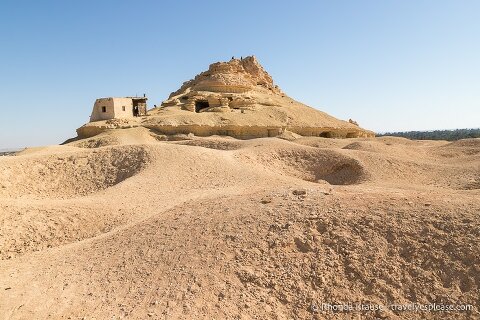 There are only four tombs that are open to visitors and we went inside all of them. The tombs weren't as large or well-preserved as the ones we saw around Luxor, but it was interesting to see the mix of pharaonic, Greek, and Roman art.
Temple of the Oracle (Amun Revelation Temple)
The Temple of the Oracle, also called the Temple of Amun, gained prominence after Alexander the Great visited it in 331 BCE. While here, it's believed that the oracle proclaimed Alexander the Great to be the son of Amun, Egypt's supreme god.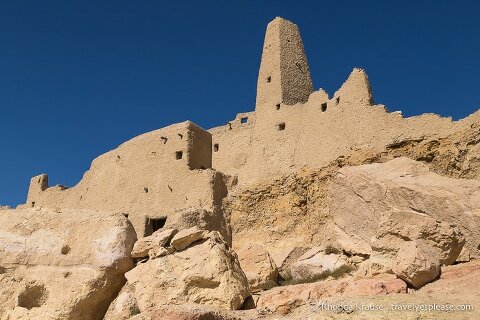 Inside the temple we discovered an open court and the remains of several fragile-looking stone rooms. 
I really love wandering around ruins, so wasn't bothered that the temple hadn't been restored very well. Another thing we enjoyed was admiring the view of palm trees and lakes from the temple's hilltop location.
Cleopatra Spring
The Cleopatra Spring is a round, stone-framed pool where, according to legend, Queen Cleopatra bathed during her visit to Siwa.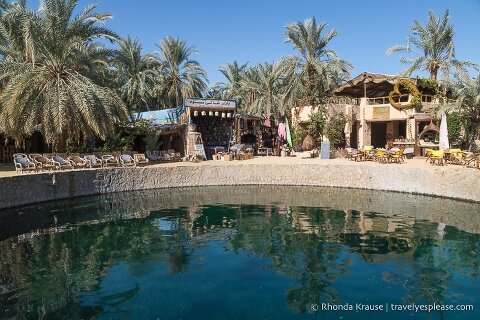 Mike had a lot of fun diving into the pool while I sipped lemonade at one of the cafes surrounding the pool.
Shali Fortress
Shali was an ancient fortress built from clay and salt that was abandoned after heavy rain caused significant erosion. Although in a ruined state, it remains a labyrinth of tightly packed buildings overlooking the centre of Siwa.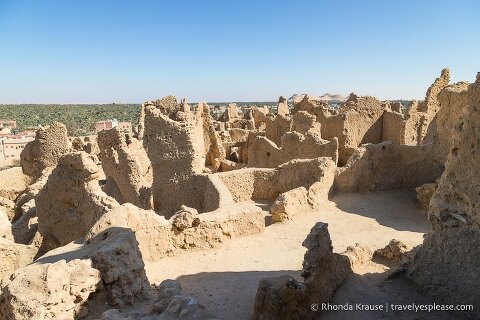 It was so much fun to explore the rooms and pathways in Shali Fortress and the views from the highest level were incredible!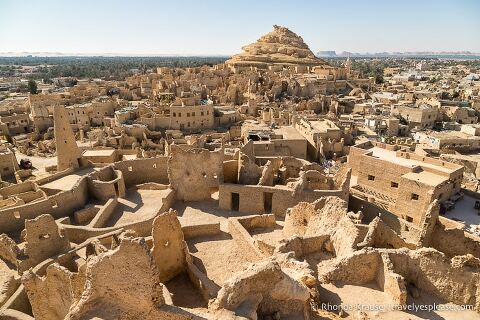 Day 13 Hits & Misses
Hits:
Seeing so many tombs dug into the hill at the Mountain of the Dead. It was like walking on a honeycomb!
The beautiful views from all the hilltop archaeological sites.
Exploring ruins that looked very different from other ancient sites we visited in Egypt.
No aggressive touts like elsewhere in Egypt. It was nice to be able to walk through a market and look at things without being harassed to buy.
Misses:
The Cleopatra Spring wasn't my type of place, but Mike had a lot of fun diving with the other tourists.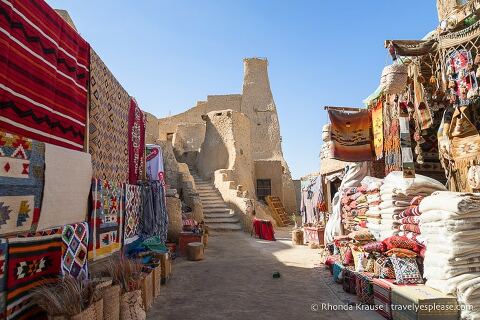 Day 14: Siwa Oasis 
For our second day in Siwa we wanted to have some outdoor adventures so we floated in salt pools and went on a desert safari.
Salt Pools
One of my favourite experiences in Siwa was floating in the salt pools. Based on pictures I had seen, I was expecting the pools to be in a scenic, remote location, but in reality they're part of a salt mine on the outskirts of town.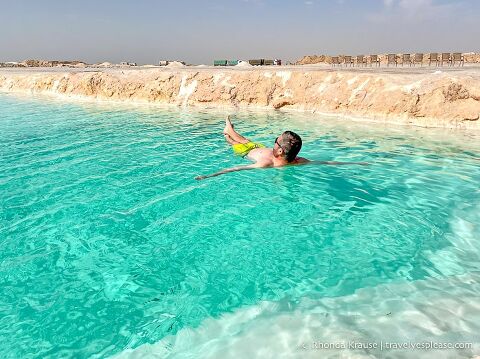 These pretty turquoise pools have such a high concentration of salt that you can effortlessly float on top of the water. It was a unique sensation that we hadn't experienced before. I was having so much fun that I floated around until I was covered in goosebumps and couldn't stop shivering from the cold!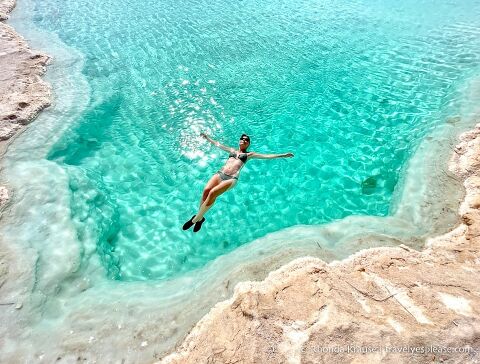 Desert 4×4 Safari
Our last activity was a Siwa desert safari that took us off-roading on the dunes of the Great Sand Sea.
Since these 4×4 tours go close to Libya, we needed a permit and had to travel in a convoy with other tourists and an armed guard.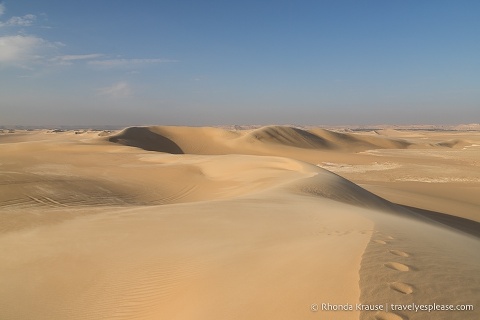 It was an absolute blast to race up and down the long, lofty ridges of sand. As part of the excursion we also got to go sandboarding and have tea at sunset. 
Day 14 Hits & Misses:
Hits:
Floating in the salt pools.
The thrill of driving on the sand dunes.
Misses:
Heavy equipment and big trucks around the salt pools.
The cold water of the salt pools.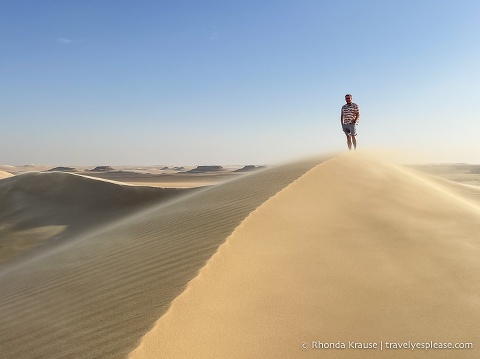 Day 15: Drive from Siwa to Cairo
The whole day was spent driving from Siwa back to Cairo.
Day 16: Day Trip from Cairo to Whale Valley 
The last activity on our Egypt itinerary was a day trip from Cairo to the Wadi El Rayan Protected Area. Most of our time was spent at Whale Valley (Wadi Al-Hitan), but we also stopped at some scenic viewpoints and a small waterfall.
Approximate drive time: Cairo to Whale Valley- 2.5 to 3 hr
Whale Valley
Whale Valley is a fascinating paleontological site that has hundreds of whale fossils laying exposed in the desert.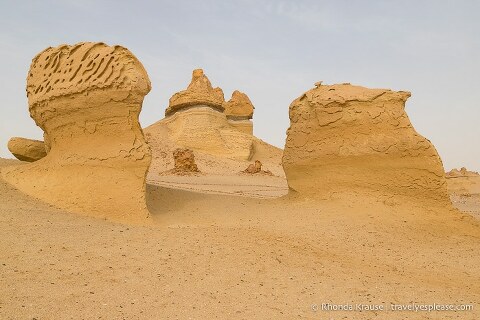 40 million years ago this incredible landscape was under an ancient sea. It contains almost 400 fossils of the earliest forms of whales, now extinct. The fossils show the transition of whales from land-based to ocean-going mammals, making this the most important site in the world demonstrating this stage of evolution.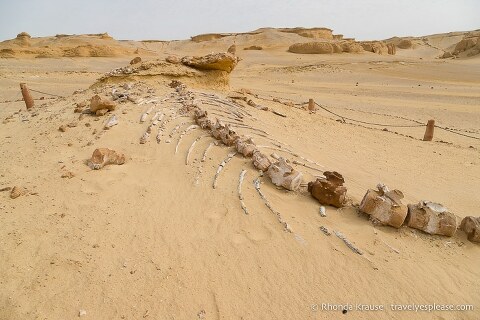 We had so much fun walking through the desert to see the whale fossils. There were complete skeletons, partial skeletons, and single bones. We even saw a skeleton curved around the middle of a large rock formation. Whale Valley is definitely one of the most unique places to visit in Egypt and was a major highlight of our trip.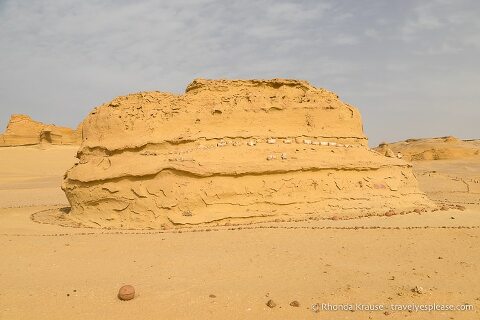 Day 16 Hits & Misses
Hits:
Having enough time for an in-depth exploration of Whale Valley.
Seeing rare whale fossils.
Misses: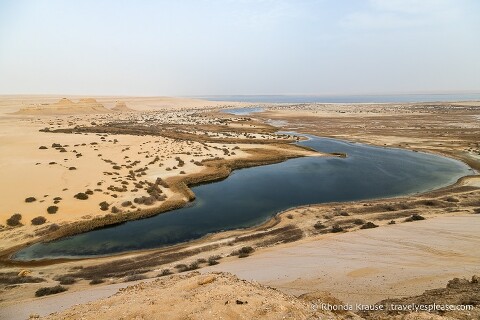 Final Thoughts About Our 2 Weeks in Egypt
So there you have it- our detailed itinerary for 16 days in Egypt, plus some of the hits and misses along the way.
If there's one word we'd use to describe our trip to Egypt it would be "wow!" Every day there was at least one "wow moment" where we were amazed by something, be it age, art, architecture, archaeological finds, or natural beauty.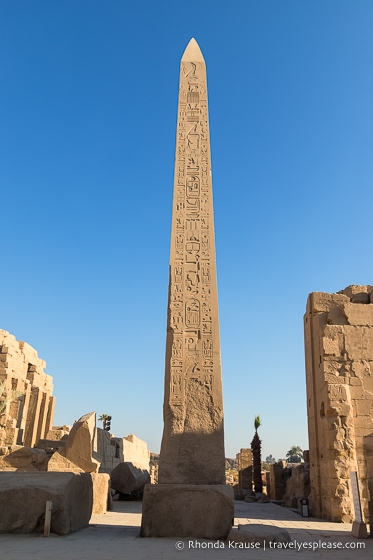 Even though we prefer independent travel, we were so thankful to have booked a guide and driver through Egyptoria. They made our trip stress free and taught us a lot about Egypt, its history, and what life is like there.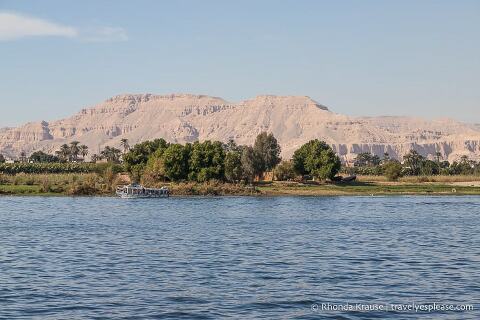 We would have missed out on a lot if we didn't have a guide because many of the places we visited didn't have informative signs or brochures available. Plus driving in Egypt is something we had no desire to do- too many confusing checkpoints, routes that need special permissions, and disregard for rules of the road. 
There's no doubt that an Egypt trip is a bucket list-worthy experience and we're so glad we finally went after years of dreaming about it!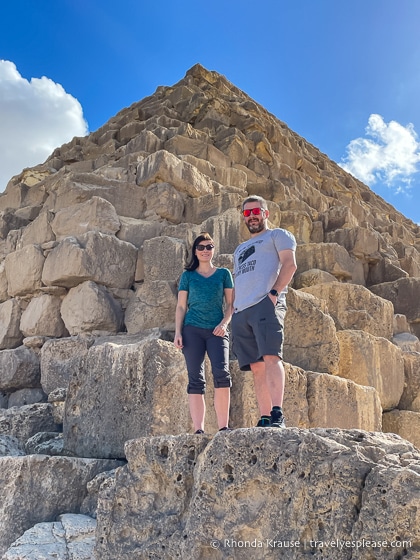 Would We Change Anything About our Egypt Itinerary?
Overall, we were very satisfied with our 16 day Egypt itinerary. We got to see a large portion of the country, experiencing a variety of historic sites and natural landscapes.
This itinerary involved some very early mornings and long drives, so it may not be for everyone. Being from Canada, the long drives don't phase us since we have to do them all the time. We don't mind early mornings either because we like to see as much as possible on our trips.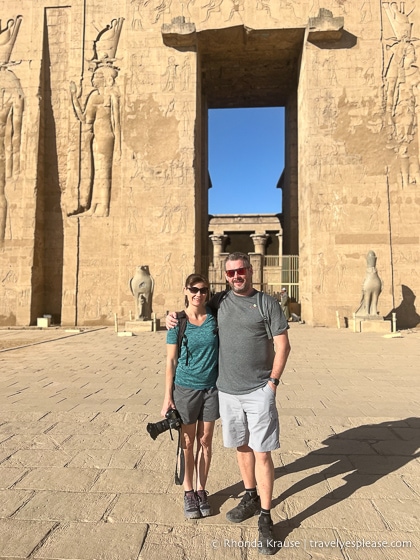 In hindsight, there's only a few things we'd change about our Egypt itinerary. We'd exchange Hurghada for a less popular beach resort town on the Red Sea or cut it out entirely. If we skipped the Red Sea, I would use the extra two days to visit the Qena area to see Dendera Temple and Abydos. I actually really wish we had visited these two, but at the time I thought it was important to see more in Egypt than just temples and tombs.
Another small change would be to spend a night in Abu Simbel so we could see the sound and light show and have access to the temples after the crowds leave.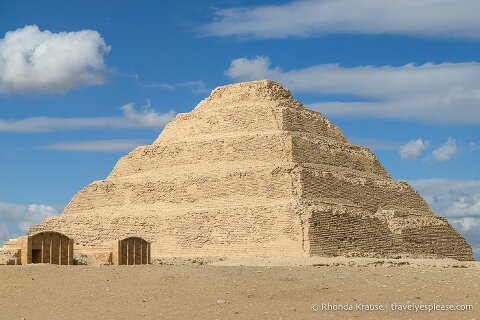 We also have no regrets about not doing a Nile cruise. We got to spend way more time at the historic sites than the cruisers did, were able to see more places in the same amount of time as a cruise, avoided most of the crowds, and had the freedom and flexibility of not being tied to someone else's schedule. Plus at night the river boats dock in rows of three or four, so you'd be looking into someone else's cabin instead of enjoying the scenery.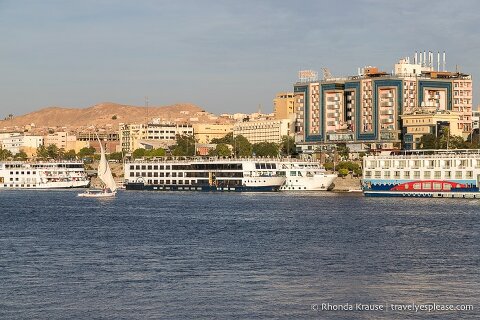 We're 100% confident that a private tour was the best way to see Egypt!
Must See Places During a Trip to Egypt- Our Top Experiences
With so many incredible places to see in Egypt, it can be tough to decide what to include on an Egypt trip itinerary. To help you plan your own 2 week trip to Egypt, we've narrowed it down to our favourite places.
Our Favourite Places to Visit in Egypt
Abu Simbel
West Bank of Luxor (especially the Valley of the Kings and Nefertari's tomb in the Valley of the Queens)
Philae Temple
The pyramid fields from Giza to Dahshur
Siwa
Whale Valley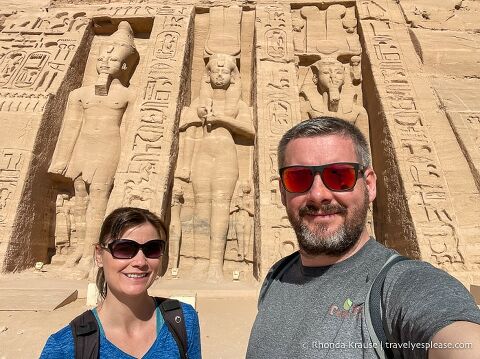 Tips for Planning an Egypt Itinerary
Here are a few tips to consider when planning your Egypt trip itinerary:
Don't cram too much into one day and factor in transportation time between places of interest. Traffic in and around Cairo and Giza can get really backed up, so you might lose precious sightseeing time sitting in traffic.
Don't underestimate how much time it takes to see the sites. By rushing through the temples and tombs you will miss out on so many interesting details. I've seen day trips that visit the Pyramids of Giza, Saqqara, and Memphis all in one day and that's just too much if you want to truly appreciate each place. Even though we took our time at archaeological sites, there are still things we missed out on.
Plan for some downtime in the afternoon when it gets really hot. We liked doing the bulk of our sightseeing in the morning and then heading back to our hotel mid-afternoon to cool down in the pool.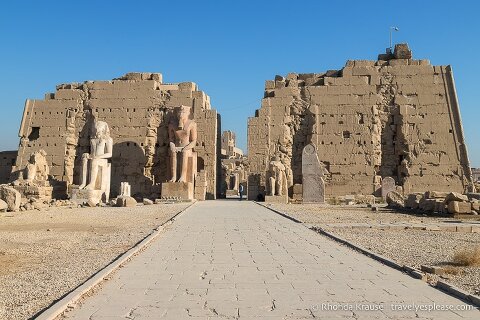 Accommodations in Egypt
For your convenience, here is a list of hotels in Egypt. Please consider booking your Egypt accommodations through the included link. It costs nothing extra and helps support this website. Thank you!
Tours in Egypt
Here is a trusted site that has a large selection of tours and tickets for activities in Egypt. You can book everything from day trips, private tours, Nile cruises, adventure activities, and more.