Purchases made through links earn us a small commission, at no extra cost to you.
I had always admired the beauty of the Netherlands in photographs, so when my mom and I booked a cruise to Norway departing from Amsterdam, it was the perfect opportunity to extend our trip and spend about one week in the Netherlands.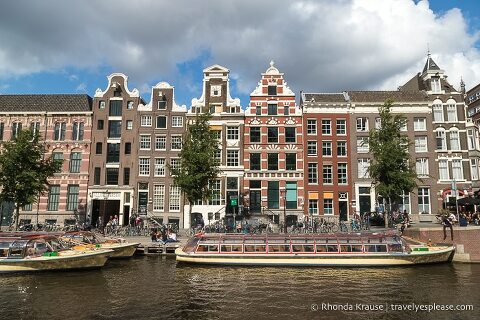 When I was planning our Netherlands itinerary, I was looking to include destinations that matched my postcard perfect view of the country, but that would also surprise me and teach me something new.
During our 8 days in the Netherlands, we experienced an enjoyable mix of attractions from history museums and centuries-old churches to wooden windmills and a storybook castle. We even saw the tombs and gravestones of some notable Dutch figures.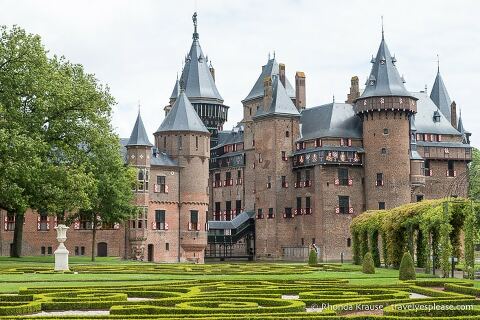 Thankfully, the places we visited on our Netherlands trip were just as I imagined with narrow waterways flowing throughout the towns, gabled canal houses, and windmills dotting the flat landscape. The only thing missing were tulips because they were out of season in the summer.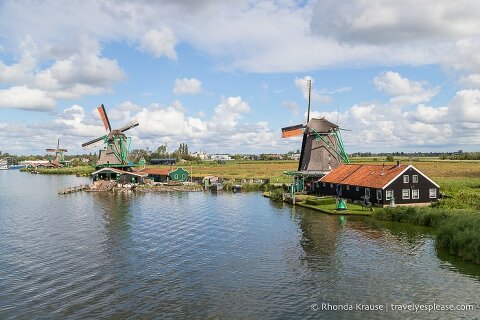 Overall, our Netherlands itinerary succeeded in showing us the very best of what the country has to offer- some top destinations and attractions, plus a few lesser-known gems.
One Week in the Netherlands- Our Netherlands Itinerary
When I started planning a trip to the Netherlands, I actually wasn't very familiar with the country and its tourist destinations, other than Amsterdam and Giethoorn. However, soon into my research, I discovered that there were so many interesting and beautiful places to visit in the Netherlands.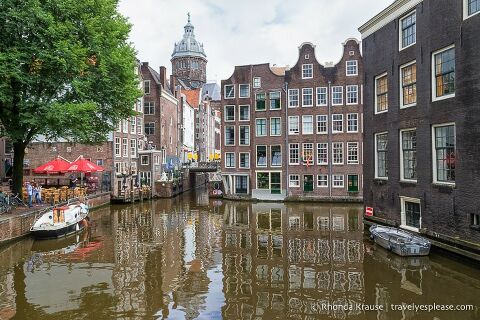 Knowing we could only spend about one week in the Netherlands made planning our Netherlands itinerary tricky because there wasn't enough time to include everything on my wish list (a dilemma I have with every trip). Yet with some prioritizing, and help from the country's small size and well-connected transportation network, I was able to create a Netherlands trip itinerary that visited several regions and a range of attractions over 8 days.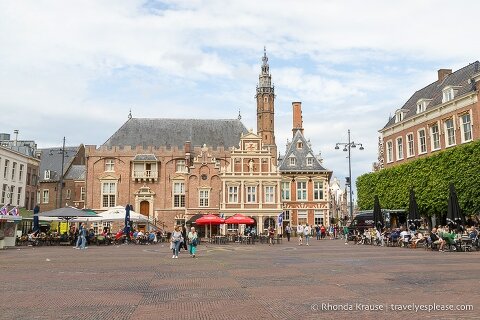 Our 8 day Netherlands itinerary started and ended in Amsterdam. We visited 4 provinces- North Holland, South Holland, Utrecht, and Overijssel- and travelled exclusively by train and bus. 
To make things easier, we did day trips as much as possible, using Amsterdam and Utrecht as our home bases. The only exception was Giethoorn, which is quite far for a day trip (though it is often done).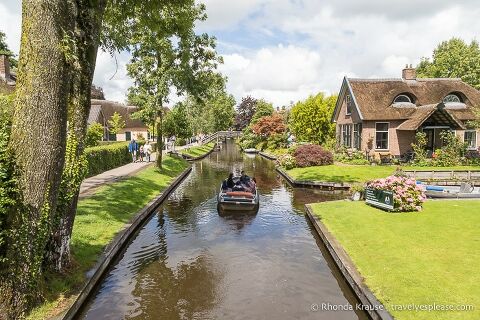 Here's a look at our Netherlands itinerary complete with information about everything we did during our 8 days in the Netherlands. We hope this gives you some ideas of places to visit in the Netherlands and helps you plan your own Netherlands trip itinerary.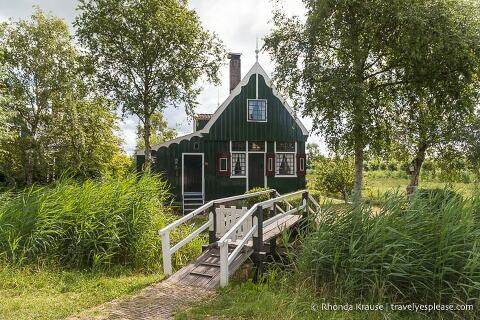 Netherlands Trip Map
The map below shows the places we included on our 8 day Netherlands itinerary so you can visualize where we travelled to on our Netherlands trip.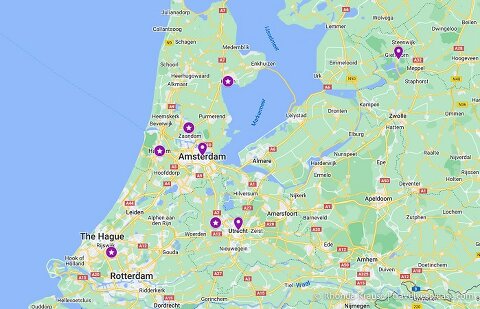 Day 1: Amsterdam
Our first day in the Netherlands was spent exploring Amsterdam, the capital city. We started our visit with a canal cruise to learn a bit about the city, then did our own self-guided walking tour of Amsterdam and its canal ring. In the evening we visited the Anne Frank House. 
Amsterdam Canal Cruise 
An Amsterdam canal cruise is one of the best things to do in Amsterdam, especially if it's your first time in the city. 
During our canal tour, we got to hear some stories about Amsterdam, learn about its canal houses, and see several of the city's landmarks. The most interesting fact we were told was that there are 12,000-15,000 bicycles pulled out of the canals every year. It's crazy how so many bikes end up in the water!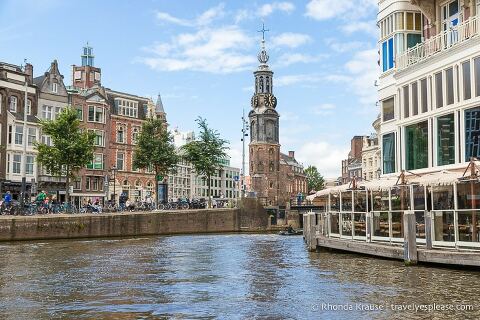 I'm glad we went on an open-top boat because this made it easier to see the scenery and take pictures. Sometimes it was hard to hear the guide (a smaller boat would have been better), but overall a canal cruise was a relaxing and enjoyable introduction to the city.
Self-Guided Walking Tour
One of my favourite things to do in Amsterdam was simply walk around and admire the canals, bridges, and historic architecture. 
For our self-guided walking tour of Amsterdam, we wandered through the city centre (Nieuwezijde) then the central and eastern parts of the 17th century canal ring.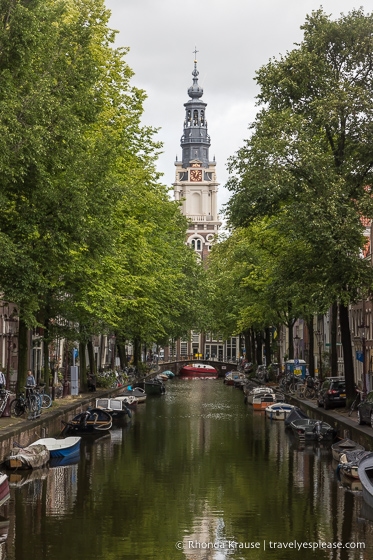 We strolled along portions of several canals including the Singel, Keizersgracht, and Herengracht (where the prestigious Golden Bend is). I loved looking at the unique design details on the canal houses and their differently-shaped gables. So beautiful!
Some other places and landmarks we came across on our walk were Dam Square (home to the Royal Palace, New Church, and National Monument), Rembrandt Square, Mint Tower, Rokin Canal and street (where the Two Immovable Heads fountain is), and the water level houses on the Damrak canal.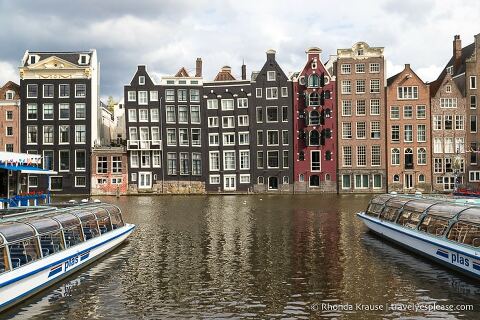 Anne Frank House
The Anne Frank House is a must-see museum in Amsterdam and one of the city's top attractions so you have to buy tickets weeks in advance.
The house is where Anne Frank and her family hid from Nazi persecution during World War II. They lived in a hidden apartment at the back of the building, which was referred to as the Secret Annex in the diary Anne kept during the war.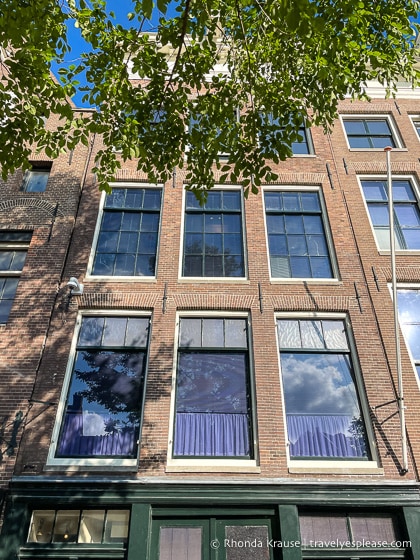 During our visit we got to see the main house, the Secret Annex and the bookcase that hid its entrance, plus several personal items that belonged to the people who hid here, including Anne Frank's original diary and notebooks. The museum told such a powerful story and was a highlight of our two days exploring Amsterdam.
Day 1 Hits & Misses
Hits:
Seeing the pretty canal houses. The architecture is much more interesting than back home in Canada.
Getting to experience Amsterdam from the water.
Learning more about the life of Anne Frank and seeing where she hid during the war. The Secret Annex was much bigger than I expected.
Misses:
The "no picture" rule in the Anne Frank House (and a lot of people breaking it without consequence).
Worrying about getting run over by bikes when crossing the street. There are a lot of fast-riding cyclists! Also, the sidewalks are generally quite narrow so it's tempting to walk in the bike lanes (a big no-no!)
Day 2: Day Trip to Zaanse Schans and Hoorn
For day two of our Netherlands itinerary we planned a side trip from Amsterdam to Zaanse Schans in the morning and Hoorn in the afternoon. 
Approximate travel times: Amsterdam Sloterdijk Station to Zaanse Schans- 30 mins by train then bus (or 40 minutes from Central Station by bus), Zaanse Schans to Hoorn- 50 mins by bus then train, Hoorn to Amsterdam Sloterdijk Station- 30 mins by train
Zaanse Schans
One of the most popular day trips from Amsterdam is to Zaanse Schans, a living recreation of an 18th/19th century Dutch village in the town of Zaandam.
Zaanse Schans is best known for its historic wooden windmills, several of which are still working and can be visited. There are also artisan workshops, a cheese farm, museums, gift shops, restaurants, and wooden houses (that people live in).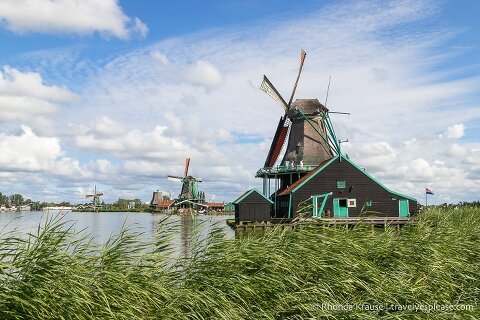 Zaanse Schans is very cute and the windmills are interesting to go inside to see how they operate. We also liked sampling the cheese at the farm and watching a clog-making demonstration.
Hoorn
Hoorn prospered during the 16th and 17th centuries as a port city and base for the Dutch East India Company. Hundreds of years later, evidence of its former glory remains throughout its historic city centre and charming harbour.
Even though there weren't any specific attractions that drew me to Hoorn, I absolutely loved spending the afternoon in this beautiful city.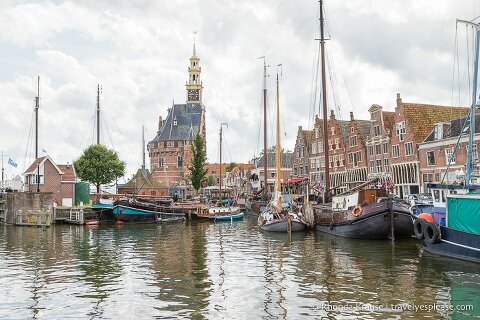 Whether we were lunching on the attractive Roode Steen (Red Stone Square) or strolling along the waterfront, there was a pleasant atmosphere all around.
The highlight of visiting Hoorn was definitely the architecture. Several buildings date back to the 17th century (or earlier) and have interesting decorative details. My favourite buildings include the Hoofdtoren (old harbour control tower), the Waag (weigh house), and the Statencollege (home of the Westfries Museum).
Day 2 Hits & Misses
Hits: 
The picturesque setting and historic architecture of both Zaanse Schans and Hoorn.
Going inside the De Kat windmill at Zaanse Schans to see how paint pigments are made.
Misses:
The touristy atmosphere of Zaanse Schans.
The Westfries Museum being temporarily closed for renovation.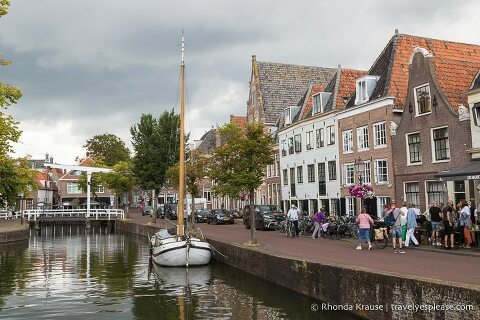 Day 3: Day Trip to Haarlem
Today we explored Haarlem on a day trip from Amsterdam. We visited a museum, some historic sites, and wandered around the city centre. We spent most of the day in Haarlem, returning to Amsterdam for dinner and an evening walk around the city.
Approximate travel time: Amsterdam Sloterdijk Station to Haarlem- 10-13 min by train (or 15-18 min from Central Station).
Corrie Ten Boom House
The first place we visited on our day trip to Haarlem was the Corrie Ten Boom House. 
During World War II, the Ten Boom family used their house as a place of refuge for people at risk of being persecuted by the Nazis. The house is now a museum telling the story of Corrie Ten Boom and her family, their efforts to find people safe houses during the war, and how a group of people in the house's hiding place survived a Nazi raid.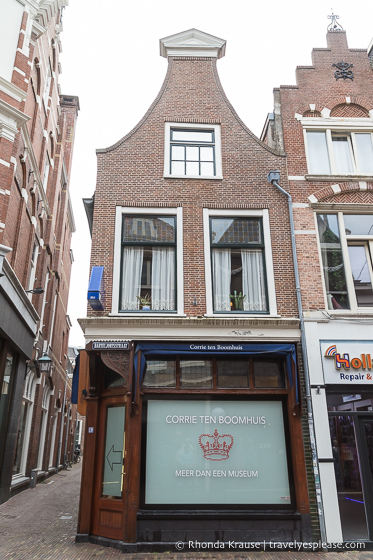 During our tour of the museum, we got to hear a lot of interesting stories about how the house was used during WWII. The most thought-provoking part of the tour was visiting Corrie's bedroom and seeing the tiny hiding place behind a false wall, barely big enough for 8 people to stand shoulder to shoulder.
St. Bavo Church
I'm always impressed with the history and architecture of European churches, but my main reason for wanting to go inside St. Bavo church was to see the floor of graves. 
Yes, you read that right. The church's floor is made almost entirely out of gravestones- about 1500 of them, the oldest of which are from the 15th century. Dutch painter Frans Hals is even buried here. I was quite captivated by the funerary art on the gravestones, especially the skulls as it's not an image commonly used today.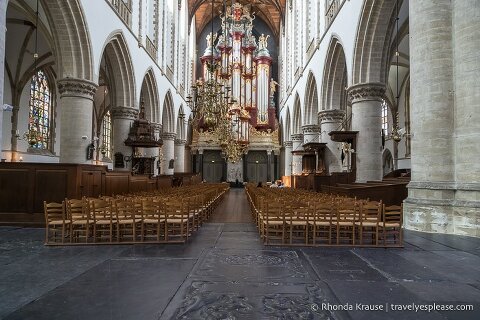 There's a lot of interesting symbolic imagery throughout the church, but other highlights include the organ (played by Mozart as a child), the ship models, and Haarlem's oldest safe.
Molen De Adriaan
De Adriaan windmill is one of Haarlem's most distinctive landmarks but it's much more than just a photo opp.
De Adriaan is a museum mill- a fully functioning mill that has exhibits and models about windmills and how they work. I visited all five levels inside the windmill but my favourite part of the tour was going onto the wrap-around balcony while the sails were turning. The view of the city was great too!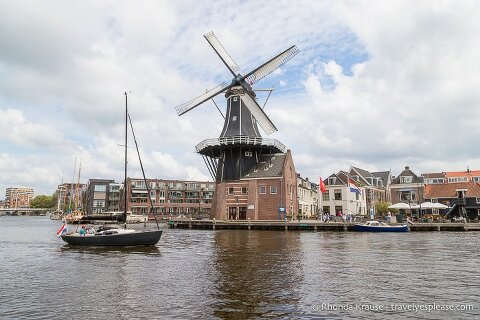 Day 3 Hits & Misses
Hits:
Haarlem was quick and easy to get to from Amsterdam.
Learning about Corrie Ten Boom and how her family helped people find safety during WWII. I was unfamiliar with these incredible stories before our visit to Haarlem.
Discovering the graves, funerary art, and symbolism throughout St. Bavo Church.
The photogenic windmill and getting a close-up view of its sails in motion.
Misses:
Nothing. Haarlem was a very enjoyable place to visit!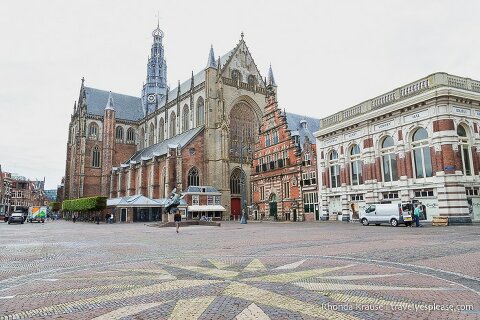 Day 4: Utrecht
Today we travelled from Amsterdam to Utrecht where we stayed the next 3 nights. Our first day in Utrecht was spent sightseeing on a free walking tour then visiting the Domkerk and other attractions in Dom Square.
Approximate travel time: Amsterdam Central Station to Utrecht- 25 mins by train
Free Walking Tour
To get to know Utrecht, the first thing we did was go on a free walking tour of the city with a local guide. 
Over the course of 2 hours, we learned about Utrecht's history as we walked to its main landmarks, squares, and some lesser-known sites. We saw interesting architecture, canals, statues, and artwork and also got recommendations for places to eat. The tour was a great introduction to the city and showed us spots we might not have discovered otherwise.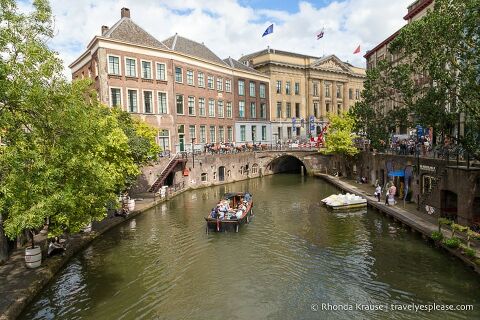 Dom Tower 
The Dom Tower (Domtoren) is the tallest church tower in the Netherlands and a symbol of Utrecht. Interestingly, it's no longer connected to the cathedral after a storm collapsed the nave that joined the two.
At the time of our visit, the tower was unfortunately under scaffolding but was still open for guided tours. During a tour of the Dom Tower, I got to see the chapel, the bell chamber with its swinging bells, and climb hundreds of stairs to the top for a panoramic view of the city.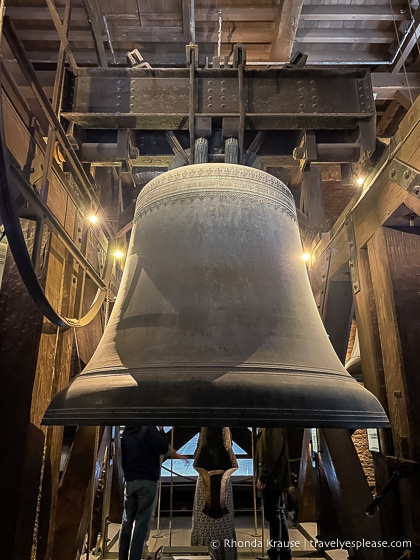 Dom Church
Visiting the Dom Church (Domkerk), Utrecht's pre-Reformation cathedral, was a wonderful opportunity to see Gothic architecture and ornate tombs.
Inside there were stained glass windows, an organ, chapels, and gravestones on the floor, but the highlight was the tomb of Admiral Willem Joseph Van Gendt, first commander of the Dutch marines. I also enjoyed the pretty cloister and its small garden.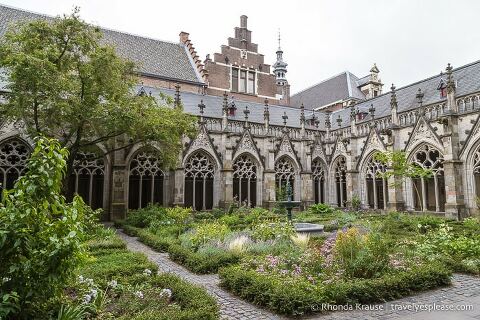 DOMunder
The DOMunder discovery tour is the most unique thing we did during our day in Utrecht. 
These subterranean ruins under Dom Square reveal 2,000 years of Utrecht's history from its time as a Roman fortress to the collapse of the cathedral's nave.
It was fun to explore underground with a flashlight to see the archaeological remains of what once stood in the square above. Shining your light on an artifact activates a recorded story, so it's like an audio tour crossed with a treasure hunt- very neat!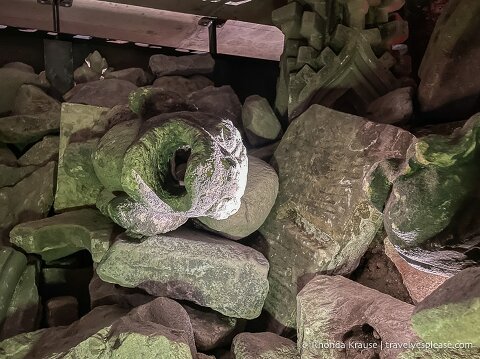 Day 4 Hits & Misses
Hits:
Learning about the city on a walking tour.
Viewing the large bells inside the Dom Tower.
Seeing how much taller the Dom Tower is than anything else in the city. It's quite impressive!
Misses:
Seeing a lot of litter around the city.
Scaffolding covering the Dom Tower and obstructing the view from the top.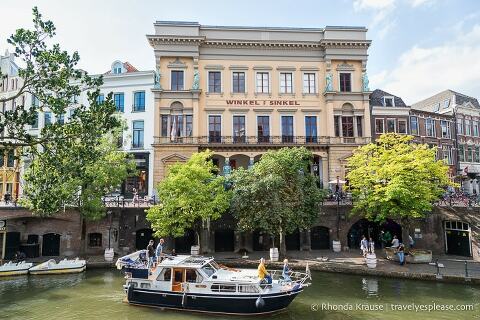 Day 5: Day Trip to De Haar Castle, Utrecht Canal Cruise
Today we did a day trip from Utrecht to De Haar Castle. After getting back to the city late afternoon we went on a boat tour of the canals.
Approximate travel time: Utrecht to De Haar Castle- 30 mins by train then bus
De Haar Castle
De Haar Castle is the largest castle in the Netherlands and its impressive architecture and interior design made it one of my favourite places we visited on our Netherlands trip.
When I picture a fairy tale castle, it looks exactly like De Haar- there's a moat, towers, gates, drawbridges, lavishly furnished rooms, and formal gardens. Inside and out, the castle was a thing of beauty.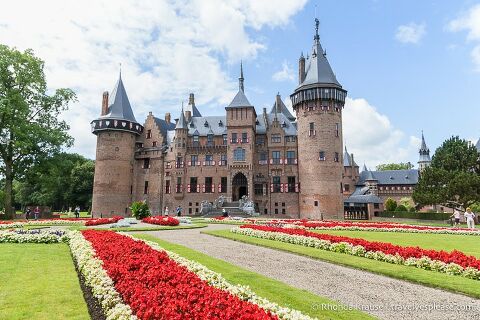 I was surprised at how many rooms were open to visitors and each room had an information sheet you could read to learn more about that part of the castle. I loved the ceilings and artistic touches throughout the interior but my favourite part was admiring the medieval architecture from the gardens.
Utrecht Canal Tour
Utrecht is known for its unique "two-storey" canals that have old warehouses and cellars at water level and houses above on the main street level. Many of these warehouses have been converted into cafes and restaurants, making the canals a popular hangout spot.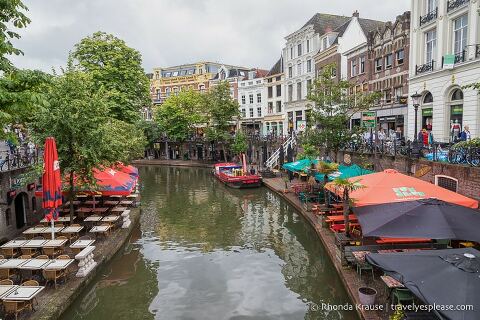 The canals are also used for recreation and we saw plenty of kayaks, pedal boats, and tour boats on the waterways, especially the Oudegracht (old canal) that runs through the centre of the city. 
We did a boat tour of the canals on one of the larger, closed-top sightseeing boats, but in hindsight, I would choose a kayak or pedal boat instead for better visibility of the scenery.
Day 5 Hits & Misses
Hits:
Visiting De Haar Castle. The museum portion inside was well put together and the gardens were lovely to walk around.
Seeing so many people enjoying hanging out along the canals.
Misses:
Not being able to hear the recorded information on our boat tour because of a lot of noisy, inconsiderate passengers.
The canals are not as pretty as in Amsterdam. Most of what we could see from the covered boat was dingy brick warehouses because the roof obstructed views of the canal houses on the second level.
Day 6: Day Trip to Delft
Today we travelled from Utrecht to Delft for the day. Since the weather was really rainy and windy, we spent our time indoors exploring historic churches. I had originally planned to stop in Gouda on the way back to Utrecht (the train went through there) but the weather was too miserable. If Delft doesn't interest you, or you don't want to travel as far, then Gouda would be a convenient alternative. 
Approximate travel time: Utrecht to Delft- 1 hr by train
Nieuwe Kerk (New Church)
The Nieuwe Kerk in Delft is an unmissable landmark standing tall over Market Square.
The New Church is best known for being the burial place of the Dutch royal family. The royal crypt below the church is not open to the public, but visitors can see the elaborate tomb of William of Orange (prince and founder of the House of Orange-Nassau), as well as several other gravestones and monuments for influential people.
Another highlight of visiting the New Church is climbing the tower to see the carillon bells and a wonderful panoramic view of Delft.
Oude Kerk (Old Church)
The most recognizable feature of the Oude Kerk in Delft is its leaning clock tower (about 2 metres from vertical), but the interior is full of hundreds of graves and commemorative epitaphs.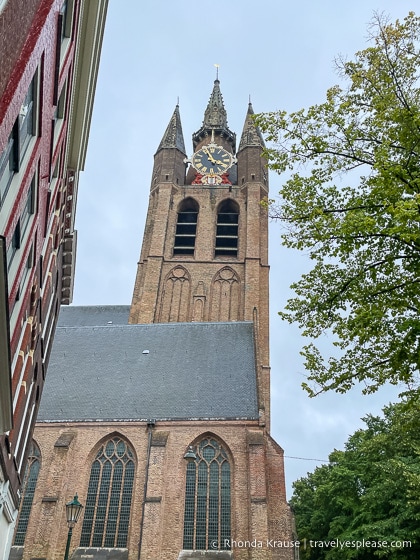 There are a number of impressive tombs in the Old Church including those of naval heroes Piet Hein and Maarten Tromp. Many other notable figures have gravestones on the church floor, including famous Dutch painter Johannes Vermeer.
Day 6 Hits & Misses
Hits:
Both churches were set up like museums with information panels throughout so you could learn about the notable graves and the people buried within.
The funerary art on the tombs and graves. I enjoyed finding examples of skulls, skeletons, hourglasses, and cherubs.
The view of Market Square from the Nieuwe Kerk tower.
The attractive architecture of the City Hall (Stadhuis).
Misses:
The weather prevented us from exploring as much as I wanted.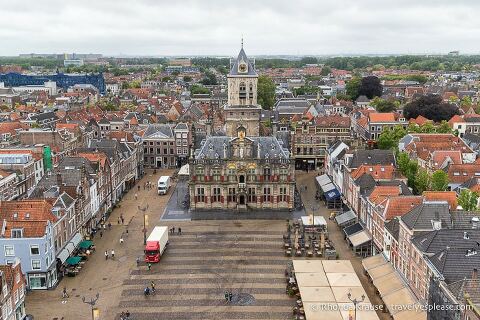 Day 7: Giethoorn
The next destination on our Netherlands itinerary was the village of Giethoorn. We spent one night here because the atmosphere is best after the day trippers leave.
Approximate travel time: Utrecht to Giethoorn- 2 hrs by train then bus
Giethoorn Sightseeing
Visiting Giethoorn was definitely a big highlight of our trip to the Netherlands, even though there wasn't a whole lot to do there.
Giethoorn's main attractions are its numerous hand-dug canals, pedestrian bridges, and thatched roof houses, all of which come together to create an unbelievably cute setting. It was like a fairy tale come to life- I've never seen another village like it.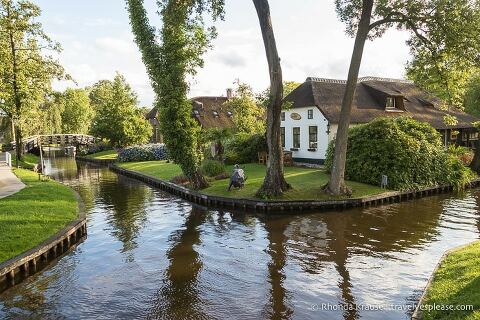 Part of the village is car-free so the main ways to get around are by boat and on foot. The most popular tourist activity is to rent an electric boat and travel down the canals and into the lake. Our boating experience wasn't the greatest for several reasons, but that didn't make me like Giethoorn any less. It was just that beautiful!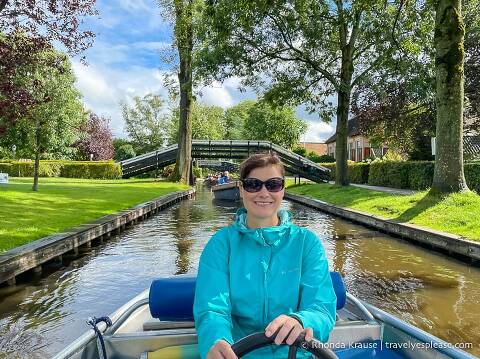 Day 7 Hits & Misses
Hits:
Strolling along the quiet canals in the morning.
It was fun to drive the boat.
So many pretty scenes to take pictures of. 
Misses:
Getting caught in a rainstorm while out on the lake in a very slow boat with no safety equipment.
The boat rental company didn't provide any instructions on how to drive the boat and refused to refund the unused hour of our rental when the storm forced us to return early. 
Day 8: Amsterdam
The last day of our trip to the Netherlands was spent back in Amsterdam. We visited the Royal Palace and then just walked around and did more sightseeing around the Old Town and Museum Quarter.
Approximate travel time: Giethoorn to Amsterdam Sloterdijk Station- 2 hr 15 min by bus then train
Royal Palace Amsterdam
The Royal Palace of Amsterdam is one of the residences of the Dutch monarch and is used for hosting official receptions, state visits, and award ceremonies.
I followed the audio tour of the palace as it guided me through the most important rooms in the palace. As expected, there were plenty of symbolic sculptures, paintings, and grand rooms. 
My favourite treasures were the marble maps built into the floor of the Citizen's Hall, the statue of Atlas carrying the globe, and the sugar sculptures on the banquet table (part of a special exhibition).
Begijnhof
Another place of interest we discovered while walking around Amsterdam was the Begijnhof.
Originally a beguinage, this hofje was a small community for unmarried religious women. The attractive courtyard is surrounded by tall almshouses (charitable housing), including the oldest wooden house in Amsterdam. The Begijnhof is also home to the English Reformed Church.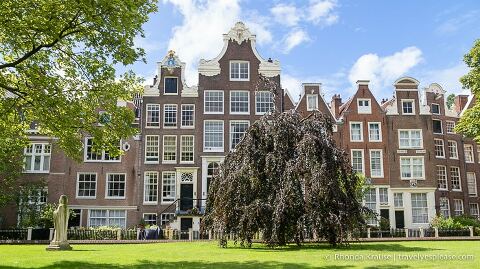 Day 8 Hits & Misses
Hits:
Touring the Royal Palace.
Having another opportunity to explore Amsterdam. It's a nice city to just wander around and take pictures.
Misses: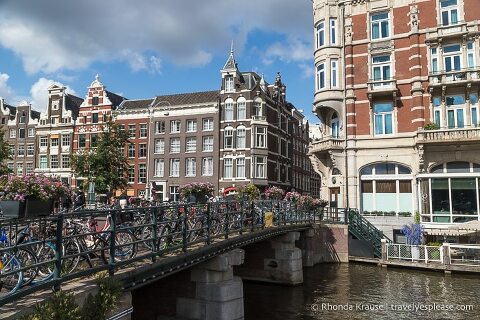 Final Thoughts About Our Week in the Netherlands
I enjoyed our 8 days in the Netherlands and appreciated that the public transportation system made it easy to travel around the country. 
Being able to visit so many places on day trips was very convenient, saving us the time and hassle of checking in and out of hotels and hauling our luggage around. The only downside was the amount of money we ended up spending on train tickets, which cost more than I was expecting.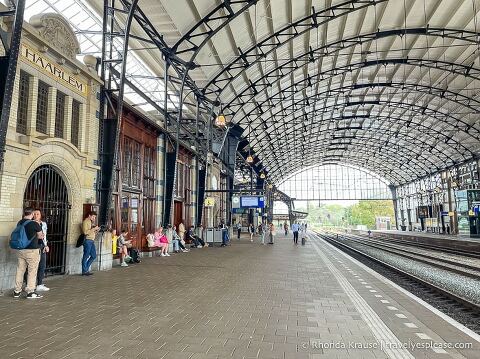 I loved seeing so many canals and kept thinking how nice it would be to go kayaking from my doorstep if I lived in a Dutch town. The cycling culture and infrastructure were impressive too. I've never seen multi-level parkades for bikes before!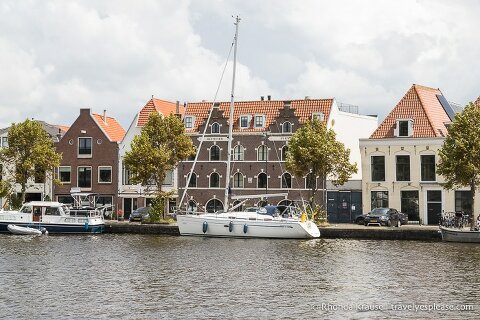 My favourite thing about the Netherlands was the historic architecture and canal houses, especially the ornamentation and differently shaped gables. I never got bored of walking around looking at the buildings, even though the towns did start to feel the same after a few days.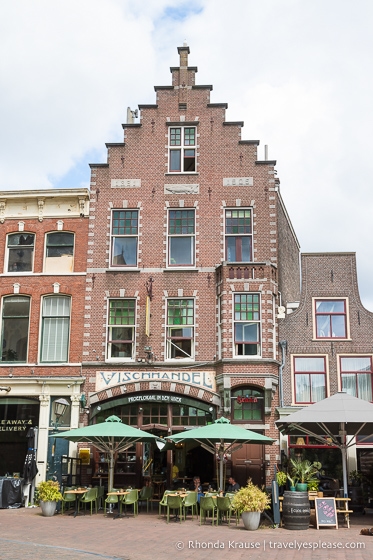 Would We Change Anything About Our Netherlands Itinerary?
I was happy with our Netherlands trip itinerary and how it included some popular destinations, but also went a bit off the typical tourist trail.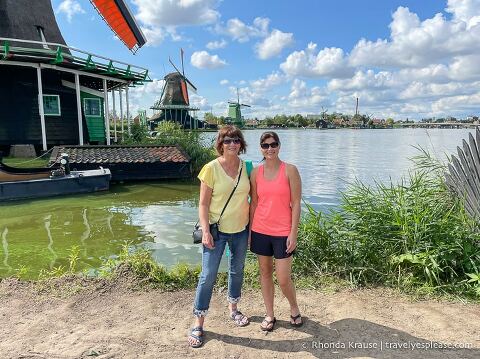 Amsterdam and Utrecht were great home bases for exploring the Netherlands. These two cities had plenty to see and do themselves, but also provided easy access to other interesting nearby destinations.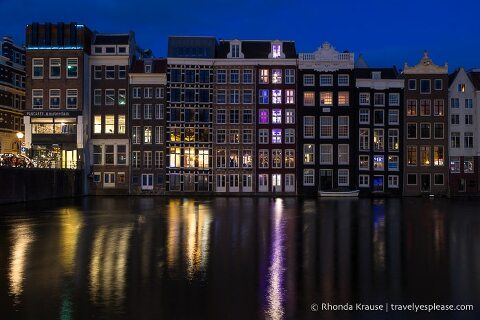 I liked visiting all the places we included on our Netherlands itinerary, but as usual, would have benefited from another day or two. A few attractions I was interested in but couldn't fit into this trip were Het Loo Palace, the Kinderdijk windmills, and Muiden Castle.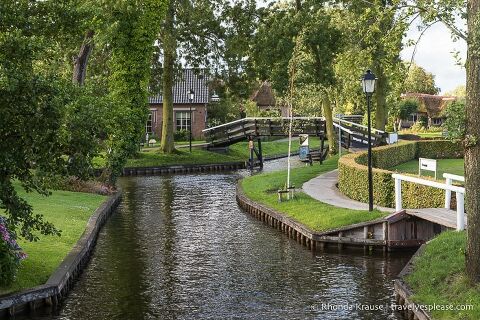 Tips for Planning a Netherlands Itinerary
Here are a few more tips and things to take into consideration when planning your own Netherlands trip itinerary:
When in Amsterdam consider staying outside the city centre to save some money. We were really happy with our choice to stay at a hotel across from Sloterdijk Station because the rates were lower, it was quick and easy to get there from the airport (no dragging luggage across the city), it was more convenient for our day trips out of town, the area was quiet, and it was only a 5 minute train ride to Central Station. There are a few hotels to choose from just steps away from Sloterdijk Station, but more restaurant choices would have been nice.
If you want to visit Amsterdam's top museums, make sure you buy tickets well in advance so you can secure your desired date and time (required). This can be done on the museum's website.
Many attractions had later opening times than what I was used to in peak summer season (10:00 or 11:00 am). This meant we had to plan our days a little more carefully and couldn't always fit everything in because of short opening hours.
Download the NS app (Dutch Railways) and the 9292 app (for all Dutch public transport) to plan your travel. You can see routes, schedules, fares, maps, and buy tickets.
To save time in train and bus stations, use a contactless credit card or debit card (Visa or Mastercard debit if you don't have a Dutch bank account) to scan in and out of public transportation via the OVpay system (instead of buying paper tickets or an OV chipkaart). I put some Euros in my Wise account, added the Wise debit card to the digital wallet on my phone, then scanned in and out of trains, buses, and trams, flawlessly. Since I had Euros on my card, I didn't pay any transaction/conversion fees. Learn more about OVpay here.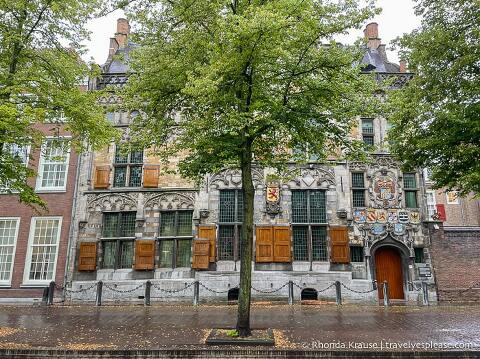 Accommodations in the Netherlands
For your convenience, here is a list of hotels in the Netherlands. Please consider booking your Netherlands accommodations through the included link. It costs nothing extra and helps support this website. Thank you!
Tours and Activities in the Netherlands
Here is a trusted site that has a large selection of tours and tickets for activities in the Netherlands. You can book everything from day trips, canal cruises, museum tickets, walking tours and more.