Purchases made through links earn us a small commission, at no extra cost to you.
Egypt is such an iconic, recognizable destination that we felt pretty confident about what to expect when visiting Egypt for the first time, at least when it came to attractions. Imposing pyramids- check. Monumental temples- check. Elaborately decorated royal tombs- check.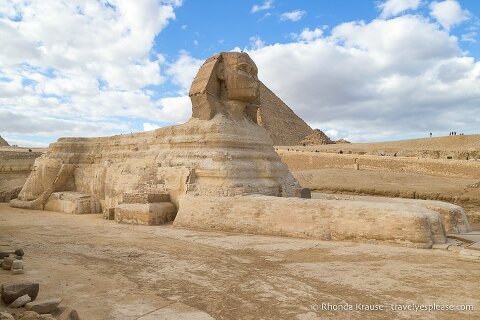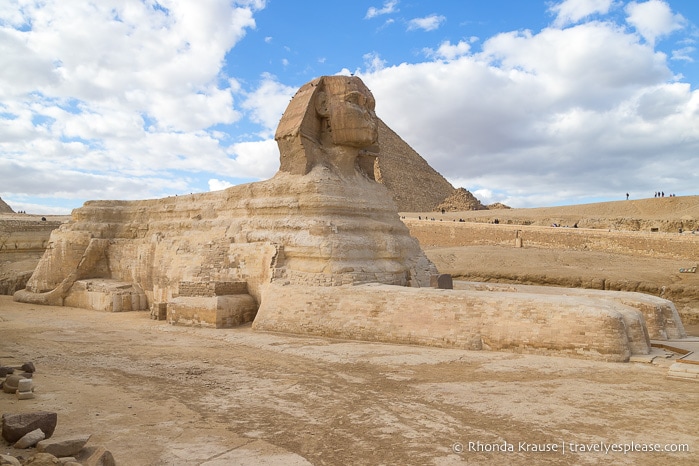 However, we were less sure what travelling in Egypt would be like from a cultural standpoint, as we hadn't spent much time in the Middle East.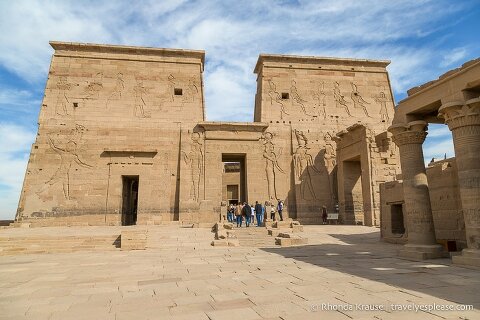 As anticipated, Egypt's ancient sites blew our minds with their age, art, and construction methods. We also, unsurprisingly, experienced moments of culture shock, but not as drastic as I expected.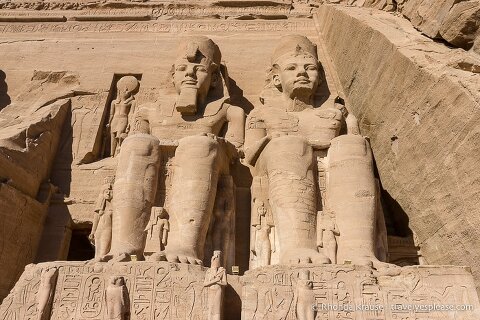 For the most part, reality matched our expectations about travelling in Egypt. It was fascinating, enlightening, and breathtaking, but also tiring, complicated, and intrusive.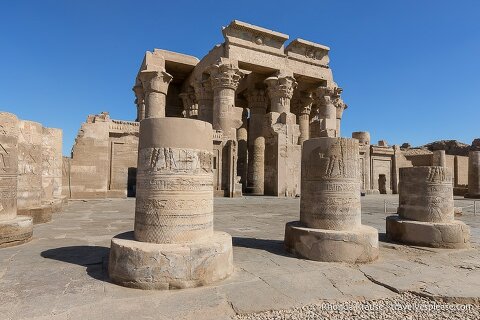 Even though we had done plenty of research into what it's like to travel in Egypt, there were still some interesting discoveries and experiences that gave us good stories to tell and helped make our trip to Egypt unforgettable.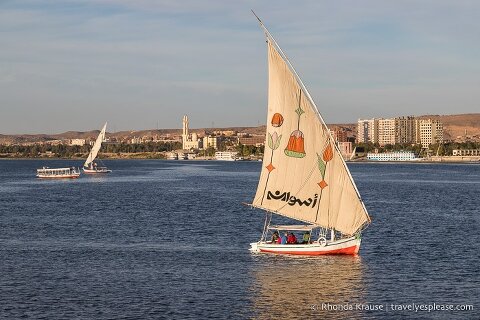 What to Expect on Your First Trip to Egypt
After our first trip to Egypt, I can tell you to expect a country that's overwhelmingly rich with history and culture, but also one with some travel challenges and concerning environmental and social issues.
When I was preparing for our trip, I read a lot of Egypt travel tips saying that independent travel is not easy compared to many countries because of infrastructure, government regulations, lack of publicly available information, and cultural and linguistic differences.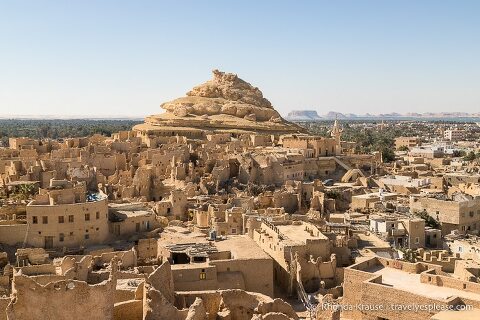 Heeding the advice of others who travelled to Egypt, we decided to hire a private guide and driver. During our first trip to Egypt, we realized that travelling the way we normally do- without a guide, renting a car, or taking trains- would have indeed been difficult and uncomfortable. With a guide, we didn't have to stress about logistics and could just enjoy ourselves and everything Egypt had to offer.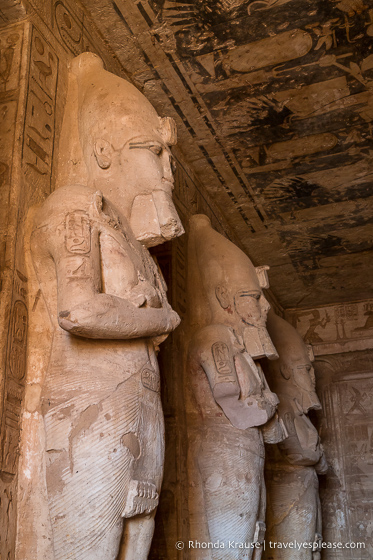 There's so much to learn about a civilization as old as Egypt's that it can be hard to absorb it all, especially when standing in awe of such masterpieces of art and architecture. On a daily basis, we struggled with information overload and I felt like my brain was constantly throwing out what I learned mere minutes ago to make room for new knowledge.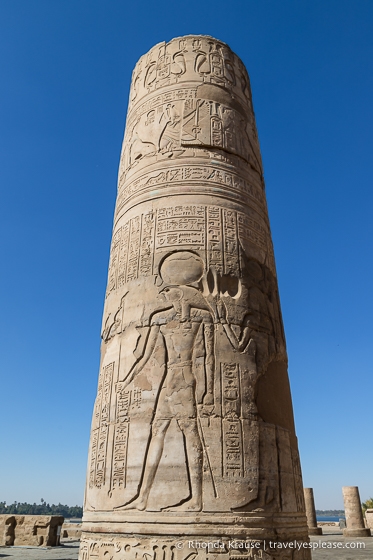 Egypt may be the ultimate destination for history buffs, but we also discovered some exciting outdoor adventures and beautiful places to relax.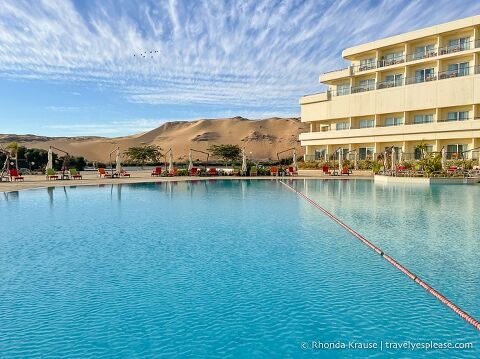 To help you prepare to visit Egypt, here are some observations and things we learned from the 16 days we spent travelling in Egypt. We hope this Egypt travel guide and our first-hand tips for travelling to Egypt help answer any questions and ease concerns you may have about travelling to Egypt for the first time. I found that once I knew what to expect in Egypt, I was less nervous about going there.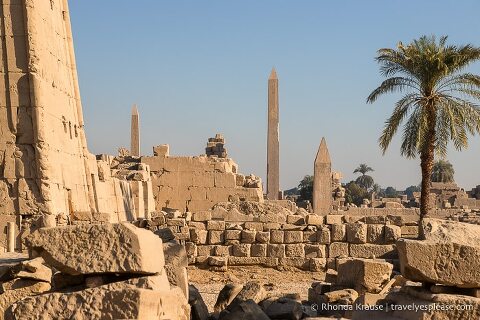 Language
Standard Arabic is the official language of Egypt. There are several spoken dialects, the most predominant being Egyptian Arabic (the vernacular language).
English is the foreign language spoken most in Egypt since there are English classes in schools and several English language universities and newspapers.
English is widely used in the tourism industry, especially in big cities. In our experience, guides, hotel, and airline staff spoke fluent English so we had no trouble communicating with them (our drivers didn't speak much English). English was also used at major tourist attractions. Once we went to more remote areas, like the Siwa Oasis, English was not common. 
The police at tourist attractions are more likely to speak English than other police personnel. Communication at police checkpoints on highways would have been difficult if we didn't have a guide.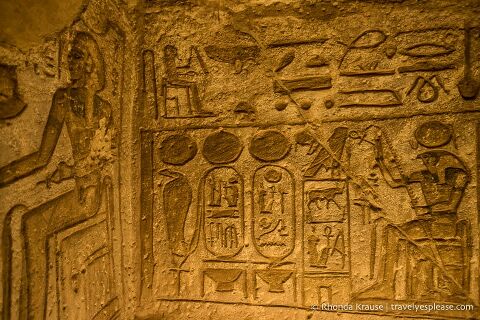 Clothing
Egypt is a Muslim country so dressing conservatively is the norm for both men and women, especially when visiting religious sites.
For women, keeping your shoulders and knees covered can help prevent unwanted attention. There's no need to cover your hair with a scarf- some Egyptian women do and some don't. You may have to cover your hair when going into a mosque though. 
As a tourist, it's a little more acceptable to wear shorts and tank tops at tourist sites outside the city. We saw this and I did it myself when the weather was too hot for me. My strategy was to wear layers so I could go down to a tank top only when the heat became too much, but easily cover up in case of uncomfortable looks. In cities, towns, and less touristic places I was more comfortable dressing conservatively.
There were only two times I got unwanted looks from young men. First was when I wore shorts (mid-thigh, loose-fitting ones) into a grocery store in Aswan. The second was at our hotel in Aswan when I got smiling stares from the gardeners while walking near the pool wearing a bikini under a coverup. But nobody cat-called me or did anything else inappropriate. 
Overall I got the sense that Egyptians don't really expect tourists to dress the way they do, but that respecting local customs is appreciated.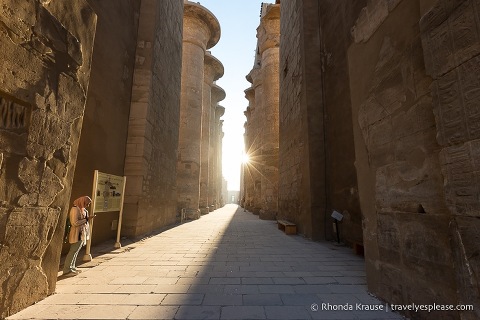 Driving in Egypt
We do not recommend driving in Egypt because the road rules aren't obeyed and there's a high rate of traffic accidents (we saw a few). We hired a private driver and guide for our first trip to Egypt and were so thankful to not have the stress of driving ourselves.
Drivers don't stay in their lane, will casually drive on the dividing line, and will squeeze into spaces where there isn't an official lane. We often saw a four lane road with five or six lanes of actual traffic. 
Traffic in Cairo is especially intense because of the high volume and lack of controls at intersections. We spent a lot of time being driven in and out of Cairo during our six nights there and never stopped at a traffic light because there weren't any (well, I saw three but none of them worked). 
Pedestrians take some big risks walking through traffic, even on busy freeways. We saw one guy walking in traffic get his foot driven over!
Speeding on the highways is common. Our driver was regularly going 140 km/hr (and at one point as fast as 160 km/hr) when the speed limit was 100 km/hr. He even got pulled over by the police but still kept speeding.
There are quite a lot of motorbikes on the road being driven in an unsafe manner. It's not unusual to see an entire family packed onto a bike with none of them wearing helmets. The craziest thing we saw was a motorbike with a young kid at the front, then dad driving, then mom sitting side-saddle holding a flat screen tv, then another kid sitting behind her. Absolutely insane!
If you rent a car, expect that it will get dinged and dented like most other cars on the road.
Knowing all this, if you still decide to drive in Egypt, ensure you have an International Driving Permit (required). Driving is on the right-hand side of the road.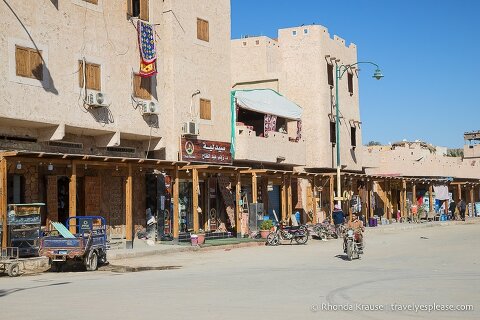 Public Transportation
Since we had a driver, we didn't use any public transportation, but we learned a bit about it from our guides and through observation. The main modes of public transportation in Egypt are plane, train, and bus.
Our guide said that she prefers using the bus to go between cities because trains are really crowded, hot, not very clean, and slower because they make a lot of stops. Other than on the Cairo-Aswan and Cairo-Alexandria routes, you'll find that the train cars are pretty antiquated.
For local transport there are city buses and microbuses/vans. Both didn't seem to be practical for tourists because the routes are unpublished, numbers are only displayed in Arabic numerals, and they were always packed full with people. The microbuses are privately owned and unmarked, but operate along the same routes as buses and pick up and drop off anywhere (not just at a bus stop). We saw people getting on and off microbuses on freeways where there was nothing else around.
Cairo is the only city in Egypt with a subway system.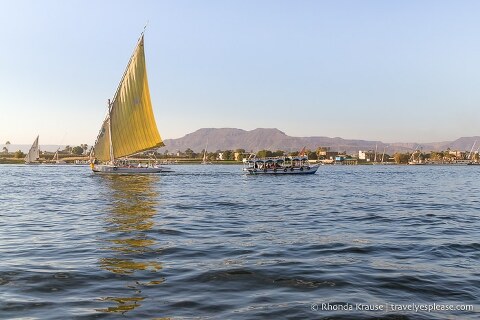 Airports and Domestic Flights
Domestic flights were a comfortable, efficient, and affordable way to travel between regions in Egypt. Egypt Air is the national carrier and although they have horrible reviews, we didn't have a bad experience.
Our first trip to Egypt was the first time we encountered airports with double security checks- once when entering the airport, then again at the boarding gates. At the first security point, you go through a metal detector and your luggage gets x-rayed. The gate security is where they more diligently check carry-on bags for prohibited items with another x-ray screening. Our water was allowed through the first check, but usually not the second one.
In our experience, there were inconsistent rules between Egyptian airports and the rules were not equally enforced. For example, sometimes we (and other passengers) were allowed to bring water through security, whereas other times we weren't. In one case, we saw a security agent make a huge scene about someone having water even though she let the previous person through with the same thing. At the Hurghada airport, security made me throw out my travel-sized bottle of hairspray, but it wasn't an issue at other airports in Egypt (or anywhere else in the world). Staff at the Hurghada airport also confiscated my unopened bottle of water, but not the water in my refillable bottle. Made no sense!
When you try to connect to wifi in the airports an access code will be texted to you. This won't work if you have your phone in airplane mode to avoid roaming charges. Because we didn't have a local sim card, we couldn't get a wifi code sent to us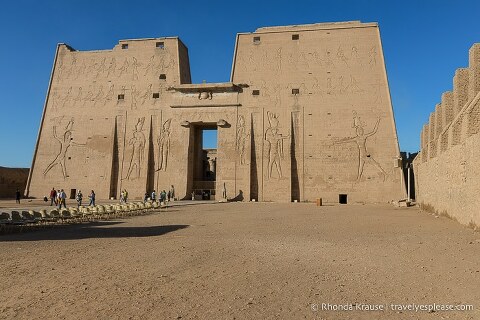 Currency, Credit Cards, ATMs
The official currency in Egypt is the Egyptian pound (EGP). 
Some tour companies and tourist services charge in US dollars, but US dollars are not accepted everywhere. We had cash in both EGP and USD and ended up using both (USD for tipping our guide and paying for some tours).
ATMs are easy to find in all major towns and cities. Some of the higher-end hotels we stayed at had ATMs in the lobby. Our bank cards worked fine in the machines.
Credit cards can be used in Egypt, especially at midrange and high-end hotels and restaurants in tourist destinations. Even though cards are becoming more widely accepted, cash is still preferred in many places. You will need some cash for entrance fees, shopping at the markets, and for use in rural destinations.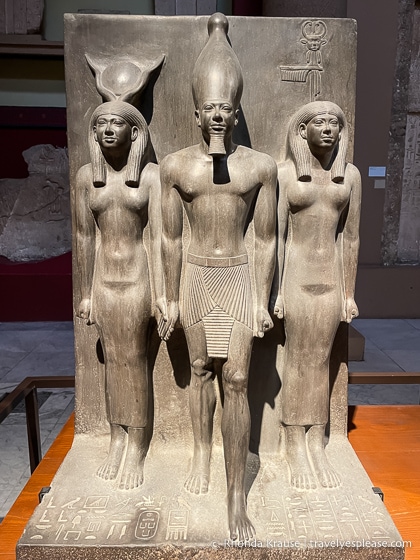 Tipping in Egypt
Hospitality is not free in Egypt and tips (baksheesh) are expected everywhere for almost everything it seemed. Keep some small bills and change on hand for tipping.
It's customary to leave a 10% tip at a restaurant (15% for higher-end establishments), even if there's a service charge already on the bill. At cafes tip 5 to 10 EGP.
For restroom attendants tip 5 EGP.
The tour company we used recommended tipping our guide $25 US/day. 
Accommodations
We decided to stay at five star/luxury hotels for our first time in Egypt and it was a good choice. The price to stay at an international luxury chain like the Fairmont was half the price (or more) compared to Canada. And in Canada the prices don't include breakfast, like they did in Egypt. We got great value and service for our money, had comfortable stays, and experienced a level of luxury that's out of our price range in many other destinations. There was only one instance where our five star hotel didn't quite live up to their rating, which made us wonder what a midrange hotel in Egypt is like.
In general, the beds in Egypt were firmer than what we're used to.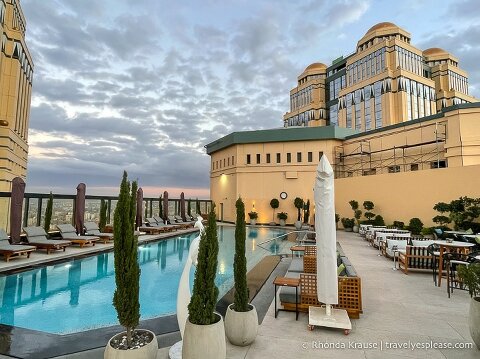 Food and Water
The food in Egypt was delicious and served in really large portions. The cuisine had a lot of similarities with the Eastern Mediterranean region. We ate a lot of chicken, rice, pita bread, tehina (sesame dip), shawarma, and kebabs. Mike even tried pigeon stuffed with rice. Salad, soup, and bread were served before the main course. Desserts were often made with pastry, honey or sweet syrup, and nuts. 
The water in Egypt is not safe to drink. Bottled water is readily available and inexpensive. Use bottled water for brushing your teeth, don't get ice in your drinks, and avoid eating fruits and vegetables that can't be peeled. To be extra careful, don't drink the tea offered to you unless it was made with bottled water.
Come prepared to experience some gastrointestinal trouble, as lack of hygiene and contaminated food and water commonly affects travellers in Egypt. Mike got sick from something he ate or drank on our first night in Egypt and didn't recover until we left the country. I was fine, but I was very cautious about what I ate.
Electricity
Electricity in Egypt is 220V/50 Hz. If you have North American devices that aren't dual voltage you will need to use a converter.
Outlets in Egypt take two round pins so you may need to bring an adaptor to plug in your devices.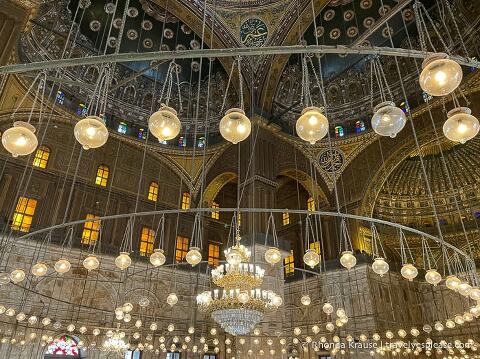 Weather
Egypt is a dry country with very hot summers and cooler, more mild winters. Before travelling to Egypt, it's a good idea to check the average temperatures of the time of year you want to visit because sightseeing is not pleasant if you're not used to extreme heat.
June through August (summer) is the hottest time of year to visit Egypt and temperatures across the country typically range from 29-41°C/85-105°F. December through February (winter) sees average daily highs between 17-24°C/63-76°F. By March it's already getting quite hot and doesn't cool down until December.
Temperatures are generally cooler in the north and hotter in the south. Aswan and Luxor have a hot desert climate and get the highest temperatures of any city in Egypt.
We visited Egypt in January and temperatures ranged from highs of 17°C in Cairo and 27°C in Luxor. Mornings were as cold as 7°C.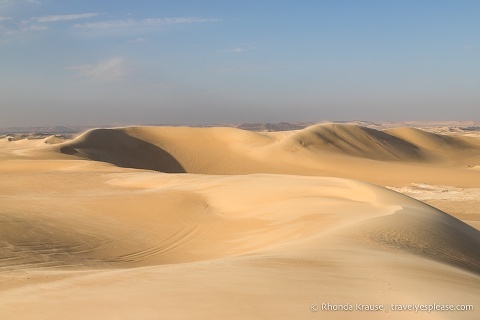 Public Security and Safety in Egypt 
There is a high level of security in Egypt, due to past terrorist attacks at tourist sites, so you can expect a heavy police presence. We saw police at major tourist attractions, road checkpoints, intersections, and around important institutions and buildings. It was common for the police to be holding big guns while on patrol. While this would definitely be unusual to see at home in Canada, it's normal in Egypt.
Hotels also have strong security, especially in Cairo. Most of the hotels we stayed at had metal detectors we had to walk through at the entrance and some had x-ray screeners for bags. Our hotel in Cairo even checked all vehicles with a bomb-sniffing dog and looked under the van with a mirror. 
Major tourist attractions had airport-like security with metal detectors and x-ray machines for bags. At the Pyramids of Giza, any luggage inside a vehicle must be brought in and passed through the x-ray machine before you can visit the site. At some attractions, a mirror was used to look under the vehicles
Egypt has designated tourist police whose job is to protect people visiting Egypt. They are easily recognizable by the big badge on their shoulders that says "Tourism Police". We saw them stationed at popular tourist attractions throughout the country.
There are so many police and military checkpoints on highways in Egypt. They would ask our driver and guide how many tourists were in the vehicle, what nationality we were, where we were going, and sometimes what hotel we were staying at. They would write this information down and then call our guide later in the day to check if everything was okay and see if we arrived safely. Our guide told us that if he doesn't answer the phone or we don't make it to the next checkpoint, the police will come looking for us.
To travel certain roads and visit some destinations you have to get special permission from the police or military. We were very glad we had a tour guide to arrange all this because we wouldn't have known what roads/places needed a permit and how to get it. Some roads have other safety rules like only being open certain hours so there are vehicles travelling together (this was the case for the road to Abu Simbel). 
When travelling in Egypt we noticed that coach tours had a private security guard with them. Our guide said that security is mandatory for groups larger than 5 or 6 people and whether or not you get a security guard depends on your nationality.
The heavy police presence was surprising at first, especially because powerful weapons were on display, but we quickly got used to it. Ultimately this, and other security measures, made us feel safe while visiting Egypt.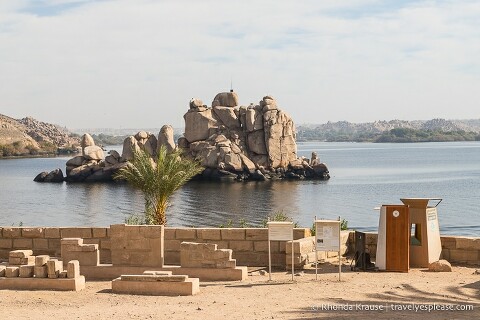 Hustles and Haggling
For us, one of the most unpleasant things about travelling in Egypt was the hustle from touts and others who saw us as a walking wallet.
The main irritation was the touts at tourist sites who were annoyingly persistent in trying to make a sale. They would start a conversation by asking "Where are you from?" but as soon as Mike would engage they would pressure him to buy something. A polite "No thank you" didn't make them give up and they would often follow us as we walked away, all the while lowering the price. 
Another hustle that became exhausting was how "staff" at tombs and temples (in quotation marks because we're not sure if these people were really employed there) would give us unsolicited information or a mini tour. They would just start pointing at carvings on walls, say one word about what it was (usually obvious), and then hold out their hand for a tip. Sometimes these guys would attempt to lead us around the site or take us to a part that was "off-limits", for a tip of course. They didn't speak much English and a lot of what they told us wasn't even accurate.
If someone, even a kid, offers to take your picture they're going to demand a tip. They might even grab your phone out of your hand and not give it back until you pay them (this didn't happen to us but we saw videos of this happening to tourists at the Giza pyramids).
One other thing that bothered me more than Mike, was how our tour guides were always trying to take us to those touristy stores where they give you a demonstration of how something is made and then try to sell it to you. When we arranged our private custom tour, I specifically said we weren't interested in shopping, but we were still taken to these stores even though they weren't on our itinerary and we kept reiterating that we didn't want to shop. In fact, one of the main reasons I booked a private tour was so I could avoid going to these stores. From reviews I've read about a variety of travel companies, it's apparently common practice to be taken to stores when it's not part of the tour itinerary.
It's normal in Egypt to haggle for a lower price when shopping so don't be afraid to negotiate, especially in shops specifically for tourists.
Survival Tips
If you're not interested in buying souvenirs at tourist sites, don't even glance over at the merchandise when walking by. As soon as we'd look, the vendors would start pressuring us to buy.
It feels rude, but you really just have to ignore the aggressive touts no matter what. Don't make eye contact and definitely don't engage in any conversation, even just to say "no thanks". I took this approach and was rarely bothered, but Mike couldn't help but politely decline and he was hassled way more than I was. Also, wearing sunglasses makes ignoring touts easier.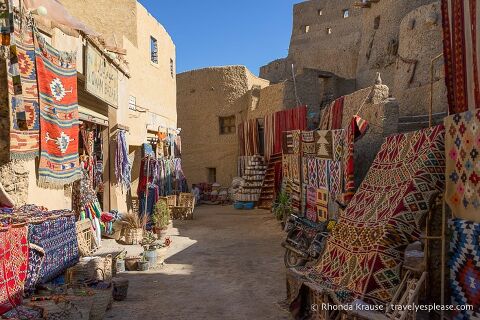 Public Restrooms and Toilets
In most places in Egypt, you have to pay to use public restrooms. You tip the attendant when entering and they will give you a small amount of toilet paper (it's not provided in stalls). We were advised to leave 5 EGP. For the most part, toilets were kept clean by the attendant. We didn't have to pay at small gas stations, but those facilities didn't have toilet paper and weren't the cleanest.
Toilets were mostly the western sit-down type, but we did come across one squat style in a gas station. 
Toilet paper shouldn't be flushed. Instead, dispose of it in the waste bins.
It's best to carry around some toilet paper and wipes/hand sanitizer since restrooms often don't have soap to wash your hands with.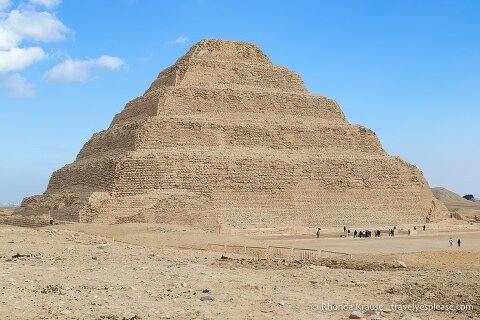 Environment
The air quality in Cairo is really bad because of the pollution (it's one of the world's most polluted cities). Every time we were in the city we started coughing so we called it the "Cairo Cough". It helped to wear a mask on really smoggy days.
Be prepared to see a lot of garbage when travelling in Egypt. There was litter all around the pyramids and other archaeological sites, beside roads, and floating in water bodies. We even saw a man dump a full bin of his household garbage into a river!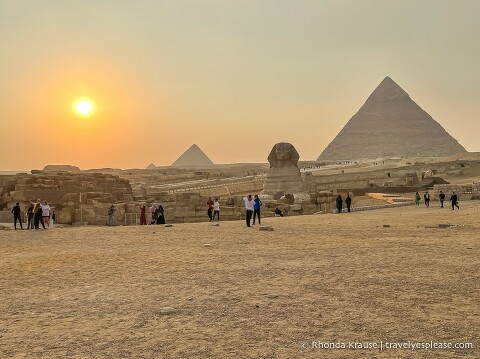 Travel Companies and Guides
For your first trip to Egypt, we highly recommend travelling with a guide. There is so much history to learn and little details that we would have missed if we travelled independently like we normally do.
Tourism in Egypt is well-regulated by the government to ensure the rights and safety of tourists. Only licenced companies can work with foreign tourists and guides are required to be licensed Egyptologists. In order to get a license from the Ministry of Tourism and Antiquities, guides need to have a relevant university degree and pass extensive exams. Travel companies are also required to submit to authorities their customer's itinerary, nationality, hotels, flight numbers, and the license plate of the vehicle they will be using.
There is a staggering amount of Egypt tours and travel companies to choose from, but they all tend to follow the same itinerary. If you want a tour tailored to your specific interests consider booking a private, customized tour like we did. In our experience, we got more value for our money getting a private tour through a local agency than if we booked a group tour run by an international company. In many cases, our private tour was a similar price but longer than the group tours I was finding.
Before choosing a travel company, guide, or day tour, make sure you do some research and read reviews. I read a lot of reviews where customers felt like the company they used cared more about getting their money than providing exceptional service (this sentiment was also confirmed by our guide when we were chatting about tour companies in Egypt). 
You can typically hire guides at the entrance to popular tourist sites if you don't have one travelling with you. They work for the government's antiquities department, but may not be as good as one you'd get through a travel company.
Guides aren't allowed to give tours inside the tomb of Nefertari, the tombs at the Valley of the Kings, and other popular tombs. This is to prevent congestion and limit people's time inside. Guides will give you a lesson outside the tomb, then you'll have free time to wander around inside. If you see a carving you want to know more about, take a picture to show your guide so they can tell you about it later.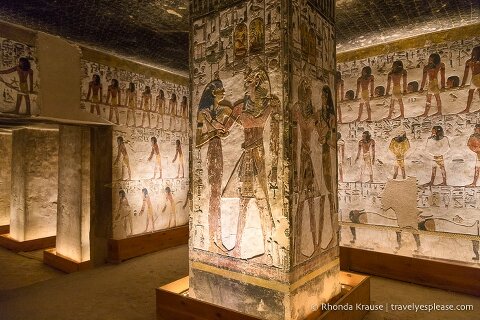 Other Tips and Observations from Travelling in Egypt
Here are a few more observations from our trip and things to know before travelling to Egypt:
There's not a lot of historical information posted at the archaeological sites, if there's any at all. When there were signs, they were bilingual with English. I didn't get a single informative pamphlet. 
In Cairo, plan your day's activities assuming you will get stuck in a traffic jam. 
Cairo is not a pedestrian-friendly city. We didn't see any crosswalks, so cross the road at your own risk.
The weekends are Friday and Saturday, so people are off work those days.
While travelling in Egypt we saw a lot of tuk-tuks and donkeys and wagons being used as transportation.
If you're an animal lover, be warned that animal exploitation is prevalent in Egypt. At the pyramids, camels are paraded around for photos and rides, as are horses. The horse and carriage rides that bring cruisers from the Nile to Edfu Temple are particularly upsetting to see because the horses are malnourished, ungroomed, and have obvious injuries. In rural areas, donkeys and horses are used as working animals and for transportation, but they didn't always look well-cared for and I hated seeing them being whipped to go faster. Out of principle, we didn't ride or take pictures with camels or horses.
It would have helped us to study a bit about Egyptian gods before our trip so we knew how they're depicted in scenes on temple and tomb walls. Of course, our guide explained what we were looking at, but when we had free exploration time we had to rely on a "cheat sheet" of labelled pictures we saved from the internet.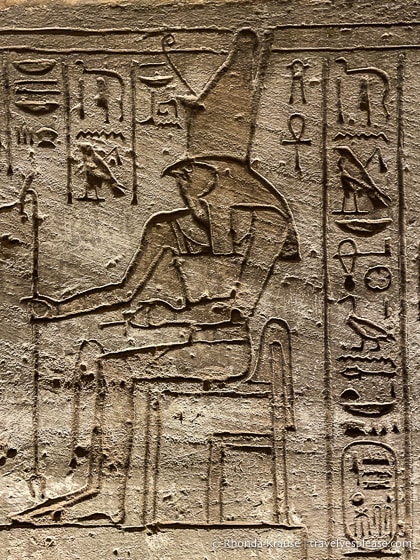 Final Thoughts About Our First Trip to Egypt
We really enjoyed visiting Egypt and hopefully our first trip to Egypt won't be our last!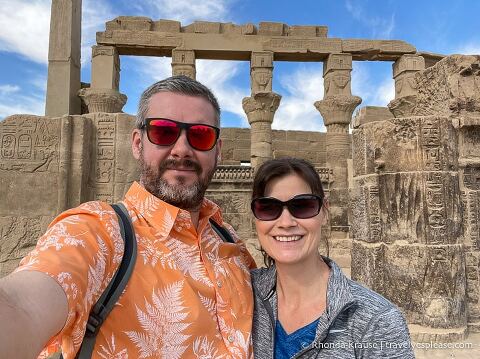 Egypt was everything we imagined it would be and more. From the extraordinary ancient sites and their archaeological treasures, to the natural beauty of the Nile and Red Sea, there was plenty to love about Egypt.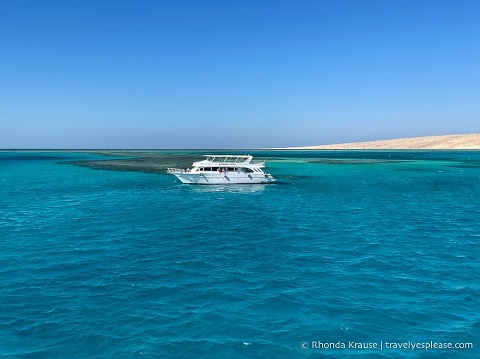 It's always satisfying to return home from a trip with no disappointments. Egypt is definitely not overrated and was deserving of the high praise we heard from fellow travellers.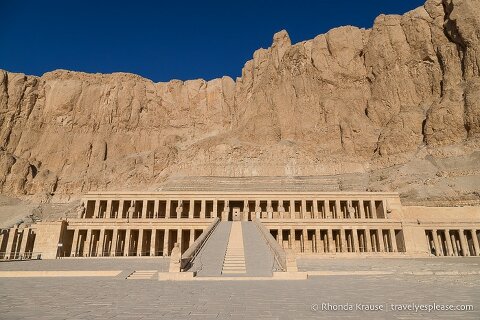 What to See on Your First Trip to Egypt
It can be hard to decide where to go on your first trip to Egypt because there are so many incredible places to visit. For some suggestions, check out our 16 day Egypt itinerary to see all the places we chose to visit for our first time in Egypt.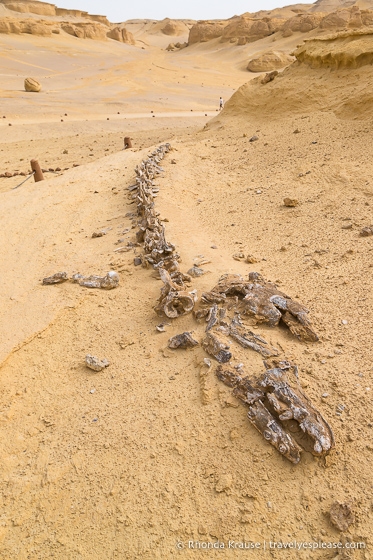 Accommodations in Egypt
For your convenience, here is a list of hotels in Egypt. Please consider booking your Egypt accommodations through the included link. It costs nothing extra and helps support this website. Thank you!
Search, Compare and Book Trips to Egypt
Here is a helpful and reputable site you can use to search for and compare tours of Egypt. There's a variety of tour operators, travel styles (private, group, cruises), and itineraries all in one place for easy comparison. You can even read reviews from other travellers. Once you find a trip you love you can book it!
Tours and Activities in Egypt
Here is another trusted site that has a large selection of tours and tickets for activities in Egypt. You can book everything from day trips, private tours, Nile cruises, adventure activities, and more.