Purchases made through links earn us a small commission, at no extra cost to you.
In a race against the clock, we each hopped on a bicycle and pedalled as quickly as we could down the dirt road leading us into Coba's ancient jungle. Tires flicking up dirt, handle bars creaking and rattling, pedals spinning as fast as our legs could turn them, we laughed loudly all the way to Nohoch Mul.
With less than an hour before the archaeological site closed for the day, we rushed our way past tropical hardwoods and mystic ruins partially hidden by jungle vegetation. If there was time we would stop and explore on our way back to the van, but right now we were on a mission- to climb to the top of Nohoch Mul, the tallest pyramid in the Yucatán peninsula.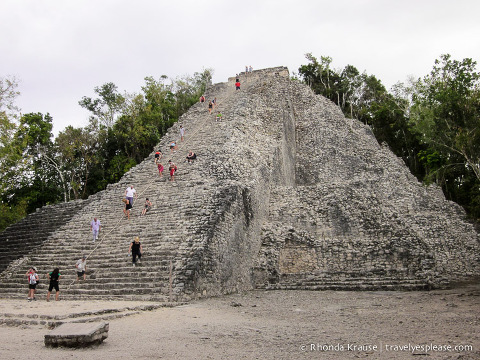 At 42 metres (138 ft), climbing Nohoch Mul is not for the faint of heart. Its 120 stairs are narrow, uneven and steep. At times, I couldn't fit much more than my toes on a step. I was gripping onto the climbing rope for dear life.
People always say not to look down when climbing, but it was looking up that made my heart race and my head panic.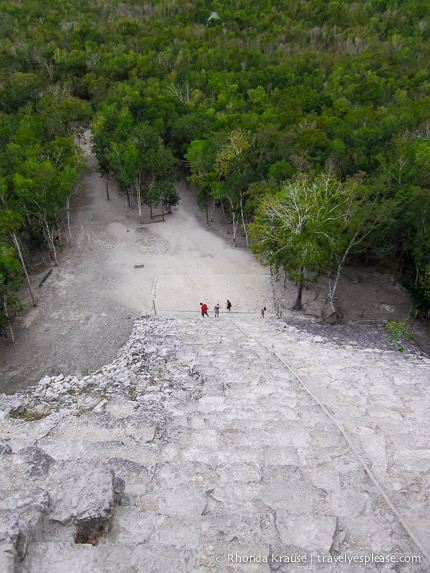 "It's so steep!" I observed in fear. I tried to push away the thoughts that if I fell, it would be the end of my days.
"Don't look up. Don't look up. Straight ahead, straight ahead. You can do it." I chanted over and over in my head to steer myself away from a complete frenzy.
Slow and steadily I made my way to the top, releasing a huge sigh of relief once I set foot on the final step. I turned around to view the miles of jungle canopy before me, unexcavated temples peeking above the trees, and instantly the stress from the climb melted away.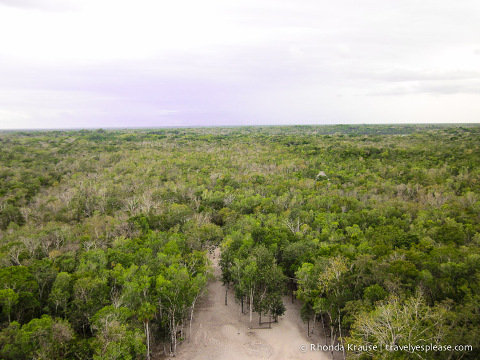 History of Coba
The word Coba means "water stirred by the wind". Built between two lagoons, Coba was once a large city spread across over 80 square kilometers. A thriving city state between 2oo and 600 A.D., Coba is believed to have had the largest population of all the ancient Mayan cities. It's estimated that 50,000 people (maybe even significantly more) lived in Coba at its peak.
Coba served as an important trade link between the Caribbean coast and inland cities. As many as 50 elevated roads (called sacbes) led to Coba, one over 62 miles long, the longest in the Mayan world. Coba's likely control of important ports like Xel Ha and the vast network of roads made Coba one of the most powerful city states in the northern Yucatán area.
After 600 A.D., Coba's dominance started to erode. The emergence of Chichén Itzá and its subsequent rise caused Coba to lose much of its political weight, yet it maintained some symbolic and religious importance.
Coba was eventually abandoned around 1550 when the Spanish conquered the peninsula.
Coba's Ruins
Only a few of Coba's estimated 6,500 structures have been uncovered. The main buildings are clustered into different groups: Coba Group, Nohuch Mul Group, Chumac Mul Group and Las Pinturas Group.
We were only able to see a few of the remains, very briefly, as we were being chased out by Coba employees at closing time. Here's a peek at what we saw after our climb up Nohuch Mul.
La Iglesia- The Church
The church is the first major structure you will see when entering Coba (take the path bearing right after the entrance). It is Coba's second highest building.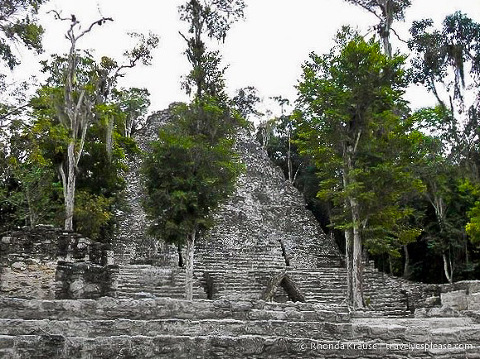 Xaibe- The Cross Roads Pyramid
You will pass by this structure on your way to Nohoch Mul. It exists at the intersection of three different sacbes, hence the name Cross Roads Pyramid. I love the round shape of its terraces!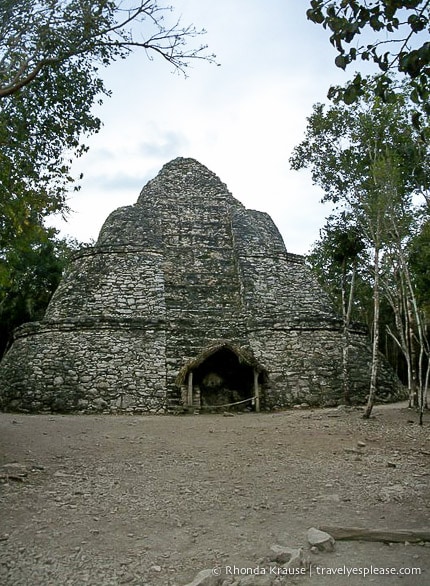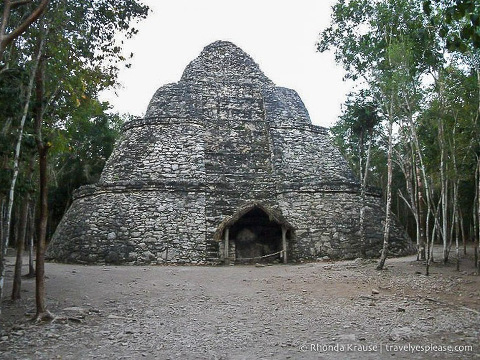 The Ball Court
Most Mayan cities had a ball court, which shows just how important this game was in their society. Two teams would battle to see who could get a rubber ball through a small stone hoop on the side of the walls. The tricky part was that you could only use your hips and elbows. Formal ballgames were held as ritual events, often featuring human sacrifice. The sport was also played casually for recreation.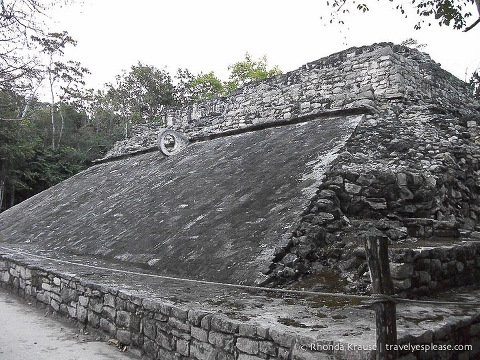 The ball court at Coba differs from the one you will see at Chichén Itzá. Coba's court features slanted walls, which makes it possible to get close to the hoop. The court walls at Chichén Itzá are almost vertical with the hoops situated high up, making it much more difficult to score.
Stelae
Throughout the site you will find large, elaborately carved stone tablets, called stelae. The glyphs and drawings found on some of these stelae lead experts to believe that Coba had many female rulers. The thatched roofs covering the stelae are recent additions, presumably to protect the stones.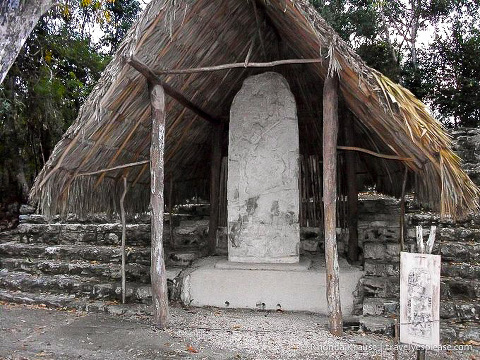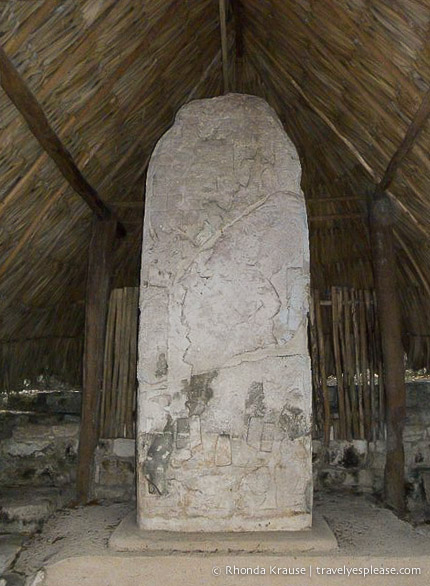 Tips for Visiting Coba
Location: Coba is located in the state of Quintana Roo, Mexico. It is about 90 km east of Chichén Itzá, 44 km northwest of the site of Tulum, and 122 km from Playa del Carmen.
Opening Hours: Coba is open daily from 8:00 am- 5:00 pm, but last entrance is around 4:30 pm. Confirm current operating hours on the official website.
Admission: An entrance fee and a parking fee is charged at the Coba ruins.
Getting Around: You can rent bicycles just past the entrance. We recommend this since the Coba archaeological site is quite large and spread out. If you walk, plan to spend about 2- 3 hours visiting Coba.
Guided Tours of Coba: Local guides offer their services in many different languages at the entrance.
Climbing Nohoch Mul Pyramid: When we visited in 2011, climbing the pyramid was allowed but this may have changed since then. Check with local authorities. In hindsight, I feel really guilty for climbing all over an ancient ruin that should be being protected for future generations, so I hope this is no longer allowed.
More Tips: Wear comfortable and sturdy shoes and make sure you bring water, sunscreen and insect repellant.
The midday sun gets very hot, so try and visit in the early morning or late afternoon (but not as late as we did!)
Information was updated January 2022, but can change without notice. Please confirm directly with the service providers.
More Mexico Destinations and Travel Guides