Purchases made through links earn us a small commission, at no extra cost to you.
One of my favourite archaeological sites in Italy is the Roman port town of Ostia Antica. You may not have even heard of it because it's often overlooked by visitors to Rome, as evidenced by the lack of crowds.
I know Rome has so much to see, but Ancient Ostia is only 45 minutes out of the city and definitely worth making the trip for. Not only is it a wonderful site with intriguing ruins and an interesting history, but a day trip to Ostia Antica allows for some peaceful time away from the noise of Rome.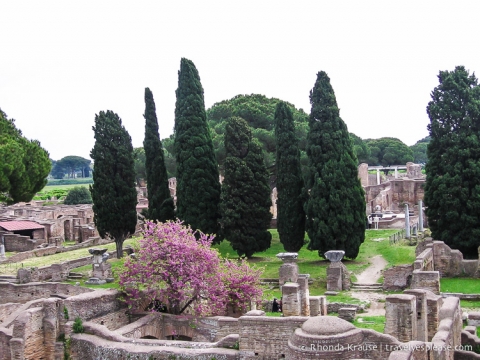 Visiting Ostia Antica- My Self-Guided Tour of the Ostia Antica Ruins
Ostia Antica may not be as famous as similar sites like Pompeii, but in some ways I found it to be more interesting. Ostia Antica gives you a more authentic look at everyday Roman life because Ostia was a working port town, not a wealthy city like Pompeii.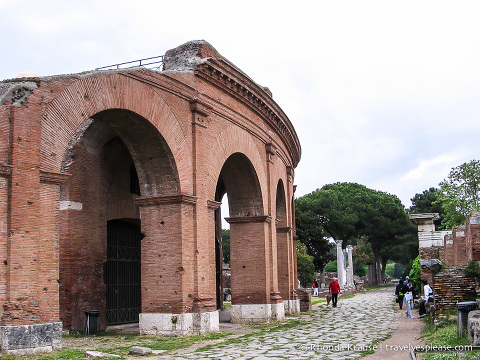 Compared to Pompeii, my visit to Ostia Antica was much more enjoyable. There were far less people and access to areas was less restricted. I enjoyed being able to freely wander among the quiet ruins at a leisurely pace. Ostia Antica is a large site with so much to see and I easily spent almost an entire day looking around and relaxing amid the ruins.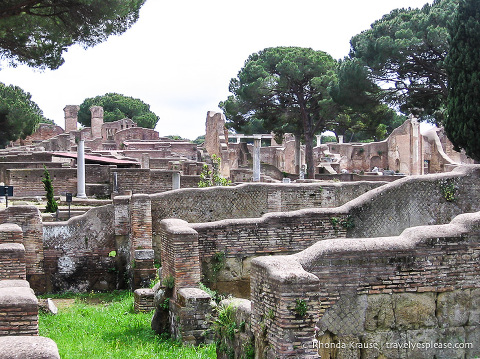 Before I share with you my self-guided tour of Ostia Antica, here is a bit of background about the harbour city of ancient Rome.
History of Ostia Antica- Its Founding, People and Decline
Ostia was founded in about 620 B.C., where the mouth of the Tiber river once was. The town was named after its location, Ostia meaning "mouth" in Latin. The shoreline has since moved seawards, due to silting, so Ostia today lies three kilometres from the Tiber.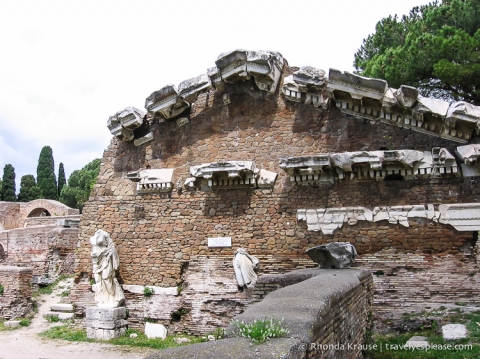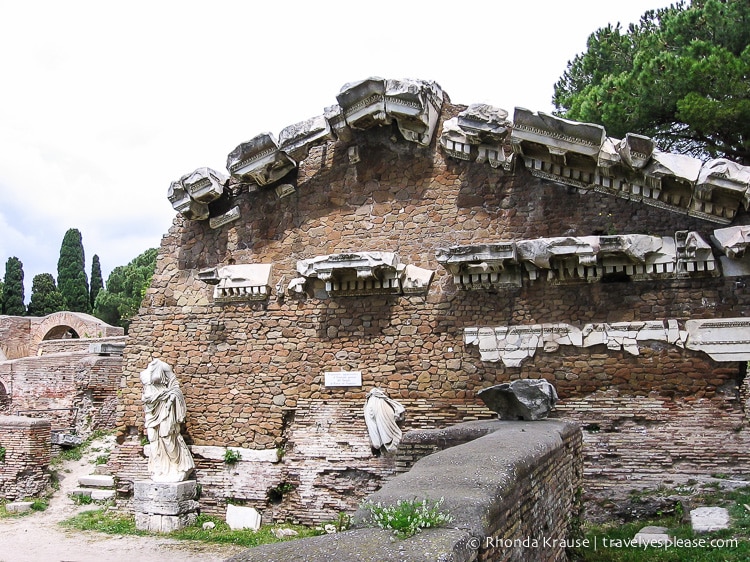 In its earliest days, Ostia's main resource was salt that it obtained from the nearby salt flats. Around 400 B.C. when Rome began expanding, Ostia was conquered and became Rome's first colony. It then served as a naval base, protecting Rome from invasion by river. As Rome grew to control the Mediterranean, Ostia's role evolved to function as a seaport, becoming integral to Rome's commercial operations.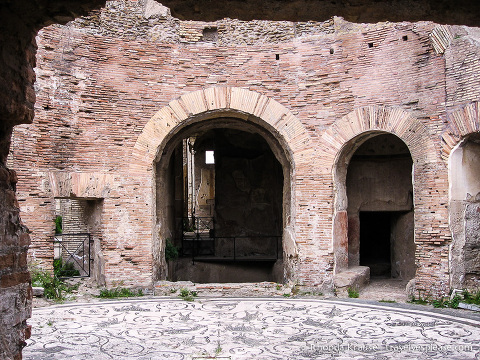 Now an important seaport, Ostia experienced a building boom that led to great prosperity. In the first half of the second century AD, the city was largely rebuilt. Most of the buildings that have been excavated were built during the reign of Trajan, Hadrian, and Antoninus Pius.
The People of Ostia
Under Domitian (81-96 AD), Ostia was ruled by a small number of aristocratic merchant families who lived near the centre of town.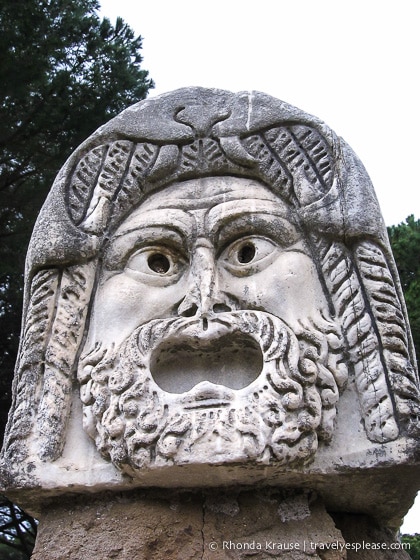 Immigration and the import of slaves helped Ostia's population rise to fifty thousand. There were about seventeen thousand slaves brought from Egypt, the Middle East, and Turkey. Most families had at least one slave and there were many who worked in the harbour and store buildings. Not just manual labourers, some slaves were clerks and accountants. Once freed, slaves were often active in the trade of their patron.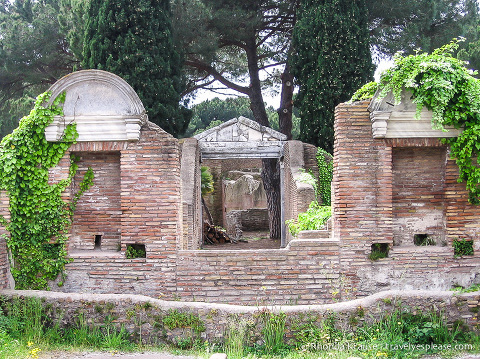 Ostia's Decline
Ostia's decline began at the end of the Severan dynasty. Political chaos erupted in Rome and many Emperors saw their reign ended by revolt or assassination. The economy soon collapsed, resulting in much of the population leaving Ostia.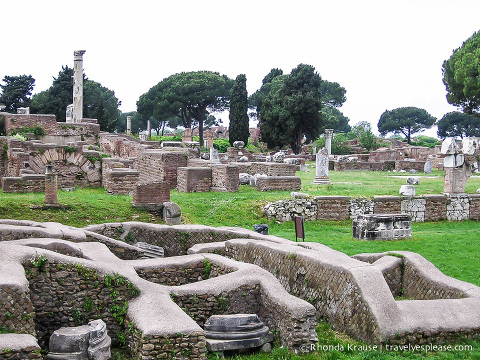 In the second half of the third and in the fourth century Ostia was struck by earthquakes and tsunamis. Often the ruins were not cleared because it was not economical to rebuild them.
With the fall of Rome, the port was abandoned. Over time, the harbour silted up and the mud that eventually buried Ostia ended up protecting it from the destruction of time.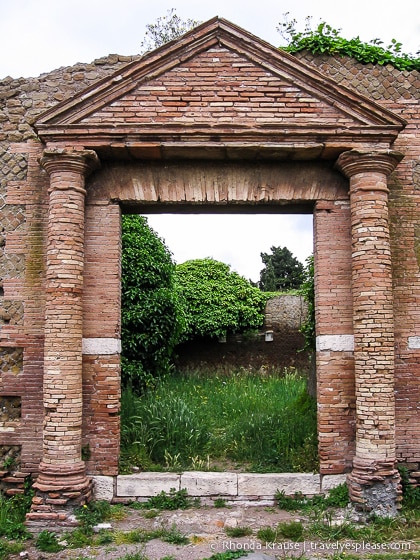 Tour of Ostia Antica Archaeological Site- Remaining Structures
Excavations of Ancient Ostia began in the late 19th century and most of the old town has since been uncovered. The remaining structures are plenty and well preserved, including some apartment buildings, upper class houses, temples, hotels, bars, public baths, latrines, workshops, and stores, giving visitors a good idea of what life was like at the height of the Empire in an ancient Roman commercial town.
Here are a few highlights from my self-guided Ostia Antica tour!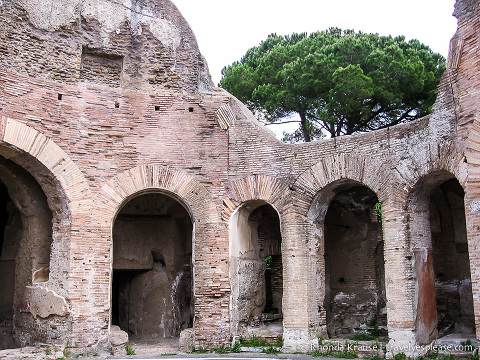 The Theatre
Ostia's theatre was built in the late first century B.C. and could host up to 4,000 residents who would gather here for entertainment. Like most theatres back in ancient times (even today actually), the best seats near the near the orchestra/stage area were for reserved for important people. The theatre used to be twice as high as what you see today. The upper two-thirds have been reconstructed.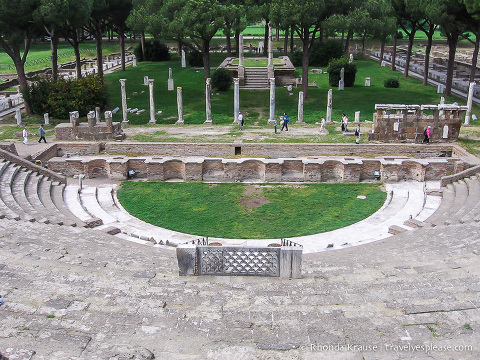 Climb up to the top of the theatre for a great view of the Square of the Guilds, which was the bustling centre of Rome's import/export industry.
Baths of Neptune
An inscription was found that says the Baths of Neptune were built by the Emperors Hadrian (117-138 AD) and Antoninus Pius (138-161 AD).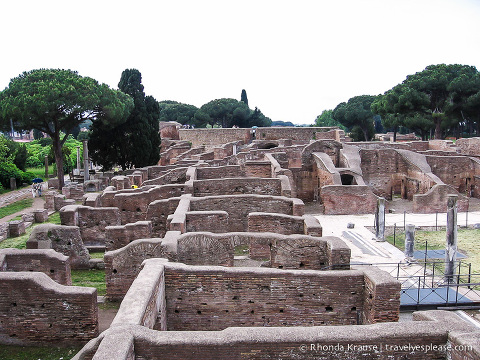 While much of the structure remains intact, the most impressive thing is the black and white mosaics that tile the floors of the Baths of Neptune.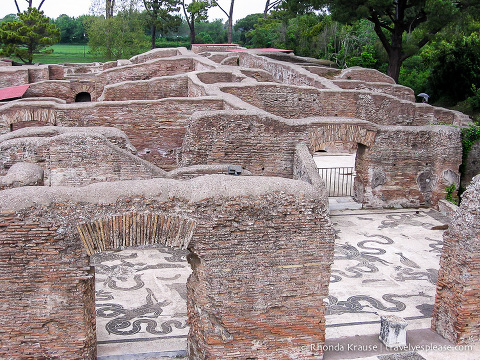 The mosaics at Ostia Antica are best admired from above and there's a good viewpoint where you can see a mosaic of Neptune riding four horses through the sea.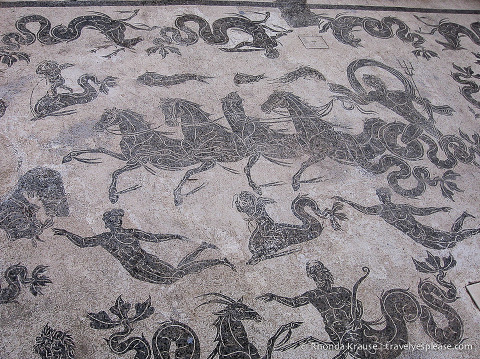 Forum Baths
The Forum Baths, were one of the largest baths in Ostia. You can still see a public latrine of twenty marble seats. Water flowed through the channels in front of the seats.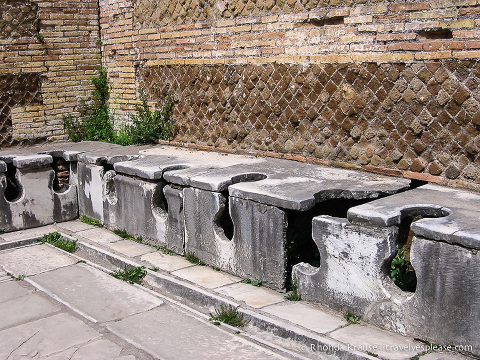 Final Thoughts About My Day Trip to Ostia Antica from Rome
When I think about my visit to Rome, my mind always calls up memories of my day trip to Ostia Antica.
Much like the Roman Forum, Ostia Antica is an impressive site with plenty of ruins. What made me fall in love with it though was the big beautiful trees, cobblestone streets, and relaxed atmosphere. Since Ostia Antica is off the beaten path in Rome, there were few people there and I felt like I made a secret discovery, stumbled across a special place just for me!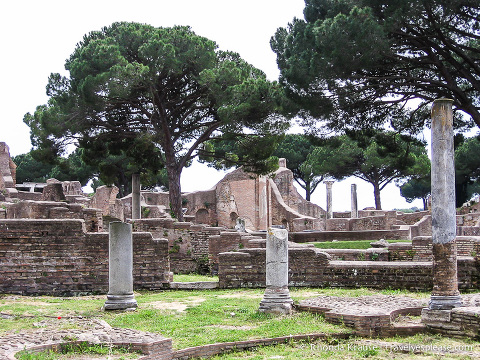 If you love history and ruins, but have tired of the crowds of Rome, then I highly recommend visiting Ostia Antica.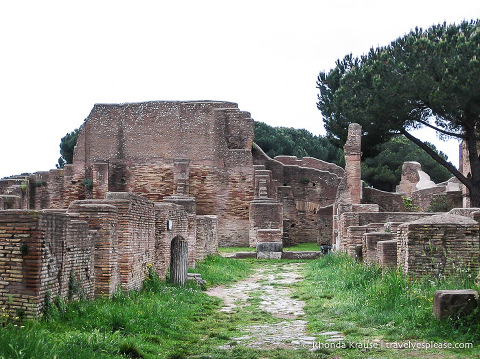 Tips for Visiting Ostia Antica
Getting There: Getting to Ostia Antica from Rome is only a 45-minute combination Metro/train ride. From Rome, take Metro line B to the Piramide stop. At Piramide stop, walk a few steps to the Roma Porta San Paolo train station- follow signs to Lido. All trains depart in the direction of Lido and leave every 15 minutes. The Ostia Antica stop will be about a 30 minute ride. A normal metro ticket will be good for the entire journey.
Opening Hours: Ostia Antica can be visited year round Tuesday to Sunday (closed on Mondays, January 1, and December 25). The archaeological park opens at 8:30 am but closing time depends on the season and ranges between 4:30 pm to 7:00 pm. Last admission is one hour before closing. For up to date hours and ticket prices see here.
Admission Fees: Admission is 12.00 euro. Tickets are valid for a single entry only, so if you leave the site you cannot get back in.
Amenities: There is a restaurant inside the site, next to the gift shop.
Information was updated April 2022, but can change without notice. Please confirm directly with service providers.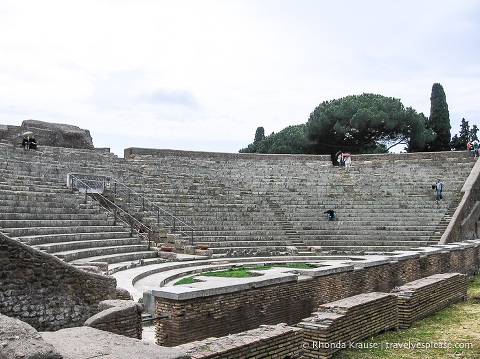 Ostia Antica Tours
Here is a trusted site where you can book guided tours to Ostia Antica from Rome.
Accommodations in Rome
For your convenience, here is a list of hotels in Rome. Please consider booking your Rome accommodations through the included link. It costs nothing extra and helps support this website.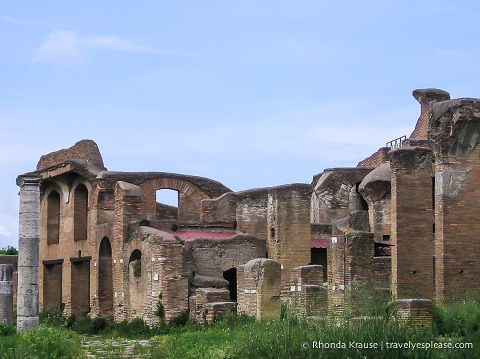 More Italy Destinations and Travel Guides