Purchases made through links earn us a small commission, at no extra cost to you.
One of the biggest challenges of visiting Rome is dealing with the crowds of tourists. Everyone wants to see the most famous sites and I am no different. I've travelled thousands of miles to Italy, of course I am going to go see the Colosseum, Trevi Fountain, Roman Forum, and Vatican. These places are popular for a reason, so it would be downright crazy not to go see them when in Rome.
However, I am not a fan of crowds. I do not like spending precious vacation time standing in line. And I get a bit annoyed (okay, super annoyed) when I can't get a photo without people in the frame. For these reasons, I ventured away from the historic centre of town to see what I could find off the beaten path in Rome.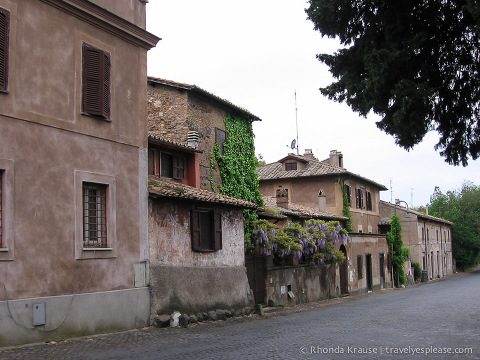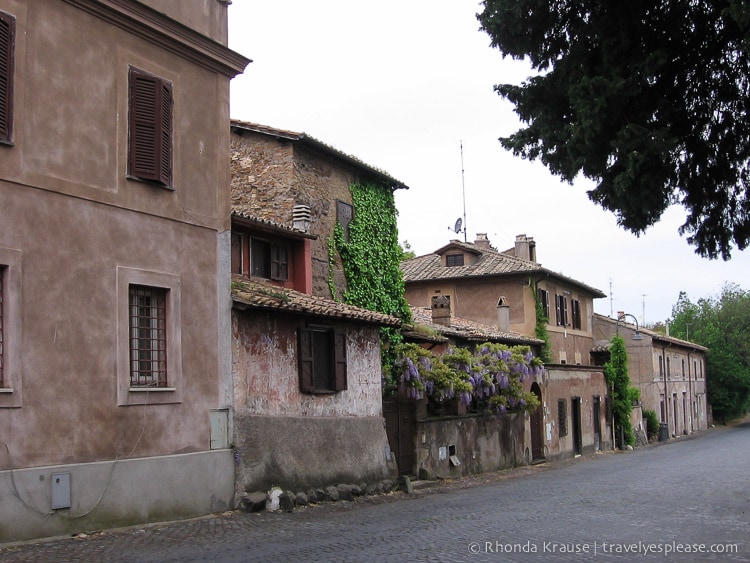 Off the Beaten Path Attractions in Rome
There's no doubt the centre of Rome is incredible, but the city has so much to offer those that are willing to venture beyond the typical tourist trail.
Here are a few lesser visited, off the beaten path attractions in Rome. You can visit many of these sites all in one day with a short bus ride (or metro + bus ride) from the centre of Rome.
Via Appia Antica & the Catacombs
The ancient Appian Way (Via Appia Antica) was the longest and widest road in its time when built in the 5th century BC. "Queen of the long roads", it connected Rome to Brindisi, in southeast Italy, and facilitated the transport of military troops and supplies. The Romans became quite the masters of road construction as they expanded throughout Italy. The familiar expression "All roads lead to Rome" refers to how the Romans began their roads in Rome, extending them out to the borders of their territory.
Walking along the Appian Way is both peaceful and interesting. Green fields line each side, occasionally interrupted by remnants of Rome's great history. Between the second and third milestone, the road is dotted with Roman tombs and several catacombs. Here are a few stops I made during my walk down a portion of the Appian Way.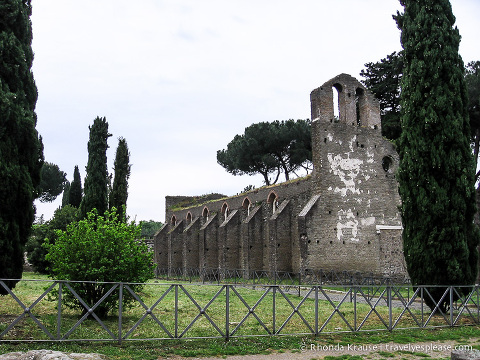 Villa di Massenzio
Built in AD 309 by Emperor Maxentius, Villa di Massenzio consisted of a palace, a circus and mausoleum.
The most impressive remains are that of the Circus of Maxentius. Its entrance towers and spectator seating supports still stand, making it one of the best preserved Roman circuses. The only games that were recorded here were the inaugural ones, held in honour of Maxentius' son Romulus who died at a very young age. The tomb for Romulus is in front of the circus.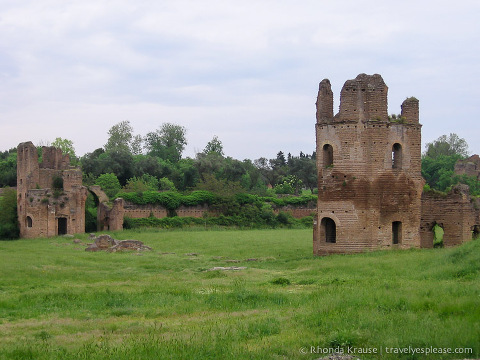 Tomb of Cecilia Metella
Cecilia Metella was the daughter of a Roman Consul and daughter-in-law of Marcus Crassus, a Roman general and politician. The story goes that her wealthy in-laws built this grand tomb for her. It was later used as a fortress.
The interior of the Tomb of Cecilia Metella is divided into upper and lower corridors, the west compartment, and the cella, a tall circular shaft which was used for funerary purposes and housing the dead.
There's not much to see inside the tomb beyond the cella and some statues in Caetani Castle, which is attached to the tomb.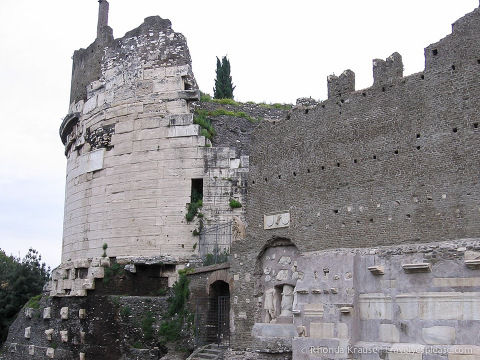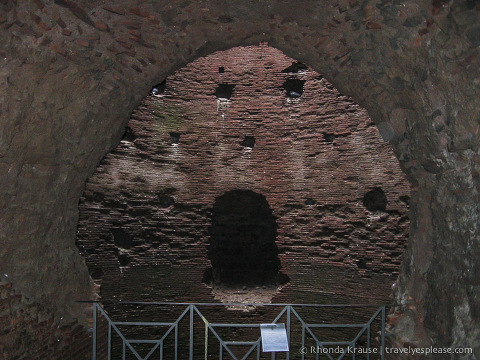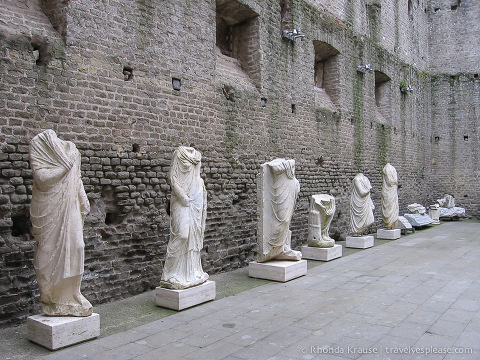 The Catacombs
There are several catacombs along the Appian Way. Catacombs are underground tunnels that were used as communal burial grounds. The bodies were wrapped in sheets and placed into hollowed out spaces in the tunnel walls.
I visited the Basilica and Catacombs of San Sebastiano where the remains of Saints Peter and Paul were said to be buried. The well preserved frescoes and epigraphs are a highlight. The catacombs were also incredibly interesting, but not for the claustrophobic.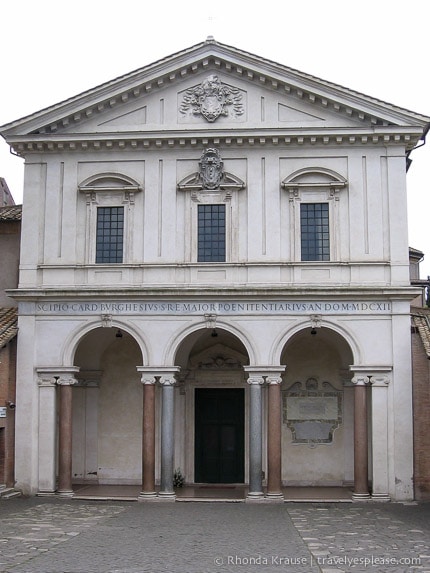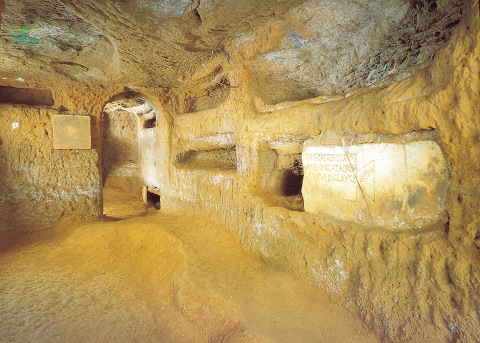 Caracalla Baths
The Baths of Caracalla were the second largest Roman public baths. They could hold 1600 people at a time and the entire complex covered about 33 acres. Much more than just baths, the complex was a type of recreation centre that included shops, gyms, libraries and gardens.
I just loved this place! It's incredible how huge the baths are and how much of them are still standing. It was so amazing that I may have got a little emotional (archaeological sites are my favourite).
A somewhat popular tourist site, there still was far less people there than I thought there would be, considering how impressive the ruins are.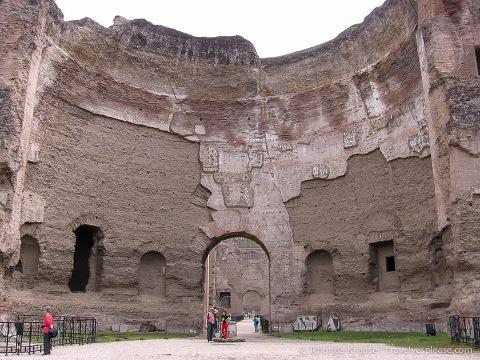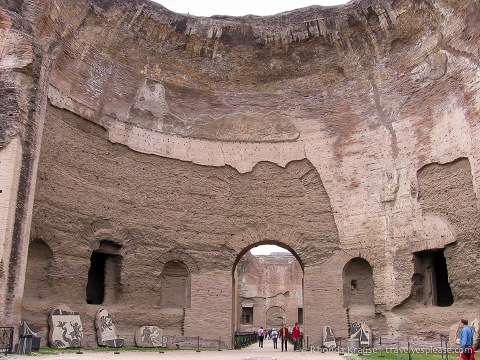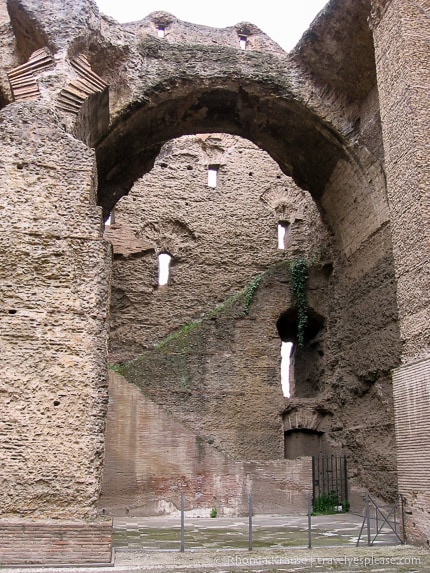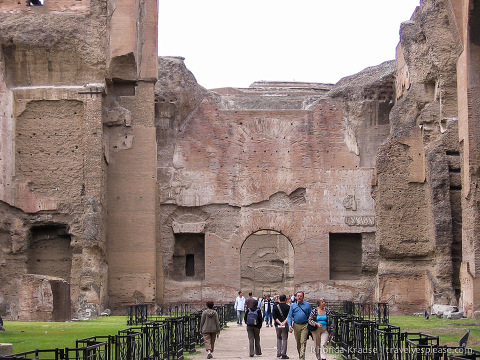 Circo Massimo (Circus Maximus)
What appears to be just a green pasture is in actuality the site of Rome's oldest and largest circus. At 621 m long and 118 m wide, the circus could accommodate over 250,000 spectators. Circo Massimo was famous for it's chariot races but was also host to other sport and athletic competitions.
You can find Circo Massimo between Aventine and Palatine Hills. Now a public park, it's a nice place to view the large ruins of the Palatine. While you are in the area, take a walk up Aventine Hill to the pretty Parco Savello for a great view of Rome.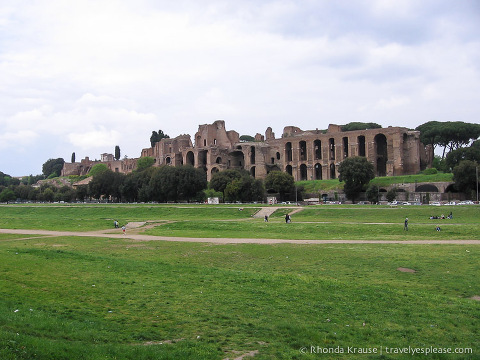 Ostia Antica
My favourite place just outside of Rome is the archaeological site of Ostia Antica. This ancient harbour city is about a 45 minute metro + train ride from Rome and was blissfully free from large tour groups. The ruins are spread out so you will need a few hours to see them. Do what I did and make it into a day trip!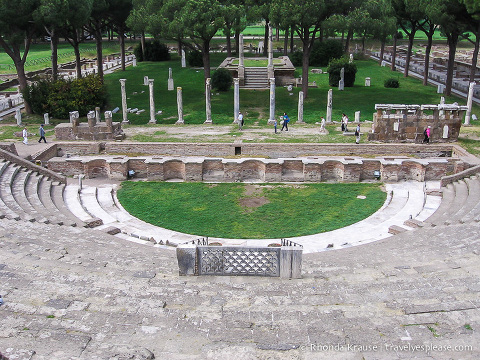 Final Thoughts About Going Off the Beaten Path in Rome
I really enjoyed my day visiting some off the beaten path attractions in Rome. As much as I loved the historic centre of the city, it was pretty exhausting to be surrounded by so many people. Taking a day to explore some of Rome's lesser visited attractions allowed me to experience Rome's fascinating past and timeworn beauty in a leisurely, relaxing way.
Tips for Visiting Rome and the Appian Way
Tours and Tickets: Here is a trusted vendor where you can buy advance, mobile tickets to Rome's attractions. Digital ticket delivery to your email is instant. Below are some tours of the sites mentioned in this post.
Roma Pass: Consider purchasing the Roma Pass. It gives you free admission to two museums and/or archaeological sites of your choice and discounts for events, exhibitions, and tourist services. It also allows you free access to the city's public transportation network.
Information can change without notice. Please confirm directly with service providers.
Accommodations in Rome
For your convenience, here is a list of hotels in Rome. Please consider booking your Rome accommodations through the included link. It costs you nothing extra and helps support this website. Thank you!
More Rome Attractions and Travel Guides