Purchases made through links earn us a small commission, at no extra cost to you.
Scattered across the slope of a volcano are hundreds of stone heads, their serious facial expressions gazing out over Easter Island's barren landscape.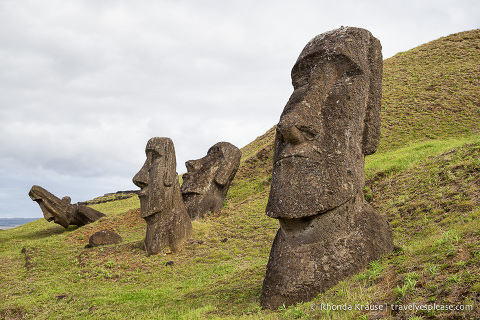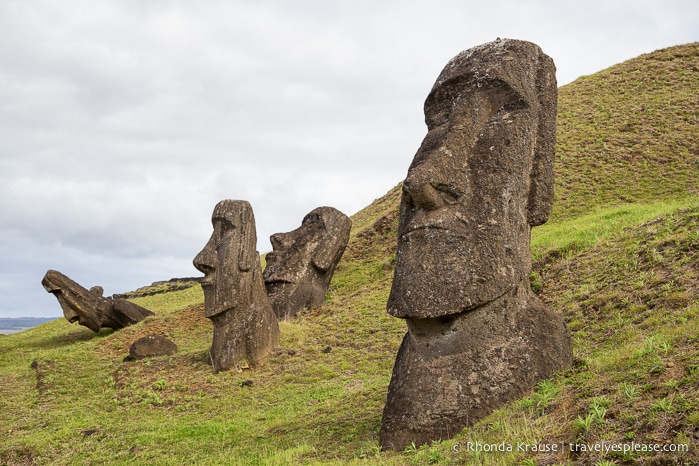 These are moai- idolized by the original Rapa Nui culture and obsessively built here at Rano Raraku, one of Easter Island's most fascinating sites.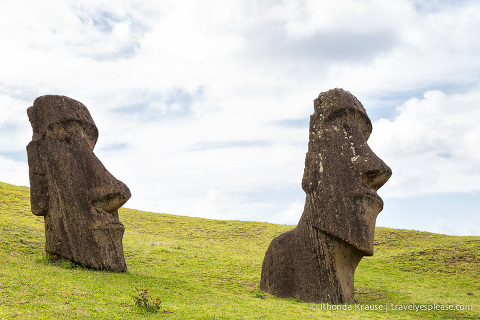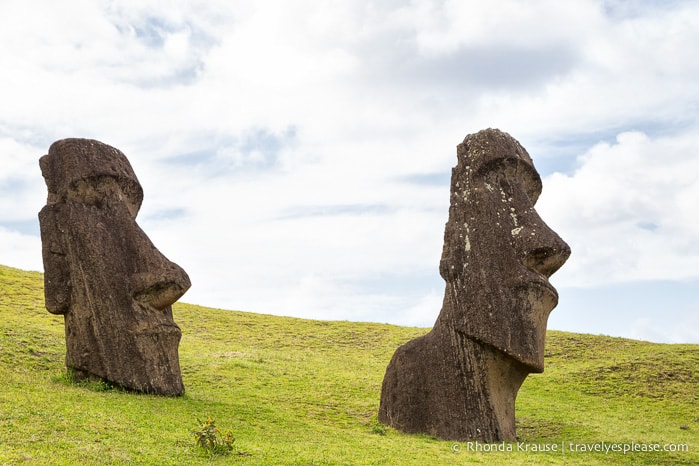 About Rano Raraku
Rano Raraku is the quarry where all of Easter Island's iconic stone statues were made. A factory of sorts, each statue was carved from hardened volcanic ash before being carefully cut away and moved to its designated final resting place on the island, often many kilometers away.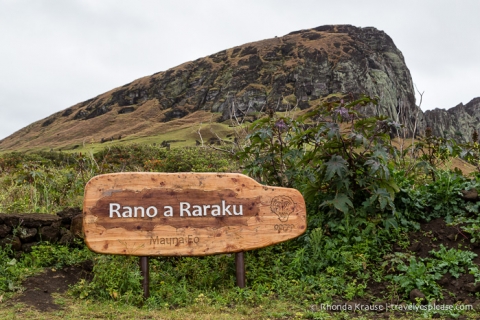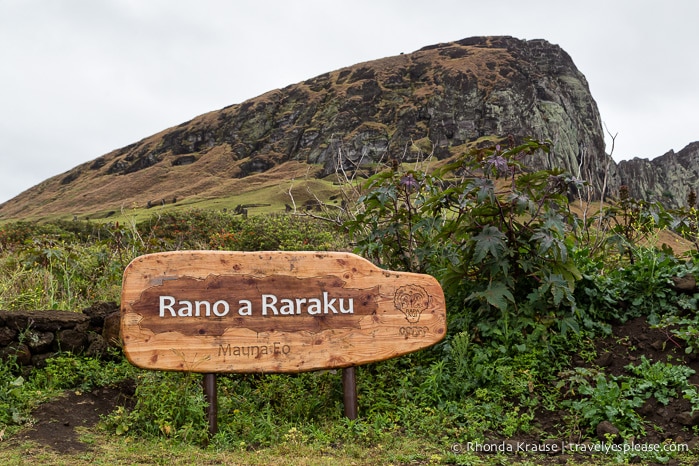 Today there are 397 moai in the quarry. Some are nearly completed statues awaiting transportation; others are still in the process of being carved, not yet removed from the bedrock.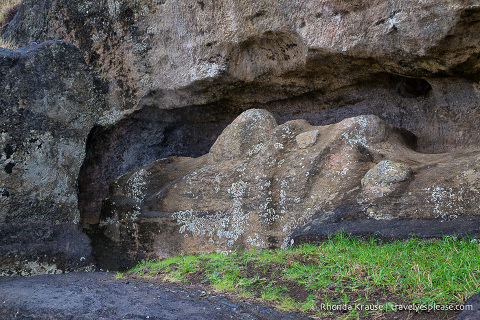 All of the moai at Rano Raraku remain today how they were left when work at the quarry was abandoned. It truly is a glimpse into history.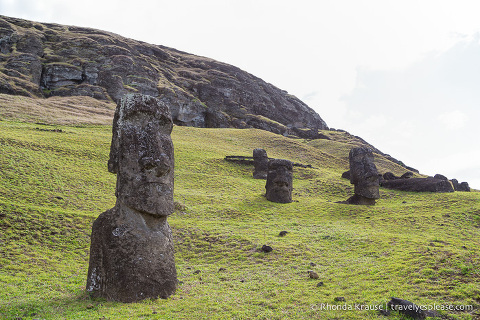 Making and Transporting the Moai
The Rapanui people began carving moai somewhere between 1000-1600 AD as a form of ancestor worship, a common practice throughout Polynesia at the time. When an important member of a tribe on Easter Island died, a statue was crafted at Rano Raraku then transported back to their village. The moai were placed on a platform overlooking the village as a way of protecting its descendants.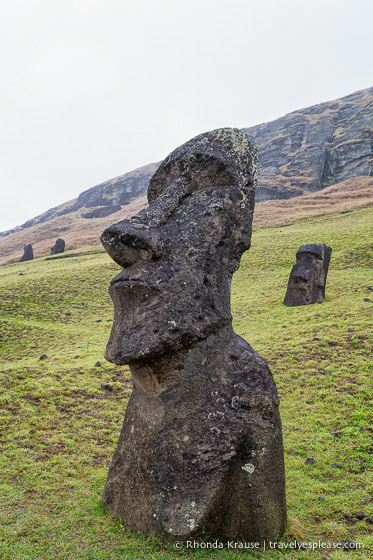 A large moai could take a team of workers up to 2 years to be carved. The soft volcanic stone (lapilli tuff) was chipped away using carving tools called toki, made from hard and sturdy basalt.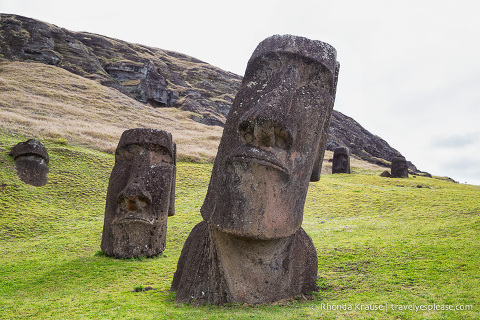 The moai were carved on their backs with all details completed at the quarry except for the eye sockets (these were done once the moai reached their platforms). The back of the moai were then chipped away from the side of the volcano and carefully slid down a dirt ramp using ropes.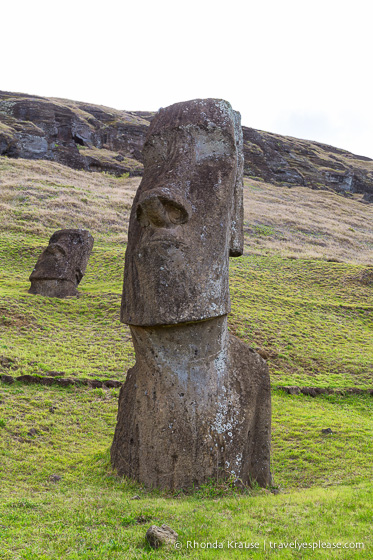 The statues were then lowered into pre-dug holes and stood upright, so designs could be carved onto the backs of the moai. Once the back carvings were completed, the statues were ready to be transported across the island.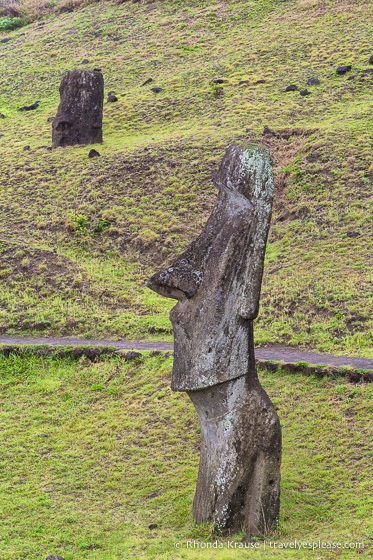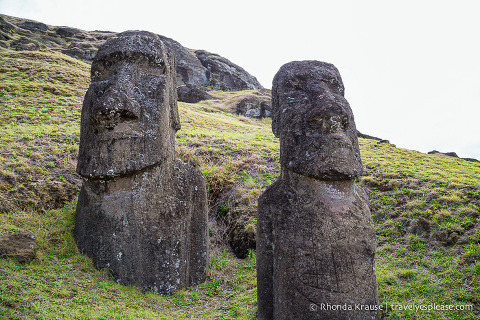 The exact method used to move the moai from the quarry is still debated among archaeologists. One theory is that the statues were put on a wooden base, then pulled over rollers along the island's "moai roads". Another theory is that the statues "walked" to their platforms in a slight twisting motion, being rocked side to side by people pulling ropes.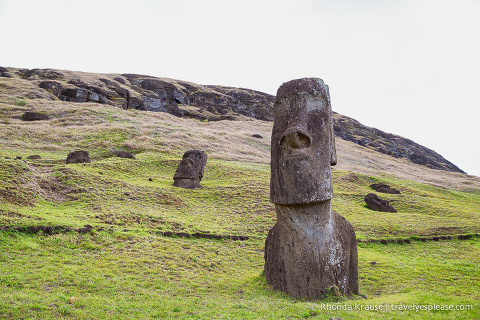 The production and transportation of moai eventually took a toll on Easter Island, depleting much of its timber supply. Eventually there were not enough resources to create ropes and wooden sleds for moving the statues, so hundreds of moai remain at the quarry.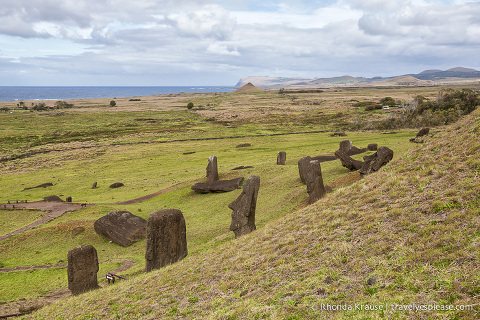 Our Visit to Rano Raraku
Rano Raraku was the place we were most looking forward to visiting during our 4 days in Easter Island. After years of hearing stories and theories about Easter Island's statues, finally we would get to see first hand where they were made.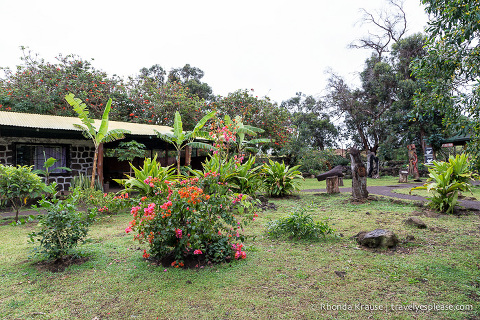 A little skip in my step, we followed the dirt path from the entrance gate, turning right at the fork in the road. My pace quickened even more as the first moai came into view, indicating we had arrived at the carving section of the quarry.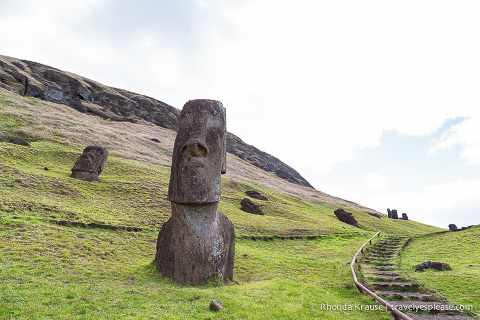 The moai here were not standing on platforms like elsewhere on the island. They were partially buried in the ground, their bodies hidden below the dirt used to move them from their carving spot.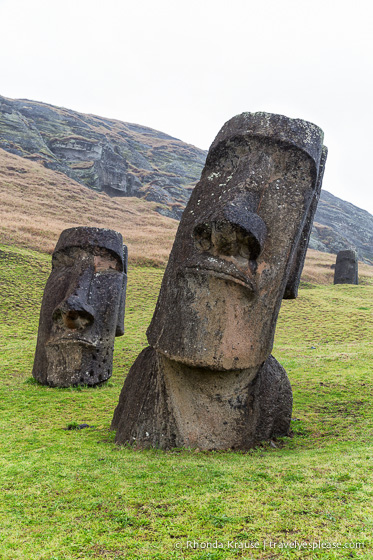 Some moai had detailed features, like a pointed nose and defined jaw line, while others were still rough around the edges, carving not yet complete. I wondered why they all looked like they were frowning.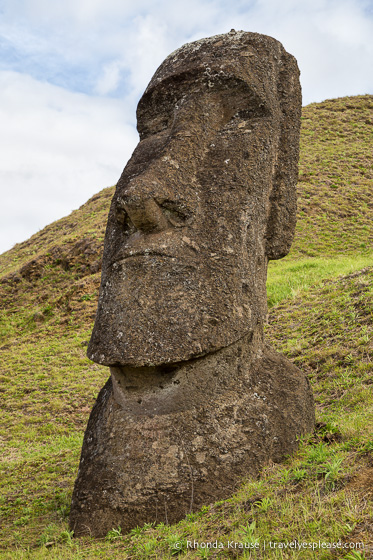 Looking up at the rocky hillside we could see rectangular niches, vacant holes where moai were once carved.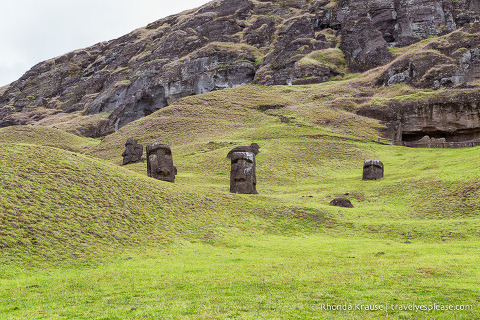 I was amazed at how much work it must have been to carve these enormous statues and then not only move them down from the rock face, but transport them kilometers across the island. Now that's dedication!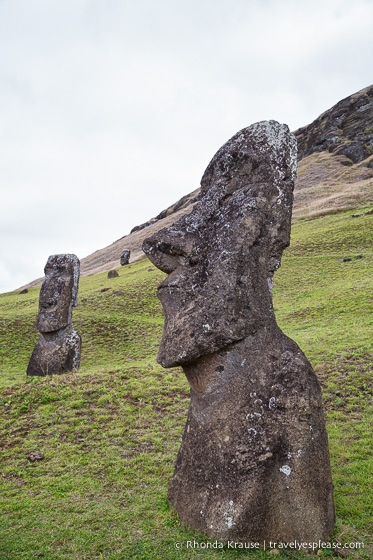 As the path got closer to the rock face, we noticed some moai still lying in their niches. Seeing these statues in the process of being carved took away a lot of the mystery of the moai. It became obvious how they were made, leaving no room for interpretation and dispelling all alien explanations (not that I believed those anyways).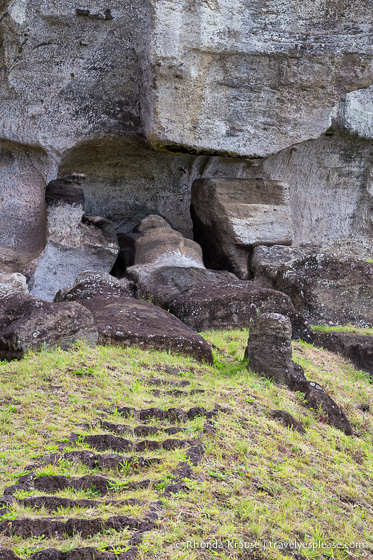 Most impressive was seeing the largest moai ever carved. Still lying down and not yet separated from the hill, it's hard to truly sense the proportions of this statue. This moai is 21 metres long and it probably would have weighed 250 tonnes when finished. That's huge!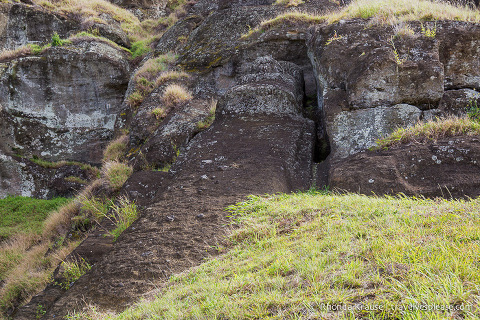 A little further along the path we came to two moai being carved side by side. Looking closely we even saw a third moai, and possibly a fourth, being carved on the left and right hand sides.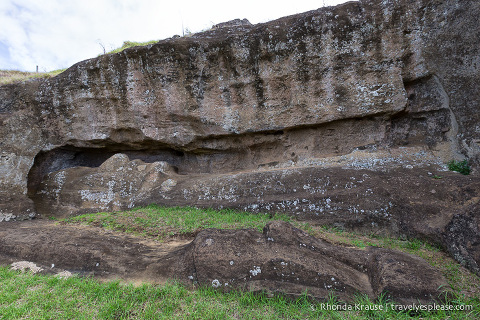 Continuing on, we came to a very different looking moai. Called Tukuturi, or the "kneeling moai", this statue was much shorter and rounder than the others at Rano Raraku. I didn't think it was as attractive as the other moai because of its strange facial features, but I liked the uniqueness of its legs being tucked under its body.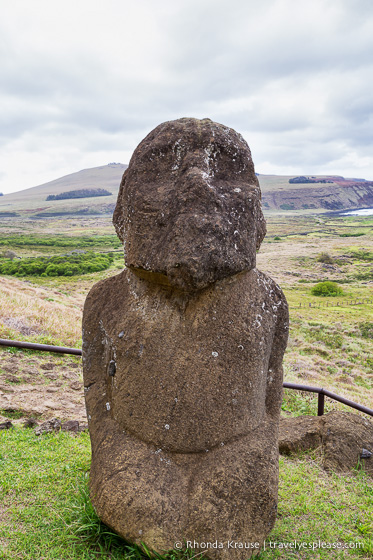 Beyond the kneeling moai we got a great view of Ahu Tongariki and the steep coastline.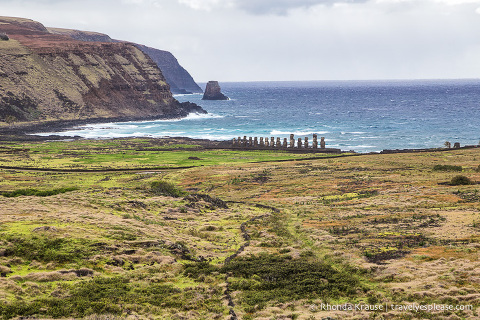 After having walked the complete circuit around Rano Raraku, we still weren't ready to leave. We re-visited some of our favourite moai, snapped some photos of each other and chatted about how incredible Rano Raraku was as we enjoyed the panoramic views.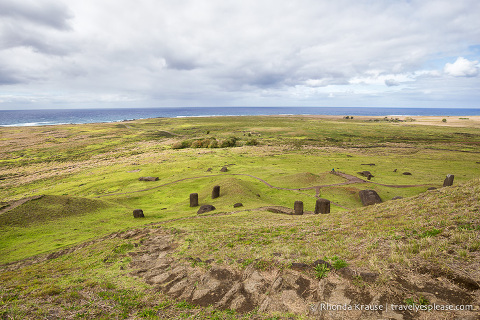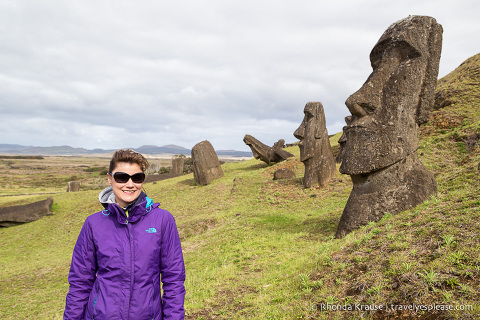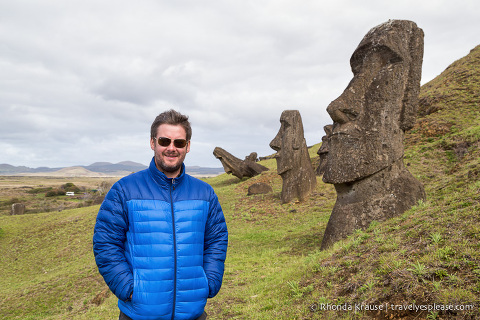 Leaving the quarry our pace was much slower, almost as though we were hesitant to leave such a remarkable place. Once again we passed by stone statues in various states- some standing straight, some nearly buried, others on their backs and a few face down.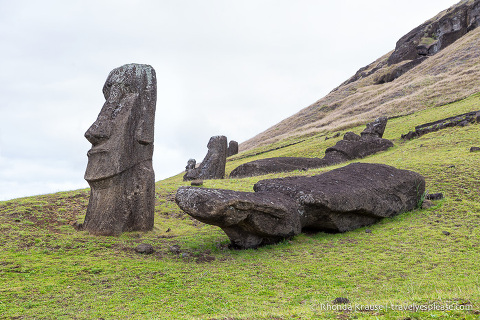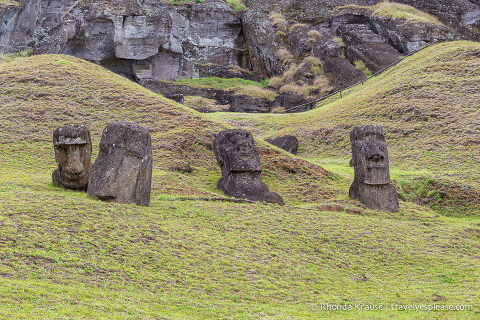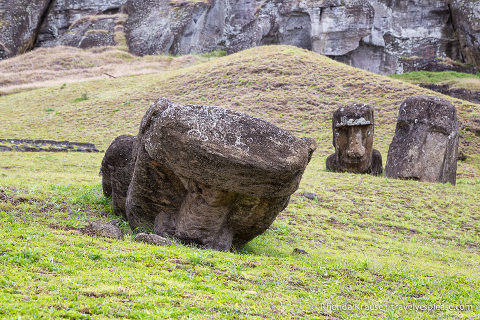 Even though this was our third day in Easter Island, we were still as captivated by the moai as we were on day one. Rano Raraku gave us deeper insight into how these magnificent monoliths were made and allowed us to see moai in a condition you can't find elsewhere on the island.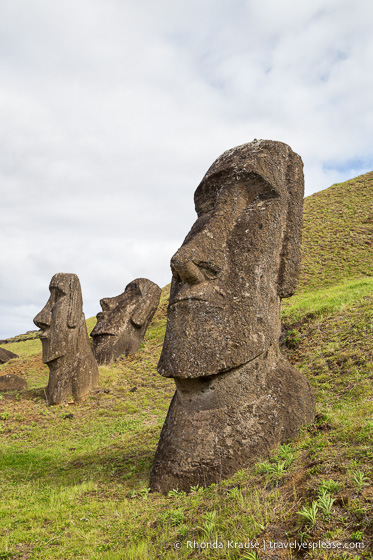 Rano Raraku is undeniably an engaging site!
More Photos of Rano Raraku
So, how many photos of stone heads does one girl need? Apparently a lot! Here is a small selection of the crazy amount of moai pictures I took.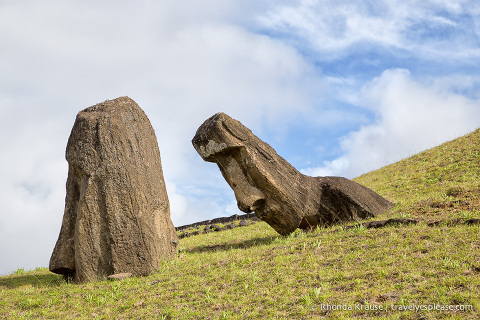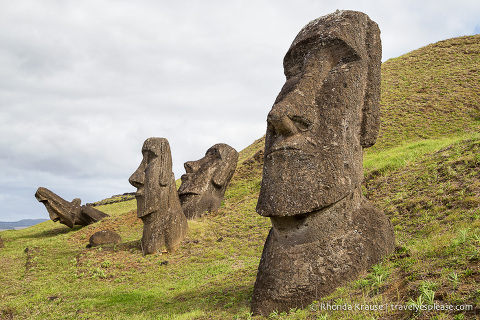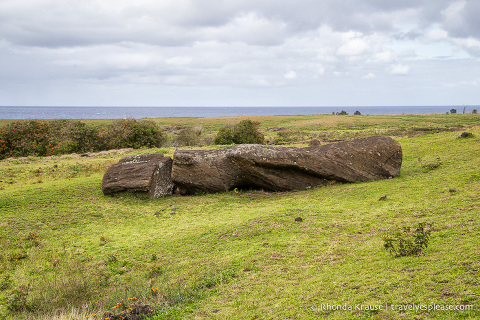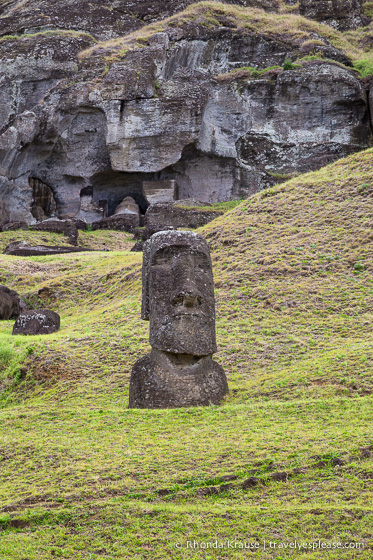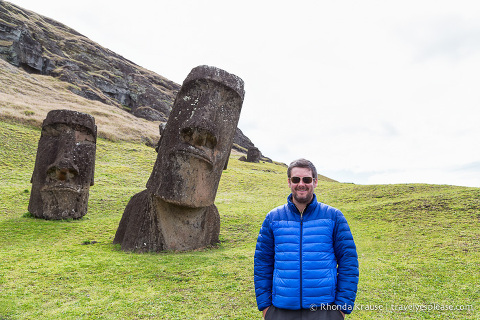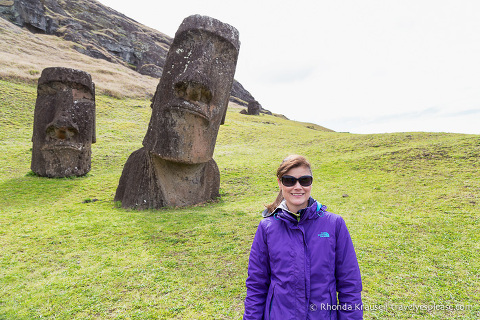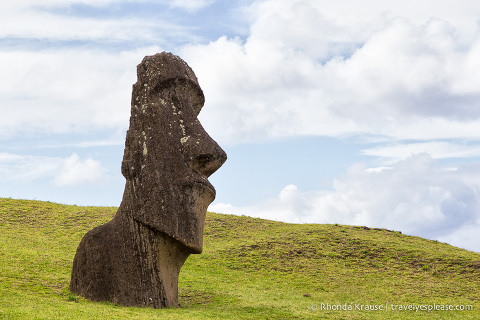 Tips for Visiting Rano Raraku
To enter Rano Raraku, you will need to show your Rapa Nui National Park pass. The staff will stamp it with the date because you can only visit this site once. If it's raining, you'll want to save your visit for better weather (trust us!)
At the time of our visit, Rano Raraku was open from 9:00 am- 6:00 pm (April- November) and 9:00 am- 7:00 pm (December- March). I haven't been able to confirm if this is still the case.
Try to visit first thing in the morning or late afternoon as the tour buses arrive mid-day.
Public toilets are available to use for $1 US.
There is a small souvenir market and café where you can buy a limited selection of very expensive snacks and drinks.
Don't miss out on visiting the crater. It's only about a 5-10 minute walk from the quarry. Here you can walk down into volcano's crater and relax under coral trees by the lake's edge. There are even some moai you can view from a distance.
*Information was updated January 2022, but can change without notice. Please confirm directly with the venue.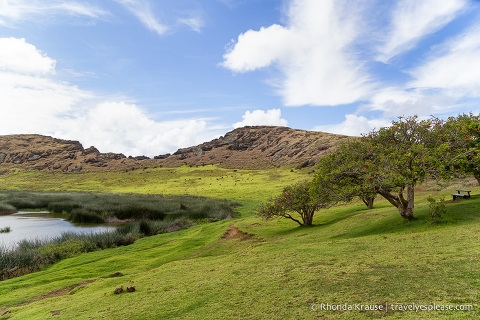 Accommodations in Easter Island
For your convenience, here is a list of hotels in Easter Island. Please consider booking your Easter Island accommodations through the included link. It costs nothing extra and helps support this website. Thank you!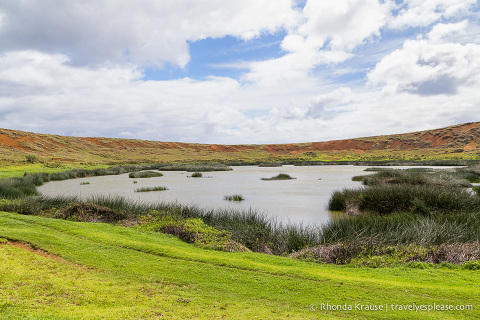 More Easter Island Attractions and Travel Guides