Purchases made through links earn us a small commission, at no extra cost to you.
"We're most looking forward to spending 4 days in Easter Island," I'd say when friends asked about our upcoming trip to South America.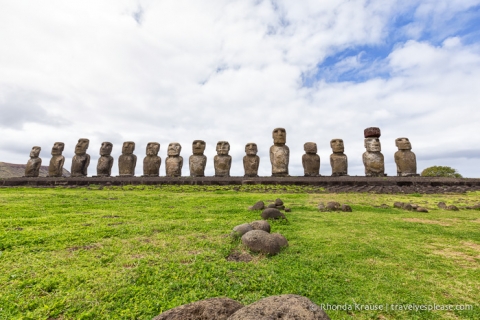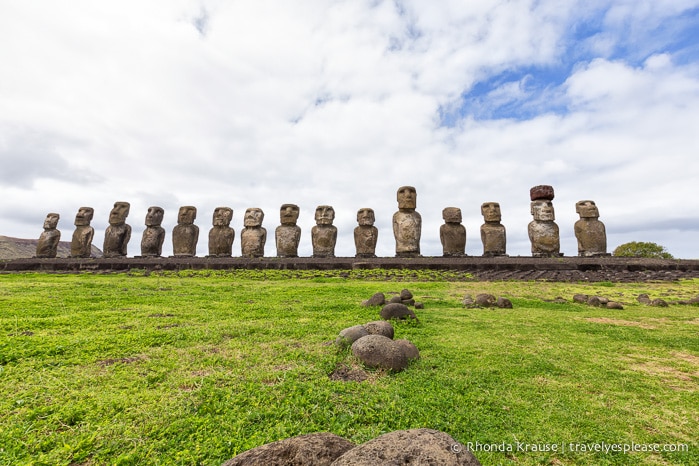 "What's Easter Island?" some would ask, a quizzical look on their face.
"You know, the place with all the stone heads," I replied, trying to hide my shock that they didn't know where I was talking about.
"Oh yeah, that place," they'd exclaim, "that will be so amazing!"
They may not have recognized Easter Island by name, but they did know the island's most famous symbol, the moai statues, or more simply, those "stone heads".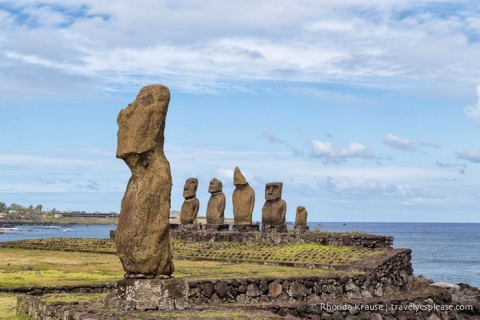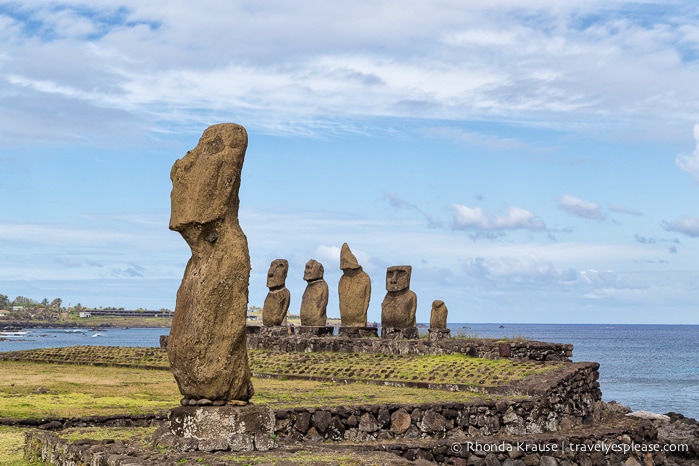 Those well known images are what compelled us to visit, but we soon found out it's not just statues that make Easter Island an intriguing destination.
About Easter Island (Rapa Nui)
Easter Island is a small Polynesian island in the South Pacific. It has long fascinated both scholars and travellers alike, primarily because of the mystery surrounding the culture of moai carving.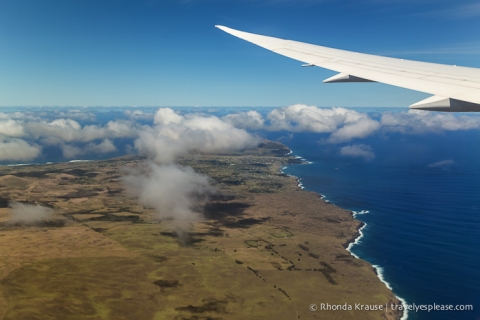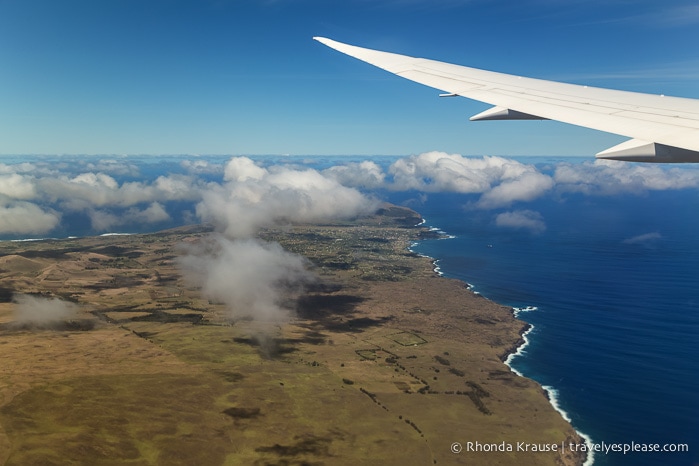 Easter Island, or Rapa Nui as it is also known, is the most isolated inhabited island in the world. Yet, because of daily flights from Chile and the availability of internet, it doesn't feel as remote as it physically is.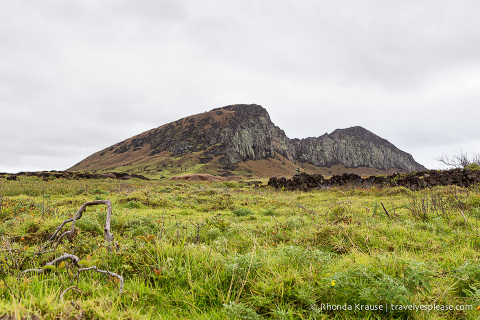 There is only one town on Easter Island and it has most of the services you'd find anywhere else. Hanga Roa has a hospital, fire station, pharmacy, post office, two banks and various mini-markets.
The rest of the island is mostly uninhabited by people, occupied instead by free-roaming horses.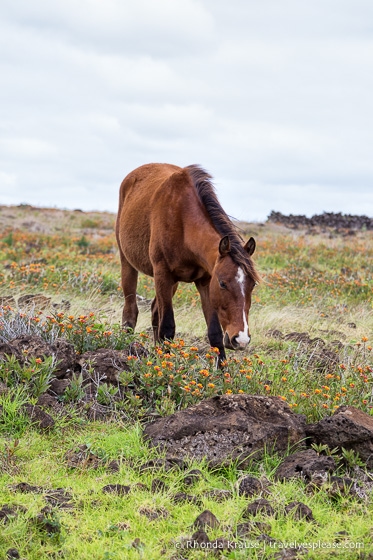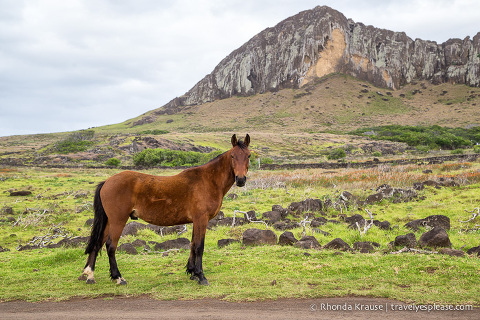 Easter Island is one big archaeological site with moai, petroglyphs, and other ruins scattered around the island. The island's historic and natural sites are protected and collectively designated as Rapa Nui National Park.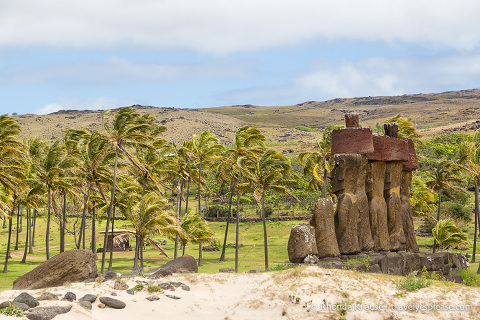 Prior to setting out sightseeing, it helps to have a basic understanding of the island's history. So, before we share with you our Easter Island travel guide, including all the wonderful places to visit in Easter Island, here are some of the main events that helped shaped Rapa Nui into what it is today.
History of Easter Island
Easter Island was formed between 1 million and 100,000 years ago by three separate volcanic eruptions.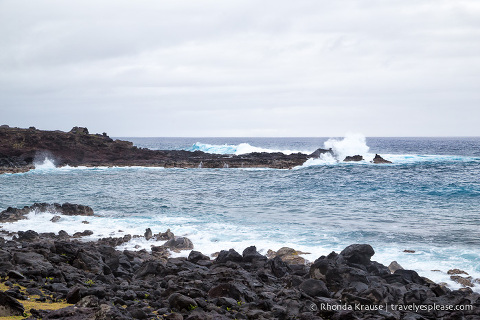 The first settlers to Easter Island arrived between 600 and 900 AD from another island in Polynesia. It's not clear what the settlers named their new island, but the Polynesian name Rapa Nui (Rapanui for the people), was later adopted by the islanders.
When the first settlers arrived, Rapa Nui looked much different than it does today. Up to 70% of the island was covered by palm trees. The settlers began cutting down trees and clearing land so that they could plant crops and have food to support their new society.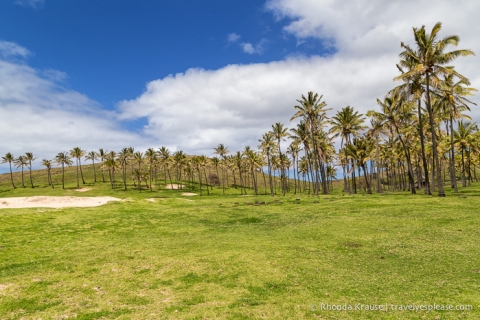 The Rapanui people began carving moai statues as a form of ancestor worship many years later, between 1000-1600 AD. These statues were erected on platforms overlooking the villages as a means of protecting the descendants.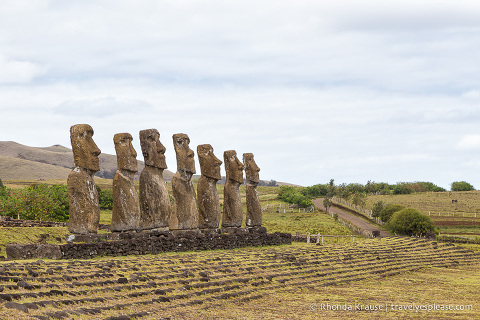 Europeans discovered Rapa Nui in 1722, when Dutch explorer Jacob Roggeveen and his crew sighted the island. They christened the island "Easter Island" since the day of its discovery was Easter Sunday.
It was almost 50 years until the next visitors arrived on the island. Spanish expedition leader Felipe Gonzalez de Haedo arrived in 1770 and claimed the island for Spain. Six days later the Spanish departed and, for some reason, never returned.
Next to arrive was Captain James Cook and the British, four years later. They were looking for supplies and fresh water, but didn't find either on Easter Island. Instead, they found sick islanders and toppled moai.
Between 1770 and 1838, the Rapanui gradually overthrew all the moai statues on Easter Island (the ones standing today were restored by archaeologists). It's believed the moai were toppled during tribal wars brought on by lack of resources, ironically caused (in part) by their excessive moai production. Rats brought over by the original settlers also harmed the ecosystem.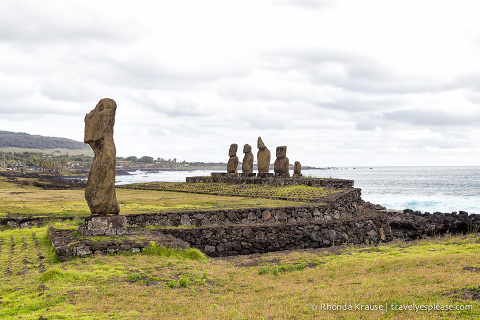 The depletion of resources, while a main factor in the collapse of Rapa Nui society, was not what led to the end of the original Rapa Nui society. The slave raids of 1862 were far more damaging to Rapa Nui culture.
Peruvian entrepreneurs came to Easter Island and began to forcibly remove up to 1,500 Rapanui, intending to use them as cheap labour. Many of the islanders died on route to Peru and even after international outrage, only 15 were repatriated back to Easter Island. They returned with smallpox, causing Rapa Nui's population to decline to just 111 people in 1877 (a common misconception is the Rapanui went extinct).
In 1888, Easter Island was annexed by Chile and remains under its jurisdiction today.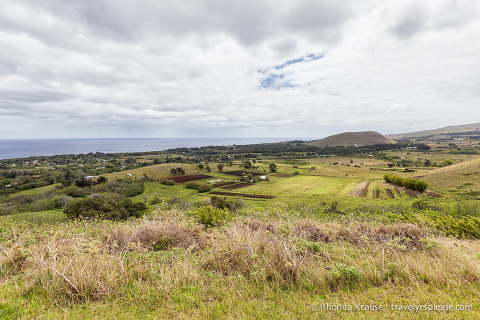 4 Days in Easter Island- Planning Our Easter Island Itinerary
When planning our trip to Easter Island, I instinctually felt that we should spend 4 days there. It was so far away from everywhere that I wanted be there long enough to make the journey worthwhile. Plus, there were many interesting archaeological sites I wanted to include in our Easter Island itinerary. I didn't want to travel all that way and not have time to see everything I came to see.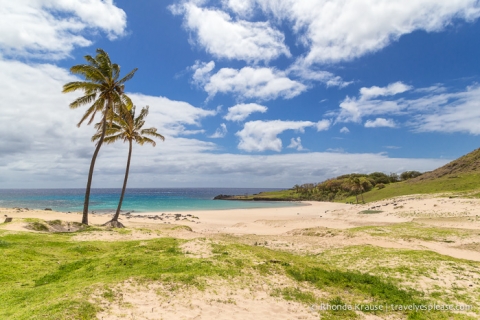 Yet, as I started talking to people about our Easter Island travel plans, they all told me you can see the whole island in 1 day (it's only 23 kms at the longest part). One person even told me to bring a book so I wouldn't get bored.
Well, we didn't get bored at all. Easter Island is a fascinating and relaxing place, perfect for people who appreciate archaeological sites and enjoy outdoor activities, like ourselves.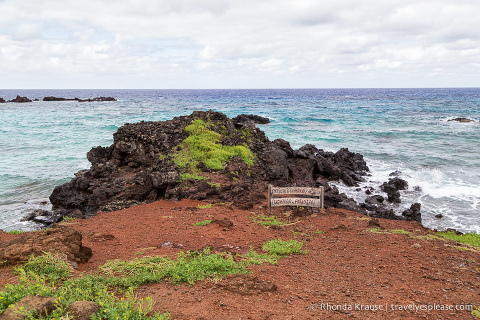 Four days in Easter Island turned out to be the perfect amount of time. We were able to see all the main archaeological sites of Easter Island, plus many of the lesser-known ones. We visited two beaches, did a few small hikes and enjoyed some leisurely meals. The best part about having 4 days in Easter Island was that we could take our time, truly savour each site we visited.
Sure, you could drive around the island in one day and see the most famous sites, but you'd be missing out on a deeper experience.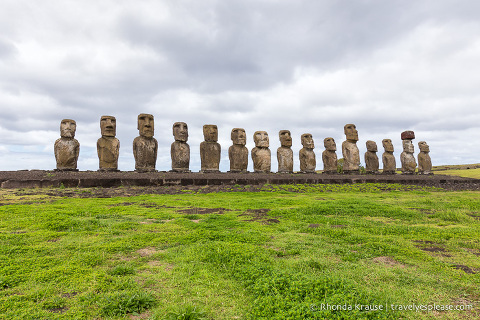 To truly appreciate Rapa Nui, you need to get a sense of the history, culture and traditions of its people. With a rushed visit, you'd be unable to fully discover and connect with the essence of the island.
So with that in mind, we recommend at least a 4 day trip to Easter Island. Plus, that gives some flexibility if the weather isn't favourable.
To have the luxury of time and freedom, we rented a vehicle, bought a local guidebook and set out on a self-guided tour of Easter Island. Here's a look at what we managed to see and do with 4 days in Easter Island!
Easter Island Itinerary- Things to See and Do on a Self-Guided Tour of Easter Island
Here's a day-by-day break down of our trip to Easter Island. We hope our Rapa Nui itinerary gives you plenty of inspiration for places to visit in Easter Island, as well as tips for planning your own self-guided tour of Easter Island!
Day 1: Settle in at Hanga Roa, Start to Explore the South Coast
Our flight arrived at 1:30 pm, giving us half the day to explore. We settled in to our cabanas, briefly explored the main town then visited the sites on the island's south coast. We returned to town in time to watch the sunset.
Hanga Roa
Hanga Roa is Easter Island's only town and home to 95% of the island's population. Getting around was confusing at first because of the lack of street signs, but eventually we figured it out.
After settling in at our accommodations and renting a car, we had lunch overlooking Pea Bay. This was a great place to watch people surf and we even spotted sea turtles swimming in front of the restaurant.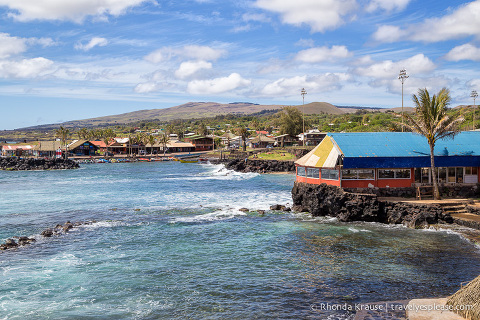 There's not really a whole lot to see in Hanga Roa, but there are some shops, minimarkets and surprisingly, quite a few restaurants and cafes to choose from. There are also many great spots to watch the sunset.
Vinapu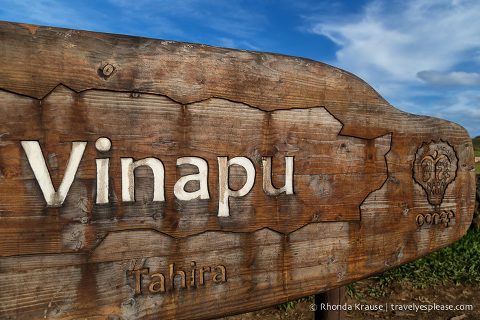 Vinapu is an interesting site because you can see the remains of two ceremonial platforms, known as ahu, that moai once stood on. Now overthrown, the moai lie face down with their topknots on the ground in front of them.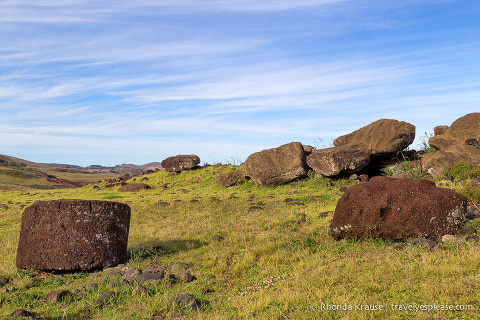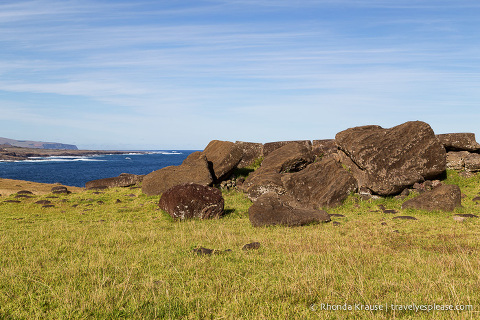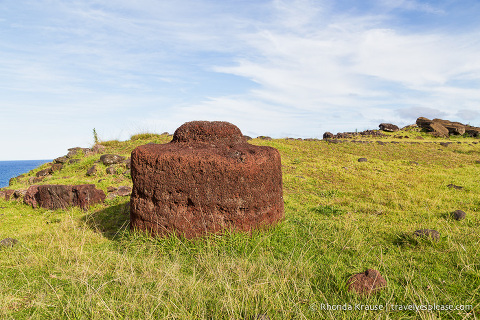 The back of Ahu Tahira was of special interest to us since the wall resembles the Inca walls we had seen in Cusco, Peru. The stonework is similar between the two cultures. Both the Rapanui and Inca used precisely carved rocks that fit tightly together.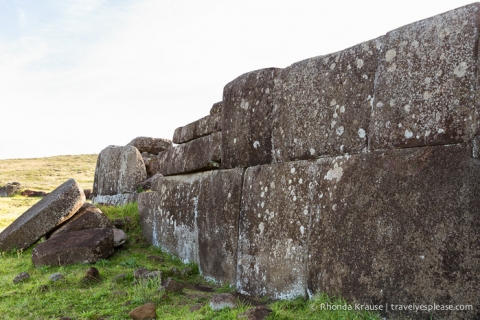 Coastal Drive
The drive between Vinapu and the next site of Vaihu was my favourite section of road on Easter Island.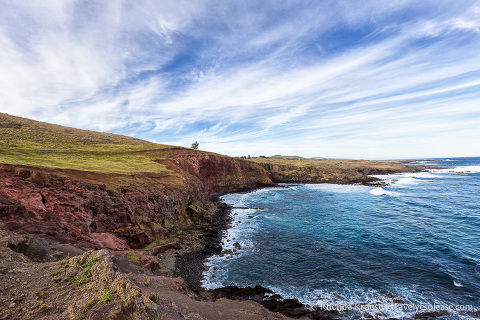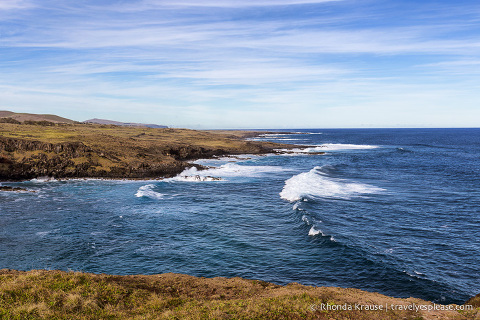 The rocky coastline is spectacular and we were always stopping the car to get out and walk closer to the cliff's edge. We loved watching the powerful waves violently smash into the shore and even found some unique plants and flowers.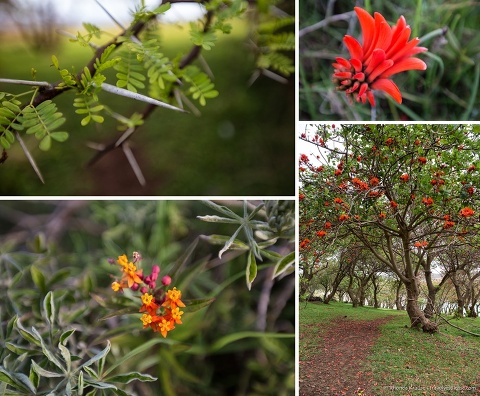 My favourite flowers were the bright red ones on the coral trees. These vibrant trees were brought over from South America and can now be found in many different locations on Easter Island.
Vaihu (Hanga Te'e Bay)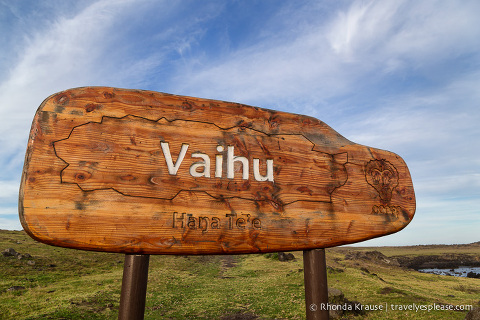 Vaihu is another great place to see toppled moai and their topknots. The platform here used to support the 8 moai now lying face down in the exact position they were thrown over.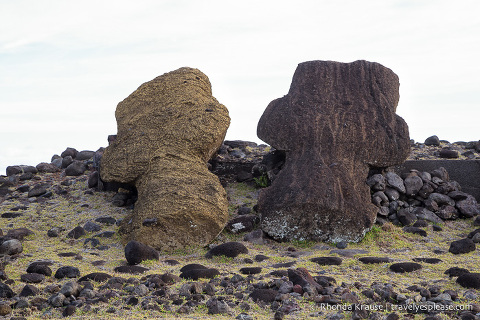 In front of the platform is a large stone circle, called Paina. This was used for a special ceremony where a son would honour his parents.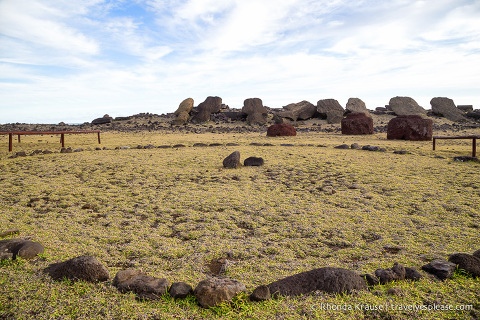 While we were at Vaihu, we took a small walk down to the coast and watched the waves crash into the jagged, black volcanic rock of Hanga Te'e Bay.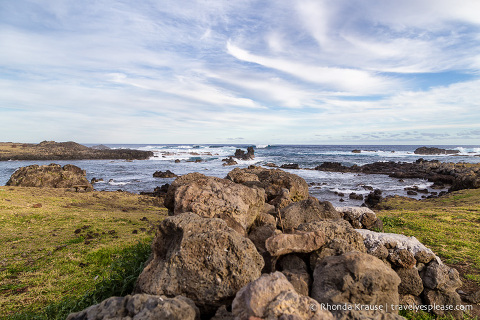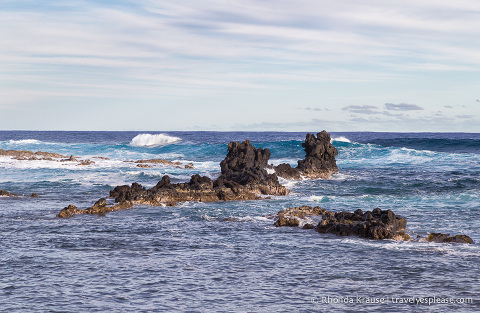 Sunset at Tahai
The most popular place to watch the sunset on Easter Island is at Tahai. The site is at the edge of Hanga Roa, so can be walked to from the centre of town.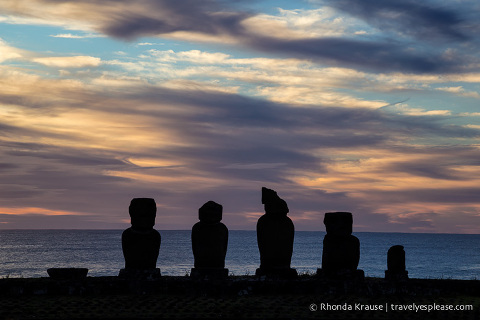 There are three restored platforms at Tahai but we were only focused on two- Ahu Vai Uri and Ahu Ko Te Riku.
Ahu Vai Uri has four standing moai, but at one time there were six. This was my favourite spot to photograph the sunset, as the moai looked striking as silhouettes against the vibrant sky.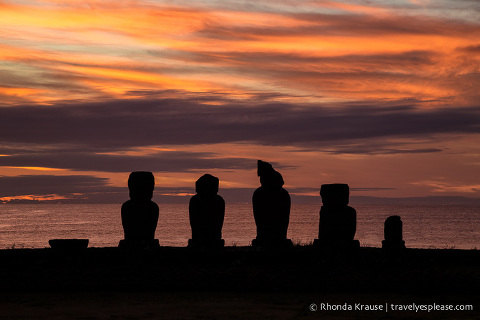 The other photogenic platform at Tahai is Ahu Ko Te Riku. This platform supports only a single moai but it's one of Easter Island's most recognizable, thanks to its white eyes and topknot.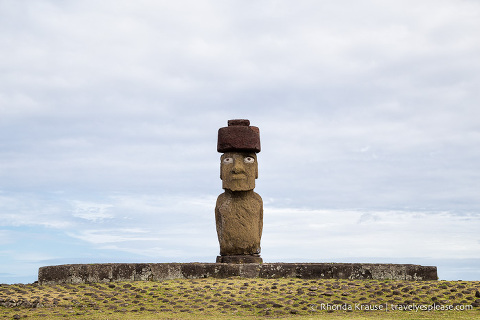 The eyes are not original and were replicated to show how the moai looked once their white coral eyes were inserted into the carved sockets.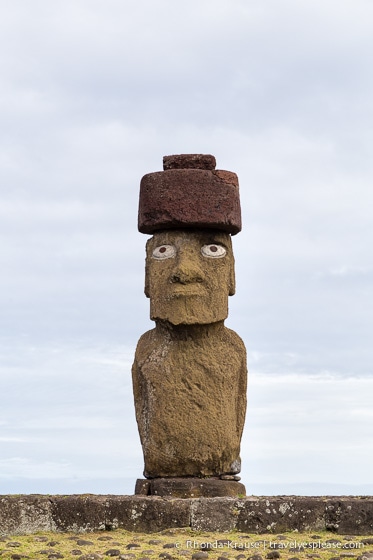 It is believed that the eye sockets were not completed until the moai were erected onto the ahu and that the coral eye may only have been inserted on some of the statues, at certain times (perhaps during ceremonies).
Day 2: Drive a Full Circuit of the Island, Visit Lesser Known Archaeological Sites
On Day 2 it was pouring rain, so we decided to visit some of the lesser-known sites, saving the more famous ones for better weather. We drove the entire loop around the island, starting our visits where we left off the day before, on the island's southern/southeastern coast.
Akahanga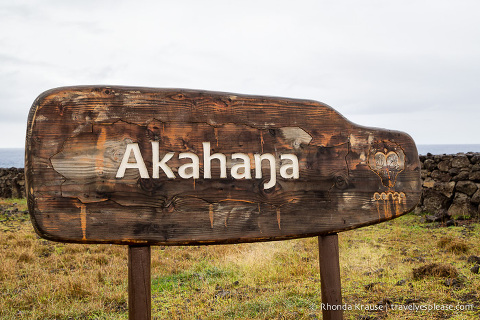 Akahanga is a unique site because it allows you to experience the island exactly as early European explorers would have seen it. Unrestored, not a stone has been moved here for almost 300 years.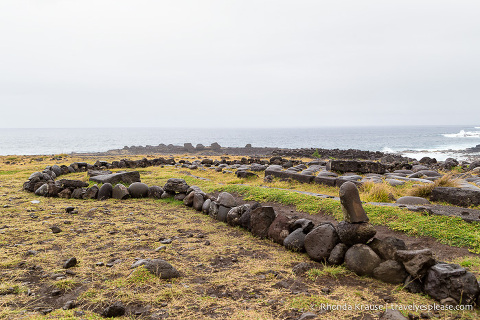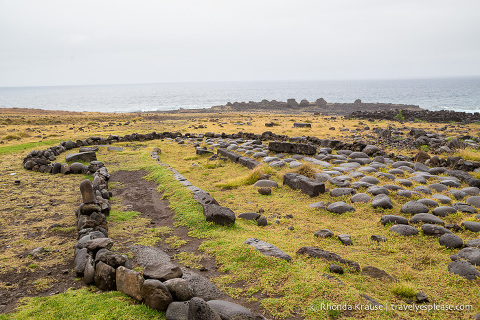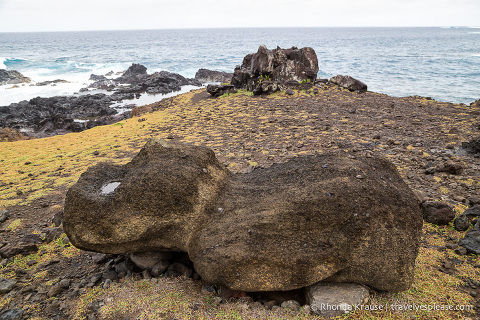 Most noticeable is the platform, of course with toppled moai, but we also came across the remains of boat houses, ovens and even a small cave.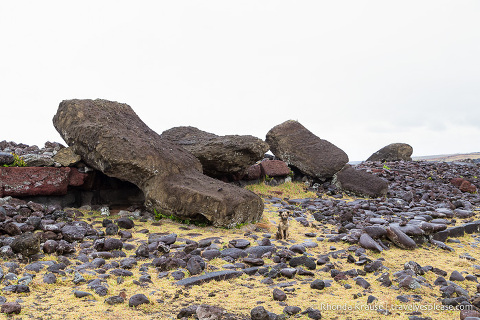 As we wandered around Akahanga, a shy dog befriended us, following closely behind as we explored the site. See her above posing in front of the fallen moai?
Papa Vaka
Papa Vaka is the best place on Easter Island to view petroglyphs (rock carvings). There are numerous flat stones carved with images relating to the sea such as a tuna fish, shark and octopus. The largest petroglyph on Easter Island, a 12 metre long canoe, can be found here.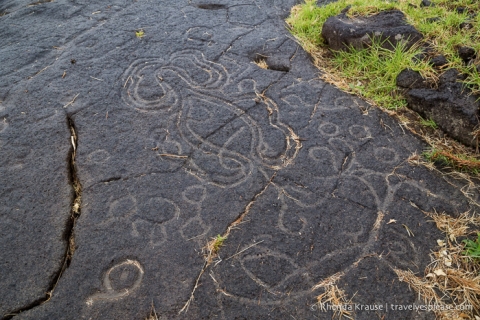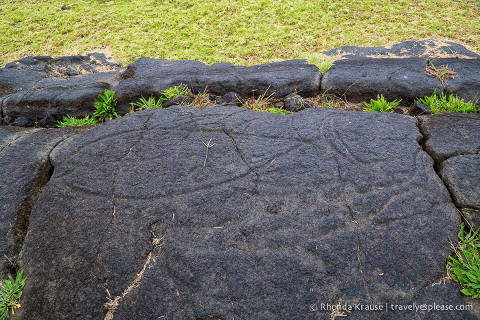 We couldn't make out all of the designs because lighting conditions have to be just right. However, there are a few viewing platforms that elevate you enough to get a better look at the petroglyphs.
Te Pito Kura
Te Pito Kura is another unrestored platform, but what makes it unique is that the moai here is the largest one ever transported and successfully erected onto a platform.
The moai, whose original name was recorded as Paro, is 10 metres tall and weighs about 80 tonnes. Even its topknot is huge, measuring almost 2 metres in height.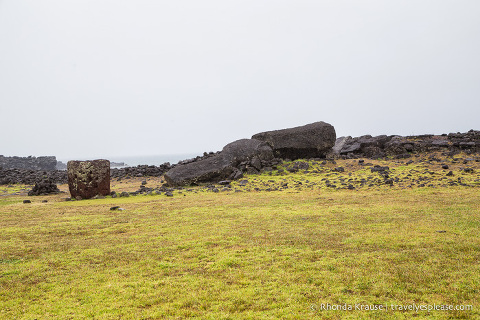 Past the platform is a large round stone, sometimes referred to as the navel of the world. Legend holds this stone was brought by the island's first king from Hiva, the mythical island in Polynesia from where the first colonizers came.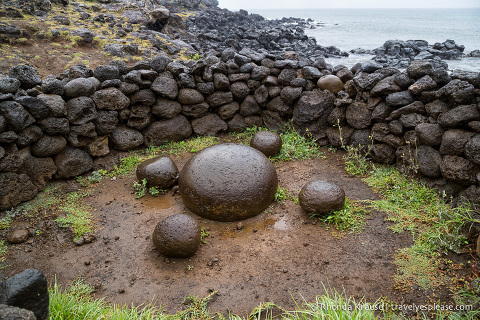 As interesting as Te Pito Kura is, what I will forever remember is rescuing a small puppy here.
As we came around the back of the platform, we found a tiny black puppy struggling to find warmth and shelter from the day-long, heavy rain. The cries of distress he was making broke my heart and still make me tear up when I think about it.
I picked him up, hugged him close and covered him with my arms. He immediately stopped crying. We brought him into the car and wrapped him in Mike's sweater. We had no idea what we were going to do with him, we just knew we couldn't leave him there.
We drove back into town, the puppy (which we named Lucky at the time) slept in my lap the whole way. We decided to go back to the restaurant we ate at the day before because the owner/manager spoke good English and maybe he could help us.
Long story short, the man decided to take the puppy in and give him a home. His adoptive family named him Tropa, which translates to soldier, and he's doing well in his new home.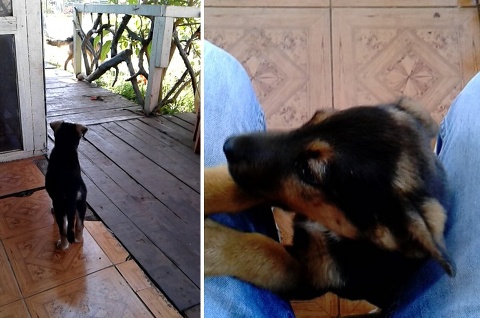 The family recently sent us pictures and Tropa has sure gotten big! I miss him but am very thankful we crossed paths with such a nice man who was able to help out a dog in need.
Puna Pau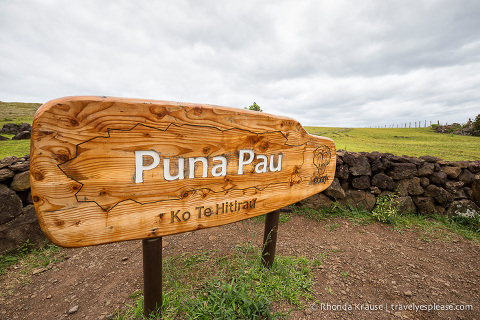 Puna Pau is the quarry where all the topknots (pukao) were carved out of red scoria stone.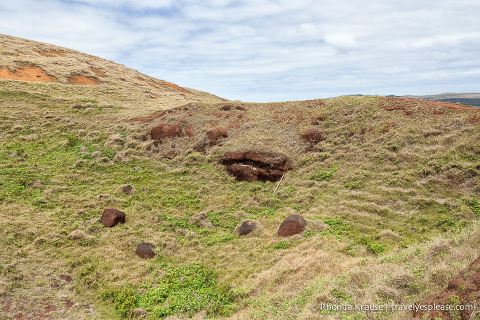 It is believed this quarry was only used in the 15th or 16th century because none of the early moai have topknots. Of the roughly 1000 moai on Easter Island, only 100 topknots have been found.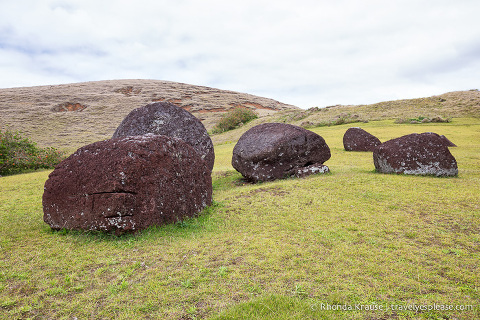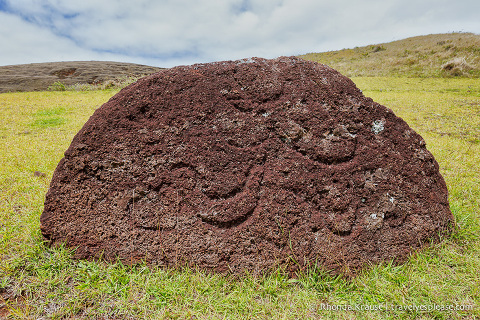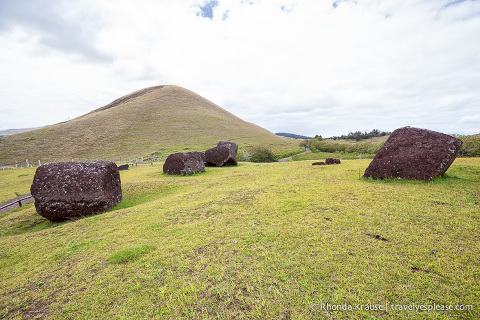 Topknots may look like hats but instead they are considered to represent the long hair at the time, worn tied up in a bun.
Akivi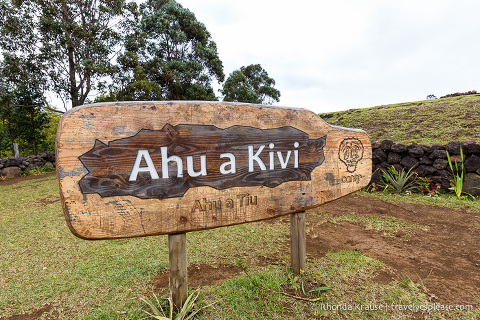 Another platform, Ahu Akivi has seven restored moai displayed on top, all very similar in design.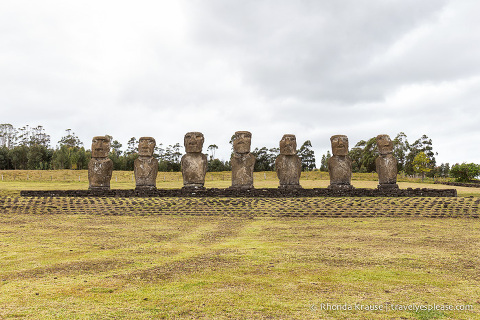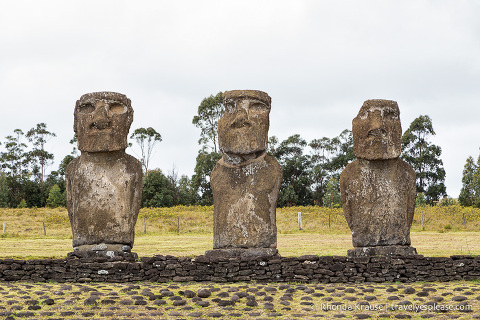 Walking around back, it was obvious that these moai had been repaired from a broken state. The new pieces holding it all together don't blend in very well!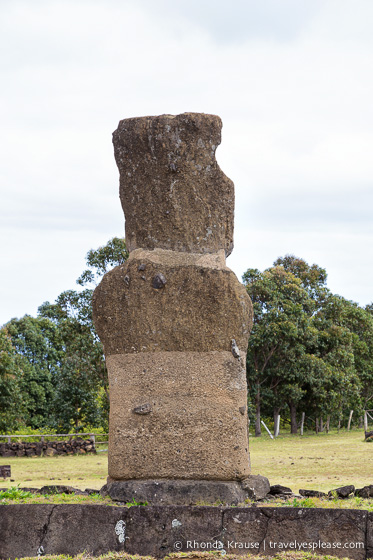 A notable fact about Ahu Akivi is that during the spring and autumn equinoxes, certain stars are aligned with the platform.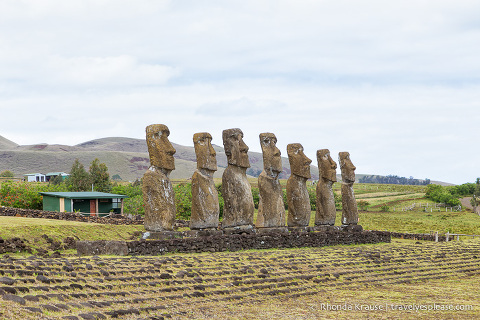 Day 3: Visit the Famous Moai Sites, Enjoy the Beaches
Our third day was spent exploring Easter Island's most iconic archaeological sites and relaxing at the beaches.
Rano Raraku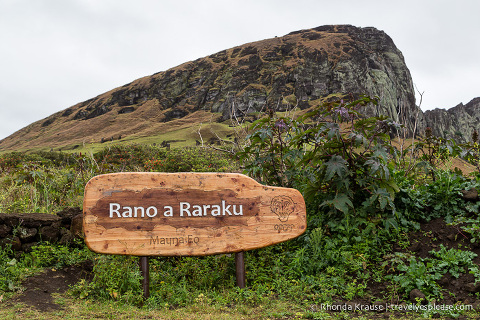 Of all the places to visit on Easter Island, Rano Raraku was our favourite. This fascinating site had us captivated, even as some of the mysteries of Easter Island unravelled before our eyes.
After visiting Rano Raraku we no longer wondered how the ancient moai statues were made. We saw many of them here in various stages of carving, some not even cut away from the bedrock yet.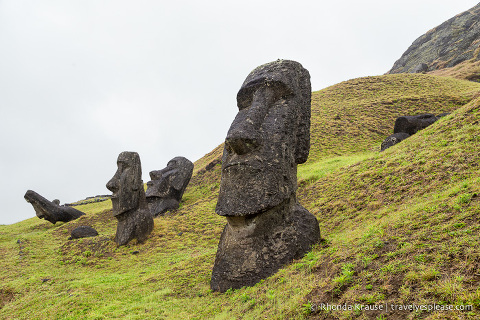 Wandering around the quarry, we passed by numerous stone "heads" that are in fact complete moai partially buried underground. Seeing these icons up close was a humbling and surreal experience. We were so enamoured, we did a few laps around the site.
Read our full post about Rano Raraku
Tongariki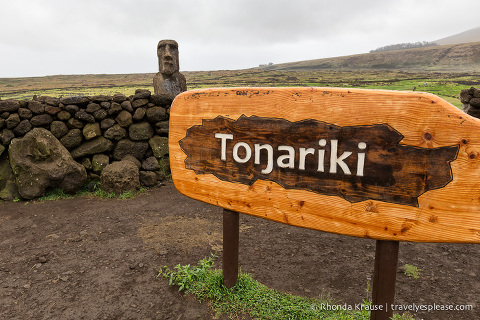 In our opinion, Tongariki is the most impressive platform on Rapa Nui. We were blown away not only by the amount of moai on top of the ahu (there are 15), but by the sheer size of them as well.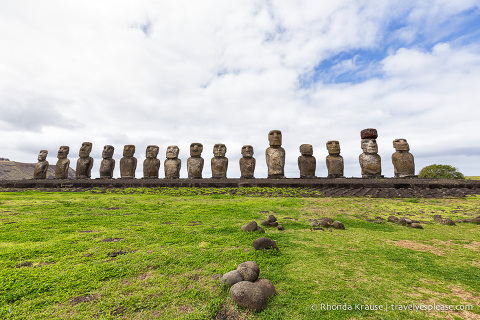 As we first entered the site, we were met by the so-called "Travelling Moai". It received this name because in 1982 it was sent to Japan to be featured at trade shows in Tokyo and Osaka.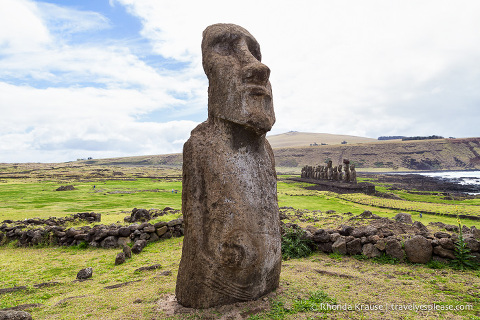 As we approached the platform it became clear just how long it was, much longer than any other ones we had seen on Easter Island. In fact, at 220 metres, Ahu Tongariki is the largest ceremonial structure in Polynesia.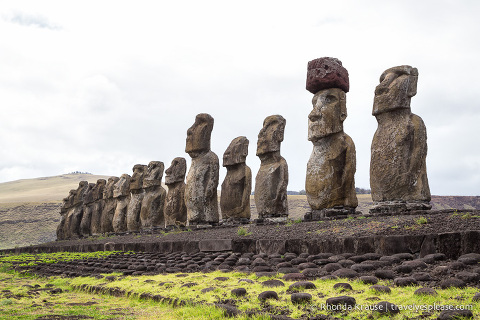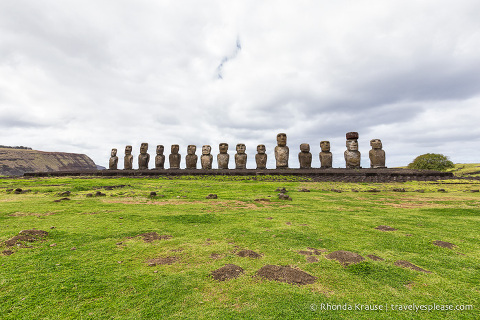 At one point the moai at Tongariki were all toppled over, then the site was further damaged by a tsunami in 1960. Ahu Tongariki was eventually restored in the 1990's by a team from the University of Chile. The restoration project cost over 2 million U.S. dollars and was funded by the Japanese government and the construction company Tadano, which also donated a crane capable of lifting the heavy moai (the largest one here is 88 tonnes!)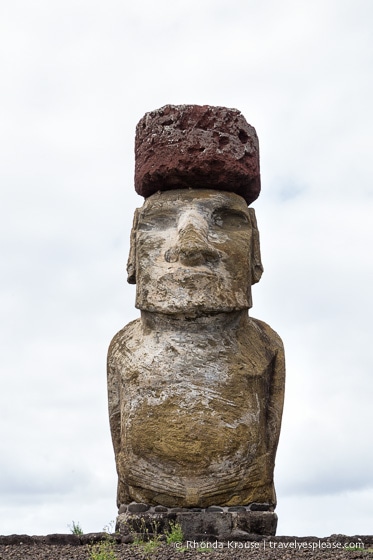 If you're like us, you'll be mesmerized by the moai at Tongariki, but don't miss out on walking around the back of the platform. This was where we really got a sense of just how huge these statues are.
Interestingly, there was an enormous amount of human ash found behind the platform, several centuries worth of human remains from the village that used to be here.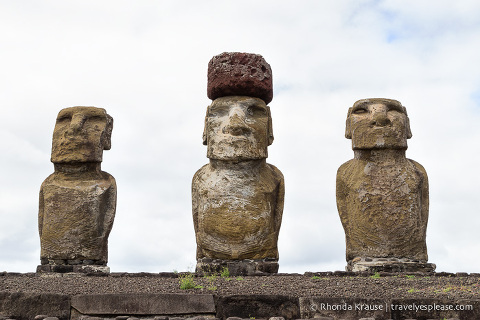 Tongariki is worth visiting a few times- once during the daytime and again at sunrise. We didn't get to view a great sunrise, since it was so cloudy during our time on the island, but the mood during dawn is something special.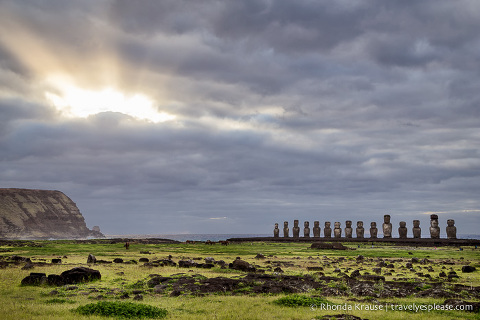 Ovahe
Ovahe is the smaller of Easter Island's two sandy beaches. It's much more secluded than the main beach thanks to the red stone cliffs forming a cove around it.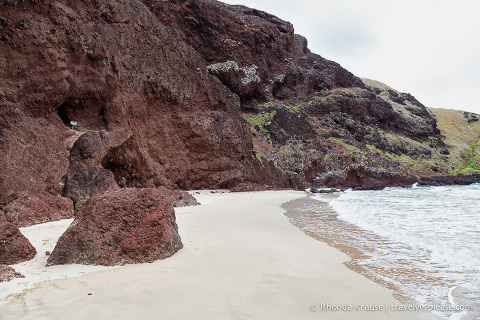 There are no signs indicating where the turnoff to the beach is, so we had Ovahe all to ourselves.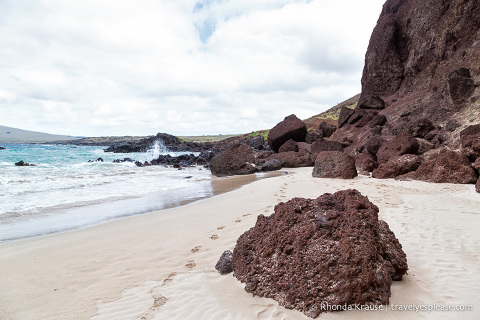 We didn't spend too much time here because I was honestly worried about rocks falling down on us. To get to the beach, we had to climb over some big boulders that had broken free from the cliff and there were signs warning about rockslides.
Anakena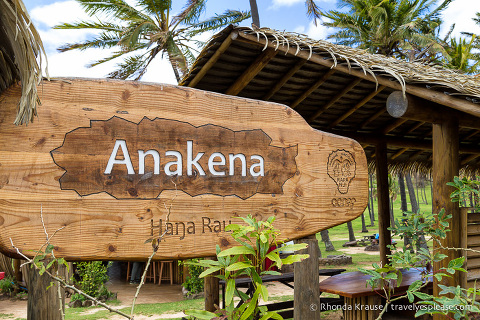 Anakena is Easter Island's main beach and has a much larger area of sand than Ovahe. There are also picnic facilities and a nice restaurant, shaded by towering palm trees imported from Tahiti.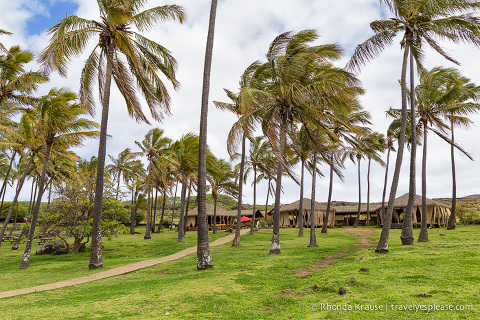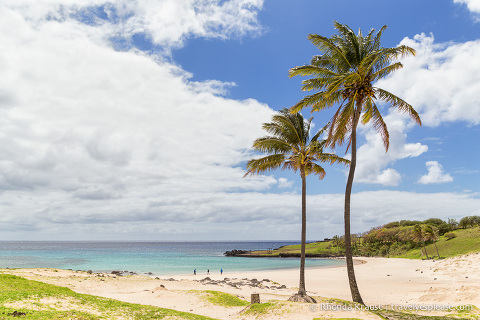 Anakena beach is not only a place to swim and sunbathe, it also has a platform of exquisite moai (Ahu Nau Nau). The faces are much more defined than other moai on the island because sand covered them after being thrown over, sheltering them from the wind and rain.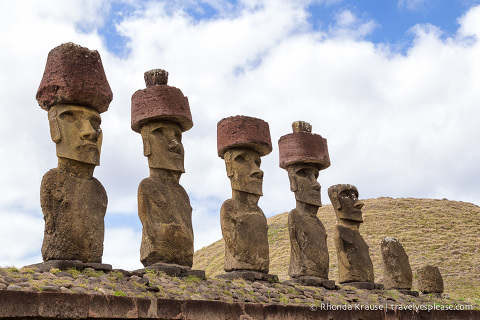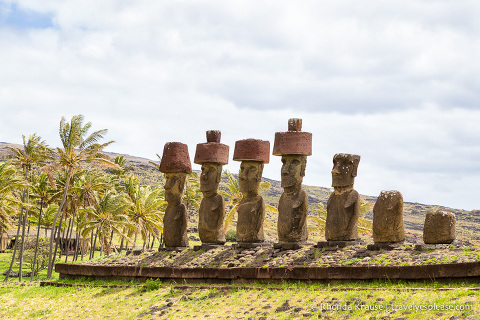 The carvings on the backs of the moai at Anakena are especially impressive. You can clearly see designs that are thought to represent buttock tattoos.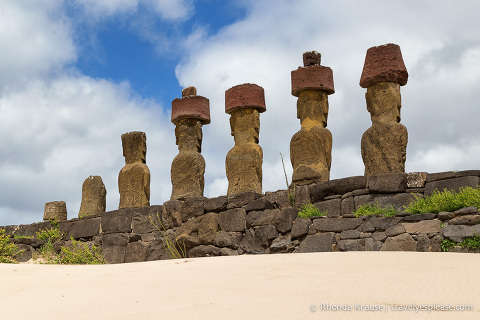 As beautiful as Anakena is, it's much more than just an idyllic beach. Anakena is an important piece of Easter Island's history, being the spot where the first Polynesian colonizers landed their boats about 1300 years ago.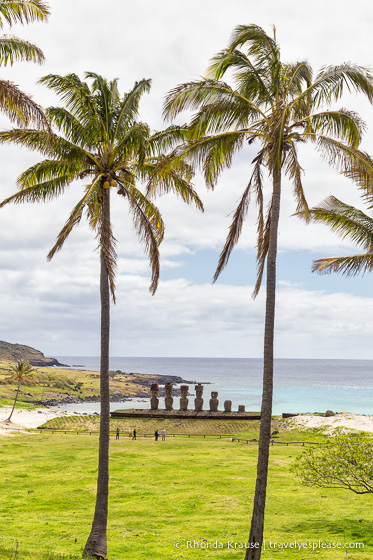 Day 4: Walk along a Volcanic Crater, Visit a Ceremonial Village, Hike the West Coast
On our last full day in Rapa Nui, we explored the southwest area of the island and then ended our visit with a hike along the west coast.
Island Lookout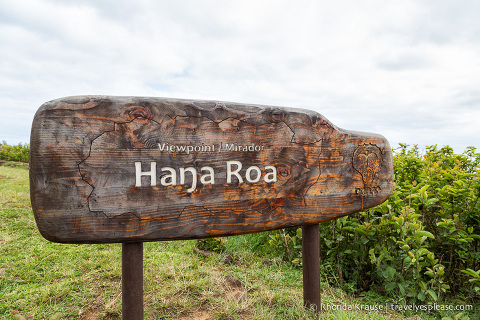 The island lookout is located on the road to Orongo and offers a nice overview of the entire island, especially on a clear day.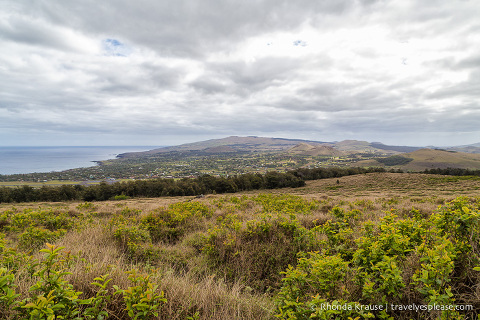 We could see Hanga Roa, the airstrip and much of the coastline leading towards Terevaka, the island's highest point. We could even see as far as the extinct volcano of Poike, the island's most eastern point.
Rano Kau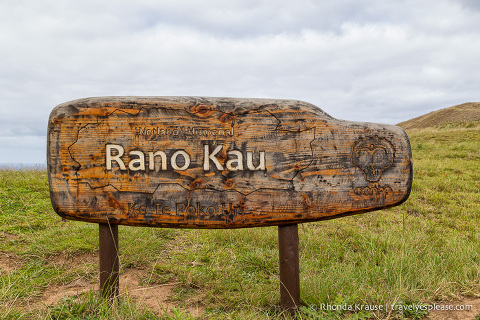 Rano Kau is Easter Island's most remarkable natural site, one that made me gasp loudly when I first saw it.
This crater was left behind almost a million years ago when a volcanic eruption created the southwest corner of the island.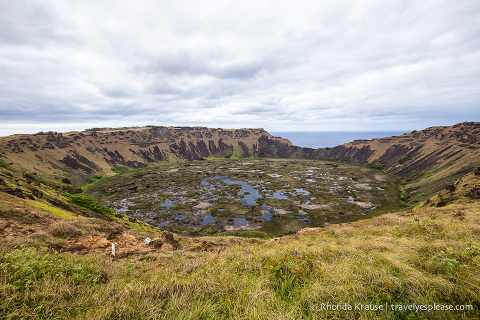 An extraordinary view, you can gaze across the crater's reed-covered lake and see the ocean on the other side. The "bite" out of the back of the crater is called the Kari Kari and has been caused by erosion from the ocean.
We decided to leave our vehicle at the lookout here and go for a short walk along the crater's edge. About 15 minutes (and many photos later) we arrived at another wonderful site, Orongo.
Orongo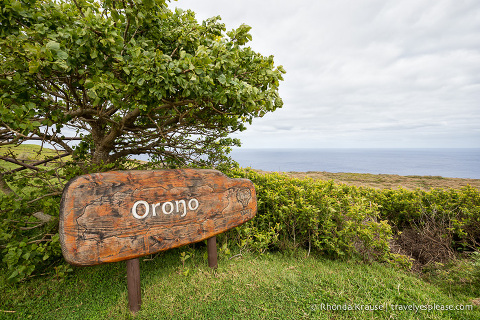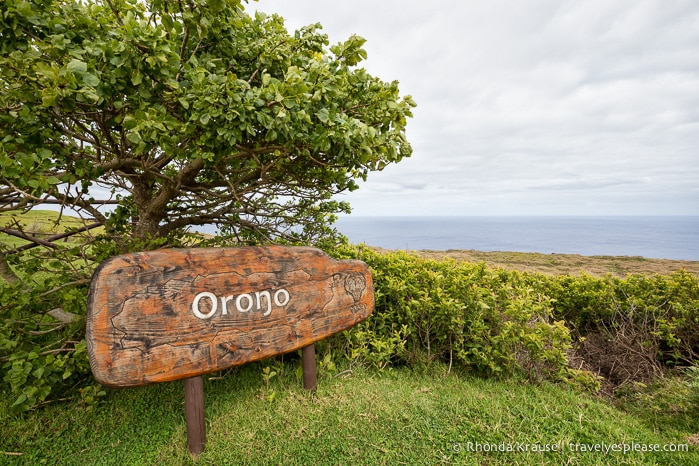 Built between the crater of Rano Kau and the cliffs overlooking the Pacific ocean, is the small ceremonial village of Orongo.
The site has a row of beautifully restored stone houses and excellent views of both the ocean and volcano crater.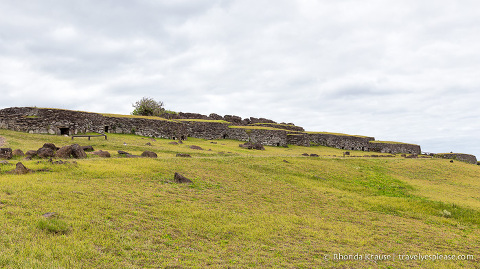 What I found most interesting about Orongo was not what I could see, but rather the stories the site has to offer. There are some engaging tales about the Birdman cult and their annual egg-collecting competition that took place here.
Read our full post about Orongo.
Hanga Kio'e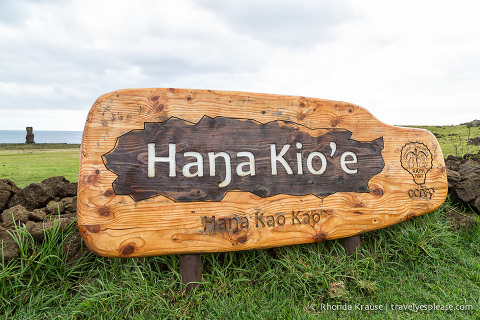 On the way to do our hike, we briefly stopped at Hanga Kio'e to see the single restored moai.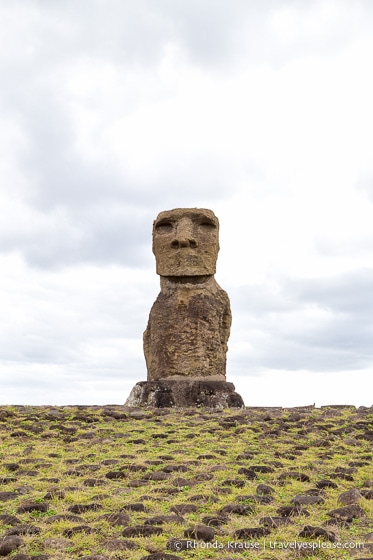 The site also has some remnants of small village, including a chicken house and some boat houses.
Hiking the West Coast
The west coast was a wonderful place to go for a short hike on our last afternoon in Easter Island. Relaxing and peaceful, we were surrounded by nothing but wilderness.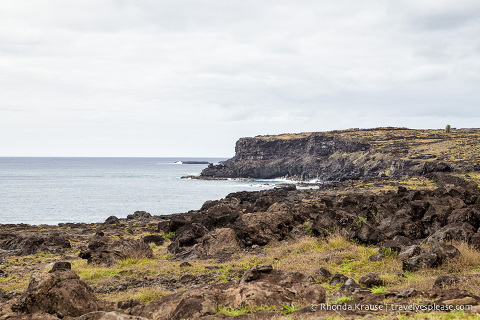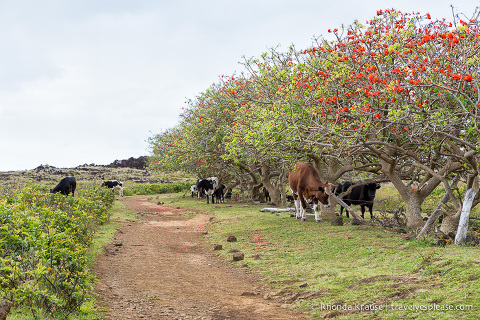 We started our walk where the road ends between Tahai and Ahu Te Peu. At first we weren't convinced it was a real road since it was such a bumpy path, but sure enough there was a checkpoint at the end where we had to leave the vehicle behind.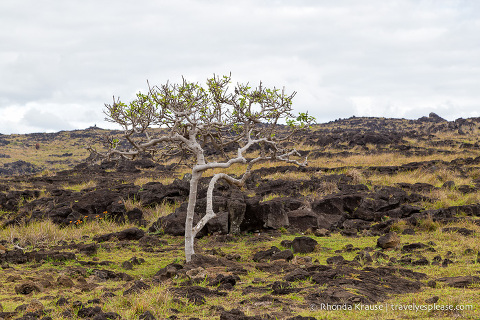 There weren't any famous sites along this route, but there were a few lava tubes/caves people can go in. I only went into one briefly because caves make me nervous!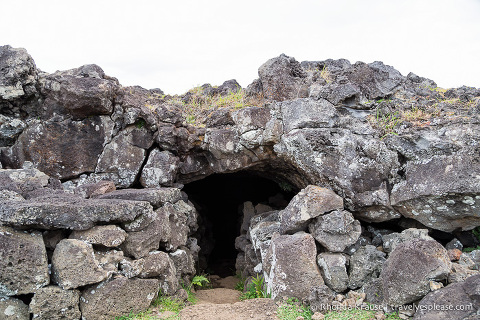 During this hike we really felt just how isolated Easter Island is. We saw only a handful of other people and there was hardly any noise either- just the wind and gentle chirping of birds. It was a great spot to reflect on our visit and take a moment to truly appreciate the intrigue of Easter Island.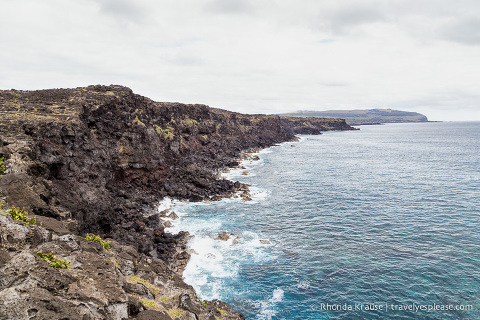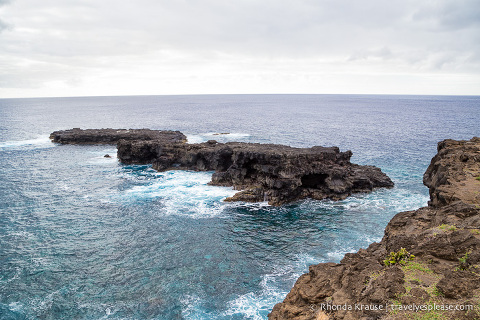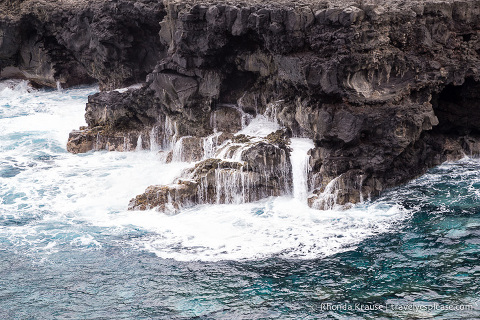 Final Thoughts About Our 4 Days in Easter Island
Our 4 days in Easter Island were relaxing, yet not idle, full but not rushed. We saw everything we came to see, but could have easily filled a few more days with activities like hiking, biking, horse riding, surfing, snorkeling, fishing and attending traditional dance shows. The island may be small, still there's plenty for active, curious travellers to enjoy.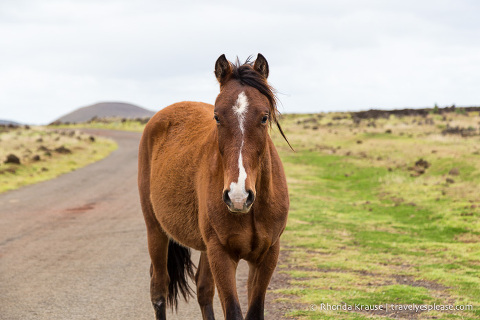 I've heard it often said there's an air of mystery to Easter Island, but for me there was also an underlying sadness. To see the life's work of a civilization thrown over, their mighty and revered statues face down and broken, was sobering. In many ways, these toppled moai represent the downfall of a society, a collapse brought on by their own resource-depleting, idol-making obsession.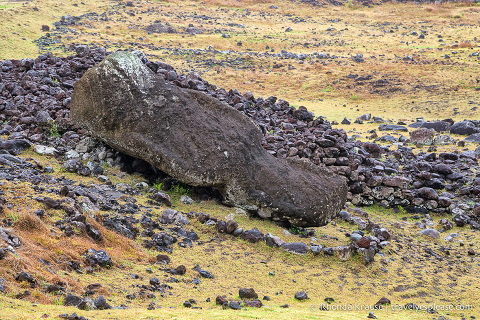 Easter Island's unique culture and thought-provoking history made it one of the most fascinating places we visited during our 3 weeks in South America. Add in the isolated location, dramatic coastline and iconic stonework and you've got one extraordinary destination!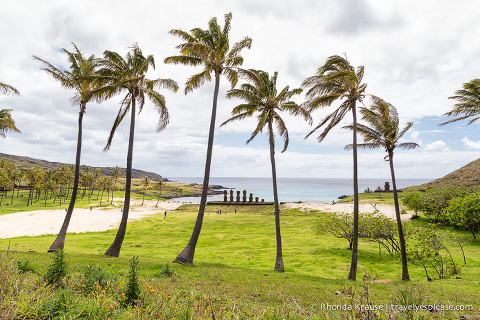 Easter Island was hard to leave and will be even harder to forget.
More Photos of Easter Island
This doesn't surprise me, but I took over 1600 pictures of Easter Island in 4 days! Here are a few more pictures of Rapa Nui to show you just how wonderful this island is!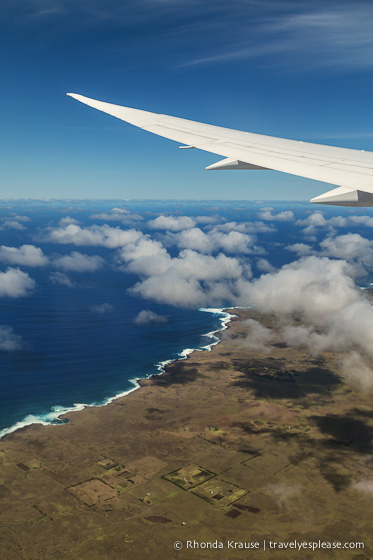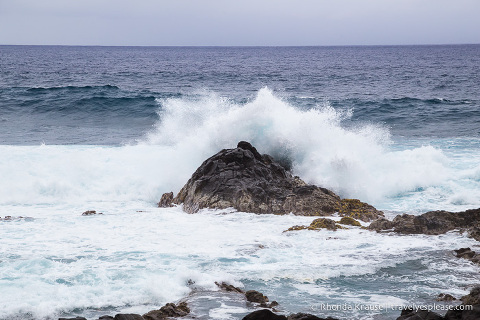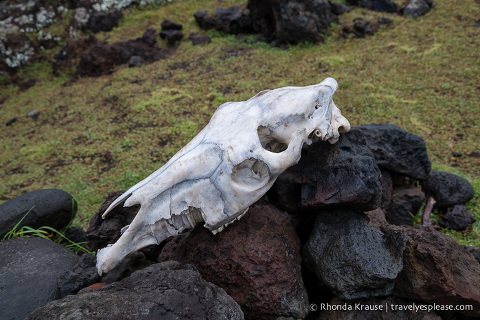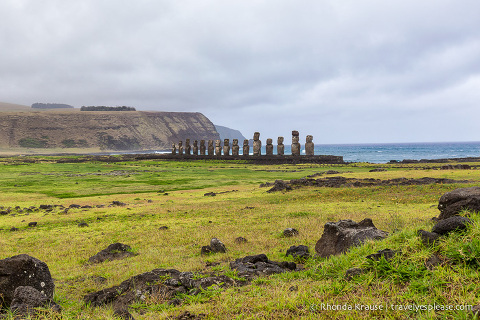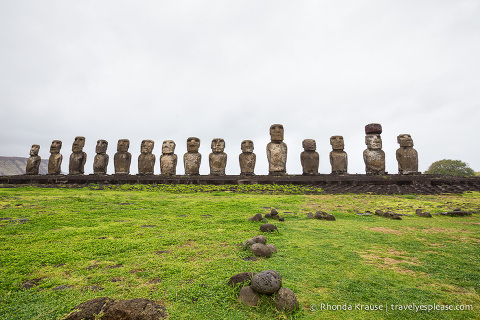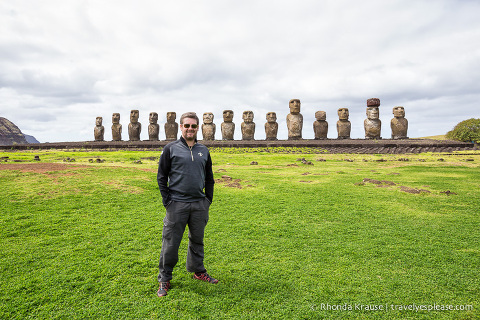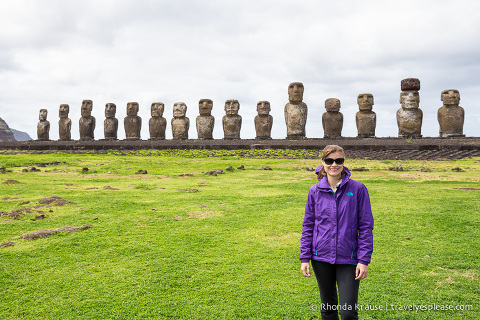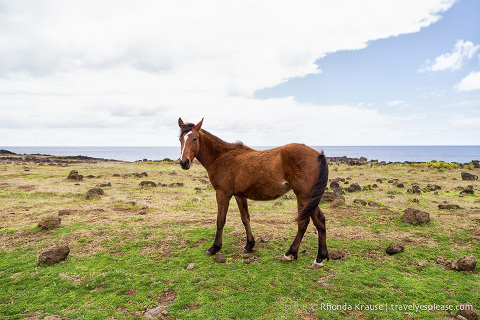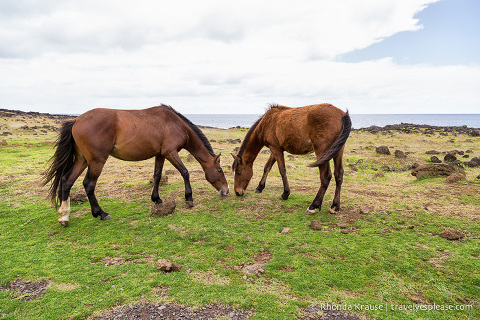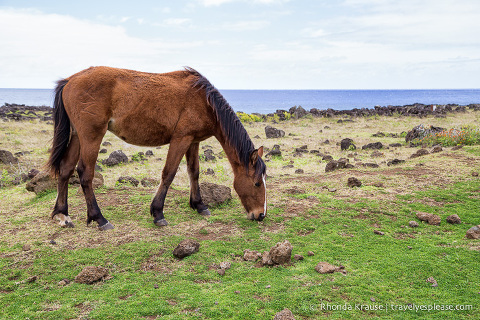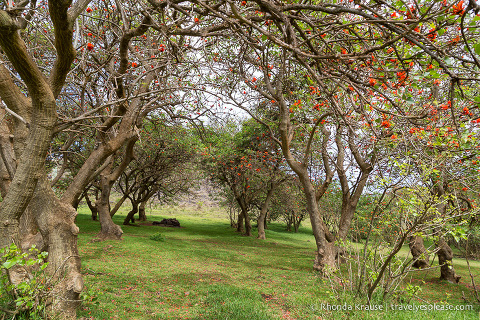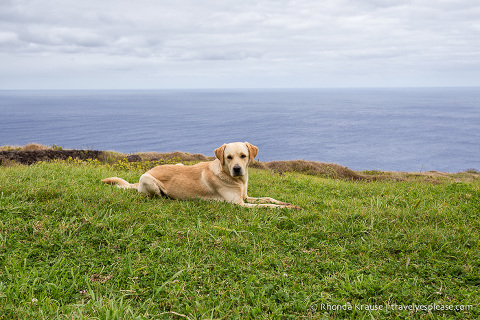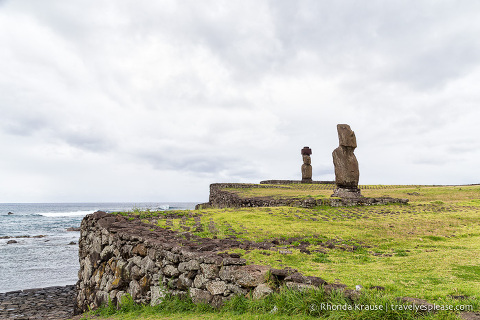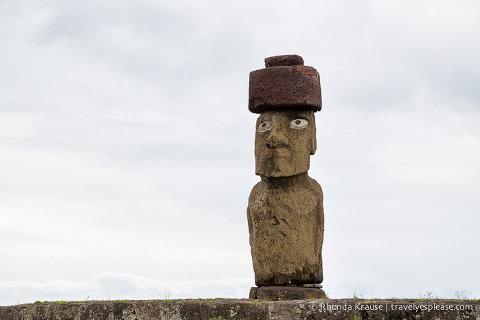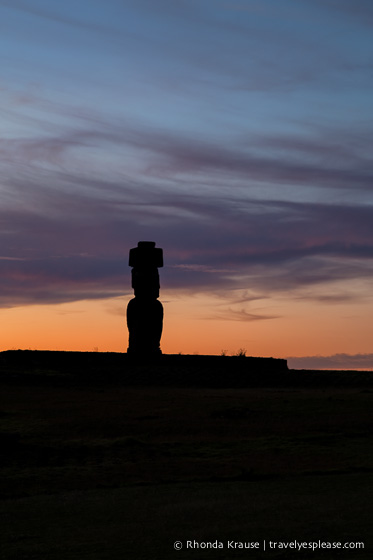 Tips for Visiting Easter Island
Getting There: Easter Island can be reached by plane daily from Santiago, Chile. The flight from Santiago to Easter Island is about 5 hr 45 mins. The only airline servicing Easter Island is LATAM.
Getting Around: The best way to see the island is to rent a vehicle. This allows you the freedom to go where you want and the flexibility to spend as much time as you want. We recommend renting a Jeep or truck since the roads are ridden with big potholes. Please note that there is no damage insurance available on the island, so take care when driving.
If you'd rather not rent a vehicle, there is a hop on-hop off tourist bus. Various guided tours are also available.
There is no public transportation system but there are plenty of taxis.
Money: Easter Island uses Chilean Pesos but many businesses will accept US Dollars (at a less favourable rate than you'd pay in pesos). There are two ATM machines on Easter Island that dispense Chilean Pesos. We used Banco Estado and had no issues using our Canadian bankcard. Credit cards are accepted in places, but not everywhere so you will still need to carry sufficient cash. It's best to exchange your money to pesos in Santiago before coming to Easter Island.
Rapa Nui National Park Pass and Fees: Over 40% of the island has been designated Rapa Nui National Park and all visitors must pay a fee to enter. The park pass costs $80 US or $54,000 pesos for foreigners and allows you to visit all 25 official tourist sites in Rapa Nui National Park. Confirm current rates here.
The park pass is sold at Mataveri Airport during flight arrivals only. We recommend buying it as soon as you arrive so you don't have to worry about it later. You can also buy a park pass at the Central Office of the Ma'u Henua Indigenous Community (Atamu Tekena street, next to the pharmacy), and at the CONAF office (Mataveri sector). 
At the time of our visit payment was in cash only, in either US dollars or pesos. I haven't been able to confirm if this is still the case, but I would come prepared with enough cash just to be safe.
The Rapa Nui National Park pass is valid for 10 days. You will be asked to show your pass at many of the sites and can only visit Orongo and Rano Raraku one time, so choose your day wisely.
Language: The official language is Spanish (because Chile owns the island) but Rapa Nui is also spoken. English is not widely spoken. The language barrier was a big challenge and we relied heavily on our Google Translate app.
Food Costs: Food in Easter Island is very expensive because most of it has to be flown in. We decided to buy groceries and cook at our cabana most nights in an attempt to save money. Groceries were still quite pricey and the selection in the mini-markets was very limited. We ate a lot of pasta and tomato sauce!
Electricity: Voltage is 220V and outlets require two round pins.
Drinking Water: The tap water is purified at the treatment plant so should be safe to drink, but we decided to stick to bottled water. I did use the local water for brushing my teeth though and had no stomach troubles.
Business Hours: Most businesses in Easter Island open late, at 9:30 or 10:00 am. I read they close for lunch between 2:00 and 5:00 pm and then re-open until 8:00 pm, but we were never in town during the afternoon to see for ourselves.
Public Washrooms: There are not a lot of public toilets in Easter Island and the only sites we saw that have them are Rano Raraku, Orongo, Anakena and Ahu Akivi. It typically costs $1 US to use them (Ahu Akivi was more expensive).
Passport Stamp: You can get a souvenir Easter Island "passport" stamp at the Post Office. Keep in mind it will be closed for lunch from 12:30- 2:00 pm.
Travel Insurance: Make sure you have comprehensive travel insurance that includes air ambulance service if you are seriously injured. The cost of being airlifted off the island would be astronomical!
Guidebook: If you won't be doing any guided tours, we recommend getting the following guidebook. It was a great resource for us as independent travellers, providing background information and practical tips for visiting each of the individual archaeological sites in Easter Island.
Information was updated January 2022, but can change without notice. Please confirm directly with service providers.
Tours of Easter Island
If you prefer not to explore on your own, here is a trusted site where you can book tours of Easter Island.
Accommodations in Easter Island
For your convenience, here is a list of hotels in Easter Island. Please consider booking your Easter Island accommodations through the included link. It costs nothing extra and helps support this website. Thank you!
Where We Stayed
We were looking for a rustic, natural experience during our time in Easter Island so we decided to stay at Cabanas Morerava, located in a rural area near the edge of Hanga Roa.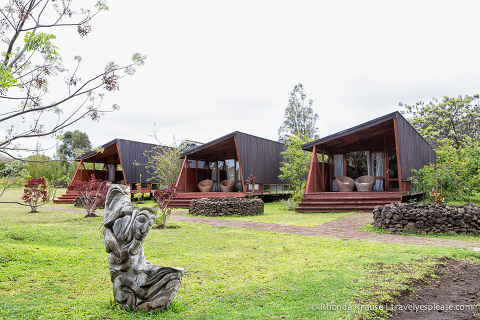 This property has four eco-friendly cottages that are built with sustainable materials and use solar power to heat the water. Not only are they eco-friendly, they're very spacious and beautifully constructed, blending in nicely with the natural environment.
We loved the fact there was a fully equipped kitchen in our cabin so that we could cook supper rather than eat out. There was a TV (no English channels) and free Wi-Fi, but that required a bit of patience to upload photos to social media (the WiFi is not great anywhere on the island).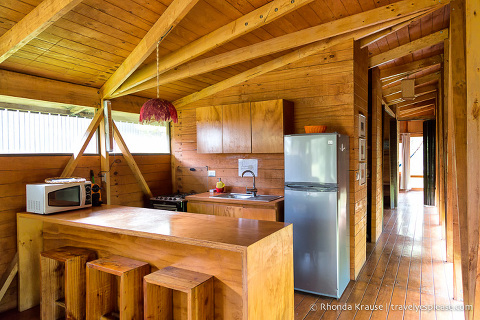 We spent our evenings relaxing in the hammock out back or sitting on the porch with the three puppies that lived there. These little cuties were more than happy to play with us each and every time we returned to our cabin.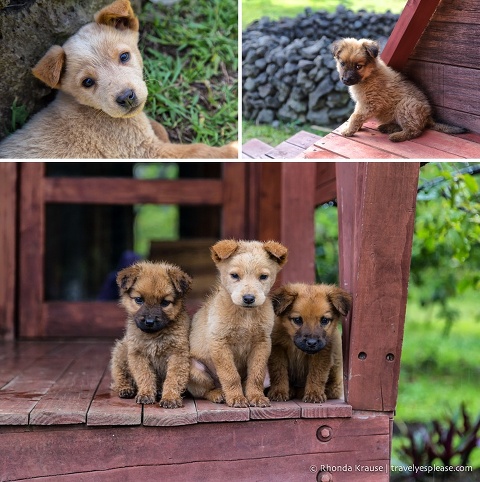 The hospitality and assistance we received at Cabanas Morerava was top-notch, despite the language barrier. We were greeted at the airport with flower leis, given a tour of town and surprised with a nice bottle of Chilean wine on my birthday! The manager sat down with us and did her best, using pictures and gestures, to explain some of the sites on the map. She gave us her phone number so that we could text if we had any questions about the cabin.
We did have to contact her about the hot water system, as it was a bit complicated to use. The hot water pressure was low and the heat was variable day to day.
Since the cabins are eco-friendly, there are no furnaces. Instead each cottage has a small portable heater that plugs into the wall and extra blankets. Although it can get cold at night, we were always warm in bed because the duvet was amazing and made for a very comfortable sleep.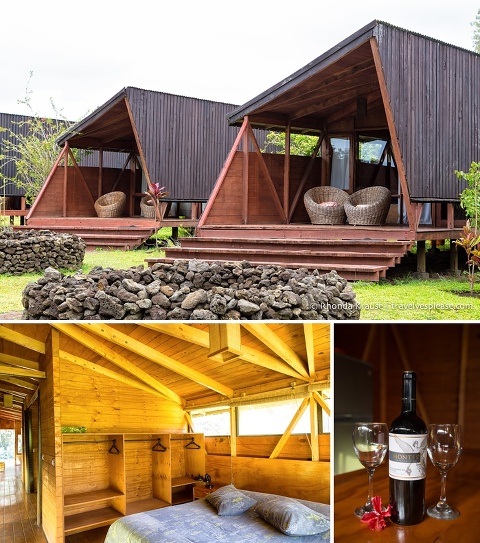 Overall, we had a pleasant stay at Cabanas Morerava during our 4 days in Easter Island. We enjoyed feeling like part of the island culture and appreciated that the property respects and protects the delicate local environment.
The beautiful location close to nature, wonderful hospitality, and friendly dogs made Cabanas Morerava feel like a home away from home!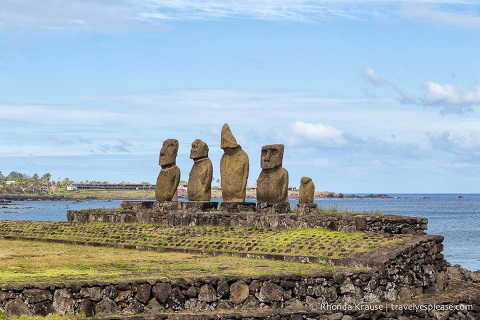 A portion of our stay was hosted by Cabanas Morerava. As always, I speak only the truth and hosts have no editorial influence on articles.