Purchases made through links earn us a small commission, at no extra cost to you.
Santorini was the place I was most looking forward to visiting when I set off to Greece.  I couldn't wait to walk among the white-washed buildings with the famous brilliant blue domes.  I pictured myself sitting on a terrace, enjoying a wonderful meal as I gaze out to the caldera, watching the setting sun paint strokes of pinks and orange across the quiet sky.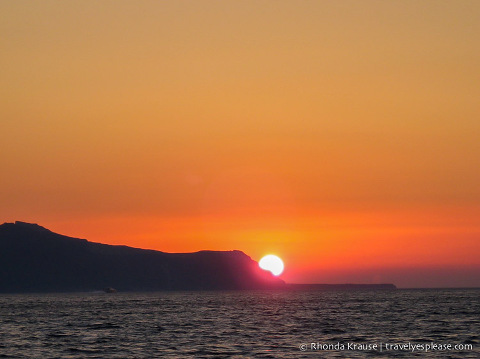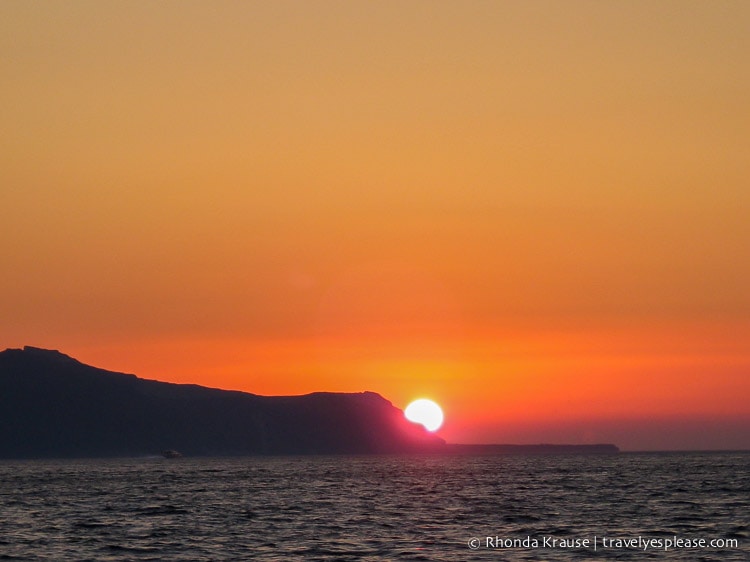 Not a day goes by that I don't dream about returning to Santorini. I fantasize about going back not because Santorini is idyllic, breathtaking and romantic, but because my time there was completely rushed and not quite what I had envisioned.  To this day, one of my biggest travel regrets is not having near enough time in Santorini.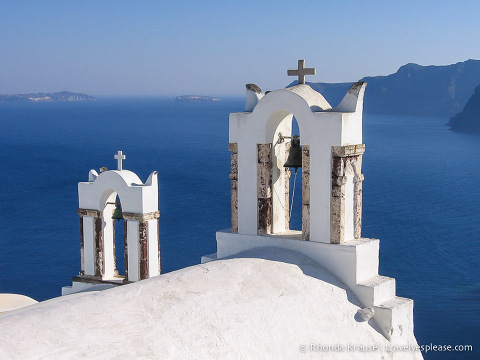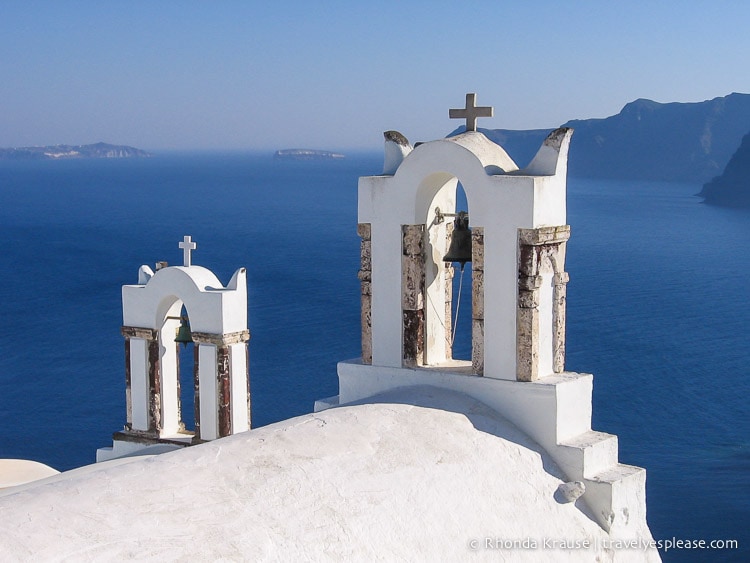 My Quick Trip to Santorini
As my cruise ship sailed up to Santorini, an island formed from the rim of an ancient drowned volcano, I made sure to position myself right at the bow of the boat.  I wanted to have the best view as we approached the island.  From afar, the island's cliffs appeared as though they were covered in snow.  It was so gorgeous that it made my heart hurt- I was sick with disappointment that I was going to have such little time on that jaw-dropping, white-topped cliff.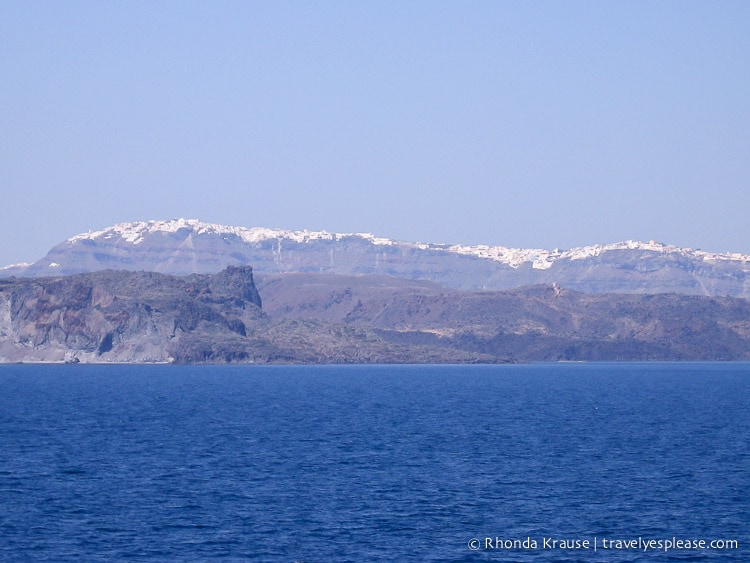 It was in that moment, I decided I disliked cruises.  My entire vacation was dependent on a ship staying on schedule- which it did not.  For some reason, the ship left Crete hours later than planned. This meant that my time in Santorini was significantly cut short- I only had two hours!
Once the ship arrived, I took a tender boat to the island then hopped onto a bus that would take me to the cliff-top village of Oia. Driving up to the villages, you can see the different layers of volcanic rock caused by many years of eruptions.  It was quite a contrast to look out one side of the bus and see dramatic cliffs and out the other side see completely flat beaches.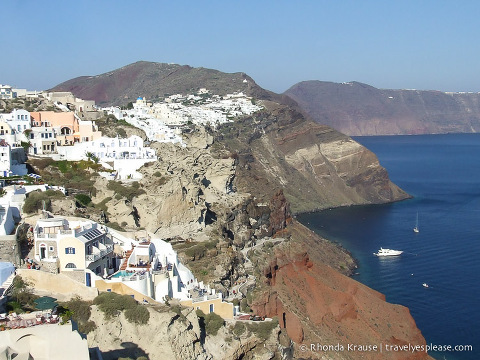 Finally, after much anticipation (and me telepathically willing the bus driver to go faster), I arrived in Oia.  It was absolutely stunning!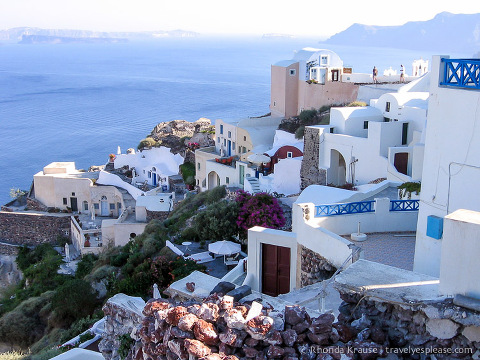 Oia is built on a steep slope of the caldera, providing amazing views.  I fell in love with the blue-domed churches and the narrow passageways that winded between the white-walled buildings. I had always pictured myself exploring the small streets and then simply sitting and enjoying the views from a cliff-side cafe.  Unfortunately, this was not my reality, as time was not on my side that day.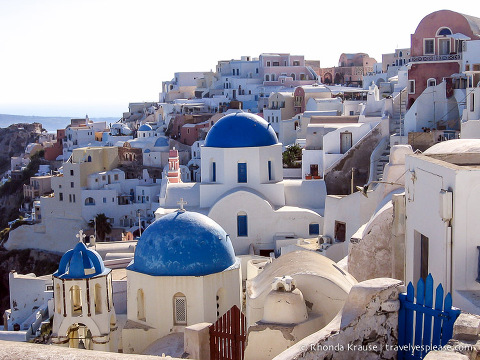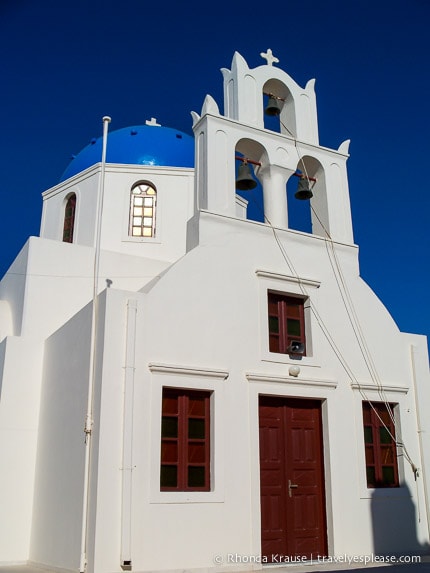 I managed to walk down a few streets, snap a few pictures, stand and enjoy the view for a few minutes and buy one souvenir before having to start making my way back to the cruise ship, if I didn't want to be left behind (although, I couldn't think of a better place to be stranded).
Originally, I was going to take the cable car back down to the port, but the line up was huge.  Turns out, all the cruise ships were leaving at the same time.  Some people had already been waiting in line for an hour.  The tour representative advised our group to ride the donkeys down because that would be faster than waiting for the cable cars.
Excuse me?  Take the donkeys?
Both the cruise director and my guidebook had specifically warned, "Do not take the donkeys down the hill!"  I wasn't sure how I should react to the news that I would now have to ride a donkey down a steep path of slippery volcanic rock.
Afraid of watching the cruise ship sail away without me, I did what I was told and, hesitantly, got on a donkey.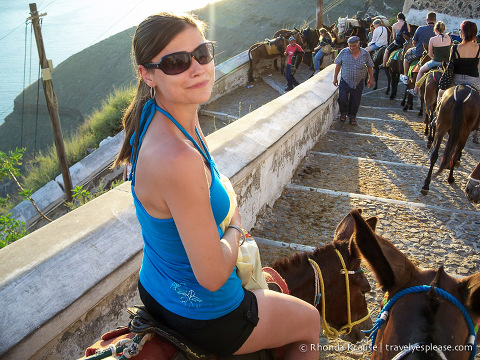 Well, in a matter of minutes I was legitimately scared for my life.  It was one of the most terrifying experiences I've ever had!
At first there was a man who was attempting to walk the donkeys down, but there was just too many for him to handle.  Soon, my donkey and I were abandoned, left to fend for ourselves.
I had no knowledge of how to control a donkey- it just did what it wanted.  Crash into other donkeys?  Sure, why not?  Pin me up against the rocky wall?  Sounds like a great idea!
After being jammed up in a group of donkeys, too many to count, we finally broke free of the crowd and headed down towards our final destination.  Perhaps sensing I was in a rush, my donkey started to pick up the pace, and with that began slipping on the smooth rocks under it's feet.
"I want off this donkey right now!" I started to scream, worried that I would be crushed if the donkey wiped out.  "Get me off! Get me off!" I kept frantically repeating.
Finally, the man that had abandoned me at the top of the hill came to my rescue and helped me off.  I slip-slided my way down the rest of the switchback path, feeling safer being on my own two feet and vowing never again to ride a donkey.
Putting aside the frightening donkey experience, the crowds of people and the lack of time I had on the island, I still very much enjoyed Santorini.  It was definitely the most spectacular and beautiful of all the Greek islands I visited.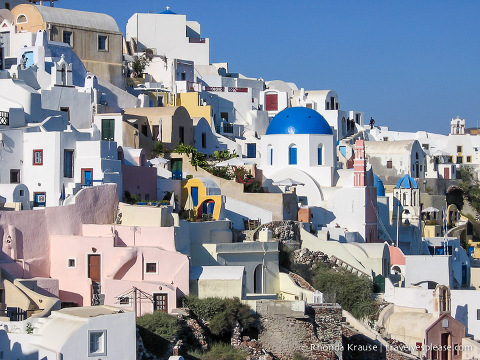 I will continue to dream about Santorini, just as I did before.  However, the next time I return will be on my own terms- no tour schedule to abide by.  I will be free to slowly stroll beside the iconic white buildings, free to swim in the glistening waters of an infinity pool high on the cliff, free to enjoy a delicious dinner as I watch the warm sun set on the caldera.
I will be free to experience Santorini as I have always imagined I would.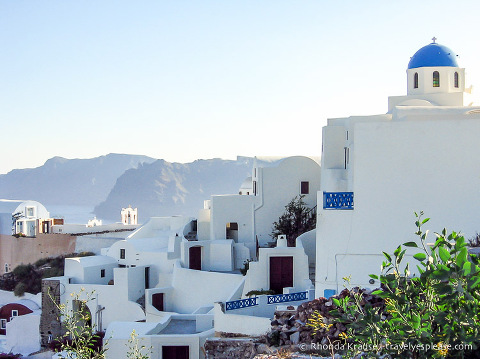 Tips for Visiting Santorini
Most ferries arrive at the port of Ormos Athinios and are met by buses which take visitors to the island's capital, Fira. Buses for Fira meet all ferries, even those arriving late at night.

Bus service is plentiful from Fira to other destinations on the island.
Cruise ships arrive at the small port of Fira Skala. From here, passengers can take the cable cars up to Fira or, if you are brave enough, ride the donkeys.
Accommodations in Santorini
For your convenience, here is a list of hotels in Fira and hotels in Oia. Please consider booking your Santorini accommodations through the included link. It costs nothing extra and helps support this website. Thank you!
More Greece Destinations and Travel Guides