Purchases made through links earn us a small commission, at no extra cost to you.
Standing on the sprawling lawn of the Campo dei Miracoli, is a collection of some of Europe's best Romanesque architecture, and one of the world's greatest architectural blunders- the Leaning Tower of Pisa.
Built on top of weak, unstable subsoil, with only a shallow three-metre foundation, the design of the cathedral's free standing bell tower was doomed from the beginning. The architect was only able to complete three tiers before the tower began to lean on the south side. Construction was stopped and for almost a century, the tower stood incomplete. Building resumed in 1272, the second of three stages of construction which would occur over 199 years.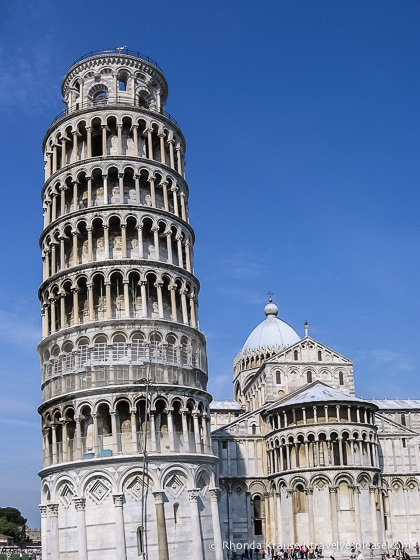 Engineers tried to compensate for the tilt of the base by building the upper floors with one side taller than the other. This technique didn't stop the lean, but instead caused the tower to be slightly curved. In fact, the tower continued to lean by one millimetre each year, reaching as much as five metres off the perpendicular.
Several methods over the years have been tried to stop the lean, but it wasn't until 1998 that there was success. Workers wrapped cables around the third story, attaching them to A-frames while small portions of soil were removed on the northern side. This created a counter-subsidence which corrected the lean by 45 centimetres. Experts believe that the Leaning Tower of Pisa will be stable for at least 300 years.
More Italy Destinations and Travel Guides