Purchases made through links earn us a small commission, at no extra cost to you.
The Ponte Vecchio, or "old bridge", is a highlight of any visit to Florence.
The medieval bridge spans the Arno River at its narrowest point but is so much more than just a river crossing. The Ponte Vecchio has always been a place where merchants could display and sell their goods. Butchers first occupied the shops until Ferdinando I de' Medici, the Grand Duke of Tuscany, grew tired of the smell and ordered them to be replaced. Since then, the Ponte Vecchio has been a place for jewelry merchants to sell their glittering wares.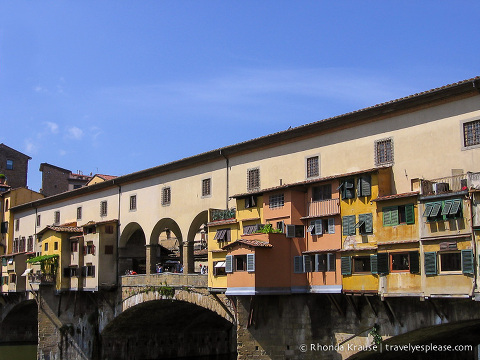 The Ponte Vecchio was the only bridge in Florence not to be destroyed in World War II. Some say Hitler ordered it to be saved while others believe that the German commander disobeyed instructions to blow it up.
More Italy Destinations and Travel Guides