Purchases made through links earn us a small commission, at no extra cost to you.
On a clear day, the peak of Denali (formerly known as Mount McKinley) can be seen all the way from Anchorage, about 210 km away. Denali is the highest peak in North America at 20,320 feet (6,194 metres).
The mountain is a giant block of granite, pushed up from the Earth's crust during a period of tectonic pressure that began 60 million years ago.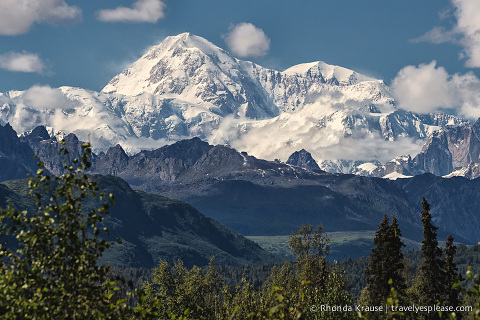 There is some controversy regarding the naming of the mountain. The original name of Denali, meaning "The High One", came from native Athabaskans. In 1896, the modern name of Mount McKinley was applied in honour of William McKinley, who later that year became president of the United States.
Since the mid-1970s there has been pressure to restore the Native American name of Denali. The State of Alaska recognized the original name in 1980 by naming the national park and preserve where the mountain is located, Denali. In 2015, after many decades of name-change efforts by Alaskan politicians, the name Denali was restored by President Obama.
We were very lucky to have spectacular views of Denali two out of the three days we were in the Denali National Park area. Our guide said that about only 30% of visitors are lucky enough to see the entire mountain free from cloud cover!
More Alaska Destinations and Travel Guides