Purchases made through links earn us a small commission, at no extra cost to you.
An Alaska cruise is a trip that everyone should take at least once in their lifetime. And I say that as someone who isn't always the biggest fan of ocean cruising.
We were only a few days into our trip and Mike and I were already saying that we wanted to do this again!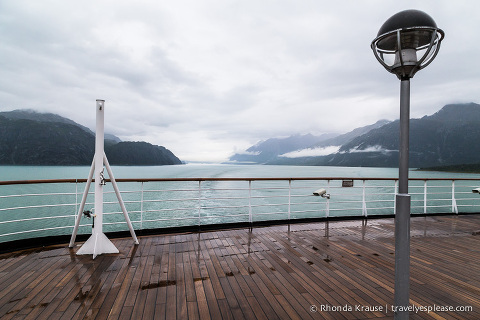 The phenomenal scenery of rugged coastlines, mountains, waterfalls, and glaciers had us captivated. We were content to sit on our balcony and simply watch the beauty pass us by. In fact, we were hesitant to look away because of the abundant opportunities for wildlife viewing. We saw whales, dolphins, seals, and bald eagles, all from the comfort of the ship. I was really hoping to see some sea otters, but no such luck.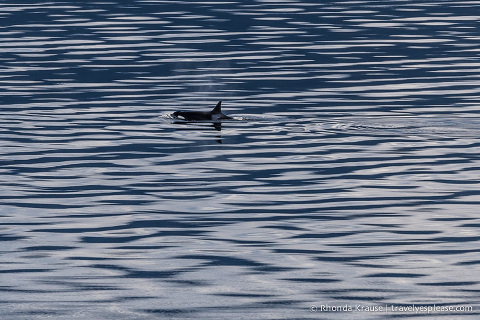 Every port of call on our Alaska cruise itinerary was fantastic and the amount of time we spent at each one was perfect, especially for someone like me who hates being rushed. The shortest amount of time we had in port was eight hours, but our other stops were 13 and 14 hours.
It was hard to decide what to do at each port of call because there were so many great activities available. I commented that we could go on this same cruise over and over again and have it be completely different each time!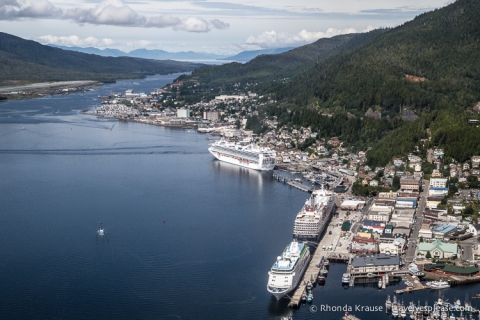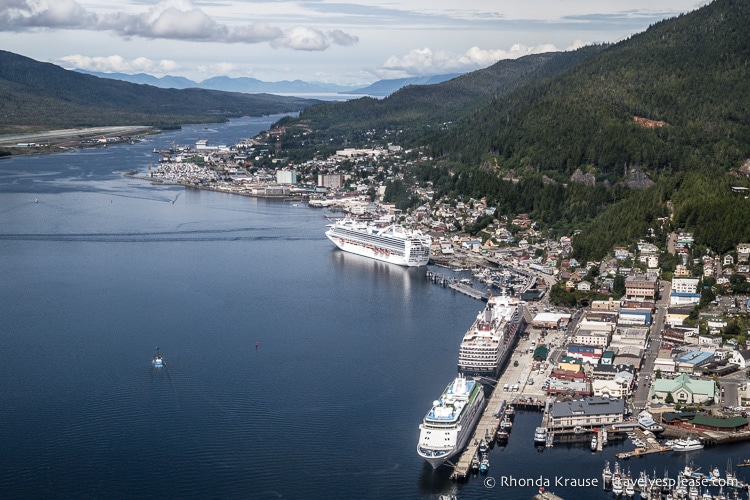 Our Alaska Cruise Itinerary- Ports of Call
We started our Alaskan adventure in Vancouver. Our cruise was seven days long and we visited three ports of call. The cruise we chose included a land journey, so we also spent two nights in Denali National Park, where we got to see the beautiful Mount Denali, and one night in Anchorage.
Here's a summary of all the ports of call on our Alaska cruise, including the land portion of our journey.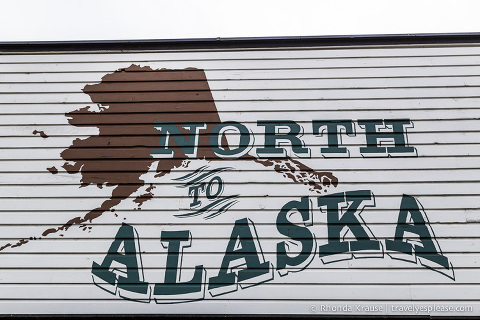 Day 1: Vancouver
We boarded the ship around 12:30 pm or so, even though the ship didn't set sail until 5:00 pm. This gave us a chance to have lunch and explore the ship.
We've been to Vancouver many times, but when our ship sailed away, we got to see it from a whole new vantage point. Yes, Vancouver still is one of Canada's most beautiful cities!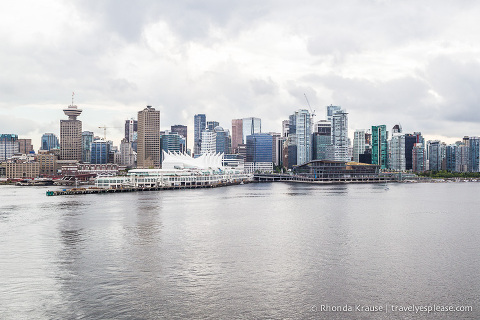 Day 2: Cruising the Inside Passage
Cruising the Inside Passage was a relaxing way to start the first full day of our trip.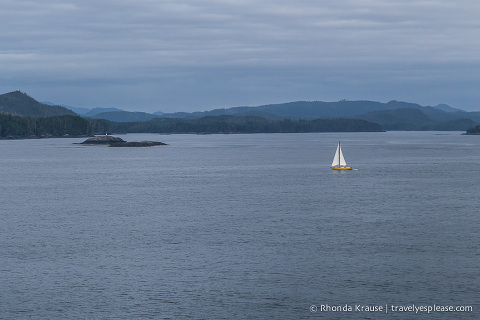 We passed by many islands, big and small, as our captain navigated through scenic gorges like the precarious Seymour Narrows.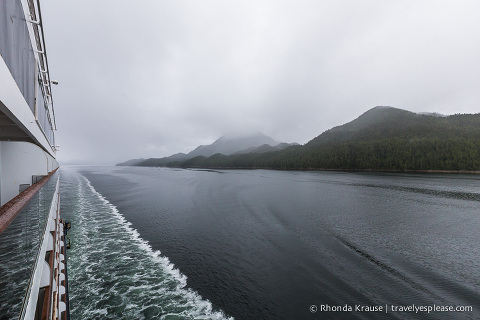 Much of the landscape is covered by dense forest, but if you watch closely, you'll see some waterfalls along the way!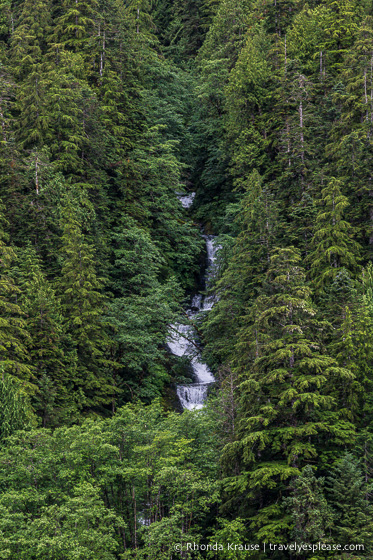 Day 3: Ketchikan
Ketchikan is a very small, pretty town along the Tongass Narrows. It began as a Native village, a heritage that can be seen in the many totem poles displayed around town.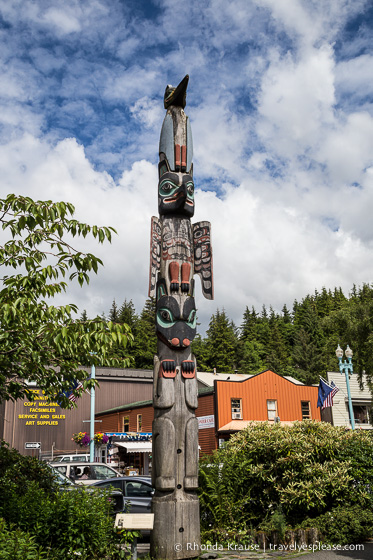 Ketchikan has transitioned from a fishing village, to a logging centre, then back to a fishing community. Today, it also attracts the cruise ship crowds, many who head towards Creek Street, Ketchikan's former red light district.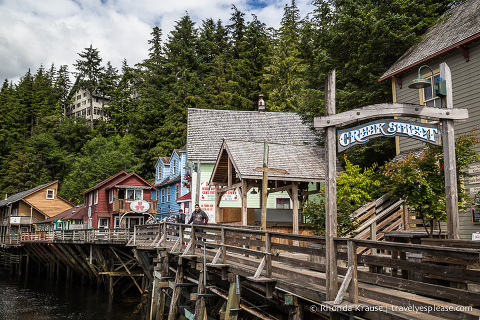 My favourite day on the cruise was in Ketchikan because this is where we went on our bear viewing excursion. We enjoyed an amazing float plane trip to Neets Bay, where we were lucky enough to witness a black bear lunching on some salmon. And boy, was he ever a messy eater!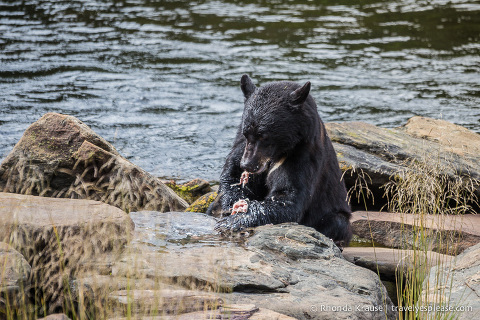 Read more: Neets Bay Bear Viewing, Flight Seeing in Ketchikan- Misty Fjords National Monument
Day 4: Juneau
Nestled between Mount Juneau and Mount Roberts, Juneau is encompassed by natural beauty. While the city itself didn't make a lasting impression on us, we loved exploring Juneau's scenic surroundings.
Our day started with a ride on the Mount Roberts Tramway. We spent a few hours hiking around on the trails, enjoying views of the valley and city below us.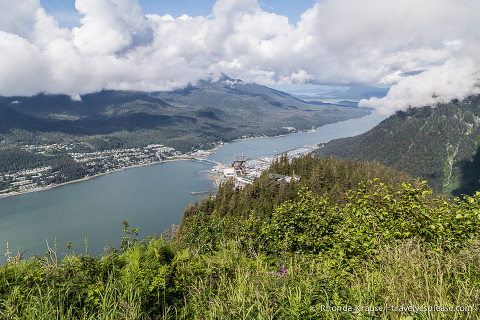 Next we took a shuttle bus to nearby Mendenhall Glacier. After marvelling at the glacier from the Visitor Centre, we walked along the beach to Nugget Falls, a huge waterfall near the base of the glacier. I loved getting to see the ice up close!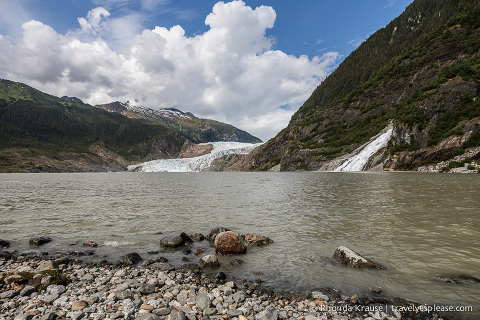 The rest of our time in Juneau was spent at a creek where the salmon were spawning. We watched in amazement as thousands of salmon thrashed around the water, many of them slowly dying after laying their eggs. I was really surprised not to see any bears here, considering it was a fish buffet, but there were plenty of bald eagles and seagulls feeding on the remains.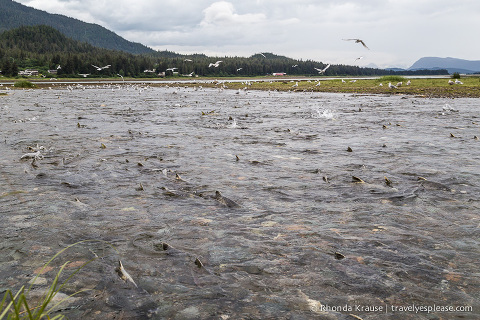 Read more: A Visit to Mendenhall Glacier
Day 5: Skagway
Skagway turned out to be the cutest of all the towns we visited. Its appearance remains largely unchanged since 1897, when Skagway became the gateway for gold-seekers embarking on the Chilkoot and White Passes.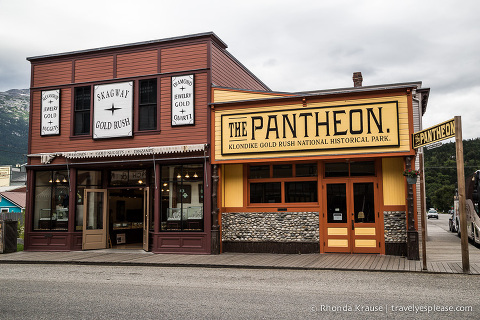 Skagway was also very small, so after walking around for about an hour, we rented a car and drove up the Klondike Highway into the Yukon. The drive is incredibly scenic and the unique landscape will make it hard for you to keep your eyes on the road!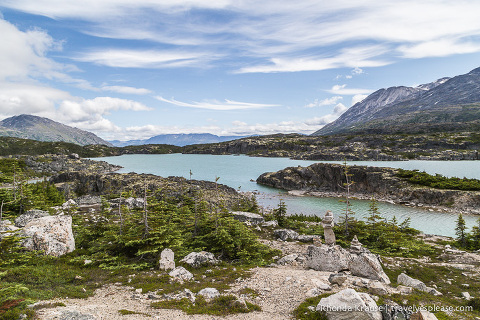 Read more: Skagway, Alaska- Gateway to the Gold Rush, Driving the Klondike Highway- Alaska to the Yukon
Day 6: Glacier Bay
Glacier Bay is incredible! Other than the float plane bear excursion in Ketchikan, this was the highlight of our Alaska cruise.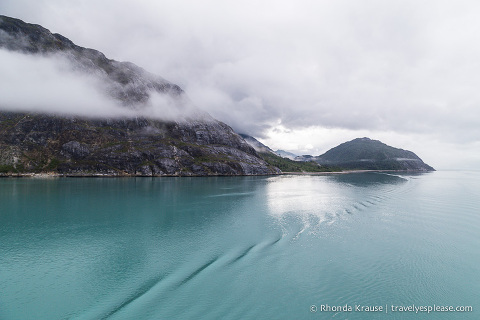 Gliding on top of glistening turquoise waters into the misty bay, was mesmerizing in itself, but getting up close to the mighty Margerie Glacier was unforgettable.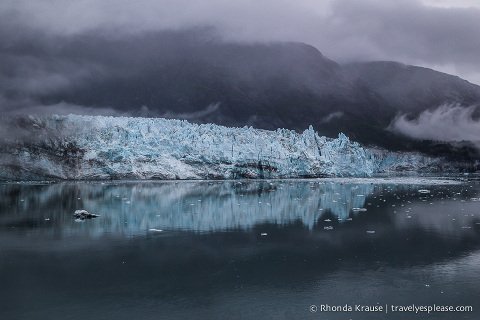 We spent about nine hours inside the bay, cruising past numerous glaciers and fog covered fjords. Every so often the on-board Park Service Ranger would direct our attention to points of interest and provide interesting information about the area.
Not all cruise ships are authorized to go into Glacier Bay, and only two cruise ships are permitted to enter each day. I recommend you book with a company that is able to sail into this area because it will likely be the outstanding moment of your cruise.
Read more: Into the Ice- Glacier Bay, Alaska
Day 7: Cruising the Gulf of Alaska
This was the only day where we didn't have much scenery to enjoy. Still, it was nice to have a relaxing day at sea to end the cruise portion of our journey.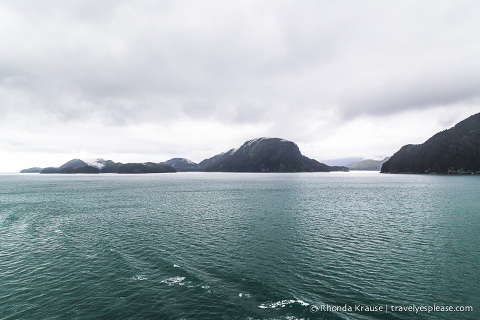 Our Alaska Cruise- Review and Final Thoughts
Even though I originally wanted to drive to Alaska, cruising turned out to be a great way to see and experience the "Great Land".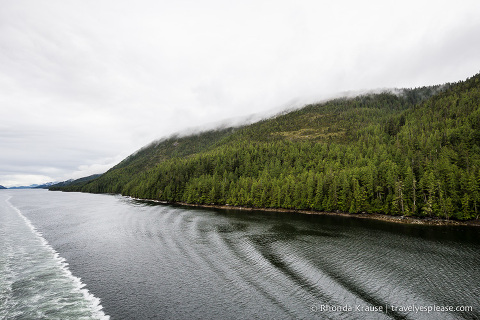 Many of the places we visited in Alaska are accessible by boat or plane only. By doing a road trip, we would have missed out on Ketchikan, Juneau and Glacier Bay. What a shame that would have been!
My usual complaint about cruises is not having enough time in each port of call to experience the destination on a deeper level. This was not an issue on our Alaska cruise. I appreciated being given plenty of time for exploring the ports of call and having a wide variety of activities to choose from at each location.
The only thing that would have made this cruise (and every other cruise) better for me, was if the excursions were more affordable and the cruise company wasn't constantly trying to get people to shop so much. I hate shopping!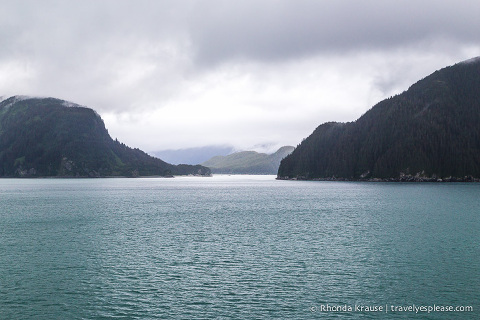 Tips for Going on an Alaska Cruise
Most Alaska cruises are one way only. You'll have to budget for a flight back to the port of departure. Some people actually booked the same cruise, but going in the reverse direction, to return to the departure point.
If you can afford it, it's worth it to get a stateroom with a balcony. We loved waking up every morning, ordering room service and enjoying a quiet breakfast on our deck. The balcony also came in handy when we cruised Glacier Bay. There were so many people up on deck trying to get a good view that it got a little crowded, not to mention annoying to try and take pictures. We decided to retreat back to our balcony and enjoy the glacier views away from the crowds.
A common question is "What side of the ship is best to get a room on for an Alaska cruise?" Most people think that the right side (on a north-bound cruise) is best, but actually both sides are equally as good. Our room was on the left and we had amazing scenery the entire way! When you cruise the Inside Passage, you'll be going through a collection of islands, so there is always something to look at on both sides of the ship.
Shore excursions on our Alaska cruise were quite expensive, with most of the adventure activities costing over $100. It doesn't hurt to shop around for a better deal by contacting some local companies. This site has a good selection of Alaska excursions you can book in advance.
If your cruise line has the option to book excursions in advance on-line, take advantage of this. Many of the adventure excursions, such as bear watching and helicopter rides, sell out weeks in advance. If you are unable to book an excursion, there will be tour operators at each port of call offering much of the same activities. They set up booths right where passengers disembark, so it's really convenient.
Come prepared for all different types of weather. We had some rain, some sun, and a mix of warm and cooler temperatures (in July).
Bring a good pair of binoculars for wildlife viewing. If you forget, like we did, you can buy them on the ship.
We highly recommend you book a cruise that has a land tour following the sea portion of the trip. We chose an option that took us by bus to Denali National Park for a few days and then returned us to Anchorage via a very scenic train journey on the McKinley Express. We loved getting to experience much more of Alaska compared to the traditional cruise itinerary.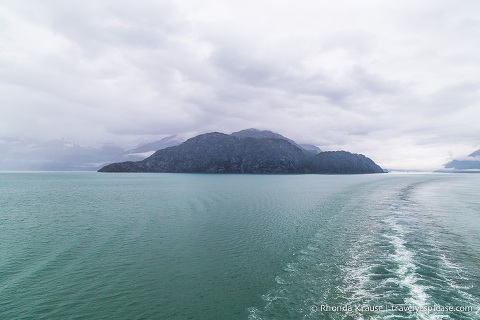 Search, Compare and Book Cruises to Alaska
Here is a helpful and reputable site you can use to search for and compare cruises to Alaska. There's a variety of tour operators, vessels, and itineraries all in one place for easy comparison. You can even read reviews from other travellers. Once you find a trip you love you can book it!
Book Alaska Cruise Shore Excursions