Purchases made through links earn us a small commission, at no extra cost to you.
The boardwalk echoed below our feet as we strolled into Skagway, the small town of 900 still and quiet during the morning hours.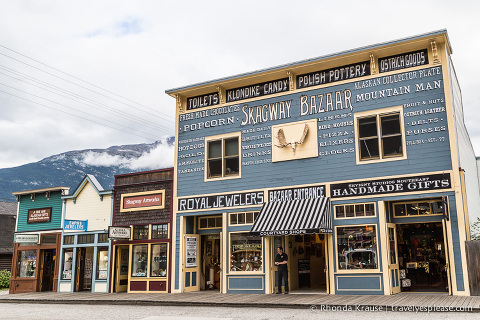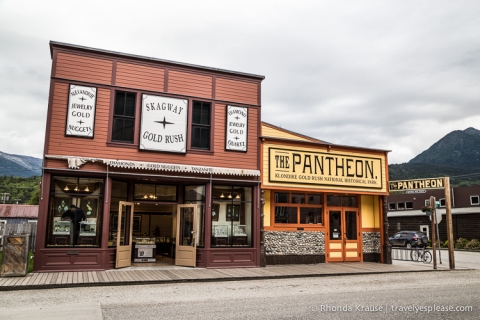 Early 20th century buildings lined the streets where many of men before us had walked, chasing the promise of "Gold in the Yukon!"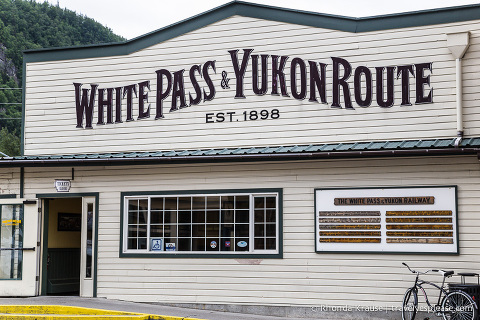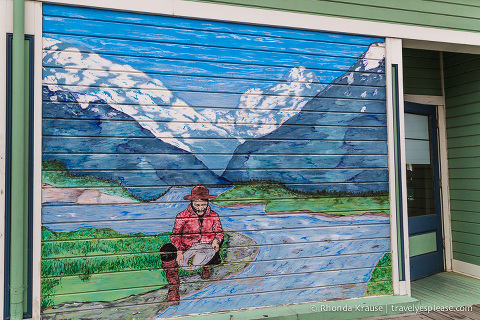 As the gateway for gold-seekers embarking on the Chilkoot and White Passes, Skagway's population boomed. With that, the town attracted many unsavoury elements, such as alcohol, crime and prostitution.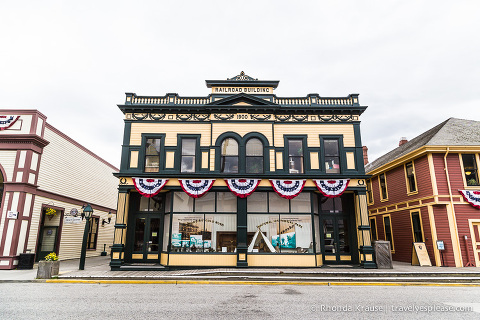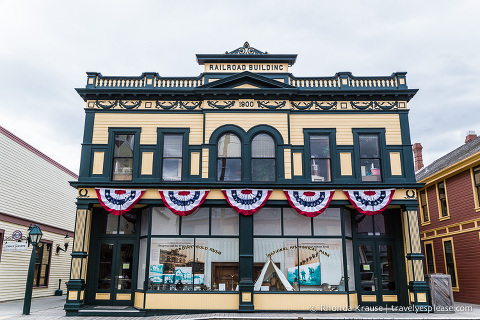 Oh, if Skagway could talk, it would have some fascinating stories to tell!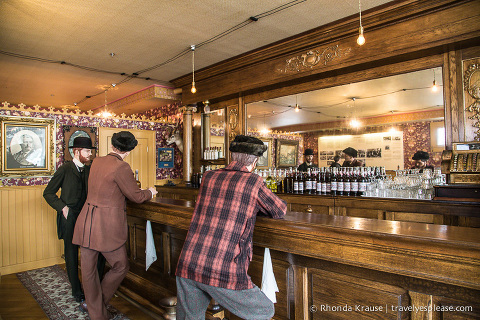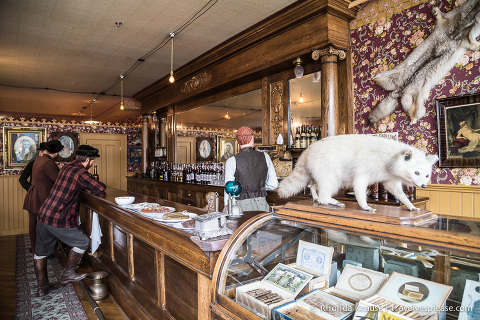 Once a lawless town, notorious characters like "Soapy" Smith and his gang of sly thieves roughed up Skagway. It took a shootout at the docks, leaving Soapy Smith dead, to bring some order to this unruly boomtown.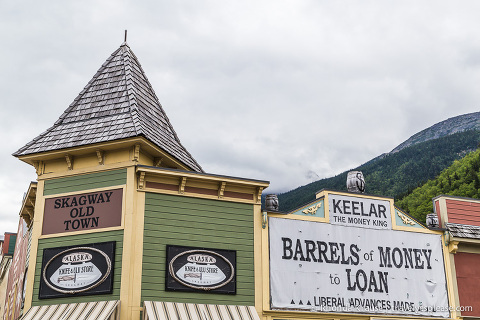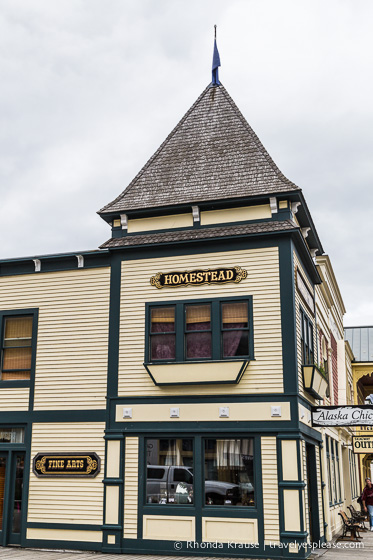 With over 80 saloons in Skagway during the Gold Rush, there were plenty of places for lonely prospectors to go looking for a good time. The finest dancehall in town though was the Red Onion Saloon, which offered up "liquid courage" with a side of lovin'.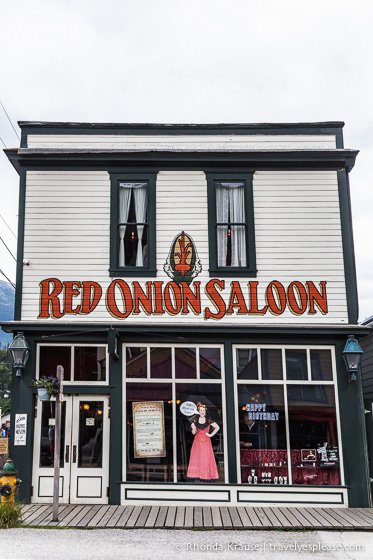 The world famous Red Onion Saloon can still be visited, but the only "goodtime-girls" you'll find there today are costumed guides sharing tales of the women who used to work upstairs in the celebrated bordello.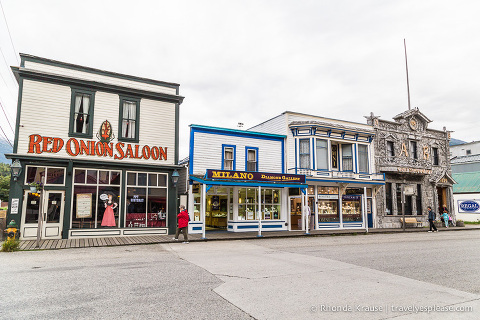 My favourite building in Skagway was the Arctic Brotherhood Hall. Built in 1899, the façade is covered by nearly 9,000 pieces of driftwood sticks gathered by lodge members from the shores of Skagway Bay. Between the windows you can see the letters A and B, for Arctic Brotherhood. Near the roofline you'll notice a makeshift gold pan and nuggets, the group's symbol.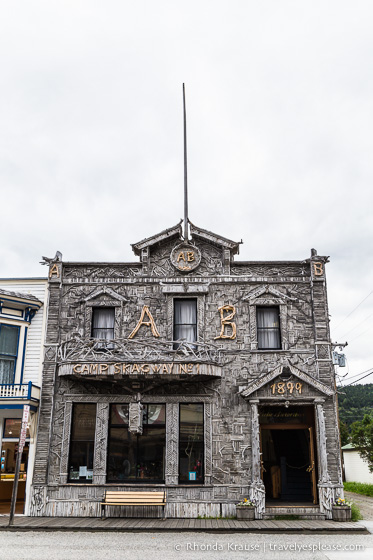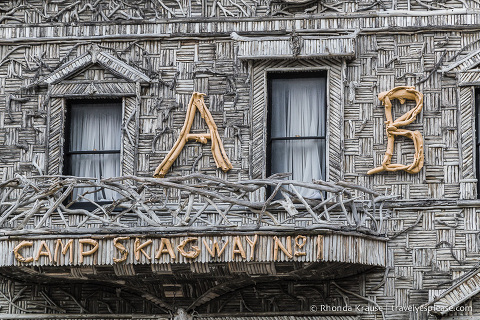 Final Thoughts About Our Trip to Skagway
Skagway was definitely the cutest town we visited during our Alaska cruise. Largely unchanged in appearance since 1897, it's full of historic architecture and interesting stories.
For such a small town, there was surprisingly a lot to see and do in Skagway. However, the best way to experience Skagway is by simply walking around and imagining what life was like during the exciting days of the gold rush.
Photos of Skagway
Here are some more pictures from our visit to Skagway!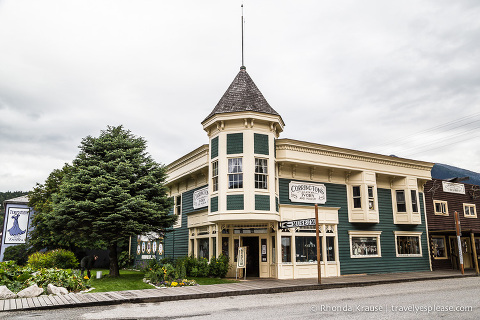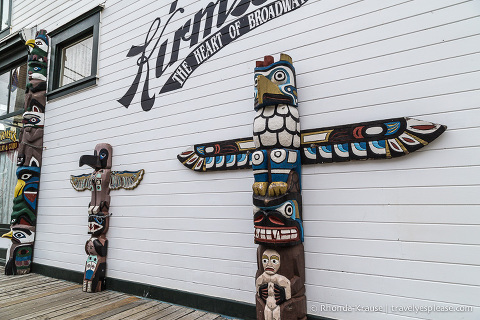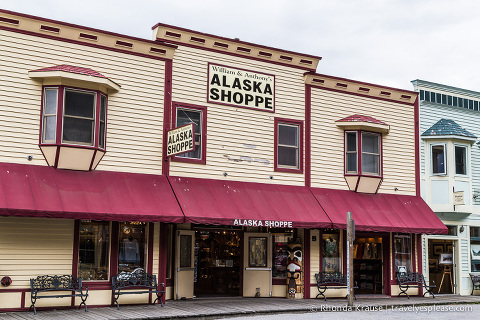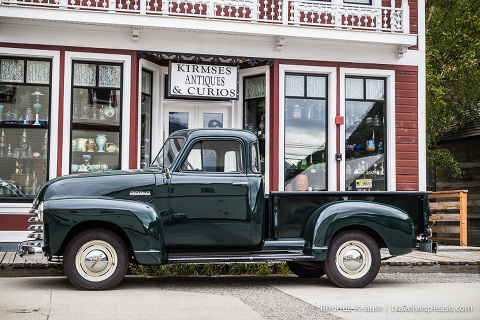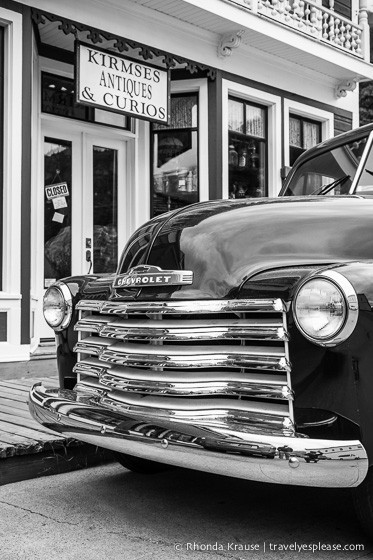 Tips for Visiting Skagway
The climate is drier and sunnier than the rest of South East Alaska.
The town can get busy, especially when there are multiple cruise ships in port. To miss the crowds, start your day early or explore in the early evening when most of the passengers have gone back to their ship for dinner.
If you're not interested in shopping or partaking in activities specifically geared towards tourists (walking tours, shows and museums) you will be able to explore Skagway in no time. We walked around for about an hour, then picked up our rental car and drove the Klondike Highway to the Yukon and back.
Things to see in Skagway: Some things to see in Skagway include Broadway Street, the Skagway Museum, the Corrington Museum of Alaskan History, the Klondike Gold Rush National Historical Park Visitor Centre, Jeff Smith's Parlor Museum, Eagles Hall, Mascot Saloon, and Pullen Park and Creek.
Things to see near Skagway: If you want to venture out of town a bit, some things to see near Skagway include the Gold Rush Cemetery, Jewell Gardens, the town of Haines, the White Pass and Yukon Route Railroad, Dyea Mushing Camp, and the original townsite of Dyea (now abandoned. Most of the buildings washed into the river or rotted away over time, but it's still recognized as a National Historic Landmark).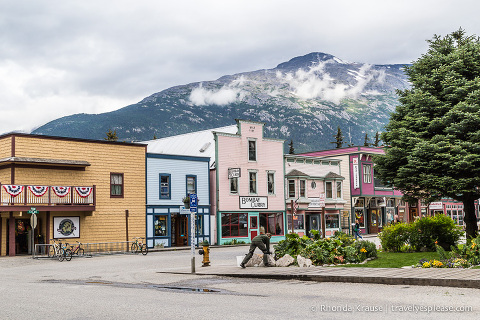 Accommodations in Skagway
For your convenience, here is a list of the few hotels in Skagway. Please consider booking your Skagway accommodations through the included link. It costs nothing extra and helps support this website. Thank you!
More Alaska Destinations and Travel Guides