Purchases made through links earn us a small commission, at no extra cost to you.
Brunelleschi's dome, and the cathedral it covers, is one of Florence's most recognized landmarks. It dominates the skyline, still the tallest building in Florence over 600 years after it was built.
At 45 metres wide, Filippo Brunelleschi's dome is the largest masonry dome ever built. Its construction is unique in that it was built without the use of scaffolding (it's said there was not enough timber in Tuscany to build the supports!) Brunelleschi came up with an innovative solution that allowed the dome to support itself as it was built. To this day, the 15th century dome and its construction are considered to be an architectural wonder.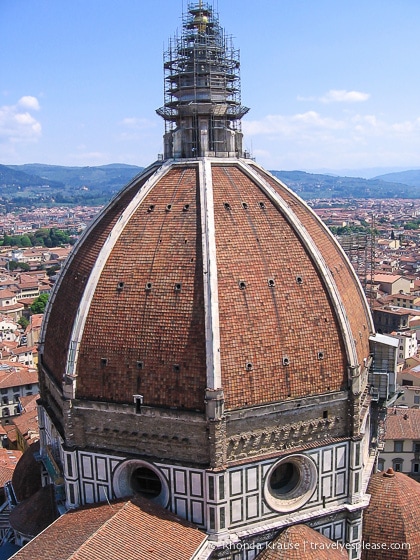 I took this photo in 2006 during my brief, one day visit to Florence. I had to climb 414 steps to the top of Gioto's Bell Tower to get this view of the dome. But I'm not complaining- the view of the dome and surrounding city made it well worth the effort!
More Italy Destinations and Travel Guides