Purchases made through links earn us a small commission, at no extra cost to you.
Capri's craggy coast, turquoise waters, abundant sea caves and beautiful views of the Gulf of Naples make it a popular spot for day-trippers coming from Sorrento and Naples.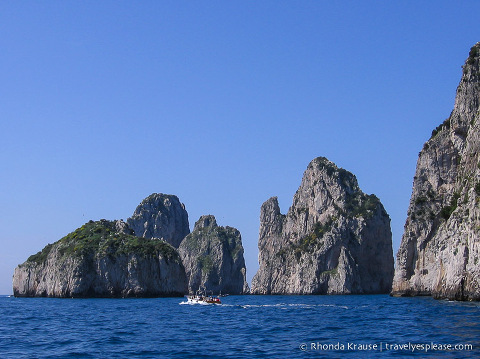 In the summer time, the island welcomes up to 5,000 visitors a day. This popularity means that Capri is heavily geared for tourism- shops overflowing with tacky souvenirs and inflated prices for food.
Not one for shopping (or for paying ridiculous prices), I decided to spend my time in Capri, well actually not in Capri at all. Instead, I took a wonderful boat tour around the island and enjoyed the beauty of Capri from afar.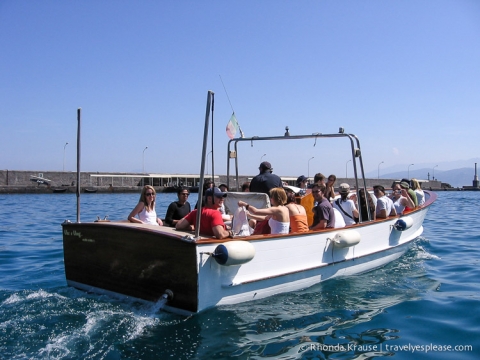 Capri Boat Tour
The boat tour I went on was over an hour long and included many of Capri's major sites, such as the Lover's Arch and the spectacular Blue Grotto. The boat's captain even stopped to let us go for a swim. It was such a hot day and the water looked so blue and refreshing, but I couldn't bring myself to go in because there were so many jellyfish floating around (I am scared of sea creatures!)
The first notable thing we saw on our cruise was a little green man, perched up high on a rock, welcoming visitors to Capri.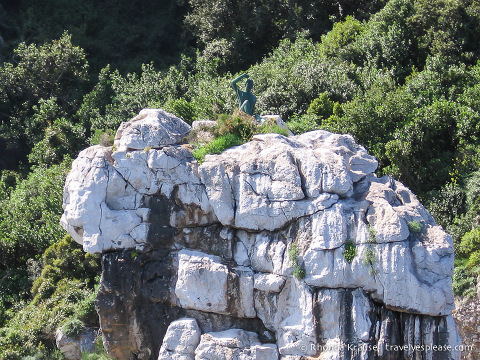 Then our captain took us up close to some grottos.  Not the famous one just yet…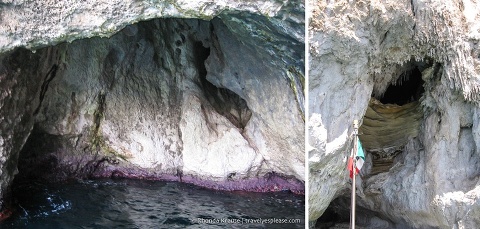 Then we set sail towards the Lover's Arch. When you pass underneath you are supposed to kiss someone to make sure your love lasts forever.
Around the bend we saw some gorgeous houses up on the cliffs. Must be nice to wake up to such a great view every morning!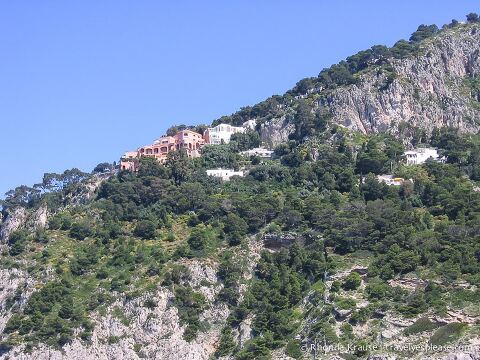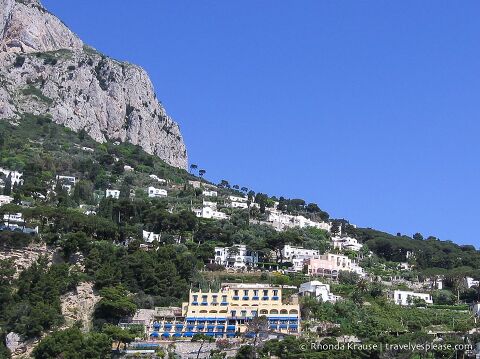 Finally, we arrived at the famed Blue Grotto (Grotta Azzurra), the most stunning and spectacular of all of Capri's sea caves. There was a long line up of boats to get inside, probably a half hour wait. After waiting a little while, someone on the boat suggested we just forget it and instead head back to the island. I was appalled!
Going inside the Blue Grotto was the only thing about Capri I was looking forward to. As far as I was concerned, it was a once in a lifetime opportunity. How could this person suggest not going inside? I am really shy, but I had to speak up and voice my opinion, otherwise I would have regretted it. I persuaded the other passengers to wait it out and a few short minutes later we were in!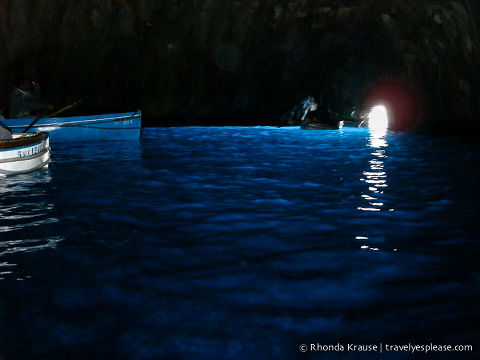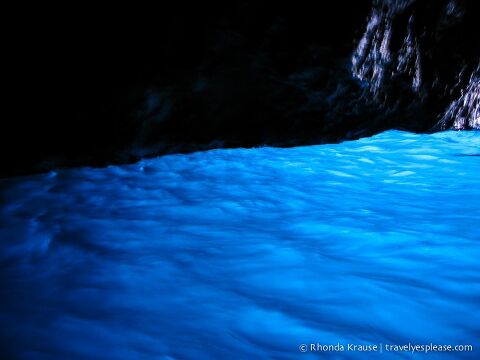 Even though we were only in the cave a few short minutes, I thought it was totally worth the wait. A nice touch was how all the rowboat "captains" were singing in the cave. It was so surreal and romantic. Afterwards, the rest of the people on the boat thanked me for talking them into waiting because they loved it!
After this wonderful boat tour of Capri, I had a bite to eat in Capri town and then headed back to Sorrento, where an already great day was capped off with the most beautiful sunset I saw on my trip to Italy.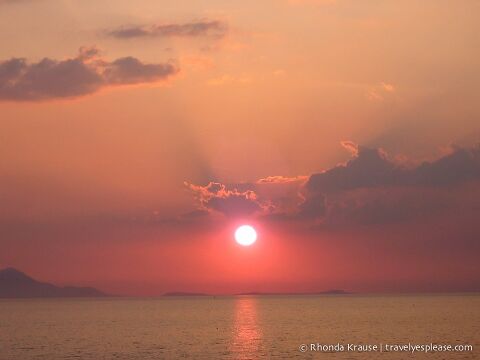 Tips for Visiting Capri
Getting There: At only five kilometres from the mainland, Capri is easily accessible by a short 25 minute ferry ride from Sorrento.
Ferries dock at Marina Grande at Capri Town.
Blue Grotto: The Blue Grotto is open from 9:00 am- 5:00 pm, sea conditions permitting, and there is an admission fee. Entrance to the grotto was included in the cost of our boat tour around the island
You can get to the Blue Grotto by bus from Anacapri or by boat from Marina Grande.
Information was updated April 2022, but can change without notice. Please confirm directly with service providers.
Tours of Capri
Here is a trusted site where you can book tours and activities in Capri.
Accommodations in Capri
For your convenience, here is a list of hotels in Capri. Please consider booking your Capri accommodations through the included link. It costs nothing extra and helps support this website. Thank you!
More Italy Destinations and Travel Guides