Purchases made through links earn us a small commission, at no extra cost to you.
South America has been a place I've wanted to visit for 10 years, but for some reason it has always taken a back seat to other destinations. I am happy to say, that is no longer the case!
We finally made it to the southern hemisphere, spending 3 weeks in South America (well, 24 days to be exact). It was a trip that exposed us to different ways of life, reminded us of the boundless beauty of nature, and took us back in time to important places of historical and cultural significance.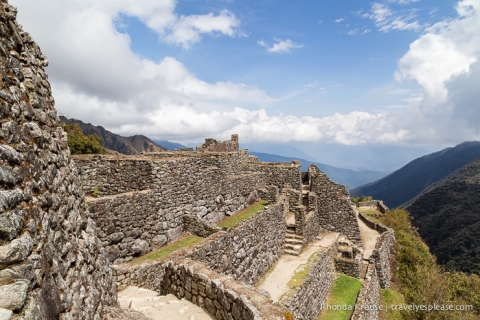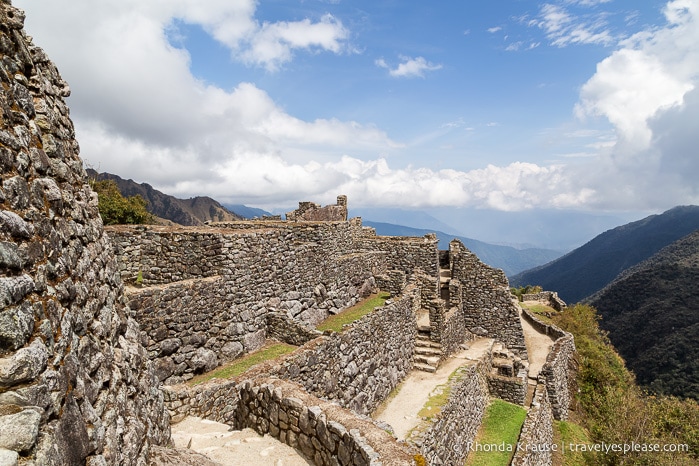 3 Weeks in South America- Our Itinerary
South America is such a huge continent, and with only 3 weeks to spare, we had to narrow it down to only a few countries.
We decided on Peru, Bolivia and Chile. Peru was at the top of our wish list, so the planning process started there.
I knew we needed at least a week to visit Cusco and the Sacred Valley and to hike the Inca Trail. After that, I started adding in destinations that made geographic sense to visit and, for the most part, didn't require a lot of travel time.
We ended up doing a nice loop around western South America, visiting many archaeological sites, a few cities and some unique natural areas.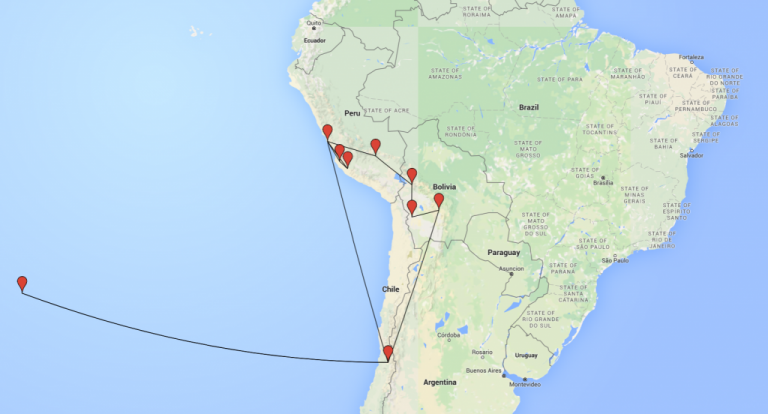 We chose to fly to most of our destinations rather than take buses, as this saved us a lot of travel time. It wasn't the cheapest way of getting around, but I'm a big believer that time is more precious than money.
So, here's a look at what we managed to see and do with 3 weeks in South America, including a brief review about each stop on our trip. We hope this helps you plan your own 3 week trip to South America!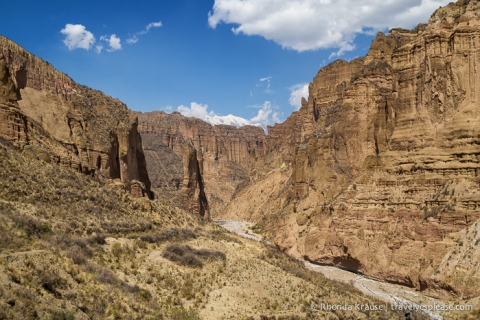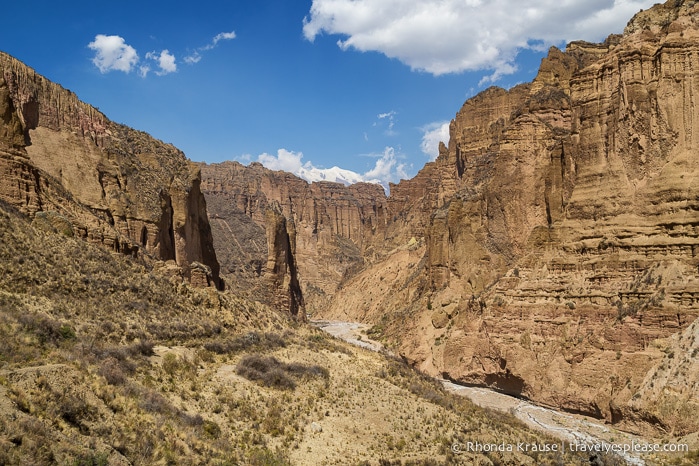 Note: Links will open in a new window for your convenience.
Cusco- Peru
3 days, 3 nights
We arrived in Cusco just after 9:00 am, which gave us 3 full days to explore and acclimatize to the high altitude before doing the Inca Trail Hike. We spent the first day walking around the city's historic centre and the next 2 days exploring the area's archaeological sites.
Hits
Cusco is a very attractive city, especially the central square, Plaza de Armas. I fell in love with the Spanish colonial architecture, enhanced by views of the surrounding mountains. Walking around we experienced the city's different moods- vibrant and lively, but also peaceful and relaxing in places.
A highlight of our time in Cusco was the two days we ventured out into the surrounding areas to visit some archaeological sites. We had a fantastic private guide who was a wealth of knowledge about each site he took us to. We visited 7 ruins near Cusco but our favourites were the agricultural terraces at Pisac, the Inca stonework at Sacsayhuaman, and the vast remnants of the pre-Incan city of Pikillaqta.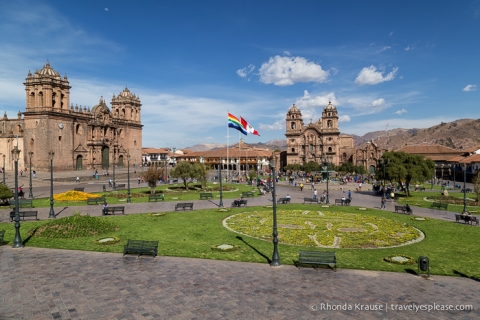 Misses
The biggest disappointment of our entire trip to South America was that we could not visit most of the Sacred Valley because of a strike. The farmers were protesting and had blockaded the roads, preventing anyone from entering or leaving the Sacred Valley. This protest went on for 2 days- the only 2 days we had available to see the Sacred Valley.
Thankfully, the protest didn't affect access to Pisac on the first day, so we were able to get there. Unfortunately, I didn't get to see the salt pans at Salinas de Maras and the circular terraces at Moray, which were two of things I was most looking forward to seeing while in Cusco.
Read more: Cusco's Historic Centre- Exploring the Capital of the Inca Empire
Book: Tours in Cusco
The Inca Trail and Machu Picchu- Peru
4 days, 3 nights
Our trekking company picked us up at our hotel in Cusco very early in the morning and shuttled us to the starting point for the 4 day Inca Trail Hike. We walked 44 km before reaching Machu Picchu just after sunrise on the 4th day. We returned to Cusco by train and bus very late that night.
Hits
Hiking the Inca Trail was without a doubt the highlight of our 3 week trip to South America. It was a little out of my comfort zone, challenging more often than not, but so incredibly rewarding. Getting to Machu Picchu any other way would have been cheating ourselves out of the most fulfilling travel experience we've had so far.
The scenery on the Inca Trail was spectacular, dotted by impressive Incan ruins along the way. I felt some great energy along the trail, more so than at Machu Picchu. There was something special about following in the footsteps of the Incas, walking a path through history.
And that first glimpse of Machu Picchu from the Sun Gate- unforgettable!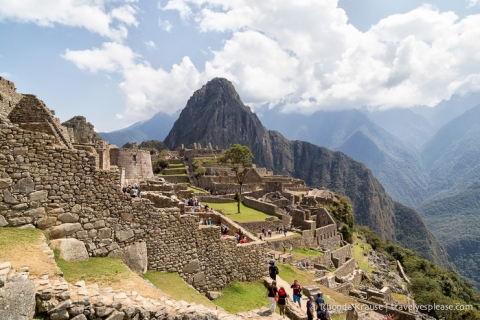 Misses
I was worried about doing the Inca Trail hike in case I got sick and well, that's exactly what happened. Halfway through the first day I got so sick, probably from something I ate the night before, I thought I might not be able to go on. Luckily, my situation eventually improved and I was able to complete the hike without further issues.
As for Machu Picchu, the sheer amount of tourists took away from the magic I was hoping to feel as we toured the ruins. I had to keep reminding myself to mentally block out all the selfie-sticks, ignore the disrespectful behavior of some tourists and instead concentrate on the innate magnificence of the site.
Although my feelings were different than I expected, being at Machu Picchu was still a dream come true!
Book: Tickets and tours to Machu Picchu
La Paz- Bolivia
2.5 days, 2 nights
La Paz was a quick 1 hour flight from Cusco. We were picked up from the airport by our private guide and taken around the city and surrounding sites for the next 2 days, as well as for a few hours during a layover later in our trip.
Hits
La Paz turned out to be much more interesting than I was expecting. I loved its unique location and geography, built inside what looks like a crater on the moon. The city is surrounded by valley walls, eroded into eye-catching spires of clay. With all the dry, dusty sandstone, I was pleasantly surprised to see a mountain with a large glacier overlooking the city.
Our favourite thing we did in La Paz was walk along the bottom of Palca Canyon. It's a beautiful, peaceful spot, perfect for escaping the noise, chaos and pollution of the city.
We also enjoyed riding the cable cars that transport people above the city (such great views!) and had a pleasant day trip to the Tiwanaku archaeological site.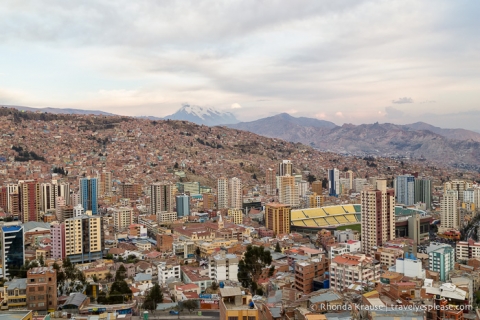 Misses
The traffic in La Paz is absolutely crazy and the horn honking is obnoxious. I'm sure there's some sort of system to the madness, but for a Canadian it looks like a free-for-all. If there are traffic rules and regulations, we didn't see many people following them.
At times, it was downright frightening to be in a vehicle. We narrowly (and I mean by a few inches) avoided a head-on collision when our driver went the wrong way down a 3 or 4-lane one-way street! Very scary in the moment, but now we've got a good story to tell.
Read more: How to Spend 3 Days in La Paz- Our Itinerary, A Walk in Moon Valley
Book: Tours in La Paz
Uyuni Salt Flats- Bolivia
1 day, 1 night
We took an overnight bus from La Paz to Uyuni, arriving 10 or 11 hours later. From the bus station we went directly to the tour company to check in for our Uyuni Salt Flats tour.
Hits
The Uyuni Salt Flats (Salar de Uyuni) are like nothing I have seen before. They are incredibly flat and cover a huge area, far more than we could comprehend on a 1 day tour.
I loved the geometric patterns of the salt crust and the cactus-covered island that seemed to come out of nowhere. The most fun though was taking those funny perspective/optical illusion photos the salt flats are famous for.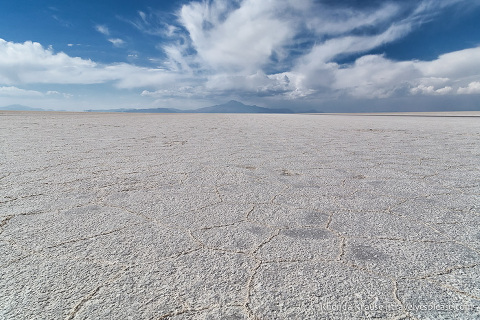 Misses
As much as I loved the salt flats, I wasn't thrilled about our tour. We spent too much time at extra places like the "train cemetery", time that would have been better spent on the salt flats, which is what we came to see. I also felt like our guide didn't give us enough time to take the silly pictures and even had us back in Uyuni 1-1.5 hours earlier than the tour was supposed to end.
Sucre- Bolivia
1 day, 2 nights
To get to Sucre from Uyuni, we flew 50 minutes to La Paz, had a 7 hour layover and then flew 50 minutes to Sucre, arriving early evening.
Hits
Sucre was the prettiest city we visited in Bolivia, largely because of the colonial architecture. I loved the white-washed buildings, colonnades, arches and courtyards.
The Liberty House museum was excellent and taught us a lot about Bolivian history and the country's road to independence.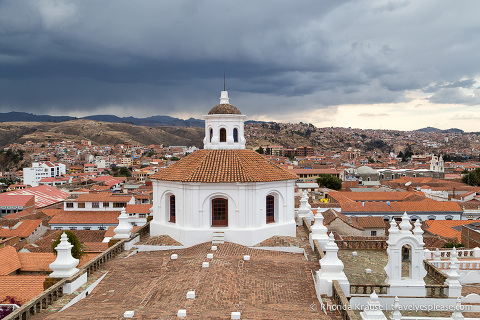 Misses
Sucre didn't have a lot of what I'd consider "must-see" sights and I found myself getting bored just walking around town. This wasn't a total miss, as it made Sucre a great place to slow down, relax and reflect on our trip so far.
Read more: Getting to Know Sucre- Bolivia's White City
Easter Island (Rapa Nui)- Chile
4 days, 4 nights
We spent over a whole day in transit going from Sucre to Easter Island. Our flight route was Sucre- La Paz- Lima- Santiago, where we stayed overnight before flying to Easter Island the next morning.
Hits
As expected, Easter Island was another major highlight of our 3 weeks in South America. It was refreshing to be somewhere so remote and humbling to see the famous moai statues in person. We loved exploring the many archaeological sites, especially Rano Raraku, and even enjoyed a short hike along the crater of an old volcano.
Plus, it was a pretty cool place to get to spend my 35th birthday!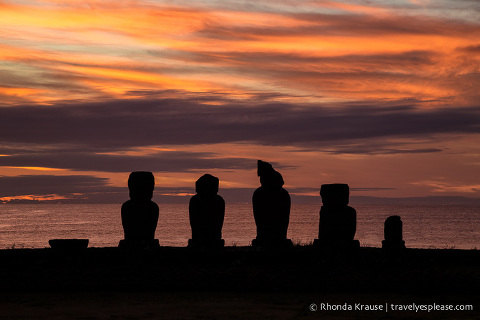 Misses
As lovely as it was to be on a remote island, this also created some challenges. Food was very expensive. We accidentally spent $90 on our first lunch (we didn't have a grasp on the currency conversion yet)! After that, we decided to cook most of our meals at our cabana but the selection of groceries was very limited, and still quite pricey. We ate a lot of pasta with tomato sauce!
Read more: 4 Days in Easter Island- A Self-Guided Tour of Rapa Nui, Orongo- Ceremonial Village of the Birdman Cult
Book: Tours in Easter Island
Santiago- Chile
1 day, 2 nights
Santiago was a 4.5 hour flight from Easter Island. We didn't arrive until 10:00 pm, so only had 1 day to explore the city.
Hits
With no plan or idea of what we wanted to see in Santiago, we decided to take a free walking tour. Our guide was engaging, providing us with the perfect amount of information as he led us around to the main points of interest.
I really enjoyed the European inspired architecture, especially the buildings that were Parisian in style. We also enjoyed spending time at Santa Lucia Hill.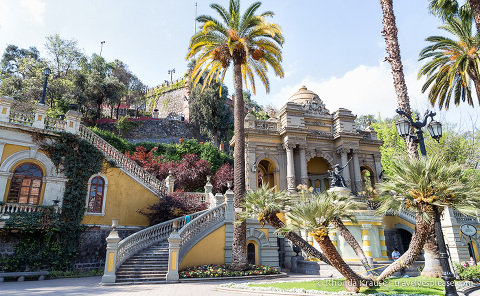 Misses
Once again, a strike prevented us from going to one of the places we wanted to visit, San Cristobal Hill. Even though we had a pleasant day, I didn't feel much for Santiago. One day was enough for me.
Read more: Walking Tour of Santiago- Photo Series
Book: Tours in Santiago
Lima- Peru
1.5 days, 2 nights
Lima was a 4 hour direct flight from Santiago.
Hits
Lima had some neighbourhoods we enjoyed wandering around, but our favourite spot to walk was along the cliffs of Miraflores. I even went paragliding for the first time here and Mike took a surf lesson at the beach down below.
We also had a fun night visiting the Magic Water Circuit in Parque de la Reserva. There are 13 fountains, all illuminated in changing colours and some even dancing to music. There even was a special laser light show.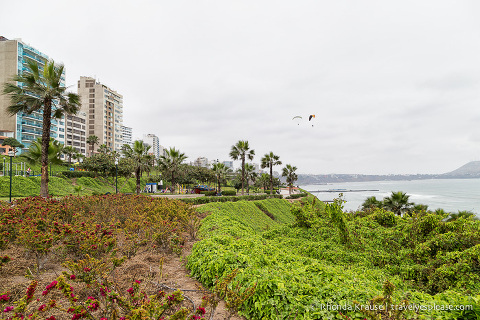 Misses
There was quite a bit of pollution in Lima and brown smog constantly lingered above the city during our visit. We could almost taste it in the air. Yuck!
Book: Tours in Lima
Huacachina- Peru
2 days, 2 nights
To get to Huacachina, we took a bus from Lima to Ica (4 hr 20 min), then a short 5-10 minute cab ride to the desert oasis.
Hits
We had a blast sandboarding in Huacachina! It was so much fun to rip around the desert in a dune buggy, then board down from the top of the huge sand dunes. We even got to witness a wonderful desert sunset!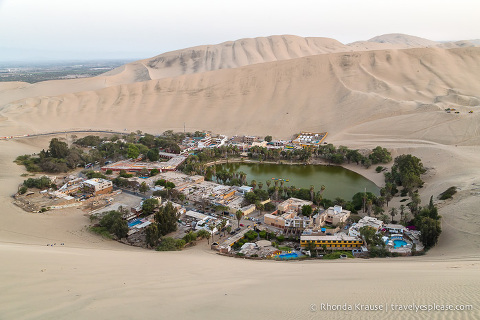 Misses
Huacachina looks like paradise in pictures, but in reality is far from it. The amount of litter there was disgusting. Garbage was everywhere- on the sidewalks, in the lagoon and all over the sand dunes. Such a shame to see a beautiful location being disrespected.
The rundown, dirty state of Huacachina made us disappointed that we chose to spend so much time here. Unless you are going to go sandboarding or for a dune-buggy ride, there's no reason to visit Huacachina.
Nazca Lines
Side trip from Huacachina
Instead of taking a bus to Nazca, we decided to fly directly from Ica to the Nazca Lines. It was more expensive, but worth it to avoid another long bus ride.
Hits
Flying over the Nazca Lines was a very cool experience! It was amazing how well some of the lines stood out, making them easy to spot. Fascinating and mysterious, they got us talking about the different theories why they were made.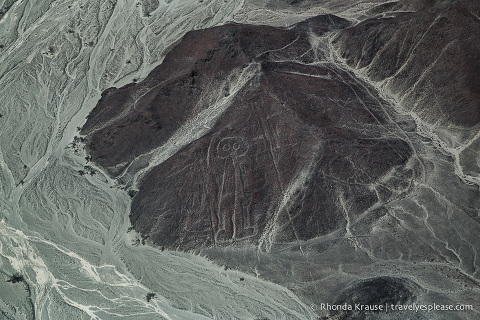 Misses
The plane ride was very turbulent and the sharp turns the pilot does over the lines will have your stomach turning as well. I took Gravol before the flight and still experienced some motion sickness towards the end of the flight.
Reflecting on Our 3 Weeks in South America
I used to think that many of the places we went to on this trip were out of reach. By that I mean they were places I had dreamed about, but never actually thought I would visit. They seemed another world away, so exotic and maybe even out of my comfort zone.
In some ways, I still feel like that. When I look at a map of the world, I'm amazed at how far we travelled. Seeing photos of myself in front of Machu Picchu and the moai of Easter Island feels surreal. And I never, ever thought I would do a 4 day hike. But I did and it was wonderful!
It feels great to have replaced dreams with memories, worries with confidence.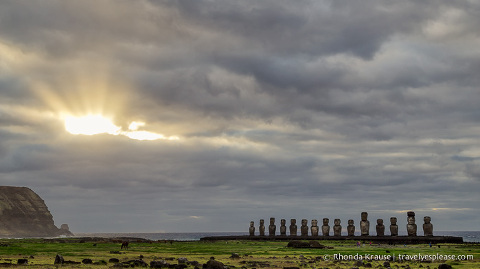 Looking back, the places we enjoyed most were the archaeological sites and natural areas where we could hike and be immersed in beautiful scenery. We didn't connect emotionally with any of the cities.
As much fun as we had, and as incredible as the sights were, for some reason we didn't fall in love with most the places we visited on this trip to South America. That really bothers me. It surprises me too since ruins are some of my favourite places to visit and South America, Peru especially, had so many fascinating archaeological sites.
I know it's not realistic to fall in love with absolutely everywhere I go. Still, it's nice to return home with those intense emotions that keep you smiling long after the trip is over.
We may not have fallen in love with South America but we still feel like this was a fantastic trip that we will remember forever. If I were to do it again, I'd trade a day in Lima and Huacachina for more time in Chile or perhaps Lake Titicaca in Peru. Other than that, no regrets!
We hope to return to South America again one day to explore some different regions and countries.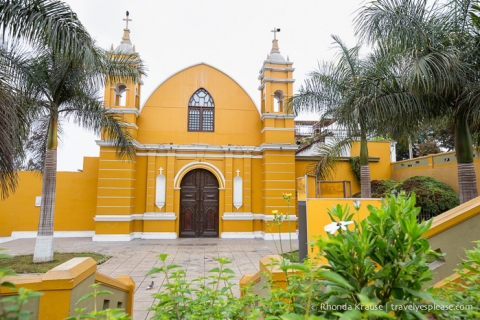 Resources to Help Plan Your Trip to South America
Here are some resources to help plan your 3 weeks in South America.
Click here if shopping from Canada.
Tours in South America
Here is a trusted site where you can book tours and tickets for activities and attractions in South America.
Accommodations in South America
Our trusted accommodation site is Booking.com, as we have been using it for years to arrange hotels for all our trips. Please consider booking your South America accommodations through the included link. It costs you nothing extra and helps support this website. Thank you!
More South America Travel Guides