Purchases made through links earn us a small commission, at no extra cost to you.
One of the best ways to experience both the natural beauty and Italian influence of Lugano is by hiking on Monte Brè.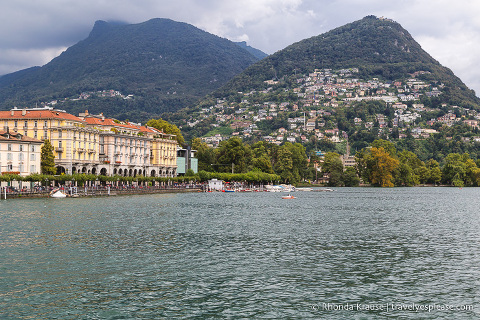 Monte Brè is one of two mountains that frame the lakeside city of Lugano, separating Switzerland from Italy just a short distance away.
From the top of Monte Brè, I got to witness gorgeous views of Lake Lugano and the city below. On my walk down, I passed through an artistic little village and peaceful forest, making my hike on Monte Brè the most varied walk I did during my two weeks in Switzerland.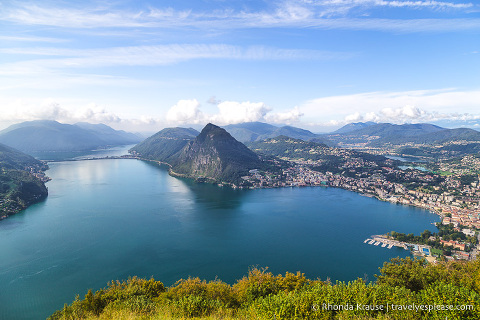 Hiking on Monte Brè
The summit is the starting point for several different hiking routes on Monte Brè. The easiest way to experience the points of interest on Monte Brè is by taking the funicular to the top (933 metres above Lugano), then hiking down to Lake Lugano.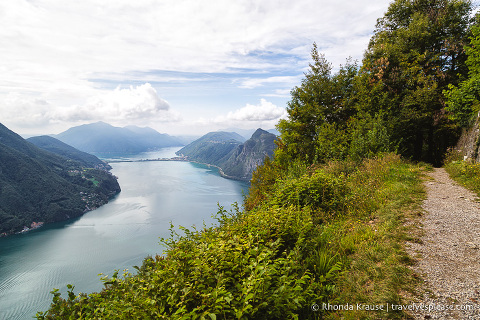 The route I took focused on landscapes and culture. It started at the summit of Monte Brè, continued to Brè village, then passed through a forest before ending in Gandria at the bottom of Monte Brè. The descent was pretty steep in places, so I was glad I was walking down instead of up!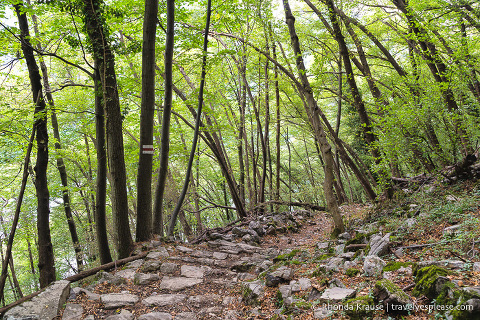 The entire hike took me about 2 hours after leaving the summit, including a short walk around Brè village.
Here's a look at my hike on Monte Brè, the sunniest mountain in Switzerland!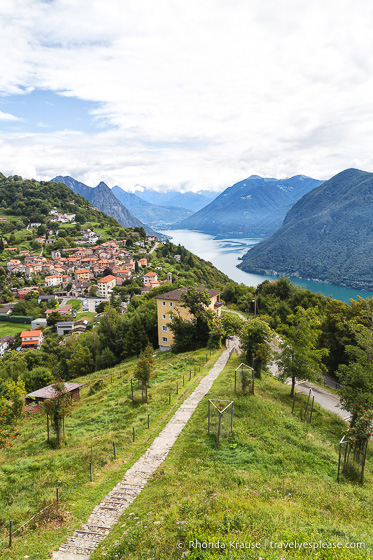 My Monte Brè Hike- Monte Brè to Gandria
Exiting the funicular at the summit station, I was energized and excited to explore Monte Brè and its scenic viewpoints.
Before setting out on my hike, I walked down a treed path towards Ristorante Vetta, a yellow Italianate style building sitting near the edge of Monte Brè.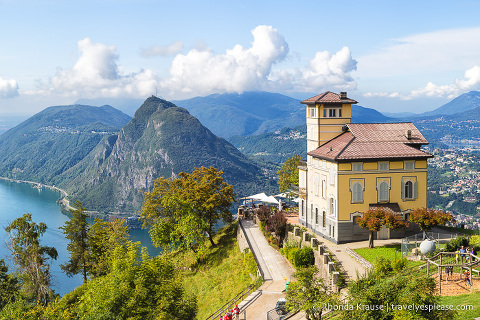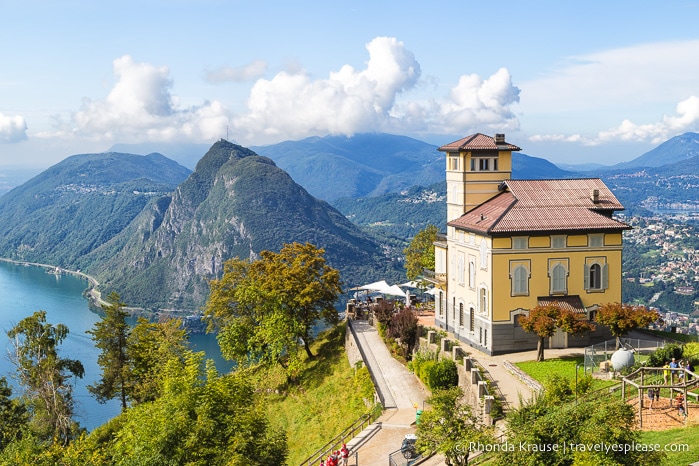 From the restaurant's large terrace, I could see sweeping views of Lake Lugano, the city, and surrounding mountains. Directly opposite was San Salvatore, Lugano's other neighbouring mountain, towering above the lake.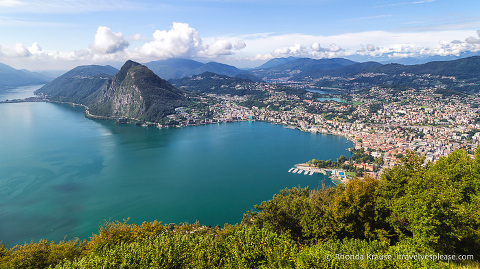 It was such a warm, clear morning that I decided to enjoy a drink on the terrace before starting my hike down Monte Brè. I was in no hurry to leave behind these stunning views of Lugano!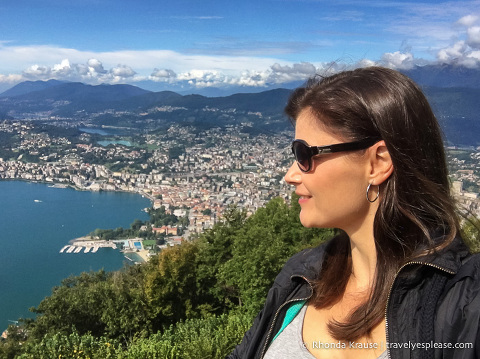 As much as I was enjoying the laid-back Mediterranean vibe of the terrace, my curiosity soon took over and I got eager to explore Monte Brè. So, I set off down a forested path in the direction of Brè village.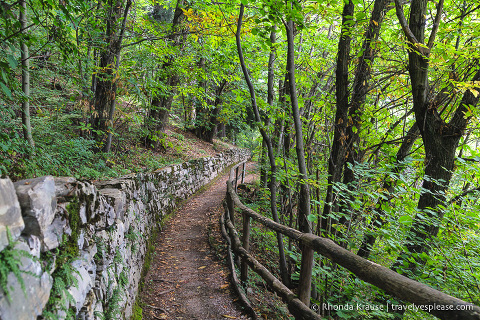 Soon the trees opened up, showing off a lengthy section of Lake Lugano and the Melide causeway separating the north and south basins. I took a few moments to savour the view because the path ahead was densely lined with trees, concealing the lake.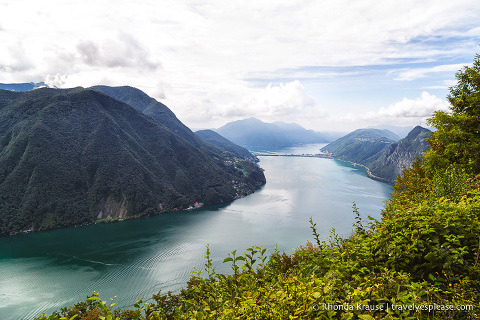 Continuing down the trail, it wasn't long until I came to an overlook and got my first glimpse of Brè village. It was such a lovely vista, the path leading towards a small cluster of buildings backed by a mountain framed lake. I instantly started imagining what it would be like to live in such an enviable location.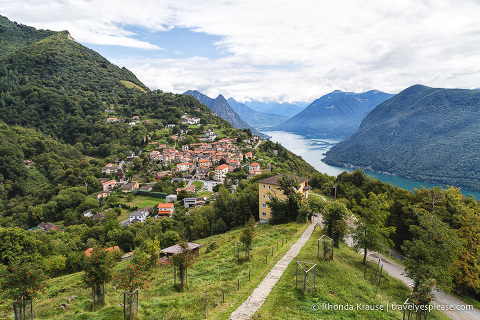 After following Scalinata alla Torretta down to Brè, I began to wander through the small village.
A labyrinth of narrow alleys led me past stone buildings, secluded courtyards, old fountains, and contemporary works of art. What once was a traditional farming village now felt like an outdoor gallery, seamlessly combining art with architecture.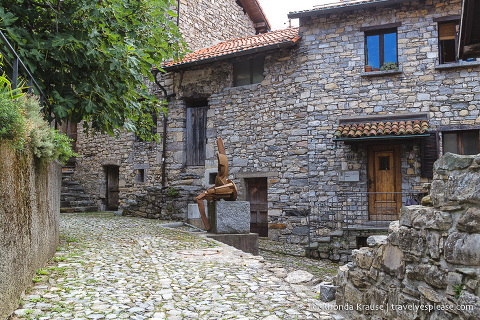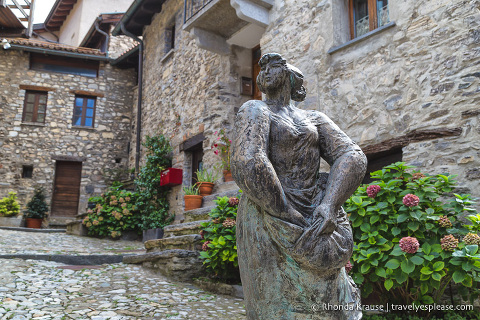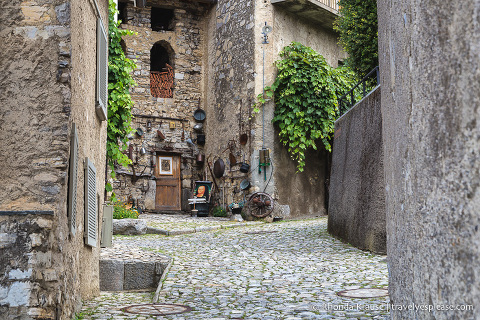 Feeling satisfied with my time in Brè, I followed the yellow signs toward hiking route 52, Sentiero Lago di Lugano. This nature trail would make up the majority of my hike on Monte Brè, leading me down to Lake Lugano and the village of Gandria.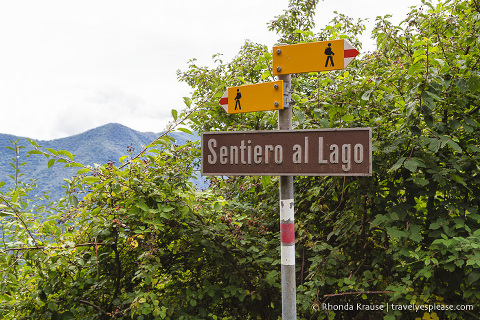 The trail started out with a view of the lake before entering into the forest. I didn't have a map, so just followed the red and white trail markers and yellow signs indicating the way to Gandria.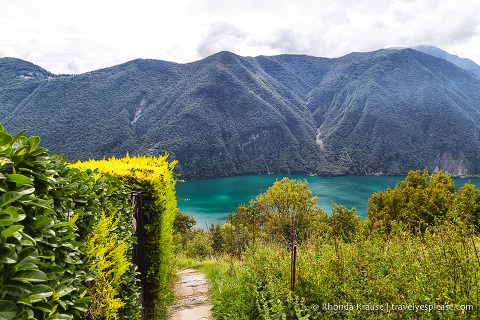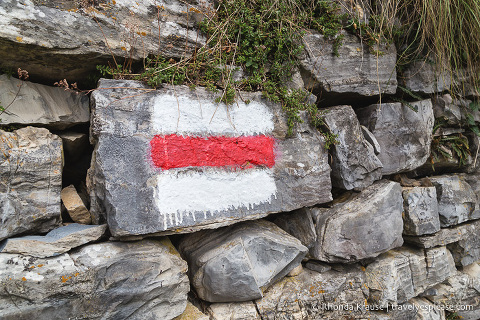 The hike was rocky and rugged in places, and almost all downhill, but not steep enough that I felt like I needed hiking poles (although, they would help keep your footing on the rocks).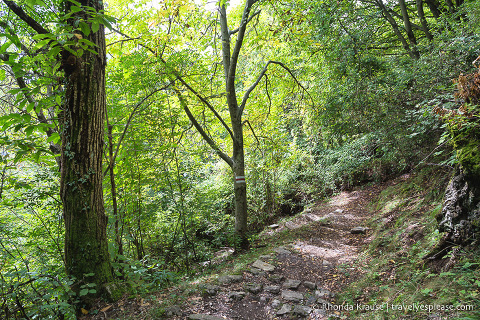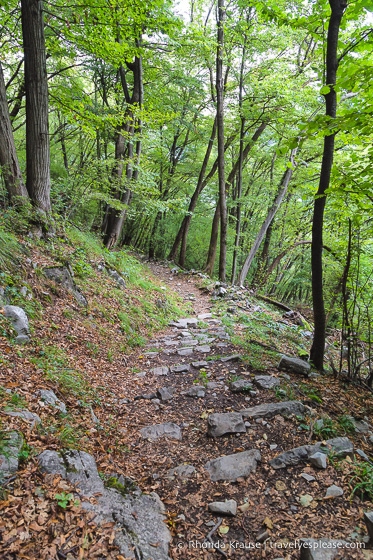 Every so often along the trail I'd get a glimpse of the lake, or pass by another hiker, but for the most part I was alone with my thoughts in the forest.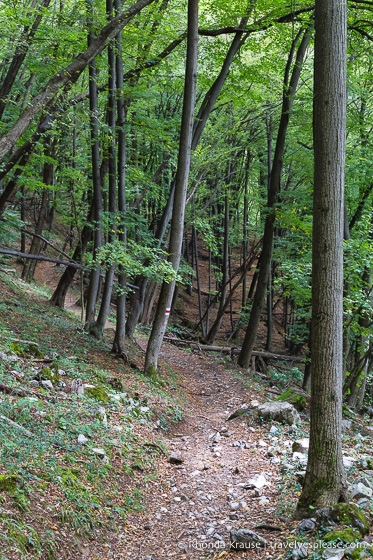 Eventually the path left the forest and started approaching the shore of Lake Lugano. I had arrived in Gandria!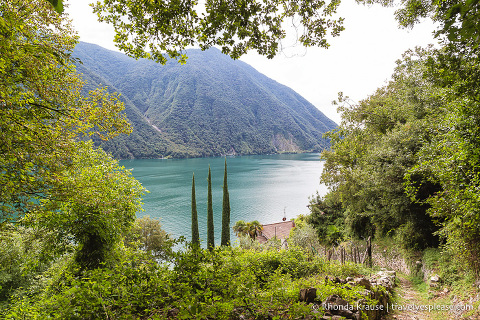 From here, I had the option to continue walking on the Olive Grove Path, a lakeside trail going to Castagnola, or hop on a boat back to Lugano.
Since I love being out on the water, I decided to take the boat to Lugano. Plus, it was free with my Swiss Travel Pass.
So, I zig-zagged my way through Gandria following the signs to the ferry station and got there just as the next boat was arriving- perfect timing!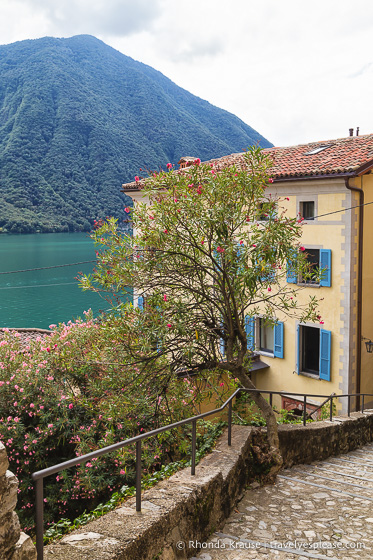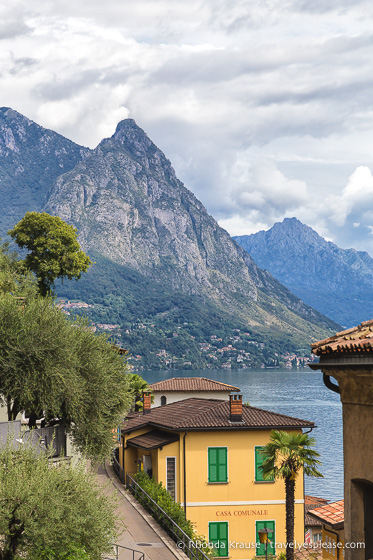 I'm glad I did the boat ride because I got to enjoy a different view of the lake and Monte Brè, as well as see Gandria and Lugano from the water. It was a relaxing end to a fun-filled day on Monte Brè!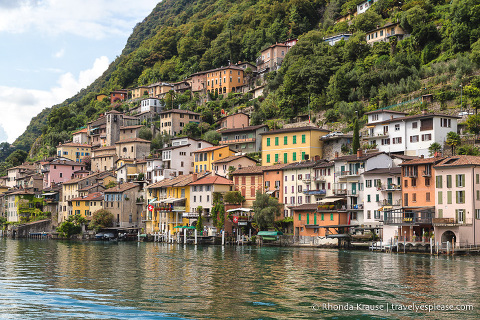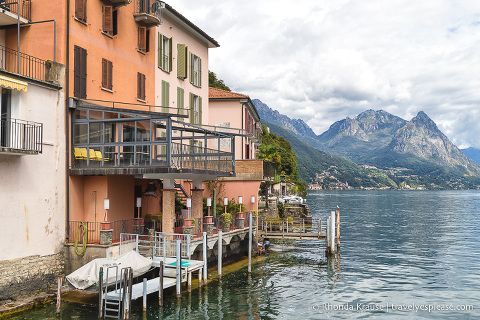 Final Thoughts About Hiking Monte Brè
I absolutely loved my hike on Monte Brè and it was one of my favourite things I did during my trip to Switzerland.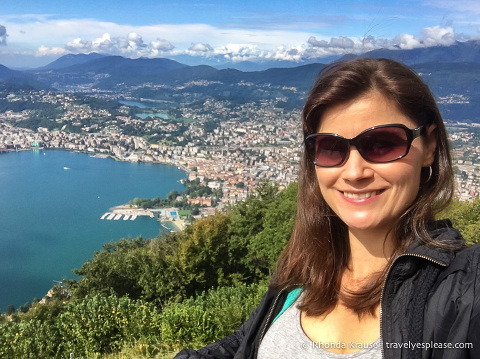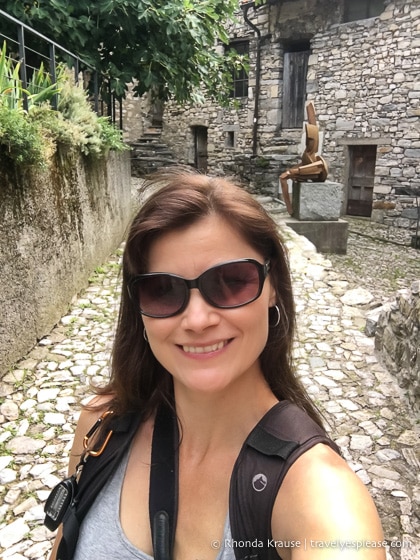 The day was full of variety, from relaxing on a terrace surrounded by beautiful views, to discovering the art and architecture of a traditional village, followed by a peaceful walk through the forest and a scenic boat trip.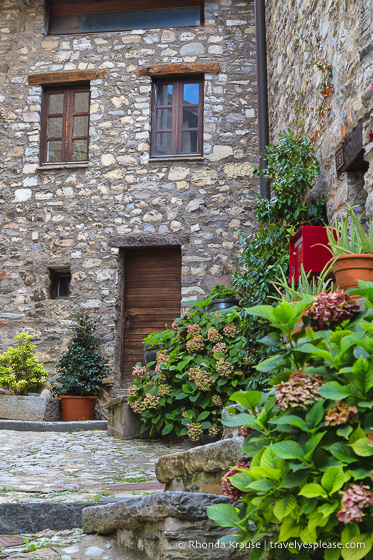 I liked that the route I chose wasn't a typical hike, where you walk for hours to get deep in nature (although I do enjoy that too!) The array of places I saw during my hike on Monte Brè helped make it an enriching experience.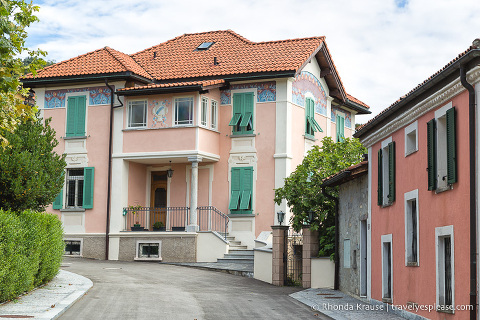 Overall, I was surprised that this one mountain had so much to offer travellers of various interests. Monte Brè had a little bit of everything that makes Lugano a great place to visit!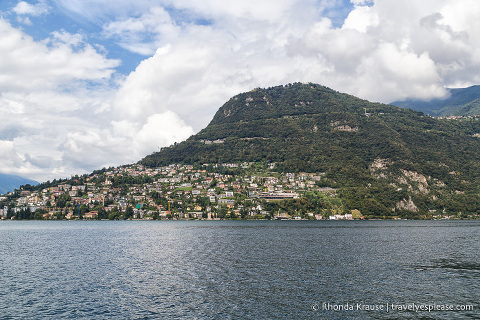 Tips for Visiting Monte Brè
Getting There: To get to Monte Brè from Lugano, I took bus NFB 2 from Lugano, Bellavista (direction Castagnola, Capolinea) and got off at Cassarate, Monte Brè. It was a 16 minute ride and buses depart every 30 minutes.
From the Cassarate, Monte Brè bus stop, it was a short walk to the Monte Brè funicular.
Monte Brè Funicular: From Cassarate, a short funicular ride will take you to the main station and cash desk in Ruvigliana. This is where you buy your ticket for the Monte Brè funicular and board the second cable car section.
The funicular departs from Cassarate every 15 minutes starting at 7:00 am, and from Suvigliana every 30 minutes starting at 9:05 am. The cable car does not operate in January and February.
For prices and a timetable, visit the Monte Brè cable car website.
Hiking Route to Gandria: From the summit of Monte Brè, follow Scalinata alla Torretta all the way to Brè village. At the end of the path you'll arrive at a church. Walk to the other side of the church and at the intersection of Via Brè and Via Cai there will be a trail leading down the mountain towards the lake. It's signed Sentiero al Lago at the trail head, but in the village I also saw it marked as hiking route 52, Sentiero Lago di Lugano.
Restaurants on Monte Brè: At the summit there are two restaurants- Osteria Funicolare and Ristorante Vetta. Note that Ristorante Vetta doesn't start serving food until noon, even though they open at 10:00 am for drinks.
Boat trips from Monte Brè: After hiking down Monte Brè to Gandria, you can take a boat back to Lugano. Boats are operated by Società Navigazione del Lago di Lugano. Here is the timetable for boat cruises on Lake Lugano.
Swiss Travel Pass Benefits in Lugano: If you have a Swiss Travel Pass, you get free rides on local buses in Lugano, a 50% discount off tickets for the Monte Brè funicular, and free boat trips on Lake Lugano.
Information was correct at the time of publishing, but can change without notice.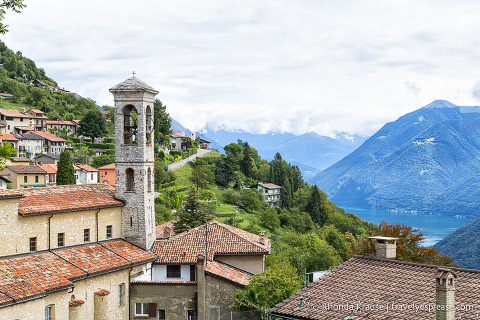 Accommodations in Lugano
For your convenience, here is a list of hotels in Lugano. Please consider booking your Lugano accommodations through the included link. It costs you nothing extra and helps support this website. Thank you!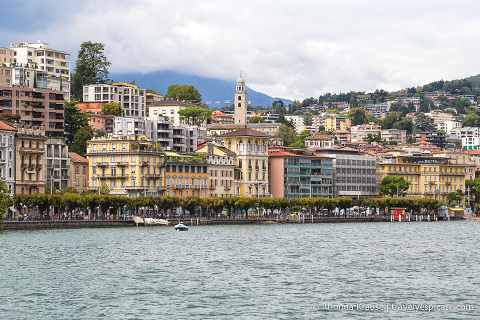 I was hosted by Switzerland Tourism in order to bring you this story. As always, I speak only the truth and hosts have no editorial influence on articles. 
More Switzerland Destinations and Travel Guides