Purchases made through links earn us a small commission, at no extra cost to you.
Before my 2 week trip to Switzerland, I had a somewhat stereotypical vision of what Switzerland would be like.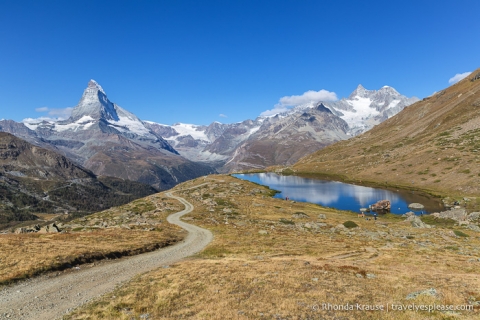 I expected to see wooden chalets, meadows surrounded by rugged mountains, and cows grazing in green pastures as bells around their necks rung with every move. I looked forward to indulging in warm cheese fondue and snacking on creamy Swiss chocolate.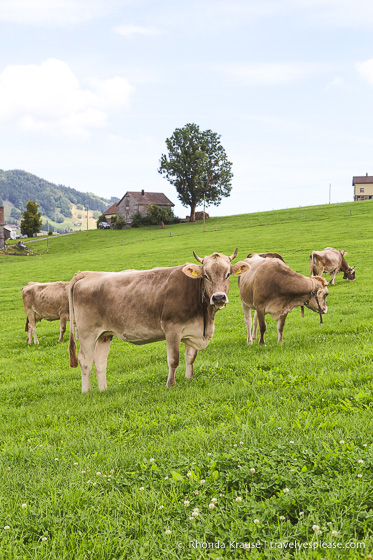 On my first trip to Switzerland, I discovered that while there is a lot of truth to this conventional view, there is so much more diversity to the country.
During my 2 weeks in Switzerland, I heard numerous languages and recognized distinct cultural influences between regions, including German, Italian, and French. I saw a variety of architecture from typical Swiss chalets, half-timbered homes, colourful Italianate villas, Baroque cathedrals, and rustic stone houses. The landscape and climate was surprisingly varied as well. I saw glaciers and palm trees, encountered snow and 25 degree weather.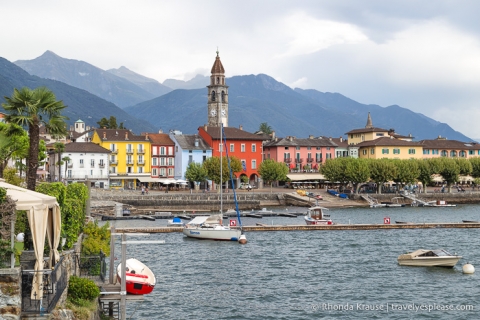 Considering the range of towns, landscapes, activities, and culture I experienced during my trip, I'm confident that my 2 week Switzerland itinerary gave me an in-depth look at the country.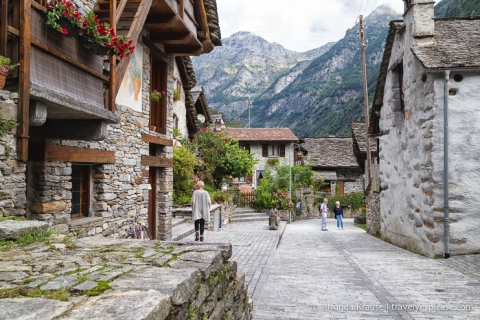 Two Weeks in Switzerland- My Itinerary
The itinerary for my trip to Switzerland focused largely on natural landscapes, historic towns, and active travel- having experiences instead of passively seeing things. I included plenty of opportunities for cycling, mountain biking, hiking, even paragliding.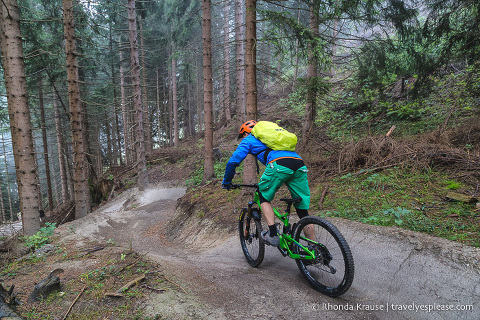 I travelled around Switzerland almost exclusively by public transportation, using my Swiss Travel Pass to access trains, boats, and local buses. On the two occasions I cycled between destinations, I used the express luggage transfer service offered by SBB (Swiss Federal Railways) to have my suitcase be there when I arrived.
You may notice that I bypassed Switzerland's popular cities in favour of smaller towns and some lesser-known destinations. However, I made sure to include what to me is Switzerland's most iconic destination- Zermatt and the renowned Matterhorn mountain.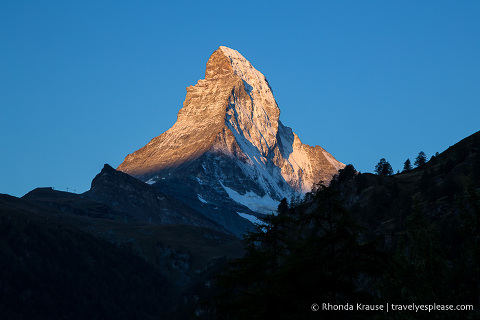 Here's an in-depth look at my Switzerland trip itinerary, including travel times and a summary of what I did in each destination. I hope it gives you some ideas of places to visit in Switzerland and helps you plan your own 2 week trip to Switzerland.
Places to Visit in Switzerland- Trip Map

Here's a map of the places I visited during my 2 weeks in Switzerland.
Day 1: Arrive in Zurich, Overnight in Schaffhausen
My flight arrived in Zurich at 8:00 am. After clearing customs, I caught a train to Schaffhausen to begin my 2 week trip to Switzerland.
Approximate travel time: Zurich Airport to Schaffhausen- 55 min
Schaffhausen
The medieval city of Schaffhausen sure knows how to make a great first impression! As I wandered through the delightful Old Town, past elaborately painted buildings and decorated bay windows, I began to fall in love with Switzerland.
The view from the Munot, a circular fortress overlooking the city, was a vista straight out of a fairy tale- hillside vineyards, stone clock towers, a meandering blue river. It was gorgeous!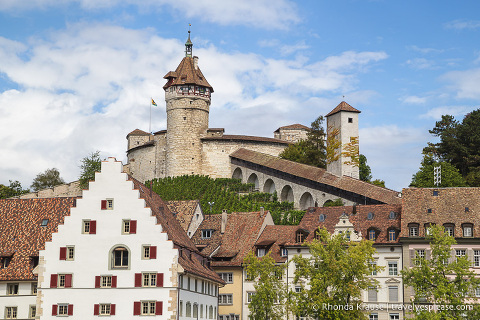 After exploring Schaffhausen's Old Town, I took a train to the nearby Rhine Falls, Europe's biggest waterfall. More wide than high, the water flows around a tall rock in the middle of the falls, past castles, walking paths, and viewing platforms.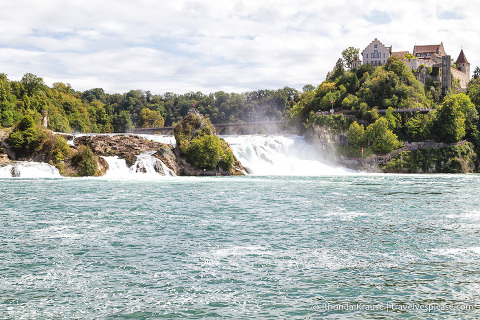 Schaffhausen was a perfect introduction to both the natural and architectural beauty I'd see throughout my 2 weeks in Switzerland.
Read more: 7 Wonderful Things to do in Schaffhausen
Day 2: Stein am Rhein, Lake Constance, Overnight in St. Gallen
Cycle from Schaffhausen to Stein am Rhein, Boat Trip on Lake Constance, Train to St. Gallen
I started my day with an easy 17 km bike ride from Schaffhausen to Stein am Rhein. In the afternoon, I took a relaxing, scenic boat ride on Lake Constance to Kreuzlingen. From here, I caught a train to St. Gallen where I spent the night.
Approximate travel times: Bike ride Schaffhausen to Stein am Rhein- 1 hr 15 min, Boat trip Stein am Rhein to Kreuzlingen- 2 hr 40 min, Kreuzlingen to St. Gallen- 1 hr 5 min.
Bike Ride From Schaffhausen to Stein am Rhein
The cycle route from Schaffhausen to Stein am Rhein was a pleasant, mostly flat ride on a mixture of bike paths and roads. The route was well marked (Rhein Route 2) and roughly followed along the Rhine River, passing through Germany before arriving in Stein am Rhein. Along the way I saw small towns, fields, vineyards, and forest.
Once in Stein am Rhein, I wandered around the medieval Old Town admiring the preserved half-timbered buildings and their intricately painted facades. The most beautiful ones were clustered around Rathausplatz, the bustling town square.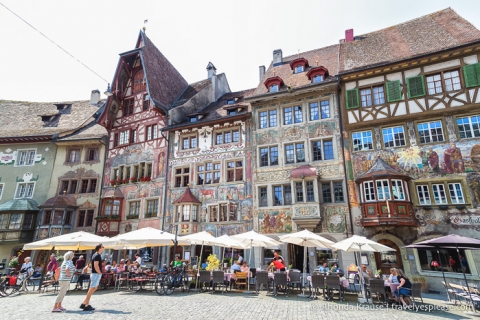 Stein am Rhein had many similarities to Schaffhausen, but seemed to be more popular with tour groups. I personally preferred the feel of Schaffhausen, but the beautiful architecture made Stein am Rhein a nice place to rest for lunch (I only wish I had better light for photography!)
Boat Ride on Lake Constance
I love being out on the water so a boat cruise on Lake Constance was the perfect way to relax and enjoy the hot afternoon sun.
Lake Constance consists of two connected parts fed by the Rhine River- the Untersee (Lower Lake) and Obersee (Upper Lake). My boat ride was on the Untersee, ending on the west end of the larger Obersee.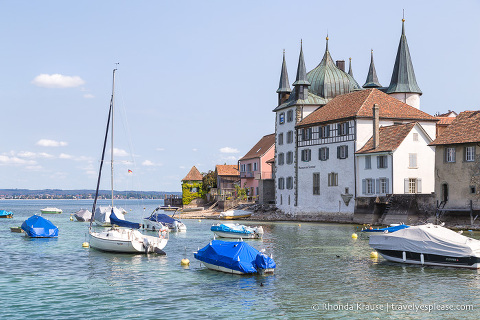 The scenery along Lake Constance was beautiful. I loved seeing the small towns, sailboats, and swans. I've never encountered so many swans in one area before!
Even though the boat trip from Stein am Rhein to Kreuzlingen was over 2.5 hours, I was enjoying it so much I didn't want it to end. It was just the first of many scenic boat trips I did during my 2 weeks in Switzerland.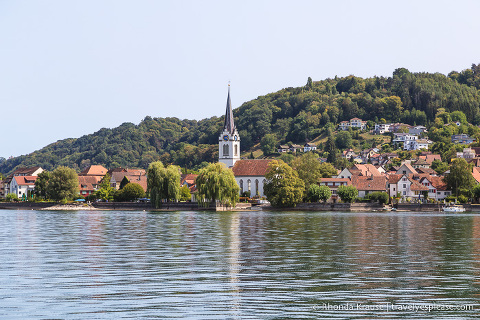 Day 3: St. Gallen, Appenzell, Overnight in Chur
Tour St. Gallen, Train to Appenzell, Cycle to Altstätten, Train to Chur
In the morning, I did a walking tour of St. Gallen before heading to Appenzell by train. After lunch in Appenzell, I rented a bike and cycled part of the Herzroute to Altstätten, where I returned my bike and caught a train to Chur.
Approximate travel times: St. Gallen to Appenzell- 50 min, Bike ride Appenzell to Altstätten- 2 hr, Altstätten to Chur- 50 min
St. Gallen
St. Gallen was one of the larger cities I visited during my trip to Switzerland, but I spent all my time exploring the Old Town and its mix of architectural styles.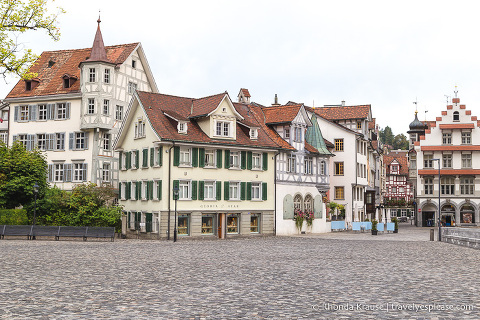 The standout attraction in St. Gallen was the Abbey of St. Gall, a UNESCO World Heritage Site. I visited both the Baroque cathedral and the Abbey Library, which houses a large collection of medieval books. Some are handwritten and over 1,000 years old!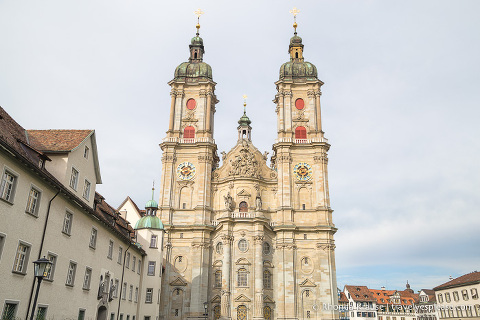 As like Schaffhausen and Stein am Rhein, St. Gallen also had many exquisite bay windows. I thought the oriels in St. Gallen were most intriguing because of the stories they conveyed, from mythical beings to adventurous journeys to exotic lands.
Read more: Getting to Know St. Gallen- A Tour of St. Gallen's Old Town
Appenzell and the Herzroute
Appenzell is a charming small town surrounded by green foothills and pastures with grazing cows- just the type of scenery I picture when I think of Switzerland!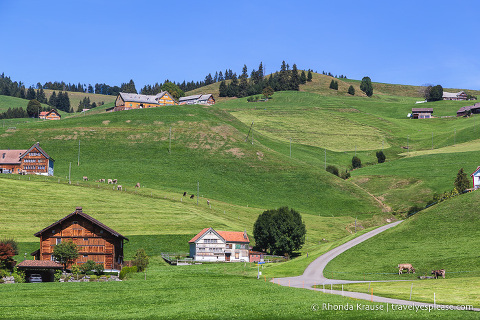 After lunch and a quick walk around town, I did a bike ride to Altstätten on the Herzroute, a cycle trail that passes through some of Switzerland's prettiest countryside.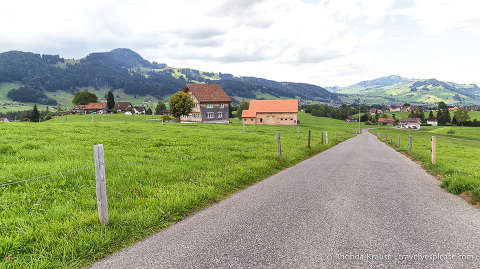 I really enjoyed this ride and was relieved I had an e-bike for the uphill portions, so the only thing taking away my breath was the views! As beautiful as the scenery was, my favourite part of the ride was racing down a winding, forested road to the bottom of the valley. I picked up some good speed!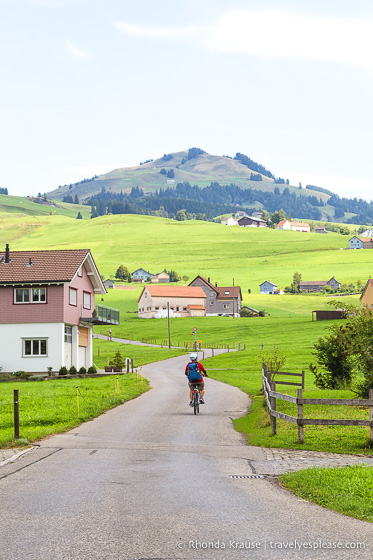 I sampled such a small segment of the Herzroute but loved it enough to want to go back and complete more stages- maybe even all 13!
Day 4: Chur, Glacier Express, Overnight in St. Moritz
Mountain Biking in Chur, Glacier Express Train to St. Moritz
I spent the morning mountain biking in Chur, Switzerland's oldest city, then headed off on the Glacier Express train bound for St. Moritz, where I spent the next two nights.
Approximate travel times: Chur to St. Moritz- 2 hr 5 min
Chur and the Alpenbikepark
Of all the biking I did during my 2 weeks in Switzerland, mountain biking in Chur was the most exciting.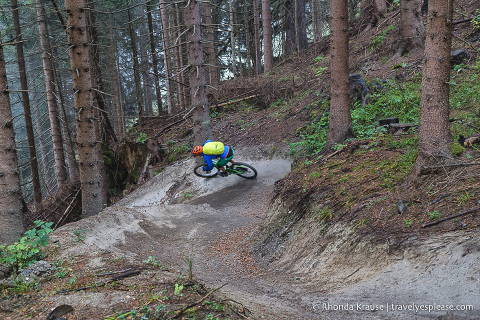 After loading my bike onto a gondola, I arrived at the Alpenbikepark on Brambrüesch, Chur's local mountain.
The bike park has 5 freeride trails in three levels of difficulty. I did the easier single track flow trail (blue rated, route 701/707) and it had the perfect amount of technical challenges for me- steep in places, banked turns, rocks I had to ride over or around, a wall curve, and some jumps (which you can bypass, if you want).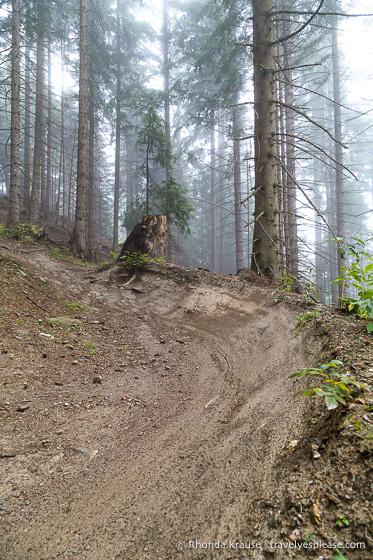 The freeride trails meet up with a mountain road in places, so you can switch off if you want an easier ride. Or you can choose to ride the road from the top gondola station all the way to Chur, at the bottom of the mountain.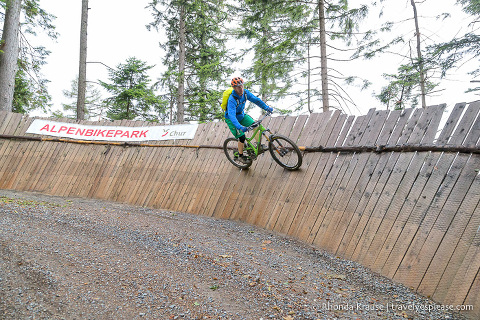 Glacier Express- Chur to St. Moritz
The Glacier Express is a premium panoramic train that travels through the Swiss Alps between the resort towns of Zermatt and St. Moritz.
I only rode the last section of the route (Chur to St. Moritz), but still got to experience the service, comfort, and scenery the Glacier Express is famous for.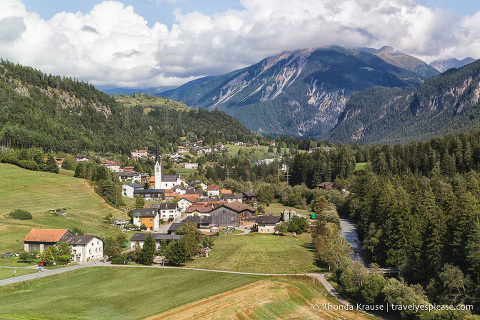 The main highlight of the Glacier Express train from Chur to St. Moritz was crossing over the Landwasser Viaduct. An impressive feat of engineering, this stone viaduct curves over the Landwasser Valley at 65 metres high and 142 metres long, before entering into a tunnel in the mountainside.
The Landwasser Viaduct is the most photographed feature of the Rhaetian Railway, but it's really hard to get a good picture of it when you're on the train (hence why I don't have a photo worth sharing).
Another interesting segment was the Albula Line with its six viaducts, three spiral tunnels, and two helical tunnels that allow the train to scale a 400 metre height difference. With engineering accomplishments like that, it's no wonder this section of track was named a UNESCO World Heritage Site!
Day 5: St. Moritz
Visit the Diavolezza and Muottas Muragl
Some all-day, heavy rain ruined my plan to go cycling around the lakes in the Upper Engadin Valley. Instead, I enjoyed some mountain top meals, visiting the Diavolezza for lunch and Muottas Muragl for dinner.
St. Moritz
St. Moritz is an alpine resort town with a high-class vibe, thanks to the grand hotels and luxury shops that line its streets. While I didn't connect with the town itself, I sure did love the surrounding mountains and Upper Engadin lakeland. I spent most my time in town walking on the lakeside path simply enjoying the superb scenery.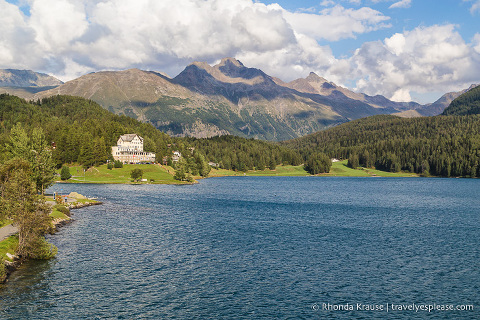 Even though the weather was bad, I decided to visit some nearby mountains, hoping to get some good views.
It was snowing at the top of the Diavolezza, in the Bernina Pass, but I still got to see fleeting views of the surrounding glaciers, including the Pers Glacier and Morteratsch Glacier.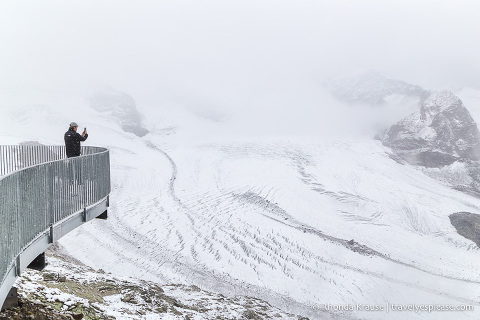 The weather, setting, and mood were perfect for cheese fondue, so when I saw it on the menu at the restaurant, I excitedly ordered it. Every trip to Switzerland should include fondue atop a snowy mountain!
For dinner that night I went up to Muottas Muragl, taking a funicular railway to make the 700 metre climb. Had the weather been better, my table at the Romantik Hotel's panorama restaurant would have offered wonderful views of Engadin Valley and its lakes.
Day 6: Bernina Express, Overnight in Lugano
Today I made my way from St. Moritz to Lugano via the Bernina Express train and bus. It was a long travel day that involved passing though Italy, but the captivating scenery made the time go by quickly.
Approximate travel time: St. Moritz to Lugano- 5 hr 30 min
Bernina Express- St. Moritz to Lugano
My journey on the Bernina Express was my favourite train ride during my trip to Switzerland. The combination of comfort and dramatic, varied scenery made a ride on the Bernina Express the best way to cross the Alps.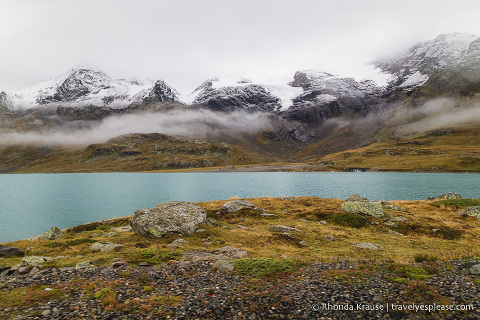 The panoramic windows allowed for fantastic views of the glaciers and lakes in the Bernina Pass. Just when I thought this would be the highlight of the trip, we began descending into the gorgeous Val Poschiavo before crossing over the Brusio circular viaduct.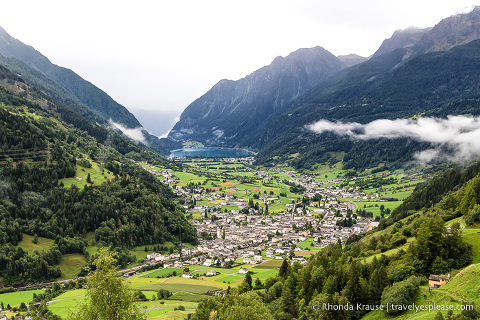 The Bernina Express train terminates in Tirano (Italy), then the Bernina Express bus drives passengers through Italy and along Lake Como before arriving back in Switzerland at Lugano.
Lugano
Lugano is a fair sized city but its prime location on the shore of Lake Lugano, close proximity to the Lombardy region of Italy, and car free historic town centre, makes Lugano feel like a small town in the Mediterranean.
It was late when I arrived, so all I did was take a sunset stroll along the waterfront then wander around some streets and squares.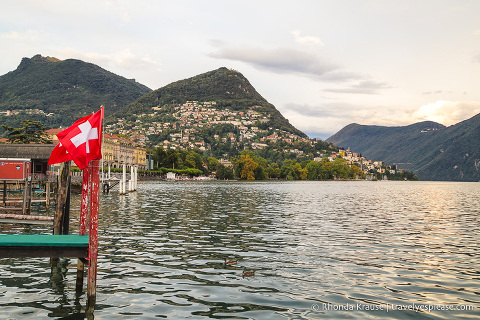 The Blues to Bop festival just happened to be taking place, so I took in one of the free concerts in the piazzas- such a great show!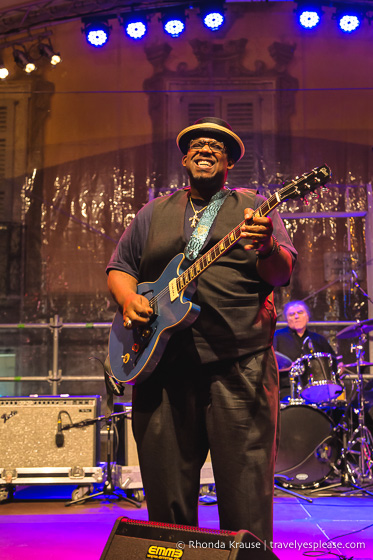 Day 7: Lugano, Overnight in Locarno
Hiking on Monte Brè, Boat Trip on Lake Lugano, Train to Locarno
After a late night at the Blues to Bop festival, I still felt energized and excited to hike down Monte Brè, one of the two mountains that frame Lugano. Late afternoon I caught a train to Locarno, another beautiful city in Switzerland's Italian speaking canton of Ticino.
Approximate travel time: Lugano to Locarno- 1 hr
Lugano and Monte Brè
Today was all about soaking up beautiful views, nature, and Mediterranean vibes as I actively explored Monte Brè.
After taking a funicular up to the summit of Monte Brè, I had a drink on the terrace of the Vetta restaurant, enjoying perfect views of Lake Lugano and the city below. It was a lovely place to linger before beginning my hike to the bottom of Monte Brè.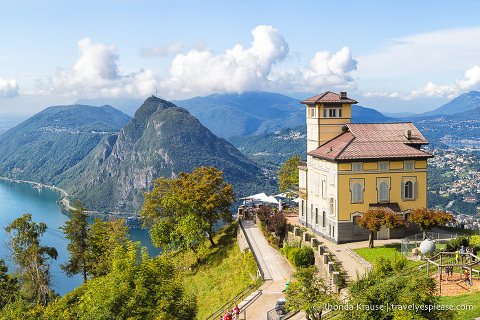 On my way down I visited Brè village, a small settlement known for its stone buildings, alleyways, and artistic works decorating the town.
Once I arrived in Gandria, at the foot of Monte Brè, I hopped on a boat for a scenic cruise back to Lugano.
Read more: Hiking Down Monte Brè- Switzerland's Sunniest Mountain
Locarno
Locarno is situated on the northern shore of Lake Maggiore and has the warmest climate in Switzerland.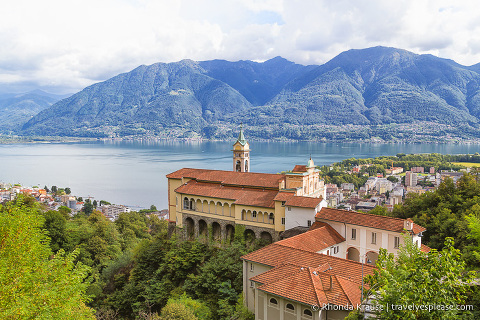 Unfortunately, I arrived the same time as a thunderstorm did, so I didn't get to explore (or photograph) the city as much as I wanted. My evening was spent getting lost in the narrow lanes of the Old Town and having dinner in the heart of the city at Piazza Grande.
Day 8: Verzasca Valley, Ascona, Overnight in Locarno
Alta Verzasca Bike Trail, Visit Ascona
Much of today was spent exploring the Verzasca Valley by bike. Afterwards, I treated myself to a gelato in beautiful Ascona and relaxed on the shore of Lake Maggiore.
Verzasca Valley
The Verzasca Valley is a gorgeous area that's easily accessible from Locarno, thanks to the local bus system.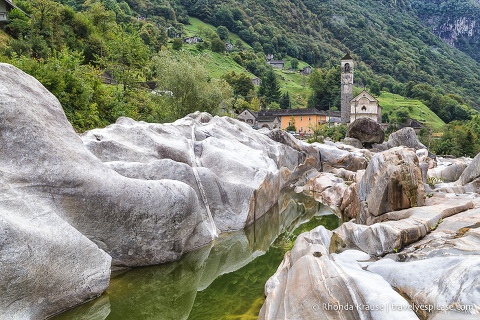 The beautiful landscape of mountains, forests, pastures, and emerald green waters has been enhanced by man-made additions including rural stone houses, small chapels, and a popular double-arched bridge.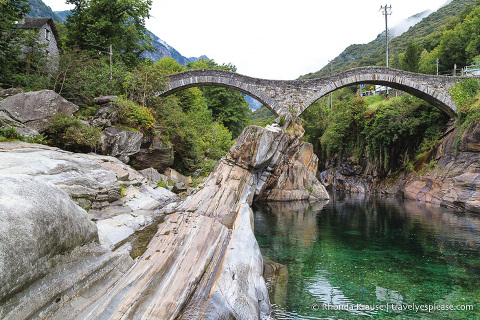 I had a fantastic time doing the Alta Verzasca bike route, a mainly flat, rocky mountain bike trail in the upper Verzasca Valley. I did the 18 km round trip from Brione to Sonogno, where I enjoyed a nice lunch and visited Froda Falls.
Read more: Alta Verzasca Bike Route- Cycling in the Verzasca Valley
Ascona
Ascona is a lovely town on the shore of Lake Maggiore and I ended up preferring it to Locarno.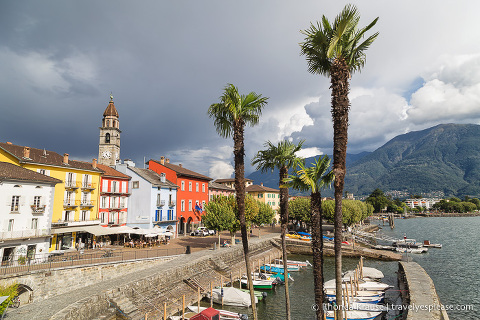 I can't really give advice on what there is to do in Ascona, since I was perfectly content hanging out on the café-lined, lakefront promenade. Sometimes doing nothing is immensely satisfying!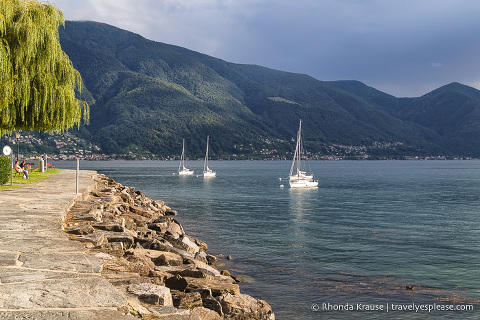 The colourful architecture and overall atmosphere really made me feel like I was in Italy. There were even palm trees, something I never expected to find in Switzerland!
Day 9: Zermatt
Train to Zermatt, Visit Gornergrat
Today I travelled to Zermatt, a mountain resort town in the Swiss Alps. It was another long train ride, but the scenery kept me entertained the entire way. I spent the next two days enjoying some outdoor adventures, falling in love with the famous Matterhorn mountain, and wishing I never had to leave.
Approximate travel time: Locarno to Zermatt- 4 hr
Gornergrat
Visiting the Gornergrat is an absolute must-do when in Zermatt. From the summit at 3,089 m, I was surrounded by a glorious panorama of glaciers and mountain peaks. The Matterhorn was hiding behind cloud, but I was still excited knowing it was so close.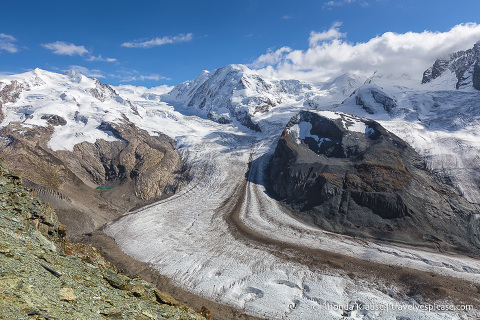 To get here I took the Gornergrat train, Europe's highest open-air cog railway. This was one trip where the journey was just as spectacular as the destination!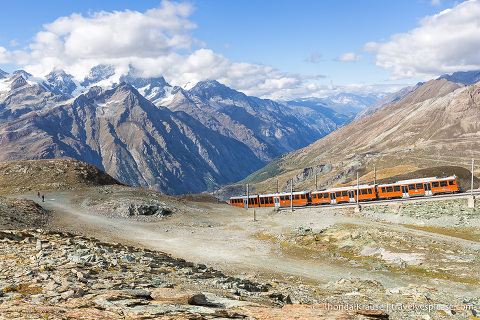 Day 10: Zermatt
Hiking the 5 Lakes Trail, Paragliding
This was my favourite day of my 2 weeks in Switzerland because I got to enjoy perfectly clear views of the Matterhorn as I hiked the 5 Lakes trail. In the afternoon, I opted for an adrenaline rush by going paragliding over Zermatt.
5 Lakes Walk (5-Seenweg)
Hiking the 5 Lakes trail was an experience I'll never forget, largely because of the inspiring reflections of the Matterhorn I saw in 3 of the 5 lakes.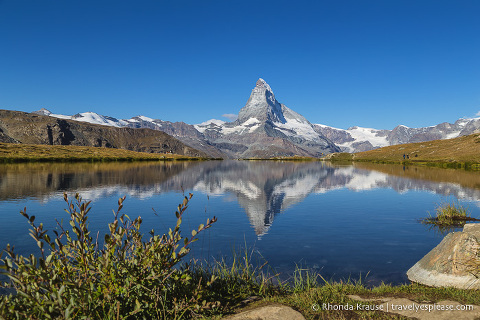 The hike wasn't difficult, as it was mostly downhill, but it took me a lot longer than anticipated because I kept stopping to take pictures and sit and enjoy the view. Of course the Matterhorn was the main attraction, but the lakes, mountain valley, and distant glaciers were mesmerizing as well.
Paragliding
Paragliding above Zermatt was a fantastic experience and definitely one of the more adventurous ways to experience the scenery of the Swiss Alps.
I loved the paradoxical sensations of excitement and relaxation as I soared in front of the Matterhorn, swooping and turning in the currents until my pilot landed us safely in Zermatt.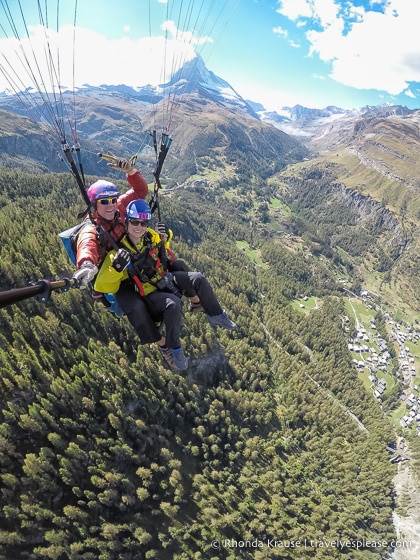 It was an expensive activity, but worth it because nothing beats a bird's eye view and the feeling of freedom!
Read more: 6 Memorable Things to Do in Zermatt- Switzerland's Alpine Paradise
Day 11: Thun
Train to Thun, City Tour, Cruise on Lake Thun
Thun was the final stop on my 2 week trip to Switzerland. I spent the afternoon getting to know Thun's Old Town and ended my day with an evening cruise on Lake Thun.
Approximate travel time: Zermatt to Thun- 1 hr 50 min
Thun
Thun is a picturesque town located at the lower end of Lake Thun, with the historic city centre situated near the Aare river.
I had an enjoyable afternoon strolling past the riverside restaurants and admiring the covered wooden bridges, but I really fell in love with Thun's skyline. Standing above the Old Town is the medieval Thun Castle, its prominent turrets offering fine views of the town, lake, and surrounding mountains.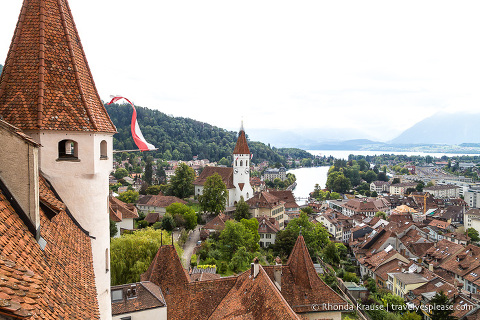 As pretty as Thun is, my favourite experience was the "after-work cruise" on the Blümlisalp paddle steamer. Even with the rain and approaching darkness, the vivid blue water of Lake Thun shimmered brightly. I was super excited to sail past Oberhofen Castle, since I've long admired photographs of it.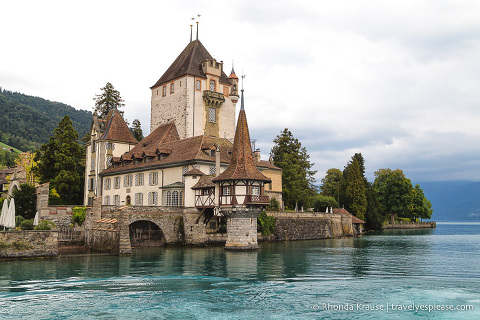 Read more: Things to Do in Thun- Gateway to the Bernese Oberland
Day 12: Lake Brienz, Lauterbrunnen, Overnight in Thun
As a side trip from Thun, I decided to do a boat cruise on Lake Brienz. I got off at Giessbach to visit the historic hotel and waterfall, then continued my cruise to the town of Brienz, at the northeast end of the lake. I had a bit of time in the afternoon, so made a quick trip to Lauterbrunnen to see Staubbach Falls.
Lake Brienz
I thought the colour of Lake Thun was gorgeous, but the waters of Lake Brienz were even more brilliant. I couldn't get over the deep turquoise hue. The colours of the lake and forested hills looked especially rich under the low-hanging clouds.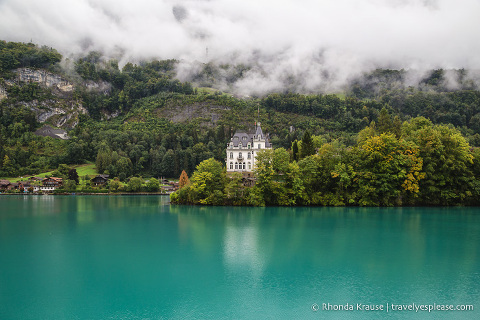 I disembarked at the Grandhotel Giessbach to have lunch with a view of the Giessbach Falls. They were far better than I imagined, a torrent of water tumbling over 14 steps from a height of 400 metres. There's even a hiking path that goes behind the falls, overlooking the hotel down below.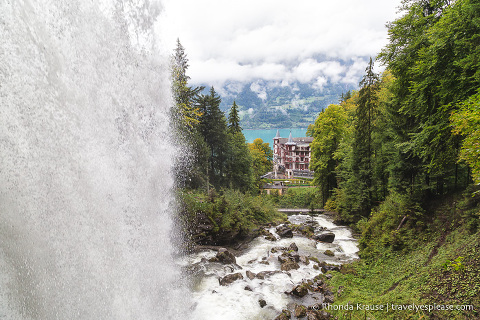 After lunch I visited Brienz, a lovely small town for admiring traditional Swiss architecture and expertly crafted wooden sculptures.
Read more: Lake Brienz Cruise- Highlights of a Lake Brienz Boat Tour
Lauterbrunnen
I knew I wouldn't have much time in Lauterbrunnen, but still wanted to check and see if it was an area I'd like to visit on a future trip to Switzerland. The verdict- absolutely!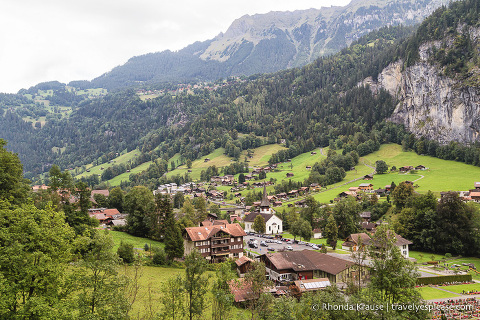 The village of Lauterbrunnen is nestled in a valley between imposing rock faces and mountain peaks. There's an impressive amount of waterfalls nearby (72), but I only had a chance to visit the most famous one- Staubbach Falls.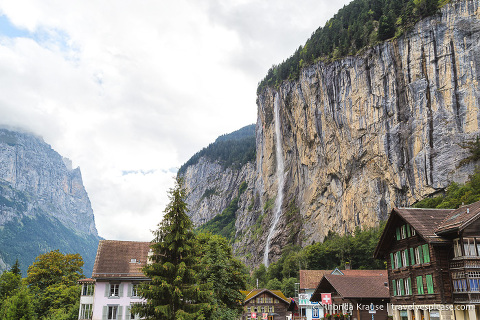 The landscape was stunning and I'd love to do some hikes in the area, check out more waterfalls, visit some mountain viewpoints, and take a lot more photos.
Day 13: Departure
Train to Zurich, Flight back to Canada
My flight was in the afternoon, so I was able to leave Thun in the morning and still have plenty of time before my departure from Zurich.
Approximate travel time: Thun to Zurich Airport- 1 hr 40 min
Final Thoughts About My 2 Weeks in Switzerland
Switzerland not only lived up to my expectations, but also surpassed them. Words and photos can't accurately capture just how beautiful Switzerland is in person.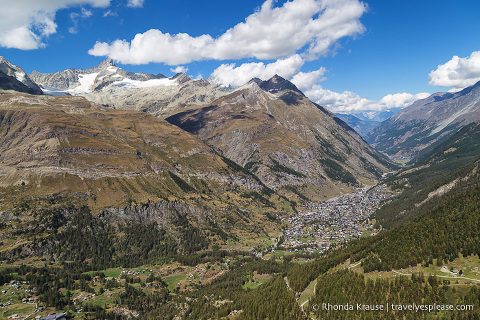 When I began my trip in Schaffhausen, my first impression of Switzerland was that it was a fairy tale country. By the end of my 2 weeks in Switzerland, I still thought that. From the pristine natural landscapes, charming architecture, relaxed and peaceful atmosphere, easy accessibility to nature and outdoor adventures- there was nothing I didn't like.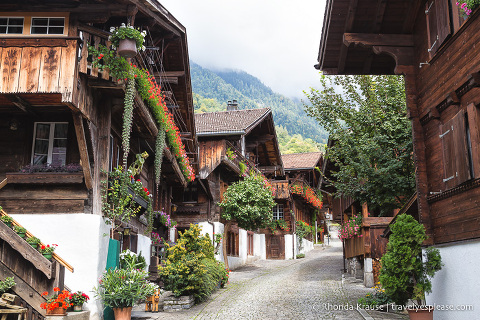 Perhaps most importantly, I felt so comfortable travelling around Switzerland. Public transportation was frequent, well coordinated, and easy to use, accommodations were always clean, the places I visited weren't overcrowded with tourists (in late August- early September), and I always felt safe.
Even though my Switzerland itinerary covered a lot of ground and included many memorable experiences, I don't feel like I got my fill. There's a lot more I want to see and do in Switzerland, so hopefully I'll make it back there one day!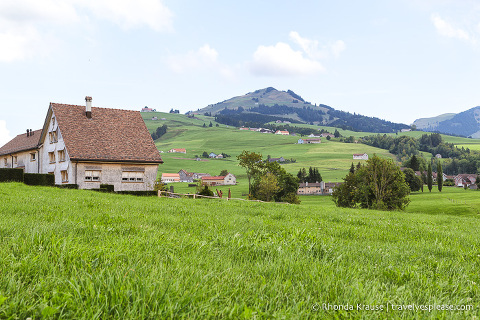 Tips for Visiting Switzerland
Getting Around- Switzerland has an impressive public transportation system so there's no need to rent a car. I got everywhere I wanted to go by train, boat, or bus. There are many funiculars, cable cars, and cog railways meaning even mountaintops are easily accessible. The various modes of transport are well coordinated with each other.
Swiss Travel Pass- The Swiss Travel Pass is definitely worth considering if you'll be doing extensive travel in Switzerland. It enabled me to enjoy free travel on trains, boats, and buses (even city buses). The pass also got me a 50% discount on some of my mountain excursions and a small discount on bike rentals.
The Swiss Travel Pass can be purchased online from various websites or at a service desk at Swiss rail stations. To save time, I recommend buying a pass in advance. Here is a trusted, leading retailer where you can buy the Swiss Travel Pass and have it sent to you ready to use.
Renting a Bike in Switzerland- Bicycles (standard, mountain, and e-bikes) can be rented at many railway stations or from rental shops. I was using the company Rent-a-Bike because they have about 200 locations, 80 which are at railway stations. The amount of rental points meant I could often (not always) pick up a bike in one town and return it in another. The bikes were very good quality and well maintained.
You can reserve a bike online by choosing your pick up and return stations, and rental period. You pay when you pick up the bike.
If you want to travel with your bike, you can transport it on trains, buses, and some boats (a special ticket is required).
Cycling, Walking, and Hiking Paths- There are many well-maintained foot and cycle paths in Switzerland. They are waymarked with yellow signs for walking, often with an estimated time to the next destination, and red signs for cycling. Hiking routes on mountain paths are indicated by a white and red waymark. The red stripe on a white background is usually included on the yellow signs, but I also saw it painted on rocks, trees, and buildings.
Luggage Transfer- Swiss Federal Railways (SBB) has a luggage shipping service that is handy if you're cycling or hiking between destinations. Delivery options are station to station, door to door, station to door, and door to station. Most options will have your luggage available for pick up 2 days later, but there is an express option for door to door that has same day delivery (be prepared to cough up some cash).
Guest Cards- Some destinations issue a guest card to anyone spending a night (or two) in the city/region. These cards give free use of local public transportation and discounts on attractions. I received guest cards in Ticino (Lugano and Locarno), Thun, and St. Moritz (transportation card only).
Helpful Apps for Travelling in Switzerland- Here are the free apps I used during my trip to Switzerland.
SBB Mobile– Has timetable information for Switzerland's network of trains, buses, and boats. It shows all the stops along your planned route, transfer information, service interruptions, and other helpful information. You can even buy tickets directly in the app.
Switzerland Mobility– Has a topographical map with signposted non-motorized routes (national, regional, and local). You can change the overlay to show routes specific to hiking, cycling, mountain biking, canoeing etc. There's a positioning system and compass function so you can tell where you are. You can select official routes and find detailed information about the different stages.
Swiss Travel Guide– Has a map of Switzerland, attraction highlights, train station maps, and digital coupons.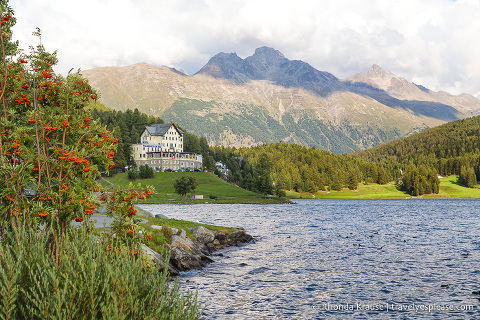 Accommodations in Switzerland
For your convenience, here is a list of hotels in Switzerland. Please consider booking your Switzerland accommodations through the included link. It costs nothing extra and helps support this website. Thank you!
Tours in Switzerland
Here is a trusted site that has a large selection of tours and tickets for activities in Switzerland. You can book everything from day trips, city walking tours, mountain excursions, boat cruises, and more. Here are a few highly rated tours related to what I've mentioned in this post.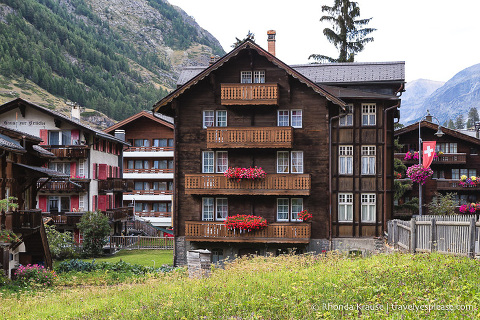 I was hosted by Switzerland Tourism in order to bring you this story. As always, I speak only the truth and hosts have no editorial influence on articles.
More Europe Destinations and Travel Guides