Purchases made through links earn us a small commission, at no extra cost to you.
Of all the wonderful locations included in my two week Switzerland itinerary, there was no place I was more excited to visit than Zermatt.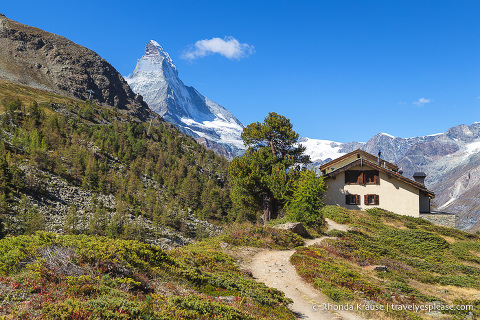 Zermatt had everything I hoped to see and experience on my first trip to Switzerland– wooden chalets, rocky mountains, sprawling glaciers, sparkling lakes, alpine hikes, and oh-so satisfying cheese fondue.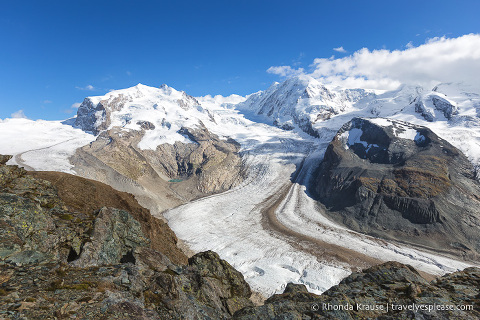 And of course there is the Matterhorn, Switzerland's most famous mountain, whose recognizable shape hooked me into visiting Zermatt.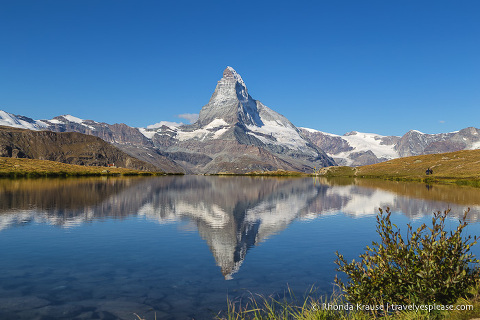 This small resort town in Switzerland's Valais canton sure has a lot to brag about, yet it's unassuming and relaxed, making Zermatt a perfect destination for laid-back travellers.
Even with only a day and a half in Zermatt, I quickly realized there was plenty of offerings for active travellers, adventure lovers, and those that simply enjoy being surrounded by beautiful scenery.
6 Memorable Things to Do in Zermatt
As an outdoor enthusiast, I had no trouble finding things to do in Zermatt. Most of my time was spent adventuring on the surrounding mountains, but the village was also a pleasant place to spend some time.
Here are my suggestions for what to see and do in Zermatt!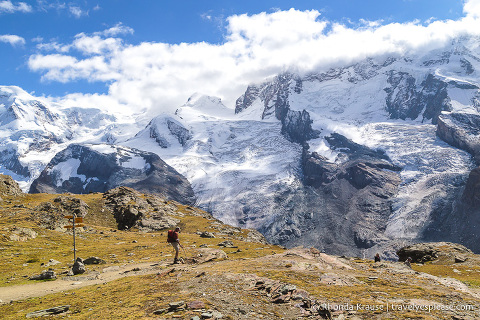 Watch the Sunrise on the Matterhorn
Zermatt village sits at the foot of the Matterhorn, so it's easy to catch beautiful sunrises on Switzerland's most iconic mountain.
I woke up early and rushed over to Kirchbrücke bridge to photograph the sun's first rays lighting up the Matterhorn's peak.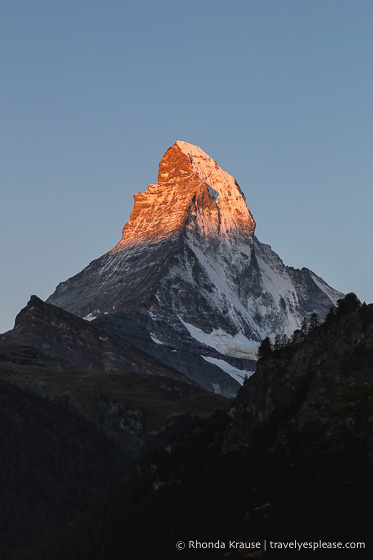 This was the first time I saw the Matterhorn free from cloud and it was such a dream come true that my eyes were tearing up and hands were shaking from excitement.
I was captivated watching the warm glow of morning sun slowly light up the mountain, starting at the pinnacle then working its way down until daylight had fully arrived.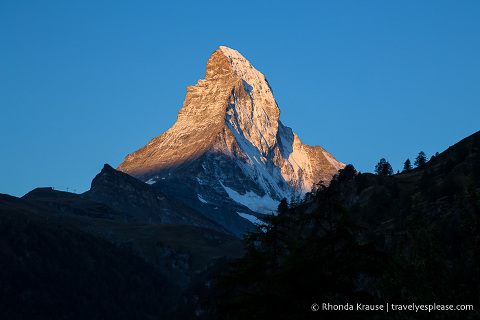 There's no better way to start a day in Zermatt than watching sunrise on the Matterhorn!
Do a Mountain Excursion to Gornergrat
While there is an incredible amount of places in Zermatt to admire the Swiss Alps, one of the most inspiring panoramas can be seen from the Gornergrat.
To get there I took the Gornergrat train, Europe's highest open-air cog railway.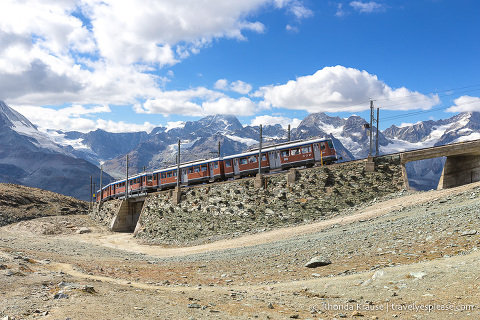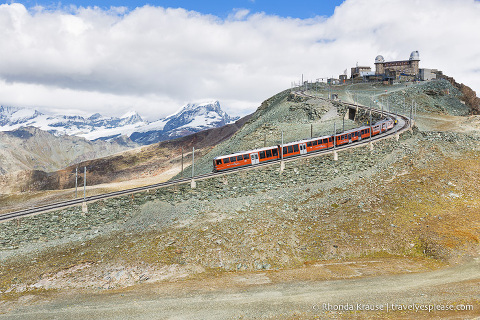 After travelling through a forest of larch trees, the view opened up to mountains and glaciers in almost every direction. This was certainly a trip where the journey was just as spectacular as the destination!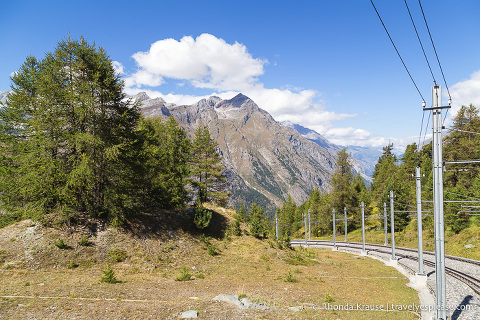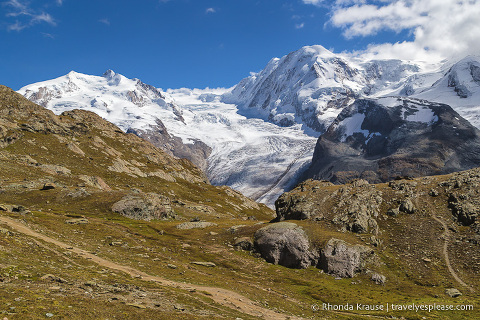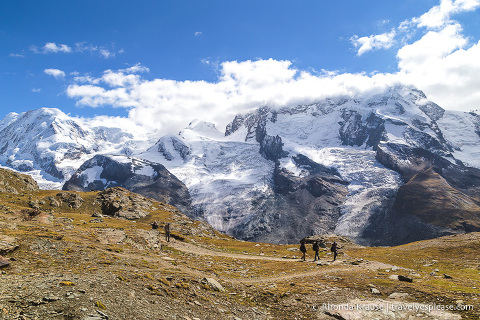 About 30 minutes and a few stops later, I arrived at the summit of Gornergrat at 3,089 m, excited to experience one of Zermatt's best viewpoints.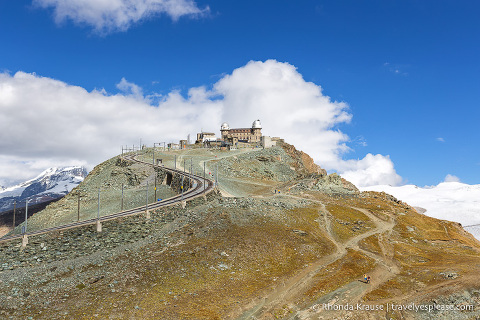 I quickly walked up to the observation deck and was met with a grand view of glaciers and rocky peaks of the Monte Rosa massif.
The panorama from Gornergrat showcases 29 mountains above 4,000 m, including Dufourspitze, Switzerland's highest peak at 4,634 m, and the famous Matterhorn.
Unfortunately, the Matterhorn was hiding behind cloud, but I was so enamoured with the rest of the landscape, especially Gorner Glacier, I didn't even feel like I was missing out.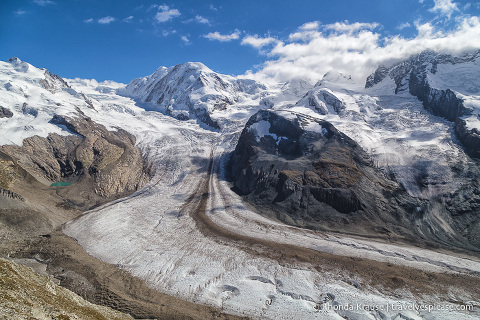 In addition to the viewing platform, Gornergrat also has a hotel (Europe's highest), restaurants, shops, an astronomical observatory, and is the starting point for hikes.
Instead of taking the Gornergrat Bahn down from the summit, I decided to walk to Riffelberg station so I could enjoy more vantage points of the glaciers. I was in no hurry to leave behind this alpine paradise!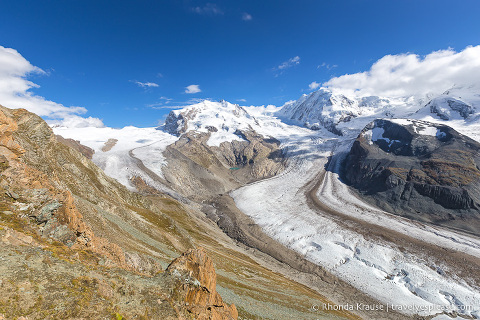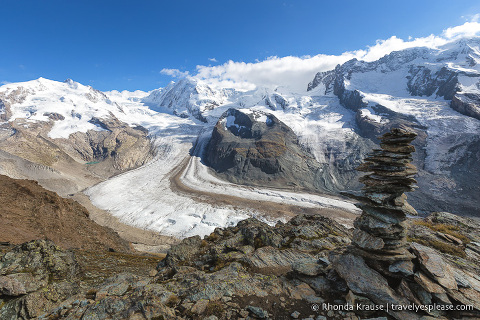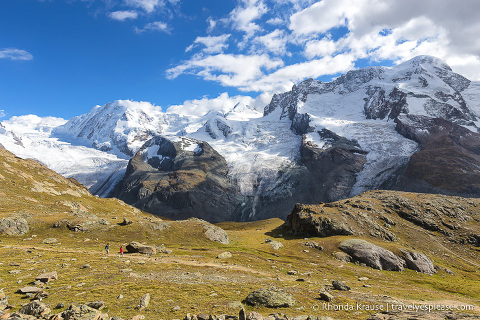 Hike the 5 Lakes Trail
I think one of the best things to do in Zermatt is go hiking and my route of choice was the 5 Lakes Walk (5-Seenweg).
From the 5 Lakes trail, I witnessed exceptional views of the Matterhorn, including the classic scene of it reflecting in Stellisee, one of three lakes you can observe a mirror image of the mountain.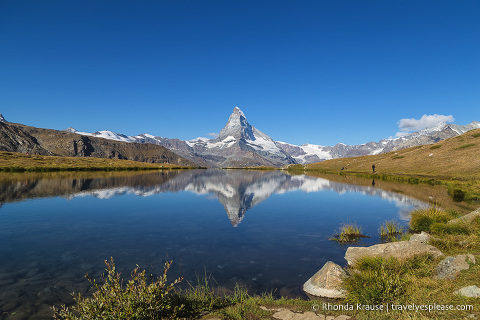 With views like that, it's no wonder this half-day hike was my favourite memory from my trip to Zermatt!
Read more: Hiking the 5 Lakes Trail in Zermatt
Go Paragliding
Paragliding in Zermatt is one of the more adventurous ways to experience the scenery of the Swiss Alps.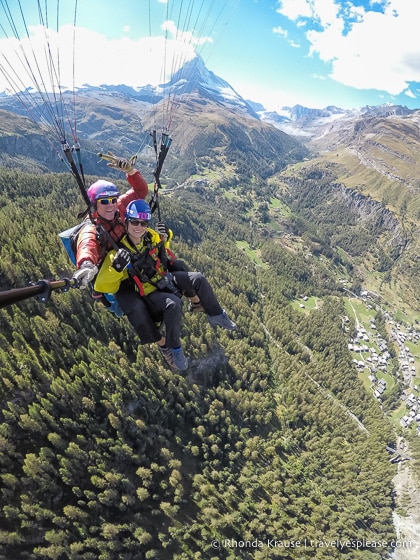 I loved the thrill of gliding in the currents as my pilot circled us in front of the Matterhorn. From the air, I had a whole different perspective of Zermatt and a pure sense of freedom.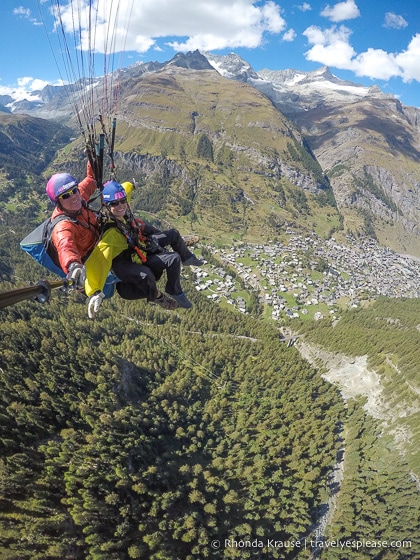 It was simultaneously calming and exciting to get a bird's eye view of the village down in the valley, the Gornergrat railway winding its way up the mountain, and hiking trails meandering through Zermatt's best scenery.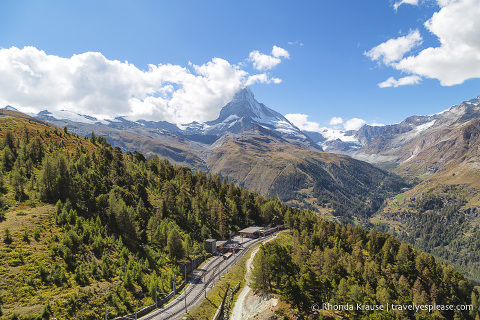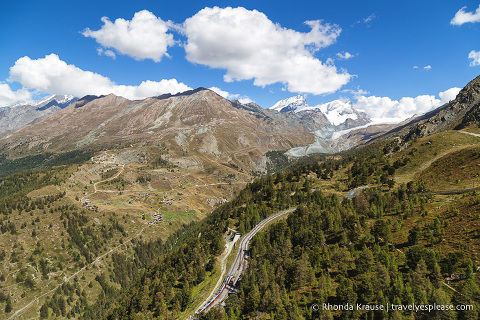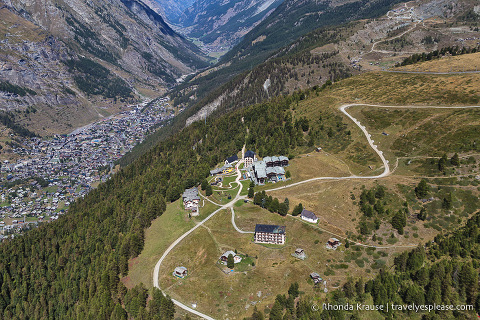 My pilot could tell I was pretty intrepid, so he asked if I wanted a relaxing flight or a more adventurous one. Of course I chose adventure, so he wasn't shy about doing big swoops and tight turns.
I was having the time of my life, laughing and oohing and ahhing, so my pilot said I should take paragliding lessons. I seriously considered it for a few days, but ultimately decided to stick to tandem flights.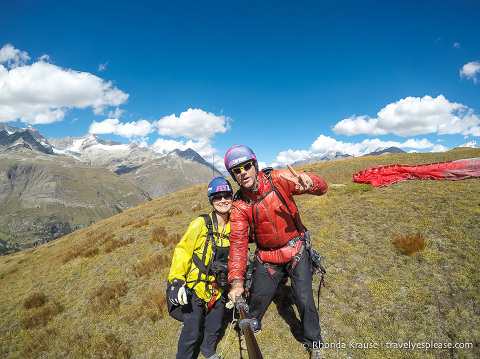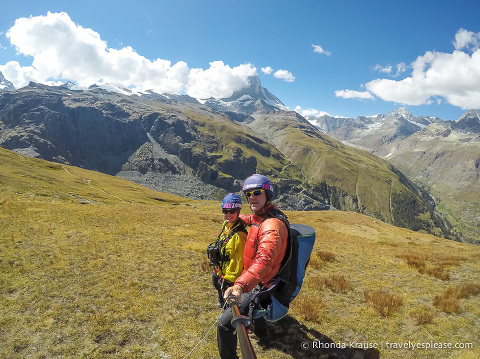 Wander Through the Village
The village of Zermatt was a lovely place to return to after spending the day in nature. Its pedestrian friendly streets are lined with Swiss chalets filled with shops, restaurants, and hotels.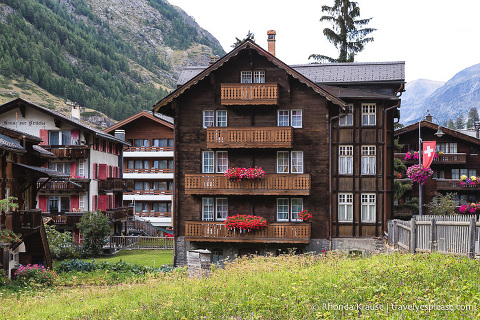 Bahnhofstrass is Zermatt's main street and it's a great place grab a bite to eat, admire the architecture, and people watch. I could tell Zermatt was a place for adventure seekers when I saw people walking by with mountain bikes, rock climbing gear, hiking packs, skiis, and snowboards.
My favourite place to wander was the old part of Zermatt known as the Hinterdorf (rear village). Here narrow alleys are framed by barns, storehouses, and stables built between the 16th and 18th centuries. So cute!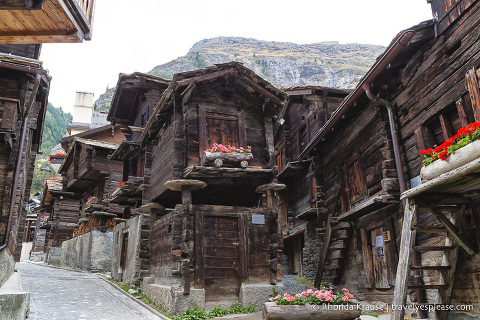 Enjoy a Fondue
I tried many traditional meals in Zermatt but nothing beats eating fondue in a Swiss mountain town.
Cheese fondue originated in Switzerland in the 18th century and has been a popular national dish since the 1930s.
My first night in Zermatt, I enjoyed cheese fondue on a patio with a direct view of the Matterhorn. As I indulged in the warm, rich cheese, I happily watched the sun set behind the Matterhorn and thought to myself, There's nowhere else I'd rather be.
Zermatt and fondue are definitely a match made in heaven!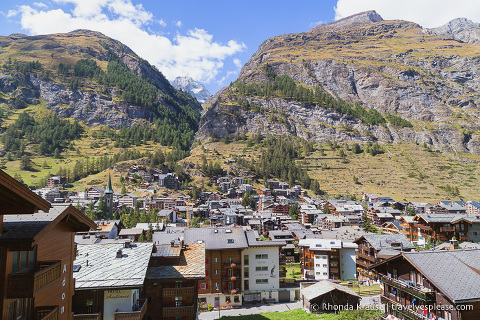 Final Thoughts About My Trip to Zermatt
I spent most of my 36 hours in Zermatt wishing I never had to leave. It's such a gorgeous location with an easy-going vibe that suited my personality perfectly.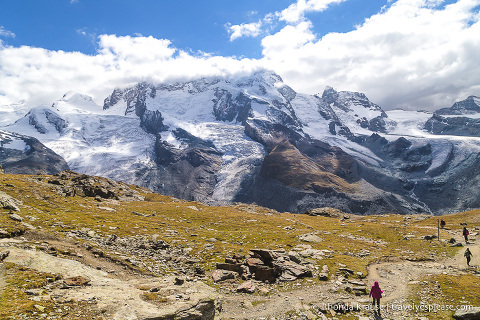 Even though my trip to Zermatt was filled with fun activities, there's still much more I wanted to see and do. If I had a few more days in Zermatt, I would have gone mountain biking, done some more hikes, visited another mountain viewpoint (likely the Matterhorn Glacier Paradise), and maybe even tried some summer skiing. I probably could have spent a week here and not got bored.
Here's to hoping my first trip to Zermatt won't be my last!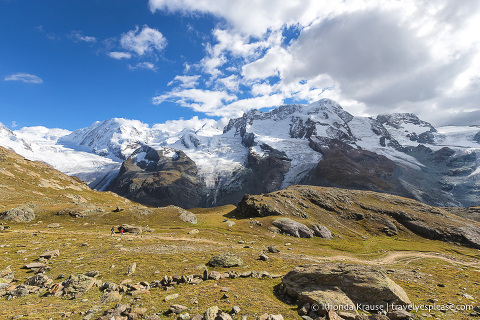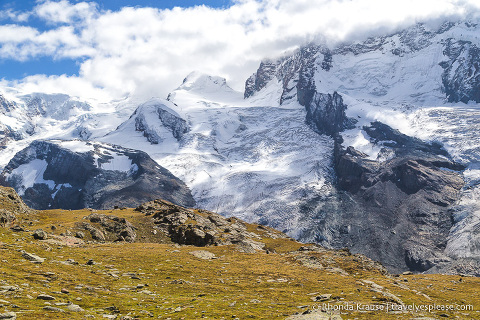 Tips for Visiting Zermatt
Location: Zermatt is located in southern Switzerland in the Valais Canton.
Getting There: Zermatt can be reached by train, including on the scenic Glacier Express.
Combustion engine cars are not allowed in Zermatt and the road from Täsch to Zermatt is closed to public traffic. If you are travelling by car, you will have to park in Täsch (5 km from Zermatt) and take the train or taxi from there. The Matterhorn Terminal in Täsch has 2,100 covered parking spaces.
Getting Around: Zermatt is compact and easily walkable, but there are still small electric buses for public transportation. Many hotels also have vehicles and offer free transfers to/from the train station.
Mountain Transport: The mountains in Zermatt are accessible by either cable car, funicular, or train. Stations where you can catch a lift are Sunnegga-Rothorn, Gornergrat, and Matterhorn Glacier Paradise.
You can buy individual tickets or a combination pass. Combination options are the Peak2Peak ticket (includes Matterhorn Glacier Paradise and Gornergrat on a single excursion), and the Peak Pass (offers unlimited travel on the following lifts/trains: Matterhorn Glacier Paradise, Rothorn, Schwarzsee, and Gornergrat, plus the Matterhorn Gotthard Bahn between Randa, Täsch, and Zermatt).
Here is where you can DOWNLOAD A TIMETABLE OF THE LIFTS AND CABLE CARS IN ZERMATT.
Swiss Travel Pass Benefits in Zermatt: If you have a Swiss Travel Pass, you get free rides on the local electric buses, plus a 50% discount off mountain lift tickets. The lift tickets are quite expensive so a Swiss Travel Pass will help stretch your budget further.
Information was correct at the time of publishing, but can change without notice. 
Accommodations in Zermatt
For your convenience, here is a list of hotels in Zermatt. Please consider booking your Zermatt accommodations through the included link. It costs nothing extra and helps support this website. Thank you!
I had a lovely stay at Chesa Valese. The staff went above and beyond to ensure I enjoyed my time in Zermatt. My room even had a view of the Matterhorn!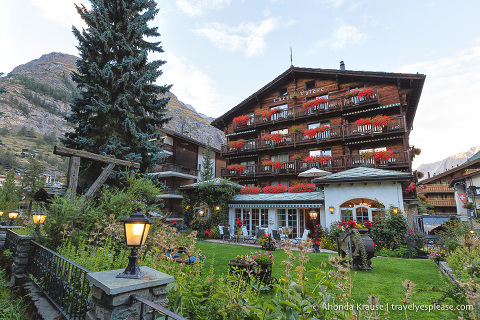 I was hosted by Switzerland Tourism in order to bring you this story. As always, I speak only the truth and hosts have no editorial influence on articles. 
More Switzerland Destinations and Travel Guides