Purchases made through links earn us a small commission, at no extra cost to you.
Everyone tried to talk me out of it. "Won't you be scared? Lonely? What if you get robbed? What if you get lost?" What if, what if, what if….
Well, everyone was right. I was scared. I did get lonely. I didn't get robbed, but that's only because I didn't have any money in my back pocket when the creep on the subway went for a feel. And I did get lost ALL THE TIME.
It was the best trip of my life!
Alone in Rome- My First Solo Trip and Travel Lessons Learned
I had been wanting to go to Italy for years. As I was approaching university graduation, I thought a trip to Europe would be a great way to reward myself for all my hard work. I wasn't planning on going to Rome alone. I had asked friends and family if they wanted to come along, but nobody was interested. In the back of my mind I kept thinking, if I spend my life waiting around for someone to travel with, then I might never travel.
Not wanting to put off my dream, I just went for it. Booked a tour around Italy. Bought a flight to Rome.
I couldn't believe I was setting out on my first solo trip!
Then things started to go wrong. Contiki cancelled the tour I signed up for, moving me to one scheduled a week later. I had already booked my flights and was stressed that I wouldn't be able to change them. My travel agency told me to go to Air Canada in Rome to change it. Air Canada in Edmonton told me I had to do it through the travel agency. In the end, I couldn't change my departure date. I just left for Rome hoping I could change my return date when I got there (thankfully, I was able to).
Not too happy about the hassle and the extra expenses (fee to change the flight, an extra week worth of accommodations), I had learned my first important travel lesson- Lesson #1: ALWAYS book the guaranteed departure dates when booking with a tour company.
Now I was in Rome. For a week. By myself.
I'd be lying if I said I didn't experience some fear and insecurities about being alone in Rome, but I was determined to make the best of it.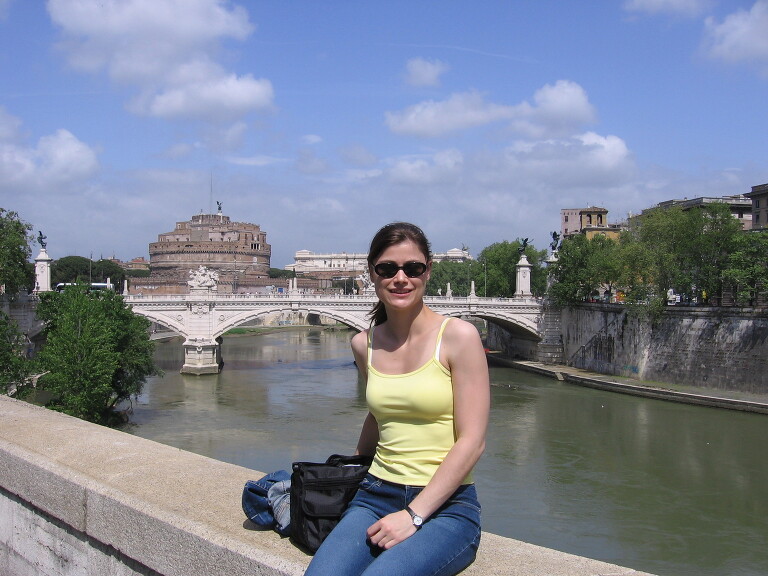 The first time I got nervous was at Termini station (I took the Leonardo Express train from the airport into the city). We don't have train stations like that in Canada, so I was taken aback by the size. I knew my hostel was close by, right across the street in fact, but I couldn't get orientated in the station. I didn't want to pull out a map and look like a distracted tourist, an easy target for thieves. Lesson #2: Always look like you know what you are doing. Project confidence, even if it's fake. So I just went to the nearest exit and started walking confidently. After traipsing half way around the train station I finally came across my hostel.
I dropped off my luggage and went out for a long walk. I didn't have a plan for where I was going. If I saw something that looked interesting, I went towards it. I had no idea where I was, but I knew I was well away from the touristy areas. I found quiet streets lined with cute buildings that had the painted shutters and balconies I love so much. I came across small but beautiful fountains, family owned shops and restaurants, parks, old walls that had they been able to talk would tell fascinating stories.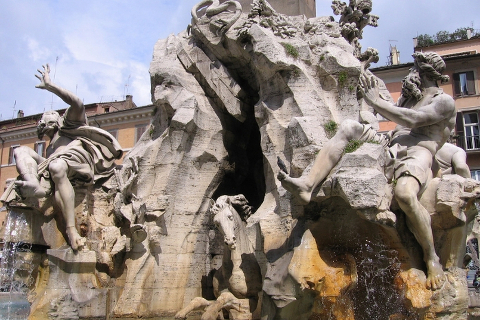 It seems like I was lost all the time in Rome. I got lost when I walked. I got even more lost when I took the bus. Lesson #3: Keep a clear head and don't panic. When my bus driver got off at the end of the route, leaving me, the only passenger sitting and wondering, What the hell is going on?, I tried to stay calm, trusting that I wasn't going to be left alone in the middle of nowhere. The driver had his smoke, got back on and eventually got me to my destination.
Even after a week there, I was still getting disoriented. But I came across some wonderful things that I wouldn't have discovered had I stuck to the map. Lesson #4: Get lost. You never know what hidden gems you might find.

Rome has so many treasures that I really needed the extra week to do the city justice. The one day the Contiki tour spent there was really just a tease. I would have been very disappointed if that was all the time I had in Rome.
That brings me to a very important travel lesson- Lesson #5: Things work out the way they are meant to be. When the tour got cancelled, when I was getting lost all the time, I kept thinking that things were going wrong. But they really weren't. All these unplanned events were occurring so that I could have a deeper, more meaningful experience. I got to travel slower, experience both independent and group travel, and learn how to problem solve.
Now for my final lesson- Lesson #6: Travel will test you, change you, force you to grow. I learned so much about myself and came home with a sense of independence, confidence and personal fulfillment. My trip to Italy was the best three weeks of my life. Especially meaningful was my solo trip to Rome. That time alone in Rome, with all its struggles and unexpected discoveries, helped shape me into the woman I am today.
Okay I lied, one more lesson. Lesson #7: Don't let anyone scare you off of travelling alone. I truly think solo travel is one of the best gifts you can give yourself.
Buy Digital Tickets to Rome's Attractions
For quick and convenient access to Rome's attractions, here is a trusted vendor where you can buy advance, mobile tickets to many of Rome's best sites and activities. Digital ticket delivery is instant and you can show your phone (in most cases) at the ticket holders entrance- no need to print your tickets.
Accommodations in Rome
For your convenience, here is a list of hotels in Rome. Please consider booking your Rome accommodations through the included link. It costs you nothing extra and helps support this website. Thank you!
More Rome Travel Guides