Purchases made through links earn us a small commission, at no extra cost to you.
I've visited many cities that embrace winter but have never seen one that celebrates the season more than Québec City.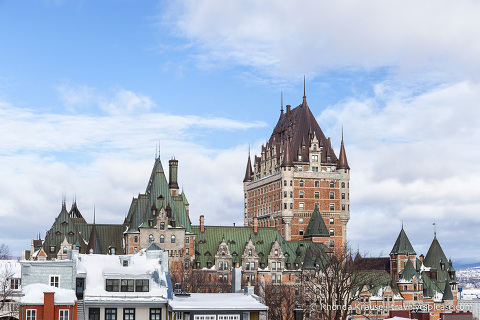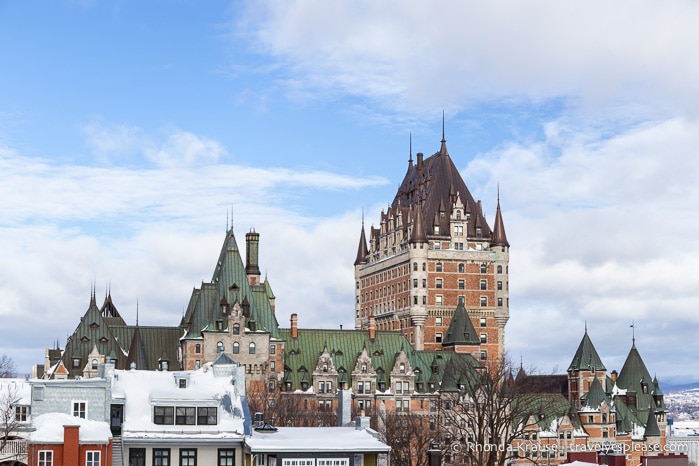 Every year, the city proudly puts on the Québec Winter Carnival (Carnaval de Québec), one of the largest winter carnivals in the world. This celebration goes beyond your typical winter festival though. What makes this carnival so unique is that it incorporates many elements of Quebec's French heritage and culture.
Whether it's the arrowhead sash (ceinture fléchée) in shades of red worn by festival goers, being served caribou, a traditional Québécois sweet alcoholic drink, or having the opportunity to meet the beloved snowman Bonhomme, French Canadian culture is prominently weaved into the Québec Winter Carnival. And that is what gives this festival its joie de vivre.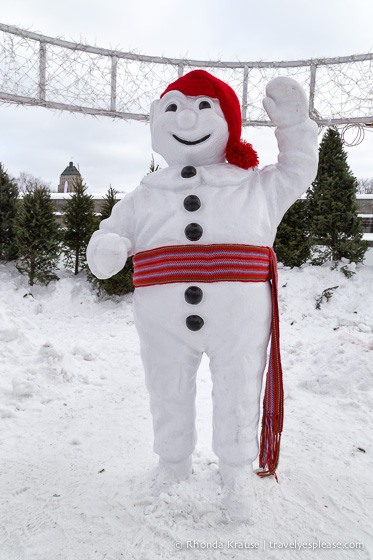 Attending the Québec Winter Carnival- Fun Things to Do
I had learned about the Québec Winter Carnival in elementary school but never attended until its 63rd year, in 2017. Let me just say, I had been missing out!
The Québec Winter Carnival is an event every Canadian should experience at least once in their lifetime. Not only was it jam-packed with outdoor activities, the carnival was a fun-filled way to learn more about Québec and its French heritage, as well as Canadian history.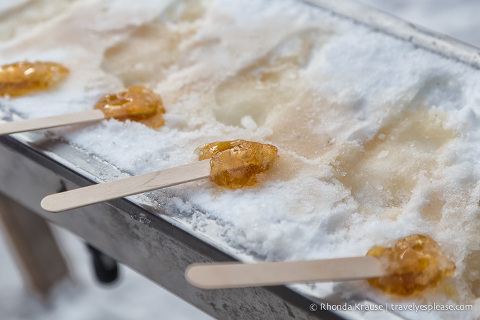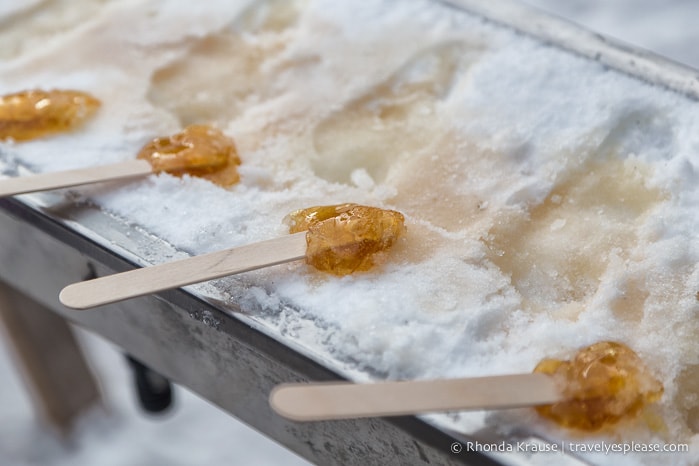 I only attended one full day, so took part in just a handful of events and activities at the Québec Winter Carnival. Here's a look at my first (and hopefully not my last) Carnaval de Québec experience!
Meeting Bonhomme
The highlight of my visit to Carnaval de Québec was meeting Bonhomme, the jolly giant snowman who is an icon of the carnival.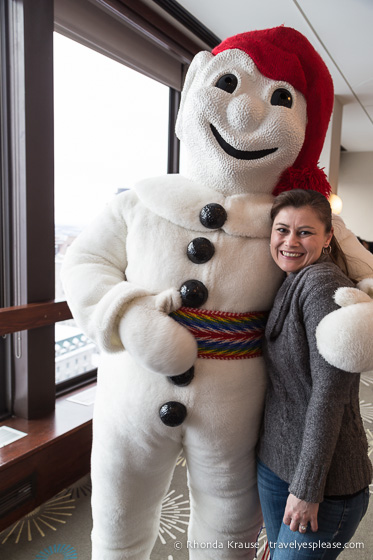 As the official Master of Ceremonies, Bonhomme presides over the carnival, visiting the different festival sites and spreading cheer to all who meet him. I witnessed grown adults jump for joy, shriek with delight and even get a little misty eyed upon meeting Bonhomme.
The most surprising thing about meeting Bonhomme was finding out that he talks! I asked him why the ceinture fléchée is worn tied on the left and he replied "because it's the heart side." Aww…
Bonhomme is so revered that apparently the local kids get more excited to meet him than they do Santa Claus. Whatever you do though, don't refer to him as a mascot. He is the heart of the winter carnival and locals talk about him as though he is a real snowman.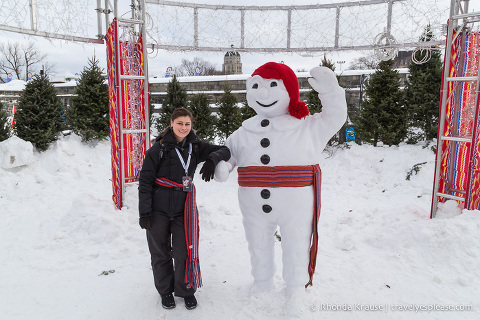 Visiting Bonhomme's Ice Palace
As the King of Winter, it's only fitting that Bonhomme has an ice palace to call his own. Walking through his icy abode, I saw local graffiti artworks showcased on the walls and furniture made of, you guessed it, ice.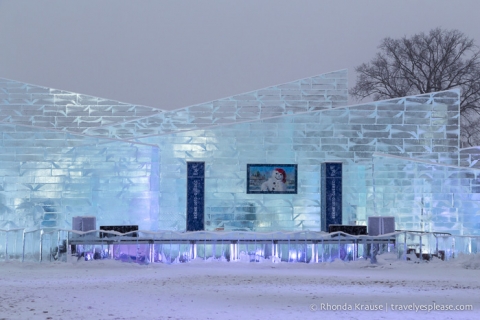 Bonhomme is one lucky snowman because every year he gets a new, custom designed and decorated ice palace to live in. You could return to Carnaval de Québec every year and still be impressed by this architectural masterpiece.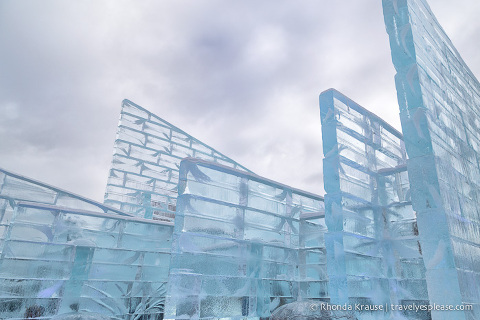 Human Foosball
I tried so many new things at the Quebec Winter Carnival, including taking part in a human foosball game.
Stepping into a life-sized foosball table, I buckled myself onto one of the poles extending across the field and was transformed into a human foosball player.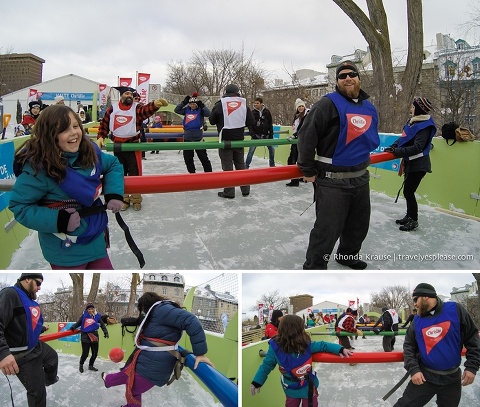 As we moved, the pole moved with us as my team attempted to score and block shots from our opponents. It wasn't easy (the final score reflected that) but it sure was a lot of fun. Perhaps if we weren't laughing so much we wouldn't have let in so many goals!
Roasting Marshmallows
In between carnival events, I stopped by the Fortifications of Québec to roast marshmallows with the good people from Parks Canada.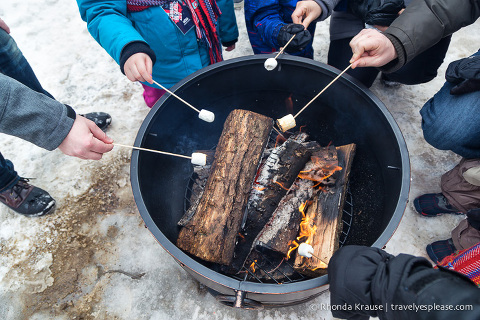 The smell of a campfire on a fresh, cool day always reminds me of my childhood winter adventures. Standing around the crackling flames, I was transported back to those simpler times and felt thankful I was getting to spend the day being carefree and young at heart at the Québec Winter Carnival.
Toboggan Slide Au 1884
At Dufferin Terrace is Québec City's oldest, and in my opinion, most fun attraction. Dating back to 1884, this traditional toboggan run had me simultaneously screaming and laughing as we zoomed down the icy run towards the Château Frontenac.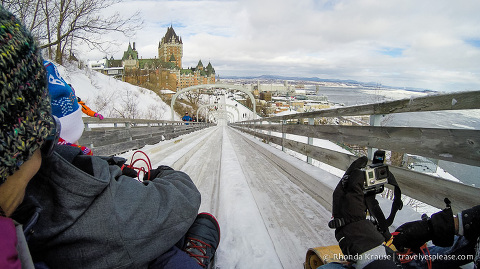 Toboggans can carry four people and even reach speeds of up to 70 km/hour. I'm not sure how fast we went but wow, what a thrill!
If you can't make it to Carnaval to try the 1884 toboggan run, don't worry- it's open all winter long.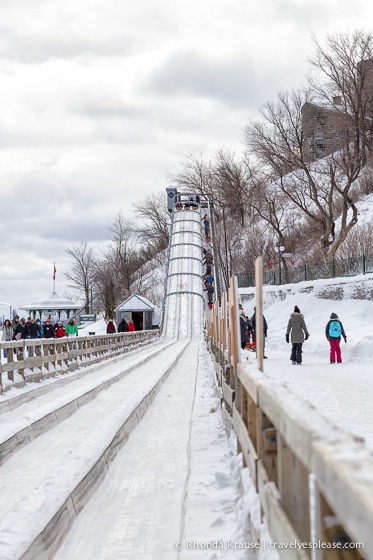 Giant Bowling
Sometimes it's the silliest things that are most enjoyable, which is why I couldn't leave Carnaval without trying Giant Bowling.
I literally dove through a small hole into a giant, inflatable ball and then attempted to run downhill to knock over a huge red bowling pin.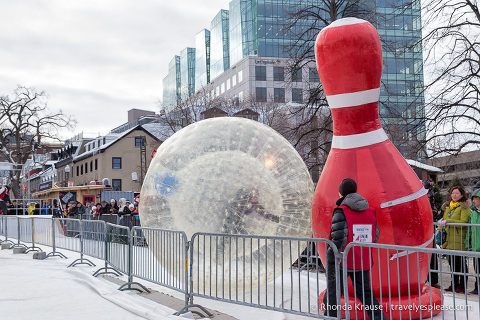 I was determined to stay upright but as soon as I picked up speed, I got swept up and started tumbling end-over-end inside the ball. I felt like such a fool, but it was so fun!
Skating at Place D'Youville
A winter trip to Québec City wouldn't be complete without lacing up some skates and gliding across the small outdoor rink at place D'Youville.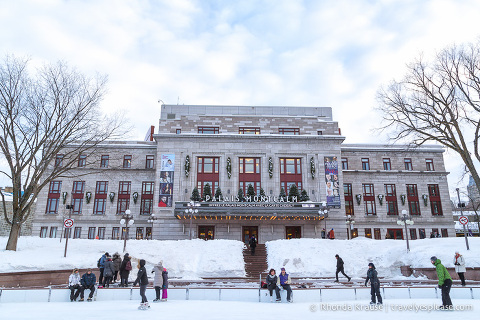 As I skated on the ice, I kept thinking this was the perfect place for an outdoor rink. Beautiful old buildings lined one side while the city's fortification wall bordered another.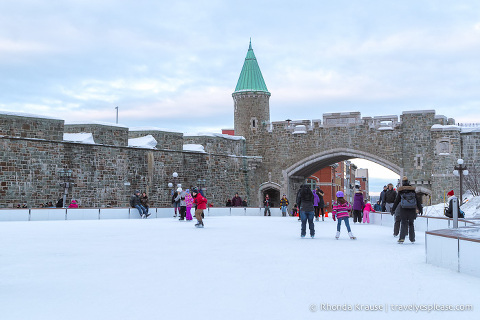 As a nice addition for Carnaval, French folk music played from the snow globe inspired stage, completing the perfect winter carnival atmosphere.
Exploring Petit-Champlain (Lower Town)
Simply wandering the cobblestone streets of Old Québec is a must-do in any season, but it is especially charming on a quiet winter night.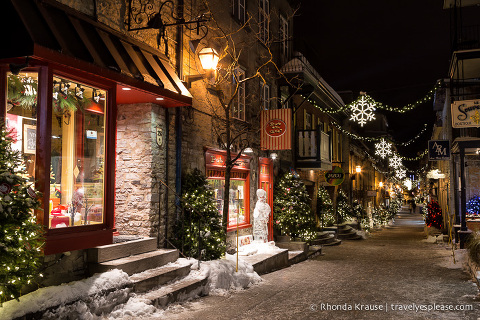 Even at the end of January, Christmas garlands adorned shop windows and white snowflake lights were strung building-to-building, elegantly hanging above the narrow streets. Ice sculptures were on display throughout the neighbourhood, romantically illuminated with soft light.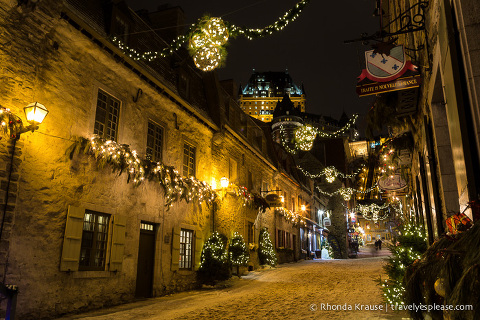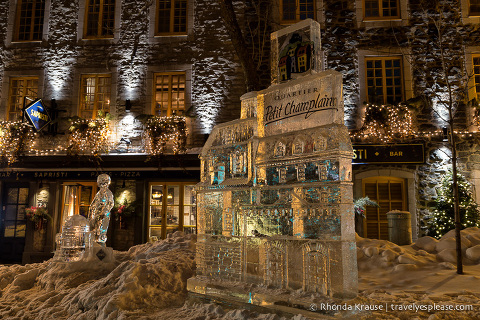 Even during the Québec Winter Carnival, I had Petit-Champlain almost all to myself. Most of the time I felt like I was in a small European village but then I'd come across a scene so perfect, it felt like I had walked onto a movie set.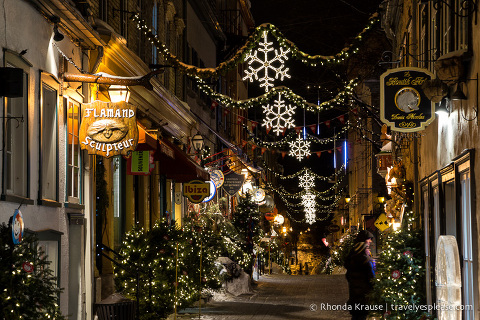 Exploring Petit-Champlain at night was such a joy that I had to convince myself to go back to the hotel for some sleep.
My Next Visit- More Things to Do at the Québec Winter Carnival
There were so many aspects of the Québec Winter Carnival that I didn't get to experience since the events were spread out over 17 days.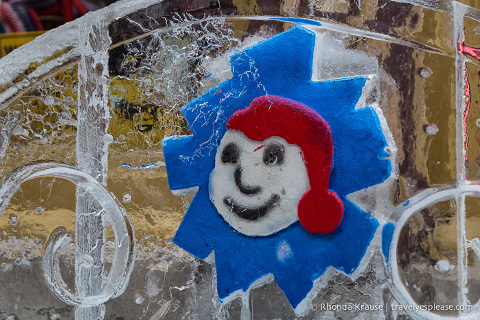 I hope to return to the carnival one day so I can watch the night parade, take part in an old-time dance party, race down the ice slide, admire the snow sculpture contest and cheer on elite athletes at the canoe race.
One day was not nearly enough to enjoy all the activities at Carnaval de Québec, so I guess a return visit is in order!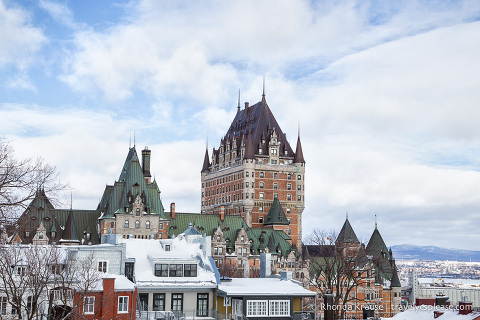 Video Highlights from the Québec Winter Carnival
Here's a short video I made of us enjoying some of the activities at the Québec Winter Carnival.
More Photos of Québec City in Winter
I just had to include more photos of Québec City because it's so darn pretty!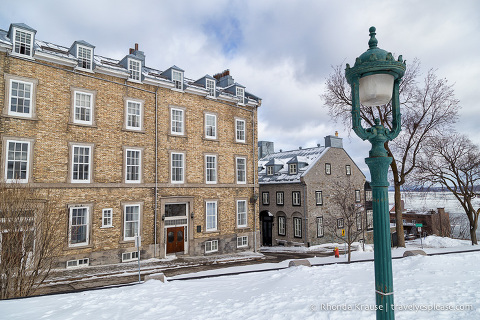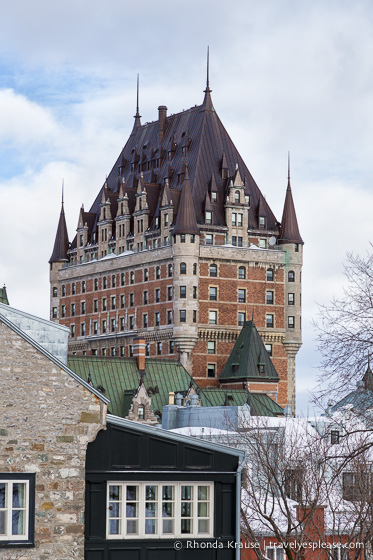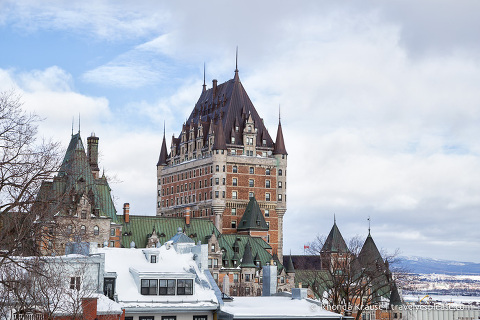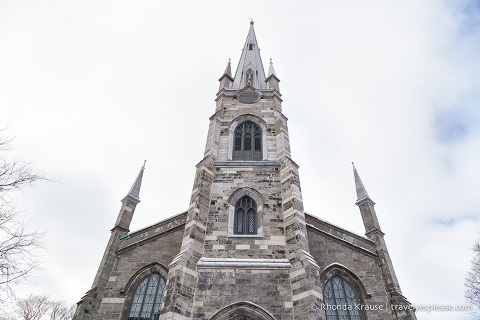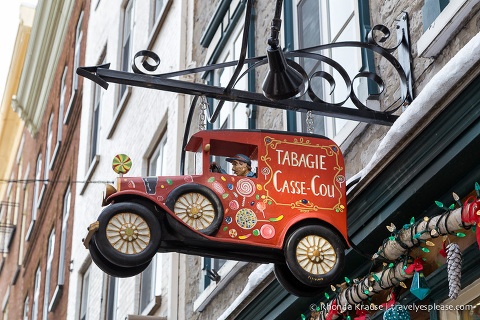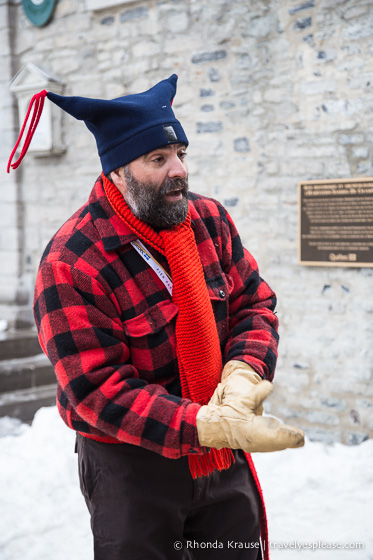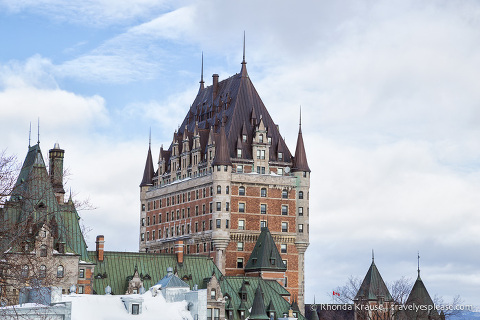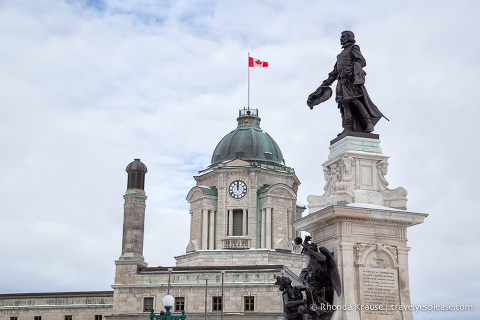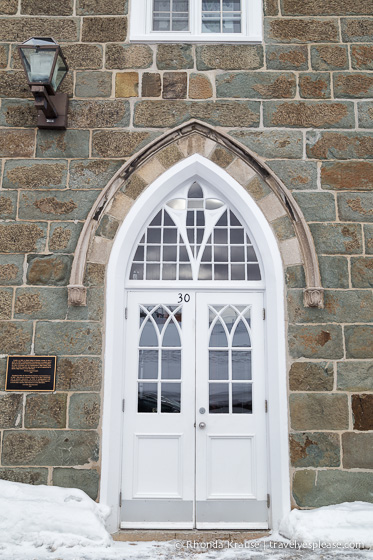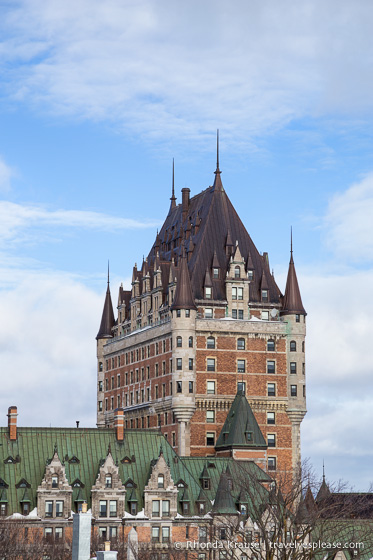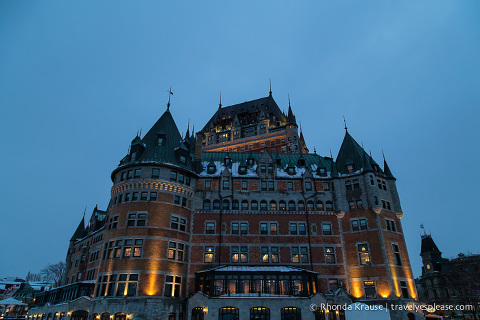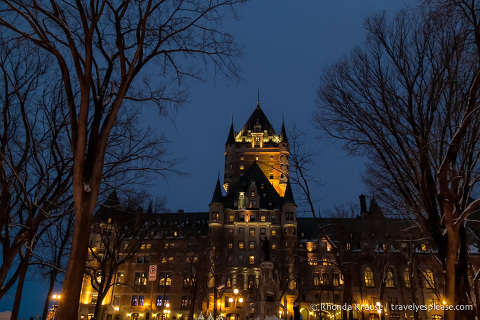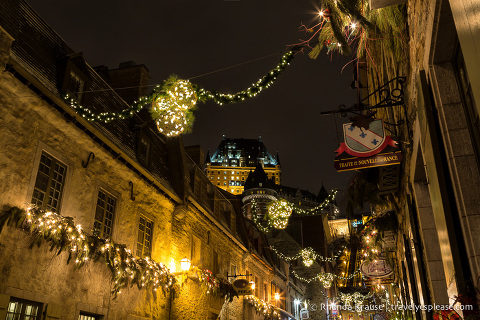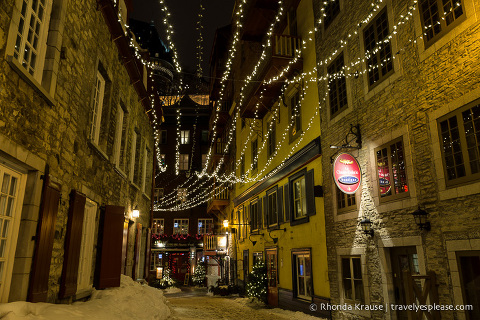 Tips for Attending the Québec Winter Carnival
Québec Winter Carnival Dates: The Québec Winter Carnival usually takes place near the end of January and runs through the first two weeks of February, but some years it doesn't start until sometime during the first week of February.
Tickets: To access the carnival sites, you must purchase a Bonhomme Effigy (plastic figurine) to wear on your coat. The effigy can be purchased during the month of December for a special price of $10. In January, the price goes up to $15. The effigy can be purchased online, at the Carnival reception (205 Boulevard des Cèdres), or at the two Quebec Winter Carnival ticket offices during the event. 
Québec Winter Carnival Activities: Carnival events and activities are set up at different sites in Québec City, most within walking distance of each other.
To go down the toboggan slide Au 1884 you must purchase a separate ticket. It operates from mid-December to mid-March, depending on the weather.
Skating at place D'Youville is free all winter long (early December to mid-March, depending on the weather). You can rent skates onsite.
Official Website: For more information about the Québec Winter Carnival visit the official Carnaval de Québec website.
Information was updated January 2022, but can change without notice. Please confirm directly with service providers.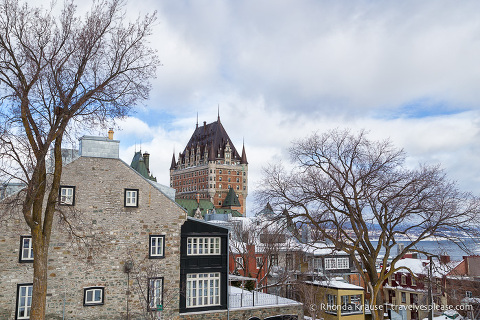 Accommodations in Québec City
For your convenience, here is a list of hotels in Québec City. Please consider booking your Québec City accommodations through the included link. It costs nothing extra and helps support this website. Thank you!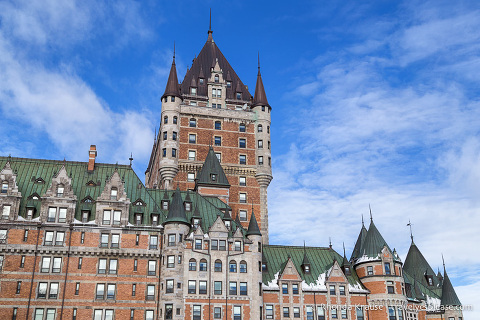 I attended the winter carnival as a guest of Québec City Tourism. As always, I speak only the truth and hosts have no editorial influence on articles.
More Québec Winter Travel Guides