Purchases made through links earn us a small commission, at no extra cost to you.
It's not hard to fall in love with Québec City. Only two blocks into the Old Town and I was already head over heels.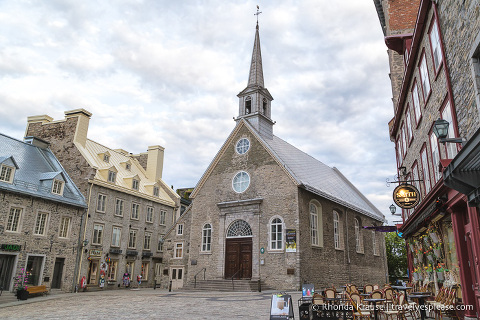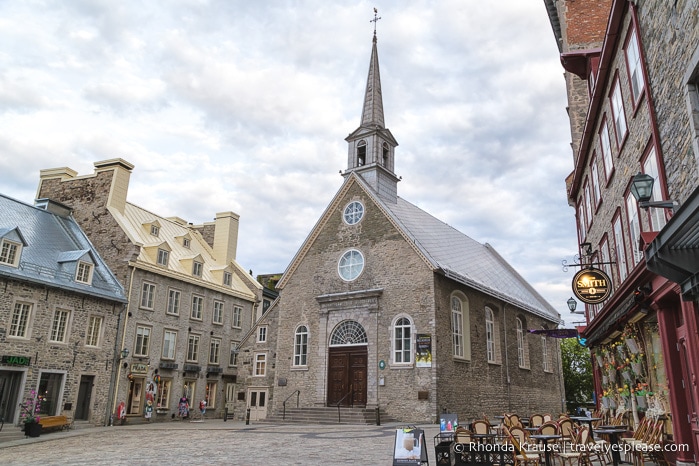 I still vividly remember the moment Québec City stole my heart. It was my first night in town and I was walking down Saint-Louis toward Château Frontenac. Lantern-shaped streetlights warmly shone on the stone buildings, while flags quietly waved above the sidewalk. Delicious scents floated out from dimly lit restaurants, inviting me to come inside. With each step I took, I felt more and more like I was entering a small European town.
It was like I had gone to France without ever leaving Canada. It was magic.
In that moment, I instantly wished I could spend more than 2 days in Québec City.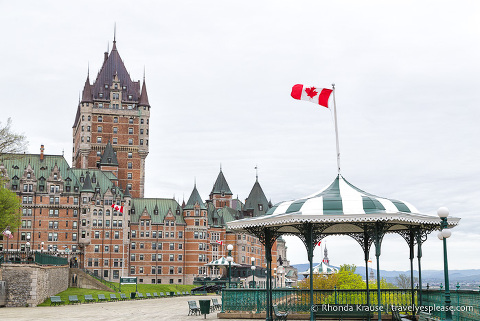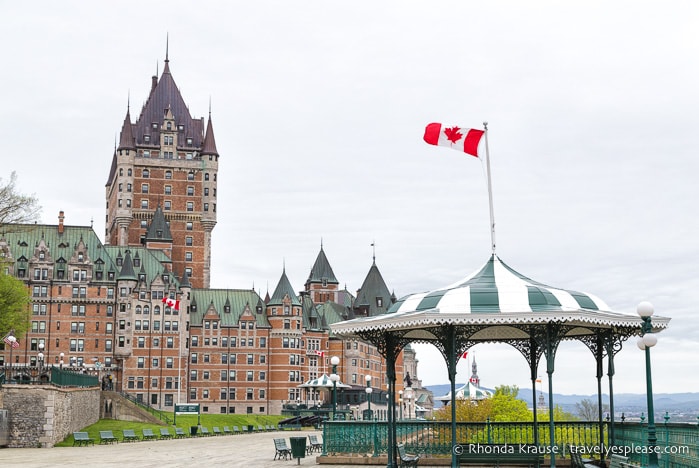 How to Spend 2 Days in Québec City
Although Québec is a major city (and capital of the province), most people come to experience the World Heritage-listed Old Town.
Old Québec (Vieux-Québec) is encircled by a stone wall, a remnant from its days as a fortified French colonial settlement and testament to its embattled past.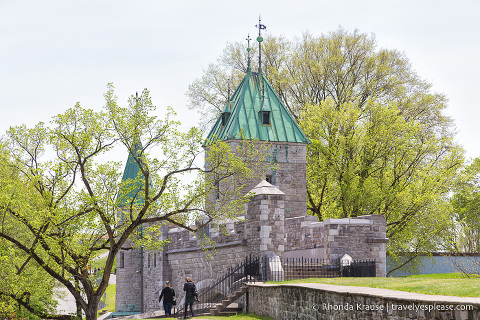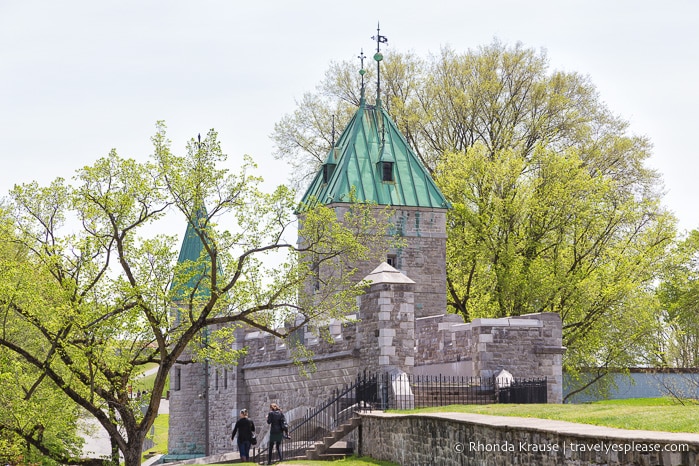 You'll uncover both French and British influences as you explore the monumental château, imposing fortress, cobbled streets, and centuries old stone houses the city is famous for.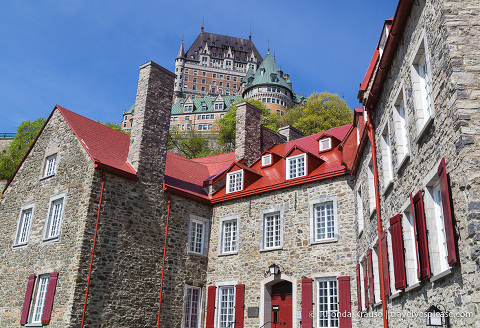 The historic heart of Québec City is compact and easily walkable so it doesn't take long to see the most significant sites. With 2 days in Québec City you'll be able to enjoy it at a leisurely pace and still have time to venture further afield.
I thought a 2 day trip to Québec City was long enough to get a good understanding of the city, yet short enough to leave me things to do on a future visit.
Here's a look at how I spent 2 days in Québec City!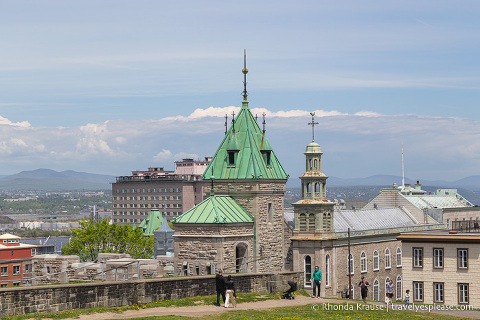 Day 1: Explore Old Québec's Upper Town
I started my first day in Québec City by exploring the historic sites along the perimeter of the Old Town. After a morning of discovering Québec's military past, I spent the rest of the day wandering the streets in the centre of Old Québec, making sure to stop and enjoy the delicious food along the way (more poutine please!)
Château Frontenac
The first stop on my self-guided walking tour of Québec City just had to be Château Frontenac, Québec City's most recognizable building.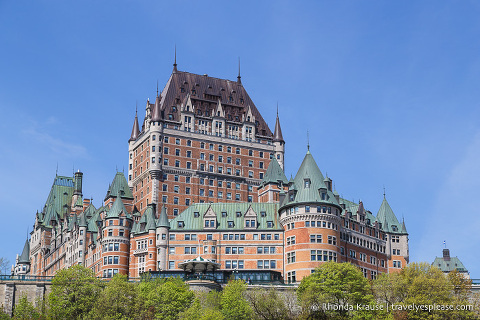 A gorgeous structure that's oh-so photogenic, I have no doubt that the claim of it being the most photographed hotel in the world must be true. I personally haven't photographed another hotel more!
This grand hotel (now a Fairmont property) is a prominent piece of Québec City's skyline, overlooking Dufferin Terrace and the St. Lawrence River. It was named after the Count of Frontenac, a notable governor of New France in the late 1600s.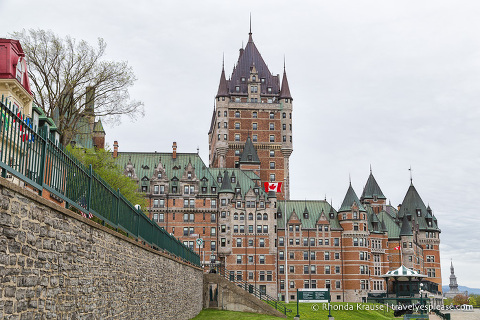 The original château was opened in 1893 by the Canadian Pacific Railway, with the hotel's eye-catching central tower being added in 1924.
Check prices and availability for Fairmont Le Château Frontenac.
Dufferin Terrace
Directly in front of Château Frontenac is Dufferin Terrace, a wide boardwalk linking the château to the Citadelle de Québec and Plains of Abraham.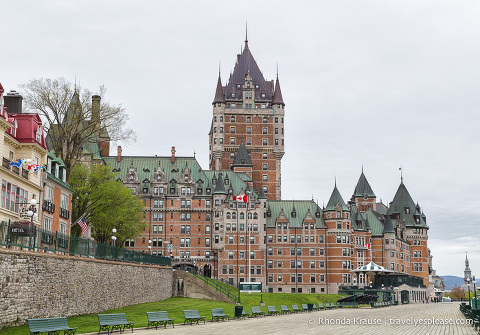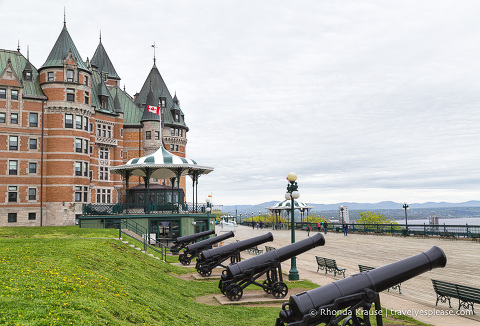 I strolled along here many times during my 2 days in Québec City, taking in views of the St. Lawrence River, Lower Town and Château Frontenac. There's also a nice monument to Samuel de Champlain, the founder of Québec City.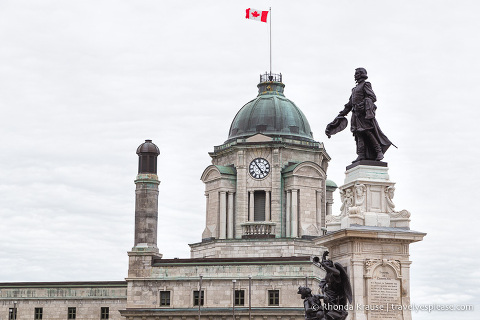 Below the terrace is one of Québec City's most interesting attractions- the Saint-Louis Forts and Châteaux National Historic Site. This archaeological crypt makes it easy to explore the ruins of four former forts and two chateaux that existed here before the terrace was built over their remains.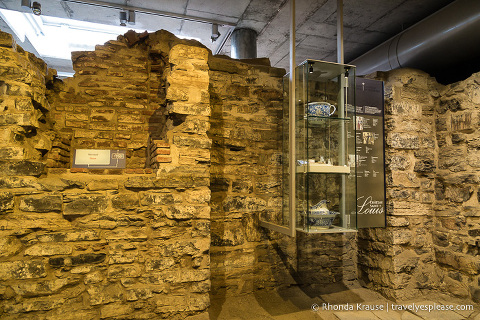 In the winter, Dufferin Terrace is the site of a huge a wooden toboggan slide that dates back to 1884. It's quite the thrill, capable of reaching speeds up to 70 km/hour!
At the south end of Dufferin Terrace you can access the Pierre-Dugua-De Mons Terrace, a lovely place at the foot of the Citadel for admiring Château Frontenac and Old Québec.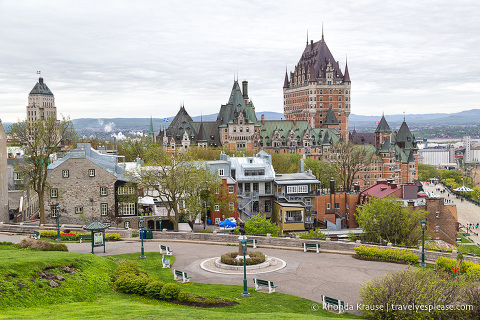 At this point the terrace becomes the Governor's Promenade, a tree-shaded walkway leading up to the Plains of Abraham and Citadelle de Québec.
Citadelle de Québec
Nicknamed "Gibralter of the Americas", the Citadelle de Québec is the place to go if you want to experience over 300 years of military history.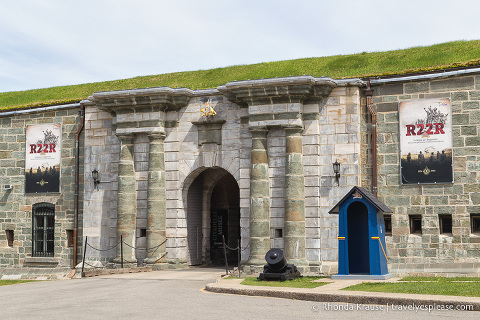 The star-shaped citadel is the largest British fortress built in North America and has been home to the Royal 22nd Regiment since 1920.
During my guided tour I saw the Dalhousie Gate, Québec's only original gate that hasn't been rebuilt for traffic. I also got to go inside the French powder magazine and the military prison.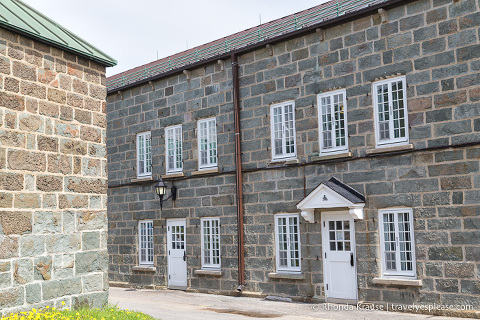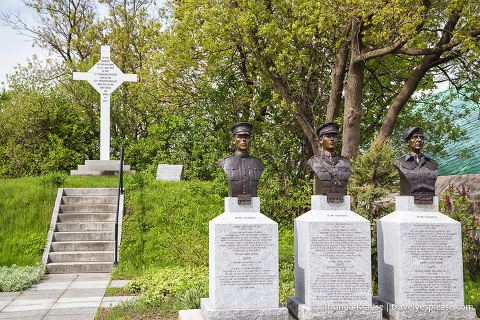 If you visit in the summer, try to catch the Changing of the Guard Ceremony that takes place in the Citadel's parade grounds at 10:00 am.
Walk the Fortifications of Québec
From the Citadel, you can walk along the entire defensive wall surrounding Old Québec. An easy 4.6 km walk, the wall will take you over numerous gates, passing by towers, canons, loopholes and military sites.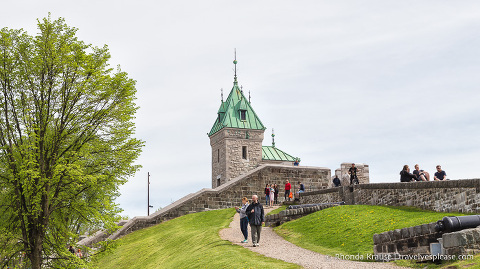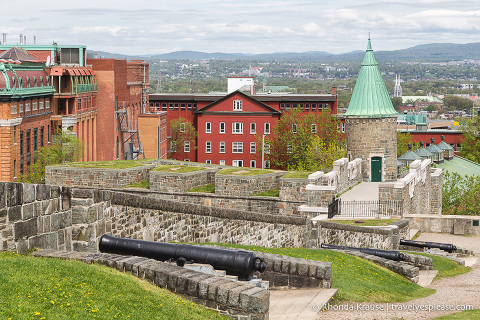 The Fortifications of Québec are a National Historic Site and walking them was my favourite way to learn about Québec's military roots.
Read my full post about the Fortifications of Québec
Parliament Building and Tourny Fountain
Technically, the Parliament Building is just outside of Old Québec, but if you're walking the wall you'll be right across from it.
I decided I wanted a closer look at the architecture so came down off the wall and walked over.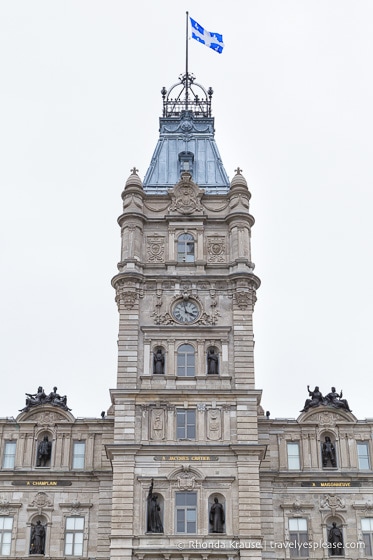 The building is an absolute beauty! Built between 1877 and 1886, it displays bronze statues of notable individuals on its façade, including Samuel de Champlain (founder of New France and Québec City) and Jacques Cartier (French navigator who explored the St. Lawrence River and laid claim to the lands that would become Canada).
What I liked most about the building was that the tower was topped with a crown. So regal!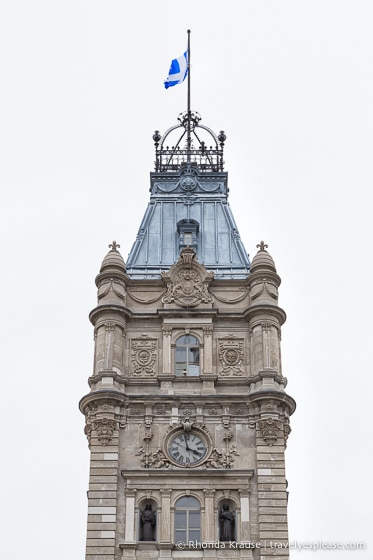 Before heading back to the wall, I stopped to admire the Tourny Fountain. A winner of the gold medal at the 1855 World Fair in Paris, the fountain was a gift to Québec City from La Maison Simons (a local retail store) in honour of the city's 400th anniversary.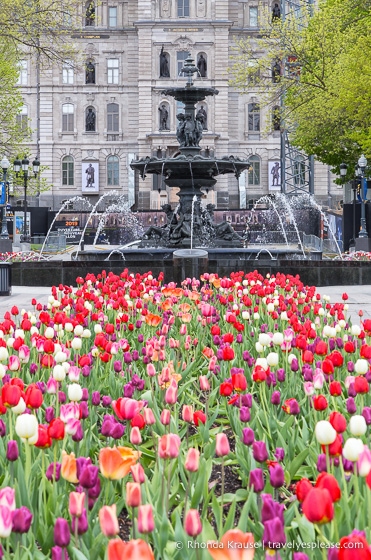 Strolling the Streets of Old Québec's Upper Town
After getting my fill of history, I spent the rest of the day simply walking the streets of the Upper Town.
Nothing in particular stood out, I just very much enjoyed the friendly, bustling atmosphere.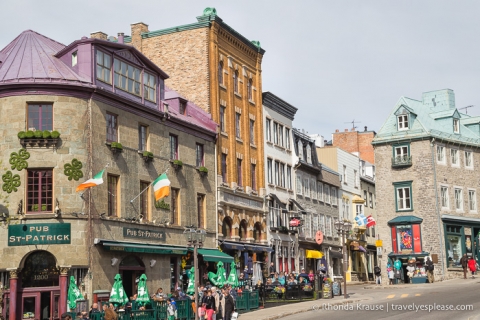 During my explorations I walked down the narrow Rue de Trésor, browsing the works of local artists in this open-air gallery. I people watched at Place d'Armes, popped in to the Notre Dame de Québec Basilica, relaxed at the Hôtel-de-Ville, and enjoyed a meal and some sweet treats on Rue Saint-Jean.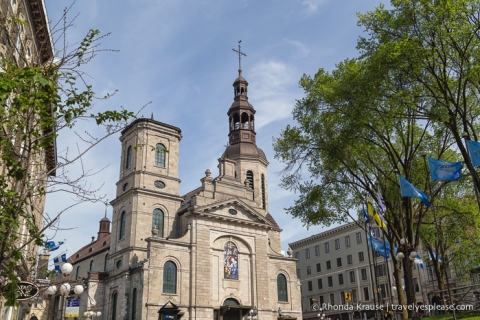 Day 2: Explore Old Québec's Lower Town & Montmorency Falls Park
My second day in Québec City was all about relaxing views, European charm and outdoor activities. It started with a morning ferry ride followed by a walk in the Lower Town, and ended with a bike ride and climbing adventure at Montmorency Falls Park.
Ferry Ride to Levis
Taking the ferry across to Levis is the best way to appreciate Québec City's skyline.
From the waters of the St. Lawrence I got to see Québec from a whole different perspective, enjoying a panoramic view of the Citadel, Château Frontenac and Petite-Champlain.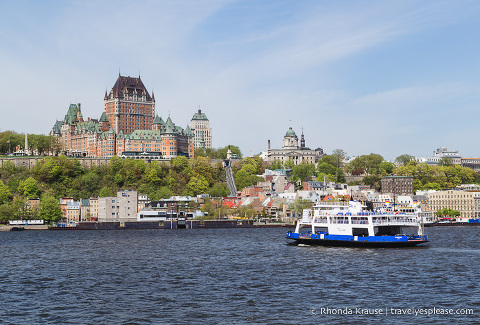 The ferry ride is only 12 minutes, so it's a small time investment for a big return of beautiful views.
There wasn't anything I wanted to see in Levis, so I did a short walk along the shore then quickly re-boarded the ferry for the return trip. It was a pleasant and relaxing way to start my last day in Québec!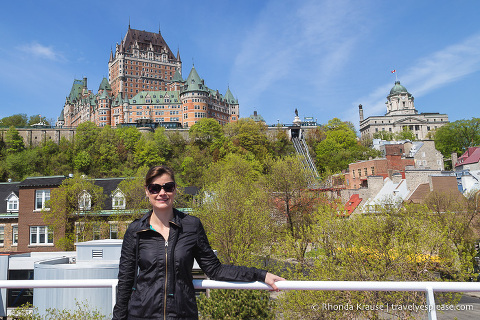 Quartier Petit-Champlain
Directly across from the ferry terminal is Québec City's most charming area, Petit-Champlain.
This was the part of town that most made me feel like I was in Europe. Narrow cobbled streets, restored stone houses with brightly coloured window shutters, small galleries, cafés, boutiques and bistros- it all felt very….French!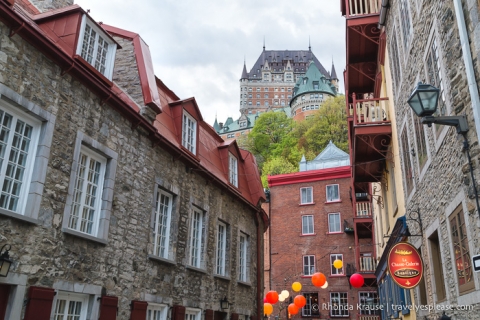 It felt so much like France that when someone asked me where I was from I replied, "Canada" instead of saying my home city! So embarrassing, but I honestly felt like I had travelled to another country!
Petit-Champlain was most enjoyable to visit in the evening, after the cruise ship left and other tourists had retired for the night. The streets were so peaceful, I felt like I was wandering through a sleepy European village. I even had the lovely Place-Royale almost all to myself!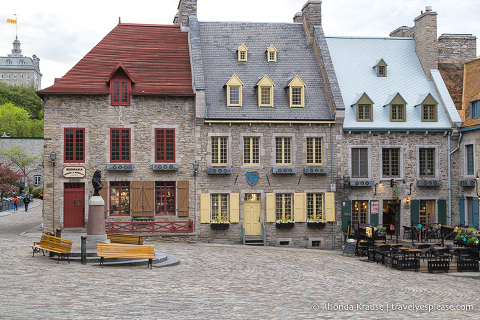 Place-Royale
Place-Royale was my favourite place in Old Québec for no other reason than it's just so darn cute!
I'll try not to gush too much, but I loved the stone buildings in the corner of the square, each with a different coloured roof and wooden shutters.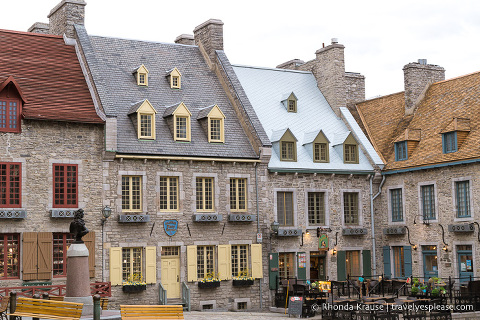 Notre-Dame-des-Victoires Church is no slouch either, looking flawless even though it's one of the oldest churches in North America.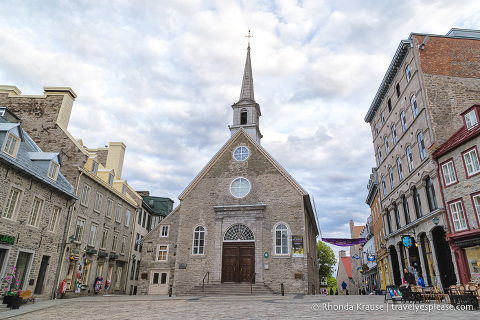 It felt wonderful to be in a modern-day meeting place surrounded by architecture reflecting centuries of history.
When night settled in and the crowds disappeared, I sat there sipping hot chocolate, imagining how this area might have been when it was Champlain's first permanent settlement in New France. I pictured rich merchants conducting business and scurrying about the square, much like tourists do today!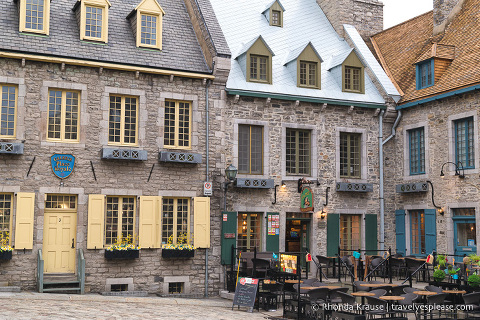 Mural of Quebecers
Just past Place-Royal is a captivating fresco called the Mural of Quebecers. I say it's captivating because it depicts 400 years of Québec City's history on one wall.
As a fun challenge, try to see how many of the 15 historical figures in the mural you can identify.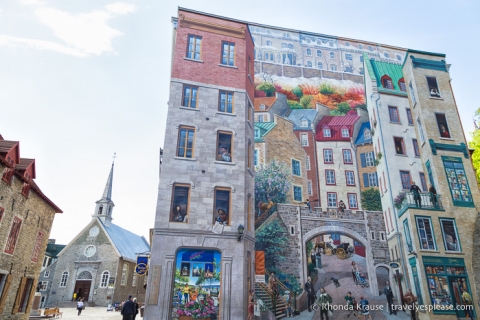 Bike Ride to Montmorency Falls Park
After a pleasant morning wandering the streets of Petit-Champlain, I decided it was time for an outdoor adventure.
I rented a bicycle then made my way onto the Corridor du Littoral bike path, which goes all the way to Montmorency Falls. It was an easy cycle of mostly flat terrain, taking roughly an hour to get there.
At first glance the falls were impressive, but perhaps even more so when I found out they were 83 metres tall (that's 30 metres higher than the famous Niagara Falls).
At the park you can ride a cable car to the top of the falls, go ziplining, walk the trails, or complete one of the via ferrata circuits.
I tried via ferrata climbing for the first time here and had a blast! It's essentially a hiking trail on a rock wall, but you're connected to a cable and have iron rungs and pegs to step on. I'd like to try it again, but a more difficult course next time.
Read the full post about my Via Ferrata Climbing Adventure at Montmorency Falls Park.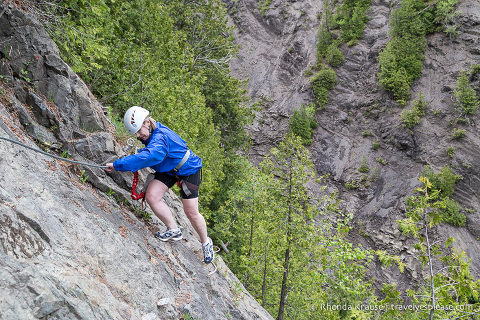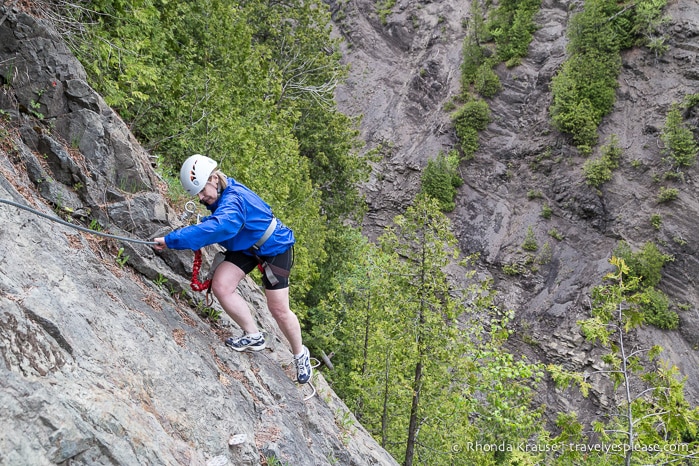 Final Thoughts About my 2 Days in Québec City
After 2 days in Québec City, it had undeniably become my favourite city in Canada. It had everything I seek out when I travel- gorgeous architecture, an interesting history, scenic views, easy access to outdoor activities, and a welcoming hospitality.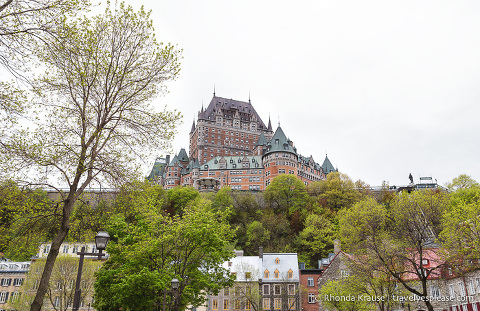 I've visited Québec City twice now (once in the winter and again in the spring) and had a fabulous experience both times.
Spring was a great time to visit because the weather was mild, perfect for walking and enjoying the green spaces around town.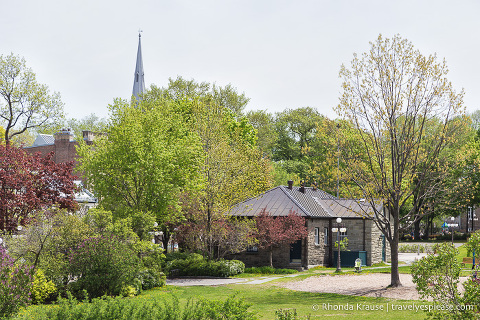 But there was something dazzling about Québec City in the winter. I loved the celebratory mood of the Québec Winter Carnival and had so much fun at Village Vacances Valcartier snow tubing and exploring the Hôtel de Glace (ice hotel). And if you think Petit-Champlain is beautiful now, you should see it when it's decked out for the Christmas holidays!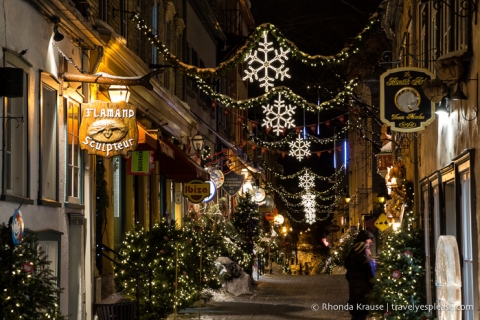 No matter the season, Québec City is always a wonderful place to visit and I hope to return again one day.
Photos of Québec City
It's impossible to leave without a camera full of photos, even after only 2 days in Québec City. Here are a few more pictures of Old Québec for you to enjoy!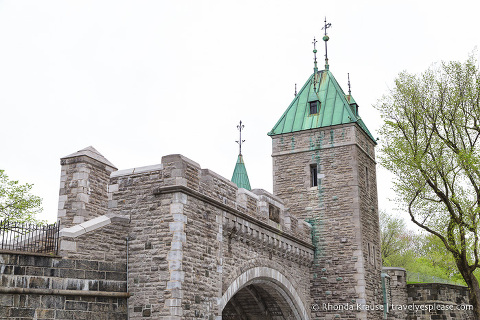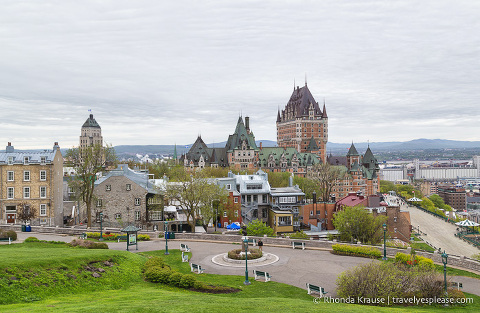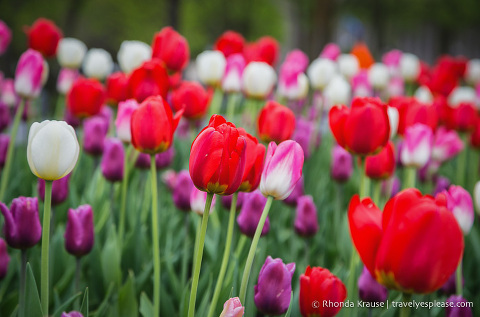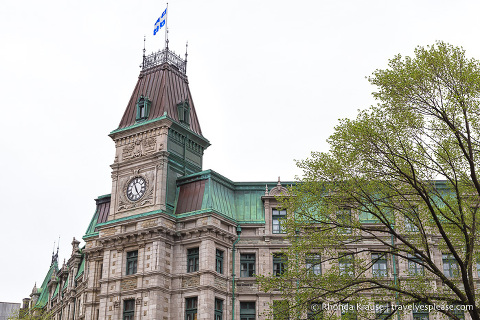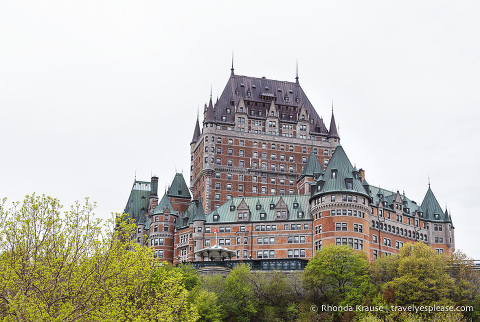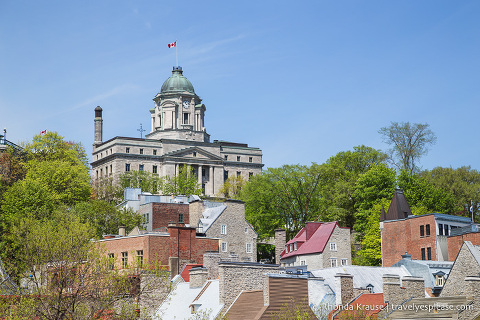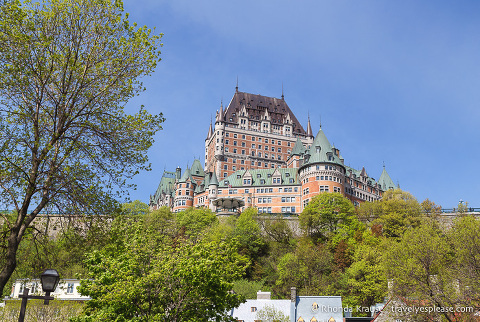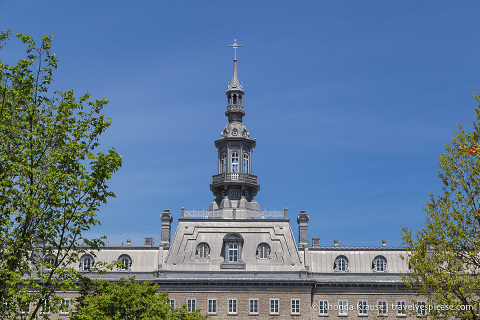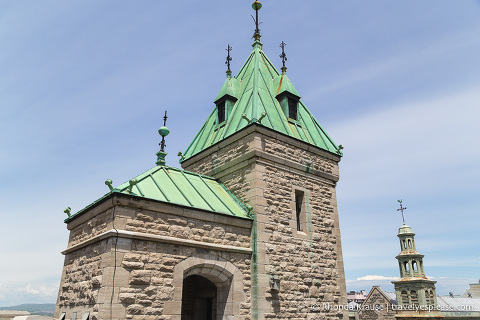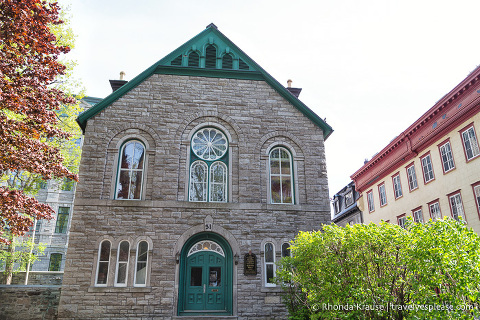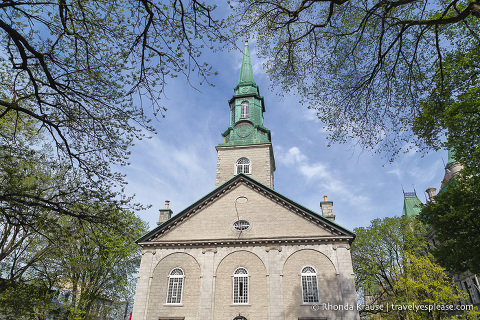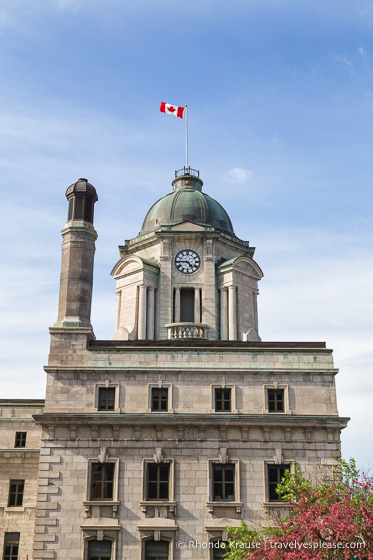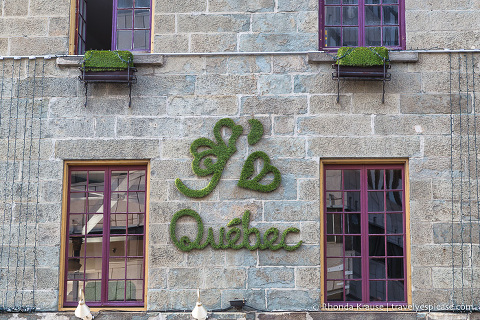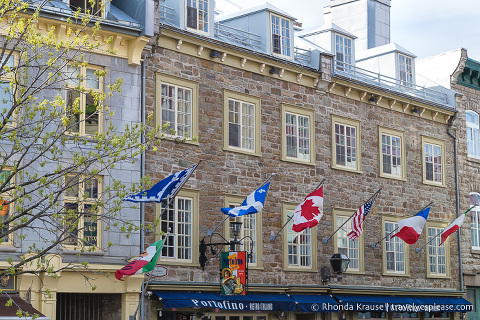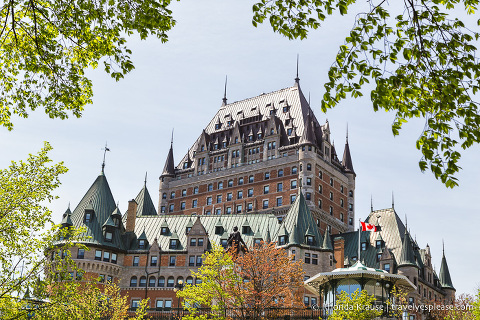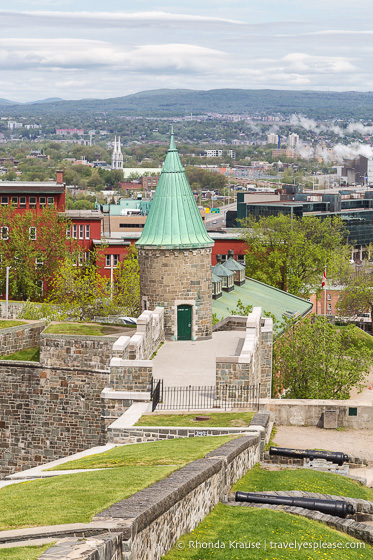 Tips for Visiting Québec City
Getting There: Old Québec is about a 30 minute drive from Jean Lesage International Airport. Both taxis and Uber are available at the airport. There is a fixed rate of $35.10 for taxis going downtown and to Old Québec.
Citadelle de Québec: The Citadel is open year round and can be visited by guided tour only. Admission is $18 for adults and tours are available in English and French. For up to date hours and fees visit the Citadelle's website.
Ferry: The Québec City-Levis ferry operates year round from 6:00 am-2:20 am. There are frequent departures throughout the day, usually 2/hour but up to 3 during peak times. One-way tickets cost $3.75 for adults. You can find the current schedule and prices here.
Montmorency Falls Park: There is no admission fee to visit Montmorency Falls Park, but there is a charge for parking. Additional charges apply for the zipline, via ferrata, and cable car.
* Information was updated November 2021, but can change without notice. Please confirm directly with service providers.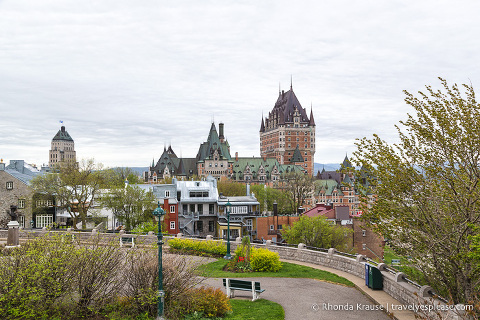 Tours in Quebec City
Here is a site that has a large selection of tours and tickets for activities in Québec City. You can book everything from walking tours, bike tours, ghost tours, food tours and whale watching excursions. Here is one related to what I've mentioned in this post.
Accommodations in Québec City
For your convenience, here is a list of hotels in Québec City. Please consider booking your Québec City accommodations through the included link. It costs nothing extra and helps support this website. Thank you!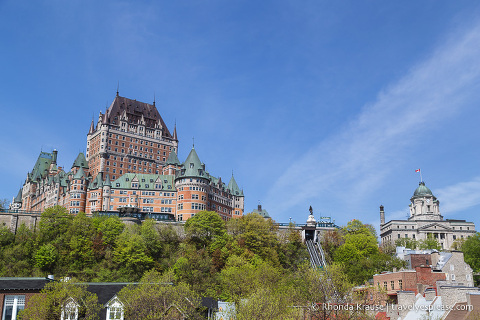 Purchases made through the included links earn us a small commission, at no extra cost to you, and help support this website. Thank you!
More Québec Destinations and Travel Guides