Purchases made through links earn us a small commission, at no extra cost to you.
When I was in Québec City for the Québec Winter Carnival, I set aside some time to experience a few of the surrounding area's winter activities.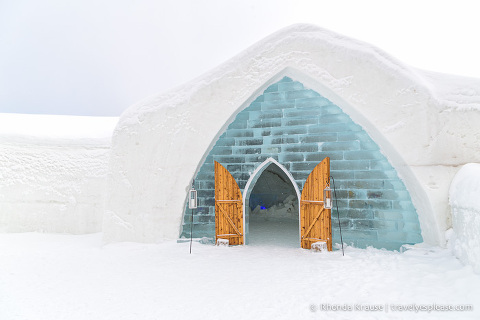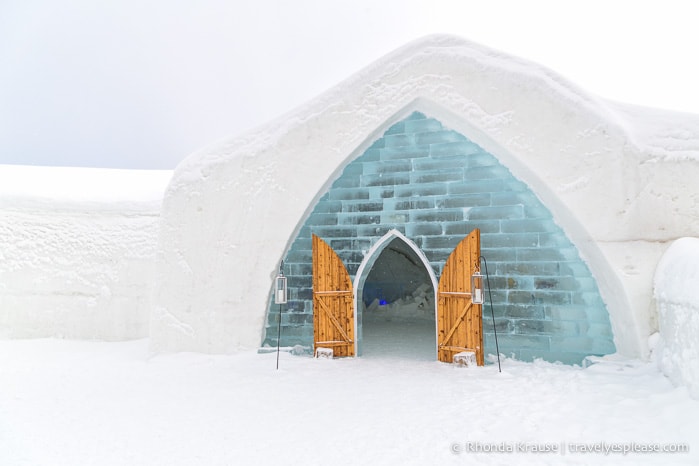 Aside from Carnaval itself, the most fun I had in Québec was at Village Vacances Valcartier, the largest winter playground in Canada.
I spent the morning touring an elaborate ice hotel and the afternoon letting loose in an exhilarating snow tube park.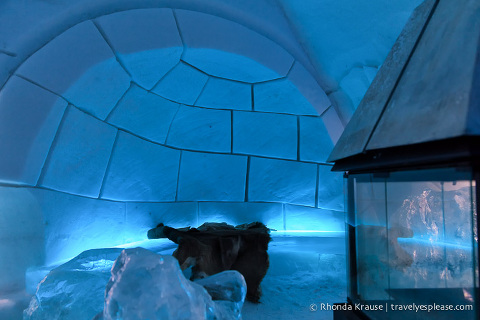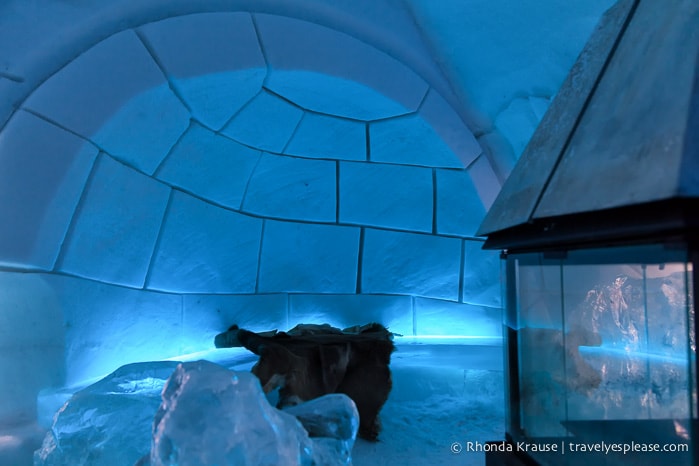 In just one day I experienced a range of emotions- awe and amazement as I wandered the icy halls of Hôtel de Glace, followed by thrills and laughs as I raced down the slippery snow slides in the winter playground.
Here's a look at my fun-filled day at the Valcartier Vacation Village!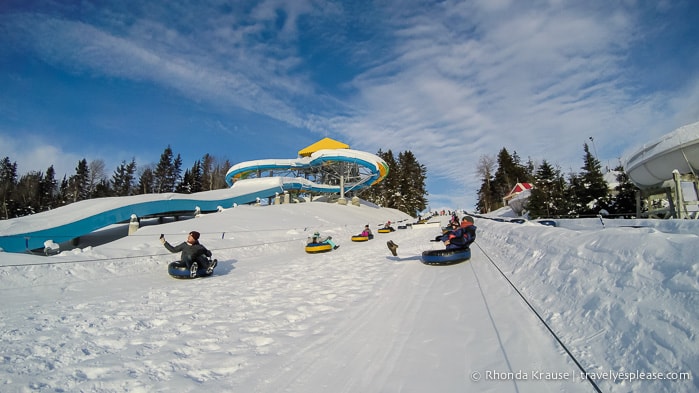 Touring Québec's Ice Hotel (Hôtel de Glace)

It's not every day you get to visit a hotel made completely of ice and snow, but when that day comes, it's a day to remember.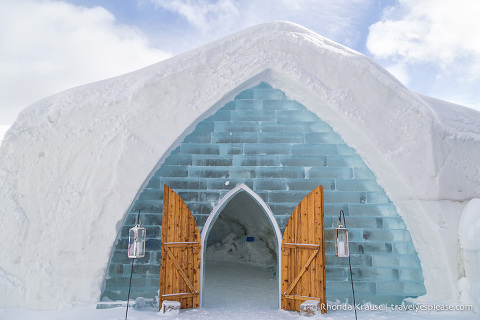 Having always wanted to see an ice hotel, I was completely awestruck by the craftsmanship and creativity that went into building Québec's Hôtel de Glace.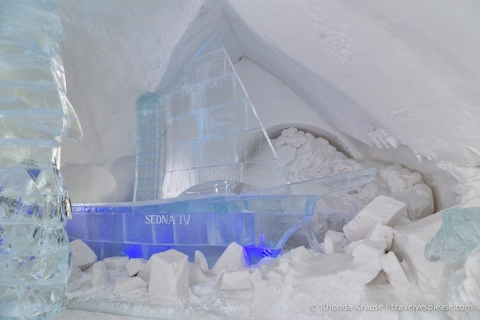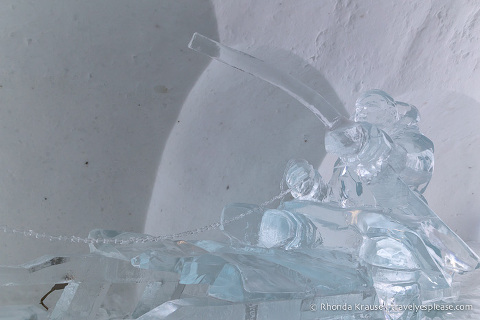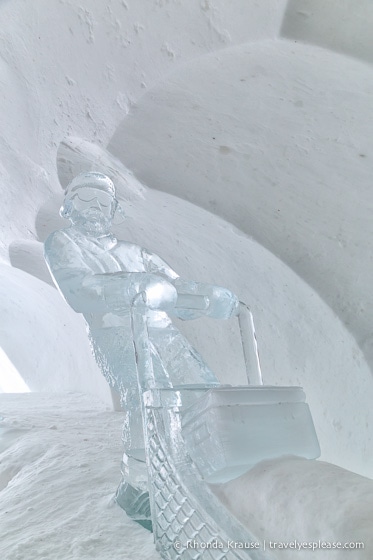 With 44 guest rooms, an ice bar, a Grand Hall, chapel, slide, and more ice sculptures than I could count, this hotel was no small undertaking.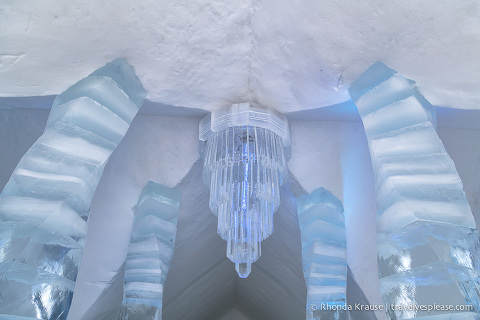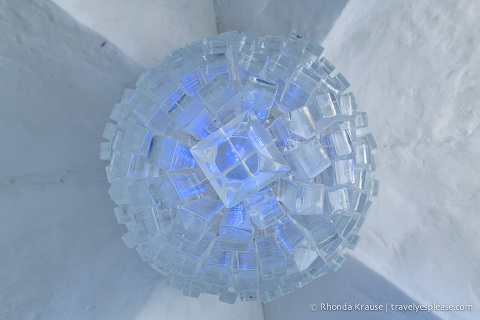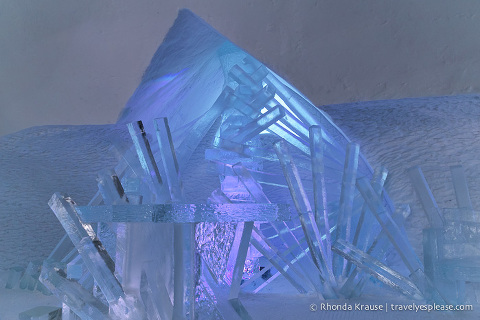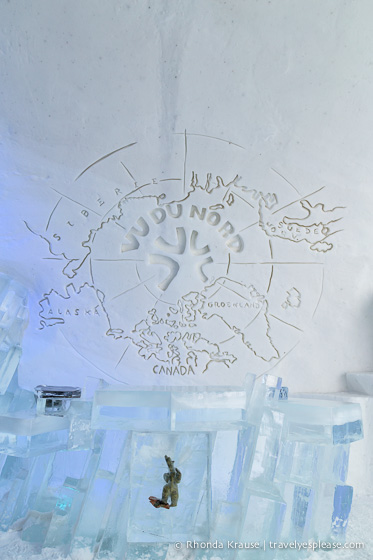 Each room I saw was impressive, but the themed suites were above and beyond what I expected.
The furniture was made of ice and the walls were decorated with artistic snow sculptures conveying the unique theme of the room. I'd get a little giddy with anticipation each time I started to walk into a new suite, wondering what marvelous creation waited inside.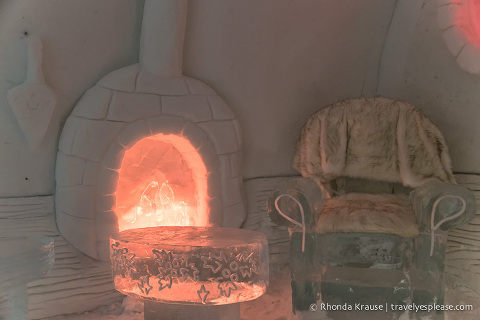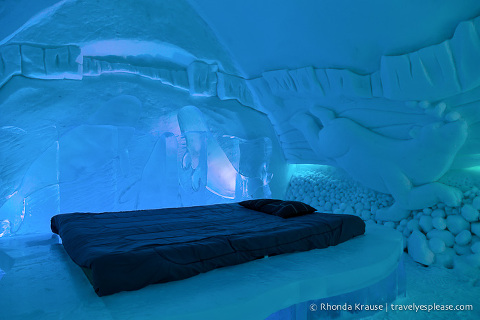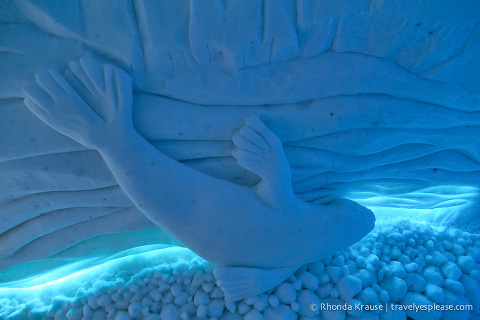 The themed rooms were so imaginative that it was hard to pick a favourite, but this hot chocolate inspired design might take top honors in my book!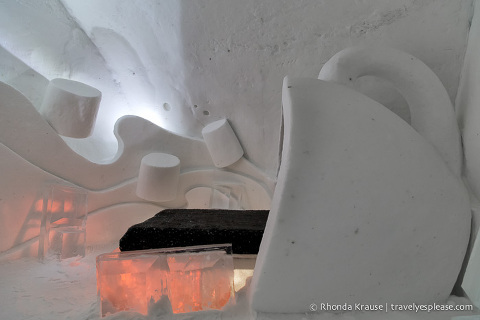 I didn't spend the night but was surprised to learn that it doesn't get as cold inside as one might think. No matter the temperature outside, inside the ice hotel it's always between -3°C and -5°C (23°F and 26°F). With an arctic sleeping bag (provided for guests) and a good pair of thermal underwear, it might not be too bad.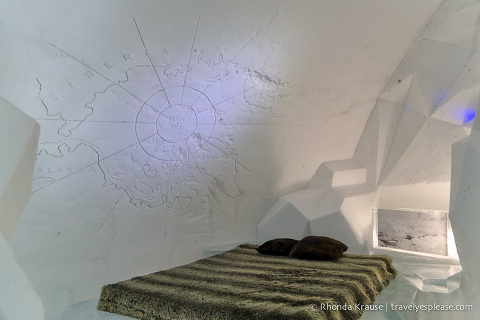 After exploring some of the suites, I ended my visit to the ice hotel by having a drink at the ice bar. Forget having a drink on ice- I had mine in ice! Yes, my drink was served in a glass made 100% out of ice. How's that for "cool"?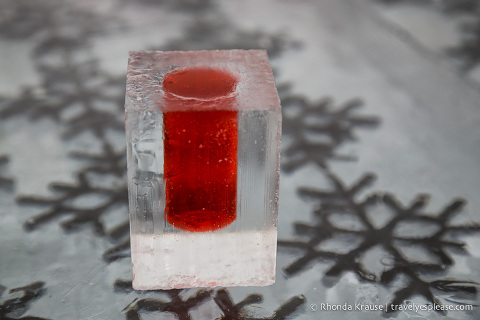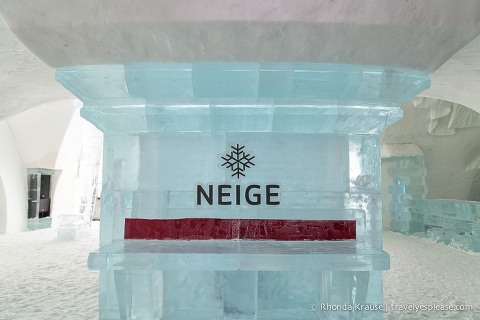 Snow Tubing at Valcartier
The snow tube park at Valcartier was by far the biggest park of this kind I've ever visited.
There were over 35 snow slides to choose from and the runs were rated similar to a ski hill- green, blue and black diamond. Instead of difficulty level, the ratings reflected how thrilling the slide was. I jumped right in and went down some black diamonds and wow- I felt my stomach rise into my throat, taking my breath away (in a good way, of course!)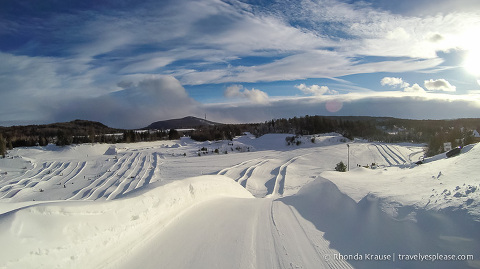 My favourite slide was Snow Rafting, where you get to race down the hill in a 12 person inflatable raft. We got so much speed I was half expecting to get bounced out, but thankfully that didn't happen!
Another one of my favourite snow slides was the Tornado. We went down this run in an 8 person round boat that swirled as it zipped down the hill at top speed. Good luck not being dizzy when you get to the bottom!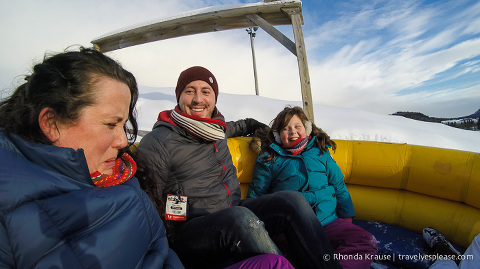 I had so many laughs snow tubing and there were a lot of runs I didn't have time to try, so I'll have to return to Village Vacances Valcartier next time I make a winter trip to Québec City.
Final Thoughts About Visiting Village Vacances Valcartier in Winter
Village Vacances Valcartier was a fun and fascinating place to spend a winter day. With two very different, but equally engaging attractions, I had no trouble filling my day and still would go back for more.
And why not- each year the ice hotel gets a new design so it would be like experiencing it for the first time all over again. Plus, I have to try more of those snow slides!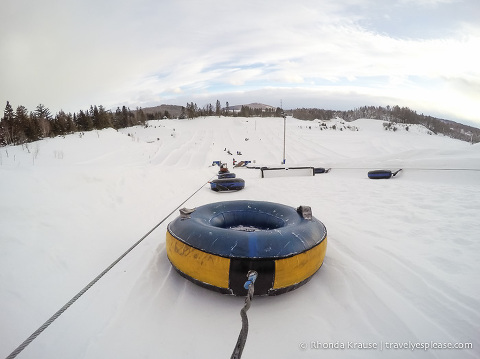 Tips for Visiting Village Vacances Valcartier
Location: The Valcartier Vacation Village and Hôtel de Glace are about a 20-30 minute drive from Québec City in Saint-Gabriel-de-Valcartier.
Shuttles can be arranged from Quebec City.
Winter Playground: For current day pass prices to the winter playground, visit this page.
A day pass includes access to all the snow slides, inner tubes and skating area.
Locker Rentals are quite pricey, so try to bring only the essentials.
Backpacks can't be worn on the snow slides so you'll likely be forced to store it in the lockers.
Hôtel de Glace: To see prices for tours of the ice hotel, visit this page. After 8:00 pm the suites and rooms in the ice hotel are not accessible for tours since they're reserved for guests staying the night.
Information was updated January 2022, but can change without notice. Please confirm directly with service providers.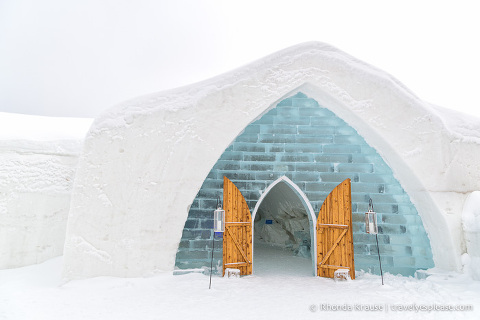 Tours of the Ice Hotel and Québec City
To make the most of your trip, here is a tour that combines a visit to Québec's ice hotel with a guided city tour.
Accommodations in Québec City
For your convenience, here is a list of hotels in Québec City. Please consider booking your Québec City accommodations through the included link. It costs nothing extra and helps support this website. Thank you!
I'd like to thank Québec City Tourism for hosting my stay in order to bring you this story. As always, I speak only the truth and hosts have no editorial influence on articles.
More Québec Destinations and Travel Guides