Purchases made through links may earn us a small commission, at no extra cost to you.
Swimming in a cenote is a sacred, almost mystical experience. It's strange, but after visiting one, I can understand how the Maya believed cenotes were gateways to the afterlife.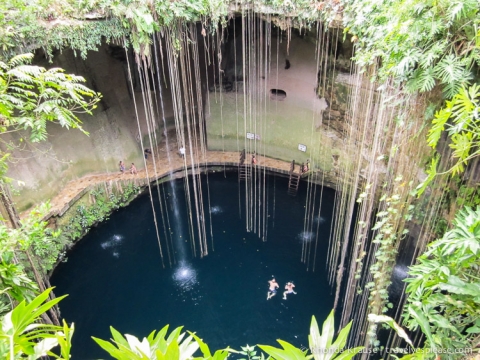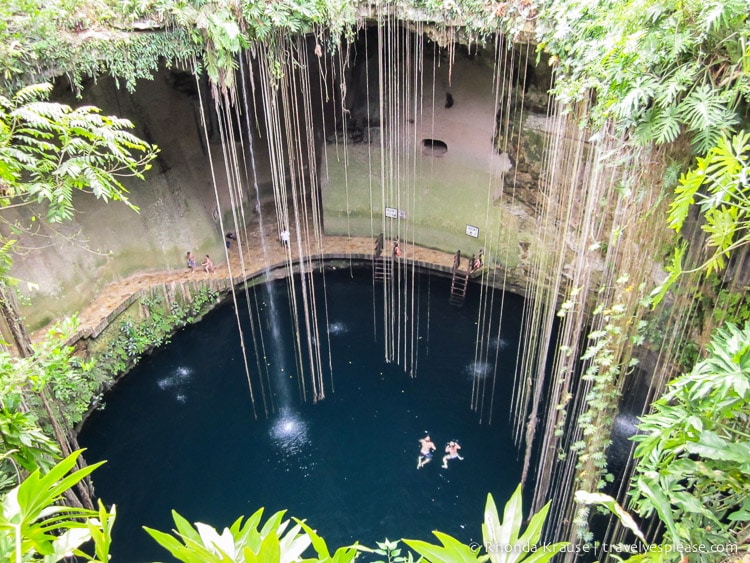 Cenotes are naturally occurring phenomenons, sinkholes in the Earth's surface born when the roof of a water filled cave collapses. It's estimated that the Yucatan Peninsula in Mexico has 7,000 cenotes. The high number of cenotes is because the peninsula is primarily made up of porous limestone. The limestone has been eaten away by millions of years of rainfall, forming a large network of underground caverns.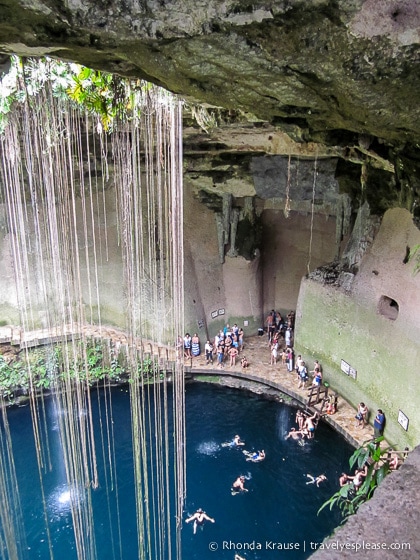 Cenotes were the main source of fresh water for the ancient Mayan civilization. Mayans believed the cenotes to be sacred and sometimes used them for sacrificial offerings. Valuable objects such as gold, jade and copper were thrown into the cenotes as an offering to the Mayan rain god, Chaac. Human beings were also sacrificed, most commonly, young males.
Ik Kil Cenote- Our Visit
We visited Ik Kil Cenote on our way back from Chichen Itza (it's only a few kilometers from there). Ik Kil Cenote, or Sacred Blue Cenote, is about 130 feet deep and 85 feet from the surface. There's a stairway that leads down to the water, you don't have to jump!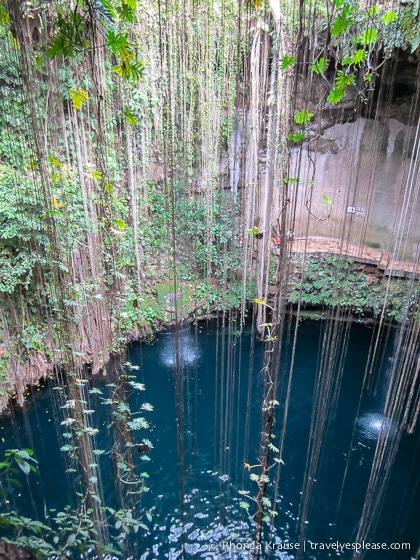 It was nice that there weren't too many people when we got there (it's a popular stop for bus tours). Mike used this opportunity to show off his diving skills, while I hesitantly swam back and forth (I was nervous about how deep it was!)
I loved the vines hanging down to the surface of the water and how the small waterfalls added to the ambience. However, I was not a fan of the catfish touching my feet and once that happened I got a little panicky! I am really scared of fish and always worry they are going to bite my toes!
Regardless of the fish, swimming in a cenote was an amazing experience! I would even say it was the highlight of my trip to Mexico.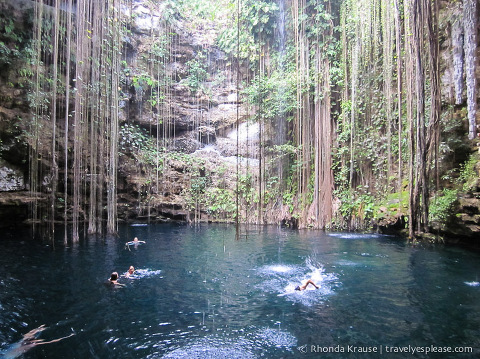 Tips for Visiting Ik Kil Cenote
There is a restaurant with a small buffet on site. It's nothing special, but will hit the spot if you worked up an appetite swimming.

If you can, get there early in the morning to avoid the bus crowds.
Rent a locker to safely store your valuables while swimming.
Do not touch the vines! They are sacred and you will get whistled at by the staff if you do.
Information was correct at the time of publishing, but can change without notice.
More Mexico Destinations and Travel Guides