Purchases made through links earn us a small commission, at no extra cost to you.
"I'm sandboarding in Peru!" I yell at my GoPro as I proudly surf down the wind-sculpted dunes of Huacachina.
This is my first time sandboarding and I've got to admit- I'm better than I thought I would be.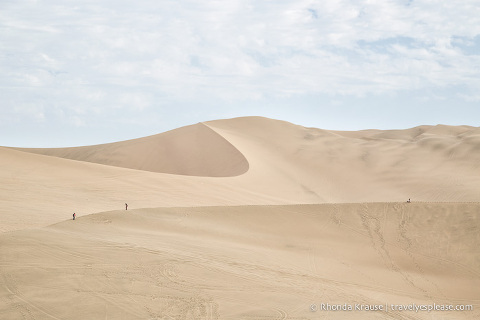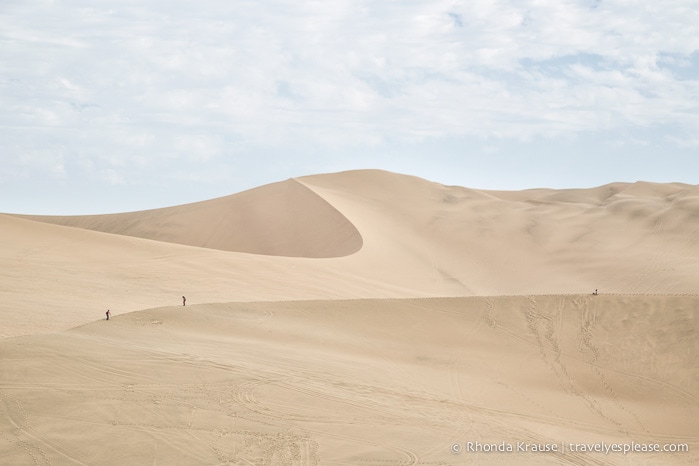 Maybe it's because I have a good teacher, Victor "Dito" Chavez, a professional sandboarder and snowboarder who competes for Peru. Or maybe it's because I'm not as scared as when I tried snowboarding. Falling on sand is a lot less painful than falling on snow and ice!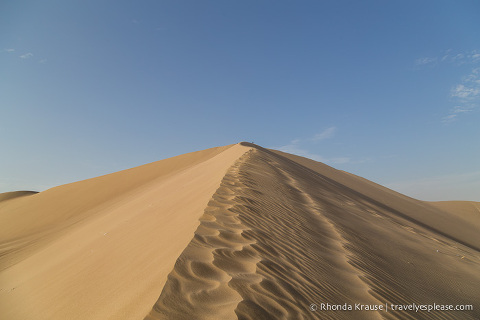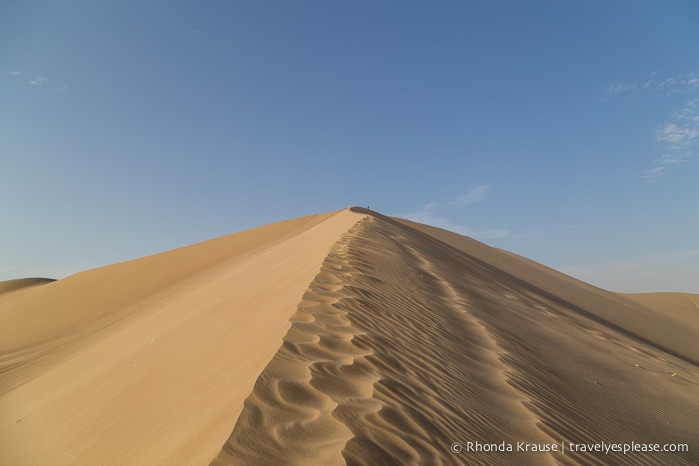 No matter the reason for my "success", and by that I mean being able to make it to the bottom on two feet, one thing is sure- sandboarding in Peru was a fantastic experience full of laughs!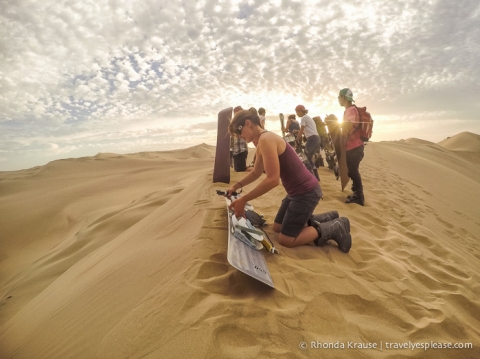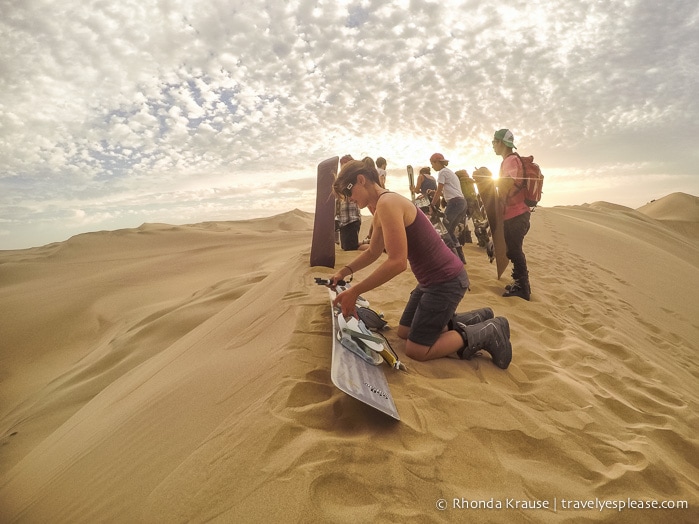 Huacachina- Sandboarding Central
The small, desert oasis town of Huacachina is the place to come if you want to try sandboarding in Peru. Huge sand dunes circle the town's lagoon and stretch for miles into the surrounding desert.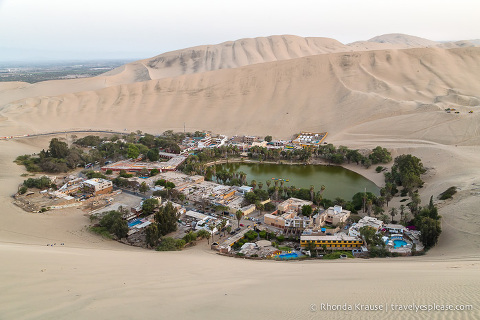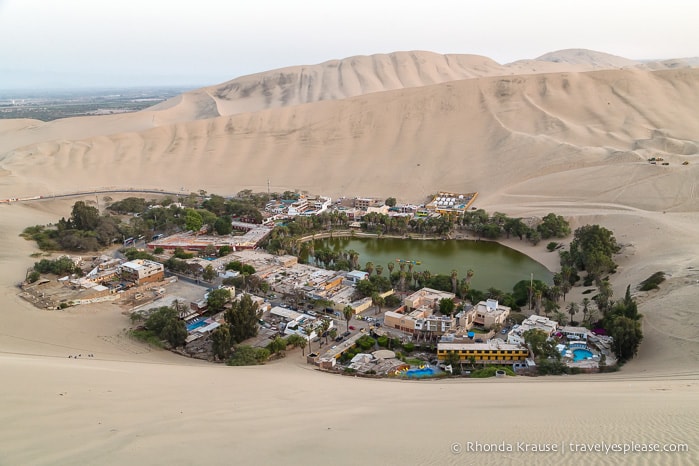 There are no shortages of companies offering to rent you sandboards and take you on a dune buggy tour of the desert, but the quality of equipment varies greatly. A lot of the boards we saw were not good for much more than sliding down on your butt or belly. It looked super fun, but not exactly sandboarding.
If you truly want to learn how to sandboard, you will need proper equipment and lessons from a qualified instructor.
Learning How to Sandboard with Sandboarding Peru
We chose to book our sandboarding experience with Sandboarding Peru because they are an International Sand School, rather than just a rental shop or tour agency. Having never sandboarded before, we wanted to learn this new skill while feeling safe on the dunes.
With Sandboarding Peru, we got a lesson from an accredited instructor and were properly sized and fitted with professional boards and boots. We signed up for the private lesson because we knew we were going to need a lot of support and individual attention if we were going to be able to sandboard.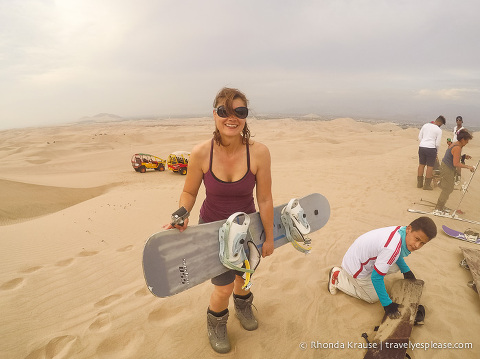 To my surprise, learning how to sandboard wasn't the disaster I thought it was going to be. I caught on a lot quicker than I did with snowboarding, and unlike my first snowboarding attempt, didn't walk away frustrated after only a few minutes, swearing never to do it again.
I don't think I would have been as confident and motivated to learn without our instructor, Dito. He was a very patient, enthusiastic and encouraging teacher. With him there, I felt safe enough to concentrate on developing technique, rather than being hindered by fear of wiping out. As a nice bonus, he took some pictures and videos of us on his GoPro!
So, with fond memories, here's a look back at our afternoon learning how to sandboard in Huacachina, Peru!
Sandboarding in Peru
Our sandboarding adventure started by walking up a big dune on the edge of town, carrying our boards to the practice area.
Having to climb that dune in sandboarding boots was no easy task, for me anyways. My calf muscles and Achilles tendon kept burning and cramping up, requiring me to stop every few minutes to rest.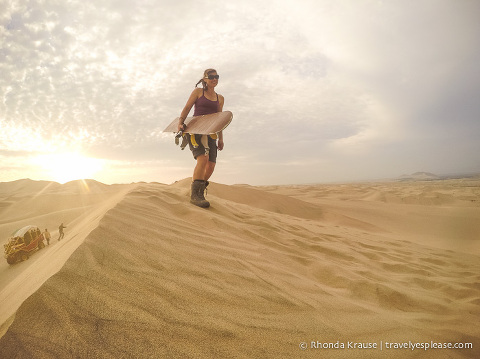 If I can't even walk in theses boots, how am I ever going to be able to sandboard? I thought to myself in between heavy breaths.
Luckily, climbing that first hill was the hardest part of the day.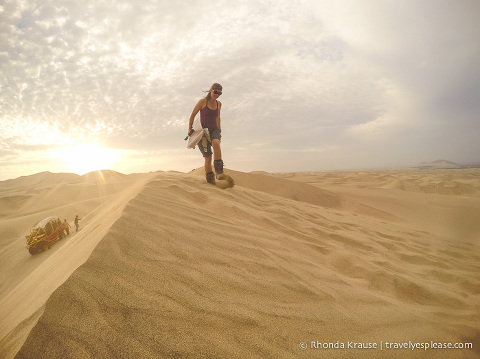 The practice area was a smaller dune, perfect for learning on. Before getting started, Dito showed us how to wax our boards by rubbing the edge of a candle on it. Without doing this, the board would stick to the sand.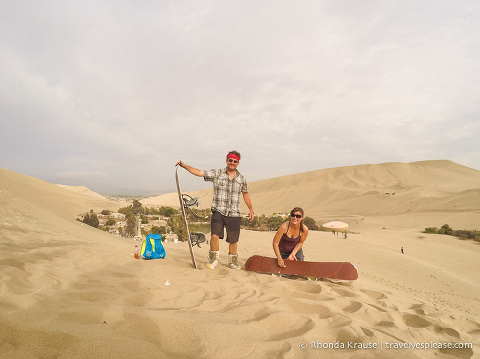 Once our boards were prepped, Dito taught us the basics like how to stop and slow down by balancing our weight on our heels.
After getting comfortable going down with the board parallel to the bottom of the hill, we tried going down with one leg forward.
Gradually we moved up higher and higher on the hill to get a longer run. I was surprised I wasn't as nervous as I thought I would be!
After practicing on the small hill, it was time to head off to some larger dunes to develop our new skills. So, we loaded our gear into the waiting dune buggy and buckled up for a wild ride into the desert.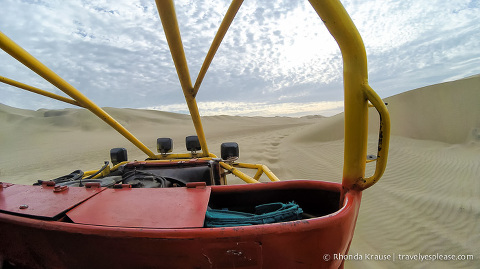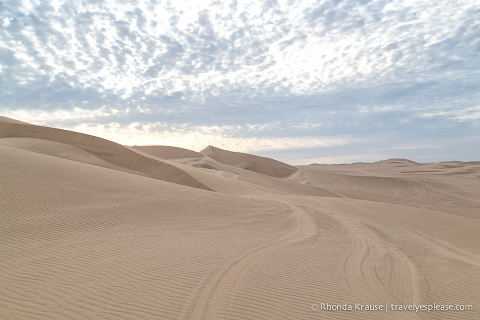 Our driver picked up speed as we cruised across the sand, over and around the dunes. I laughed out loud, possibly even letting out a small scream or two, as we raced down the steep, sandy slopes.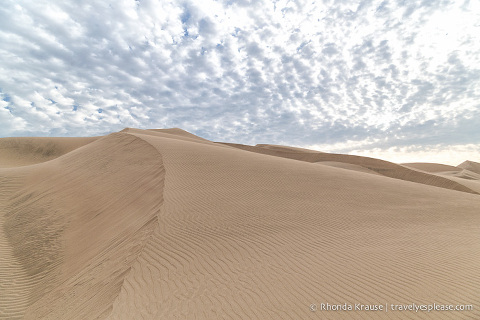 Soon we arrived at the next boarding area, where the dunes were much loftier than the practice area. A little nervous, but wanting to prove something to myself, I angled my board down the hill and off I went. I gained, what to me, felt like quite a bit of speed and was able to maintain control all the way to the bottom.
In the moment I felt so cool, way more awesome than I looked, I'm sure. I still had to have my arms stretched out for balance, a sure sign of a beginner sandboarder!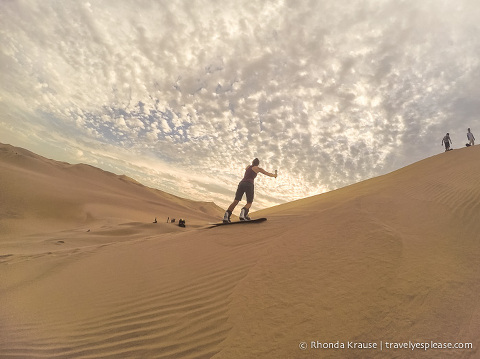 Once again, we piled into the dune buggy for another joy ride to the next set of dunes. This hill was the steepest of them all!
Here Dito taught us some new skills and had us practice going down the hill backwards, using our toes to slow down and stop. Dito was working us up to be able to carve, or turn by shifting our weight between our heels and toes.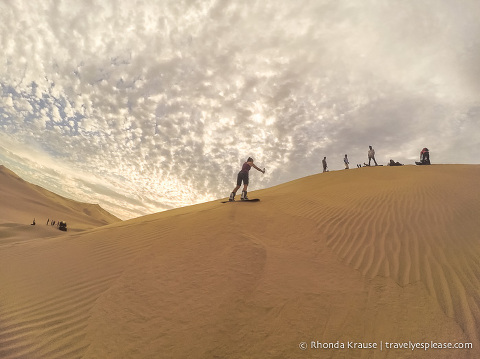 I never did get the hang of this because I worried about doing a face plant whenever I tried to put the weight on my toes. Instead, I preferred to turn by switching which leg was leading down the hill.
I didn't have any wipeouts but Mike sure had a good one. He tumbled down the hill face-first and end-over-end, at a pretty good speed too. When he got up his whole face was covered in sand! I laughed at him for hours. He looked like a dusty miner!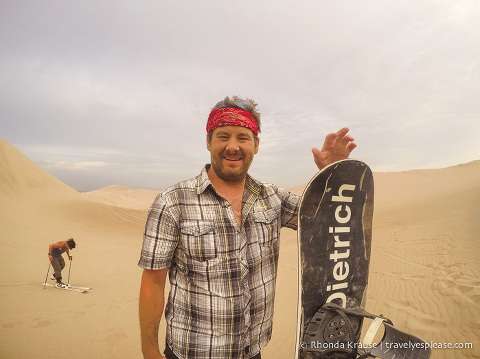 Our sandboarding lesson ended once it got dark out, so that meant we had plenty of time on the "slopes". Just as memorable as the fun we had sandboarding, was the vibrant sunset we witnessed from the top of a huge dune. It was a wonderful end to an exciting afternoon of sandboarding in Peru!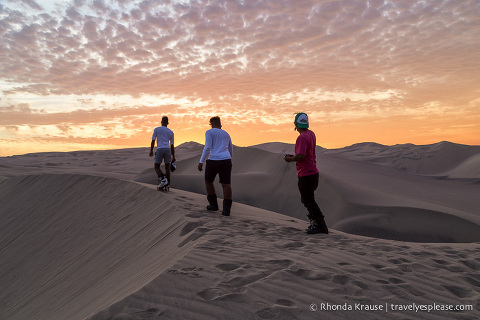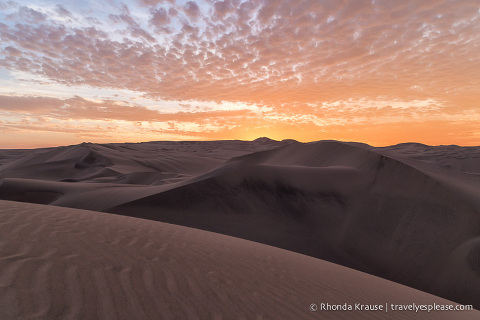 Video: Sandboarding and Dune Buggy Tour in Huacachina
Here's a short video of our afternoon sandboarding in Huacachina, Peru!
Final Thoughts About Sandboarding in Peru and the Huacachina Oasis
I walked away from my first sandboarding experience hoping it wouldn't be my last. I'd like to try it again to see if I can get better at turning. Or maybe next time I'd even try sand skiing.
Sandboarding and ripping around in the dune buggies was such a fun way to spend the afternoon. It made up for our disappointment with the oasis, which had looked like paradise in pictures, but in actuality was littered with garbage, a lot of which had even blown onto the sand dunes.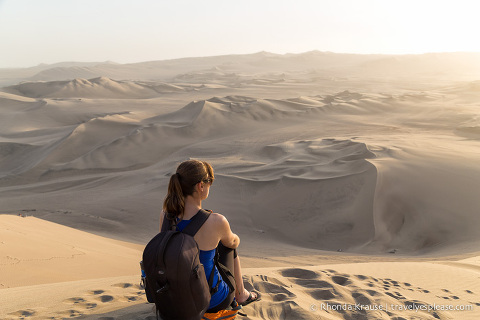 Without our sandboarding lesson, we would have left Huacachina feeling unsatisfied. In hindsight, we should have spent one night instead of two.
At least on the second day we were able to get a flight over the Nazca Lines from Ica, which filled some time. There's nothing to do in Huacachina during the day when it's too hot to play on the sand dunes. If your hotel has a clean pool, then Huacachina can be an okay place to laze around.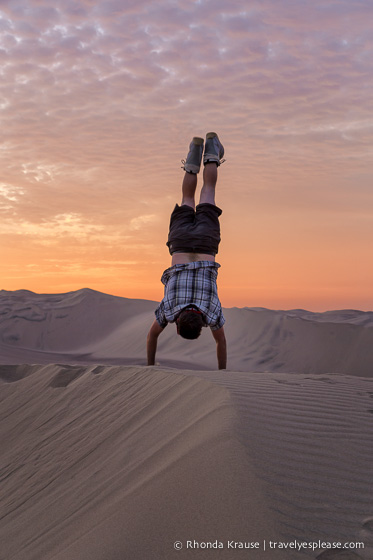 So, if sandboarding or a dune buggy tour interests you, then Huacachina is worth a one night visit. If neither of those activities are your thing, then we'd say skip Huacachina.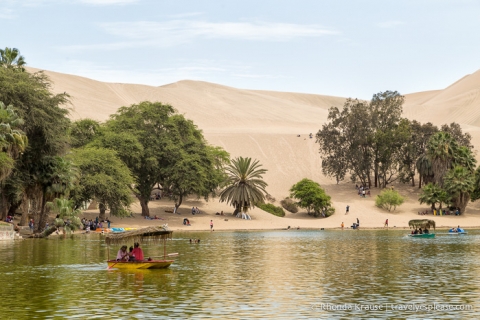 Tips for Sandboarding in Huacachina, Peru
Getting There: From Lima, catch an early morning public bus to Ica. It's about a 4- 4.5 hour bus ride. From Ica, you then have to take a 10 minute taxi ride to Huacachina. Another option is to take a private bus, such as a hop-on hop-off service, that goes directly to Huacachina from Lima.
What to Wear Sandboarding: Wear light, loose clothing, sunscreen and sunglasses. You'll also want to wear socks inside the boots.
What to Bring: Bring an action camera (like a GoPro), water, and a light jacket as it can get chilly and windy once the sun starts to go down.
Information was updated January 2022, but can change without notice. Please confirm directly with service providers.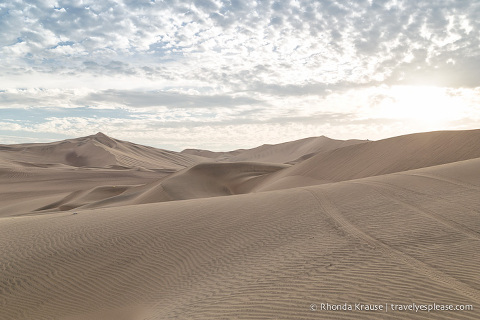 Tours to Huacachina
Here is a reputable site where you can book tours to Huacachina and the surrounding area.
Accommodations in Huacachina
For your convenience, here is a list of hotels in Huacachina. Please consider booking your Huacachina accommodations through the included link. It costs nothing extra and helps support this website. Thank you!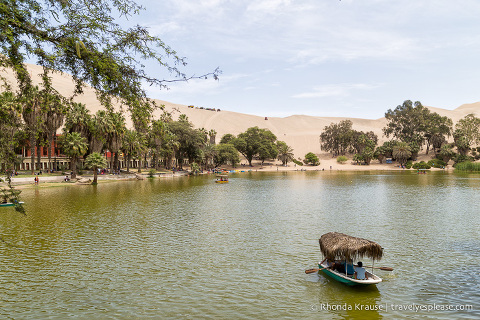 More Peru Destinations and Travel Guides