Purchases made through links earn us a small commission, at no extra cost to you.
Machu Picchu- just hearing the name conjures up classic images of this hilltop Inca city, high in a tropical forest of the Peruvian Andes.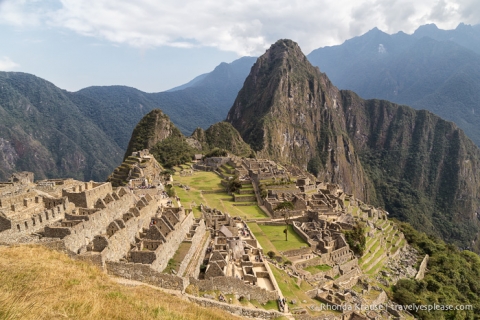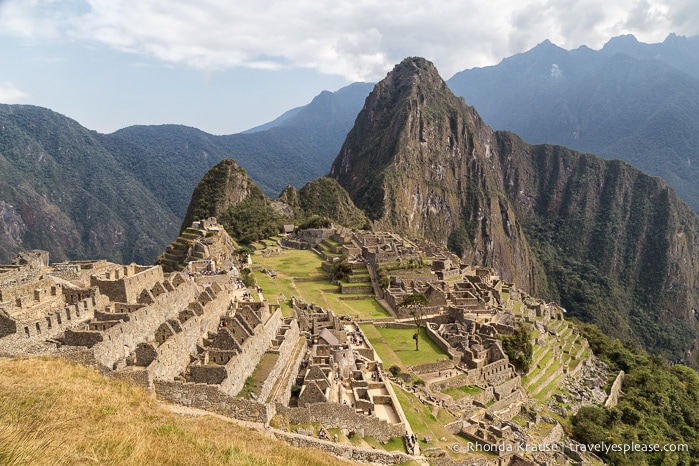 These ruins, once concealed by the jungle, have gone on to become an icon of the Inca civilization and Peru's most visited tourist attraction. So when it came to planning our 3 week trip to South America, visiting Machu Picchu was at the top of our wish list.
About Machu Picchu- History and Discovery
Machu Picchu, or "old peak" in Quechua language, was built around 1450 at the height of the Inca Empire.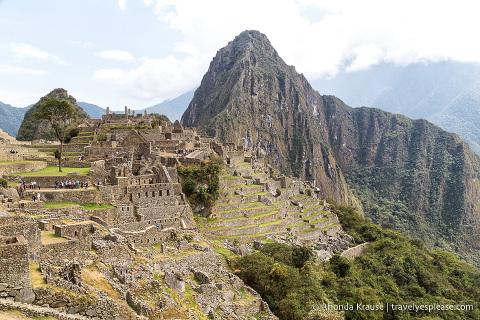 While we can't know for sure why Machu Picchu was constructed, many archaeologists believe it was built as an estate for Pachacuti, who was the Inca emperor from 1438-1472.
Machu Picchu was abandoned in 1572, during the Spanish Conquest of the Inca Empire. It was never found by conquistadors and therefore escaped the destruction other Inca sites suffered at the hands of the Spanish.
As time passed, the citadel became overgrown by the surrounding jungle, forgotten by many except the area's locals.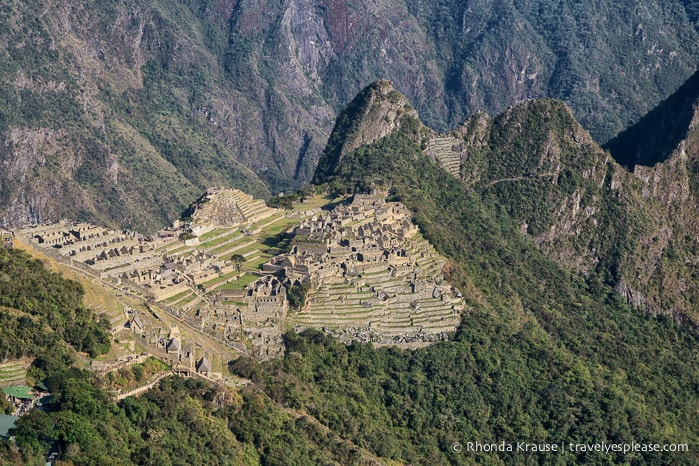 In 1911, American explorer Hiram Bingham came to Peru in search of Vilcabamba, the last capital of the Inca Empire.
Guided by a local farmer, Bingham was brought to Machu Picchu, which he misidentified as the "Lost City of the Incas" (Vilcabamba). The term was a misnomer because Machu Picchu was never in fact lost. The locals were well aware of its existence, some even farming the terraces at the time of Bingham's "discovery".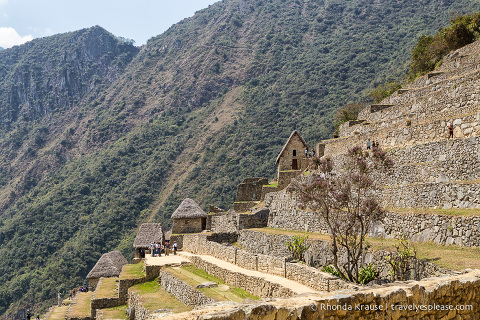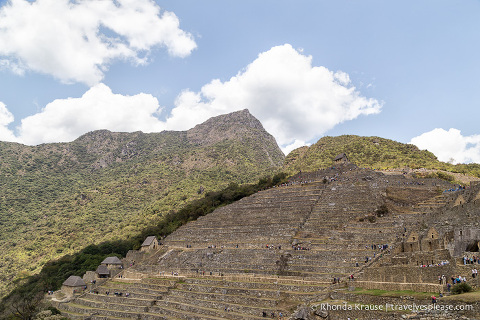 In 1912, Bingham returned to Machu Picchu to undergo a four-month excavation project, sponsored by Yale University and National Geographic. As the site was cleared, Bingham and his team discovered ruins that were well preserved, much of the Inca stonework still intact.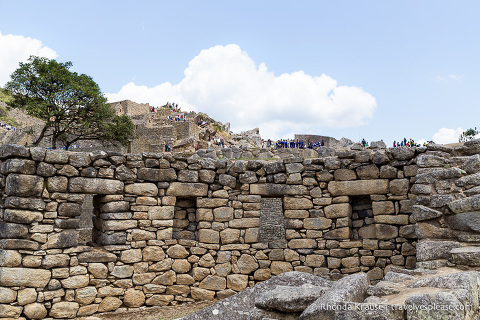 Excavation work continued in 1914 and 1915 and by 1976, roughly 30% of Machu Picchu had been restored.
Machu Picchu's architectural and land use achievements contributed to it being recognized as a World Heritage Site by UNESCO is 1983.
Machu Picchu now sees well over one million visitors a year.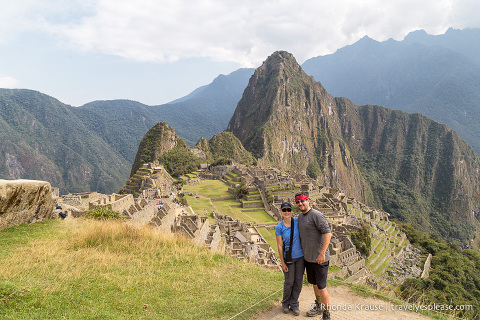 Visiting Machu Picchu- My Dream Becomes Reality
I still remember the first time I saw a photo of Machu Picchu. I was walking past a travel agency in my university and there it was, larger than life, on a poster advertising tours to Peru.
I stopped and stared at it for what felt like forever. I was mesmerized.
I have to go there, I thought.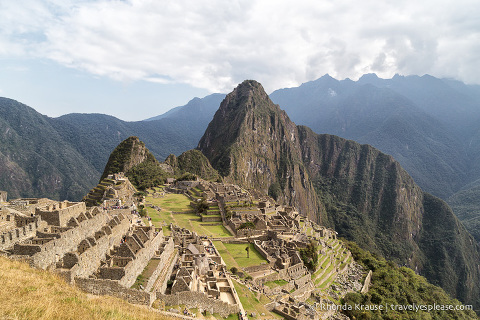 But being a poor university student, Machu Picchu was pushed aside, relegated to a part of my mind where it would comfortably sit and be dreamed about for over a decade.
After taking a back seat to other destinations, I finally decided that 2016 was the year we had to go to Machu Picchu. If we were going to hike the Inca Trail to Machu Picchu, I wanted to do it while we were young and fit.
Now instead of dreaming about that far-off place I saw in a poster, I am re-living some memorable moments, namely the first time I laid eyes on Machu Picchu in real life.
Climbing that last hill and stepping through the Sun Gate to see Machu Picchu sprawled across a distant hilltop was overwhelming. It was so beautiful- the perfect reward for completing a tough multi-day hike.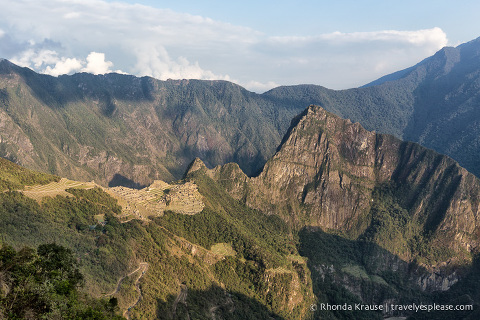 I've visited a few places on my travels that have brought tears to my eyes, but seeing Machu Picchu for the first time made those tears run down my cheeks.
It was a moment that I'll never forget.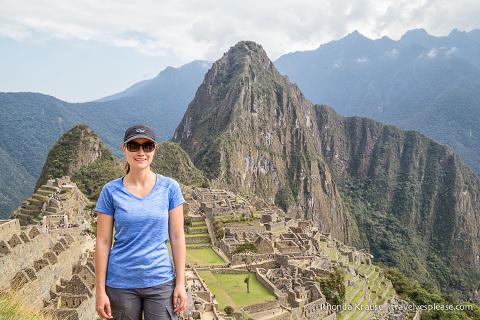 Our Tour of Machu Picchu- What It's Like to Visit Machu Picchu
After marveling at the hilltop ruins from the end of the Inca Trail, our guide led us down the path towards the citadel. I didn't keep up with the group because I kept stopping to take pictures, forgetting that there would be plenty of opportunities for photos once we got to the site.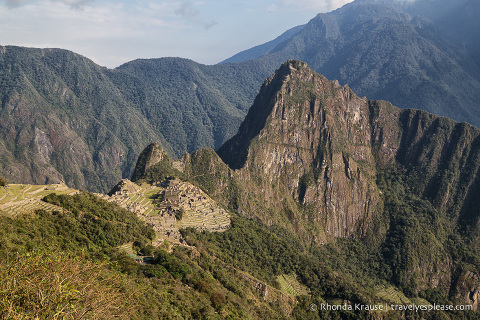 The first place our guide took us was a lookout point where you can take the classic postcard photo of Machu Picchu. The ruins look incredible from here, especially with the steep Huayna Picchu peak in the background.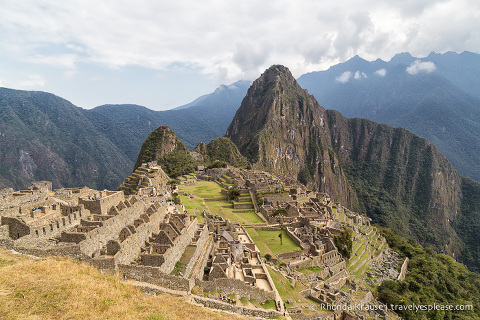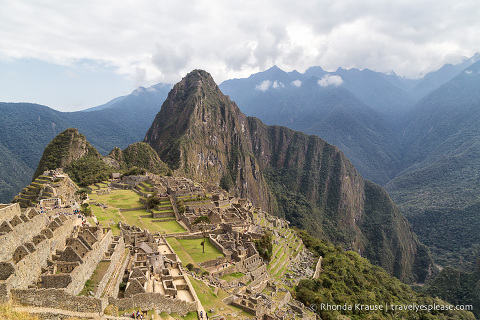 After soaking up the scenery, we had to walk to the main entrance to store our large backpacks and hiking poles, as they are not allowed in the archaeological site. I was glad we hiked to Machu Picchu, otherwise our first impression would have been of a square packed with tourists!
Once the bags were stored, our guide led us back into the site taking us up onto the cultivation terraces. We sat here, in the blazing sun, while he gave us a history lesson about the site, telling us far more information than I could ever remember. I wish I could have retained more because he really knew his stuff. In all honesty though, I was distracted by the wonderful views and itching to go off and explore the ruins.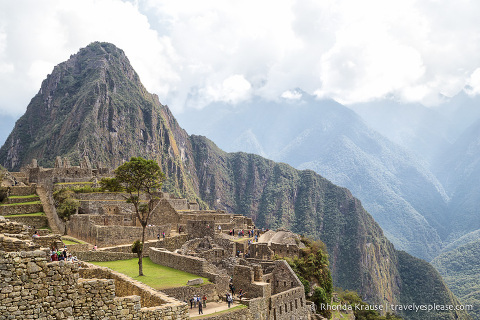 With the introduction to Machu Picchu done, our guide began taking us around the royal/sacred area of the city. We saw the most notable spots like the Temple of the Sun (which has some of Machu Picchu's finest stonework), the Royal Tomb and Palace, Temple of Three Windows and the ritual Intihuatana stone. Intihuatana is also known as the "Hitching Post of the Sun" since the Inca believed this stone held the sun in place along its path in the sky.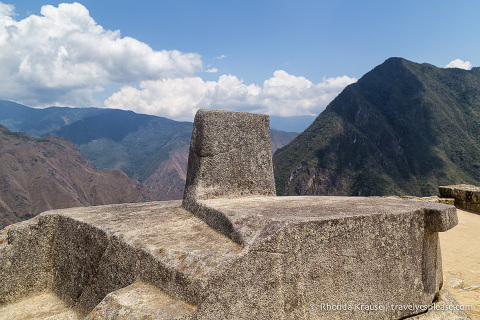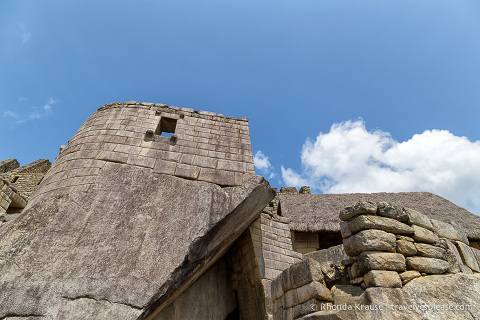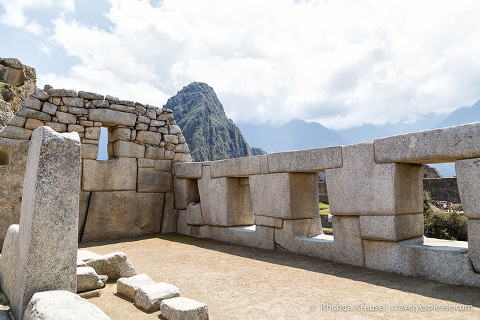 As we toured Machu Picchu, I noticed two different styles of construction. Only the most important temples and royal buildings were built using the tight-fitting stonework the Incas are known for. The stonework was less precise on the rest of the city's buildings.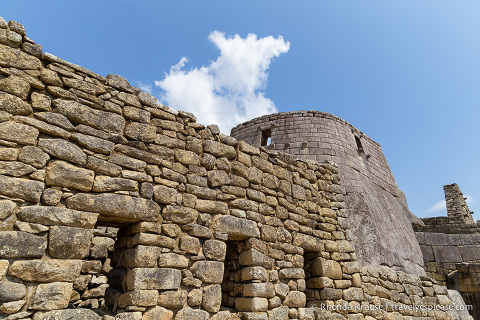 As our tour of the urban sector went on, the temperature kept rising and we became more concerned with finding a patch of shade to stand in than we were with what our guide was telling us.
By the time we were set free to explore Machu Picchu, we were very hot and tired. Because of this, we left entire sections of the agricultural sector and upper town unvisited, something I really regret now. At the time, going up and down more stairs was the last thing we wanted to do after enduring thousands of steps on the Inca Trail.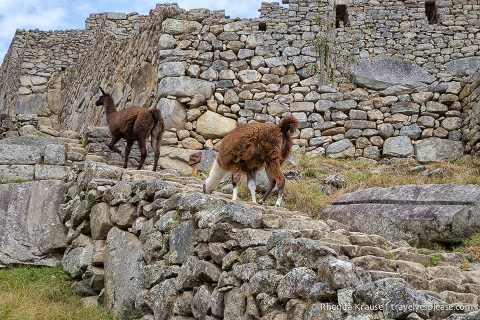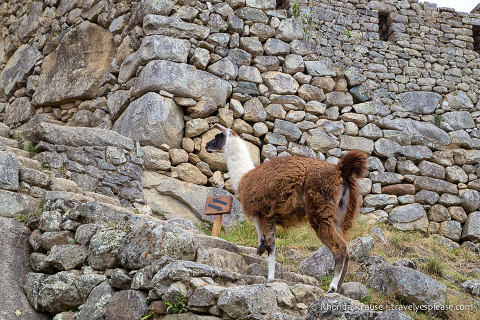 Instead we wandered down to the lower town, walking through the area where people lived and worked, before finding a nice place to sit and take it all in.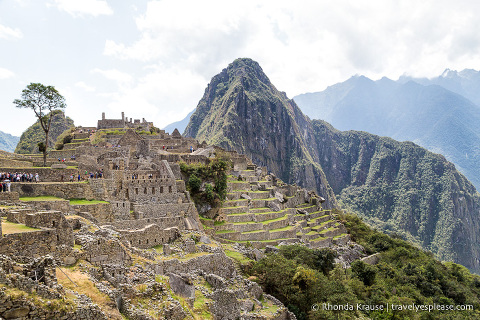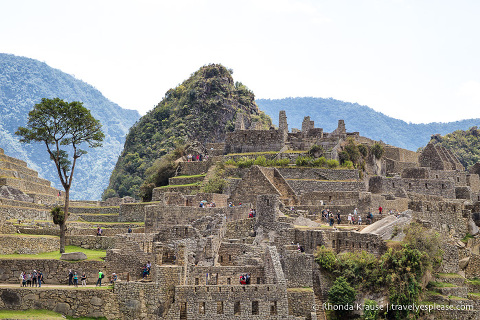 Maybe that wasn't such a bad thing. Sure, there are parts of the citadel I missed out on, photos I wish I had taken, but in the end it's most important to take a moment to appreciate the wonders of this world, not just race through them like the picture-collecting maniac I tend to be.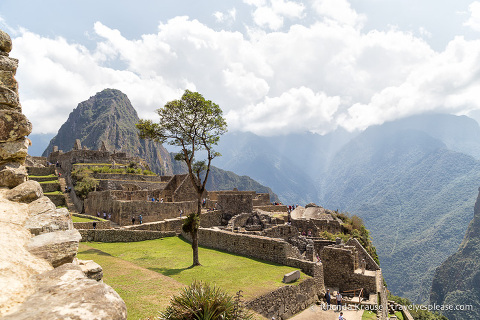 Final Thoughts About Our Visit to Machu Picchu
Feeling such emotion upon seeing Machu Picchu at the Sun Gate meant that the bar had been set high for our visit. The rest of the site had a lot to live up to!
Unfortunately, our actual visit to Machu Picchu felt anticlimactic. I really wish this wasn't the case because it's very disheartening, even frustrating, to have built up a place in your mind for so long, only to have it feel just…good.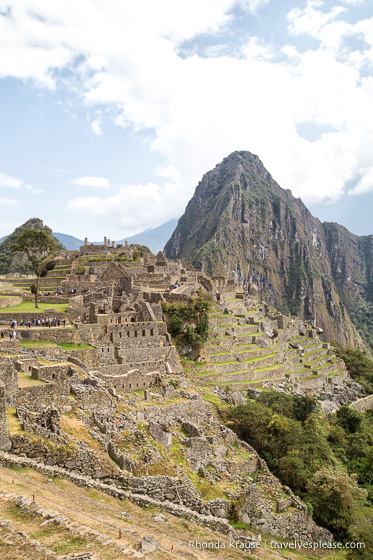 Now, don't get me wrong. I didn't feel let down by the ruins at all. Machu Picchu is beautiful and interesting and so many other wonderful things.
I just thought I would feel an overwhelming sense of awe as we toured the site, much like we felt during our initial glimpse at the Sun Gate. But for some reason, that wasn't the case.
I had heard so many people talk about the "energy" at Machu Picchu, a special and unique feeling they tapped into while wandering through the ruins. I wanted to feel that. I expected to feel that.
In reality, it was tough to connect with any energy at Machu Picchu. There were so many tourists milling about, pushing past on narrow pathways as their selfie-sticks waved in the air.
I found myself getting angry when I saw one tourist take down a rope and enter into an off-limits area, while another crawled up onto one of the stone houses. I even saw a couple leaning on a stone wall, one foot against it, and watched as a rock came loose and tumbled down beside them.
I had to keep reminding myself to mentally block all this out and instead concentrate on the innate magnificence of the site. Machu Picchu really is an incredible city and its location is spectacular. I just wish I had visited it before it became so popular.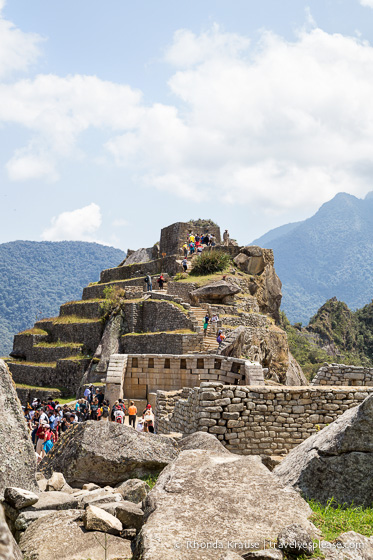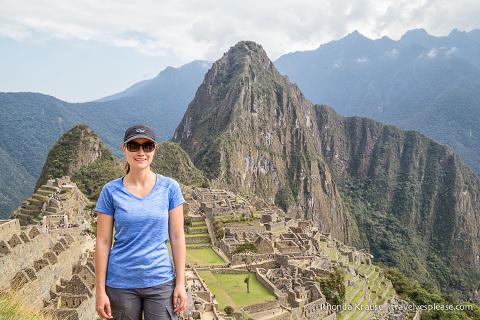 Even though my feelings were different than I expected, visiting Machu Picchu was still a dream come true. I'm so glad we decided to hike the Inca Trail because seeing Machu Picchu for the first time at the Sun Gate was the best part of our visit. Getting to Machu Picchu any other way would have been cheating ourselves out of that special, unforgettable moment.
Photos of Machu Picchu
Since I took so many photos, here are a few more pictures of Machu Picchu for you to enjoy!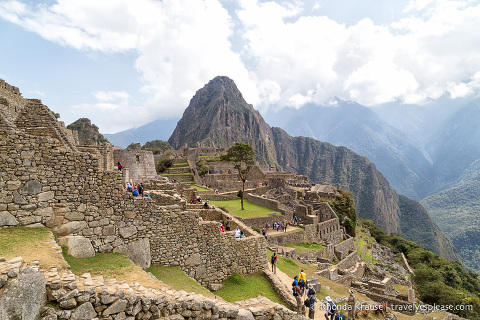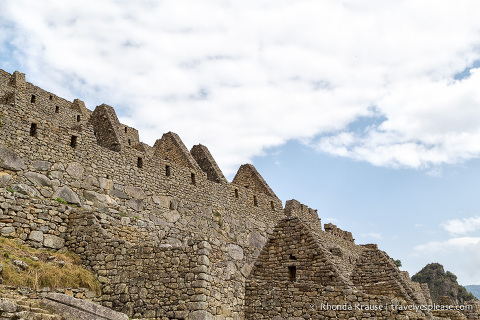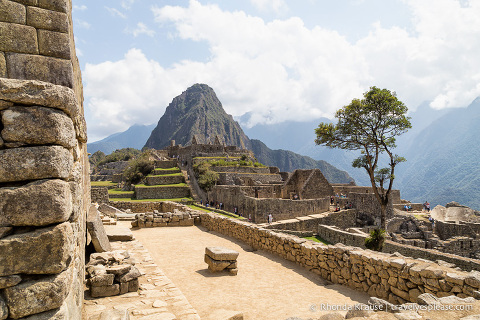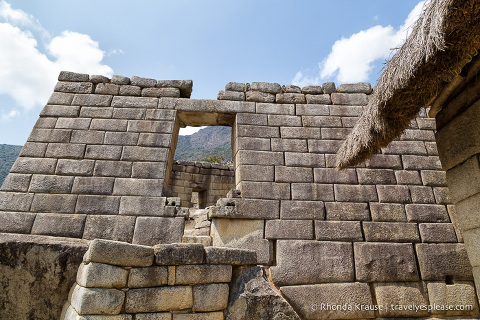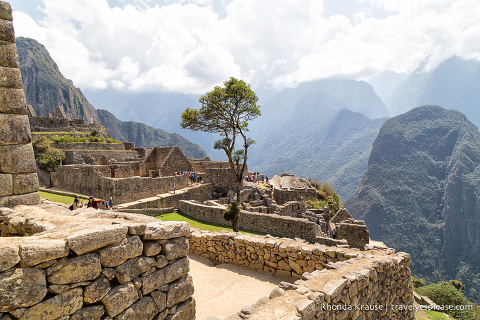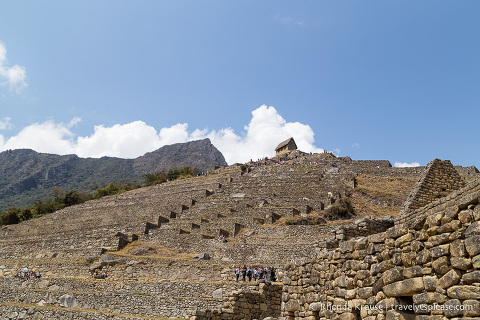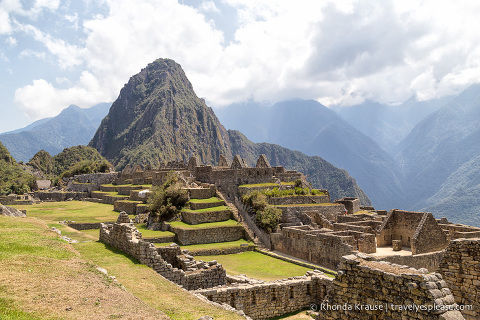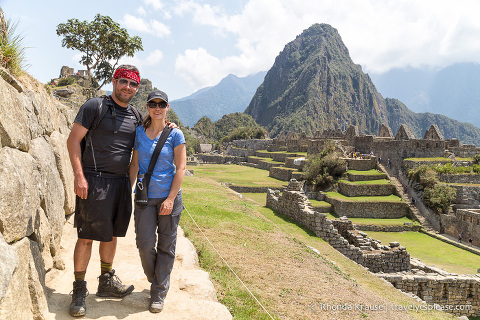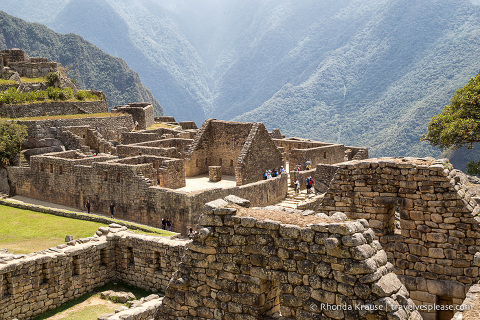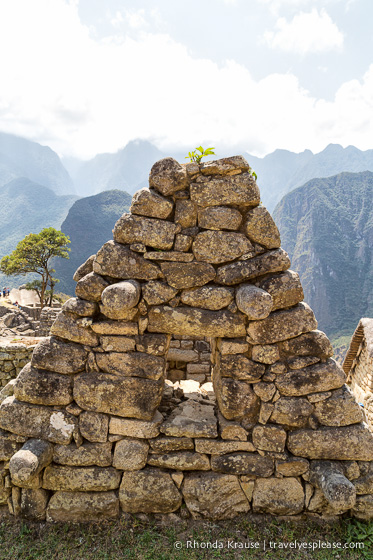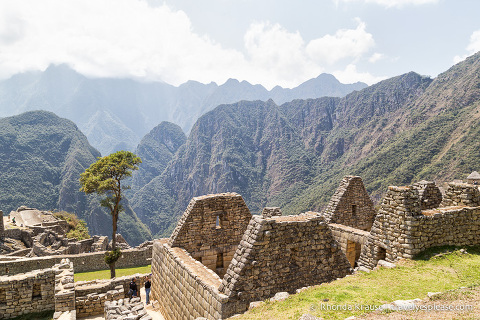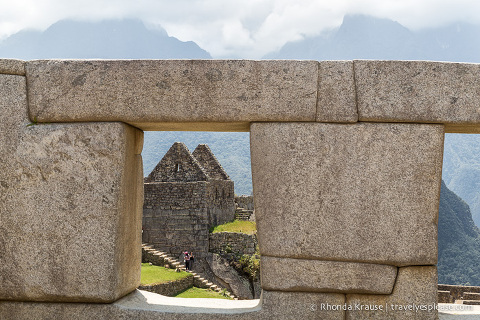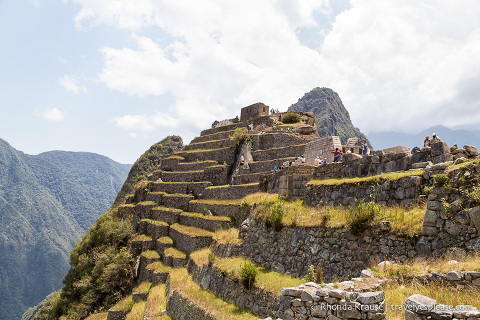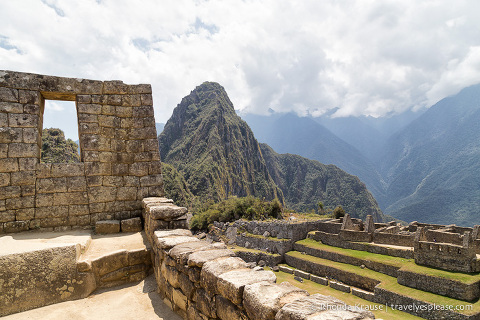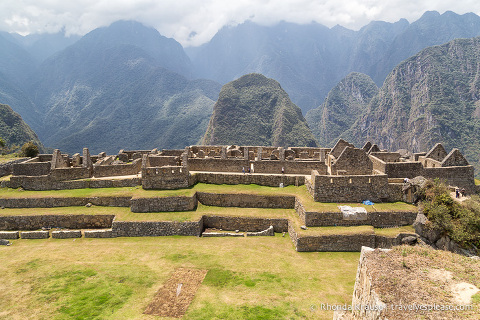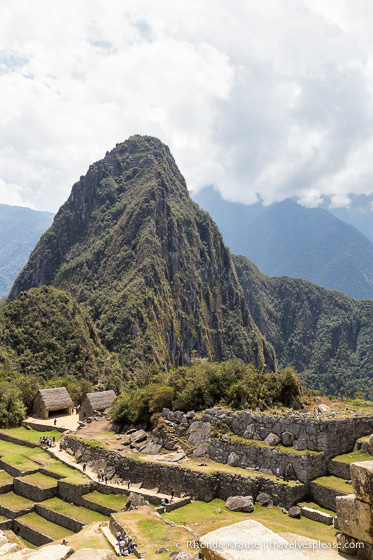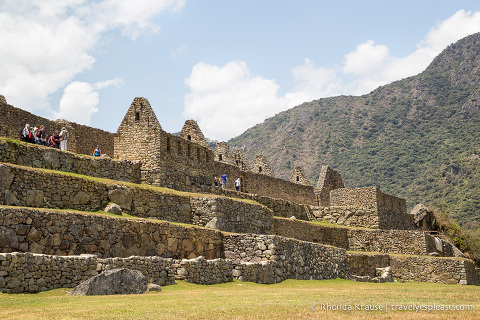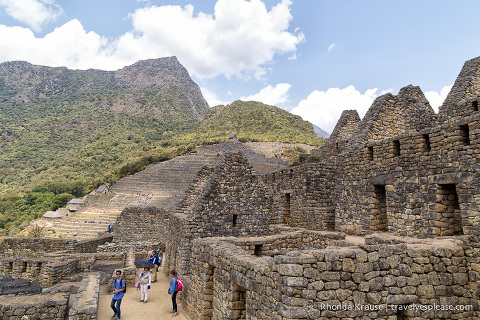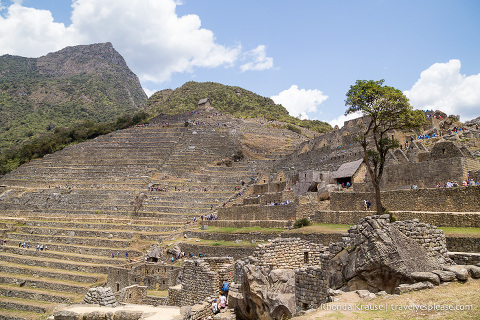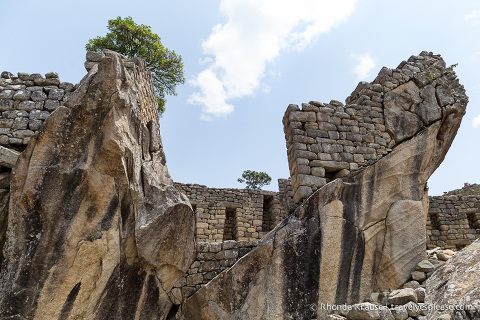 Tips for Visiting Machu Picchu
Location: Machu Picchu is 80 kilometres northeast of Cusco, in the province of Urubamba, Peru. The elevation of Machu Picchu is 2,430 metres.
Getting to Machu Picchu: You will first need to get to Aguas Calientes, the closest town to Machu Picchu. From Cusco, take a train to Aguas Calientes (3- 3.5 hr ride). You can also take the train from Ollantaytambo, in the Sacred Valley. From Aguas Calientes, Machu Picchu is a 25 minute bus ride. Buses leave every 15 minutes starting at 5:30 am.
You can also hike to Machu Picchu on various multi-day treks, the most popular being the Inca Trail.
Buying Tickets to Machu Picchu: Tickets are not available at the entrance to Machu Picchu so must be purchased elsewhere in advance. The easiest option is to book your Machu Picchu tickets online. Tickets are not transferable or refundable.
Online: Tickets to Machu Picchu can be bought from the official government website and will be emailed to you. Have your passport handy because you need to enter its number. You can also buy tickets online from other official ticket/travel agencies, but will the price will be marked up. Here is a trusted site where you can conveniently buy tickets and tours to Machu Picchu.
In Person: Tickets can be bought at two offices in Cusco located at Calle Maruri 340 or Calle Garcilaso S/N, both in the historic centre of Cusco. You will need to show your passport. We don't recommend this option because there's a good chance tickets won't be available if you wait until you arrive in Cusco. There is no ticket sales office in Aguas Calientas.
Types of Tickets: There are a few different options for Machu Picchu tickets that allow you to visit different areas of the site. You can choose to visit the citadel only (Machu Picchu Llaqta) or buy a combination ticket that also lets you visit one of the surrounding mountains. For the combination tickets you can choose to visit the citadel and climb Huanya Picchu/Wayna Picchu (the steep mountain looming above Machu Picchu), Huchuy Picchu Mountain, or Machu Picchu Mountain.
Four one-way circuits have been created to help reduce congestion in Machu Picchu and correspond to the type of ticket purchased. Here is a map of the circuits. The mountain tickets include a limited route through the citadel, so you won't get to see as many areas had if you bought a ticket for the citadel only.
Daily Limits: 2244 tickets to Machu Picchu are available each day. The combination tickets have limited availability as well:
200 tickets to climb Huanya Picchu and visit Machu Picchu.
200 tickets to climb Huchuy Picchu Mountain and visit Machu Picchu.
400 tickets to climb Machu Picchu Mountain and visit Machu Picchu.
These daily limits are subject to change (and have changed frequently over the past few years).
Opening Hours: Machu Picchu is open from 6:00 am- 5:30 pm. Entry times are hourly with the last entrance period between 2:00 pm and 3:00 pm.
Entering Machu Picchu: Entry to Machu Picchu is hourly from 6:00 am to 3:00 pm and your ticket will list a one hour time frame in which you can enter the site (there are also specific time slots for each mountain option). You will then have a maximum of 4 hours to explore Machu Picchu (time limits are longer for combination tickets).
It is recommended but not mandatory that visitors enter with a guide on their first visit. There's conflicting information about the new regulations that came into effect in 2019, with some sources saying a guide is mandatory and other sources reporting that this is not being enforced. I inquired with tourism officials in Cusco and was told that guides are not required to visit Machu Picchu. It's best to check with your hotel on arrival in case this changes.
Only guides with a license from DIRCETUR or Colitur Cusco are allowed to guide in Machu Picchu. Professionally trained guides can be booked in advance in Cusco. Guides also offer their services at the entrance and provide tours in English and Spanish. The maximum group size a guide can take is 16 people.
You will need to present your passport and ticket to enter the citadel. Backpacks over 20 L and walking sticks are not allowed into the site and must be stored at the baggage check office outside the gate. A small fee applies.
No re-entry is allowed unless you buy a second permit.
Don't miss out on getting a special Machu Picchu "passport" stamp. The souvenir stamp was on a table near the entrance gate so you can stamp something you've brought.
What to Bring: The weather can be unpredictable, so dress in layers. Also bring bottled water, a rain jacket, hat, insect repellent and high SPF sunscreen.
Washrooms: The only toilets are outside the entrance and you must pay a small fee to use.
Food: There are a few options to buy snacks and meals outside the entrance, but they are very pricey.
Booking in Advance: Due to the site's increasing popularity, we recommend buying your entrance tickets and arranging your transportation well in advance. Both train tickets and entrance tickets can sell out ahead of time, especially during high season (April through August).
Information was correct as of January 2022, but can change without notice. Please confirm directly with service providers.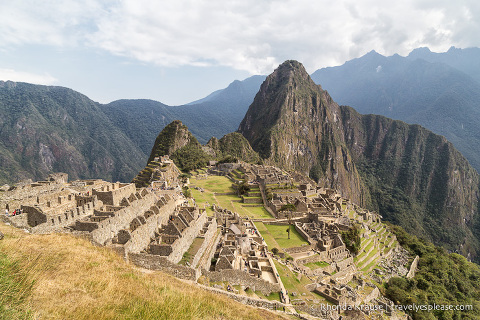 Accommodations Near Machu Picchu
For your convenience, here is a list of hotels in Aguas Calientes. Please consider booking your accommodations through the included link. It costs nothing extra and helps support this website. Thank you!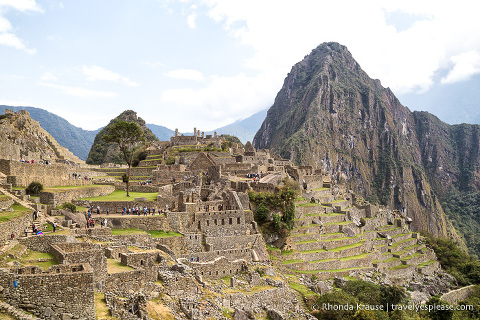 More Peru Destinations and Travel Guides