Purchases made through links earn us a small commission, at no extra cost to you.
As the first stop on our 3 week trip to South America, Cusco was an introduction to the Inca history and Quechua culture that make Peru such a fascinating destination for travellers.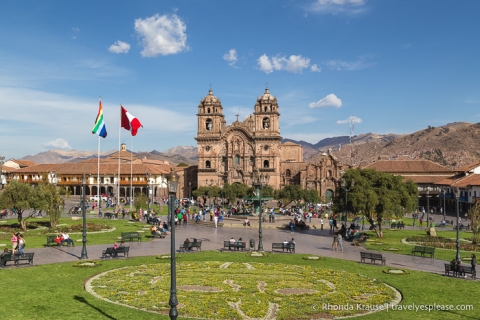 In Cusco's historic centre we discovered a city quite literally built on Inca foundations. Spanish colonial cathedrals and churches stand over Inca temples, long arcades surround what once was Huacaypata, the central Inca square, and Inca walls line some alleys and walkways.
Even the layout of Cusco was designed to be in the shape of a puma, an animal revered in Inca culture for its power and strength.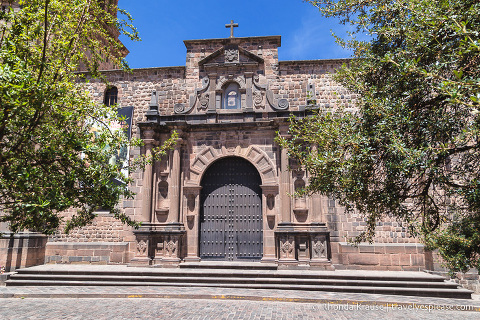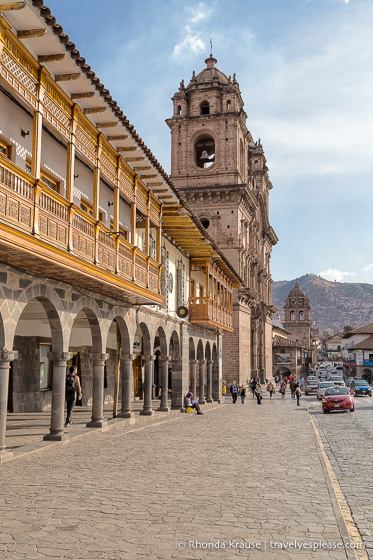 During our self-guided walking tour of Cusco we also experienced a curious mix of modernity and tradition. We saw women in traditional dress leading lamas and alpacas through the plazas, and men walking along cobbled streets carrying colourful q'ipirinas packed full of items on their backs. On the other hand, we witnessed many horn-honking traffic jams- a sure sign of more modern times!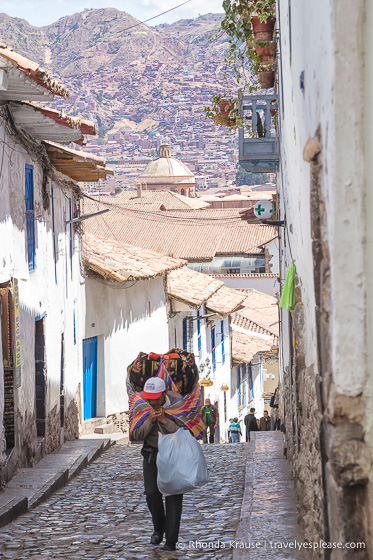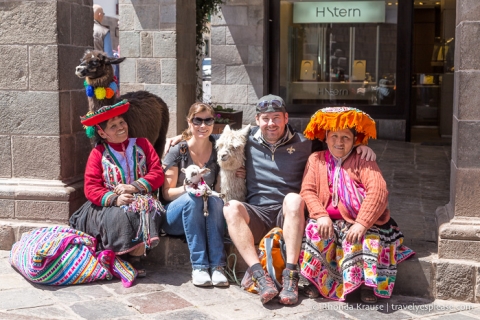 Cusco may no longer be the capital of the Inca Empire, but it's emerged as one of Peru's top tourist destinations.
Our Visit to Cusco
We decided to spend 3 days in Cusco to give our bodies time to adjust to the high altitude before embarking on the 4 day Inca Trail hike to Machu Picchu.
Our visit to Cusco was divided between exploring the historic city centre (1 day), and visiting the archaeological sites around Cusco (2 days). For us, the city's draw was more about the surrounding area than the tourist attractions in Cusco itself.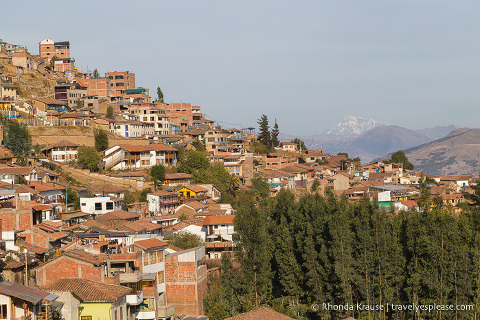 Even though most of our time in Cusco was spent doing side trips to the Sacred Valley and South Valley, we still were able to discover some interesting places during our self-guided walking tour of Cusco.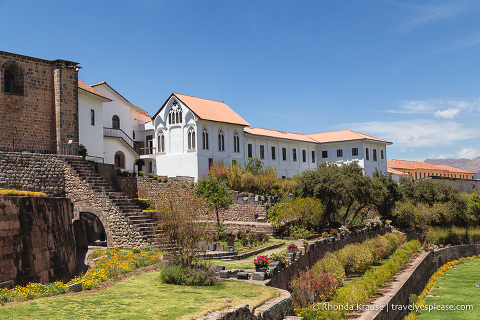 Places to See in Cusco- Our Self-Guided Walking Tour of Cusco's Historic Centre
Apart from two main sites we wanted to visit, we didn't have much of a plan for exploring Cusco's historic centre. Instead, we chose to simply wander the narrow cobblestone streets and see what we could find, making sure to stop and soak up the atmosphere in the many public squares.
Here are some places to see in Cusco that stood out during our visit.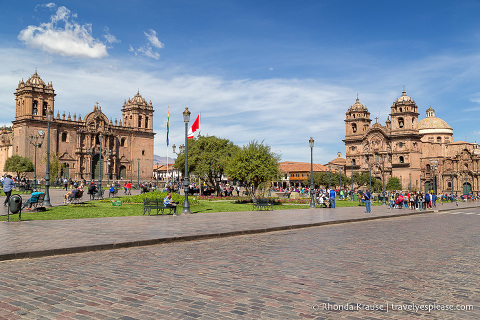 Qorikancha (Coricancha)
Qorikancha was once the richest temple in the Inca Empire but all that remains are some stone walls, upon which the colonial Church and Convent of Santo Domingo are built.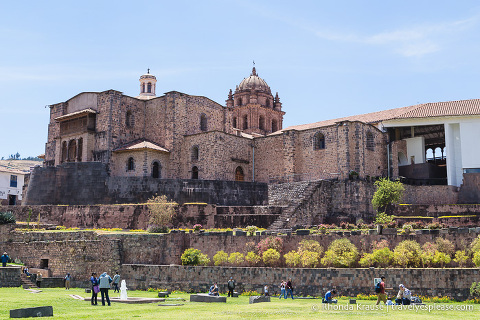 The complex of Qorikancha included numerous temples, the most important of which was the Temple of the Sun. In dedication to the sun god Inti, the interior and exterior walls were covered in 700 half-metre square sheets of gold, as gold was considered to be the sweat of the sun.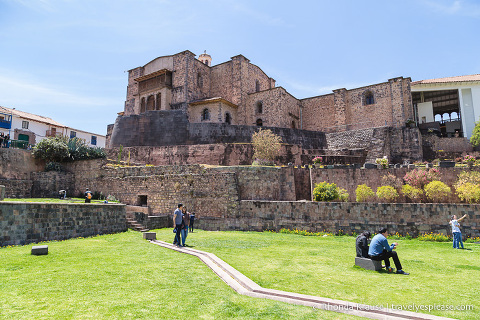 The garden of the Temple of the Sun also paid homage to Inti, everything in it being made from gold or silver. There were golden corn stalks and life-size models of llamas, birds, jaguars, and other animals all made from precious metals.
Unfortunately, all these treasures have been lost, looted and melted down by the first Spanish conquistadors.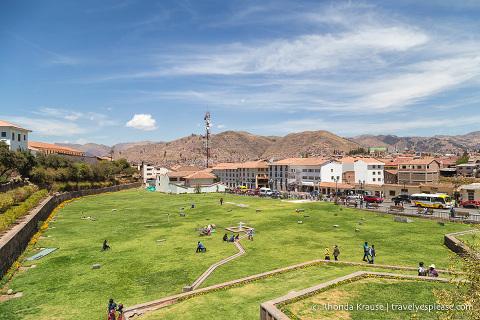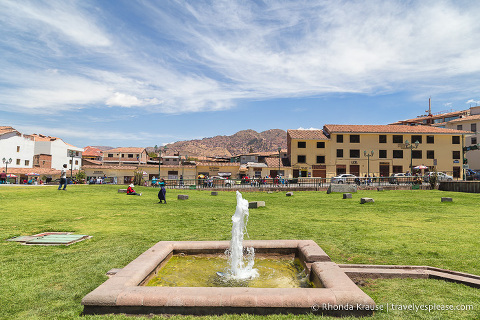 San Blas
San Blas is Cusco's trendy, artistic neighbourhood so you'll find many artisans, craft shops, and restaurants.
What I liked best about San Blas was its steep, narrow streets and signature blue doors. So pretty!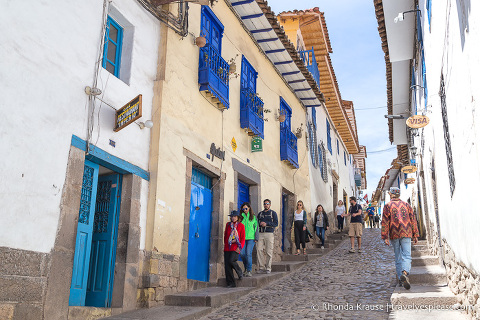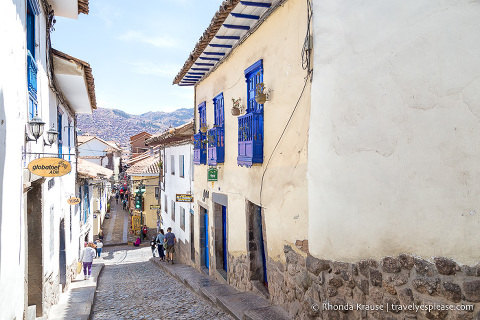 The main point of interest in this neighbourhood is Plaza San Blas and Iglesia de San Blas, a small church with a wooden pulpit carved from a single tree trunk.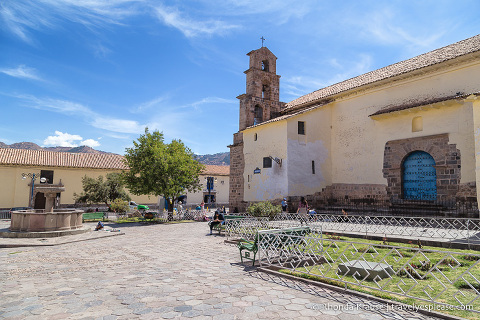 Plaza de Armas (Huacaypata)
Plaza de Armas is Cusco's main square and gathering place, a role it's had since Inca times when it was origin of the four main roads of Qhapaq Ñan, the Andean Road System.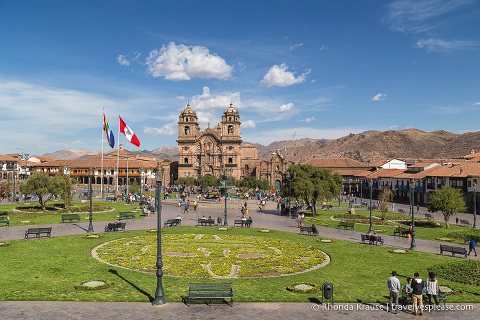 Today, Plaza de Armas is one of Cusco's most attractive and vibrant locations. Wide stone pathways intersect colourful gardens, colonial arcades line the perimeter, and large stone churches overlook the plaza.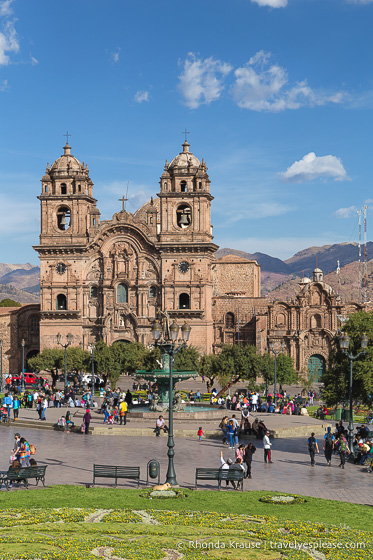 We ate lunch on a balcony with a commanding view of Plaza de Armas and I remember thinking it was the most beautiful city square I'd seen.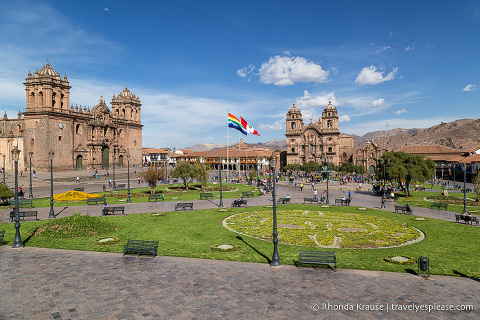 At the far end was Iglesia de La Campañia de Jesús (Church of the Society of Jesus), a striking example of Andean Baroque architecture. This Jesuit church was built in the late 16th century on the site of an Inca palace, but was reconstructed after the 1650 earthquake.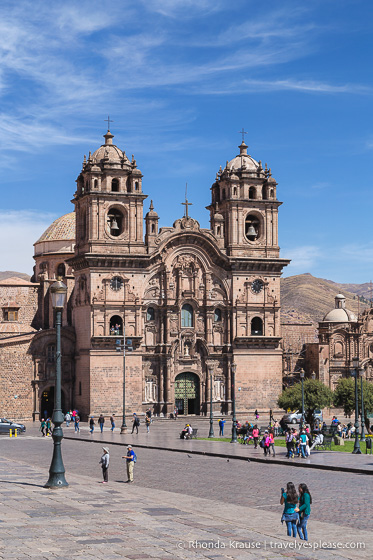 Dominating the eastern edge of the plaza was the Cusco Cathedral (La Cathedral). It was built on the foundations of Viracocha Inca's palace and incorporates some blocks taken from the nearby Sacsayhuaman fortress.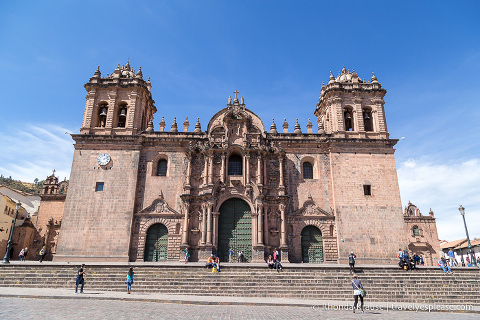 In the centre of Plaza de Armas was a fountain topped with a shining statue of Pachacuti, the ninth Inca ruler, pointing towards Sacsayhuaman. The fountain looked familiar to me, and for good reason- the same model (minus the Inca statue) is in Forsyth Park in Savannah, Georgia.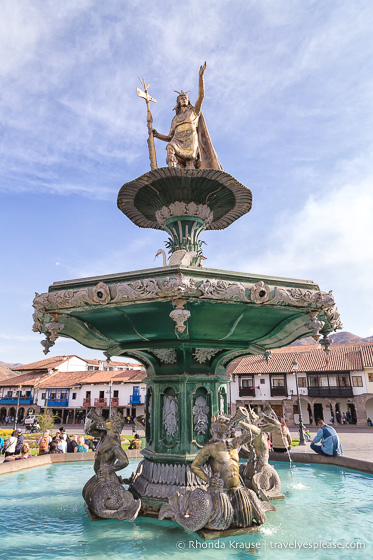 Sacsayhuaman
We ended our walking tour of Cusco by trekking 2km uphill from Plaza de Armas to the fortress-temple of Sacsayhuaman.
Sacsayhuaman is the most important and impressive Inca site near Cusco, the one place in Cusco we consider a "must-see".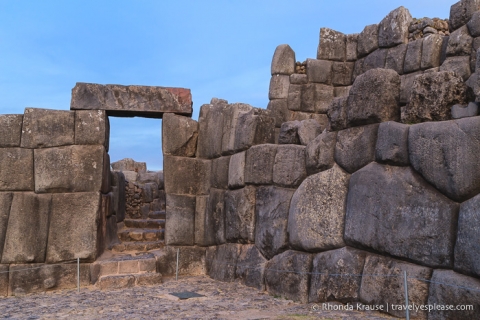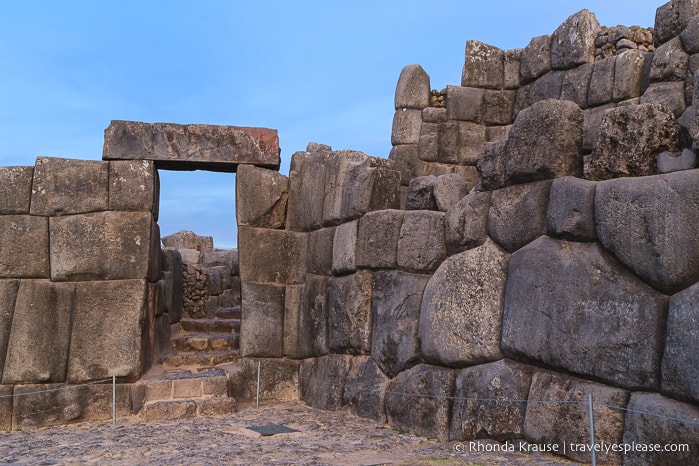 Even though only 20% of the original structure remains, it's still a huge ruin and probably the best place to see examples of the tight-fighting masonry work the Inca are famous for.
Read my full post about Sacsayhuaman
Final Thoughts About Our Trip to Cusco
Cusco's proximity to the Sacred Valley made it a convenient and interesting place to spend a few days while acclimating to the high altitude.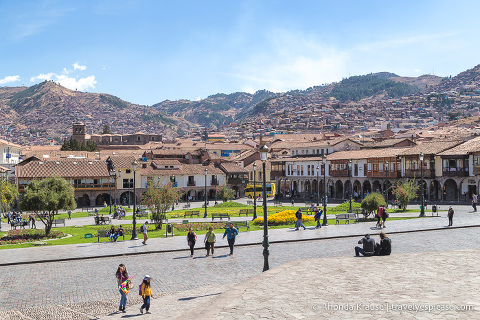 During our walking tour of Cusco's historic centre, we experienced two sides of the city- vibrant and lively, and peaceful and relaxing. Around the main plazas and roads there were a lot of cars and vendors selling everything from paintings to alpaca clothing. But we also found many quiet streets and smaller squares where there were few other people.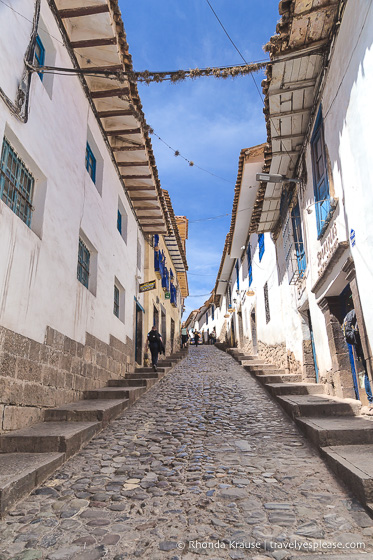 Even though there weren't many specific places in Cusco we had our hearts set on seeing (a lot of Cusco's attractions are museums and churches), we still enjoyed wandering the streets and experiencing the mix of Inca and Spanish history.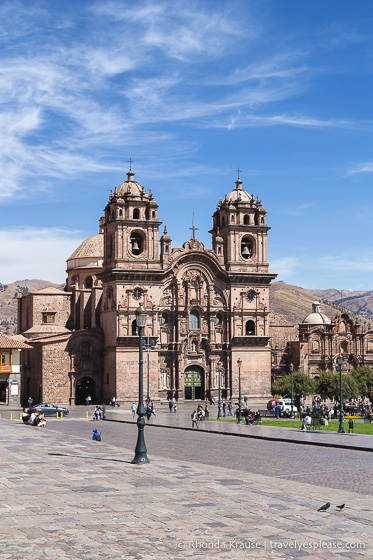 The definite highlight of our trip to Cusco was visiting the surrounding ruins, a favourite of which was Pisac and its stunning agricultural terraces.
Pictures of Cusco
Here are a few more photos from our day in Cusco.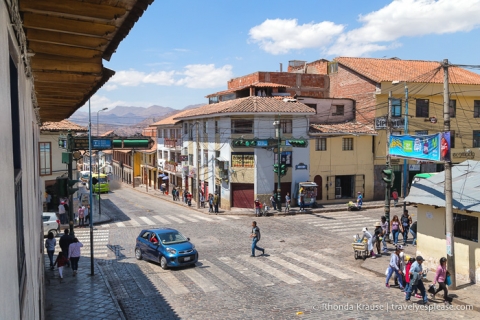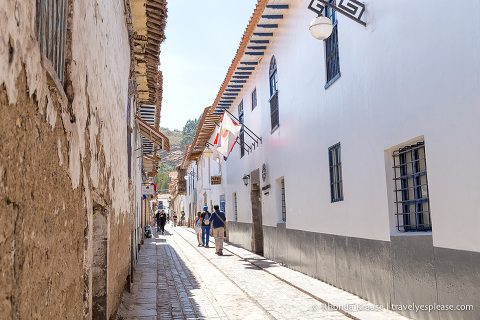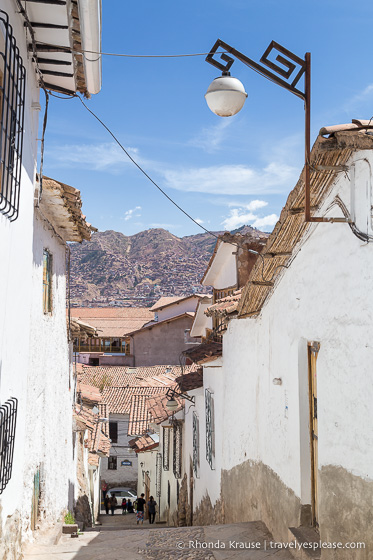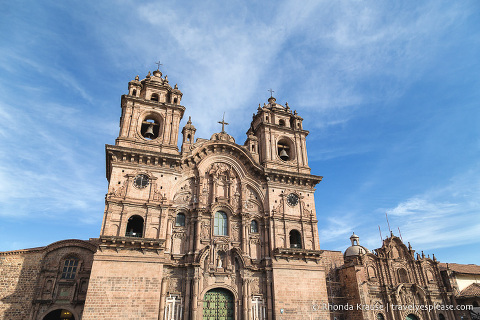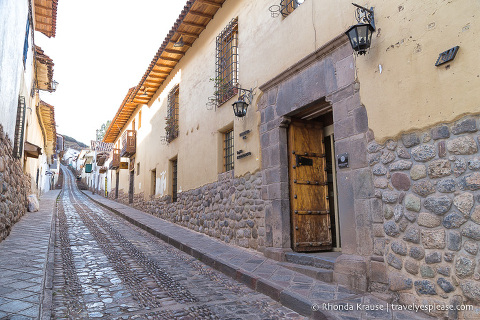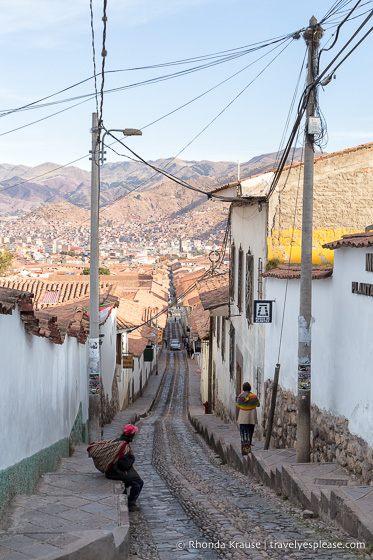 Tips for Visiting Cusco
Cusco is a sprawling city, but most of the main sites are within walking distance of each other, if you don't mind a few hills in between.
A boleto turistico (tourist ticket) is required to visit most of the attractions in the Cusco region, including museums and archaeological sites. The full ticket is valid for 10 days and includes 16 sites. There are also partial tickets valid for 1 or 2 days that include fewer sites. You can buy the tourist ticket at entrances to the included sites or in advance online.
We explored the historic centre of Cusco and Sacsayhuaman on our own, but hired a private guide to take us to the Sacred Valley and South Valley. Another way to see the sites outside Cusco is to take a taxi tour. Your hotel should be able to help you arrange this.
Information was updated January 2022, but can change without notice. Please confirm directly with service providers.
Accommodations in Cusco
For your convenience, here is a list of hotels in Cusco. Please consider booking your Cusco accommodations through the included link. It costs nothing extra and helps support this website. Thank you!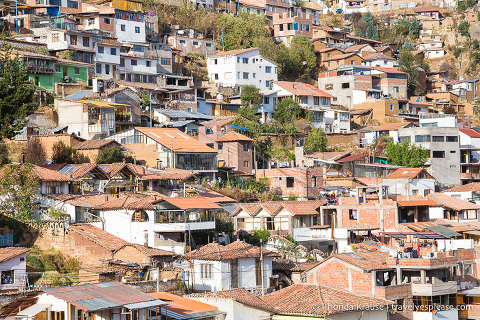 More Peru Destinations and Travel Guides