Purchases made through links earn us a small commission, at no extra cost to you.
I may not always be the biggest fan of my home city, but there is one thing I can't deny- Edmonton has a beautiful river valley, especially in the fall.
Edmonton's river valley is the largest stretch of urban parkland in North America- 7, 400 hectares! This gives us Edmontonians plenty of space to get out and be active among nature, all without leaving the city. There are over 150 kilometers of trails for people to enjoy a walk, jog or bike ride in the Edmonton river valley.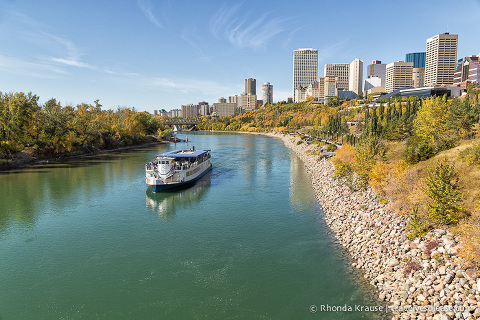 One of our favourite things to do in Edmonton when the weather is nice, is ride our bikes through the river valley. In fact, that's what Mike and I were doing when I stopped to take this picture!
The colours were so vibrant and the Edmonton Queen River Boat just happened to be coming down the North Saskatchewan river, nicely backed by the downtown office buildings. It was such a classic view of Edmonton, how could I not take a picture!
More Alberta Destinations and Travel Guides