Purchases made through links earn us a small commission, at no extra cost to you.
Arriving at Dinosaur Provincial Park, I feel like I am stepping back in time to an era when enormous, prehistoric creatures ruled the earth.
Millions of years ago, dinosaurs roamed Alberta's land, once lush with subtropical vegetation and towering Redwoods. Looking across the horizon, I don't see the palms and giant ferns that once decorated this valley, but rather a barren, wind-eroded terrain. These badlands are commonly regarded as one of Canada's most stunning and unique landscapes, and I would have to agree.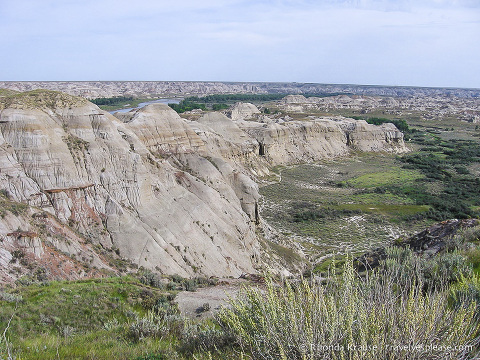 Although the days of the dinosaur have long ago passed, telltale remains of their presence here are still being found. Forty dinosaur species have been discovered in the park, dating back some 75 million years! In fact, Dinosaur Provincial Park is one of the richest dinosaur fossil locales in the world.
The natural beauty of the badlands coupled with excellent opportunities for paleontology, secured Dinosaur Provincial Park a place on UNESCO's World Heritage List in 1979. Much of the park is restricted to palaeontologists (who dig here for 10 weeks every year) to help protect the natural preserve, but there still is a lot that visitors are able to do.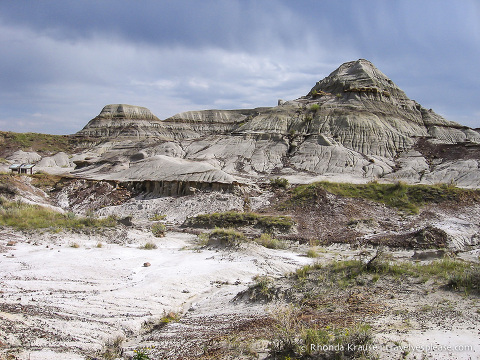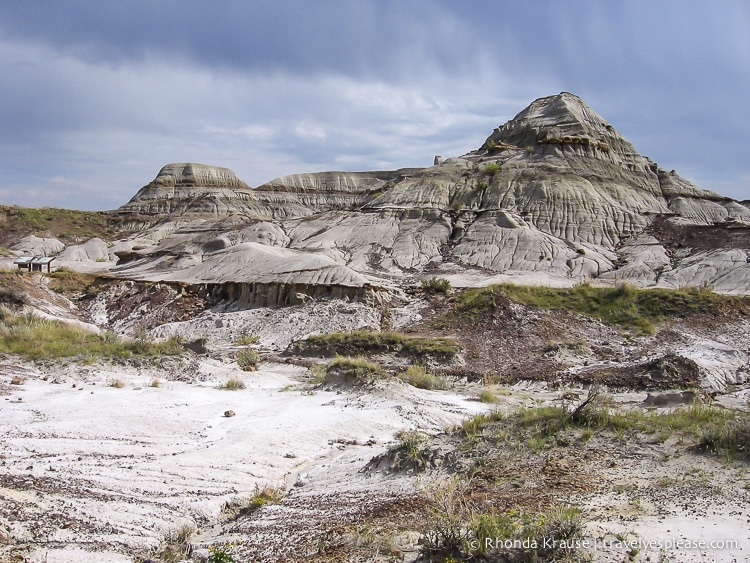 What to See and Do in Dinosaur Provincial Park
Stop in at the Visitor Centre: Here, you can take part in interactive exhibits about dinosaurs and fossils, plus learn about the geology of the park. There's even a fossil prep lab area where palaeontologists conduct their summer research for the Royal Tyrrell Museum.
Visit John Ware's Cabin: Near the visitor centre is a restored cabin that was used in the early 20th century by John Ware, an important figure in Alberta's ranching history. The cabin is only open to visitors on select days in the summer.
Hike the Badlands: The park has many interpretive programs available, including guided hikes. They are a great way to experience the park's landscape and learn about the fossils and wildlife. There are also five self-guided hiking trails available for exploration.
Go on a Fossil Safari: A Fossil Safari is recommended for families who are interested in hands-on discovery. The tour takes you to a restricted area in the natural preserve where you will learn techniques for identifying fossil remains.
Take part in a Dinosaur Dig: The Guided Excavation Program is a program (ages 14 and up) that will give you the opportunity to participate in an authentic palaeontological excavation.
Participate in a Photography Tour: The Sunset Tour takes you to some secluded areas of the natural preserve where you'll have soft evening light and plenty of time to get the perfect shot. You'll also learn some tips and tricks for photographing the badlands. This program runs on select evenings in the summer.
Go Geocaching: Geocaching is a real-world, outdoor treasure hunting game. Participants use a GPS device to navigate to a specific set of coordinates and then attempt to find the geocache (container) hidden at that location. The first (and only) time I went geocaching was in Dinosaur Provincial Park and it was a blast! Once you find the geocache, you sign the log book, take a prize from the box (if there is one), and in return leave something for the next finder.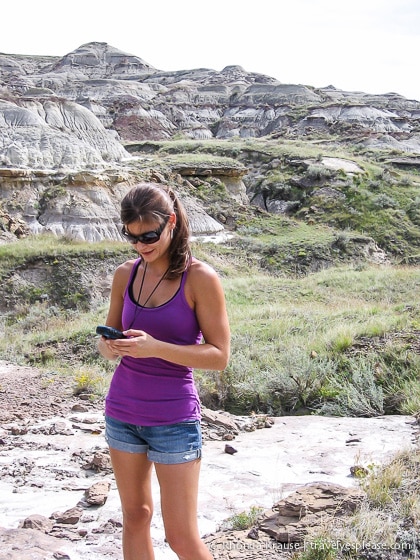 Camp Out: The campground at Dinosaur Provincial Park is open year round, offering both serviced and un-serviced sites.
Take a side trip to The Royal Tyrrell Museum:  A world class, palaeontology research centre and museum, the Royal Tyrrell Museum is not to be missed. The popular "Dinosaur Hall", contains over 40 mounted dinosaur skeletons, including Stegosaurus, Triceratops and Tyrannosaurus Rex. The museum is not actually part of Dinosaur Provincial Park, but is about 100 kilometers upstream in Midland Provincial Park, adjacent to the town of Drumheller on Highway 838.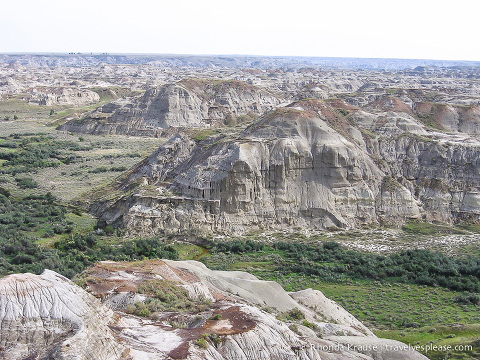 Tips for Visiting Dinosaur Provincial Park
Dinosaur Provincial Park is situated in the valley of the Red Deer River, Alberta. It's about 220 kilometers southeast of Calgary and 48 kilometers northeast of the town of Brooks. From Calgary, take Highway 1 (Trans Canada Highway) and follow the signs.
All interpretive programs begin May long weekend and run until mid-October.
Bicycles are restricted to the park's paved and gravel roads and are not allowed on the interpretive trails or in the badlands.
Digging for or removing any fossils is strictly against park rules.
More Alberta Destinations and Travel Guides