Purchases made through links earn us a small commission, at no extra cost to you.
On the August long weekend Mike and I like to take in one of our hometown's largest festivals- the Edmonton Heritage Festival at Hawrelak Park.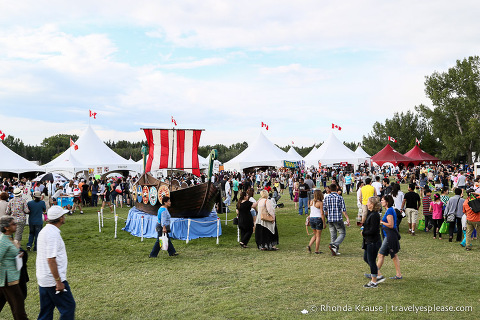 The Edmonton Heritage Festival is a fun way to celebrate and learn about the different cultures that contribute to Canada's identity as a multicultural nation. You may not know this, but Canada was the first country in the world to adopt multiculturalism as an official policy in 1971. Here in Canada, all citizens can keep their identities and are encouraged to take pride in their ancestry.
At the Heritage Festival you really feel just how proud people are of their cultures. You also sense how accepting people are and how genuinely interested they are in learning about cultures different from their own. Whether it's trying a new food, watching a cultural dance, reading about a culture's history or browsing crafts, clothing and artwork, visitors are able to do it all at the Heritage Festival.
This year there were 60 pavilions representing over 85 cultures.  Here are a some photos from our day at the festival plus some tips for planning your visit.
The Pavilions
At each culture's pavilion you can shop for traditional crafts, artwork, even clothing. There are also informative displays that will teach you about the history and geography of that country.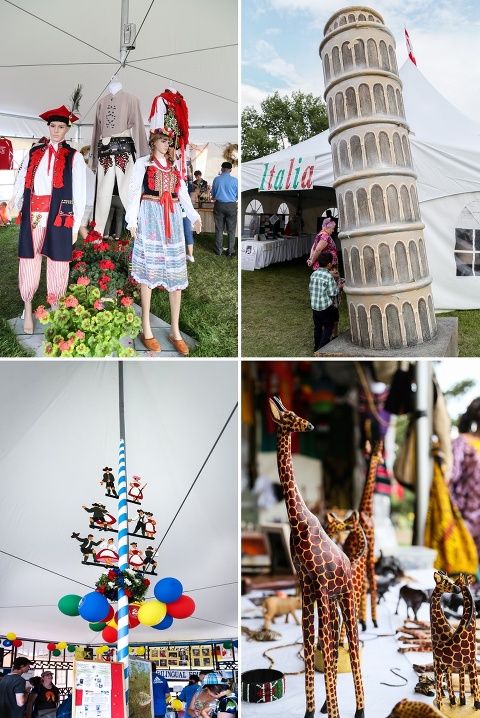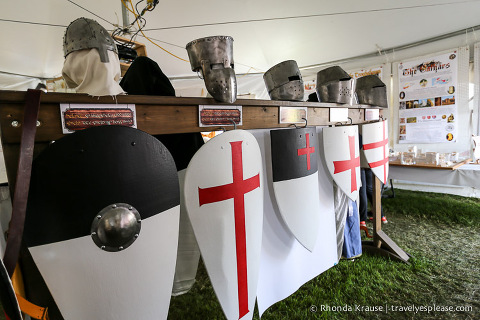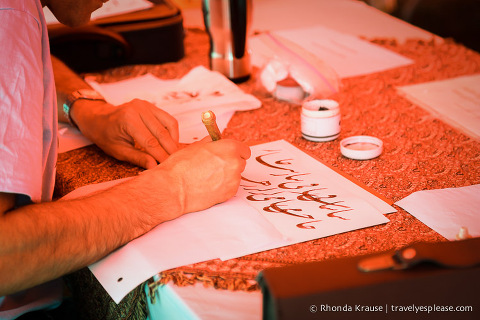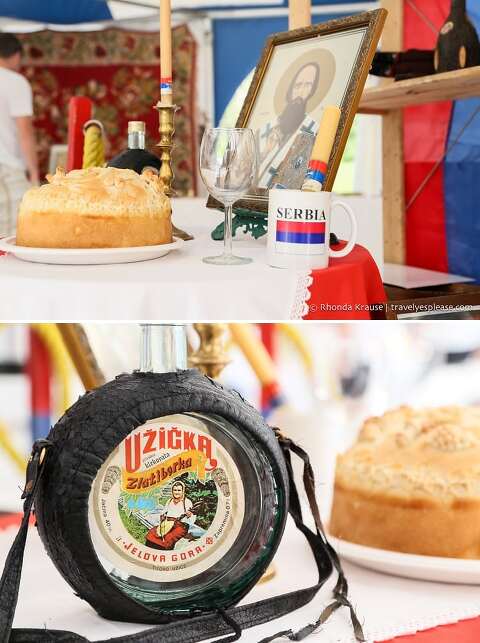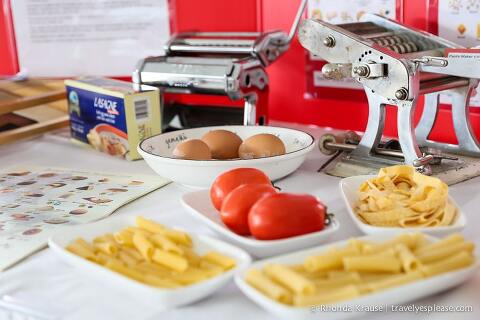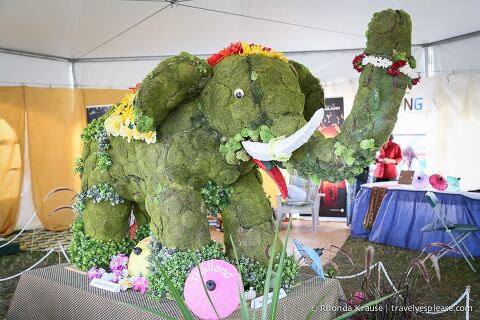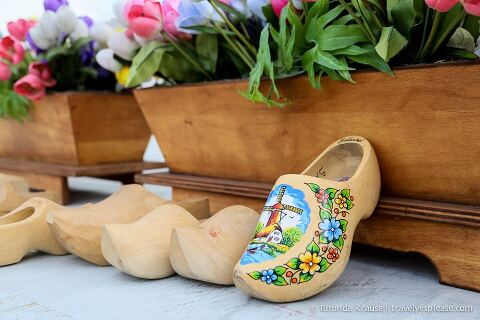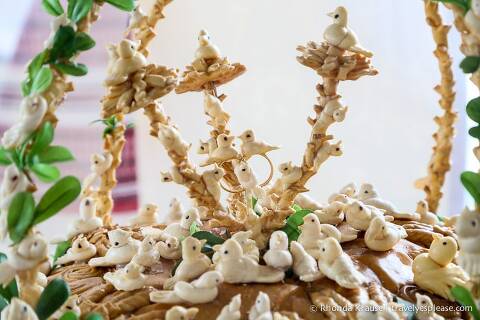 Food and Drink
I honestly didn't take too many pictures of the food because it all looked so good that we started eating before I realized I should take a picture for the blog. My personal favourite was the chocolate sauce crepe from the France pavilion. Sooo delicious!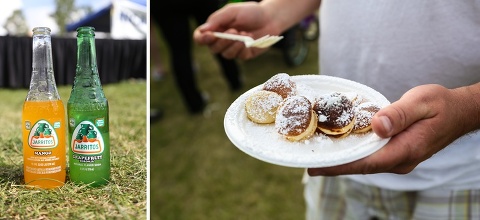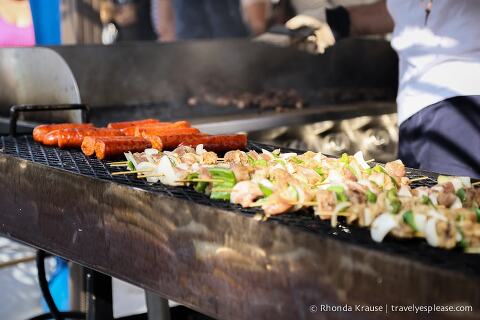 Food tickets can be bought in advance at certain locations around the city or on site at the festival. Even though there are plenty of locations to buy food tickets at the festival, the lines are still really long, so buying in advance is a good idea.
The Performances
Throughout the park there are small stages set up by certain pavilions where you can see performances of music, dance and even theatre.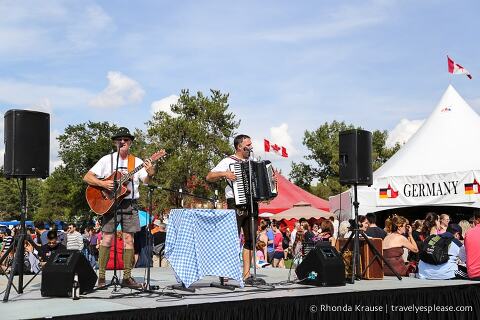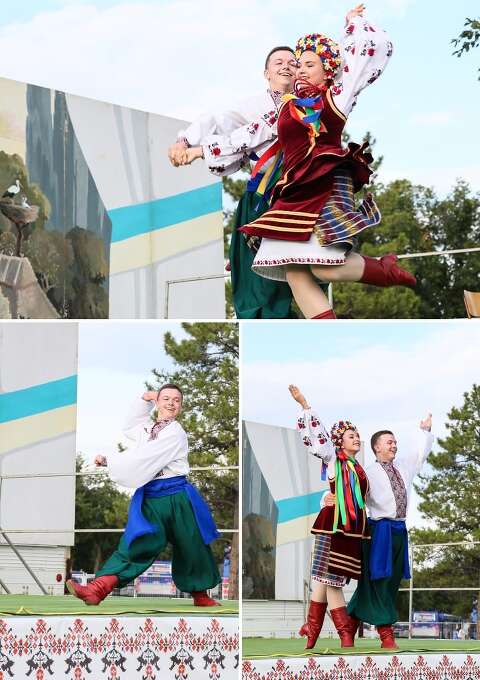 My favourite part of the festival is always the performances, especially the music. This year, the highlight for me was a Mariachi band that came all the way from Mexico. I wish I had got their name, because they put on a great show!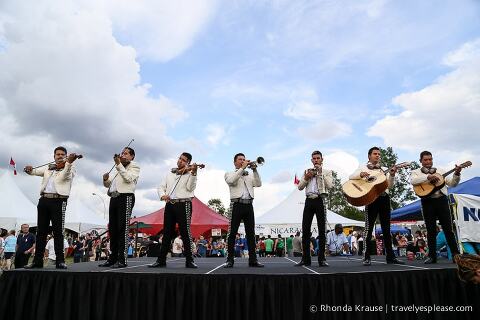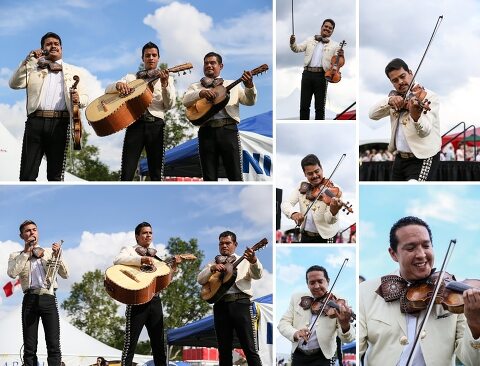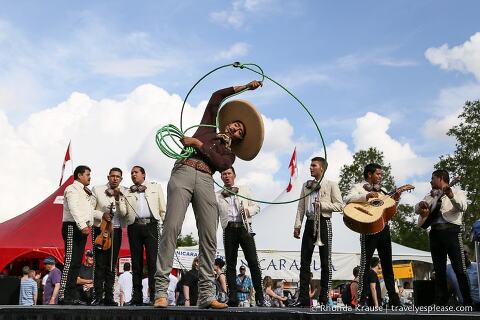 The Details
Where: Hawrelak Park- Edmonton, AB.
When: The August long weekend (first weekend in August).
How Long: Three days (Saturday, Sunday and Monday).
Tips for Attending the Edmonton Heritage Festival
There is no parking allowed at the park during the festival. Use the ETS Park & Ride service or ride your bike down (there are plenty of bike racks).

Admission is free. Donations for the food bank are encouraged.
Avoid waiting in line to buy food tickets by purchasing them in advance. Check the festival's website for information on where to buy them.
You will need cash to buy merchandise sold at the pavilions.
Download a map of the festival site as well as a list of menu items and their ticket price from the festival's website (we didn't do this and it would have been very helpful). Maps are also available at the park, but we couldn't seem to find one.
Dogs are not allowed at the festival.
More Alberta Destinations and Travel Guides