Purchases made through links earn us a small commission, at no extra cost to you.
Page, Arizona boasts plenty of natural attractions but one of my favourite places was Horseshoe Bend.
Aptly named, this almost symmetrical bend in the Colorado River resembles the shape of a horseshoe, its sandstone banks towering 1,000 ft above the meandering water.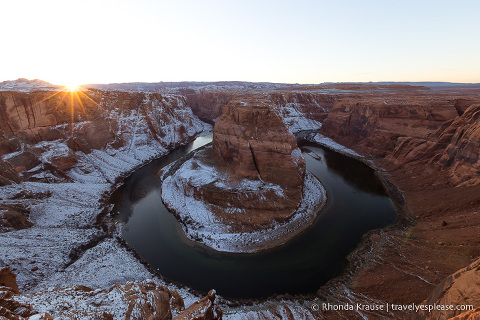 From the Horseshoe Bend Overlook, you'll be able to enjoy the classic view that made Horseshoe Bend one of the top attractions in Page and the southwest USA. The scene is so stunning that we admired it twice in one day- in the morning from a private Navajo viewpoint during a tour of Horseshoe Bend Slot Canyon (a.k.a. Secret Canyon), and again at sunset from the public overlook.
The public overlook was very busy with people and there are no safety railings, so be careful and don't get too close to the edge. There have been deaths from accidental falls. I got mad at a guy who, unbeknown to me, was standing over me while I was squatting down taking a photo. When I stood up quickly I bumped him and stumbled forward towards the cliff. Thank goodness I wasn't too close to the edge!
To get to Horseshoe Bend from Page, drive about 10 minutes south on Highway 89 and it'll be between mileposts 544 and 545. There is a parking lot but it's too small to meet demand (they were building an extension when we were there). Many people parked on the side of the highway and walked. From the official parking lot, Horseshoe Bend Overlook is a 3/4 mile (1.2 km) walk on sandy and rocky terrain.
More United States Destinations and Travel Guides