Purchases made through links earn us a small commission, at no extra cost to you.
Arizona is known for its impressive natural attractions, but one of its most astonishing sites is Antelope Canyon, a slot canyon near Page.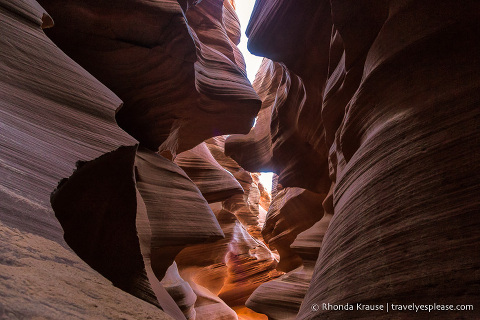 Ever since I first saw a photo of Antelope Canyon, I wanted to visit. The narrow passages, smooth curves, and warm tones of this sandstone slot canyon had me infatuated, along with hundreds of other tourists who visit each day.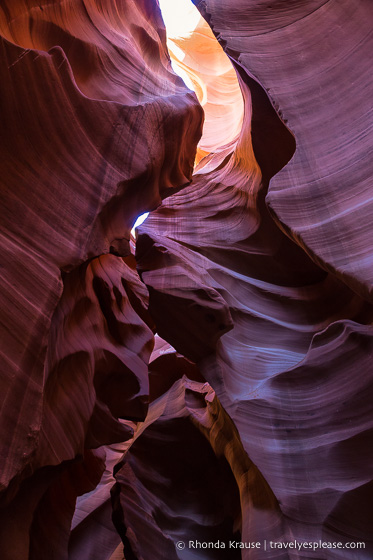 The canyon consists of two separate slot sections- Upper Antelope Canyon, famous for its light beams and falling sand, and Lower Antelope Canyon, known for its narrow passageways and ladders. Since we only had a free afternoon, we had to decide which one to visit.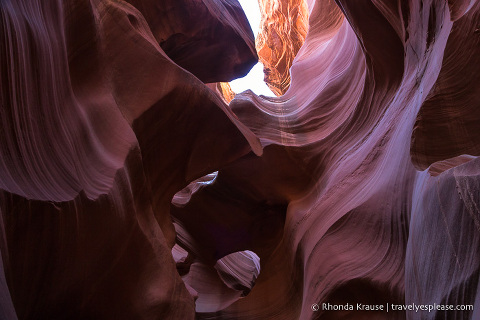 Visiting Lower Antelope Canyon- Why It's a Great Choice
We chose to visit Lower Antelope Canyon instead of Upper Antelope for a few reasons.
First off, tours were cheaper and more frequent (running every 30 minutes), so we didn't have to book as far in advance as necessary for the upper canyon.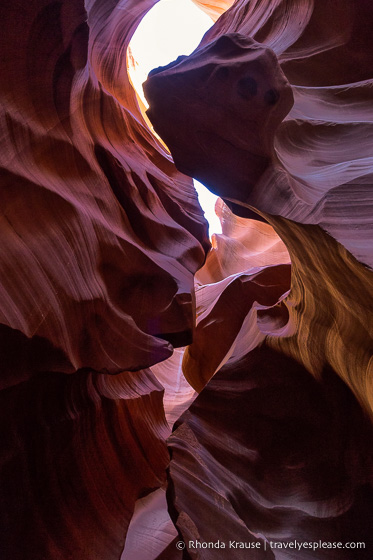 Lower Antelope Canyon is also brighter than the upper because it's shaped like a "V"- wider at the top and narrower at the bottom. As a photographer, the amount of light was important to me, especially since we'd be visiting mid-afternoon, when the canyon is already getting darker.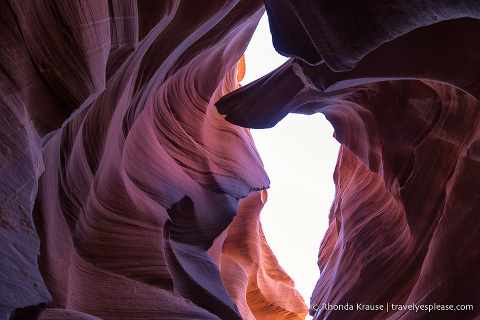 I'd also heard that Lower Antelope Canyon is less popular than Upper Antelope, but based on the crowds we experienced on a cold day in January, I'm not sure that's true anymore.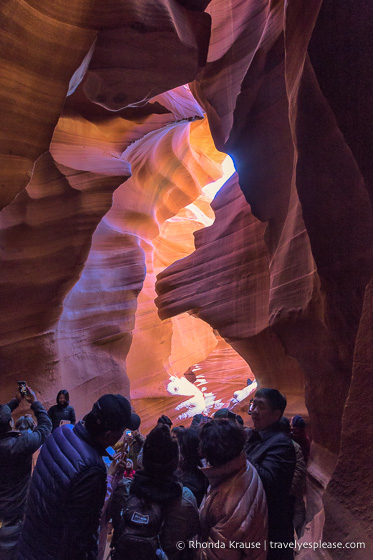 And finally, visiting Lower Antelope Canyon sounded more fun and adventurous because there are ladders to climb and narrow sections to squeeze through.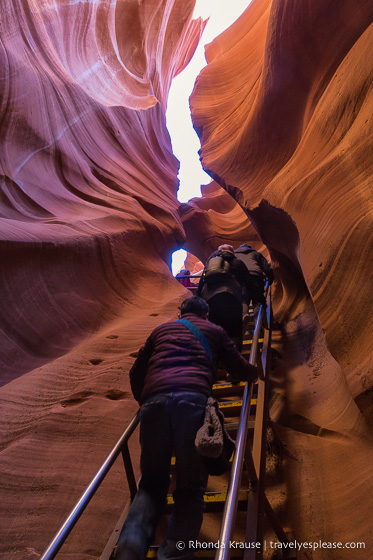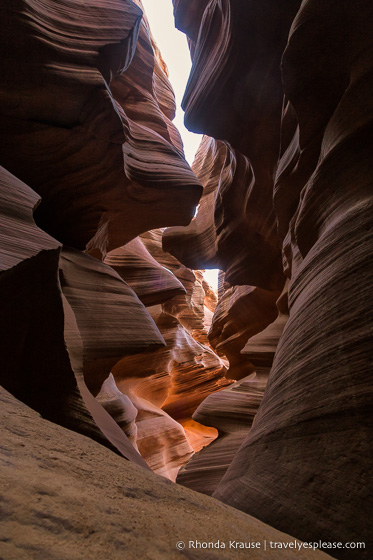 So, were we happy with our choice? Here's a look at our tour of Lower Antelope Canyon and some thoughts on our visit.
Tour of Lower Antelope Canyon- Our Experience
Our Lower Antelope Canyon tour started at the visitor centre, where everyone waits to be divided into groups of 10 and assigned a tour guide. Once all the people on the 2:30 tour were organized and told the rules, each group followed their guide down a rocky, sandy trail to the canyon.
At the entrance to the canyon, we were met with five flights of stairs we had to descend to reach the canyon floor. My excitement was building with each step, as I was eager to see if Lower Antelope Canyon was as stunning as it looked in pictures.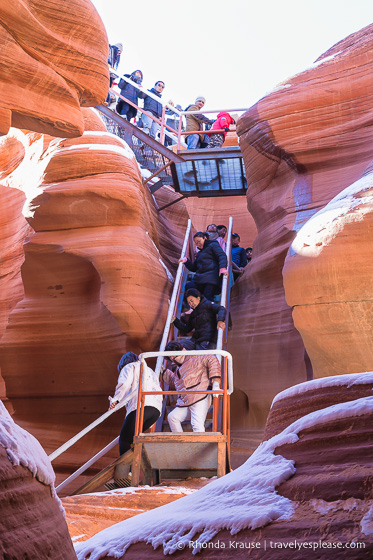 As soon as my feet hit the canyon floor, I was amazed. Tall walls of textured sandstone rock surrounded me, slowly sculpted over millions of years by water and wind.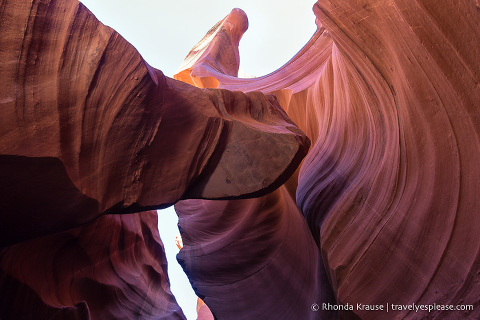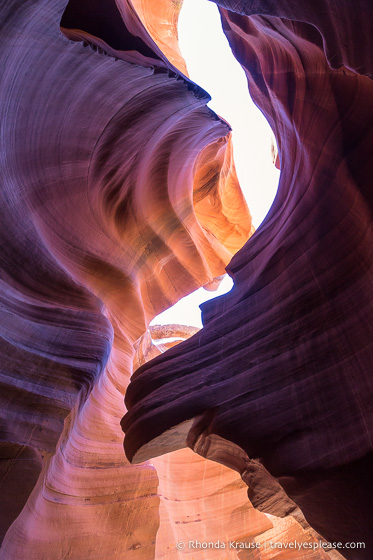 As I started walking through the canyon, gentle curving lines in the rock created an illusion of waves, swirling around me in a flood of colour. Reds, oranges, pinks, purples, and blues danced with light and shadow, adding drama to an already striking location.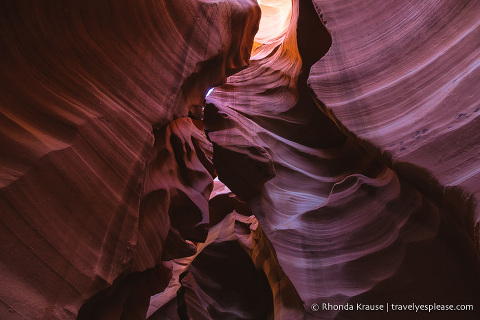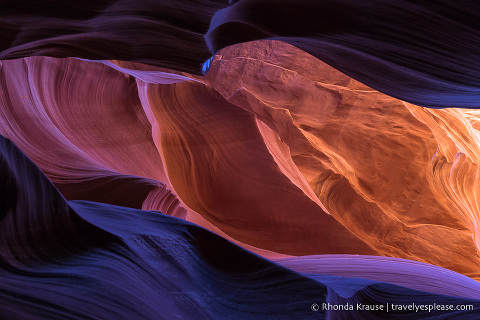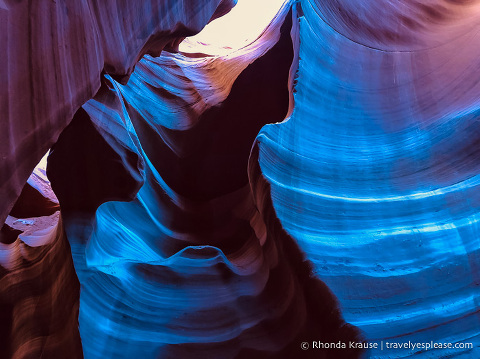 The further I walked, the more shapes and forms I noticed in the rock. Faces and animals appeared above me, naturally carved from the canyon walls.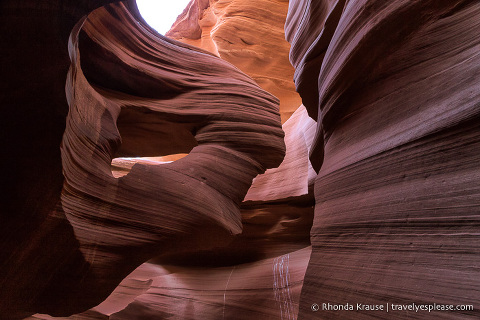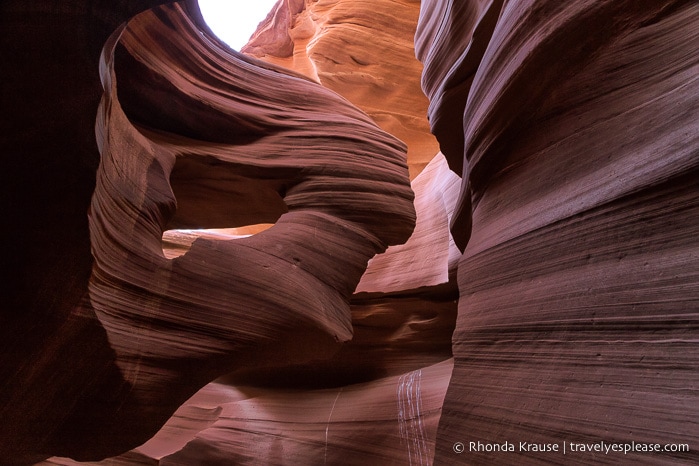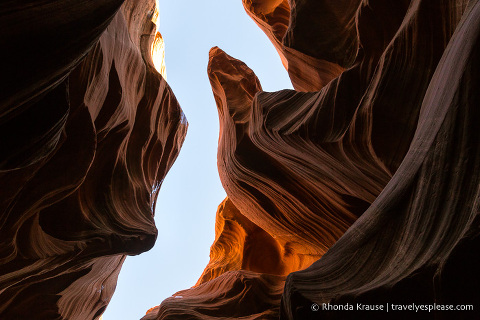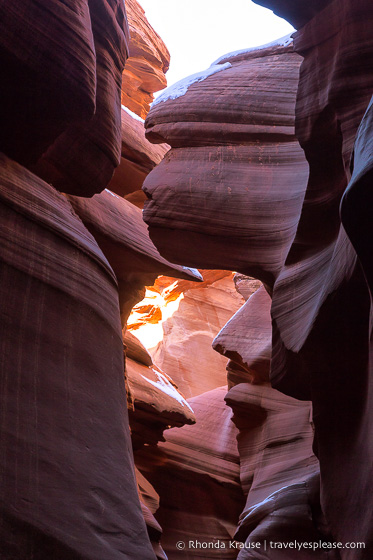 At times I felt like I was in a dream, blissfully unaware of the crowds around me and tour guide urging us along. I gazed with wonder in every direction, appreciating each groove and curve in the rock and how those small details contributed to making Antelope Canyon a unique and special place.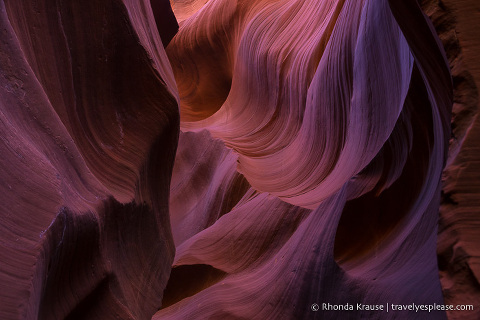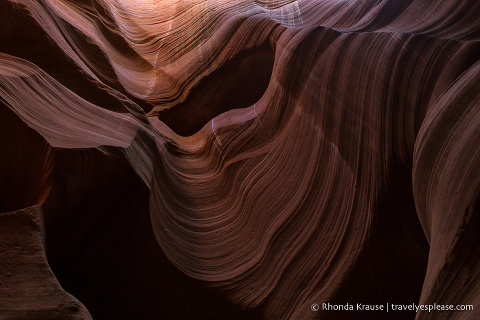 All too soon, the tour was over and we emerged one by one from a thin crack in the earth, enthusiastically smiling about what we had just seen hidden below the surface.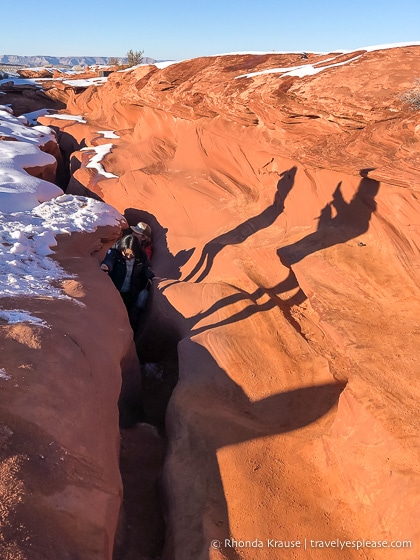 Walking away from the canyon, I looked back at that narrow slit in the land. It didn't look noteworthy at all, and I definitely wouldn't have ventured down there if I came across it on my own. It was a good reminder that sometimes the best places are not obvious- you have to look a little deeper to discover the beauty within.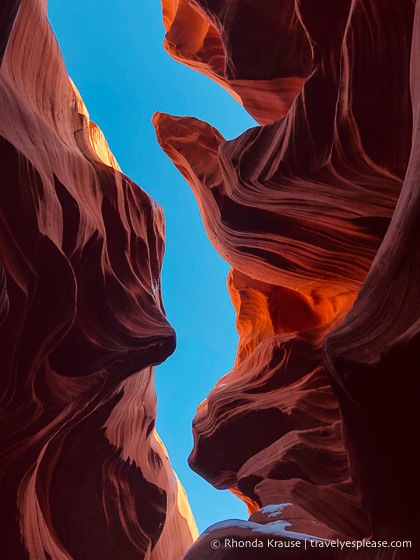 Final Thoughts About Visiting Lower Antelope Canyon
Both Mike and I were really glad that we decided to visit Lower Antelope Canyon on our southwest road trip. It was a mesmerizing masterpiece, easily living up to the hype.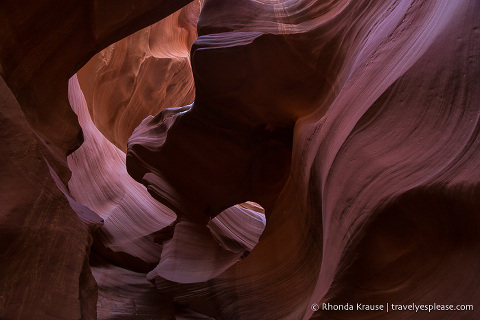 And to think, I was almost turned off of visiting because I'd heard so much about the tours being crowded and rushed.
Sure, all of that was true. There were 100 or more people that entered the canyon at the same time as us. Our guide (who really was more of a chaperone than a sharer of knowledge) was always telling us to hurry up, keep moving, and stay together. It was a completely different experience than our small group visit to Secret Canyon and Horseshoe Bend that morning.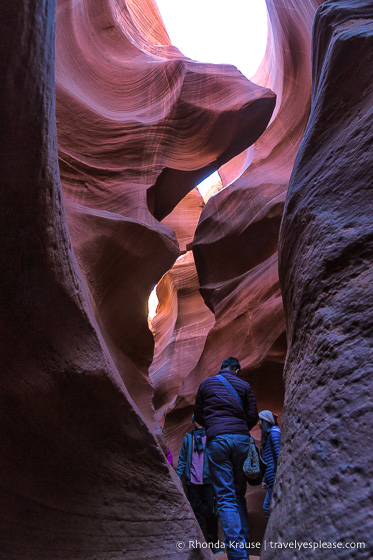 Still, the energy of the crowd managed to add something to the experience, rather than take away. Everyone was so excited and thrilled to be there, even though we were shuttled through on an assembly line of mass tourism.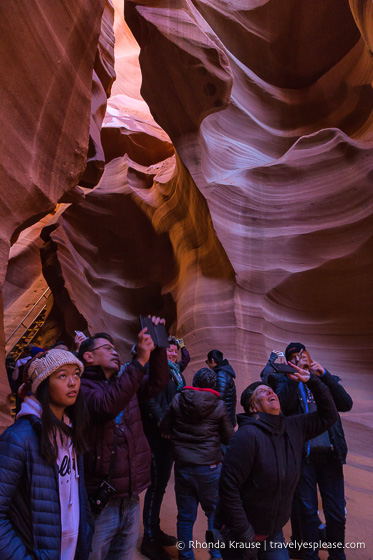 Much to my surprise, I was able to look past the downsides of this tour and enjoy Lower Antelope Canyon for what it is- a dazzling work of Mother Nature!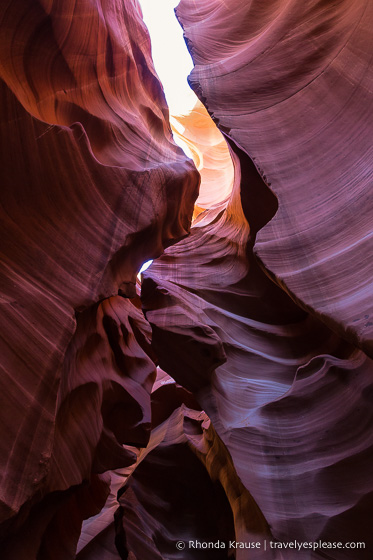 Do I feel like we missed out by not visiting the more famous Upper Antelope Canyon? Absolutely not. Lower Antelope Canyon was impressive enough on its own, and I felt no need to pay more money, and endure a potentially larger crowd, to see similar scenery. Secret Canyon was a much better alternative for us because we wanted to experience a slot canyon at our own pace, without a throng of people.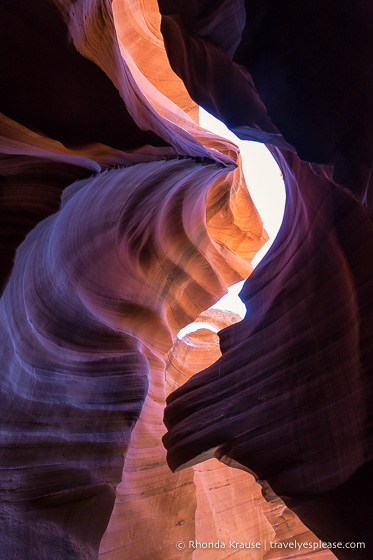 Pictures of Lower Antelope Canyon- A Photo Tour
There's so much beauty inside Lower Antelope Canyon that it was impossible for me not to take a lot of pictures. I hope you enjoy this photo tour of Lower Antelope Canyon!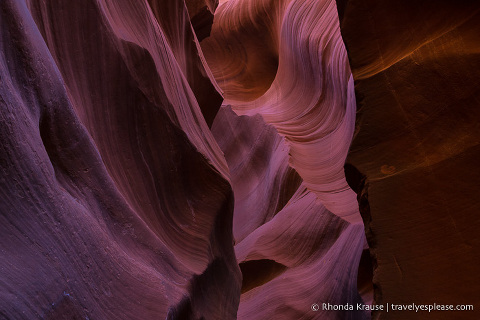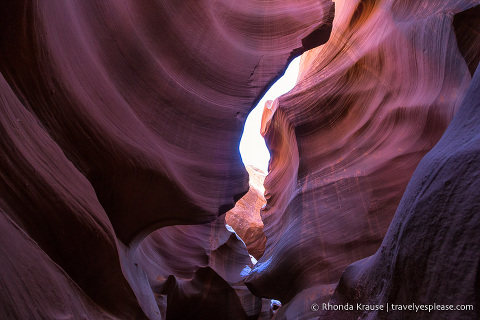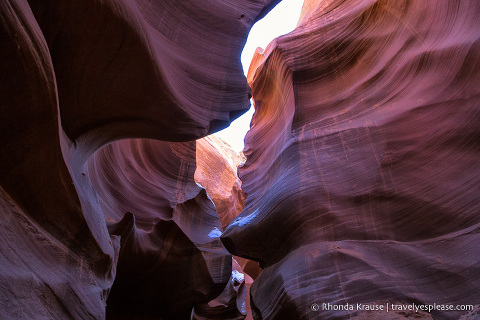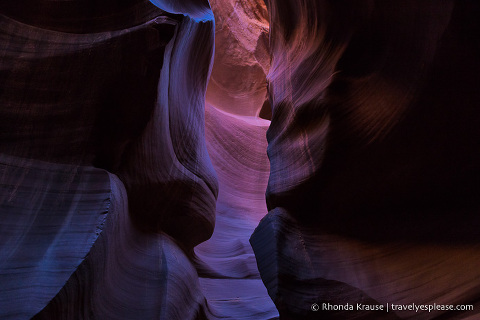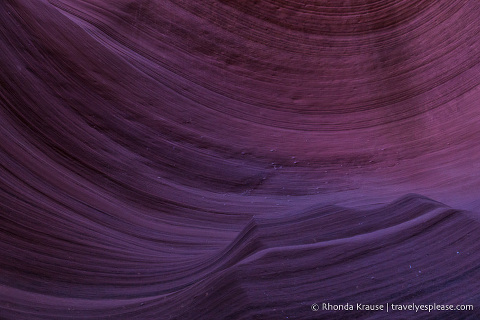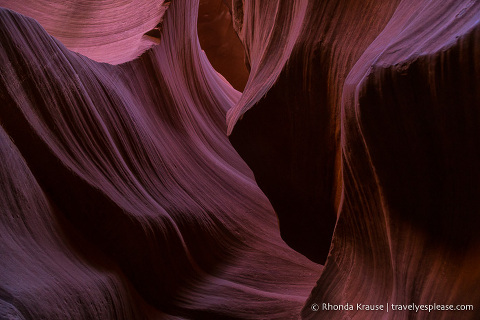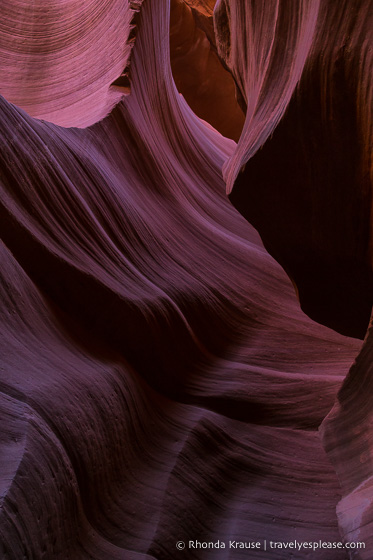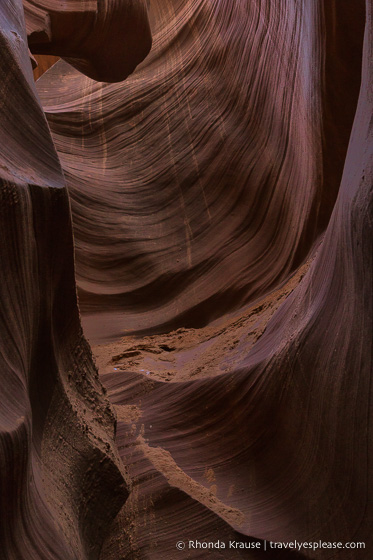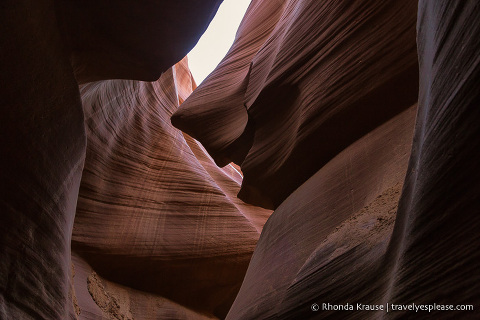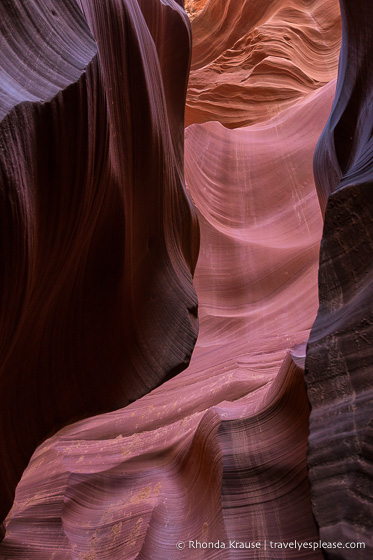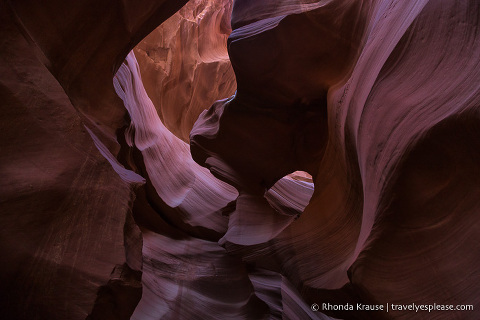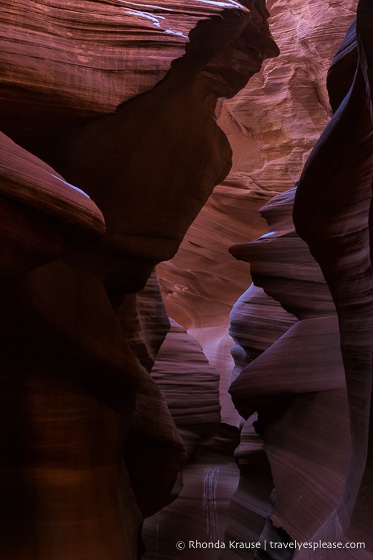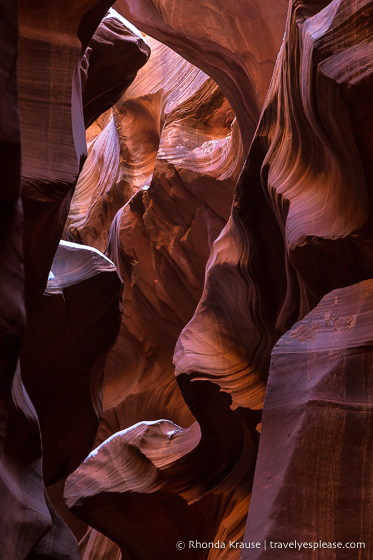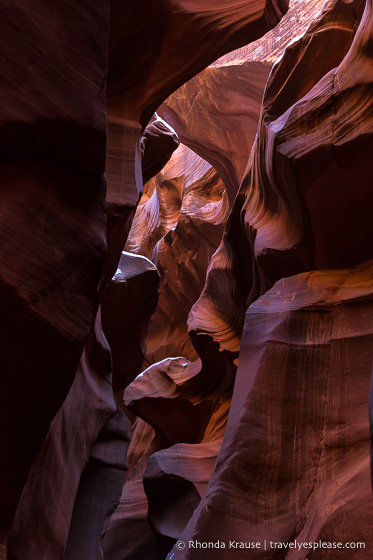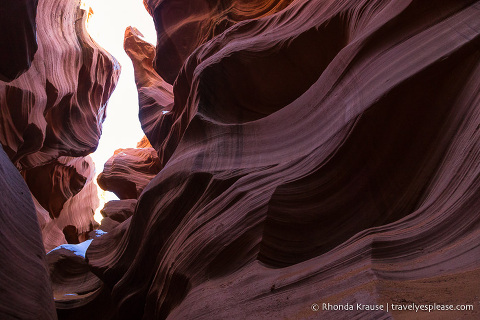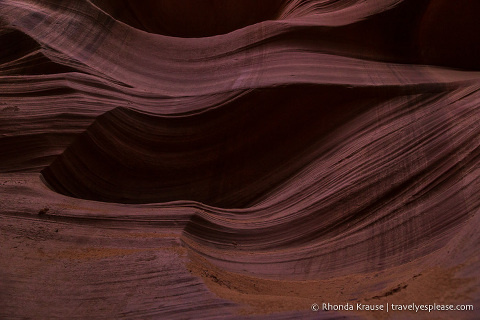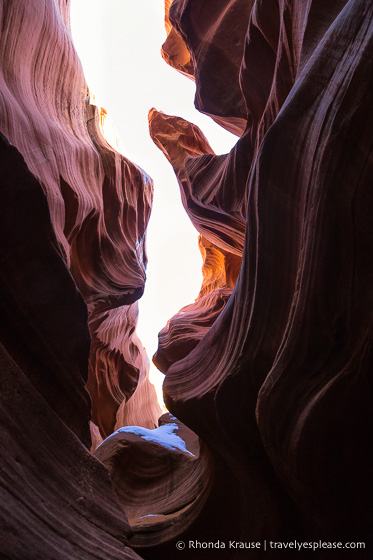 Tips For Visiting Lower Antelope Canyon
Location: Lower Antelope Canyon is located on Navajo Nation land near Page, Arizona. To get there, drive east on Highway 98 from Page then turn left on 222. Drive time is about 10 minutes.
Tours of Lower Antelope Canyon: Antelope Canyon can only be visited on a guided tour. Tours run every 30 minutes and take 45 minutes to 1 hour. You will be ushered through in groups of 10 people, with several groups departing at the same time.
Tours involve walking just over 1,800 metres (about 1.1 miles) on sand, gravel, uneven ground, steep staircases, and narrow passageways.
There are two companies that run tours of Lower Antelope Canyon- Ken's Tours and Dixie Ellis. Both have an online booking form.
We recommend booking your tour of Lower Antelope Canyon as far in advance as you can. They are very popular and regularly sell out. We got lucky and were able to book two of the last spots the night before our tour, but this was in early January (low season). I wouldn't take that chance if visiting any other time of year, especially if you want a mid-day tour or are travelling in a group.
In addition to your admission fee, you also have to buy a Navajo Park Permit and pay the Navajo sales tax.
There are no designated photography tours of Lower Antelope Canyon.
Best Time to Visit Lower Antelope Canyon: The best time to visit depends on what your goals are. The canyon would be brightest at mid-day, but also the hottest and most crowded. Early morning and late afternoon are cooler and less busy, but the canyon will be darker.
What Not to Bring: Bags, backpacks, purses, tripods, monopods, selfie-sticks, GoPros, and strollers are not allowed in Lower Antelope Canyon.
Information was updated January 2022, but can change without notice. Please confirm directly with service providers.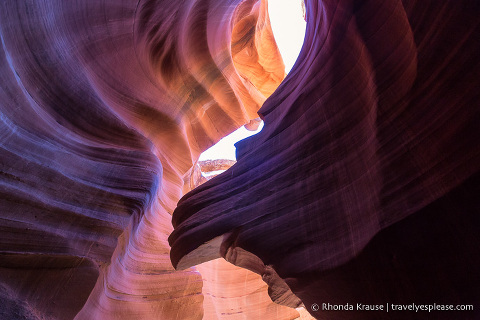 Accommodations in Page
For your convenience, here is a list of HOTELS IN PAGE. Please consider booking your Page accommodations through the included link. It costs you nothing extra and helps support this website. Thank you!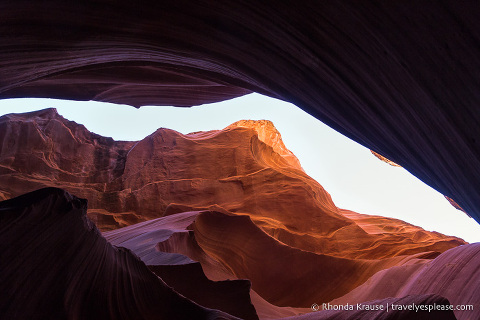 More United States Destinations and Travel Guides