Purchases made through links earn us a small commission, at no extra cost to you.
An American southwest road trip is a classic experience that takes you to some of the most recognizable places and stunning natural wonders in the United States. From deep canyons and colourful deserts, to glitzy, sun-filled cities with a nostalgic vibe, you can see them all on a southwest USA road trip.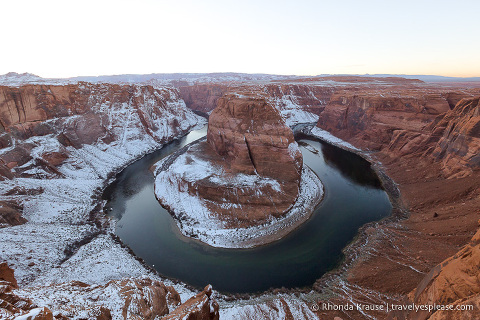 Southwest USA Road Trip Itinerary- California, Arizona, Utah, Nevada
Our American southwest road trip itinerary started and ended in Las Vegas, making stops in California, Arizona, Utah, and Nevada over 12 days.
For our road trip in the southwest USA, we wanted to focus primarily on outdoor adventures and natural attractions. When planning our itinerary, we looked for places where we could do a variety of hikes and other activities outside, while being surrounded by beautiful landscapes.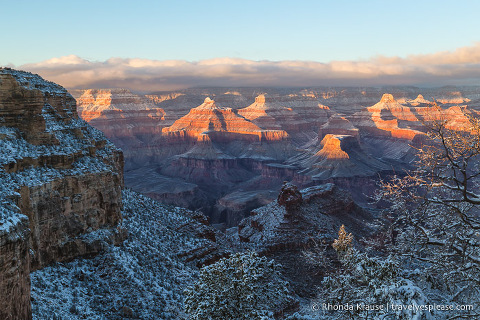 Here's what we came up with for our southwest road trip itinerary. We hope it helps you plan your own memorable southwest U.S. road trip!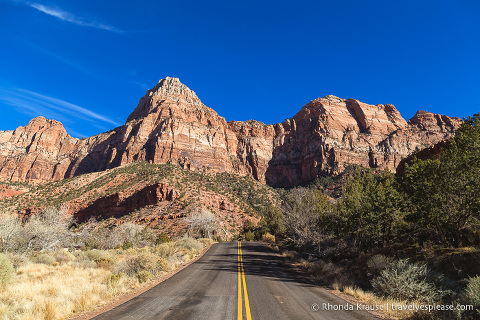 Map: Southwest Road Trip
Here is a map of our southwest road trip itinerary, starting and ending in Las Vegas.
Day 1: Drive from Las Vegas, Nevada to Palm Springs, California
Explore Palm Springs
We started our southwest road trip by driving from Las Vegas to Palm Springs. Our GPS directed us to take the I-15 south then CA-247 south, but you can also drive through the Mojave National Preserve, which is fewer kilometres but takes roughly the same time.
Arriving around noon meant we had the afternoon to enjoy lunch and stroll around the city before settling in for 4 nights in Palm Springs. If you have less time for your road trip, I think 2 days/3 nights would be sufficient to sample what the area has to offer.
Approximate distance and drive time: 374 km/232 mi- 422 km/262 mi (depending on what route you take), 4 hr 10-15 min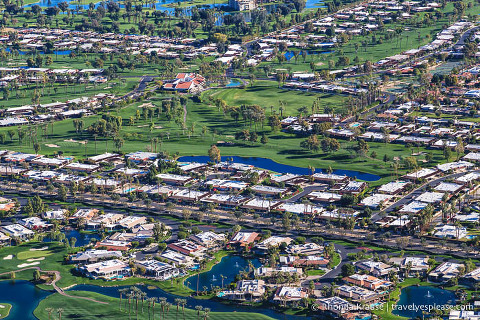 Days 2, 3, & 4: Palm Springs and Area
Palm Springs has a little bit of something for everybody from shopping, golfing, and hiking, to simply relaxing by the pool. We ended up primarily using the city as a base for exploring the surrounding area, embarking on several interesting day trips from Palm Springs.
The main reason we included Palm Springs in our southwest road trip itinerary was to visit Joshua Tree National Park, about an hour from the city. Spiky Joshua Trees and large walls of boulders give the park its signature appearance and with over 790,000 acres, you'll need at a least a full day to explore it.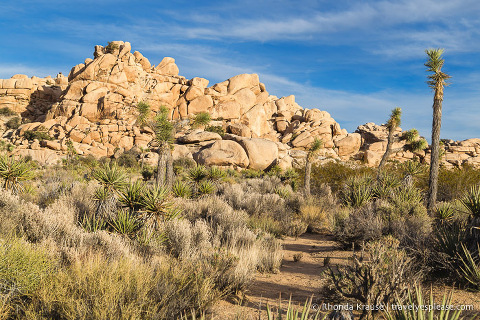 We easily spent one day in Joshua Tree National Park going on scenic drives and hikes in different areas of the park. The geological features and vegetation were fascinating, making Joshua Tree not only my favourite place to visit near Palm Springs, but a top stop on our American southwest road trip.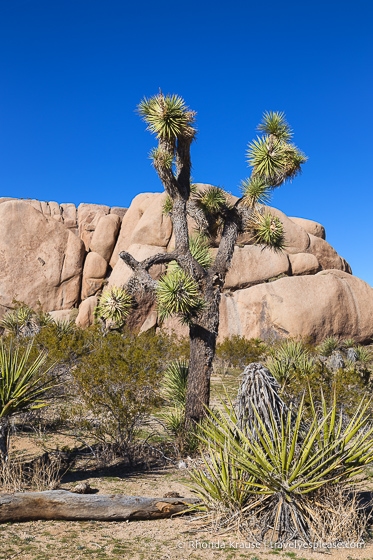 The next two days in Palm Springs can be spent hiking, golfing, and doing more side trips.
Our favourite hike in the area was Ladder Canyon Trail in the Mecca Hills, about a 70 minute drive south of Palm Springs. This adventurous route required climbing ladders in slot canyons and was the most unique hike we did on our road trip.
We also recommend doing a day trip to Borrego Springs, about 1.5 hours south of the city, where you can spend a few hours admiring giant metal sculptures of dinosaurs, serpents, mammoths and more. It's kind of a quirky attraction but surprisingly fun to search out these works of art spread across the desert.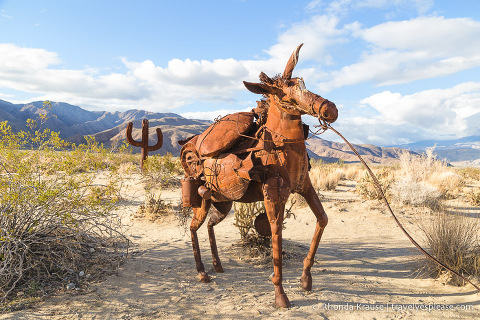 Day 5: Drive from Palm Springs to Page, Arizona
Stop at the Grand Canyon
This next segment of our southwest USA road trip involved a long day of driving, but was broken up by spending a few hours at the Grand Canyon before heading to Page for the next 2 nights.
If you have more time for your road trip and prefer a shorter day of driving, you can spend the night in Flagstaff, Arizona then visit the Grand Canyon the next day on route to Page.
Approximate distances and drive times: Palm Springs to Grand Canyon Village- 663 km/412 mi, 6.5 hrs. Grand Canyon Village to Page- 223.7 km/139 mi, 2 hr 45 min
Grand Canyon National Park
Every good American southwest road trip itinerary should include a stop at the Grand Canyon, one of the most iconic natural sites in the United States.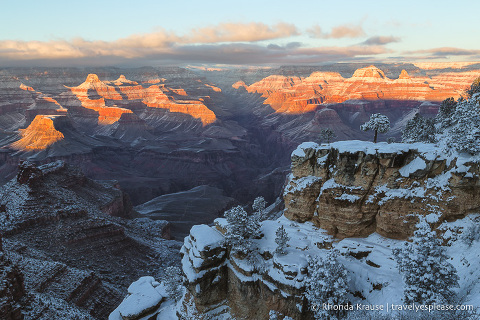 Grand Canyon National Park has several viewpoints from which to admire the deep canyon's layered bands of rock formed over two billion years of geological events.
The South Rim Trail is excellent for an easy day hike or shorter sightseeing walk to some of the canyon's main scenic lookouts. There is minimal elevation change, paved sections, and shuttle bus stops along the route.
We walked along a portion of the South Rim Trail and found ourselves stopping often to admire the fantastic views of the Grand Canyon. I was fascinated by the different layers, shapes, and colours of the canyon. It was so much more than the "hole in the ground" I was expecting!
We ended up spending more time at the Grand Canyon than anticipated, even staying long enough to catch the sunset.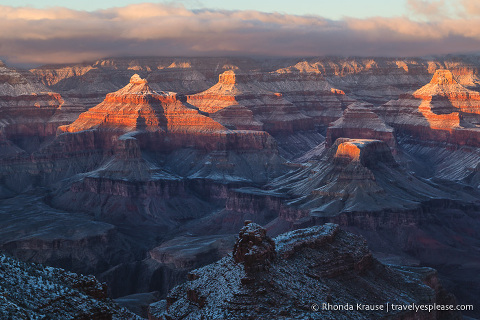 Day 6: Page
Page is home to some of the most photographed attractions in the southwest- Antelope Canyon and Horseshoe Bend. With two such incredible natural sites, it was easy to decide how to spend our one day in Page.
We started by going on a small group tour of Secret Canyon, a lesser-known slot canyon in the area. It had the eye-catching wavy lines and warm hues that make the slot canyons in Page so captivating, but without big tour groups distracting from the experience, like at the insanely popular Antelope Canyon.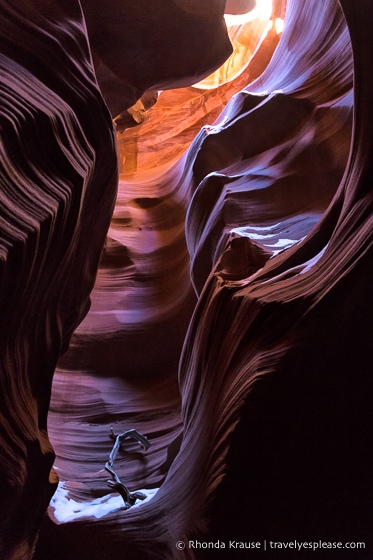 As Page's most famous slot, Antelope Canyon draws big crowds for good reason. It's remarkably beautiful with so many interesting formations shaped from the erosion of sandstone. There's an upper canyon and lower canyon you can tour but we decided to only visit Lower Antelope Canyon. While the mass-tourism experience wasn't the greatest, the canyon itself was stunning enough for me to overlook the downsides of this tour.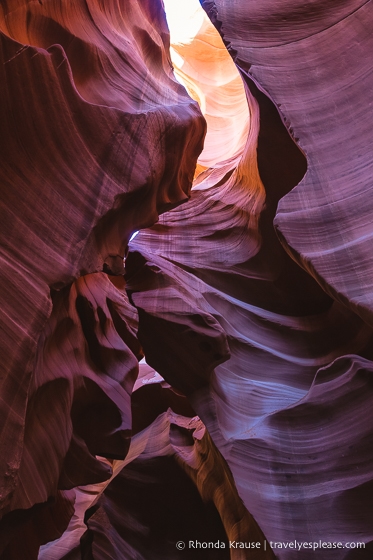 We ended our time in Page with a visit to Horseshoe Bend. From the lookout point we enjoyed wonderful views of this picturesque bend in the Colorado River, flowing 1,000 feet below us. Seeing the sunset here was the perfect end to a fun-filled day on our southwest road trip.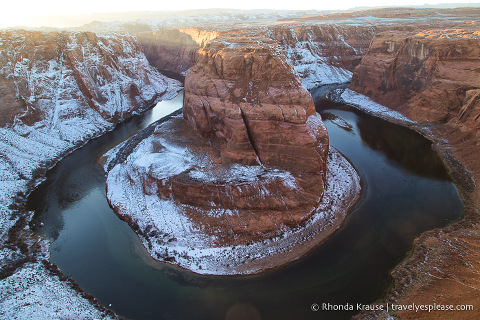 Day 7: Drive from Page to Bryce Canyon, Utah
Days 7 & 8: Explore Bryce Canyon National Park
The next stop on our southwest USA road trip was Bryce Canyon National Park, where we spent 2 days hiking in the hoodoo-filled amphitheatre. We stayed overnight in Bryce, at the gateway to the park.
Approximate distance and drive time: 242 km/150 mi, 2.5 hrs
Bryce Canyon National Park
Bryce Canyon National Park has a mesmerizing landscape of eroded stone formations, from natural windows and bridges to towering hoodoos.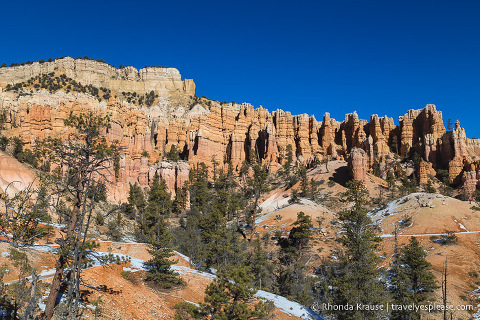 The Visitor Centre is a great place to start learning about the park because there are several interesting exhibits explaining the park's history and geology.
After checking out the Visitor Centre, we had plenty of time to hike the Queen's Garden and Navajo Loop. It was a stunning introduction to the park and some of its notable landmarks like the Queen Victoria hoodoo and Thor's Hammer.
Our second day in Bryce Canyon National Park was spent hiking the Fairyland Loop trail. Over the course of this 4-5 hour hike we got to enjoy sweeping views of the Bryce Amphitheatre and Boat Mesa while being surrounded by hoodoos.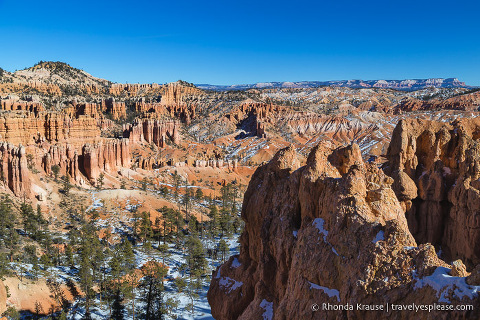 Day 9: Drive from Bryce to Springdale, Utah
Days 9, 10 & 11: Explore Zion National Park
The next drive took us to Zion National Park, our favourite stop on our southwest road trip itinerary. We spent 3 days here doing some of the park's most popular hikes and checking out some lesser-known trails. We stayed overnight in Springdale, the closest town to the park gates.
Approximate distance and drive time: 134 km/83 mi, 1 hr 44 min
Zion National Park
Zion National Park is home to some dramatic scenery, most notably the steep sandstone cliffs of Zion Canyon.
Our 3 days in Zion National Park were packed with challenging hikes, relaxing nature walks, and leisurely sightseeing drives in Zion Canyon.
We conquered two of the park's most strenuous hikes- Angels Landing Trail, known for its extremely narrow path and steep drop offs on each side, and Observation Point Trail, known for its beautiful viewpoint high above Zion Canyon.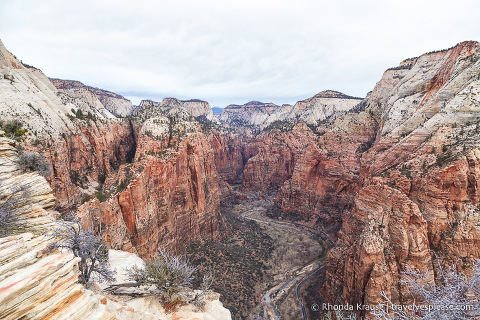 In between these difficult hikes, we spent our time walking some of the shorter trails to different landmarks and viewpoints. We really enjoyed Watchman Trail, a moderate hike that offers views of several of Zion's top geological features.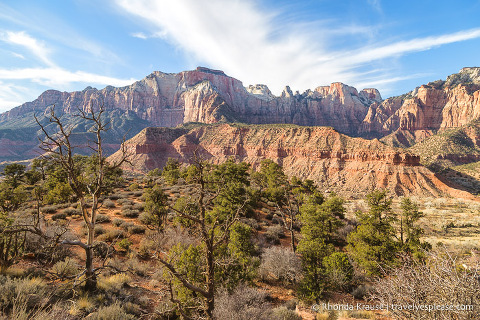 Day 12: Drive from Springdale to Las Vegas
Stop at Valley of Fire State Park
The last stretch of our American southwest road trip returned us to Las Vegas, but not before making a few interesting stops along the way. First we quickly checked out Grafton Ghost Town, not far from Zion's south entrance, then we spent the afternoon in Valley of Fire State Park, about an hour out of Las Vegas where we spent the last night of the trip.
Approximate distances and drive times: Springdale to Valley of Fire- 207 km/129 mi, 2 hr 15 min. Valley of Fire to Las Vegas- 79 km/49 mi, 55 min.
Valley of Fire State Park
Valley of Fire State Park is Nevada's oldest and largest state park. This recreation area is surrounded by vibrant red sandstone formations and features several hiking trails, scenic viewpoints, and ancient petroglyphs.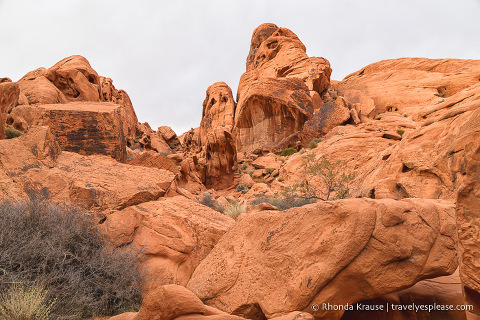 We had a fantastic afternoon exploring Valley of Fire State Park. We did a couple of short hikes (White Domes Loop was one of our favourites), and visited a few of the park's most notable formations, including the aptly named Elephant Rock and Fire Wave.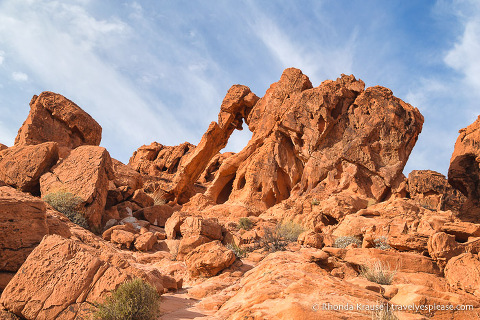 Exploring this brilliant, eroded landscape was the perfect finale to our southwest USA road trip, as it summarized the best things we experienced from engaging hikes to memorable scenery.
Final Thoughts About Our American Southwest Road Trip
We had a really fun time on this trip and discovered so many great places to visit in the southwest. The desert scenery was very different from what we're used to seeing at home and many of the hikes we did were unforgettable and often talked about.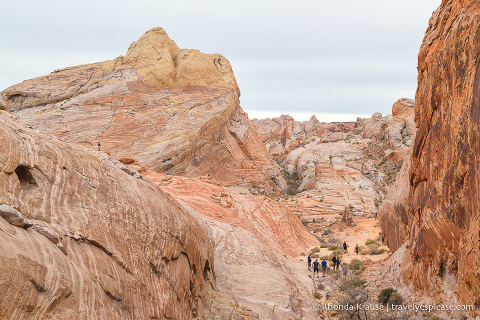 As is always the case, we didn't have enough time to include everything I wanted so see on our road trip in the southwest USA, so I'm looking forward to getting back there one day.
Tips for Doing a Southwest Road Trip
Planning a Southwest Road Trip Itinerary: Our road trip can be recreated without any changes starting from Palm Springs instead of Vegas, but with a few modifications you can begin from other cities nearby the route. Optional starting points could be Los Angeles or San Diego in California, Phoenix in Arizona, or even Salt Lake City in Utah.
When choosing a starting point, you'll want to see what city has the most affordable and convenient flights from your hometown, as well as the best car rental options.
If we had more time for our trip, some other places we have liked to include were Death Valley National Park in California, Sedona in Arizona, and Monument Valley on the Arizona-Utah border.
Best Time for a Southwest USA Road Trip: Since this road trip travels through the desert, we recommend doing it in fall, winter, or spring when it's not so hot (especially if you plan to do a lot of hiking). We did our road trip in late December- early January and the only downside was that some parts of Bryce Canyon were closed. Doing the trip in the winter also meant that the national parks weren't so busy.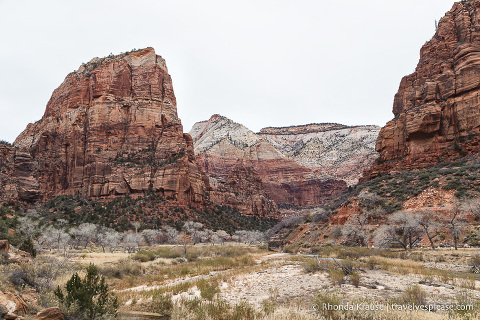 Accommodations for your Southwest Road Trip
For your convenience, here is a list of hotels for the stops on this southwest road trip itinerary. Please consider booking your accommodations through the included link. It costs nothing extra and helps support this website. Thank you!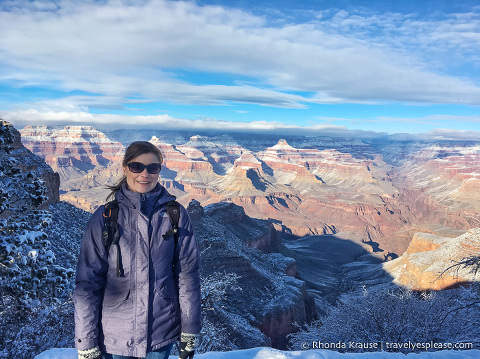 More United States Destinations and Travel Guides