Purchases made through links earn us a small commission, at no extra cost to you.
For an adventure-filled winter holiday, we decided to spend 3 days in Zion National Park hiking among the sandstone canyons, towers, and cliffs.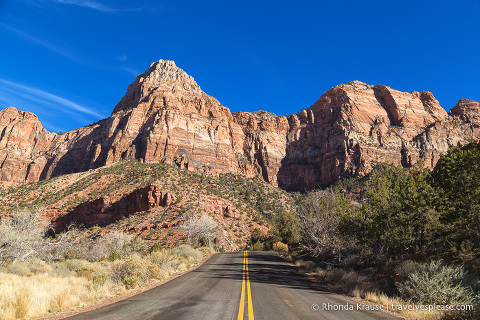 Zion's larger-than-life scenery, fascinating geology, and exciting hikes, quickly made it climb the ranks as one of my favourite national parks in the United States. It's a powerful place that filled me with immeasurable wonder, reminding me what a small place I occupy in the world.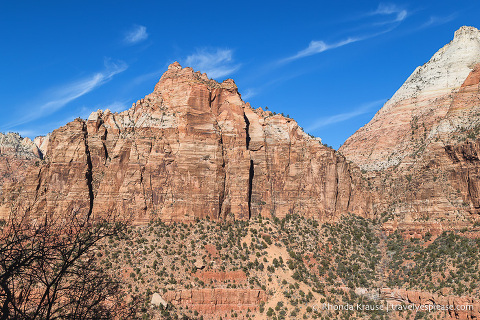 Whether we were exploring the floor of Zion Canyon or admiring it from above, it was always humbling and inspiring to be surrounded by such spectacular natural scenery, created over millions of years by nothing more than forces of nature.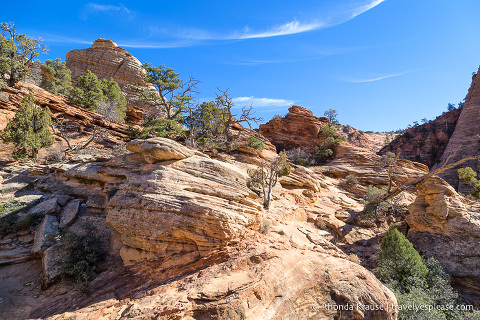 With so many incredible lookout points, invigorating hikes, and scenic walks, we had no trouble finding things to do in Zion National Park. Here's a look at how we planned our Zion itinerary and what we did during our 3 days in Zion National Park.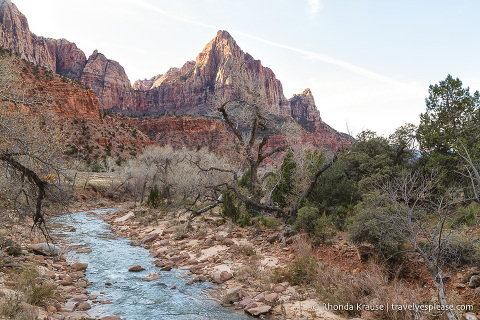 How to Spend 3 Days in Zion National Park- Our Itinerary 
When I was planning the itinerary for our trip to Zion National Park, I had a hard time deciding how many days to spend in Zion.
The main places to see in Zion National Park are concentrated in Zion Canyon, along the 9.7 km (6 mi) Zion Canyon Scenic Drive. Much of the rest of the park is roadless, limiting access to a large amount of area. On first glance, it looked like we could see Zion in a day if all we wanted to do was drive around, do a few short walks, and snap some pictures.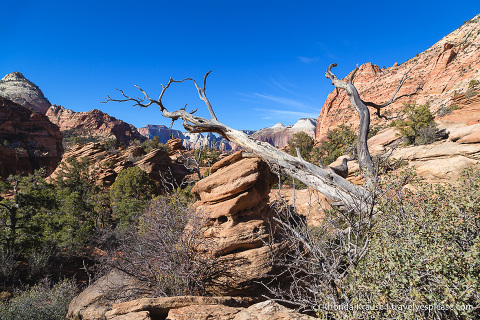 But I didn't just want to go sightseeing in Zion- I wanted to experience it.
There were so many great hikes in Zion National Park I was interested in doing, but I decided to pick two strenuous hikes (one full day, one half-day), and two moderate short hikes. This meant we would need 3 days in Zion National Park to complete my hikes and still have time for spontaneously exploring some shorter trails and other points of interest in Zion National Park.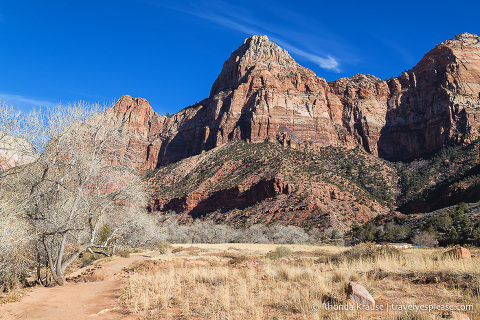 For convenience, we based ourselves in Springdale so we'd be close to the south entrance of the park and all of Zion's main attractions.
Here's a look back at how we spent 3 days in Zion National Park. We hope our Zion itinerary helps you plan your own action-packed trip to Zion National Park!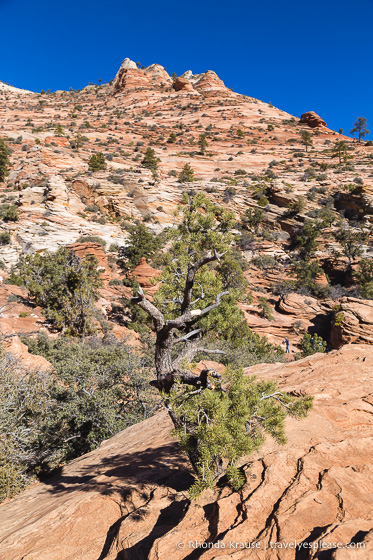 Day 1: Zion-Mount Carmel Highway, Canyon Overlook, Watchman Trail, Pa'rus Trail
Our first day in Zion was spent exploring the east side of the park and some trails near the south entrance. We took a scenic drive on the Zion-Mount Carmel Highway, stopping to hike to Canyon Overlook. We then hiked Watchman Trail and took a short walk on Pa'rus Trail.
Drive the Zion-Mount Carmel Highway (Route 9)
The Zion-Mount Carmel Highway is a 16 km (10 mi) scenic route from Canyon Junction to the park's east entrance.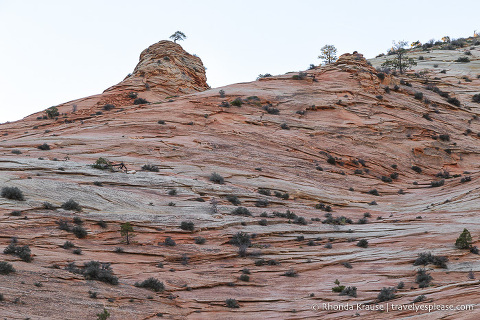 The road is curvy and climbs in elevation, offering great views of Zion's rocky landscape and notable landmarks, including The Great Arch and Checkerboard Mesa.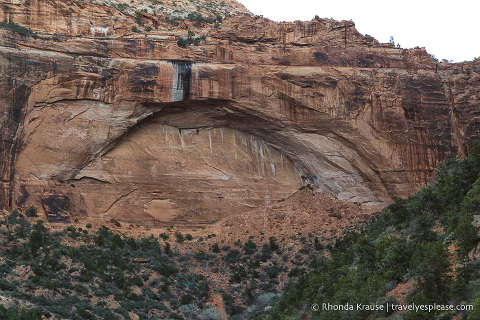 As beautiful as the natural attractions are, it was a man-made construction that impressed us the most. The 1.8 km (1.1 mi) Zion-Mount Carmel Tunnel was the longest tunnel in the United States at the time of its completion in 1930. There are five gallery windows in the tunnel, so it was fun to get quick glimpses of Zion's scenery as we were driving through.
Hike to Canyon Overlook
Canyon Overlook Trail was a great introduction to hiking in Zion National Park. The 1.6 km (1 mi) round-trip hike is rated moderately difficult and arrives at Canyon Overlook, a cliff-top viewpoint of Pine Creek Canyon and lower Zion Canyon.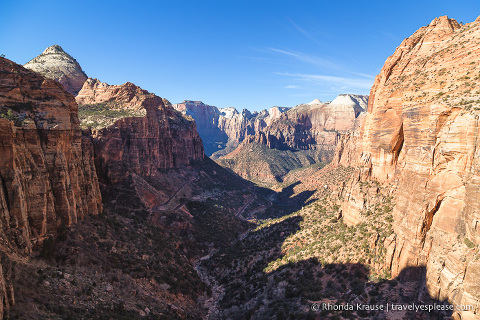 The hike begins with a series of steps carved into sandstone, then continues on a sandy, rocky trail above Pine Creek Canyon. Along the way there are fenced drop-offs and a shaded alcove to pass under.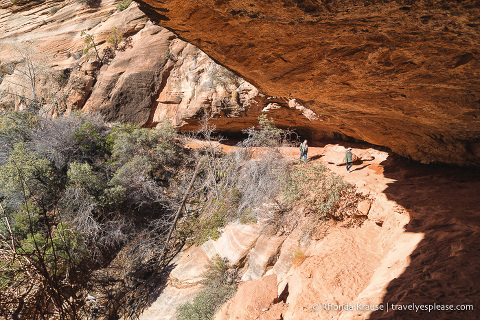 It didn't take long to arrive at Canyon Overlook, so we spent some time sitting on the rocks admiring the view of Pine Creek and lower Zion Canyon further in the distance. We could even see some of the Zion-Mount Carmel tunnel windows in the canyon walls. One landmark that wasn't visible was The Great Arch because we were standing directly above it.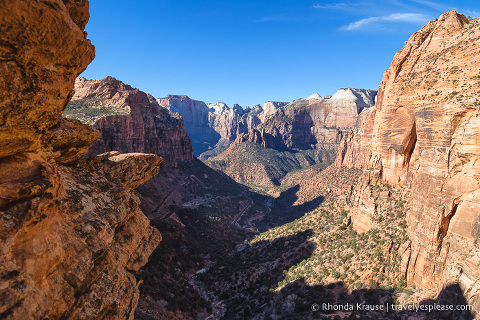 Taking roughly an hour to complete, this hike was short but sweet and perfect for first-time visitors to Zion National Park.
One thing to note is that there is hardly any parking at the trailhead. There's a very small lot (maybe 9 spots?) immediately after exiting the tunnel on the right. A short ways up the road there's an additional parking area on the left, which is also tiny.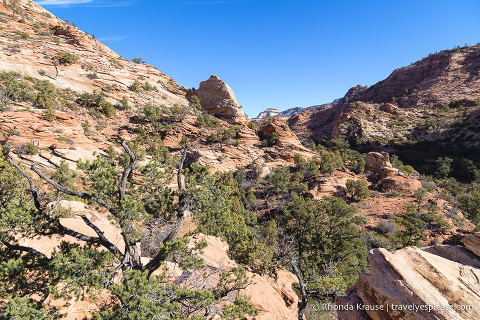 Hike Watchman Trail
Watchman Trail is underrated and overlooked by visitors who crowd Zion's more popular trails, but this hike was such a pleasure to do.
Watchman Trail is a moderate 4.3 km (2.7 mi) hike that climbs to a plateau near the base of The Watchman, a rugged crag looming above Zion's south entrance.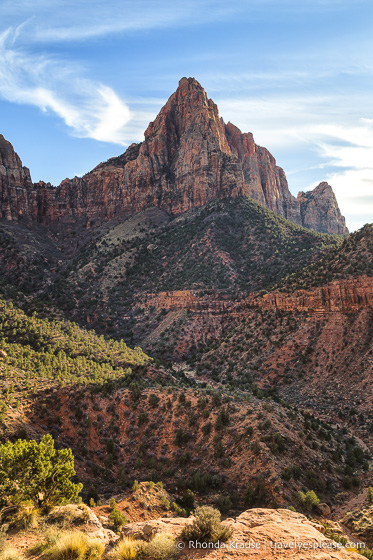 The trail ascends on outwash slopes before looping around a small valley and arriving at a viewpoint near The Watchman.
The sweeping views are gorgeous, showcasing the West Temple, Towers of the Virgin, lower Zion Canyon, and town of Springdale. Even though it wasn't as dramatic as some other viewpoints we visited during our 3 days in Zion National Park, it still was one of my favourites!
Read more: Hiking Watchman Trail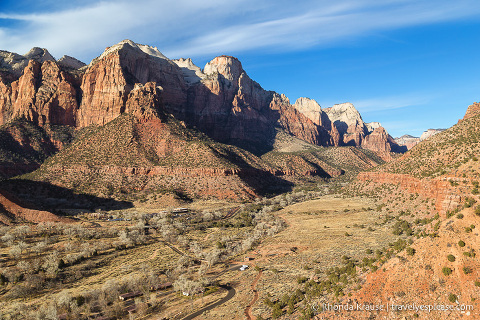 Walk Along Pa'rus Trail
Pa'rus Trail starts near the trailhead of Watchman Trail, so it was naturally the next route to explore.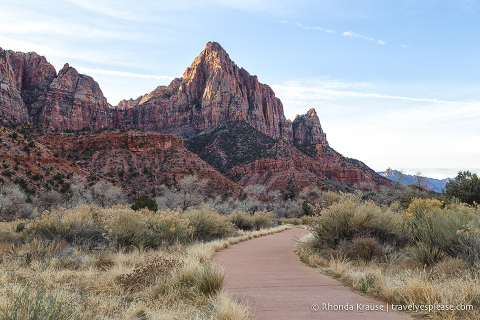 The paved path follows alongside the Virgin River, linking the Zion Canyon Visitor Centre with Canyon Junction for a round-trip of 5.6 km (3.5 mi). It's an easy, level trail, with a few bridges crossing over the river.
My favourite part of walking Pa'rus Trail was seeing the Virgin River backed by The Watchman. So pretty!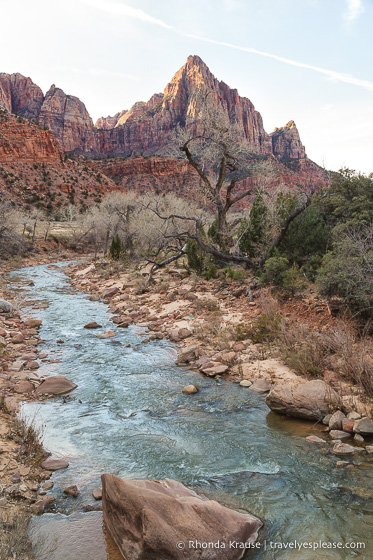 Day 2: Angels Landing, The Grotto Trail, Lower Emerald Pool Trail
The main event of our second day in Zion National Park was hiking to Angels Landing on one of Zion's most nerve-wracking trails. The rest of the day was deservedly low-key, with a picnic at The Grotto and walk to Lower Emerald Pool.
Hike to Angels Landing
Angels Landing Trail is what inspired me to visit Zion National Park and this popular route has no trouble living up to its reputation as Zion's most exciting hike.
The narrow trail gains 453 m (1,488 ft) in elevation and is framed by steep drop-offs on each side. There are no guardrails, only some chains to assist with the final scramble to Angels Landing.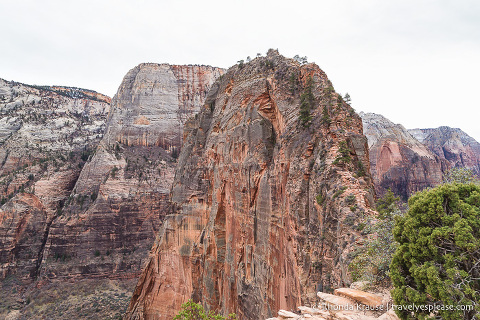 Once we safely made it to Angels Landing, I was awe-struck by the panoramic view of Zion Canyon before me. It was nothing short of spectacular and made every hair-raising moment on the trail worth the challenge.
Read more: Angels Landing Hike- What to Expect on Zion National Park's Most Thrilling Trail
Picnic at The Grotto, Walk The Grotto Trail
The Grotto Picnic Area is the starting point of the Angels Landing hike, so it was a convenient place to enjoy lunch and a rest before heading out for an afternoon of easy walks.
After our picnic, we strolled along The Grotto Trail to Zion Lodge, stopping in to browse the gift shop. From there, we made our way to the footbridge and Emerald Pools trailhead.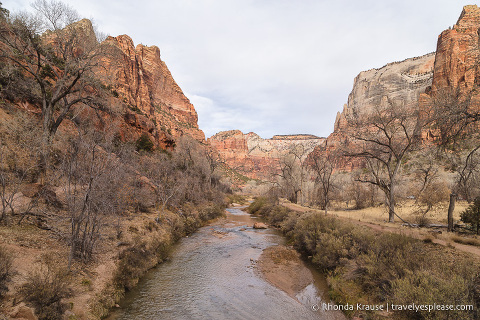 Walk to Lower Emerald Pool
Lower Emerald Pool Trail was our least favourite walk we did during our 3 days in Zion National Park, but it was about all my knees could handle after Angels Landing.
The paved trail leads the way to Lower Emerald Pool, which was a tiny pool of water that, unfortunately, didn't live up to its name. I was expecting vibrant green waters, like we are used to seeing in the Canadian Rockies, but instead the pool was cloudy and dark.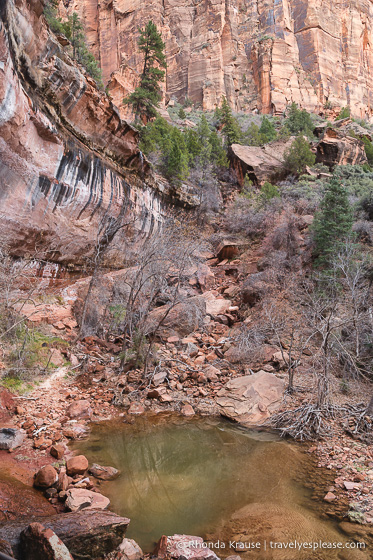 Beyond the pool, the trail continued behind a waterfall, which was really just a trickle. I think this area would be prettier in the summer when the plants growing on the rock wall are lush and green.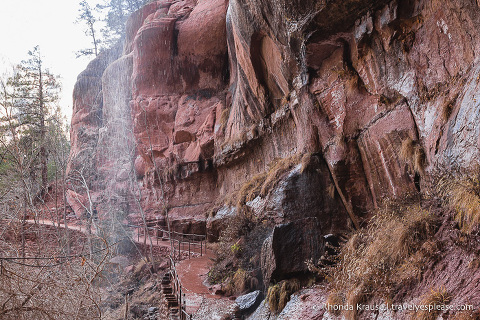 Had the remainder of the trail not been closed, we could have continued to Upper Emerald Pools. I wonder if the scenery there is better?
Day 3: Observation Point Trail, Zion Canyon Scenic Drive
We saved our longest hike for last, spending most of the day on Observation Point Trail. It took a toll on our knees, so all we could do afterwards was go sightseeing along Zion Canyon Scenic Drive.
Hike to Observation Point
Observation Point Trail is one of Zion's classic hikes, offering a variety of scenery along the route to Observation Point.
The trail is steep, climbing 655 m (2,148 ft), making for a strenuous hike that takes 5-6 hours to complete.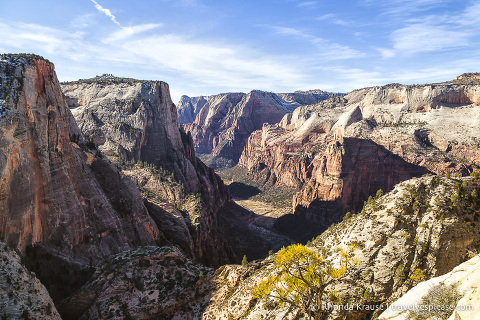 Once we made it to Observation Point, we were rewarded with a great view of Zion National Park. Looking down on Angels Landing and Zion Canyon reinforced just how incredible our 3 days in Zion National Park had been. It was a wonderful final hike to wrap up our trip to Zion.
Read more: Observation Point Trail- A Classic Hike in Zion National Park
Zion Canyon Scenic Drive
We travelled along Zion Canyon Scenic Drive several times during our 3 day trip to Zion, since it's the park's main sightseeing route.
The road starts at Canyon Junction and ends at Temple of Sinawava, not far from Observation Point. The road passes by most of Zion's well-known landmarks, including The Sentinel, Court of the Patriarchs, Mountain of the Sun, The Great White Throne, Angels Landing, The Organ, Weeping Rock, and The Pulpit.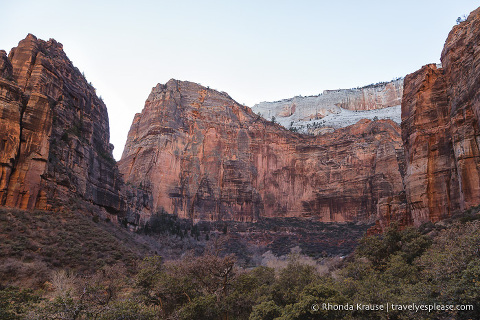 Zion Canyon Scenic Dive is closed to private vehicles from March through late November. During that time, there's a free shuttle that makes stops at seven locations along the road. Since we were visiting Zion in December, we weren't restricted to using the park shuttle for the majority of our visit (it did start running closer to Christmas, so there was one day we had to use it).
Final Thoughts About Our 3 Days in Zion National Park
We thought that 3 days in Zion National Park was perfect for taking in some of Zion's best hikes and sights. We got a good overview, while still leaving some trails to explore on a future visit to Zion National Park (because one trip to Zion is never enough for outdoor adventurers!)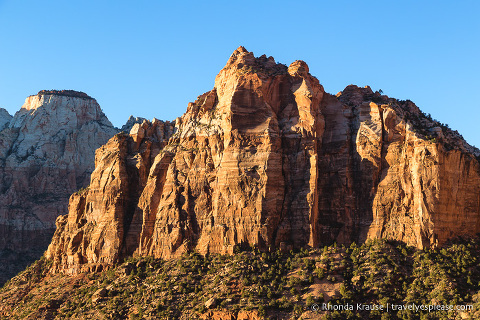 On our next visit to Zion, we want to hike the Narrows and Hidden Canyon Trail, take a stroll on the Riverside Walk, and check out Kolob Canyons Viewpoint in the northern part of the park.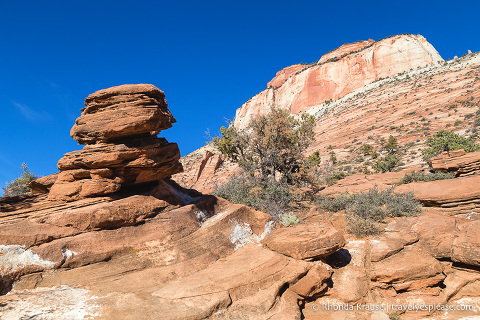 Zion National Park is such an incredible place that it shouldn't be a quick stop or drive through on route to other destinations. The park deserves to be a main focus of any southwest road trip itinerary.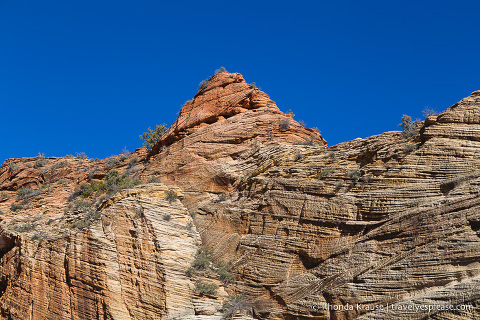 Tips for Visiting Zion National Park
Location: Zion National Park is located in southwestern Utah, near the Arizona and Nevada borders.
Best Time to Visit: Zion National Park sees the most visitors from February to late November. Summer, school breaks, holidays, and weekends are especially busy. For that reason, we recommend visiting Zion in the off-season. We visited in late December and were very happy because temperatures were cooler and there were no huge crowds. We did notice that visitation picked up on the Saturday before Christmas, our last day in the park.
Weather: The weather in Zion ranges widely depending on season, elevation, and time of day.
Spring is usually rainy, with precipitation peaking in March, but sunny days are possible too.
Summer is very hot and afternoon thunderstorms are common from mid-July to mid-September.
Fall days tend to be clear and mild, but the nights are cool.
Winter is usually mild, but there can be winter storms bringing light snow to Zion Canyon and heavy snow at higher elevations. Overnight temperatures are often below freezing.
Park Passes: All visitors to Zion National Park are required to buy a park pass at the entrance gate. Passes are valid for seven consecutive days.
Zion Shuttle: Zion National Park has a free shuttle system that typically operates from March to late November, plus some weekends in February and the last week of December. When the shuttle is in operation, no private vehicles are allowed on Zion Canyon Scenic Drive (you can still drive on the Zion-Mount Carmel Highway). Check the shuttle schedule and get more information here.
There are two different shuttle loops. The Springdale Shuttle has nine stops in the town of Springdale and delivers passengers to the park's pedestrian entrance near the visitor centre (see the map here). The Zion Canyon Shuttle leaves from the visitor centre and travels to the far end of Zion Canyon Scenic Drive, making nine stops along the route.
The shuttles run from early morning to late evening, coming as often as every seven minutes.
Parking: There is very little parking in Zion National Park and spaces are usually full by 8:00 or 9:00 am (even when we were there in December). The largest lot is at the visitor centre.
Springdale has some lots where you can pay to park, but those also looked like they would fill up fast in peak season.
To avoid parking hassles, we recommend getting a hotel in Springdale so you can leave your car there and catch the shuttle from town when it's operating. If the shuttle isn't running, you'll be close enough to reach the park early in the morning to find parking.
Tunnel Restrictions: Due to the arch of the Zion-Mount Carmel Tunnel, vehicles 11'4" in height or 7'10" in width (and larger) are required to have traffic control to pass through. A $15 permit is required and it's good for two trips through the tunnel. You can have your vehicle measured and buy the permit at the park entrance. More information can be found here.
Trail Closures: Trail closures are common in Zion National Park due to rock falls or storm damage. Check the National Park Service website for alerts and updates on trail conditions.
Angels Landing Permits: Starting April 1, 2022 a permit will be required to hike Angels Landing. This is a pilot program that will try to address congestion on the trail. More information can be found here.
Nearby Attractions: Grafton Ghost Town is only 20 minutes away from Zion's south entrance and is an interesting site if you like historic, abandoned places.
Information was updated January 2022, but can change without notice. Please confirm directly with service providers.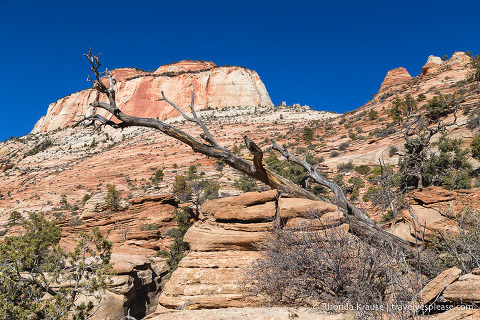 Accommodations Near Zion National Park- Where to Stay
There are 3 campgrounds in Zion National Park (two that are in Zion Canyon) and only one hotel (Zion Park Lodge).
Springdale is the closest town to Zion National Park's south entrance. Further southwest is Hurricane (30 minute drive) and St. George (55 minute drive). Kanab is 35 minutes from the park's east entrance.
For your convenience, here is a list of hotels in Springdale, Hurricane, St. George, and Kanab. Please consider booking your Zion accommodations through the included link. It costs nothing extra and helps support this website. Thank you!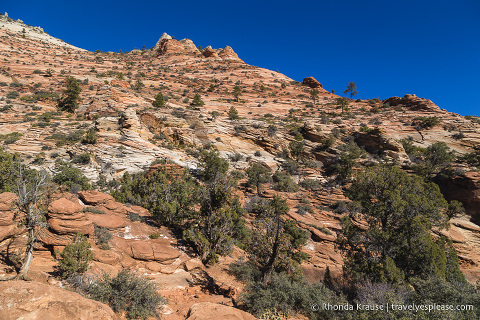 More United States Destinations and Travel Guides