Purchases made through links earn us a small commission, at no extra cost to you.
The Johnston Canyon trail is one of the most popular hiking trails in Banff National Park.  However, not too many people hike as far as the Ink Pots. Those who make the 3 km trek from the Upper Falls to Johnston Valley are rewarded with this beautiful view, unspoiled by the masses of tourists you will find at the beginning of the trail.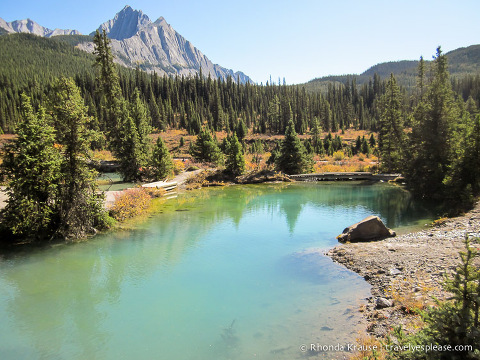 The Ink Pots are seven stunning, greenish-blue pools of spring water. You can even see the water slowly bubbling up from the bottom of the pots.
It's a gorgeous, quiet place to just sit and relax or have a picnic. Mike and I visited on a beautiful fall day at the end of September and spent an hour just laying in the sun on the benches beside the pools.
The easy hike to the Ink Pots is 5.8 kilometres and takes about 4-5 hours return trip.
Getting There:
Drive west from Banff on the Trans-Canada Highway. Take the Highway  1A (Bow Valley Parkway) turnoff and continue west 18 km to Johnston Canyon Lodge.
More Banff National Park Attractions and Travel Guides